You think it will never happen to you, but when it does, your rental world can change forever.
Ours was a rental operation at Wye River, a quiet holiday stopping off place on the 'Great Ocean Road' 200km south of Melbourne Australia.
But on a searing hot Christmas Day, our lives were turned inside out when a fireball ripped through the township destroying almost all in its path. It was a natural disaster of significant proportions, and 500 lives were at stake.
The story started benignly five days earlier. There was a lightning strike deep in the bush just 3km from our Sea Zen house and our Treetops rental.
'No problem', the fire Incident Controller said, 'it's quietly burning deep in a ravine and we are taking precautions. Enjoy your Christmas…'
But in the morning of Christmas day, an unexpectedly fierce northerly wind had ripped the fire from the ravine into dry forest and on a path to our little seaside village.
Deaths had happened previously
We asked ourselves – how many people would die that day? We'd had a briefing months before that reminded us that we were living in one of the worst fire risks places in the world. Bad things had happened as hot winds dried forests to tinder point. In 1983, 'Ash Wednesday' fires had killed 47 people in southern Australia and 'Black Saturday', just 7 years ago had killed 173 people in fires around Melbourne. Most died leaving at the last minute. After the briefing, they asked who would leave early in a fire? Many, not all would leave. Some might stay, but would they survive?
We had done our preparations. But we had guests in our Treetops rental and our Sea Zen rental.
Communications are difficult in our village, just one mobile carrier, but we were ready. The Treetops guests had our loan mobile and our loan wifi dongle.
The talk with our guests
The day before Christmas we'd had a talk with our guests. 'The fire folks say all is OK, but we want you to be ready. There are emergency backpacks for you to take to the beach, but we want you to keep your mobile on and keep the FireReady app on to give you warnings. If they say leave, just go.'
'OK, sure.'
We left for a family Christmas, 5hrs drive away, thinking all was well.
At 11 am on Christmas day, the fire broke out of the ravine watched by helicopters. My FireReady app went crazy. 'Leave now.'
I rang Diane at Treetops. 'Have you seen the warning? It's time to go…. Now.'
'Like we discussed? But should I pack my stuff?'
My answer would be costly, but one I never regretted. ' No, we'll cover it, just go straight to the car and drive to Apollo Bay, OK'
'OK, going now'
One down, one to go.
The other guests had had the same talk with me the day earlier and were also gone in seconds. All calm, gone.
The fire would totally destroy Treetops.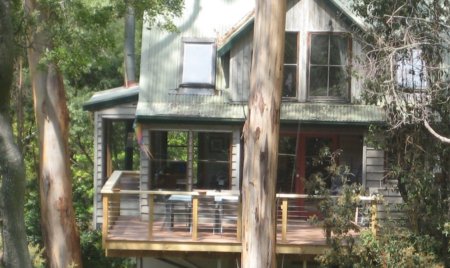 Treetops before the fire. A proud three story fairy tale house beloved by several thousand past guests.
Treetops after the fire.Melted globs of glass where once were windows, grey puddles where once were tanks.
At Sea Zen, our newer and sole residence with attached studio, our seaside retreat, our future, was untouched.
But more important than all this, our guests were safe.
On the day 116 houses were destroyed – a third of our village – but no deaths , no injuries.
We were ready.
Aftermath
In the hours after the fire, we didn't know what had happened to our houses. We had doubts. That sinking feeling. Were we adequately insured?
What about the guest belongings left behind? What about our forward bookings? When could we see the house again? Was our business destroyed? Was our future destroyed? Could we get through this?
Unexpected support
While we were taking stock, around Australia folks were glued to their TV sets watching the tragedy unfold. Our past guests too looked on in horror as they guessed correctly that Treetops, the place of holiday memories, would be destroyed. The messages began. "So sorry, hope Treetops survived, so many happy memories.' 'Hope you are safe.' 'So sad to see the fire..'
There were 93 texts and emails over the next day. I was overwhelmed by this outpouring of heartfelt support by our past guests.
Whatever happened, we would grow from this.
Insurance
We were OK. Some say we were lucky, but we actually have a discipline for process.
In our annual insurance renewal we thought we had increased our coverage enough, just weeks before the fire. So we checked.
House structure – covered, enough to rebuild to strict new regulations.
House contents – covered, almost*.
Lost bookings – covered.
Some owners were not so well prepared, with reports of 10 uninsured and facing a shaky future.
* We did not anticipate that our guests would leave behind an expensive medical machine or expensive new clothes amounting to $8,000. Our contents insurance didn't quite cover it, but what the heck, safety is far more important.
Another owner had a much higher figure, over $30,000 with many laptops and high tech gadgets from a family group. A lesson learned that guest contents are expensive too!
Strangers inside ourselves
I learned after the fire that uncontrollable things can happen inside us, unexpected emotions can surface. We all process tragedy and grief differently. Panic attacks, withdrawal, anger, irrational outbursts, relationship breakdown, depression, we have seen it all in others after the fire. Others cope and grow stronger. Fortunately we cope! We are lucky.
Insurance is predictable. The way we react after a disaster is not.
Recovery overhead
What was unexpected was the time and effort needed as part of a little country town as it tries to recover, to rebuild and reinvent itself. The meetings the committees, the decisions.
Also as chair of the local tourism group I was involved in daily liaison meetings between the various tourism bodies and the emergency controllers in the days after the fire. As our fire burned deep in valleys and smoldered for weeks, the fire was still active. To make matters worse this time of year the weather usually got hotter and more dangerous.
The nearby town of Lorne with some 10,000 people and 2000 day visitors were evacuated as a precaution a week after our fire . The arterial tourist Great Ocean Road' was closed and slowly reopened, choking tourism along the holiday coast. Many decisions to be taken.
In the following months in our local community we are drawn into committees working on renewing, and for us it has been re-establishing the vegetation, the birds, dealing with feral cats and preparing for the coming explosion of weeds. All takes brain space, as does the clearing away of the old building and getting permits for a future rebuild, sometime in the future, maybe.
'Never waste a crisis'
(Rahm Emmanuel, adviser to Obama, 2008)
Although our Sea Zen rental was unaffected by the fire, many tourists cancelled their bookings or stayed away, business looked shaky.
Fortunately we have a database of 210 past Treetops guests and 320 past Sea Zen guests, the very same folks who wished us well as the fire burned.
I needed to send out our marketing emails with sensitivity. I would tell newsy and interesting stories. Hold the pity, the hard ask for business. Stand proud and stay in touch. Inform and intrigue.
Some topics have been: What happened. Fantasy forest with purple bubbles. The night sound and light show. The Japanese drummers.
It has worked. We have been full most days since we reopened 3 weeks after the fire. Some guests wanted to support us, some are curious, some just trust in our marketing of the tranquil Zen experience overlooking the sea, whatever, it works.
Disaster planning – lessons for owners
Were we ready for the crisis? Absolutely. Can you be ready? Of course.
The key is planning. When we started up and again when we did a major review a year ago, we systematically looked at all the likely risks and what we would do about them. Anybody can do this.
The scenarios we look at include fire, power outage, service failures; website hacking – even insect swarms.
Owners in other areas may need to include Hurricanes, floods, storms, blizzards, or even security scares.
For each scenario, we assess how likely it is and what we should do about it. Our information folder has just the right amount of information for our guests. When something goes wrong and the guests find a ready solution they thank us rather than just ask for their money back. The guests during the fire were no exception.
Another surprise was the time and mental effort in refunding forward bookings. It isn't just a case of the money transfer, but the framing of the conversation so the door can be left open for future business. Being calm when your life is in chaos.
What we hadn't planned for was the amount of time and mind space in helping our little village reestablish its magic lifestyle – but that is ok, because that is why we live there!
We were also fortunate that the emergency services in our state are as good as any anywhere in the world and they put in huge resources making sure the fire was not worse. On the day of the fire, over 200 firefighters put out spot fires that would have destroyed the rest of the town. For weeks helicopters dumped loads of water on the smoldering fire in the bush.
Facts about the Wye River disaster
• Houses burned – 116 (30% 0f the village)
• Insurance payout projected – $120 million
• Reported cost to fight the fires and restore infrastructure – $110 million
• Number of lives lost – Nil
TAKE THE DISASTER READINESS QUIZ
How do you shape up? Take the quiz!
Do you have a disaster plan? (Does it take into account scenarios relevant to your area? Eg Hurricanes, forest fires, floods, earthquake, storms, blizzards?) Y/N
Have you taken into account secondary events? (eg House fire, power loss, failure of services, website hacking, major appliance failure?) Y/N
Do you provide adequate information to your guests if a disaster is to happen? Y/N
Is your building and contents insured? Y/N
Are you covered for guest injury ( eg guests trips on your slippery tiles?) Y/N
Are your guests belongings insured or if not, are they clearly informed otherwise? Y/N
Are you insured for lost rental due to a disaster? Y/N
(In some places you can ask for travel insurance or deny refund, but not in many parts of Australia!)
Have you recently checked that the amounts insured for are realistic? Y/N
Have you read your insurance policy? Y/N
Score the numbers of Yes out of 10.
10/10 Great!
<8/10 Time to review
<6/10 Oops!
Like anything that happens, a disaster can make or break your rental. If you are not ready, now is the time to get ready, you never know when it will be you!
Tell me about your experience preparing for disaster.
Rex