For short-term rental operators in Europe, the Summer of 2022 was fantastic, with demand finally surpassing 2019 levels. Yet, the first data shared by AirDNA about Winter 2022-23 trends show some worrying signs: Booked nights currently logged for December 2022 to March 2023 are 16% below 2019 levels during the same period. As last year, will we see a hyper-seasonal trend, with an amazing Summer followed by a soft Winter? Will bookings rally at the last minute, when Europeans have less uncertainty about their purchasing power, driving and flying costs, the war in Ukraine, and new COVID waves? Meanwhile, supply is growing strong, but the overall number of listings is still below 2019. Supply numbers in big European cities are still reeling from the double shock of COVID and stricter short-term rental regulations.
Key September 2022 data (Source: AirDNA)
Available listings reached 2.99 million, +16.1% compared to 2021, but still -9.4% compared to 2019
For the first time in 2022, demand did not surpass 2019 figures: Total demand did rise by +33.9% compared to 2021 but decreased by -1.7% compared to 2019.
With strong demand and still lower supply, occupancy rose to 61.4%, up 2.7% from 2019 and +6.5% compared to 2021.
Average daily rates (ADRs) decreased by -0.1% compared to 2021. The recovery in urban bookings, whose ADR is usually lower, explains part of the surprising decrease in the context of high inflation. Yet, ADRs have increased by 25.3% compared with 2019.
Is demand softening? Autumn school break (October – November) should do well, but Winter months show worrying signs
European short-term rental industry looked like it was finally putting the COVID crisis behind it: From January to August 2022, month after month, guests booked more room nights than in 2019.
Yet, in September, demand decreased for the first time in the year by -1.7% compared to 2019. Was it just a temporary blip? After all, it is still 16% more nights stayed than in 2021, so we are still in recovery mode compared to last year.
Moreover, the booking pace (based on bookings already recorded by hosts for the period) for October and November looks robust. As of October 10, demand for October and November is ahead of its 2021 level (+25%) and even +8% above 2019. Bookings for the autumn school break, always popular in Europe, look promising. Demand is also returning to big cities, a type of destination that is less seasonal than the sea, mountain, and rural markets.
So, why worry? Because the booking page for Winter 2022-23 is lagging. For the four months spanning Winter, from December 2022 to March 2023, booked room nights are -15.7% lower than in 2019 (Yet still a decent +11.6% compared with Winter 2021-22).
When broken down to the country level, only three countries are seeing winter bookings above 2019 levels: Austria (+18.5%), Finland (10.9%), and France (7.8%).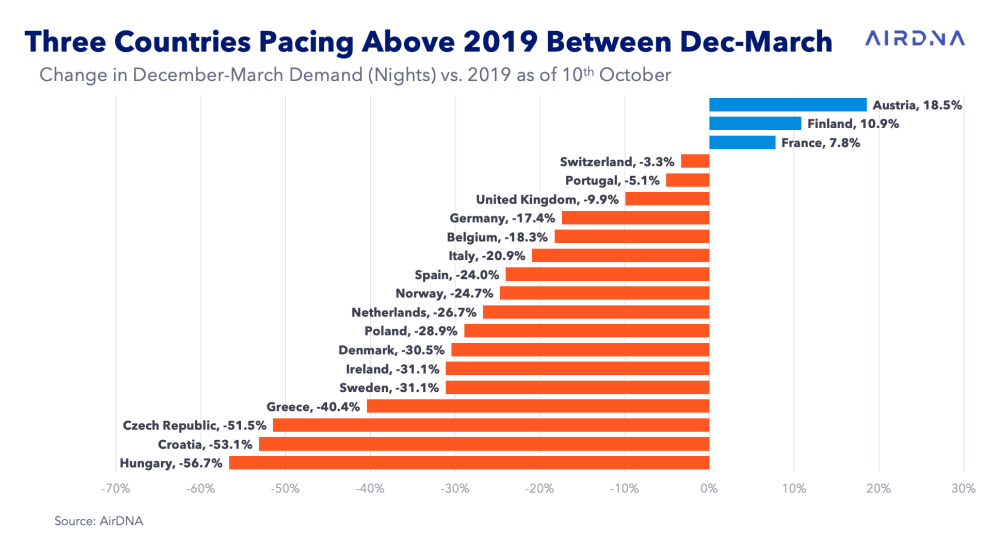 What could be happening here?
The key message is here that things look uncertain in Europe once again. Since the start of the COVID crisis, European travelers have learned to hedge their bets. They are using flexible cancellation policies and booking closer to their stay dates to reduce the risk of losing their travel money. If events turn out well, travelers may book just as much as in 2019. Yet, we'll see this rosy scenario may not hold for long.
Optimistic scenario: A temporary lag that will resorb closer to the stay dates?
This lag may be temporary as Europeans may just book closer to their stay dates than in pre-COVID times, especially in the Winter. As we've learned from the previous winters, Europeans could be wary of potential new travel restrictions due to COVID-19 outbreaks.
Even if such restrictions have become unpopular, travelers may have learned their lessons from the Omicron outbreak in November – December 2021. Now, despite Omicron, last Winter, European ski resorts proved very popular from December to March. Travelers may just choose holidays over COVID worries once again.
The war in Ukraine is also on Europeans' minds. No one is sure how the Russian invasion will evolve in the coming months. The impact is also felt by Europeans whose purchasing power is hit by high energy prices and high overall inflation. Now, as national governments and the European Union are pushing forward plans to lower energy bills for the coming winter, prudent Europeans may in the end discover that they have more money than expected and book trips.
Another positive factor could be the return of American travelers, who showed up en masse in the Summer of 2022. With the Euro and the British Pound at a low level compared with the US Dollar, ski holidays and winter sales in Europe may prove quite attractive to Americans.
In this optimistic scenario, the booking window may just be shorter, but people will show up, and bookings may end up equalling 2019 levels.
Pessimistic scenario: Europeans stay at home due to high energy bills and new COVID-19 waves
The factors above can play out in the opposite direction:
Faced with expensive energy bills and upcoming recessions, some Europeans opt to save money by staying at home. They want to see what their bank account looks like by Spring 2023. They may book for the summer, though.
New COVID-19 variants make some Europeans stay away from the crowds for Winter. Less so than the previous year, but still contributing to lower Winter bookings than in 2019.
If the war escalated in Ukraine, things could become even more uncertain: Ukrainians may book short-term rentals in nearby Central European countries, while travelers may want to avoid the area.
What to do?
Look out for the change in booking window data for your market: Are people still booking but closer to their stay dates? In this case, you may not need to discount unsold nights too early in the season.
Are people still booking but with more flexible policies? Then can you offer several rate plans, with a discount for people who book a non-cancellable stay, for instance?
How can you help travelers pay in several installments to make it easier for them to book with you?
European short-term rental supply is still in recovery mode
While demand has started to show some worrying signs, the industry is still new units at a sharp pace:
In September 2022, the number of available listings was 2.99 million.
The number of available listings is still in recovery after the COVID-19 crisis. This is still under 2019 levels (-9.4% compared to 2019) but clearly above 2021 levels (+16.1% compared to 2021). 
Regarding new listings, their number has increased by an impressive 79.9% over September 2022, with 83,600 new units. Yet, this increase is still not matching what we saw in 2019.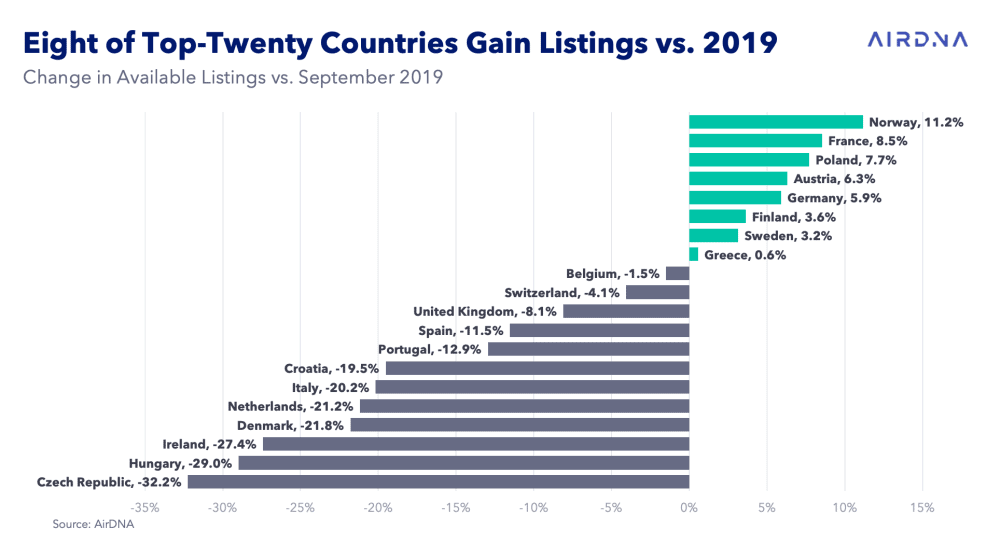 Listing growth was mixed among the top 20 countries in September, with eight countries seeing more properties online than in 2019. The strongest growth in available listings was seen in Norway (11.2%), France (8.5%), and Poland (7.7%), whereas supply in the Czech Republic (-32.2%), Hungary (29.0%), and Ireland (27.4%) remained more than 25% below September 2019.
How to explain why some countries are lagging so much behind? In some, a key market is so important that what happens there affects the whole country. This is the case with Prague, the capital city of the Czech Republic: Short-term rentals have been almost banned from the city, which used to capture much of the demand in the country.
In The Netherlands, the case of Amsterdam is similar, yet the country has more cities and more coastal and rural vacation rentals to make up for it.
In France, supply in the Summer of 2022 was still 21% lower than in the Summer of 2019. New restrictions on short-term rentals, as well as a preference for non-urban stays, have hit the market. However, the growth in other markets (sea, country, and mountain) has been impressive and has more than made up for the issues in Paris.
What does it mean for 2023? Markets that have added a lot of capacity during the COVID crisis may be in a good position if travelers want to stay in their home markets once again (e.g. France, Germany, and the UK). It would not be the fear of COVID but the high driving or flying costs that may decide travelers to remain put. However, the question could be around ADRs: If European travelers are concerned with their purchasing power, will they find rates on the levels of 2021 and 2022 just too high? With more supply on the market, will prices go down? Will travelers be sacrificing their winter vacation to save their summer trips?