Sustainability was one of the key pillars of VITUR Summit 2022 in Málaga and with good reason. VITUR is one of the largest events in Europe that brings together leading experts and innovations from the vacation rental industry for property managers' benefit, empowering them to run their businesses with efficiency and ease while increasing profitability. Now, it turns out, sustainability is fast turning into a core tenet for driving profitability. The next generation of travelers has a clear desire to travel sustainably, and it is up to the industry to take heed.
One of the main highlights of this conversation around sustainability in the short-term rental industry was a panel hosted on day one of the summit by Rental Scale-Up editor Uvika Wahi, featuring leading experts that have dedicated their efforts to making short-term rentals sustainable through education, action, and solutions with practical applications.
Sustainability from the points of view of big booking platforms, hosts industry suppliers, and tourism boards
The panel featured the following speakers:
A world in climate crisis


The data feeding the above graphs is provided by the Food and Agriculture Organization Corporate Statistical Database (FAOSTAT) and is based on publicly available GISTEMP data from the National Aeronautics and Space Administration Goddard Institute for Space Studies (NASA GISS).
The graphs indicate a steady increase in mean surface temperature change as well as in natural disasters over the past few decades, especially massive floods, in no small part due to the rising sea levels. You can also find data on the latter within the IMF Climate Change Dashboard, and recently there has been a steady stream of news on devastating, and in most cases deadly, floods in Senegal, Nigeria, Pakistan, Sri Lanka, Australia, and Greece.
Conscious global travelers want to make sustainable choices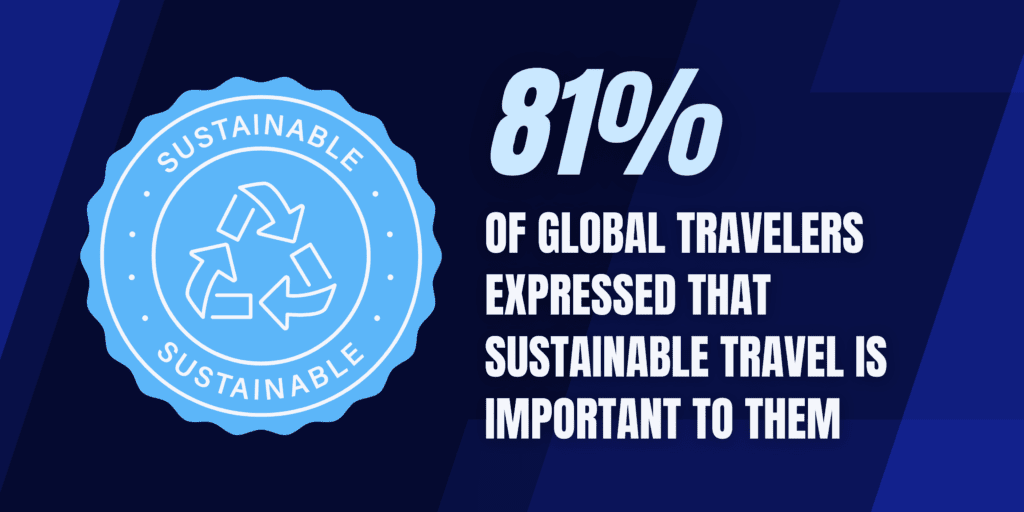 Climate change data is plenty alarming, and travelers are taking notice and looking to do their part. According to the 2022 iteration of Booking.com's Sustainable Travel Report:
"There is no doubt sustainable travel is important to global travelers, with over four in five (81%) confirming this to be true for them. Half (50%) of global travelers say that recent news about climate change has influenced them to make more sustainable travel choices, and the desire to travel more sustainably is growing."
The report also states that 71% of travelers want to make more effort in the next year to travel more sustainably, and although there is quite a distance to cover between travelers who want to make a difference and those who are actively changing their behavior to make sustainable choices, it will serve us well to remember that this number has increased by 10% since last year alone, indicating rapid growth in awareness.
46% of surveyed travelers stayed in a sustainable accommodation at least once in the past year and a whopping 78% intend to stay in one at least once in the upcoming year.
How booking platforms can bring visibility to sustainable accommodations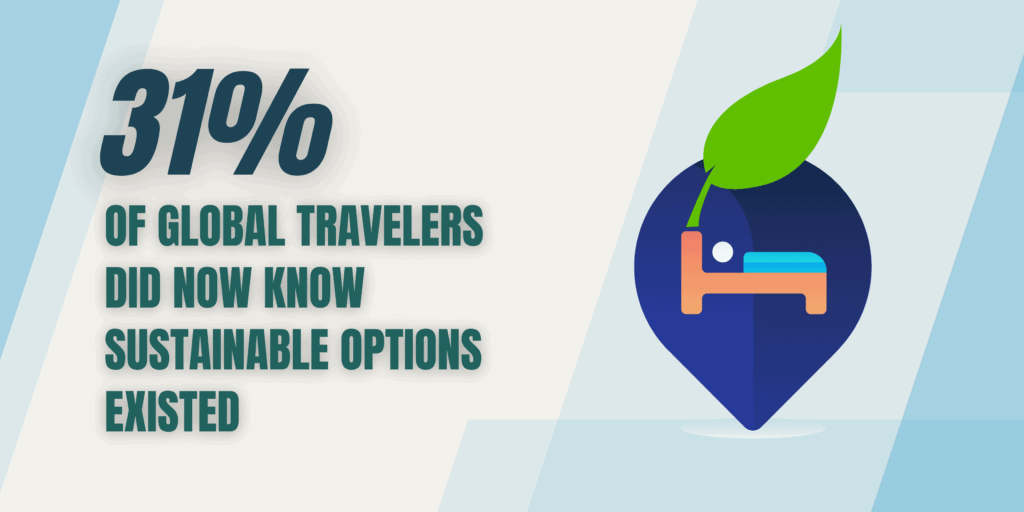 Two interesting data points in this report have to do with awareness of sustainable options. 31% of the survey respondents who did not stay in a sustainable accommodation the past year said it was due to not knowing that these options existed and 29% did not know how to find them.
Improving the visibility of available options is essential to promoting greener travel and Booking.com's Ana Abade shares one of the ways the travel giant is tackling this issue. Through the introduction of its Travel Sustainable badge, Booking.com aims to give accommodation providers a quick way to showcase their sustainability efforts to potential guests, while allowing travelers to filter accommodation options with ease.
The Travel Sustainable Badge is awarded to properties that have implemented any of the 32 specific sustainability measures or practices identified by Booking.com in five key areas: waste, energy and greenhouse gases, water, supporting local communities and protecting nature.
While this effort is still very much a work in progress as Booking.com continues to add third-party certifications and labels to help with the validation of sustainability claims made by properties, it does offer a fast way for vacation rental owners and managers to be recognised and rewarded for their existing efforts and reach conscious travelers.
UPDATE: Casal dei Fichi owner and sustainability advocate Bob Garner shares on LinkedIn that Booking.com has added distinct levels to its Travel Sustainable badge based on the scale of sustainable measures implemented by properties:
"Booking.com today announced an enhancement to their groundbreaking eco badge for sustainable properties on their platform. Launched a year ago the badge has been taken up by over 150,000 properties. Now the badging has been expanded into 3 levels to allow travellers to better distinguish between participating properties. Additionally where an owner has signed up with a 3rd party external accreditation scheme, this badging will also be displayed to guests. I know other platforms are taking action/showing interest. This has to be a positive thing."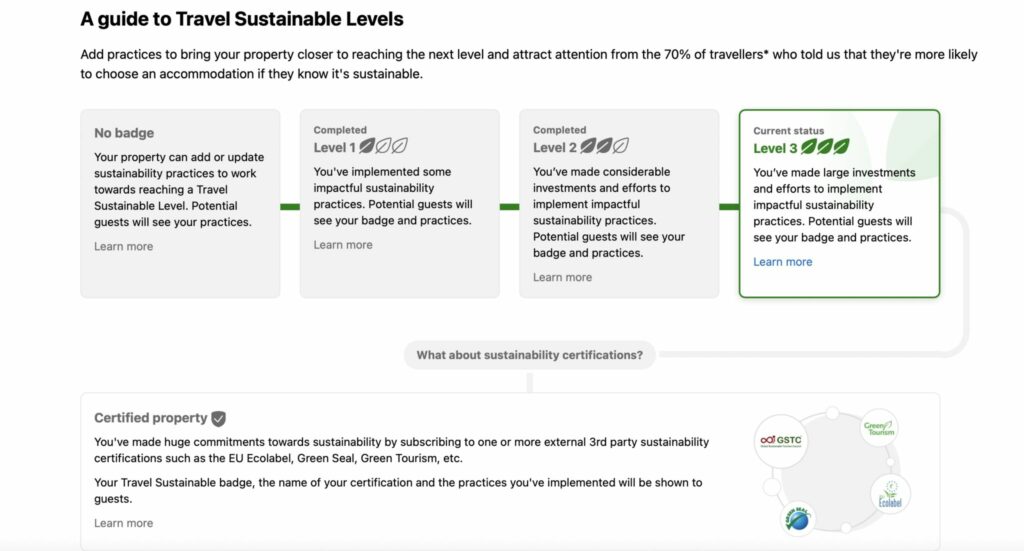 Booking.com also wants to lead the charge by providing actionable advice on improving sustainability scores to operators and educating them on possible public funding options available.
Sustonica's Vanessa de Souza Lage is also working on the first sustainability certification for vacation rental homes, along the lines of hotels. A key to this will be defining parameters more clearly in terms of what sustainability means specifically in the short-term rental sector.
Two for one: Tackling the energy crisis while building awareness around energy consumption among guests
For short-term rental operators who do not know where to start or who think of sustainable practices as a threat to their revenues, Sustonica's Vanessa de Souza Lage proposes a solution. Many short-term rental operators are presently staring down the barrel of an energy crisis, especially in Northern Europe. We recently reported on how rising energy prices are hitting European vacation rental markets in several ways. A question that has risen from the crisis is: What can vacation rental owners and managers do in the face of rising energy costs?
One of the proposed solutions is to pass on the extra consumption costs to the guests. This can be done by increasing average daily rates (ADRs) but in doing so operators run the risk of engendering distrust among travelers who will already be taking a hit to their purchasing power due to budget concerns birthed by these same rising energy costs.
A better way, perhaps, is to have guests pay for the energy they consume, a practice common in traditional vacation rental regions in France where "gîtes" (rural vacation rentals) charge guests for their energy consumption.
Through Sustonica, Vanessa recommends establishing complete transparency by installing a digital screen such as a tablet in vacation rental properties which allows guests to monitor their energy use in real-time.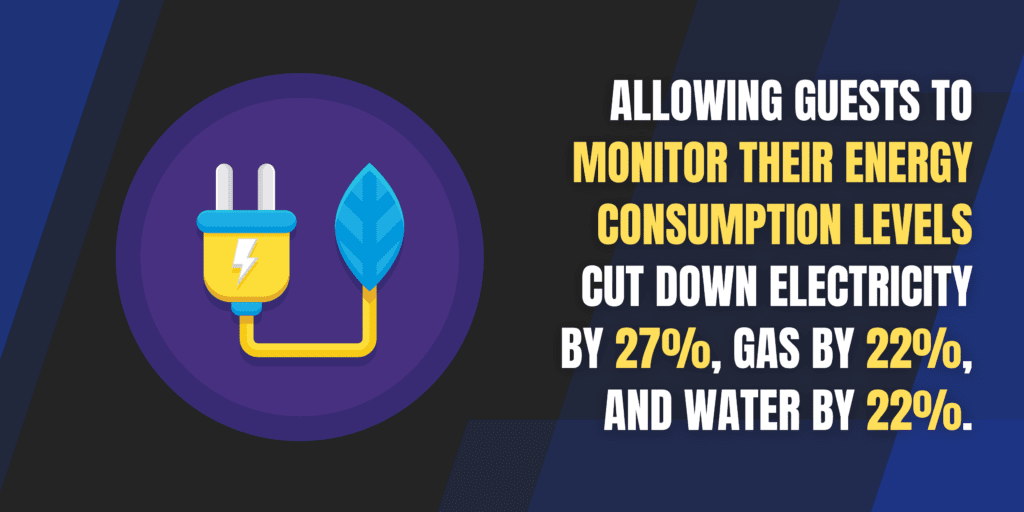 "The company says that guests, when exposed to sustainability advice and communication (via the iPad and prior email communication) cut down electricity by 27%, gas by 22%, and water by 22%. Property managers can then decide whether they want to charge for consumption or not."
The device also promises to be a nifty way for short-term rental operators to have their energy costs covered, not just in a time of crisis but as standard practice, without raising ADRs which can impact occupancy.
Challenges in short-term rental cleaning and maintenance
An aspect of running short-term rentals that is arguably the least eco-friendly is daily cleaning and maintenance. Gorana Ristovic, COO at housekeeping provider Doinn, encounters this particular challenge on the daily. She dives into how as a supplier Doinn is actively making choices that are better for the planet. Three measures Doinn has adopted in this context and that she recommends to those interested are:
Switching to eco-friendly cleaning products and materials
Digitizing aspects of daily operations such as payroll, scheduling of cleaning and maintenance to increase efficiency
Switching to digital invoicing through your existing property management systems (PMS), which also leads to better records-keeping
Responsibility more than environmental, but also social
Turismo de Portugal Senior Director Sergio Guerreiro provides some fascinating examples of how the Portuguese tourism board is encouraging sustainability to address three key facets of sustainability:
Economic:

Promoting travel to the interior or lesser-known destinations to help desaturate popular markets while boosting local regional economies.
Creating an open environment to invite and fund solutions that focus on sustainable innovation.

Environmental:

Renewed emphasis on green mobility through education, rewards, and regulations.
Investing in sustainable tech solutions.

Social:

Accelerating support for Small and Medium Enterprises that rely on local resources.
Recognizing the role of local communities and aiding in their growth.
Differentiating your business via sustainability
66% of travelers surveyed in the Booking.com Sustainable Travel report indicated an interest in having "authentic experiences that are representative of the local culture," while 19% of them "perceive sustainable properties as stylish and trendy." These numbers make sense when you recognise creativity and local communities are the very core of what it means to be sustainable.
This presents short-term rental operators with the unique opportunity to differentiate themselves from their competitors through creative solutions that not only have lower emissions, but also boost local economy and present the chance to add new revenue streams such as:
Showcasing local artisans and craftsmanship in furniture and decor, and earning commissions by driving guests to them when they express a wish to purchase.
Recommending trusted local establishments such as restaurants, bars, and entertainment for free or on a commission basis.
Using locally-made products when it comes to bath, self-care, and local delicacies.
It is interesting to note that 25% of those surveyed expressed that they "would be willing to pay more for travel activities to ensure they are giving back to local communities."
Not a matter of if, but when
A challenge Doinn's Gorana Ristovic points out is adoption at scale, which she suggests can be driven through the introduction of mandatory certifications and policies around greening measures.
For example, the transportation involved in vacation rental cleaning alone has a massive ecological footprint, which is perhaps better resolved by introducing regulations around green transportation, and rethinking tourism in a way that is not skewed dramatically towards a select few markets, while alienating less popular destinations.
There is a great opportunity before short-term rental hosts and managers to help transition the conversation around sustainability from buzzwords to real-life action, and those who are paying attention will note that participation will soon become non-negotiable.
In France, for instance, landlords with long-term lets will no longer be able to rent properties that have terrible energy consumption. While the regulation does not yet apply to short-term rentals, it is highly indicative of imminent change.
Late last year, VisitScotland, the Scottish national tourism board, became the first tourism organization of its kind to declare a climate emergency.
Those ready to adopt some sustainability practices register can also get started by registering at EnviroRental, a resource currently underway with the guidance of industry sustainability advocate Bob Garner, which aims to provide free access to resources and guidance.