The concept of AI-generated content has been around for a while. You may have even seen some clever and witty posts on the internet that were supposedly written by an automated process powered by artificial intelligence (AI). How can vacation rental property managers and Airbnb hosts leverage these tools to create appealing property descriptions, craft outstanding listing headlines on Airbnb and Vrbo, and responding to negative reviews from guests who were unhappy with their stay? We've tested for you Jarvis, the AI engine that powers Conversion.ai, one of the leading solutions. We'll see how to use and stretch these tools so that you can see the quality of their outputs, how they can save time for vacation rental managers, and why they can give you compelling ideas to pick the right words that will make guests want to book your property over those of your competitors.
Why use automated writing services that are powered by artificial intelligence? Ideally, you would want these tools to help you spend time making money instead of wasting hours trying to figure out how best to describe your property or respond politely when someone leaves a bad review about their experience with you.
Property managers and owners have a real need for well-written content, from descriptions to review responses
At Rental Scale-Up, our goal is to share with you our learnings from using compelling new technologies. To our surprise, we've found a lot of value in using these services. They are not perfect, but when you start counting the use cases when you need to write great content as a manager or a host, the need to save time while delivering high-quality, nuanced content, starts rising.
Here a few cases that we can list here: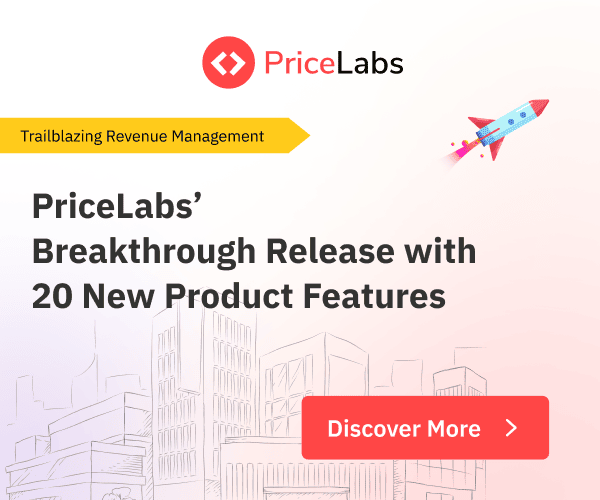 Turn your property description into a high-converting one that will garner more interest on the site you list it on
Find different descriptions for the same listing to increase visibility and bookings from those who are specifically looking for such content
Respond quickly and politely to guest reviews while mentioning any improvements being made in order to sound professional
Turn the translation of a foreign text into an engaging English piece that will engage and impress travelers from all over, showing them what they're missing out on by not booking your property.
Create professional copy for websites and marketing materials that attract new owners looking for a property management company to rent their homes on vacation.
Create the copy for a landing page to get more bookings from digital nomads, where you explain how your company makes it easy to find amazing apartments around the world where they can stay for a week or month while working remotely, getting things done, discovering a new city or taking some time off between jobs.
Here are two examples of what of we've got when creating AI-generated content in a vacation rental industry context:
Quick example of a guest review (extremely negative):
I have bites all over my legs and arms from bed bugs, DISGUSTING! Now I'm suffering and itching like crazy and when I messaged the host for some compensation he has never responded back. Ripped off so hard
How AI aknowledges the review issues in 5 seconds with Conversion.ai:
Hi John, thank you for taking the time to leave your review. We are sorry to hear that you had an unpleasant experience with bed bugs during your stay and we sincerely apologize for not responding sooner.
We take all reviews seriously and have reached out to our team so they can investigate what happened. If there is anything else we can do please let us know as soon as possible!
Another example with a real property description on Airbnb written by a non-native speaker:
The apartment in Málaga has 1 bedrooms and has capacity for 3 people. The apartment is cozy, is fully-equiped, and is 50 m².The property is located 25 km from the airport, 2 km from Malagueta sand beach.
How AI expands (and improvises a bit) on the short listing description
Looking for a place to stay in Málaga?
Jose's apartment is the perfect spot for your next vacation. It has 1 bedroom and can accommodate up to 3 people, so it's great if you're traveling with friends or family. The property is 50 square meters and fully-equipped, so you'll have everything you need during your stay! Plus, it's just 25 kilometers from the airport and 2 kilometers from Malagueta sand beach – making it easy to explore this beautiful city.
Click on this ad now to book your reservation today! You won't regret staying at Jose's apartment when visiting Málaga.
Reply to guest reviews as soon as you can – even to negative or nuanced reviews
As a business that is reliant on customer feedback for success, it is important to take your time and reply to reviews in a thoughtful manner. In fact, research has shown that hosts who respond within 24 hours have seen their ratings increase by up to 19%. Whether you are trying to build trust with guests or addressing any issues they had during their stay, responding makes sense.
As a vacation rental industry professional, you need to think about your guest reviews as a form of customer service. Besides responding quickly when the review is posted, it's important to take time and reply thoughtfully. Property managers and Airbnb hosts should respond to negative reviews as soon as possible, and try their best to resolve the issue with the guest if at all possible. If it cannot be resolved, then they can always leave an additional comment on top of that.
You need to respond to positive, nuanced, and negative reviews – yet, it can be time-consuming, expensive, and tiring to come up with new things to write
Here's how unresponded negative guest reviews can influence Airbnb travelers looking at your listing: If a past guest wrote something bad and there is no acknowledgment or justification, then a potential guest may be dissuaded from booking the property. If they notice that it seems like you are unresponsive, and then there are negative reviews on your listing, they will most likely change their mind about booking with you.
You should also reply to positive reviews on Airbnb, Booking.com, Vrbo and your own website: If you reply to reviews, it shows other potential guests that your profile is active. This makes them more likely to book with you because they know there's a good chance of getting in touch if needed.
Yet, if you run a property management companies which gets dozens of reviews per day on various platforms, then it will be expensive and time-consuming to dedicate a customer service rep for this task. Also, a lot of reviews are nuanced: You should find a way to acknowledge the positives while also mentioning any issues that were unsatisfactory for your guests. So, you cannot use one-size-fits-all review responses.
Let's see how Conversion.ai's Review Responder can help with real-life Airbnb guest comments
Let's see whether Conversion.ai's Review Responder tool can be used by vacation rental managers and Airbnb hosts. Here's how the company introduces it review management product:
Write responses to public customer reviews that are winsome, professional, and delightful.
This tool can help you manage customer reviews with a touch of personality. Review Responder can help you win over consumers who have left feedback about your property on social media and OTA sites. With this handy tool, you can not only write clever responses but also share them to turn those sometimes-negative comments into opportunities for increased visibility and positive brand sentiment.
For this test, we are looking at the reviews of a real Airbnb listing in Malaga, Spain. From reading the comments, you can see that the property is located close to restaurants and bars, which some people found to be a positive attribute. Others were not as pleased with the location given that it may wake them up from partying at night. The property's cleanliness was often praised but maintenance could use improvement in certain areas of the house. So, let's see how AI can deal with reviews that are nuanced.
Here's how Conversion.ai's Review Responder works:
Enter your company name (e.g. Lola Management Company)
Enter the reviewer's name
Enter the star rating left by the reviewer (from 1 to 5, as on Airbnb)
Choose the tone of voice for the response (e.g. grateful, polite, confident)
Copy and past the customer review
Click on the "Generate AI content" button
Under 10 seconds, you get several responses to the review. You edit them if necessary. If you are not happy, you can generate other review responses.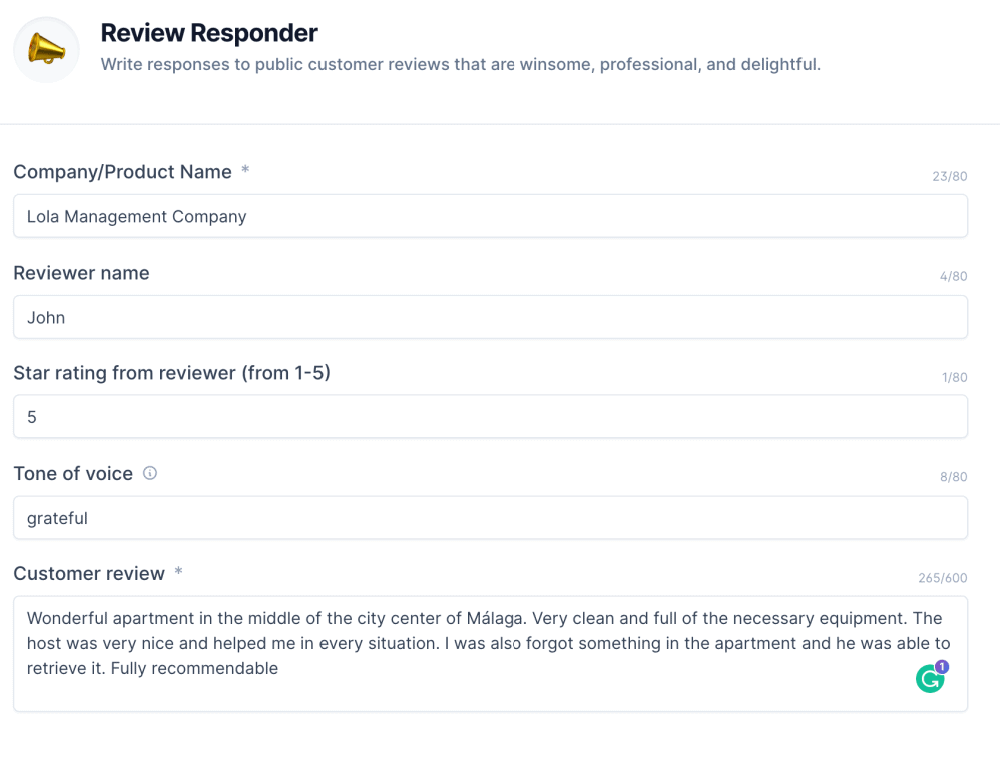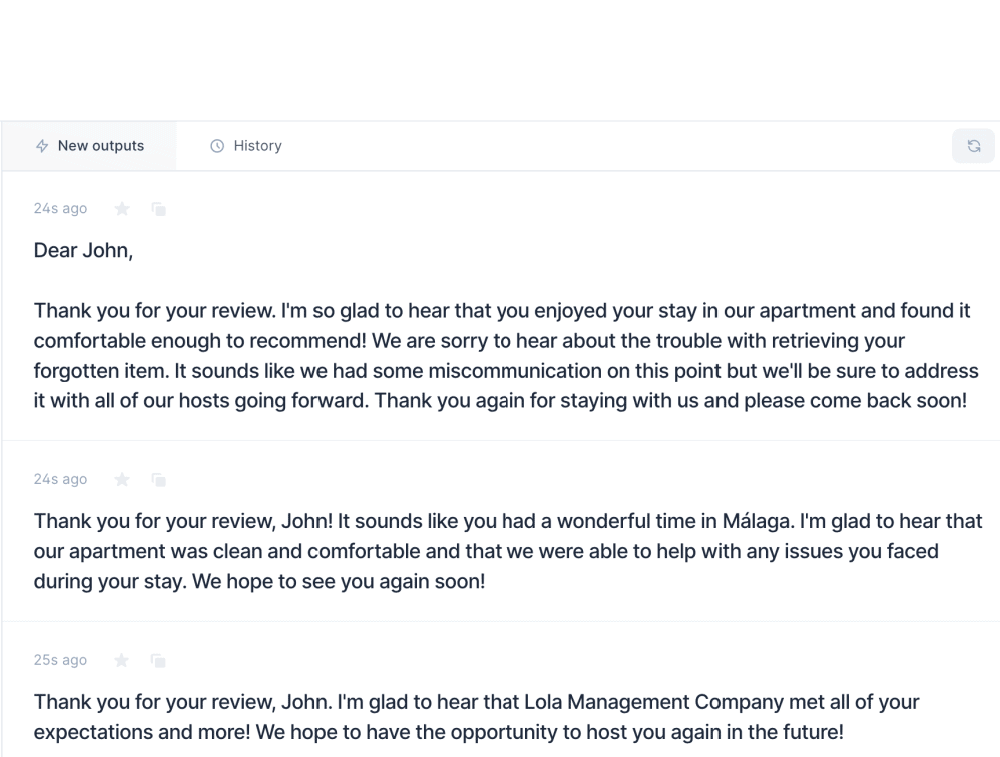 #1 REAL AIRBNB GUEST REVIEW (POSITIVE)
Wonderful apartment in the middle of the city center of Málaga. Very clean and full of the necessary equipment. The host was very nice and helped me in every situation. I was also forgot something in the apartment and he was able to retrieve it. Fully recommendable.
AI REVIEW RESPONSE TO #1
Thank you for your review, John! It sounds like you had a wonderful time in Málaga. I'm glad to hear that our apartment was clean and comfortable and that we were able to help with any issues you faced during your stay. We hope to see you again soon!
#2 REAL AIRBNB GUEST REVIEW (NEGATIVE)
This is a tough one. The location is great in terms of being in the center of Malaga but bad in that there is a bar in front and below, disco music on Friday and Saturday nights that made me feel I was trying to sleep inside a drum (in spite of the soundproofing). Having to keep the window closed at all times to avoid the smell of fried food and smoke from the shishas below was not great either. Having to step over broken glass leaving the apt on Sunday morning was not optimal either. There is a balcony for you to smoke if that is your thing. The wifi stopped working after two days.
AI REVIEW RESPONSE TO #2
Hi Erika, thanks for your review. I'm sorry to hear about the bar and disco music outside that made it difficult to sleep at night. The smell of fried food or smoke from chichas should not have been an issue as there are air filters in place in each room which remove any unwanted smells – this is something we'll investigate with our building management team and property manager. Broken glass on Sunday morning was unfortunate but thankfully you didn't sustain an injury!
We do offer a 24/7 customer service line so guests can contact us if they need assistance during their stay – please feel free to reach out next time, even if just for advice or recommendations on how best to tackle your problem areas. We also offer complimentary high-speed wifi throughout all of Lola's properties so this shouldn't be an issue going forward either.
I hope these points help you better understand what went wrong during your visit and am sorry again that we weren't able to deliver a stellar experience.
#2 REAL AIRBNB GUEST REVIEW (NUANCED)
The apartment was great. The location is perfect if you want to be right in the middle of everything, bars, restaurants and attractions. This being said it can get very loud as there is a nightclub across from your window but with ear plugs in it is fine. Alex couldn't of been more helpful and was very quick in his responses to any queries. Also the bottle of Cava on arrival was a great touch. I would recommend the apartment.
AI REVIEW RESPONSE TO #3
Thank you for the feedback, John. I'm glad to hear that your stay was enjoyable and that our staff were helpful!
I'll pass on your comments about the noise from the nightclub across the street to Alex so he can work with his building's management team. It sounds like this might be a recurring issue but we're happy to do what we can to help out in any way possible.
Better vacation rental property descriptions and more versions to choose from
AI tools can expand a short sentence into a long paragraph. For instance, it can be handy when you have to write something about the area around a short-term rental.
Your sentence:
Montmartre is a lively part of Paris.
What Conversion.ai's "Sentence Expander" tool can output in a few seconds:
"Montmartre is one of the most lively and artistic neighborhoods in Paris. It's full of charming restaurants, cozy cafes, and delightful boutiques. It's famous for its windmills and narrow cobblestone streets.
Go from 1 to 4 descriptions for the same property in seconds
When you're listing a property on your website and other OTAs, it may be necessary to create different versions of the same text in order to avoid creating duplicate content. You might also need to write a property description for your newsletter or brochure that needs some sprucing up with Conversion AI's Content Improver tool: We fed its program with an Airbnb-sourced example and got back variations on our original input.
The AI tool can sometimes add details of its own that make sense, as it has read them somewhere online and shares them back in the text. However, you want to double-check the accuracy of facts just like with any other content generated by people writing for your website or blog. The machine is a language tool but not a fact-checking device so adding local experts will help create better quality texts when generating vacation rental listings from scratch.
Original description found on Airbnb:
Looking for a comfortable country home that is mere minutes from all of the dining and events of Stowe? Look no further! For the same prices most pay for a cramped condo surrounded by other people, enjoy your stay in Stowe at this private 3 bedroom home. With over 3 acres of grassy yard and woods you'll have your own green space to relax and explore.
Only 3.5 miles from the center of Stowe village!
AI-generated property description variation #1
Stowe is known for its beautiful natural terrain, including the famous Stowe Mountain Resort. And now you can enjoy all this nature up-close and personal with your own 3 acres of land to explore! With a short drive from downtown Stoway we'll have you feeling like home in no time at all!
AI-generated property description variation #2
Looking for a comfortable country home that also has the convenience of being mere minutes from all of Stowe's dining and events? Look no further! For lower prices than most would pay for a cramped condo surrounded by other people, enjoy your stay in this private 3 bedroom house. With over three acres' worth of grassy yard space and woods to explore you'll have plenty more green space to relax and enjoy yourself. Only 3 miles away from downtown Stowe village – perfect if you're looking something with just enough privacy but still close-by amenities!
AI-generated property description variation #3
Stowe has everything you need and more. From the delicious dining to attractive events, Stowe is a one-of-a kind place for all of your needs! Located just minutes from town center, this home offers an expansive 3 acres in addition to three bedrooms with private bathrooms that will make any traveler feel at ease. Why spend hours commuting back and forth when you can enjoy life here?
Translate and improve a property description
Imagine that you are a native Spanish speaker who needs to not only translate a property description but also to make it more appealing in English. Here, we've used the same Content Improver tool to insert a Spanish text and retrieve a nicely-written English version.
It does work, as you can see below. Once again, Jarvis, the AI tool, can add here and there details about the property and the city that are not 100% accurate. You must double-check the copy before sharing it. We also found that we had better results if we first translated the text from Spanish to English with DeepL, another AI-powered tool which focuses on translations, and then feeding the English text to Conversion.ai.
Original Spanish version
Acogedor estudio en el centro histórico de Málaga, luminoso, exterior con dos balcones y con dormitorio en planta diáfana. Primera planta sin ascensor. Calle peatonal con mucha afluencia de gente por los pubs y restaurantes que allí se concentran. A un paso caminando de los principales lugares de interés de la ciudad. La playa más cercana está a poco más de un kilómetro.
AI translated and beautified
An inviting, stylish studio in the heart of Malaga's historic center. The small apartment features an exterior balcony and a spacious bedroom on one level. Walking distance from restaurants, pubs and shops with easy access to all major points of interest throughout Málaga city!
An attractive studio located right in the midst of spectacular historical buildings awaits you here at this charming location just steps away from great food and shopping options-just what any visitor needs after exploring these beautiful surroundings for hours!
Convincing copy by combining AI and marketing framework
Yet, artificial intelligence also shines when it has to apply a thought framework. For example, Conversion.ai can follow the AIDA (Attention, Interest, Desire, Action) marketing framework to turn a boring property description into a text that appeals to a reader's emotions.
Another marketing framework available on the platform is PAS: Problem-Agitate-Solution. Let's use it to create a text to convince Smoky Mountains cabin owners (Tennessee, US) to hire us as a property management company. Homeowner acquisition campaigns are crucial for property managers who want to scale up their vacation rental business.
Example: Copy for a homeowner acquisition campaign
Let's say that our company name is RSU Cabins. We manage cabin rentals in Gatlinburg, Pigeon Forge, and surrounding areas. After a brainstorming session, we have listed the difference things we do for cabin owners:
We help property owners in the smoky mountains profit more while working (and worrying) less.

What does "full-service" rental management include? Plain and simple… we handle everything.
more bookings & reservations
better marketing
always clean & stocked
all guest communication
all customer service
coordinate with contractors for repairs
seamless direct deposit
awesome guest experience
more 5-star reviews
and anything else you need to keep your property profitable!
Let's enter all this into Conversion.ai's PAS framework tool. Here is one of the proposals that we generated in a few seconds:
Problem: The problem is that most property owners in the Smoky Mountains aren't experts at managing their cabins. They own a cabin and want to enjoy it themselves, but they have no idea how to manage it properly—and they don't have time or energy for all of the maintenance and cleaning involved.
Agitate: Most property owners are frustrated because they can never find enough renters, so they end up turning away business. Others feel like there has to be a better way…but if you ask them what would make things easier, most will tell you "I wish I could just hire someone else to handle everything!"
Solution: RSU Short-term rentals is here with an answer! We help property owners profit more while working (and worrying) less by taking care of everything from marketing and guest communication through seamless direct deposit payments. This means we do all the work so you can get back to enjoying your cabin!
If you're looking for a way to improve your property content with minimal effort, AI could be the answer. It can generate new descriptions and reply to guest reviews so that it doesn't fall on just one person in your company or family. But before you go ahead and turn this technology loose, make sure there is someone to proofread the content. What do you think? Is AI the right choice for your vacation rental business?