Both Expedia Group (Vrbo's parent company) and Booking Holdings (which includes Booking.com) have released their Q1 2021 financial performance. Neither group breaks down vacation rental data within its financial reports. Yet, the comments of the respective CEO of each company give a clear indication that, in the US, Booking.com has missed the boot to the booming vacation rental market while Vrbo has largely benefited from it. Booking.com has a meager supply of vacation rental properties in the US, and most of it comes from large property managers. Vrbo is historically strong in the US but is also less static than Booking.com, as its overt efforts to attract Airbnb hosts show.
Booking and Vrbo agree that more people will consider vacation rental as an interesting lodging option
Vacation rentals are hot. In 2020 and 2021, while travel was slumping, a higher than usual share of travelers turned to vacation rentals. The property format seems to be the best social distancing, working remotely and escaping big cities for a few days or weeks. While the category is not new, Airbnb's arrival on the scene had created more demand and more supply, especially in urban centers.
Peter Kern, Expedia Group's CEO, and Glenn Fogel, Booking Holdings' CEO, agree that the COVID-19 pandemic was a catalyst to people trying out vacation rentals for the first time.
According to Peter Kern (Expedia / Vrbo): "It will make people consider vacation rental as part of their choices where maybe before they had not. But, I don't think we're necessarily going to be seeing a huge shift that sustains itself long-term so much as maybe a reset at a higher level for vacation rentals and then growing off of that."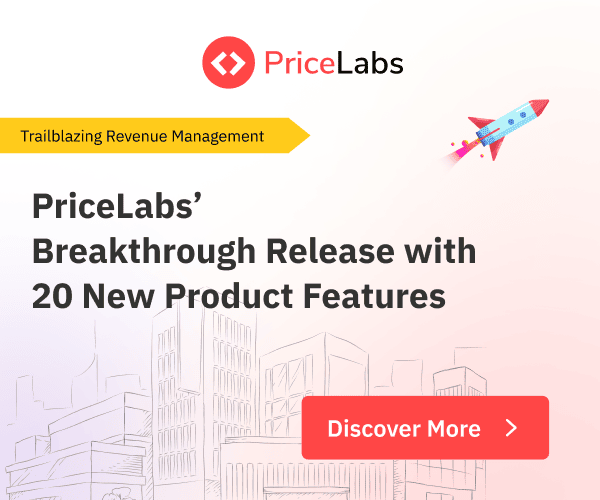 Glenn Fogel (Booking Holding / Booking.com) concurs: "We've been seeing for many, many years – and everyone's aware of this – that people have been more interested in the alternative accommodation. This is a global phenomenon. It's been going up at a steady rate for some time. COVID created a step functional change where people who may never have thought about an alternative accommodation, now they're thinking I want to go to a home that's not near people, maybe near the beach or near the mountains and I feel safer there."
For everyone in the vacation rental industry, this is great news: More people have been introduced to the benefits that we offer to travelers. When hotels reopen, the relative share of vacation rentals may drop but should stabilize at a higher level than before the pandemic.
So, it justifies many property managers' attempts to secure more supply, as the ROI should be positive over several years.
Yet, in Q1 2021, the share of vacation rentals at Booking seems to have barely moved, while Vrbo's vacation rental numbers were booming. What happened?
While Vrbo has strong brands around the world, such as Abritel in France and Stayz in Australia, its performance is still strongly attached to the US. Expedia Group does not share much data here, but the Vrbo / HomeAway back story suggests that supply is strong in traditional vacation rental markets and in property manager-dominated regions.
| | | |
| --- | --- | --- |
| | Vrbo | Booking.com (vacation rentals) |
| European supply | Good overage in Western Europe in sea, mountain, and rural | Strong, especially in big travel markets (urban and resort) |
| US supply | Very good in sea, mountain, and rural markets | Low supply in all markets |
| Brand in Europe | Strong local brands in some markets (France and Germany), Vrbo brand present in Western Europe | Very strong in travel, but a bit behind for vacation rentals |
| Brand in the US | Vrbo and HomeAway are / were strong brands. Heavy investment in TV and Youtube advertising in Q1 2021 | Booking.com is not well-known in the US; awareness about its vacation rental supply is low |
| US Property Managers | While VRBO started as Vacation Rentals By Owner, HomeAway tented to favor professional property managers. For instance, it bought Escapia, a big PMS in the US. | With low presence on the ground in the US, Booking.com built its supply by adding the inventory of large property managers |
| US Individual Hosts | In Q1 2021, Vrbo kicked off an aggressive effort to get more individual hosts, especially the kind that had been loyal to Airbnb (see Vrbo Fast Start) | Booking.com is not a household name in the US. Compared with Airbnb and Vrbo, it is more expensive and less user-friendly for non-professional hosts. |
Booking Holdings' leadership team is clear about the potential for the US market for Booking.com. And about the company's current shortcomings. While US vacation rentals were booking, Booking Holdings missed out on the action as most of its rentals are in Europe, the region with the slowest growth for the company.
Here are some quotes from the Q1 2021 Booking Holdings earning call:
One of our most important strategic strategies: Strengthening the Booking.com brand in the US.
We also remain focused on expanding the supply of Booking.com's alternative accommodation offering in the US and we targeted and signed new properties to the platform in the quarter. However, we recognize there's more work to be done to improve the breadth of this product in the US.
Europe is where we have our highest mix of alternative accommodations and Europe was the slowest growing region in the first quarter
Compare and contrast with Expedia Group's message about the US vacation rental market:
Vrbo is doing great. The U.S., particularly strong, but as I said, in all our strongest markets, we are showing share gains. And Vrbo is clearly — and vacation rentals in general, clearly in very positive territory, and that is helping bring up all our numbers
The long-term plan for Vrbo or vacation rentals, more generally, is to have them available through all our brands.
In February, we already underlined how 2021 was promising to be a great year for Vrbo. The positive buzz was so big that a few financial analysts had talked about a possible Vrbo IPO. At the time, it looked impossible that Expedia Group would divest from a growing business. In early May 2021, Expedia agreed to sell its business travel arm Egencia to American Express. Yet, Vrbo's supply seems to be key to the Expedia Group, as it wants to offer vacation rental options on all its websites (e.g., Expedia, Orbitz, Hotels.com).
In early 2021, Vrbo was more active than Booking.com in that US, with an ambitious advertising campaign on the demand side and bold moves to compete with Airbnb on the supply side
Once again, you can fault Booking Holdings for not diagnosticin the issue at hand: Low vacation rental supply in the US, and from individual owners specificallly:
We under-index with the private homes, the single homes in the States. And that has been a popular product in the States because of the pandemic. It's also just the process in general, how we get people on board, who we're dealing with to get them to come in. And we currently are using the multi-product property managers more than, say, some of our competitors who go out and get individual properties.

Glenn Fogel, CEO, Booking Holdings
So, who are these competitors who "go out and get individual properties". Airbnb suits the bill, of course, for instance with its new campaign to attract, onboard, and train more rural hosts.
Yet, Vrbo could also have been on Fogel's mind: The Fast Start program wants to attract high-value Airbnb hosts, for instance, SuperHosts, and get them to try out the Vrbo platform. Vrbo has deployed a dedicated team to onboard Airbnb hosts and make it easy for them to get started on the platform (for instance, by being allowed to display the guest review rating they have on Airbnb).
In order to convince hosts to stop being exclusive to Airbnb and also list their property with Vrbo, the company states in Youtube commercials that Vrbo hosts earn on average twice as much money as Airbnb hosts.
Such a bold, underdog brand campaign would be hard to come up with at risk-averse Booking.com.
The other problem for Booking.com is that its brand is not very well-known in the US, and certainly less for vacation rentals. Since May 2020, Vrbo has been investing a lot in commercials, both on TV and on Youtube, while Booking.com has stopped all major branding initiatives.
Booking.com has been using a new strategy to increase its local footprint in the US: subsidy of travelers. This is probably an effective way to get more bookings. Still, it does reinforce Booking's image as discount-oriented and transactional, which may not be what people want when they're looking for luxury vacation rentals abroad or even at home.
You may have seen Booking.com US Back to Travel promotional campaign that we launched in April, which offered a $50 post-stay promotional travel credit for US travelers who activated the promotion in the Booking.com app and booked travel by the end of May.

Glenn Fogel, CEO, Booking Holdings
Note that Vrbo prefers pouring money into brand building, a long-term effort, rather than listing its properties on Google Vacation Rentals. The company has even pulled its supply from all vacation rental meta-search sites.
The US vacation rental industry is booming, with more people considering it as an interesting lodging option. However, in Q1 2021, the share of vacation rentals at Booking seems to have barely moved while Vrbo's numbers were booming. What happened? In early 2021, Vrbo was more active than Booking.com in that US with ambitious advertising campaigns and bold moves to compete with Airbnb on the supply side.