Vrbo wants to attract hosts that are loyal to Airbnb. We've seen it with Vrbo's Fast Start campaign, where a dedicated team helps onboard high-value Airbnb hosts. While Vrbo was not naming Airbnb in this campaign, it was clearly alluding to its competitor, for instance, when mentioning how it was targeting "SuperHosts". In this new campaign, Vrbo is way more direct: It wants vacation rental owners that are only listing on Airbnb to diversify their marketing channels by becoming Vrbo hosts. It is fantastic to see Vrbo, a 25-year old company inheritor of the HomeAway mantle, use a challenger brand strategy against Airbnb. Is Vrbo trying to disrupt the disruptor? Which arguments is Vrbo using to convince owners to try it out?
Vrbo, a brand historically linked to traditional vacations rental markets
Vrbo presents itself as an alternative to Airbnb for vacation rental owners. For many people, it may come as a surprise, as Vrbo is closely associated with traditional vacation rental markets. Over the years, Vrbo has acquired several brands dedicated to vacation rentals in the sea, mountain, and rural markets: HomeAway and Vrbo in the US, Owners Direct in the UK, CanadaStays in Canada, Abritel and Homelidays in France, FeWo-Direkt in Germany, Stayz in Australia, TopRural in Spain, to name a few. These websites have attracted vacation rental owners and property management companies for years.
Yet, these brands were a lot to manage and may have lost some luster compared with Airbnb. First, Vrbo started rationalizing its brand portfolio and rolling out the Vrbo brand across several countries, while keeping some local brands where they were too big to dismiss (e.g. Abritel and Stayz). Vrbo also started using the term "hosts", first popularized by Airbnb, to describe its property owners and managers. For instance, the Premier Partner program got rebranded into the Vrbo Premier Host program.
Vrbo's supply: Entire homes with 2+ bedrooms for large families and groups
Second, Vrbo increased its advertising campaigns during the COVID-19 crisis, while Airbnb and Booking.com drastically reduced their ad spend. Vrbo's commercials showed family-friendly vacation rentals, with at least 5 people staying in a non-urban setting in each video. Vrbo wanted to convey its positioning: entire homes, for families and groups, in the sea, mountain, and rural markets.
Here are some data about Vrbo that the company released in 2020. First, let's look at data about people who book on Vrbo:
85% travel as a family or group
Average length of stay: 6 days
2/3 come by car (number probably grew bigger in 2020 and 2021)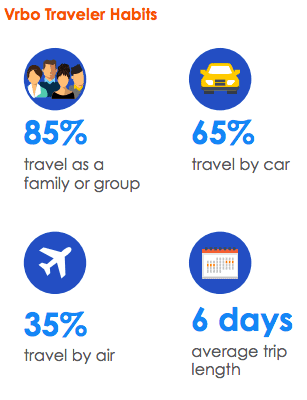 Then, let's compare the audience on Vrbo.com vs. hotel-heavy OTAs belonging to the Expedia Group (e.g. Expedia, Hotels.com, Orbitz). You can also think of it as a proxy to compare Vrbo and Booking.com, which is heavy on hotel bookers.

---
Vrbo vs Airbnb: Airbnb's commercials show smaller families
Meanwhile, Airbnb has been conducting a massive ad campaign of its called, called "Made Possible by Hosts". The commercials mostly show small families (e.g., 2 parents + 1 baby, 1 mom + 2 daughters, 1 mom + 1 daughter) staying at a vacation rental home. Meanwhile, Vrbo's commercials feature large families, most often multi-generational (grandparents, parents, and kids).
In terms of properties and location, it is close to what Vrbo is showing (i.e. non-urban, entire home), but smaller in size and, we guess, number of bedrooms. Vrbo loves to show expansive outdoor spaces, with large pools, barbecue areas, and other amenities that can be shared by a large group of guests.
---
The problem: Small Airbnb hosts tend to be exclusive to Airbnb. So, they are not on Vrbo. And Airbnb's presence is growing in non-urban markets
In the run-up to Airbnb's IPO, data company Transparent shared a thought-provoking graph. It showed that individual Airbnb hosts with 1 property tend to be listed only on Airbnb. It means that they are not using any other platform. This is a formidable strength for Airbnb and this aspect backs up its claim around unique experiences.
So, a new generation of vacation rental owners may have started with Airbnb and may not know about Vrbo. Or, at least, do not see the point of trying out another platform and taking risks such as getting double-bookings.
More than 80% of Airbnb hosts who own only 1 property are listed exclusively on Airbnb (and not on either Booking, Expedia, or Vrbo.
Let's have a look at non-urban vacation rental markets where Vrbo is supposed to be #1 (data source: Transparent). You will see that, in small cities, Airbnb is now doing visible. Pease note that Vrbo is still named Homeaway in this data set.
Vrbo vs Airbnb – Rural market: Gatlinburg, Tennessee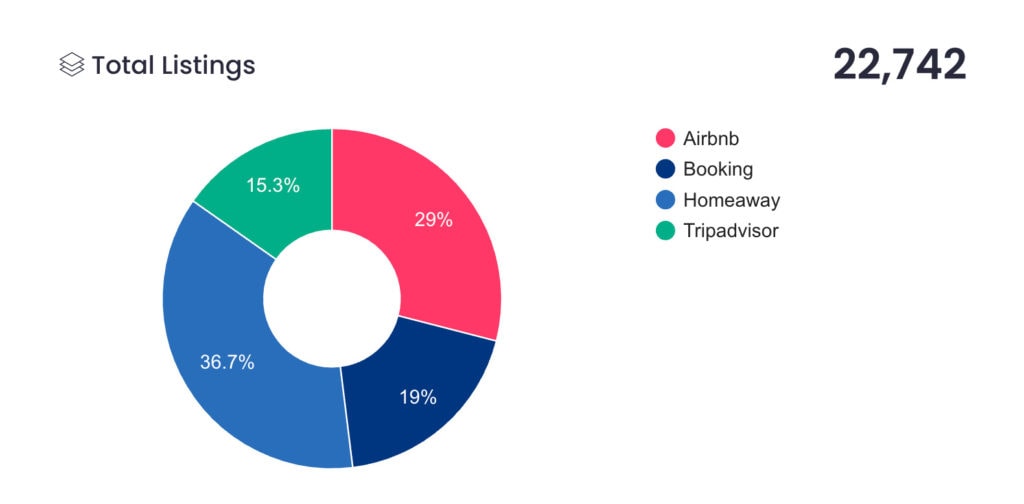 Vrbo vs Airbnb – Sea market: Myrtle Beach, South Carolina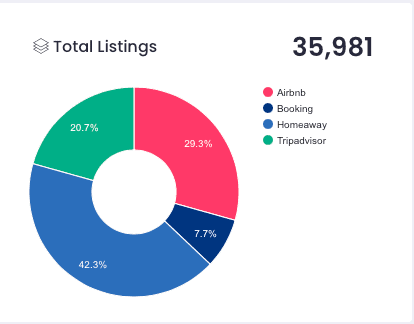 Vrbo vs Airbnb – Mountain market: Lake Tahoe, California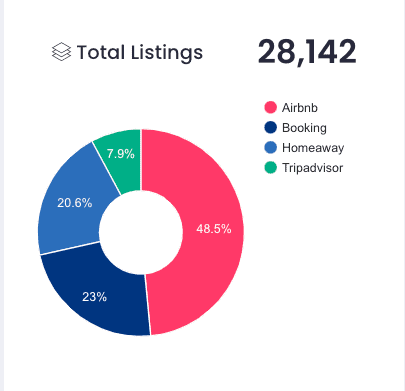 ---
Vrbo's challenger tactic against Airbnb: We make hosts more money as we can attract large, affluent families
In the Vrbo vs. Airbnb battle, Vrbo does not want to attract all Airbnb hosts. It only wants to attract the ones with the largest properties and the higher booking value. Its Vrbo Fast Start campaign to onboard more Airbnb presents these criteria:
Any Superhost or host with a 4.5+ review rating and who has earned more than US$3,000 in the last year is eligible for Fast Start.
a property does not have to be exclusive to Vrbo.
Vrbo does not say that it wants Airbnb hosts to 100% switch over to its platform and leave Airbnb. Its Fast Start program is not asking for exclusivity. Similarly, its new commercials start wit the phrase: "If you only list your vacation home on Airbnb". The key word is ONLY. It means that Vrbo wants Airbnb hosts to give it a try and to then to win them over.
Vrbo claims that it can make more money for hosts than Airbnb: "Individual property owners who joined Vrbo in 2020 made an average of almost US$6,000 per property or 50 percent more than other travel sites." Vrbo says that the claims related to Airbnb stated in their ads are comparing 2019 Vrbo data to 2019 Airbnb average nights stayed, gross booking value, stays & experience booked per night x average nights stayed as reported in Airbnb S1 dated 11-16-2020.
These commercials name Airbnb and use the claims that we've mentioned above:
Vrbo is better at getting large properties booked ("bigger places like yours" and "luxury homes like yours" )
Vrbo can attract families "
Vrbo's guest are more affluent ("spend over twice as much more")
The length of stay (LOS) is bigger on Vrbo ("Vrbo families who stay longer")
The video tells viewers to go to Vrbo to "also list" there, shw
Are you hosting with the best site?
Video audio: If you only list your vacation home on Airbnb, you might attract someone looking for a quaint little studio, but if you list it on Vrbo, you'll attract families looking for a bit more and who spend over twice as much more. Your dream guests await. Become a Vrbo host today.
Video copy: Vrbo guests spend over 2x on average and stay significantly longer. And they love luxury homes like yours. Let's talk.
Call to action: Vrbo.com/list
Why is Vrbo better for your cozy vacation rental? Guests stay longer.
Video audio: If you only list your vacation home on Airbnb, there will always be a couple of people who stay a couple of nights. But if you list that same home on Vrbo, you'll get Vrbo families who stay longer. Your dream guests await. Become a Vrbo host today.
Video description: Guests spend over 2x on average — and stay significantly longer. Sound like dream guests? That's who books with us. And that's what makes Vrbo better.
Call to action: Vrbo.com list
Get the guests who stay longer and spend more. Host with Vrbo.
Video audio: If you only list your vacation rental on Airbnb, you might get a few people. But if you also list it on Vrbo, you'll get Vrbo families who book bigger places, like yours. Your dream guests await, become a Vrbo host today.
Video description: On average, guests who book on Vrbo spend over 2x — and stay significantly longer. How much more could you earn if you booked more high-value guests?
Call to action: Vrbo.com/list
Vrbo, a leader in traditional vacation rental markets that is not afraid of playing the underdog with hosts loyal to Airbnb
If you want to know about Vrbo's rising profile, you may want to read the following articles: