For its 2022 Summer Update, Airbnb has introduced 56 categories that allow travelers to discover more properties and destinations than they would have using a normal search box. Actually, Airbnb has combined a new navigation menu that displays dynamic categories with its flexible search options launched last year. The result is big, bold, and innovative. Airbnb has completely overhauled its homepage and search result pages while enabling more properties and destinations to be discovered by travelers.
Visual tour
By default, the homepage now shows properties from the Design category, in a flexible search mode (i.e. Anywhere, Any week).
Note the new navigation with up to 56 categories, presented with an icon and a category title (e.g. National parks, domes, surfing).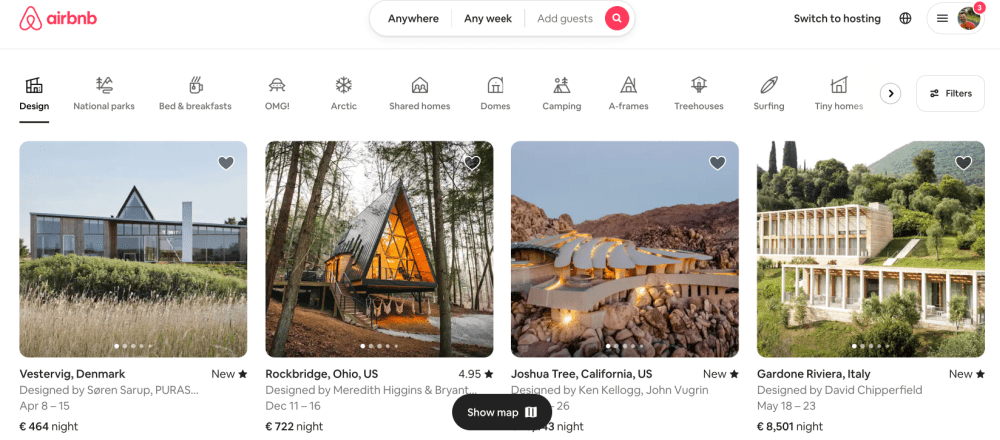 The list of categories is dynamic: If you enter one destination, then the list and the order of categories change to stay relevant. For instance, for the French region of Alsace, famous for its vineyards and medieval towns, Airbnb displays the following categories: "Historical Homes", "Vineyards" … and Boats (?).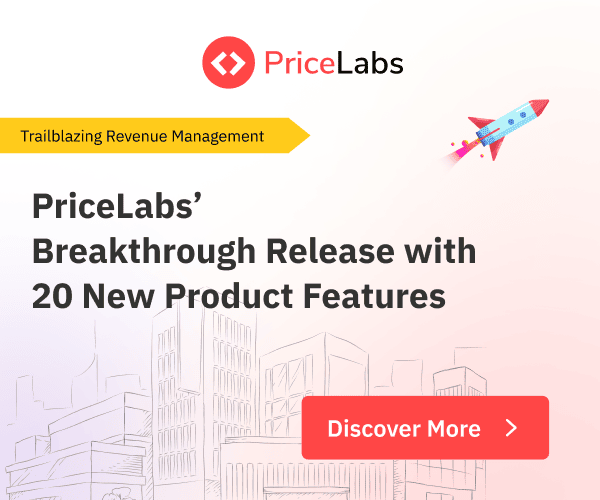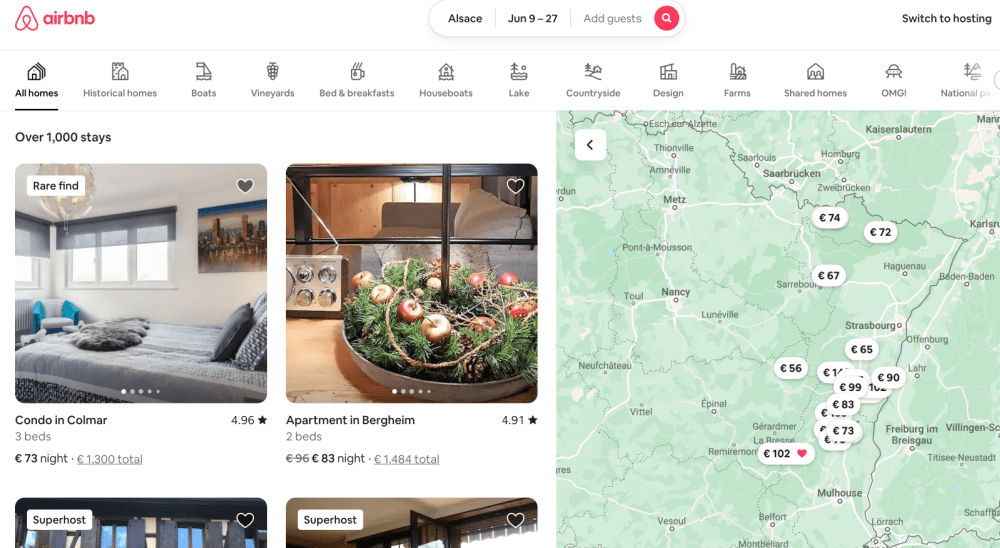 Now, you get the same thing, say, for Paris, France. Yet, note a big change: The listing titles crafted by property managers and owners are gone. They are replaced by shorter and more functional titles, such as "Apartment in Paris" or "Condo in Colmar".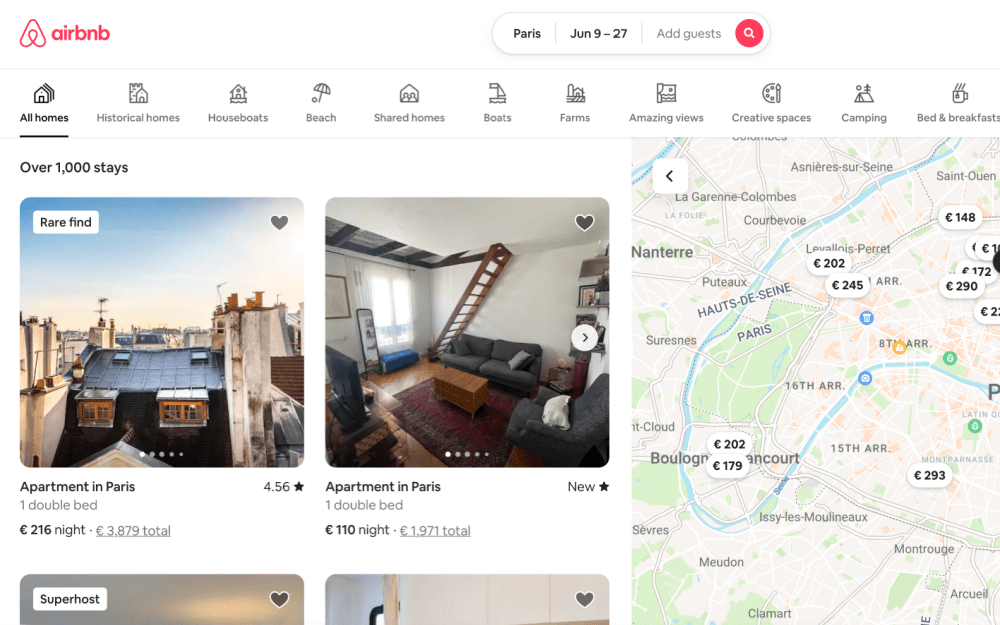 For many hosts, at first glance, there is not much to chew here, especially as Airbnb is not delivering much on the hosting side. For instance, the 2022 Summer update introduced a streamlined host onboarding funnel that was very impressive.
Listing titles disappearing from some search results
In some cases, some hosts have started complaining that Airbnb's new category search has removed the listing titles they have patiently crafted. Airbnb's goal is probably to increase conversion by helping guests focus on what is important in the listing, putting more emphasis on key photos for instance.
Now, titles remain important as they do show up on the listing page. They may also be used by Airbnb's machine learning model when deciding which categories to assign to a listing.
What does this release solve for?
More discoverability for some listings and destinations while helping Airbnb plug some inventory gaps
Airbnb suffers from a lack of inventory in some locations or for some dates.
For long stays, there may not be enough places available that offer a stay for the whole period, so split stays allow to combine 2 places that can make the stay possible for the duration 
Last year, when Airbnb introduced Flexible Matching (which shows properties that do meet all the criteria but are close enough so that users see more choices and can make trade-offs), the company was already trying to make sure that travelers could find something they liked. With more relevant choices, the company can increase its onsite conversion rate and get a higher ROI on its marketing expenses.
Airbnb categories offer a new way to surface listings by property types (e.g., treehouses, castles), main features (e.g., amazing views, fantastic pools), or activity (e.g., surfing, skiing). If a traveler searches by location, they may enter a series of town names but forget a bunch of other relevant places. By downplaying the role of location (while still using it as a criterion), Airbnb enables travelers to discover and contemplate more options. For hosts located near but not in famous destinations, it is a chance to get more bookings and delight more guests.
A way to deliver on Airbnb's missions and branding
Airbnb wants travelers to believe that it has exclusive listings. Showing quirky, beautiful, and one-of-kind places gives travelers reasons to believe that Airbnb is unlike the other OTA websites. Even if some property managers multi-list their properties across Airbnb, Vrbo, Booking, and other platforms, Airbnb can use its unique search and merchandising features to create a unique atmosphere. 
An amazing feat from a product, tech, and product marketing perspective
The launch of Airbnb Categories means a dramatic change in the way Airbnb's homepage looks: Instead of big images, users can now see an array of search results that they can immediately tweak. Think about it: The homepage is now a big shopping window whose job is to inspire travelers. In terms of technology, displaying such as page, with personalized results according to each user, asks for more computing power than just showing a series of static images.
Airbnb Categories also rely on an impressive work behind the scenes of automatic tagging and machine-learning algorithms to add labels and classify the properties.
For the 2021 Summer and Winter releases, we underlined that the release of 150+ features was an amazing product marketing work, where Airbnb's teams had to make sure that they could mention recently released, just released, and upcoming features.
Here again, the coordination between tech & engineering, product, design, UX, and marketing teams must have been tremendous. Such a big release actually flies in the face of agile methodologies, which only swear by incremental improvements. Such a drastic change would be hard to pull off at other tech companies, as it runs against admitted best practices such as A/B testing each little thing instead of launching big makeovers. It is also a testament to the capacity of Airbnb's leadership team to align employees and projects in a way that is hard to do in companies where management has less vision and legitimacy with its employees.
A brand new ay to surface listings: Not just categories, but also flexible search options by default
The new search includes type of home (such as A-frames, cabins, castles and tiny homes), as well as in-home features (amazing pools, chef's kitchens and creative spaces), location type (arctic, beach, farm) and even activity (surfing, golfing, ski-in/ski-out).
The changes go beyond filtering out results by categories. As we predicted, the "I'm Flexible" search feature has merged with the main search box. Actually, the default search mode is flexible, whereby a user can see results matching "Anywhere, Any week". The "I'm flexible" option is on by default, so the user has to click on "Choose dates" if they have specific check-in and check-out dates in mind.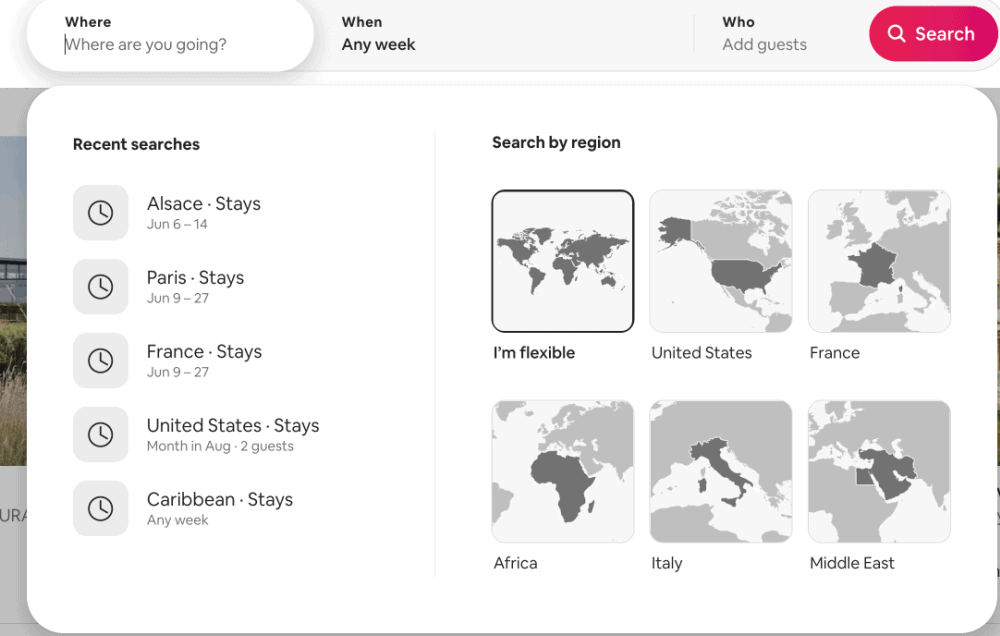 So, if you combine a navigation throughout 56 categories matching "anywhere" and "any week", you can understand that Airbnb's default mode surfaces destinations and properties that a search focused on a specific date and destinations would not have. The idea is to give inspiration to people who are not yet set on a date or place.
Thus, Airbnb is using its Airbnb Categories as a tool to get users to come back often to dream about places, get lost in searches, and experience the depth of Airbnb's offering. By focusing less on the actual transaction, Airbnb wants not only to be known as a great place to book a vacation rental but also as a place where users come early in the travel planning when they are still open to many options. Thus, it is a way to increase the number of users who come to the website and plant a seed about Airbnb being a great place to book when users have progressed a few steps down their decision-making process.
For more information about Airbnb Categories, read here our article about how categories are assigned to listings, how you can influence them and why Airbnb is now hiding property titles.
Drawback of defaulting to the Design category: A first impression of great-looking but expensive places
When a user arrives on Airbnb's homepage, the default search results are set to "Design" properties, anywhere, for any week.
You get to see cool places, but some rates displayed are eye-watering. Travelers may think that Airbnb is a not a place for affordable travel, if they do not explore further. So, the choice of defaulting to the Design category may be open to criticism.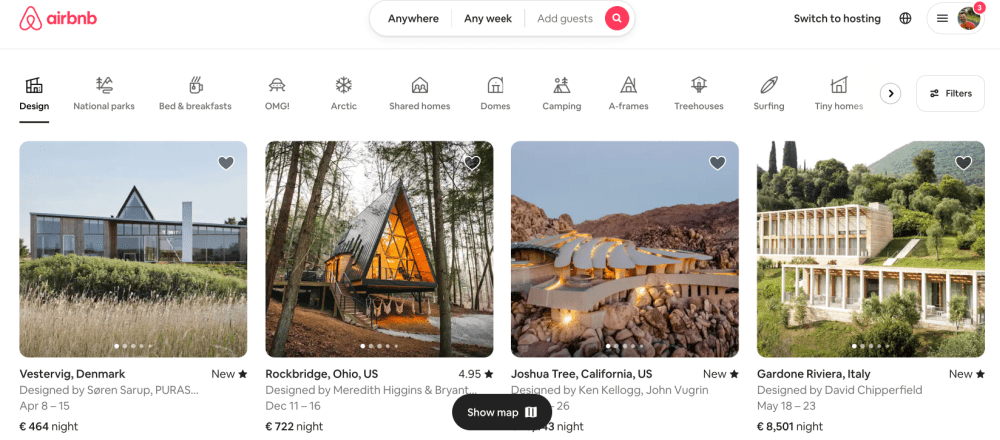 For instance, these were the first four properties displayed on my homepage when it loaded for the first time:
Vestervig, Denmark – Designed by Søren Sarup, PURAS Architecture, Apr 8 – 15, €464 per night
Rockbridge, Ohio, US – Designed by Meredith Higgins & Bryant Gingerich, Dec 11 – 16, €722 per night
Joshua Tree, California, US – Designed by Ken Kellogg, John Vugrin, May 21 – 26, €16,443 per night
Gardone Riviera, Italy – Designed by David Chipperfield, May 18 – 23, €8,501 per night
How are Airbnb Categories assigned?
To determine whether your property should qualify for the Design, Farms, OMG!, or Surfing categories (it can qualify for several of them at the same time), Airbnb is considering the following elements:
Listing details, such as your listing title, listing description, photos, amenities list, any option or box you've ticked to describe your place
Your reviews (e.g. whether people often say things like "great for surfing" for the Surfing category or "fantastic view on the lake" for the "Amazing Views" category)
These elements are analyzed by computers through machine learning: We can assume that Airbnb has created a model for every category (e.g. Historical Homes) to determine what words, amenities, photos, review score level, and other items needed to be combined to qualify.
Airbnb says that it also uses humans to check that the curation is correct.
How can you control the category / categories assigned to your property?
As explained above, the model for each category is certainly complex. We can imagine that, to qualify for the "Tiny homes" category, it helps if you mention the words "tiny home" in your title and description, if your photos show something that a computer can easily recognize as looking like a tiny home, and if guest reviews mention that it is a tiny home. So, you may have text + photos + guest feedback here, for instance (Our explanation is terribly simplified).
So, although Airbnb may not show your listing title anymore, it may still be used by Airbnb's machine learning model to help determine to which category / categories your listing belong.