The last couple of years have been transformative for the short-term rental industry and although not all the changes may be permanent, some of them have proven that they are here to stay. Longer stays are becoming par for the course, and the data backs it up. Rural, coastal, and similar destinations continue to attract guests, however, there is only so much non-urban inventory to go around, leaving guests with nothing to book. Airbnb's Split Stays feature, as announced in its Summer 2022 Update release, seems to factor in both the popularity of longer stays and the limited rural inventory. While the Summer 2022 release contained fewer updates compared to the other announcements, the tech around the changes announced seems more powerful and elegant. Here is a transcript of the video demo given by Airbnb CEO Brian Chesky introducing the new features.
In this article, we explore what the Split Stays feature looks like, and why it is a clever fix for an emerging issue, as well as a great way to take advantage of changing travel trends.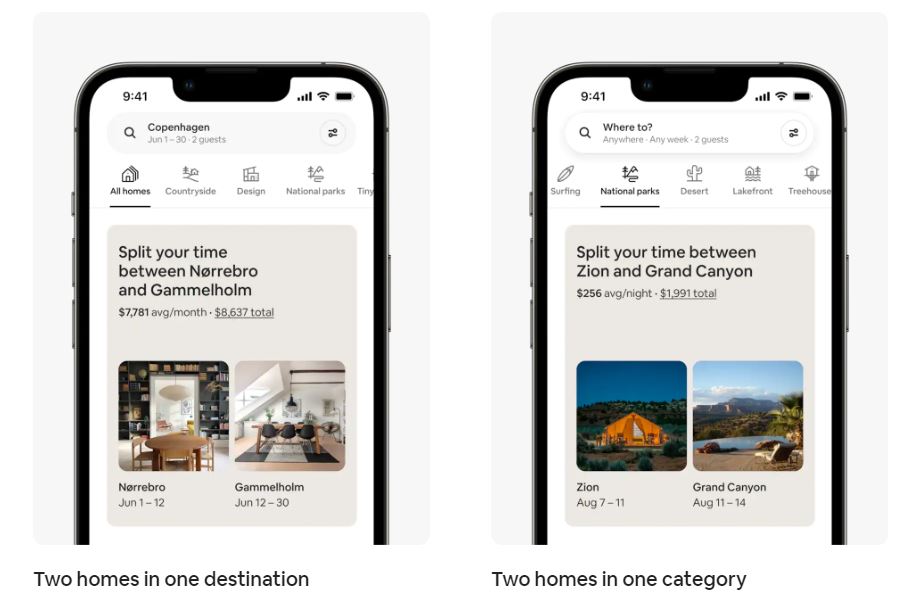 The increasing appeal of longer stays
As we recently reported, Airbnb experienced its first-ever profitable Q1 in 2022. It is interesting to note that long-term stays of 28 days or more accounted for 21% of gross nights booked on Airbnb in this period, and continued to be the fastest-growing category by trip length, doubling in size from 2019. Remote or hybrid work models have brought about a surge in longer stays, as travelers utilise the opportunity to live and work from anywhere.
The numbers for minimum 7-night stays are also very impressive, as they accounted for 48% of gross nights booked on Airbnb in Q1 2022. When they can, guests are choosing to book longer stays.
The struggle to find supply
As restrictions ease up, supply is returning to urban short-term rental markets. In non-urban markets, supply has seen tremendous growth but it is in no way a match for the demand going around for coastal, mountain, and rural destinations. The limited inventory is a significant hurdle as demand continues to increase.
How Split Stays circumvent the issue of limited supply
Airbnb does not have unlimited inventory, especially in the countryside. Instead of displaying no results when a guest attempts to book in a market with low inventory, now it can provide more options. One of Airbnb's biggest USPs is unique stays. If you are looking to spend 3 weeks in a treehouse in a popular location, it simply may not be possible. Some properties may only be available for a week, and without Split Stays, you will not see them at all unless you adjust your search criteria by a lot.
Through the use of Split Stays, Airbnb is able to add 40% more listings to stays of 14 nights or longer.
How Split Stays work
The Split Stays feature is an integrated search feature that automatically appears in your results. When you look for stays of a week or more, Airbnb automatically recommends you split your stay between two different, complementary listings with suggestions.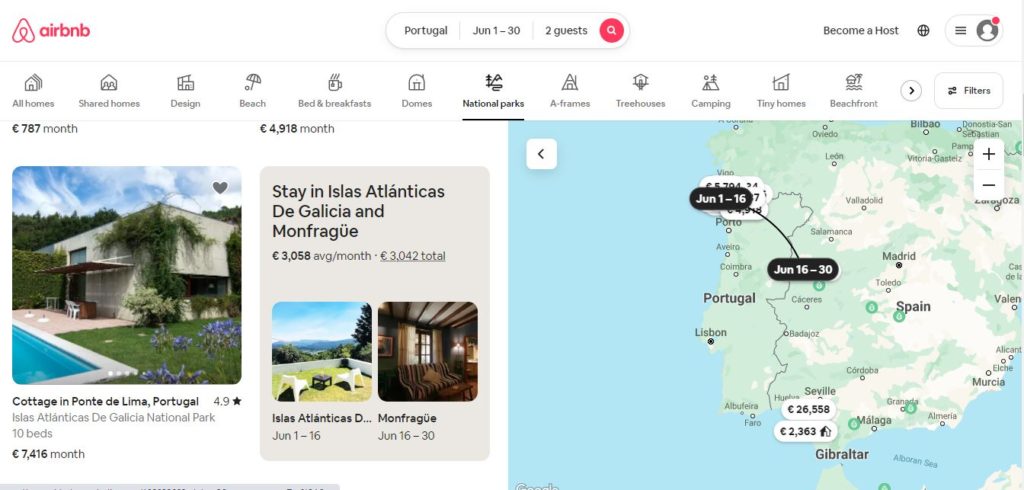 Let's say you wish to spend the entire month of June in Portugal, exploring its national parks. Instead of only showing you the properties available in the area for that entire duration, Airbnb will also give Split Stays suggestions that allow you to experience more than one stay in more than one area.
The properties are connected on the map with an animated arrow indicating the connecting distance. The suggestions may be based on the properties' locations, category, or both.
The tech behind this is more complex than it might seem at first as the number of variables the feature takes into account hints at significant computing power to make recommendations on the fly. For instance, in the above example, the two properties are both in national parks, one in Portugal and the second in Spain, with a pleasant drive between them. The nightly rates for both stays are similar, and so are the amenities. Also, interesting to see that both properties in this specific example are pet friendly.
To book Split Stays simply book the first and second stays as recommended.
Guests can also choose to book only one of the two recommended properties in Split Stays.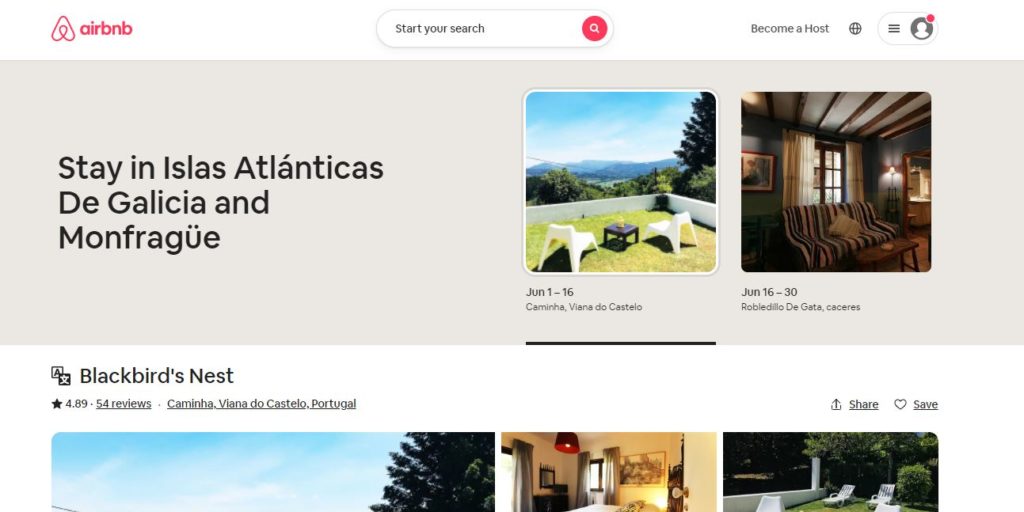 Two separate, complementary bookings
It is important to note that bookings made under Split Stays are still two separate bookings with two separate rules and policies. Split Stay bookings appear as two separate consecutive trips for guests on Airbnb, and guests must communicate with the individual host regarding their respective bookings. While it would be more convenient for guests to book once and manage everything in a single place, it isn't feasible as each host has their own house rules and cancellation policy.
A walkthrough of how Split Stays appear to guests
The future of Split Stays and its use for hosts
As we see in the above example, Airbnb's Split Stays feature recommends hosts who may not be in the exact area that guests search for, thereby expanding the reach of hosts to surrounding areas in yet another manner.
Also, at this time Split Stays are limited to pairing up two consecutive stays, however, if Split stays can be recommended for two properties, it could also be done for more. It will be interesting to see how this opens up the way for booking entire itineraries on Airbnb. OTAs have been attempting to do this in order to achieve that holy grail of vacation rental bookings: whole itineraries.