So, after the dust has settled, does Airbnb's "biggest change to the platform in a decade" live up to its promise? As a tech-oriented person who worked at a big online travel platform for 5 years, I am quite impressed by the size, boldness, and innovation of the changes: Completely overhauling the homepage and search results while enabling more properties and destinations to be discovered by travelers, is a great technical feat. Similarly, combining on the fly 2 similar listings to match the needs for a long stay opens the door to being able to book whole itineraries on the platforms, something that OTAs have tried to do for years. As a guest, I may only see an interesting but not radical redesign and be disappointed that actual travel insurance for guests did not make it (The revealed "Aircover for Guests" is nothing groundbreaking). As a host, I could actually be worried about the implications of the "Get-What-You-Booked Guarantee," which may give more leverage to guests to blackmail hosts. Similarly, the new search results often remove the original listing titles crafted by hosts with more anonymous texts such as "Apartments in Paris".
Let's look at the overall changes and then look at them in detail.
Video: Airbnb CEO Brian Chesky shows what the 2022 Summer release is about
Click here to read a complete transcript of Brian Chesky's video.
Why do some think that the Airbnb 2022 Summer Release is underwhelming?
3 new updates are less than 150 (even if quality and size trump quantity here)
One of the issues with Airbnb's big reveal is that its two previous releases each boasted more than 100 new features: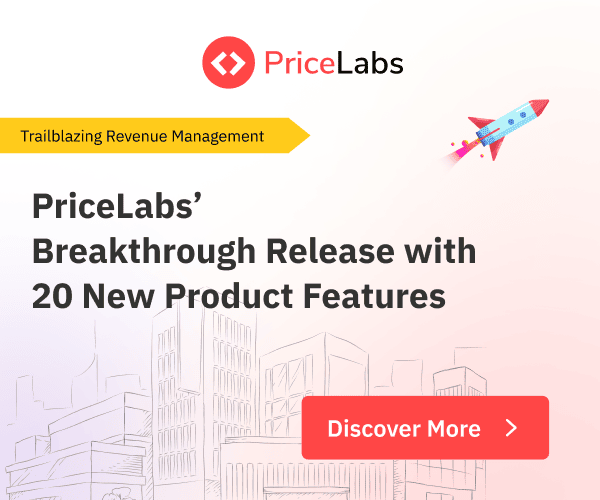 In May 2021, it released its Summer 2021 update, with 103 new features (among which the Flexible Dates, Flexible Matching, and Flexible Destinations search features and a streamlined host onboarding funnel)
In November 2021, Airbnb released its Winter 2021 update, with 150 new features (among which AirCover, extended flexible search features, and the Ask a Superhost program).
The May 11, 2022 reveal of the contents of the Airbnb 2022 Summer Release left us with a count of 3 main changes:
A new way for travelers to search and discover properties and destinations thanks to Airbnb Categories
The ability to book two listings in one flow for stays over a week thanks to Split Stays
New-ish guest booking protections called Aircover
It may be unfair to Airbnb's tech and product teams, given the impressive technological prowess of the new search capabilities and split stay pairings, but a casual observer would say that 3 new things are just less than 150 new features. So, Airbnb's previous product marketing messages created expectations of yet another 100+ features. Now, if you look carefully at the Airbnb Categories features, it does contain a slew of new features, but it was probably too minute to list.
Another explanation for the underwhelming impression has been driven by Airbnb CEO Brian Chesky's promises for "the biggest change to the platform in a decade" that would bring much-needed innovation to the industry as "travel search has been the same for 25 years".
I actually think that the coordinated release of so many projects behind the scenes that led to the creation of Airbnb Categories, from product to machine learning, tech, and engineering to user experience, is indeed something that not many travel companies can pull off for organizational and philosophical reasons. Travel tech observers will be wowed, yet Airbnb guests and hosts not as much.
Aircover underdelivers, as real guest travel insurance has been promised for Spring 2022 (and what's up with the renaming?)
The new program called "Aircover" is positioned to offer new booking protections for guests. We will detail them below in the section dedicated to Aircover.
The protections offered to guests through Airbnb's Aircover are presented as unique and ground-breaking. We'll look at them in detail, but they look like a nice repackaging of existing services that companies such as Booking.com have been offering for years (e.g., helping find a place for the guest should the host cancel). Now, better packaging protections, giving them a name (Aircover), and merchandising them well on the website (Aircover is mentioned high on every listing page) make up good product marketing work. If competitors have been doing the same but have done a bad job at saying so, travelers will indeed have the impression that what Airbnb is offering for free is new and superior in terms of booking protections.
Yet, the launch of Aircover managed to create confusion, disappointment, and concerns:
Confusion
In November 2021, the company launched for its hosts its free Airbnb AirCover program, which redesigned and extended features such as the $1,000,000 Host Guarantee.
On May 12, 2022, Airbnb uncovered … Aircover. Yet, now, the name Aircover is meant for the protections offered to guests, while the protection program for hosts is now known now as "Aircover for hosts". On the grand scale of things, it does not matter, but Aircover now covers a wide range of guarantees, procedures, actual insurance products, and other protections that are available either on the guest or the host side.
Disappointment
In January 2022, the company announced that its Airbnb Guest Travel Insurance would be ready for Spring 2022 (" a new guest insurance product in partnership with a reputable insurance carrier.")
So, we anticipated that the guest travel insurance would be part of the mid-Spring Summer 2022 release.
Apparently, Airbnb is still working on it. Unlike the free Aircover protections for hots, it should consist in a paid offer of real insurance products.
Here's what Airbnb is saying about the unreleased guest travel insurance:
We're excited to share that in the coming months, we will be launching a custom-built guest travel insurance product offering in partnership with a reputable insurance carrier for Airbnb guests in some areas.
Concerns
On the guest side, Aircover is no insurance product. It is more the sum of a series of policies and procedures imposed on the host, especially the recently updated and much-contested rebooking and refunding policy.
Aircover is about guaranteeing that Airbnb will either find a new place or refund the guest (e.g., Check-In Guarantee: If a guest can't check in to a place and the host isn't able to resolve the issue, Airbnb will find the guest a similar or better home for the length of their original stay at Airbnb's expense, or we'll refund them.
To deliver on its promises to guests, Airbnb needed to set the equivalent expectations upon hosts. This is why the company had previously informed its hosts that it was updating Rebooking and Refund Policy. For instance, it has made it plain and clear to hosts that they may have to refund guests should the host cancel a booking or the guest find that something crucial promised in the listing was actually missing from the property. You will notice that this is the exact mirror of the protections offered to guests, and it makes sense: The money refunded to guests through Aircover actually comes from hosts having to refund them according to the updated rebooking and refund policy.
At first, Airbnb had mentioned that hosts might even have to pay for the extra costs to relocate guests to a more expensive property. As hosts were fast to show their anger, Airbnb has retreated on this front for the moment.
Yet, the release of the guest-side messaging about these protections raises concerns that some hosts had already shared. For instance, look at the wording for the Get-What-You-Booked Guarantee:
If at any time during a guest's stay, they find your space isn't as advertised—for example, the refrigerator stops working and you can't easily fix it, or it has fewer bedrooms than listed—the guest has three days to report it, and we'll find them a similar or better home at Airbnb's expense, or we'll refund them.
This guarantee creates two sources of worries for hosts:
The window for guests to report an issue has been increased from 24 to 72 hours. As some weekend stays actually last 72 hours, some hosts are concerned that it opens the door to guests abusing the system to get free weekends
The public promotion of "get-what-you-booked" may also increase unreasonable demands from guests or, at the very least, empower them to threaten to report hosts under this guarantee to get some discounts or extra perks
The final appreciation of the complaints stemming from this guarantee is left to Airbnb caseworkers, whom many hosts believe favor guests when a dispute arises.
Additionally,, in late May, Airbnb will remove security deposits from listings. Technically, it does not change much, as Airbnb never handled security deposits anyway. Yet, some hosts used this mention to try to scare away unwanted guests. This is going away too.
Airbnb 2022 Summer update= MUCH more than meets the eye
For many hosts, at first glance, there is not much to chew here, especially as Airbnb is not delivering much on the hosting side. For instance, the 2022 Summer update introduced a streamlined host onboarding funnel that was very impressive.
Listing titles disappearing from some search results
In some cases, some hosts have started complaining that Airbnb's new category search has removed the listing titles they have patiently crafted. Airbnb's goal is probably to increase conversion by helping guests focus on what is important in the listing, putting more emphasis on key photos for instance.
What does this release solve for?
More discoverability for some listings and destinations while helping Airbnb plug some inventory gaps

Airbnb suffers from a lack of inventory in some locations or for some dates.
For long stays, there may not be enough places available that offer a stay for the whole period, so split stays allow to combine 2 places that can make the stay possible for the duration
Last year, when Airbnb introduced Flexible Matching (which shows properties that do meet all the criteria but are close enough so that users see more choices and can make trade-offs), the company was already trying to make sure that travelers could find something they liked. With more relevant choices, the company can increase its onsite conversion rate and get a higher ROI on its marketing expenses.
Airbnb categories offer a new way to surface listings by property types (e.g., treehouses, castles), main features (e.g., amazing views, fantastic pools), or activity (e.g., surfing, skiing). If a traveler searches by location, they may enter a series of town names but forget a bunch of other relevant places. By downplaying the role of location (while still using it as a criterion), Airbnb enables travelers to discover and contemplate more options. For hosts located near but not in famous destinations, it is a chance to get more bookings and delight more guests.

A way to deliver on Airbnb's missions and branding

Airbnb wants travelers to believe that it has exclusive listings. Showing quirky, beautiful, and one-of-kind places gives travelers reasons to believe that Airbnb is unlike the other OTA websites. Even if some property managers multi-list their properties across Airbnb, Vrbo, Booking, and other platforms, Airbnb can use its unique search and merchandising features to create a unique atmosphere.
An amazing feat from a product, tech, and product marketing perspective
The launch of Airbnb Categories means a dramatic change in the way Airbnb's homepage looks: Instead of big images, users can now see an array of search results that they can immediately tweak. Think about it: The homepage is now a big shopping window whose job is to inspire travelers. In terms of technology, displaying such as page, with personalized results according to each user, asks for more computing power than just showing a series of static images.
Airbnb Categories also rely on an impressive work behind the scenes of automatic tagging and machine-learning algorithms to add labels and classify the properties.
For the 2021 Summer and Winter releases, we underlined that the release of 150+ features was an amazing product marketing work, where Airbnb's teams had to make sure that they could mention recently released, just released, and upcoming features.
Here again, the coordination between tech & engineering, product, design, UX, and marketing teams must have been tremendous. Such a big release actually flies in the face of agile methodologies, which only swear by incremental improvements. Such a drastic change would be hard to pull off at other tech companies, as it runs against admitted best practices such as A/B testing each little thing instead of launching big makeovers. It is also a testament to the capacity of Airbnb's leadership team to align employees and projects in a way that is hard to do in companies where management has less vision and legitimacy with its employees.
What is it?
Airbnb Categories
The introduction of Airbnb's new feature called Airbnb Categories has resulted in a drastic change of how the homepage and search results look. Basically, the homepage is now a series of search results based on a user's IP address and defaulting on the "Design" category.
A brand new ay to surface listings: Not just categories, but also flexible search options by default
The new search includes type of home (such as A-frames, cabins, castles and tiny homes), as well as in-home features (amazing pools, chef's kitchens and creative spaces), location type (arctic, beach, farm) and even activity (surfing, golfing, ski-in/ski-out).
The changes go beyond filtering out results by categories. As we predicted, the "I'm Flexible" search feature has merged with the main search box. Actually, the default search mode is flexible, whereby a user can see results matching "Anywhere, Any week". The "I'm flexible" option is on by default, so the user has to click on "Choose dates" if they have specific check-in and check-out dates in mind.
So, if you combine a navigation throughout 56 categories matching "anywhere" and "any week", you can understand that Airbnb's default mode surfaces destinations and properties that a search focused on a specific date and destinations would not have. The idea is to give inspiration to people who are not yet set on a date or place.
Thus, Airbnb is using its Airbnb Categories as a tool to get users to come back often to dream about places, get lost in searches, and experience the depth of Airbnb's offering. By focusing less on the actual transaction, Airbnb wants not only to be known as a great place to book a vacation rental but also as place where users come early in the travel planning when they are still open to many options. Thus, it is a way to increase the number of users who come to the website and plant a seed about Airbnb being a great place to book when users have progressed a few steps down their decision-making process.
For more information about Airbnb Categories, read here our article about how categories are assigned to listings, how you can influence them and why Airbnb is now hiding property titles.
Drawback of defaulting to the Design category: A first impression of great-looking but expensive places
When a user arrives on Airbnb's homepage, the default search results are set to "Design" properties, anywhere, for any week.
You get to see cool places, but some rates displayed are eye-watering. Travelers may think that Airbnb is a not a place for affordable travel, if they do not explore further. So, the choice of defaulting to the Design category may be open to criticism.
For instance, these were the first four properties displayed on my homepage when it loaded for the first time:
Vestervig, Denmark – Designed by Søren Sarup, PURAS Architecture, Apr 8 – 15, €464 per night
Rockbridge, Ohio, US – Designed by Meredith Higgins & Bryant Gingerich, Dec 11 – 16, €722 per night
Joshua Tree, California, US – Designed by Ken Kellogg, John Vugrin, May 21 – 26, €16,443 per night
Gardone Riviera, Italy – Designed by David Chipperfield, May 18 – 23, €8,501 per night
How are Airbnb Categories assigned?
To determine whether your property should qualify for the Design, Farms, OMG!, or Surfing categories (it can qualify for several of them at the same time), Airbnb is considering the following elements:
Listing details, such as your listing title, listing description, photos, amenities list, any option or box you've ticked to describe your place
Your reviews (e.g. whether people often say things like "great for surfing" for the Surfing category or "fantastic view on the lake" for the "Amazing Views" category)
These elements are analyzed by computers through machine learning: We can assume that Airbnb has created a model for every category (e.g. Historical Homes) to determine what words, amenities, photos, review score level, and other items needed to be combined to qualify.
Airbnb says that it also uses humans to check that the curation is correct.
How can you control the category / categories assigned to your property?
As explained above, the model for each category is certainly complex. We can imagine that, to qualify for the "Tiny homes" category, it helps if you mention the words "tiny home" in your title and description, if your photos show something that a computer can easily recognize as looking like a tiny home, and if guest reviews mention that it is a tiny home. So, you may have text + photos + guest feedback here, for instance (Our explanation is terribly simplified).
So, although Airbnb may not show your listing title anymore, it may still be used by Airbnb's machine learning model to help determine to which category / categories your listing belong.
Split Stays is a way to show more choice options when inventory is limited. For a long stay, a specific property may not be available for the whole duration of the trip, but it may be combined with a second property that provides the necessary additional number of nights to satisfy a guest's requirements. Airbnb does this matching automatically when users search for stays of 7 nights or more.
When guests search for a trip of a week or more, Split Stays automatically appear in search results. he Split Stays feature adds 40% more listings to search results when guests search for stays of 14 nights or longer.
It means that properties can get more visibility. In the past, if guests searched for a month-long trip but you only had availability for two weeks during that time, your home wouldn't have shown up in search results. With Split Stays, your listing can be paired with another one to cover the guest's entire trip.
Aribb Split Stays allows users to find more stay options when looking for stays for more than a week. Now, does Airbnb have an inventory issue with properties offering long stay options or not?  Overall, 48% of gross nights booked were from stays of at least seven nights in Q1 2022 (while  long-term stays of 28 days or more accounted for 21% of gross nights booked, more than doubling in size from Q1 2019.)
Airbnb told us that 87% of all available listings on Airbnb except long-term stays. 52% of hosts offer a monthly discount, 
Split stays are available across 14 of Airbnb's new categories, as well as for specific destination searches. When selected, the screen shows the distance between the two listings and sets up an easy flow for guests to book both different listings without loads of tabs open.
Split Stays may also open the door to being able to book a whole itinerary with 3 or 4 homes during one long trip.
Airbnb Aircover for guests
Aircover is now the suite of protections for guests, while the former Aircover is now "Aircover for hosts".
What is it?
AirCover is a comprehensive protection program included for free with every booking. It includes our Rebooking and Refund Policy, a dedicated 24-hour Safety Line, and other kinds of essential support.
A Host is always the best person to resolve concerns from a guest. But if a serious issue (examples below) comes up during a guest's stay and you're not able to resolve it, guests are now covered by four protections every time they stay on Airbnb:
Booking Protection Guarantee: In the unlikely event you need to cancel a guest's booking within 30 days of check-in, Airbnb will find your guest a similar or better home at Airbnb's expense, or they'll refund them.
Check-In Guarantee: If a guest can't check in to your place and you aren't able to resolve the issue—for example, if your guest can't access your property and can't get in touch with you—Airbnb will find your guest a similar or better home for the length of their original stay at Airbnb's expense, or they'll refund them.
Get-What-You-Booked Guarantee: If at any time during a guest's stay, they find your space isn't as advertised—for example, the refrigerator stops working and you can't easily fix it, or it has fewer bedrooms than listed—the guest has three days to report it, and Airbnb will ll find them a similar or better home at Airbnb's expense, or they'll refund them.
24-Hour Safety Line: If a guest ever feels unsafe, they'll get priority access to specially trained safety agents, day or night.
The Airbnb Guest Travel Insurance has been in the works for almost two years!
On March 30, 2020, during an emergency live stream held with Airbnb hosts in the thick of the COVID crisis, Brian Chesky announced that the company was working on travel insurance ,
In 2021, Airbnb discreetly launched its Travel Insurance page and started recommending guests purchased a travel insurance product at the end of its booking process. Airbnb here was merely redirecting travelers to third-party websites, such as the travel insurance aggregator InsureMyTrip in the US and insurance company Europ Assistance (part of the Generali Group) in Europe,
In August 2021, during a quarterly earnings call, Airbnb mentioned working on opportunities such as "guest travel insurance",
On January 2, Brian Chesky confirmed in a tweet that the company was working on guest travel insurance.
Free guest travel insurance by Airbnb? Not likely.
Airbnb seems to see travel insurance as a money-maker. After all, Vrbo has been flogging insurance products to guests and owners for years, probably making a lot of money from its insurance provider Generali.
In August 2021, during a quarterly earnings call, a financial analyst asked Airbnb leaders whether the take rate, currently at 15% on average, would increase in the future. The answers were quite interesting.
First, Airbnb mentioned, "opportunities (such as) guest travel insurance". So, the take rate could increase from commissions on travel insurance that Airbnb would sell to guests.