Let's start with getting a little background information on who is Annie Holcombe. A vacation rental insider, Annie had an impressive resume even before she took on her current role as Director of Revenue & Client Acquisition at Lexicon. Having worked at Expedia, in vacation rental property management, as well as channel management gives her unique insight into how various short-term rental distribution channels operate. At Lexicon Travel, Annie uses this expertise to counsel property managers on how to get the most out of various channels and optimise channel yield.
In this interview, we explore further what channel yield means, and why property managers must take it into account in order to increase occupancy and revenue. Highlights include:
What is channel yield and why it should matter to vacation rental owners and managers
How much growth has the industry really experienced when it comes to number of channels available
How different channels, such as Whimstay, Homes & Villas by Marriott, and Holidu, offer different value propositions
Examples of how channel distribution can be optimised during shoulder season
When you should shut off a channel entirely
Thibault Masson:
Dear Rental Scale-up members, today I am with a true industry expert, Annie Holcombe. Just presenting her can tell you a lot about what she can bring to the table today. She's the Director of Revenue and Client Acquisition at Lexicon Travel. On Clubhouse, she is the host of the STR Professionals Club, and she's also now the co-host of Alex and Annie -The Real Women of Vacation Rentals Podcast. Annie, I'm so happy to have you today. How are you today?
Annie Holcombe:
I am doing well, thank you. I've been watching your episodes and reading your Rental Scale-Up newsletter for, gosh, I guess about almost a year now. Just enjoying it, and engaging with you, and all the deep dives that you do into the industry. It's been fascinating, so I'm honored to be here.
Thibault Masson:
Wow, thank you, because it's the same with me, I'm so happy to have you here. To be transparent, we actually had a session last week to prepare this conversation. There's so much you can bring to the table, you can share. There are different venues where people can hear from you and what you have to say. But today we have one big topic, which you came up with and I found super fascinating: How today property managers should think about yielding the channels they're using. Just like people learned how to yield revenues, they also have to yield channels. That's super fascinating, so let's get straight into it. It feels like people just had to learn about yield management, revenue, and direct pricing – this kind of thing. So, and now we have yielding channels. What is this about?
What is channel yield in property management?
Annie Holcombe:
It's something that's come up in my mind a lot the last six, eight months, just with all the channels that are being added. I think that there are channels that are being very specific about the kind of customer that they're targeting, the kind of booking window that they're working with. We talked about WhimStay, they're very focused on anything inside of 21 days. We've got HomeToGo and Holidu, very focused on being kind of almost a disruptor to the larger OTAs, Booking.com and Expedia for example, that are in the vacation rental space, and just having a little different message. Vacation rentals have swiftly adopted — I say, swiftly, it seems swiftly over the last 18 months — but certainly over the breadth of my career, it's taken 20-some years for people to adopt revenue management strategies with vacation rentals.
But adding these new channels, I think is going to present people with the opportunity to start yielding those channels. To look at which channels make the most sense for specific times of the year, to fill in specific holes within their calendar, and add that to their channel mix in terms of how they put their strategy together. So, I think it's a larger conversation. People have so many channels that they can get onto. Some will say, "I'm doing fine direct," but unless you're running a hundred percent, you're not doing fine direct, you still have room to grow. So, you need channels, what are the right channels? I think the opportunity is for people to look at a larger strategy that encompasses not only the rates but again, what rates need to be on what channels at what time of year.
Thibault Masson:
I've been taking notes again because whenever you speak, I take notes, that's what I do because I love listening to this. So, the first factor you mentioned is just the explosion of the number of channels. In your own experience, maybe five years ago, how many channels were you using frequently, and how many channels are you using nowadays?
The explosion in number of available distribution channels: How much growth has their really been?
Annie Holcombe:
Five years ago I was actually working for a channel, I was at Expedia. We had our channels, our family, which grew in the four and a half years I was there. They got Orbitz, Travelocity, they took over HomeAway. So, I think that a lot of growth happened just within that channel, but a lot of people didn't realize that by participating with Expedia or Booking, you were getting an affiliate network that was pretty vast. So, I mean, there was literally thousands of channels out there, but you just didn't know it.
What's interesting to me is that some of those channels that may have operated in the back of the class, so to speak, that they weren't the big dogs. They weren't kind of racing at the front of the line. They're now out front, or people have created channels to race out front with Expedia, Booking, and HomeAway. So, you do have what seems to be an explosion, but I don't really know that… It's probably, we've added 10 channels. There were already thousands, but there's 10 more that want to be at the front of the pack. I think that's the difference.
Thibault Masson:
I like the point you're making, I remember listing my place on HomeAway. Actually, it was Abritel, which is the French version of the HomeAway brand in France. Then I also wanted to list on Vrbo, but I already was listing on Virgo. I just didn't know because they were using different brands across the world and in the US two brands Vrbo and HomeAway. So, to your point, you could actually be listed in one channel and be on different channels. But I think to yield channels, what's important is to understand that some of these channels are different. A different value proposition from the others, and you took the example of Whimstay. So, can you maybe pick one or two of these new channels, explain how different they are? What does it mean for me as a property manager when I have to think through them? What do I need to flex to make the most of them?
Different channels = different value propositions e.g. Whimstay vs. Home & Villas vs. Holidu
Annie Holcombe:
So, again, using Whimstay as an example, because they targeted a very specific booking window that gives you the opportunity to fill in holes, fill in cancellations. I always try to instruct my partners, let's discount early and yield our rates up as we get closer to arrival. People kind of do it in reverse, they want to hold onto their rate, and then all of a sudden they're panicking last minute. They put their stuff out on direct channels or they're running promotions on the other channels, and they've deeply discounted and have eroded their ability to grow their rate. If you look at all your channels and look at the mix of what they're going to bring and what they're going to focus on, that gives you a better insight on what you should be doing with those rates.
Going back to the Whimstay example, they're not going to show your availability until you're inside that 21-day window. No one is going to be shopping that rate 90 days out on that channel. They're going to shop at 21 days out, so you can adjust your rate based on that booking window.
Another one that I think is coming on very strongly, and they've been around for a few years, but only now getting their footing is Homes & Villas by Marriott. They're going to leverage their Bonvoy members, I think it's some somewhere in the neighborhood of 150 million globally. So, their database is pretty vast, and now they're going to be able to cross over with points. So, you're getting people that maybe traditionally were looking for last-minute weekends, stays to get away and use their Bonvoy points, because they've been traveling for business for the last three, four months. They want to take their family away to a resort or to some destination. Well, now they can use it in vacation rentals. So, there's an opportunity there to work last minute with that channel.
There's Holidu, they're coming on strong on with a kind of a… As I say, not really a specific booking window, but really looking at how they're commissioning the partners. They're not going to be taking pieces of the fees, which some of the channels are taking a commission on fees. That's very controversial, especially in the US. I'm thinking it's probably similar in Europe because a lot of those fees are passed through. So, again, does it make more sense to put your inventory on a channel where you're not paying a commission on fees? Probably so during certain times of the year, when those fees are lower. You have a hundred-dollar cleaning fee in the off-season, you can't really discount it, because that's just a pass-through fee, but your rate is going to be lower. So, if the channel's taking commission, you don't want to mark your fees up so high that it looks like your fees are more expensive than your actual nightly rent.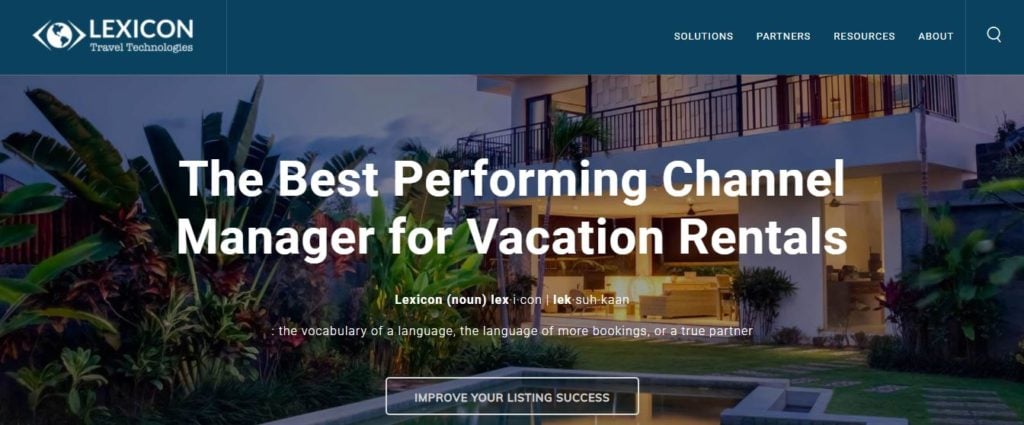 I think people really need to do their due diligence when they add channels. That's where I feel like Lexicon can come into play as a channel manager, because we're not a PMS, we're not looking to help you manage that inventory with your owners, and your housekeeping. We're trying to help you manage your distribution. My job is to coach them, turn this channel on at this time with this rate discounted at this window. There are just so many things at play that I think that managers don't have the time, the bandwidth, or the staffing to be able to do it. So, asking the right questions and having somebody to help them guide through that is important.
Thibault Masson:
This was the question I was about to ask because even though now we understand that different channels have a different way of creating demand, such as for last-minute stays, etc., it does mean that the rates and probably the policies have to vary a bit among different channels. Even if one can understand this, it still means that you need someone who can guide you through this, because there's so much to keep up with. So, if I understand correctly, that's the kind of job that you do as well. It's not just about enabling technically to connect with different channels, you can advise on the strategies or what to turn on when.
Annie Holcombe:
Correct, and again, that's something that separates our services from a lot of the other channel managers in this space is that we're very white glove. We're very dig-in-get=our-hands-dirty to help partners out. Some of them don't want and don't need us, in terms of that level of involvement. But there is a lot of them, again, that they don't know what they don't know. I've been doing this since the late nineties, so I feel like I've got a pretty good, broad experience, having been on the vacation rental side, the management side, the OTA side, and now the channel management side. I can empathize with all pieces of it, and I can argue the point with a channel of, you know, they are coming after you about parity. Parity, I think is something that used to scare people. Now, it's just like, "Well, if you are going to mess with my rates, you can't tell me that I can't put this rate on another channel, and be more competitive for what is best for my business." Which, for me, I'm an extension of the managers that I work with, so I think of it as my business. I think what is the best thing to do for the partner, for my business? It might be just raising the rate on this channel, and not getting any bookings. It might be turning that channel off for a certain timeframe, it might be putting different restrictions on a certain channel. So yeah, that's what we do, and that's what I love to do with my partners is really look at the whole picture of what they want to accomplish.
When should you switch a channel off entirely?
Thibault Masson:
Bonus questions! What is a good reason for me to switch off a channel right now? What would be things I can be looking at to say, "Okay, that's a signal, that's a red flag, or it's not going the right way, and I should be closing that channel for now?"
Annie Holcombe:
I wouldn't necessarily say closing is a first tier option, I do think it's an option you should have. I think that you should leave all the channels on, but you might want a different strategy on each channel. Simon Lehman always talks about the economics of being profitable. How money and profitability is oxygen to help your business to grow and survive. So, you have to look at it as "Is a channel taking more than I'm making from that booking during certain times of the year?" Shoulder season, slow season, all channels should be open all the time, in my opinion. But there are times during peak season where you do want to mark up your rate, you want to mark up your fees. You might want to put different restrictions on… If your market is getting an average three-night stay put a four-night maximum on, or a four-night minimum on all your channels, or those channels that are taking the larger commission. So, again, it makes sense for you to be able to do that.
Thibault Masson:
I like your answer. It's not just about closing, it's about yielding the channels and putting different conditions, rates or policies, length of stays, that just make more sense for you and just to treat them differently, basically. Which does require to know the channels, which means you need an expert here in the room.
Annie, thank you so much for the advice today, as I said, there's many ways to reach you. What will be the best way that people can use right now to get a hold of you?
Annie Holcombe:
I'm very active on LinkedIn. So, I would say just reach me on LinkedIn, but you can always email me at [email protected]