Vrbo had a pretty good year in 2021. So, where is the company, part of the Expedia Group, heading to? What is the Vrbo 2022 strategy that we can expect? From the surprising preservation of the subscription-based model for partners to a complete overhaul of the tech stack, 2022 should be another year when Vrbo is reaffirming its identity while leveraging its Expedia connections. We analyzed recent comments made by the Vrbo leadership team (Jeff Hurst and Peter Andrews) and Expedia Group's CEO (Peter Kern). It got us to discuss Vrbo's focus on family travel, its tone that is more conciliatory to property managers than Airbnb's, the impact of making Vrbo listings more visible to Expedia and Hotels.com users, the expectations of travelers staying at a vacation home for the first time, and what Vrbo is doing to fight hostile local regulations. 
This article is based on a discussion with Vrbo's Jeff Hurst and Peter Andrews (hosted by Unji Udeshi) at the 2021 Vrbo Partner Summit and on the comments of Expedia Group CEO Peter Kern made during the Q3 2021 earnings call.
Video: Jeff Hurst and Peter Andrews on 2021 learnings and 2022 strategy
Vrbo: We are neither Airbnb nor Booking.com. We don't care about having the most listings, but rather about being the best place for family travel.
Here's the message that Vrbo's leadership team wants to convey:
Vrbo is a balanced platform in terms of inventory, between homeowners, small, media, and large property managers
Vrbo delivers good quality travelers: Families and groups of friends who respect properties and pay top dollar
Vrbo does not care about getting the most listings. It wants the ones that are the best for its target consumers.
Vrbo has a clear focus: Family & Friends that want to book a large entire home. The company's focus has been reinforced through its family-friendly 2020 and 2021 commercials. While Airbnb's commercials mostly feature families of three (2 parents + 1 kid, or 1 Mom and 2 daughters), Vrbo wants larger families and groups of friends. The company wants to offer properties and tools to welcome multi-generational families and solve complex family travel (i.e the kind of family trip where you need to plan a lot and take into account the opinion of many people). By setting the bar high when it comes to family travel, Vrbo wants to be the undisputed leader in its category.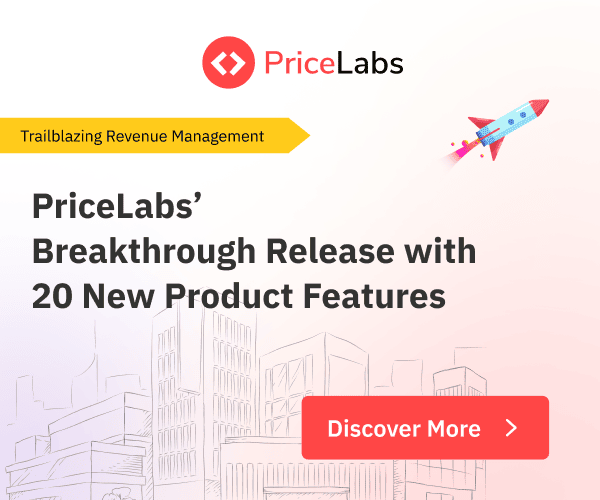 So, with its balance between homeowners and property managers, Vrbo is not Airbnb, who professes its preference for the 90% of individual hosts who populate its platform. It is not Booking.com either, which wants to be the largest accommodation site in the world and serve every kind of traveler under the sky.
Business model surprise: The annual flat-fee subscription will remain an option
Vrbo's leaders have announced that they have no intention of phasing out the annual subscription model in 2022.
Yes, Vrbo is still offering a flat-fee subscription of $499 per year. It is not very well documented, but quite a few Vrbo partners have been grandfathered into this option. If you are new to Vrbo, you can actually get it activated if you call Vrbo's customer service (and insist a bit).
Jeff Hurst and Peter Andrews said that it was working well for some high-performing partners and they did not see why they would jeopardize it. Of course, they did mention that setting up instant booking was better, as properties under instant booking get 20% more bookings than similar ones under request.
Partners should not expect any near-term changes to our flat-fee subscription model. Subscription partners make up some of our most valuable partners, so if and when we do make changes, we will deliver a model that benefits and incentivizes high-volume partners.
Yet, it looks like the pressure to force all Vrbo partners to be under the pay-per-booking model and under the instant booking option is easing up. Why?
Historically, Vrbo / HomeAway's business model asked its partners to pay an annual listing fee to advertise their properties. 8 years ago, Vrbo started to push its partners into a very different model, whereby it would take a commission on each booking. It also asked its partners to switch their listings from on-request to instant booking.
This pay-per-booking and instant booking model was working really well for Airbnb and Booking: The platforms could get more money from successful properties and get more reliable ROI from performance marketing campaigns as instant booking listings were easier to track.
For a few years, Vrbo ran a lot of product marketing campaigns to convince its partners to switch hosting fees to the pay-per-booking model. And to turn instant booking on. During earnings calls, investors were also asking how many listings were still under the old model. The subscription model was seen as a thing of the past that the company needed to get rid of.
So, why the change? Here's what we can think of:
Vrbo would be at risk of losing some big money-making properties if it pushed it further. For instance, some luxury properties would never go under instant booking. Better keep them on Vrbo rather than see them leave for Airbnb.
A large majority of the listings may already be on the pay-per-booking model, with instant booking on
It is very hard for new accounts to access the subscription model, so the issue will die off at some point
Programs and ranking algorithms may favor properties under the new models (as they make more money)

Many traveler searches filter for Instant Book, so properties without this feature enabled will not show up in these search results.
Instant Book must be enabled for listings to be displayed on Expedia.com and Hotels.com
A pragmatic approach that recognizes how property managers operate (e.g. #directbooking)
When Peter Andrews and Jeff Hurst talk about property managers, you can tell that they've met quite a few over the years. It means that they can use words that the industry is using. It may be good business practice, but it helps get the message across.
For instance, when it comes to the #bookdirect movement, Jeff Hurst said: "I get it. Direct bookings are important to some of you. I understand it as a business person." Then, he reminded partners that what was not OK was to direct Vrbo guests off-platform to complete their booking. Fair enough.
He also mentioned that it was OK for partners to write back to previous guests within Vrbo's platform, to communicate with them, and to make them special offers.
Guests: Better guests, but a wave of first-time vacation rental users is changing expectations
When it comes to guest behavior, is Vrbo as bad as Airbnb?
Vrbo is ready to say that it brings "great guests" to its listings. The company means it qualitatively (better behaved, respect their property) and quantitatively.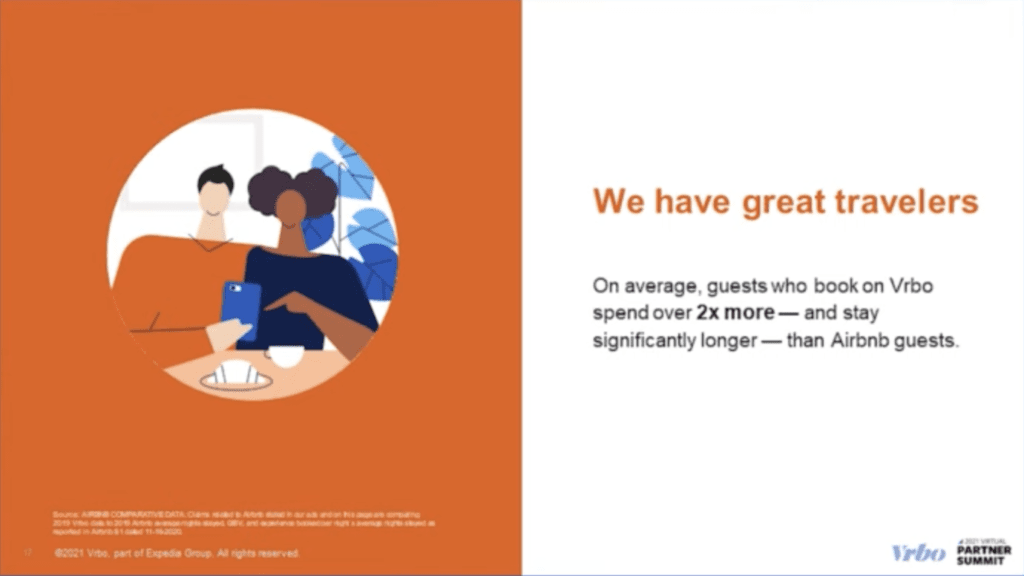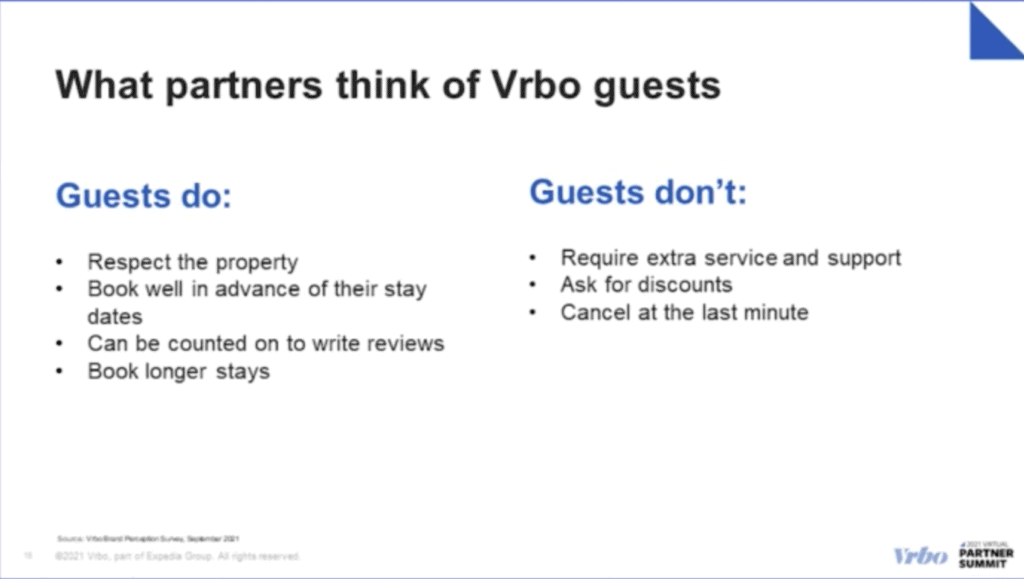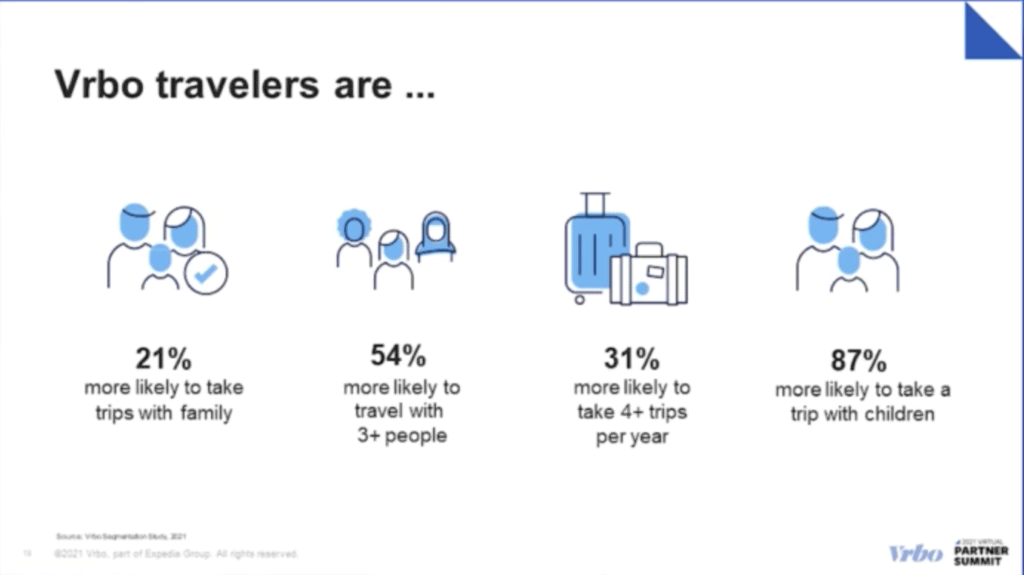 Vrbo also wants to convey that it can also bring new guests. Not just new guests to the property, but new guests to the platform and even to vacation rentals.
This is what the Expedia Group CEO said during the earnings call a couple of weeks ago:
More than half our customers so far in 2021 have been new customers to the experience
If we link this statement to what Jeff Hurst said during the Vrbo Partner Summit, we also understand that these new guests behave differently from people who have been coming to vacation rentals for years. For instance, Vrbo said that they have higher expectations in terms of cleanliness. Also, these guests may need some education about what a vacation rental is like (e.g. no front desk), in order to help craft their expectations.
Hosts: Renewed energy to conquer new hosts (host-centric commercial, Vrbo Fast Start)
Do Vrbo owners make money?
During the Expedia Group earnings call, the CEO said:
We expect to book in excess of $2 billion of earnings for new Vrbo hosts who came on the platform this year.
Just like Airbnb, Vrbo makes a point of sharing how much money new hosts are making. When talking about the success of the Ask a Superhost program, Brian Chesky also underlined the financial success of new hosts. This is key to tempting would-be hosts into trying out a new platform.
When it comes to getting more supply, Airbnb's key 2021 was Ask a Superhost. For Vrbo, it was Fast Start, a program made to get Airbnb Superhosts and other money-making hosts to try out Vrbo. In 2021, it expanded from the US to Canada, France, and the UK.
Why is Vrbo advertising so much?
In 2021, Vrbo also innovated by running its first advertising campaign directly aimed at hosts.
First, in April, it launched videos that were directly comparing Airbnb and Vrbo, with titles such as "Book guests who stay longer and spend more on luxury vacation homes."
In September, Vrbo's next host-centric campaign, called "Let's Do Together Together", began airing online and on TV. The slogan was: "Host your home on Vrbo and make memories for every guest."
As Brian Chesky said during Airbnb's Q3 2021 earnings call, there is still a lot to do around the awareness about being able to host. Here, Vrbo also needs to create this awareness as well remind people that it is possible to do it on Vrbo. It is important not to leave let Airbnb equate hosting with its brand, just "an airbnb" often stands for "a short-term rental" nowadays.
The promise of more visibility and more bookings for Vrbo partners, thanks to closer links with Expedia and Hotels.com
How do I promote my Vrbo listing?
Not just on Vrbo, but also on Expedia and Hotels.com.
For years, the Expedia Group has tried to bring more Vrbo supply onto its various brands, such as Hotels.com. However, it failed, as the Vrbo and Expedia tech platforms were just too different.
For we understand well what the Expedia Group CEO said, then, in 2022, Vrbo should be migrating under that the Expedia platform. If it happens, it could be a big change for Vrbo partners. Yet, neither Jeff Hurst nor Peter Andrews at Vrbo mentioned it.
We have Vrbo supply on Brand Expedia, but the experience isn't terrific. It's a little disjointed for the customer. We can't do everything. This is tone of the many things that are the power of bringing these tech stacks together that allow us to seamlessly move content around onto different stacks, make the checkout process seamless, make the servicing seamless.
They did mention that Vrbo listings would be getting more exposure on Expedia and Hotels.com in 2022. They also said that Vrbo travelers would benefit from Expedia Group's loyalty program. Finally, they alluded to some product innovations coming from the Expedia tech stack, such as promotional tools for last-minute deals that partners could use.
Fighting vacation rental and short-term rental regulations
Vrbo supports evolving local restrictions on vacation rental properties in a variety of ways like lobbying, local alliance development, data & research, and much more. It has launched a website called vrboadvocates.com.
Vrbo is committed to making sure vacation rentals have a positive, lasting impact on their communities and local residents. We empower homeowners with new opportunities and help spread the benefits of tourism