Should I use Instagram for vacation rentals?
The global popularity of the photo-sharing platform is undisputable. Instagram has more than 1 billion active users. In some regions, such as the United States and Europe, Instagram is more popular than some well-established social media platforms, such as Twitter, Reddit, and LinkedIn.
According to Statista, Instagram is expected to surpass 988 million users by 2023.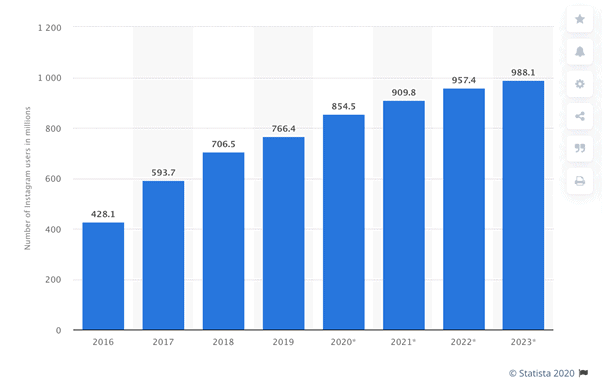 Using Instagram for marketing, short-term rentals should be a no-brainer. Instagram is an indispensable part of daily life for many people. The majority of them expect to find the businesses they love on the social network so that they can be part of their communities. In this article, we look at the most important aspects of Instagram and give you useful tips for making the most of it as a vacation rental business owner.
The potential of Instagram for vacation rental business owners
The number of businesses that are active on Instagram currently exceeds 25 million. At the same time, four out of five people on Instagram follow a business, and, on average, they generate about 200 million visits to Instagram business accounts every day.
Last year, Instagram earned more than $7 billion from advertising, which indicates the potential that businesses see in this channel.
But, the value of Instagram for your vacation rental property business is not only a numbers game. Every day, people worldwide share their stories and experiences on Instagram, and they increasingly rely on the platform to come across new opportunities, relevant content, and information.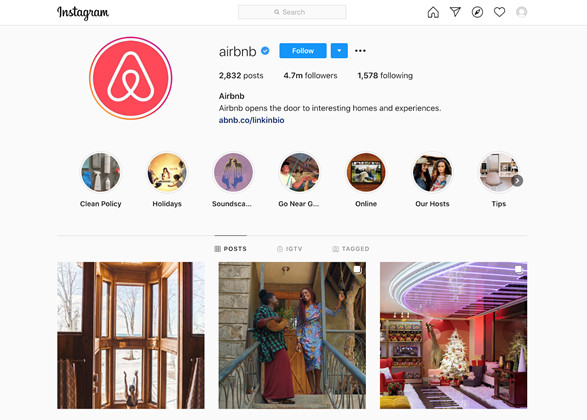 Instagram for vacation rentals: Why you should use Instagram for your rental property?
The number of users on Instagram adds up to create a unique opportunity for vacation rental business owners to reach out to travelers from all corners of the world. In this section, we've summed up the top reasons you should launch your vacation rental on Instagram and how it could help you grow your business.
Spread the word around
Instagram can be a powerful promotion channel. An Instagram business account gives you an additional channel through which you can grow leads and create opportunities for your short-term rental business. Creating the right mix of content and hashtags will get your vacation rental in front of thousands of potential guests. From the guest's perspective, having an Instagram account will allow travelers to learn about your vacation rental and visualize their experience of staying with you. Think of it as a way for them to get to know your business and what it can offer them without having them contact you.
Get to know travelers in your area
Vacation rental entrepreneurs often rely on reports and analytical tools such as Transparent and Airdna to better understand their markets. However useful these tools may be, they boil down to an aggregated and numerical representation of the market.
But short-term rental owners and property managers can use Instagram to visualize the people visiting their area. Seeing the travelers that are likely to visit your property can add a whole other dimension to the market data and give you a more comprehensive understanding of how to position your vacation rental for maximum success better.
Are the travelers coming to your area party-goers, nature-lovers, or adventure-seekers? Instagram can help you find out. For example, doing a quick hashtag search on Dubrovnik, the walled city on the Dalmatian coast, reveals what travelers like to do while visiting the city. Putting a face to the numbers can make a difference and help you understand what kind of experiences travelers in your area are looking for and how you can respond to that.
Use Instagram as a funnel to point back to your website
Instagram is a great way to market your vacation rental, and you can use it to redirect followers to your direct-booking website. Vacation rental booking platforms such as Vrbo and Airbnb are great for getting your property in front of travelers, but they do come with a hefty commission. However, with a few simple tactics, you can get your Instagram followers to flow to your own booking website.
Increase repeat guests and grow relationships
Having repeat guests is beneficial for vacation rental managers and travelers as well.
On the one hand, welcoming guests that you already know can put you at ease to trust them in your property, and it can also get you knockout reviews that will help grow your business. On the other hand, they'll know what to expect, which can help them have a great experience.
With that in mind, returning guests are easier to satisfy and can be an excellent reference for new ones. Instagram can help your vacation rental business to connect with travelers throughout the year and grow your relationship until their next visit.
Make new connections and network
Instagram can help you network with other like-minded businesses or companies that offer complementary services to travelers. Think of restaurants, day-trip operators, and lavish spas where your guests can spend their time while staying at your property. Growing a complementary service provider network can help you offer your guests better recommendations and a more enjoyable experience.
Improve trust
Having an Instagram account – especially a verified Instagram account – is one more signal that your business is reputable, real, and transparent. We've included a special section on how you can get a verified Instagram account.
How to get started with an Instagram business account?
Before diving into details on how to optimize Instagram, let's start from the basics. First, you need to set up an Instagram business account. Instagram data clearly shows why having an Instagram business account is essential: over 200 million Instagrammers visit at least one business profile daily. One-third of the most-viewed Stories are from businesses. So you can benefit from having your short-term rental story put in front of Instagrammers to attract new guests. There are many advantages to running a business account on Instagram.
With a business account, you can:
Get real-time metrics. Having in-depth analytics that measure how your stories and promoted posts perform throughout the day is vital.
Get insights into your followers. Understand how your followers interact with your posts and stories.
Include information about your company. Here you can include information such as business hours, location, and phone number.
Convert to a business account within your app account settings.
What to include in your Instagram Bio
In your Instagram Bio, you should include the necessary information about your business, such as your business name and what your business does, and hype up your website. You could try to have catchy lines aligned with your brand image and the distinctiveness of your brand's slogan. For example, Airbnb's Instagram bio says: Airbnb opens the door to exciting homes and experiences.
Try to use Instagram-appropriate language, for example, emojis, to stand out from the sea of other brands on Instagram. Using emojis could make your brand more appealing because emojis are universal, and their language has the same meaning in different countries. You can take things a step further by using a clickable hashtag with your bio. This allows your followers to view the content under the hashtag and create more content for that hashtag themselves.
Connect your Instagram with your Facebook
If you already have an existing Facebook page for your short-term rental, you can connect your Instagram account to that Facebook page. This is useful if you want to create Instagram marketing campaigns through your Facebook page.
Create consistency for your design
If you want your Instagram brand to be identifiable and have a recognizable aesthetic aligned with your brand image, the colors, fonts, and design on your Instagram profile have to be consistent. For example, if you decide to publish quotes once per month, the images should have a consistent look. You can create templates for your Instagram by using tools such as Canva or Photoshop. Creative Market and Design Shack also offer templates for Instagram.
Features to help you make the most of your vacation rental Instagram profile
Instagram packs a lot of features when it comes to the type of posts that can be shared. Different types of posts, such as carousel posts and Instagram Stories, can be used in combination with filters and effects to give users maximum versatility. With a good plan and some creativity, you can boost engagement levels, increase the number of followers, and even drive more traffic to your direct booking website! So, how to market your vacation rental on Instagram? Here are six ways you can use Instagram marketing for apartments:
Carousel posts allow you to share more than one photo at a time. Carousel posts are trendy among brands as they will enable you to share multiple photos and videos in a single post instead of splitting it up into separate posts. These types of Instagram posts allow creating more personal brand stories.
Instagram Stories allow users to post photos and videos that disappear after 24 hours. According to Instagram, of the 500 million accounts using Instagram Stories, one-third of the most-viewed stories come from businesses. The users need to tap on your profile photo, and your story will appear full-screen, showing the content you posted in the last 24 hours. The content from Instagram Stories plays from the oldest to the newest. The steps for creating a story are simple: you have to tap the camera icon at the top left-hand corner of the screen or just swipe left and take a photo or record a video. There is an option to include content from your Camera Roll. A new functionality on the Instagram app allows you to re-share a story you created one year ago on the same day.
Different stories effect: within the Instagram app, there is the option to create Instagram Stories made up of Boomerang, face filters, and superzoom effects.
The Superzoom feature allows you to add effects to your shots. These are used to present the feeling through colors and sounds when a photo is zoomed in.
Various stickers: You can include hashtags in your Instagram story by tapping on hashtag stickers or adding interactive poll stickers. Before an important event, you could also add a countdown sticker. There are many different stickers that you can use as part of your Instagram Stories, among which is the emoji slider that allows you to ask questions.
Instagram Stories Highlights: Unlike Instagram Stories that are only live for 24 hours, Instagram Stories Highlights can remain permanently on your profile. Once you post a story, you can save it in a Highlight (as a folder) that will be visible on your Instagram profile. Another option is to activate the Archive option to automatically save your Instagram stories in an archive and create highlights from them. You'll also be able to include additional photos or videos to your highlight.
Try the Create mode package: Instagram's Create mode developed for its apps for iOS and Android includes options for creating and sharing polls, countdowns, questions, 'on this day,' and other functionalities that drive engagement.
How to market your vacation rental on Instagram?
Instagram Stories ads: Stories ads can run for as long as you wish, and you can target them by reach, video views, traffic, conversions, app installs, and brand awareness. Ads have a full-screen vertical format. You can analyze your Instagram Stories ads' performance in the insights section of your business profile on the app.
Instagram photos ads: these types of ads allow advertising through photos in а square or landscape format.
Video ads: you can share videos up to 120 seconds long in landscape or square format.
Carousel ads: these types of ads allow another layer of depth to campaigns, where your audience can swipe to view additional photos or videos in a single ad.
Collection ads: you can present an integrated story by using video, photos, or both.
Ads in explore: you might consider these types of ads if you want to extend your campaign to different audiences and be part of what's culturally relevant and trending while reaching Instagrammers who want to discover something new.
How to buy ads?
There are three different ways to buy ads on Instagram: within the app, through ads manager, and Instagram partners.
How much does it cost?
This is entirely up to you – you can set a budget for each campaign and decide how much to spend on Instagram promotion on a case-by-case basis. Also, there is an option to pause the promotion at any moment. Your budget and the duration of the campaign affect how many people would be able to see your promotion. Instagram recommends starting with the default budget and duration shown when you reach this screen. You will be able to use your promotion insights to understand how adjusting your budget and duration can influence your campaign's results.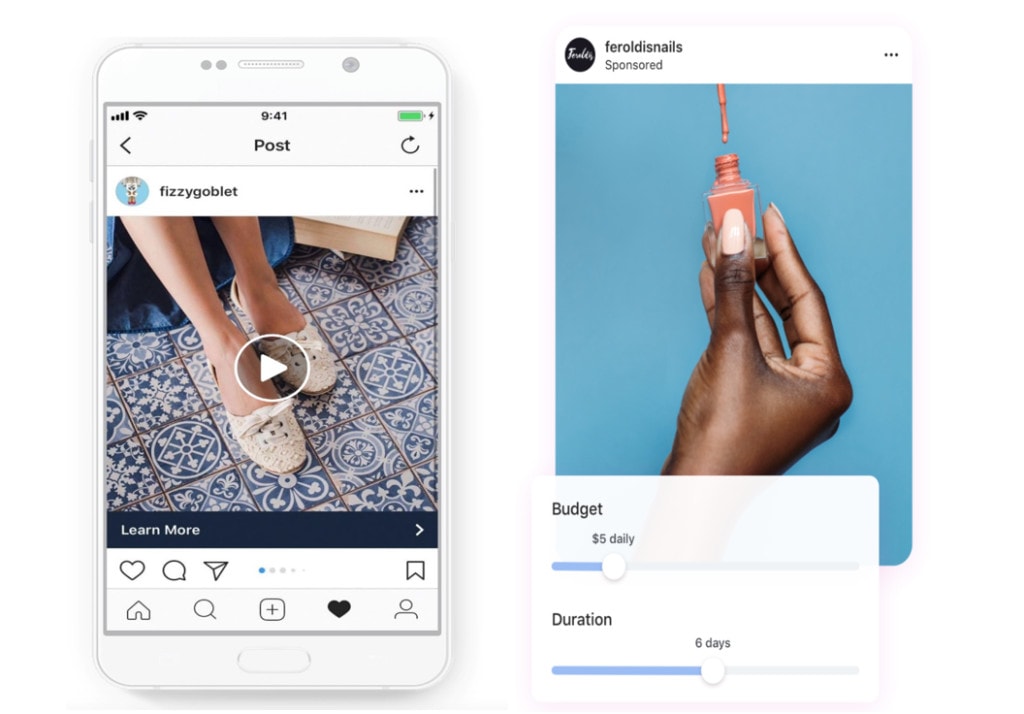 Instagram Analytics Tools
Next, we'll take a look at precisely what Instagram offers in terms of analytics.
Instagram Insights: You can use Instagram Insights to learn the trends across your follower base and keep an eye on your campaigns' performance. You can also view insights for specific posts and stories and see how people engaged with them. Insights are free and available only for business or creator accounts.
Other analytical tools such as Iconosquare or Hootsuite Analytics have free trials and might help you analyze your impact on Instagram.
New branded content features
Instagram recently announced more branded content capabilities that would allow labeled content makers to add more elements, from hashtags to locations, captions, and mentions on their stories.
How to optimize your vacation rental Instagram account + best practices
Find out what are the best days & time to post on Instagram
To maximize your vacation rental Instagram account's engagement, it makes sense to post when your audience is online. According to the latest analysis done by SproutSocial, these are the best times to post on Instagram for recreation:
Best times: Wednesday and Thursday at 1 pm.
Best day: Wednesday
Worst day: Sunday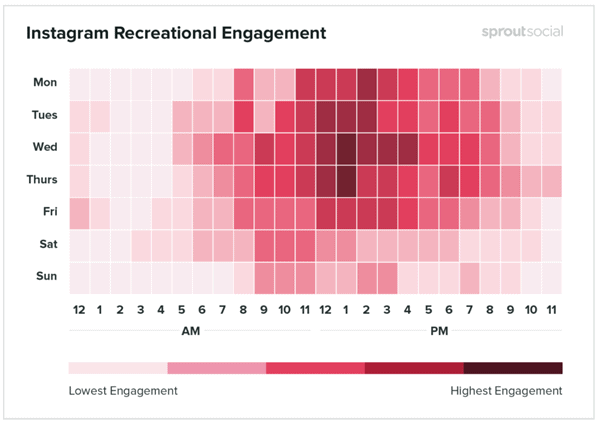 To avoid the lowest engagement times for Instagram for recreation, SproutSocial advises not to schedule before 6 am and after 10 pm every day.
In general, the best days and time for posting on Instagram, according to SproutSocial, are:
Best times: Wednesday at 11 am, and Friday from 10 am–11 am.
Best day: Wednesday
Worst day: Sunday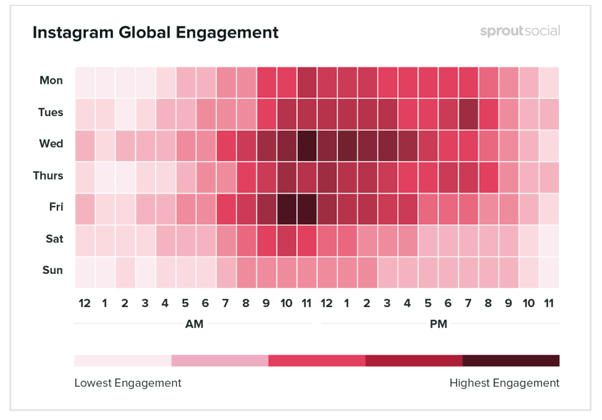 According to the analysis, engagement decreases every day before 6 am and after 9 pm.
Make sure you take advantage of hashtags
A hashtag is a combination of letters, numbers, and/or emoji preceded by the # symbol that acts as a search function that allows Instagrammers to find relevant followers and brands.
The hashtags are clickable, and they are a great tool to expand your Instagram audience. If you use a hashtag in your Instagram Story, it might be included in the relevant hashtag story and appear on the hashtag page.
Users can also decide to follow hashtags, which means that your post with hashtags may be seen by Instagrammers who do not follow you. So you could increase the number of followers and engage more people with your brand by using hashtags.
Remember that the inappropriate use of hashtags can also do damage. It could make potential followers feel irritated. Instagram provides guidelines on how to use hashtags.
Is there an ideal number of hashtags?
You can include up to 30 hashtags on a regular post and ten hashtags on a Story. You need to understand how many posts would work well for your brand, but the most common number of used hashtags is between one and three.
How to find trending property management hashtags?
You're probably wondering how to find trending property management hashtags on Instagram, especially if you are already on Twitter and aware that this functionality exists there. But on Instagram, there is no list of popular hashtags. However, if you search for a hashtag on Instagram, you can understand how many posts use that hashtag. That also allows you to see a list of other trending Instagram hashtags that use similar words.
You can use property management hashtags for different purposes: to attract travelers and get more bookings, to present a visual standard of what potential guests can expect, or to connect with the short-term rental industry. If you want to research the most popular hashtags, you can check out this list of top Instagram hashtags. A great tip is to see what kind of hashtags are used by your competitors and your followers.
What are some of the trending property management hashtags?
#beach (over 259,803,655)
#vacation (over 123,767,794 posts)
#vacationmode (over 7,136,364 posts)
#travelphotography (over 137,701,768 posts)
#holiday (over 147,912,295 posts)
#vacationrentals (over 343,410 posts)
You can also try some of these property management hashtags:
#airbnb #rentals #travel #time #property #market #bookings #families #coming #guide #conference #partnership #propertymanagement #hawaii #season #realestate #winter #sky #mountain #cloud #photography #cloudy #trekking #happyday #beautiful #optoutside #propertyowners #kissimmee #owners #list #mountainouslandforms #mountainlovers #terrain #instapic
You should be careful not to use some keywords that work better for real estate property managers such as: #propertymanagement #realestate #property #propertymanager #propertyinvestment #realestateagent #realtor #home #investment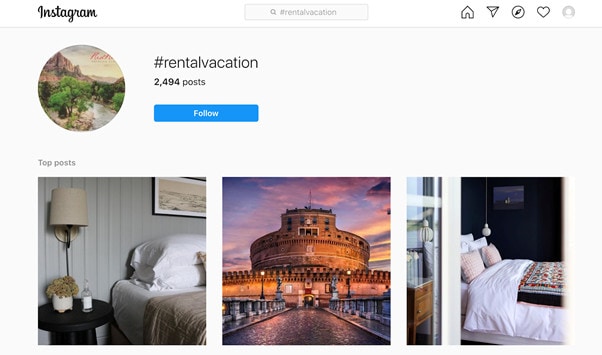 Hashtags generators are handy tools that can give you relevant hashtags for marketing your short-term rentals. Here are some free tools you can start using today:
For example, by using the tool RiteTag, you can learn that the following are the trending hashtags around the key term "luxury villa rentals in Bali": #luxuryvilla, #luxury, #rentals, #rental, #bali, #indonesia, #villarentals, #villarental, #luxuryvillarentals, #architectureporn.
Are there hashtags mistakes you should try to avoid?
There is no universal guide on how to market your vacation rental on Instagram. However, you will improve your chances for a successful Instagram rental property strategy if you try to avoid the following mistakes regarding property management hashtags.
Don't use the same hashtags: Reusing the same hashtags could raise a "red flag" on your account and negatively influence the other content you have. If you are spamming with the same hashtags, your account might be "shadowbanned." So, try to create a list of around 50 hashtags that you can rotate in your posts.
Don't use just popular hashtags: Using popular hashtags raises your chances of being discovered, but since they're so populated, the content under these hashtags changes so quickly that your posts could easily be pushed out before getting any traction. Less popular hashtags can sometimes offer more genuine engagement.
Delete the hashtag with the niche content: you shouldn't use more general hashtags, but try to increase engagement by focusing on hashtags complementary to your brand.
Create your own branded hashtag
Perhaps the most engaging hashtag for you might be the one you create for yourself. You can promote the branded Instagram hashtag through your blog and other social media channels and run a contest to make it more popular among existing and potential followers.
For example, Tripadvisor created its own Instagram brand called tripadvisoreats around the "best of local cuisines and foodie recommendations worldwide." They use two hashtags: #tripadvisoreats and #FoodOutThere. There are around 150 posts targeted at travelers under the hashtag #tripadvisoreats, with amazing photos and videos from great recipes prepared in different countries. 
Share user-generated content from your travelers
Social media increasingly influence millennials and the younger Generation Z groups in terms of their travel behavior. According to Expedia, globally, Generation Z and millennial travelers are 1.5x more likely than other generations to take a leisure trip from January to March 2021. Expedia's Traveler Sentiment and Influences 2020-2021 study shows that pictures, information, and reviews are becoming even more relevant than pre-pandemic times. Photos from influencers on social media, friends, family, and social media accounts travelers follow are influencing travelers when planning leisure travel in the next 12 months. This data should motivate vacation rental owners and managers to use user-generated content from Instagrammers who are their customers. Sharing user-generated content from travelers can help you strengthen your Instagram community.
However, user-generated content that looks like a sponsored advertisement is a common content mistake on Instagram. You should try to avoid that because it could lead to a negative perception of your brand.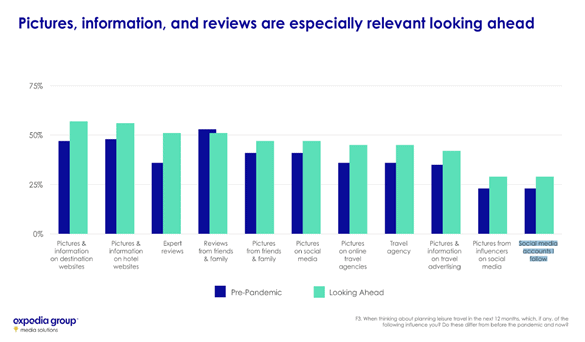 Vrbo, for example, drives user engagement by sharing stories from their travelers.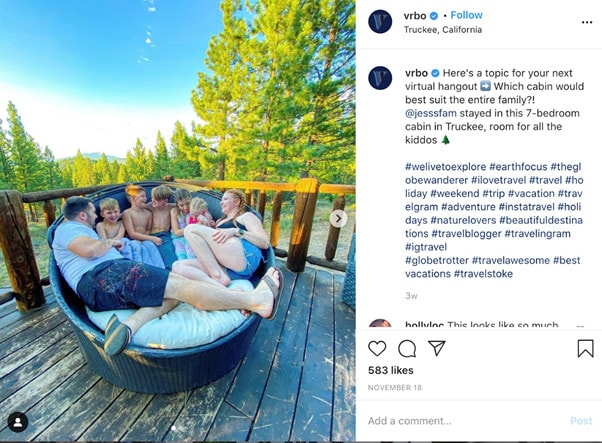 Boost engagement by asking Instagrammers to tag someone
You could increase user engagement and raise the number of followers by asking users to tag their friends on some lovely photos from your properties.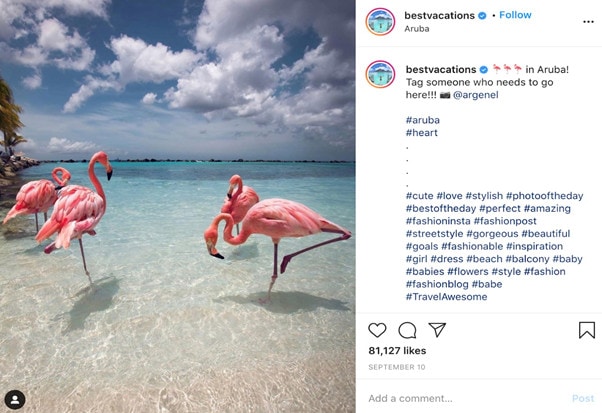 For example, you can encourage them to:
Tag someone who would love to live in a particular country you're posting about,
tag someone who'd live there,
tag someone that would love to visit the specific city (where the property is).
These are just some suggestions that can boost likes and comments.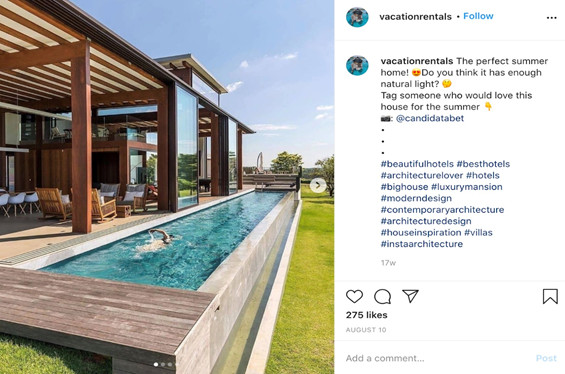 Increase engagement through short surveys or quotes
You could also ask questions to increase the engagement of your posts. The users of popular photo and video-sharing social networking services seem to love answering questions.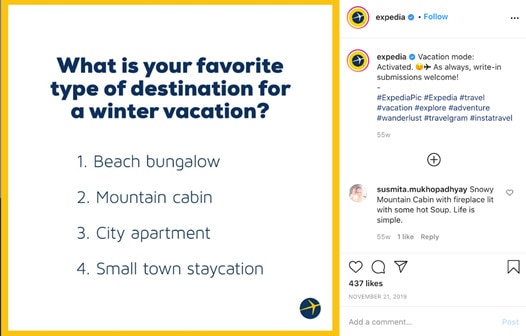 Photos with quotes also seem to drive engagement by travelers. You can find quotes about traveling and create visuals that your Instagram followers would quickly like and comment on.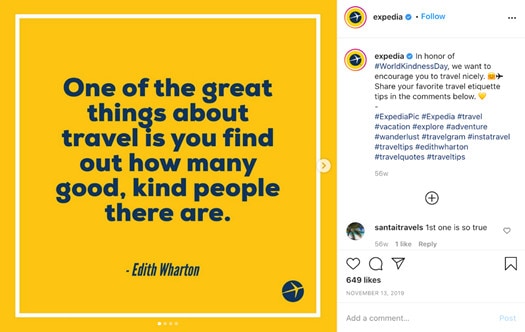 You can also drive engagement by asking your followers to provide reviews for your short-term rental. In the example from Tripadvisor below, you can see that using the right tone is crucial: the Tripadvisor team behind the account explained the benefit of providing feedback for other travelers as the angle for their post.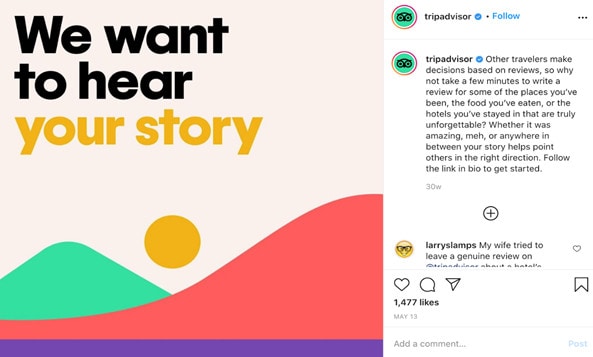 Reward your travelers
Another effective Instagram rental property strategy for boosting engagement from travelers, which is used, for example, by Vrbo, is to award your travelers for sharing their experience on Instagram. Of course, implementing this strategic step to increase engagement would only make sense if you have many travelers who follow your brand on Instagram. Vrbo created the hashtag #vrboturns25 and asked travelers to share their family vacay memories on Instagram and Facebook for the chance to win 25 vacations.
Connect with Instagram influencers
You might consider working with Instagram influencers who have established credibility in this niche to promote your brand, expose it to more of your target audience, and grow your Instagram account.
There are two types of Instagram influencers: micro-influencers, which are influencers with 1,000 to 100,000 followers, and macro-influencers, with over 100,000 followers. If you have a smaller budget, you will probably be interested in micro-influencers. Most often, they could be approached directly, while macro-influencers usually work through marketing agencies.
When you try to choose the right influencer, it's crucial to consider that their followers' demographic matches your target audience and that the engagement on their Instagram profile is genuine.
The brand ambassadors that could help you become noticeable on Instagram could come from the short-term rental industry or other industries. For instance, you could work with travel bloggers or more influential photographers with many Instagram followers to promote your short-term rental property on Instagram. Of course, creating a robust marketing campaign with the top, most influential travel influencers on Instagram might be the ideal solution for your brand if you have the budget for it. Hubspot published a list of the top travel influencers, which include: Annette White, Matthew Karsten, The Points Guy, The Blonde Abroad, Eric Stoen, Kate McCulley, The Planet D, Andrew Evans, Jack Morris, and Lauren Bullen.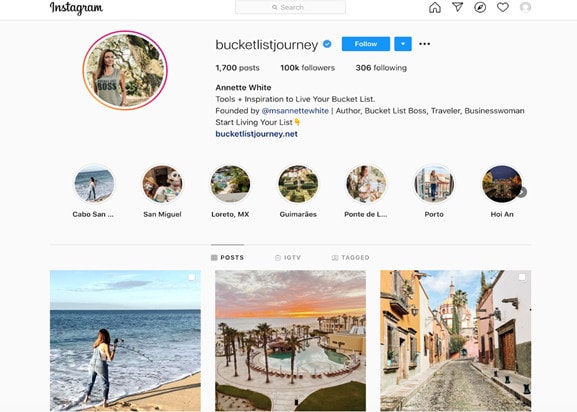 Emoji storytelling
A simple tactic to increase interaction on Instagram is by using emojis. If you have no idea where to start, check Emojipedia, the Wikipedia of emojis. You can find some cool emojis that can inspire you to engage your followers and stand out by making original emoji combinations.
It's not just about numbers
When you are crafting your Instagram rental property strategy, you need to keep in mind that the goal isn't to increase any kind of followers but those who are engaged or "real." There is no shortcut to building a successful Instagram brand.
Top mistakes to avoid when marketing on Instagram
Don't expect big numbers overnight
You need to think about building your brand image on Instagram as a marathon. You're in for the long-run. Try to start small and focus on establishing relationships. If you expect big numbers and overnight growth, you might be disappointed.
Don't spam
Instagrammers are bombarded by content from brands and friends. If you spam them, that can harm both followers and engagement. Try to be more analytical and understand what kind of content is engaging.
Posting nothing is better than posting bad photos and videos
A lot of short-term rental owners and managers don't have the budget for their own professional photographer. But this is not an excuse to use photos and videos of lower quality because you could end up falling under the radar. Follow Instagram's guidelines and other tutorials on making perfect photos and videos, or find someone talented from your circle of family and friends who can help you out.
Not using new and trending Instagram features is a mistake
If you want to use Instagram to market your vacation rental, you have to keep an eye on Instagram updates and new functionality. Also, make sure you always respect the Community guidelines, often because of regulatory updates.
It's wrong to assume that the Instagram algorithm is static
The algorithms of social media platforms, including Instagram, are always changing. So if you notice that suddenly your Instagram content has less engagement than before, the reason might be an update of the Instagram algorithm. In 2016, for example, Instagram said that users' feeds would prioritize "the moments you care about." Two years later, Instagram announced it would give users more control over the feed and ensure the posts they see are timely. After increased public concerns about changes in their algorithm, Instagram shared several tweets, which explained that what shows up first in users' feeds is primarily based on their own activity. So try to follow the updates through their official blog and their Twitter account.
Posting and advertising without using analytics is like "shooting in the dark"
Using Instagram Insights is free, easy, and it depicts how your content is performing. Iconosquare's free Instagram audit for business accounts provides analytics for the most recent month and your profile. Don't underestimate the importance of these analytical tools to show you the right direction.
What type of content to post?
Now, you may be thinking that you won't have anything interesting to post. But, when it comes to vacation rental businesses, we know for a fact it's quite the opposite.
So what can you post? Before addressing this it's essential to consider the motivations and goals of the average traveler.
Leisure travelers want to learn about new cultures, taste new cuisines, and try new experiences. Many of them use travel as a way to develop and strengthen relationships. Sharing a travel experience brings people together, be it a romantic getaway, a family trip, or a few nights away with friends. Having this in mind, create content that will relate to any of these aspects. Here are some suggestions
What makes your vacation rental unique and special?
Could it be the lovely terrace where guests can chill in the evenings? Don't shy away from snapping a sunset shot.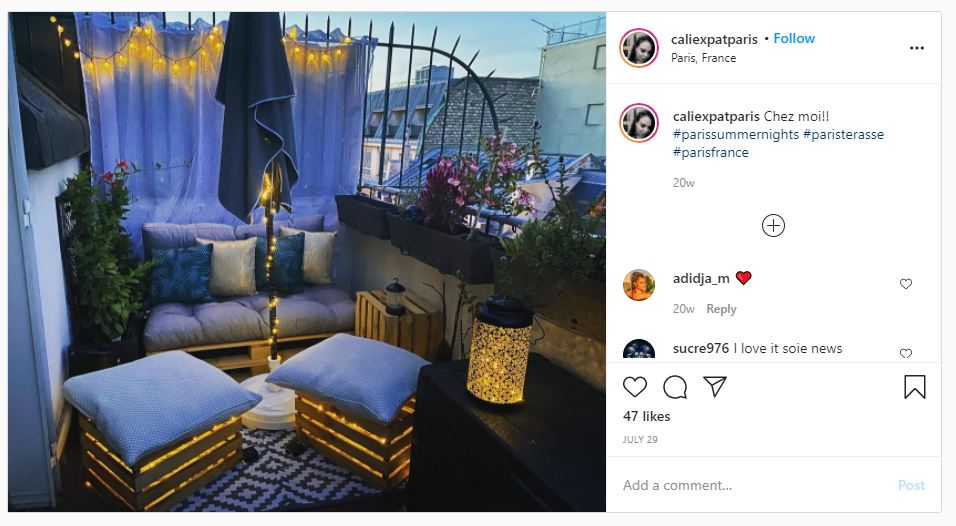 Or could it be that indie painting?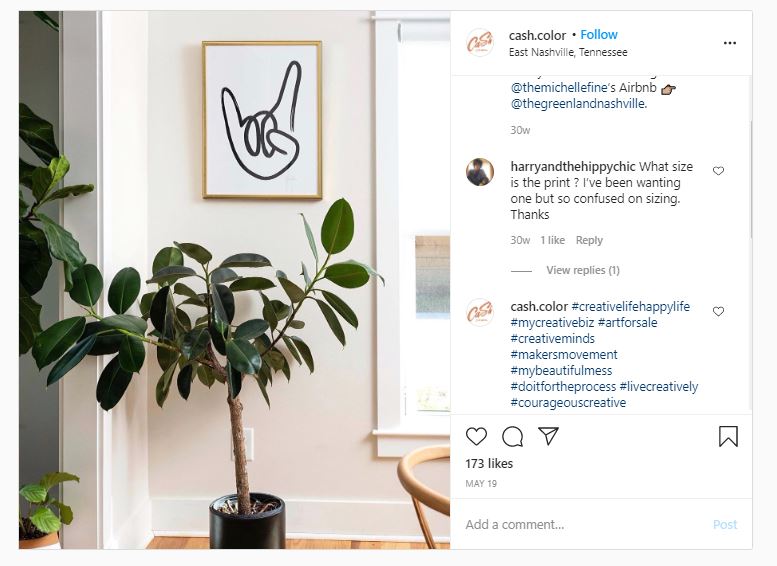 Give your guests ideas about what they can do or experience while staying at your place.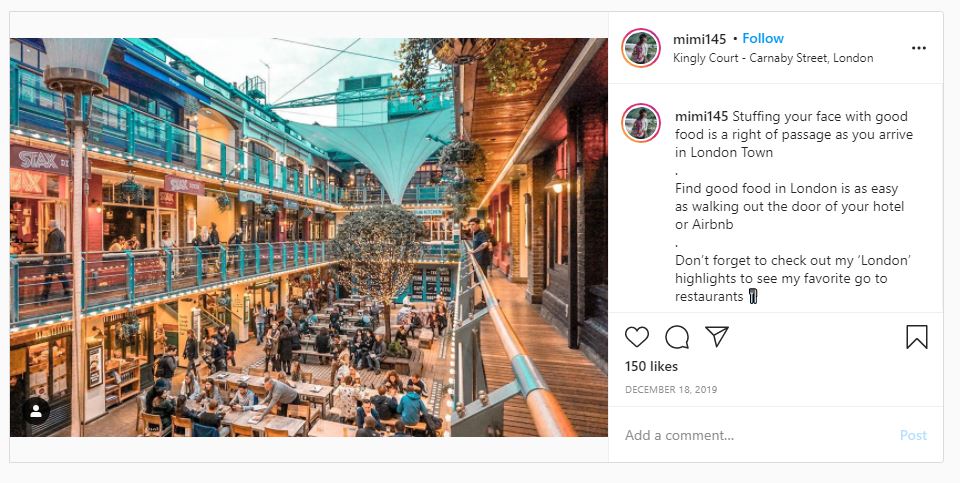 Tell people the most exciting things to see or visit near your vacation rental.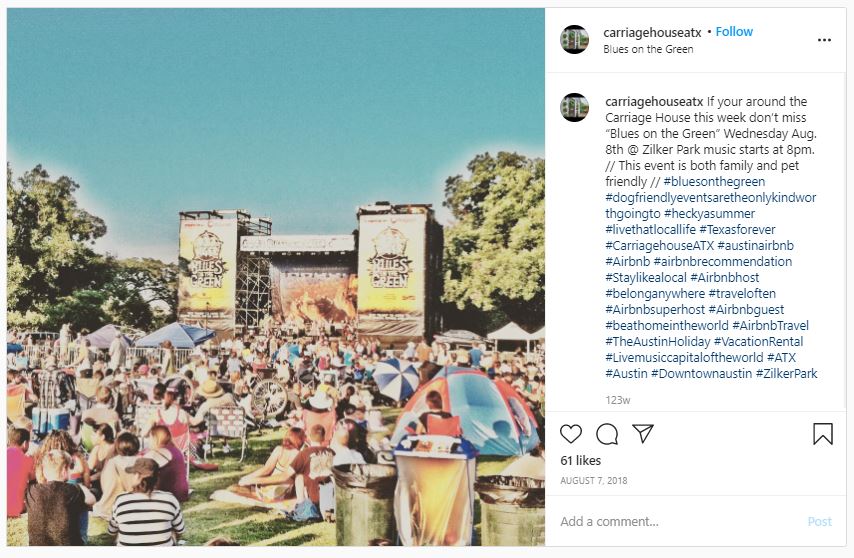 Highlight your neighborhood and city.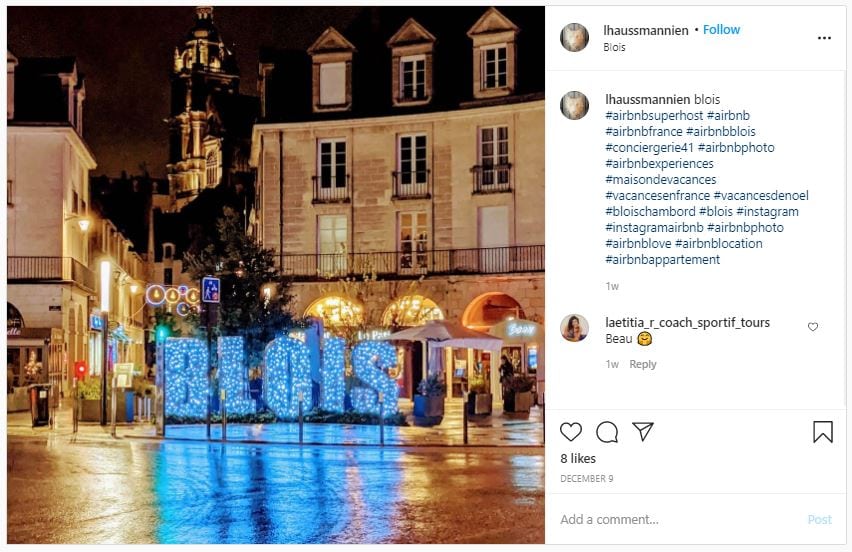 Showcase outdoor amenities such as the beach, parks, and landmarks.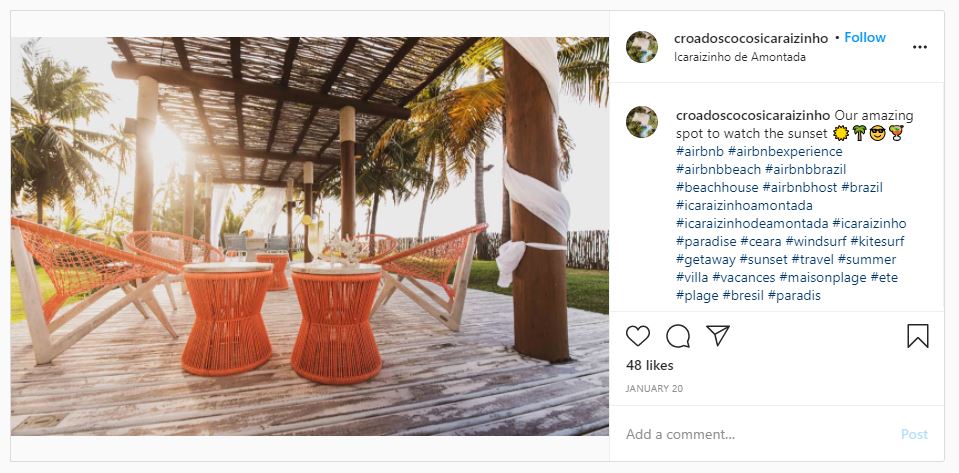 On RentalScaleUp.com, we've written extensively about the features and amenities most prized by travelers. This article outlines the most sought-after vacation rental features. Being on top of travel trends and having a little creativity will help you come up with plenty you can post on Instagram.
How do I get a Verified Instagram Account?
Getting the Verified Badge on Instagram is quite a straightforward process. The first thing you need to do is login and navigate your profile, and tap the hamburger icon in the top right corner. From there, you need to click Settings, then click Account, and finally click Request Verification.
You'll be prompted to fill in the application form and add the following information:
Your legal name
Your "known as" or working name (if applicable)
Identify your category or industry (for example: blogger/influencer, sports, news/media, business/brand/organization, etc.)
You also need to submit a photo of your official government ID. For individuals, that could be a driver's license or passport. For businesses, a utility bill, your articles of incorporation, or tax filings will do.
Tap Send.
According to Instagram, after their team reviews your application, you'll receive a response in your notifications tab. You'll know the outcome within a few days or a week.
Making sure your Instagram is engaging your audience
This section will go over how you can make sure that your Instagram posts pack a punch. Creating an impactful post requires a bit of talent and tactics. Here are the top three post types that can make the most impact.
Testimonials
Incentivize guests to share their experience at your property and tag your Instagram account in their posts. Happy guests attract more travelers. Social proof is a significant driver of trust as nearly 90% of consumers trust online testimonials as much as personal recommendations.
Tell the stories of your travelers
Are the guests staying at your vacation rental to celebrate an important moment? A gesture such as a small welcome gift accompanied by a personalized message can go a long way and is also a great photo opportunity. Capture the moment to show that you'll go the extra mile to make guests feel welcomed at your property.
Brand activism
Make an effort to promote the ideas and movements you believe in. Showing that you are aware of and support social and political movements can add another dimension to your vacation rental business.
5 Owners and Managers reveal how they use Instagram for their Vacation Rental Business
As you may have read in previous posts, using Instagram for my vacation rentals gets me leads and eventually bookings (If you missed these posts, read about Kim Kardashian, Instagram and me, or about my Instagram tool list.)
I am not the only one to use Instagram, a social media network that frequent travelers use en masse. And not just teenagers.
So, our marketing manager Baron has contacted five experts and asked them this simple question: "How do you use Instagram in your vacation rental business?".
1 – We use Instagram to share pics and tips about Florence.

Instagram is one of the most growing social media channels for us. We know that people like to use this network to make travel plans. We share pics and tips about Florence throughout all other social channels based on our editorial plan. We cooperate with influencers and bloggers who have a massive following on their Instagram accounts to increase our visibility and our followers.
Our Instagram followers are from around the world, but mostly from Brazil because we work a lot with Brazilian influencers. We are also very interested in the new ways Facebook offers to advertise on Instagram. We are sure Instagram can be a place to increase brand awareness and drive conversions. For us, it is second place after giant Facebook.
CLICK TO TWEET – 5 Owners and Managers reveal how they use Instagram for their Vacation Rental Business: We use Instagram to share pics and tips about Florence. Lorenzo Fagnoni via @rentalpreneurs
2 – We want to give a visual marker of our standards, what guests can expect from our site.

We have a few goals with Instagram. First, we want to share our own personal photos, highlighting life with kids. This helps us establish authority since we are marketing to families. Moms trust other moms. It also gives our company a real face and builds trust with our guests. We also use Instagram to promote our blog posts, using hashtags to get maximum exposure.
Once our website is finished and our properties are featured on the website, we want to use Instagram to highlight our best homes, the family-friendly amenities they offer, such as a beautifully designed bunk room or a vignette of the pool, as seen from the safety gate.
We want to give a visual marker of our standards — what guests can expect from our site. We are excited to use Instagram videos to capture moments at our homes, maybe with children playing in the pool or walking down to the beach. We want to use it to draw people in and get them visualizing their family in that space.
CLICK TO TWEET – 5 Owners and Managers reveal how they use Instagram for their Vacation Rental Business: We want to give a visual marker of our standards, what guests can expect from our site. Nikki Woodson Blair via @rentalpreneurs
3 – We post pictures of our properties to show what our villas are like in terms of features but also service.

At Villa-Bali.com, we use Instagram in 2 ways:
We post pictures of our properties to show our villas in terms of features and service. To this end, we often share access to our Instagram account with our clients so that they can share their real experience at one of our villas.

We post pictures of Bali to share our love for the destination and share tips from our favorite places (restaurants, cafes, etc.).
Finally, we also share behind-the-scenes pictures to show our clients what the team is doing for them. For instance, we offer them authentic human doing photoshoots, answering their calls, and emails.
CLICK TO TWEET – 5 Owners and Managers reveal how they use Instagram for their Vacation Rental Business: We post pictures of our properties to show what our villas are like in terms of features and service. Daniel Rouquette via @rentalpreneurs
4 – I use Instagram to announce the new properties and promote blogs and testimonials.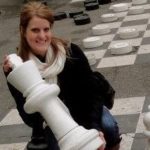 Because Instagram is first and foremost a mobile app, it allows me to put high-quality product images in the hands of potential prospects and brand advocates. Vacation rentals are a highly visual product; therefore, I use Instagram to announce new properties, share information about a destination, promote blogs and testimonials, and induce overall vacation envy. It also allows us to share a first-hand account of what it's like to stay at one of the properties. For example, I might share where a ski run is in relation to a home or what a sunset view looks like in real-time. These selling points are conveyed better with an image instead of a listing on the website or during a phone conversation.
I try to take advantage of Instagram's robust search functions by optimizing the posts, thus encouraging them to be seen by non-followers. Hashtags have been essential for me to reach a broader audience in like-minded industries such as interior designers and local tour operators who can become advocates for me in the future. For example, for posts about ski vacation rentals, I use hashtags like #powderday and #skiutah. For posts of the property interiors, I might use hashtags like #design, #style, or #architecture.
I also tag the photos by location, which encourages posts to show up in geo-tagged searches. For example, for a vacation rental with views of Casa Batllo in Barcelona, I will tag this landmark, and anyone who's looking at pictures of Casa Batllo can stumble upon our beautiful property. If I can offer a unique viewpoint of well-known destinations, it adds value in an otherwise saturated industry.
CLICK TO TWEET – 5 Owners and Managers reveal how they use Instagram for their Vacation Rental Business: I use Instagram to announce the new properties and promote the blogs and testimonials. Karleen Lewis via @rentalpreneurs
5 – Instagram as a platform that can generate leads to business.

Flavio Sarahyba – @mahnai
Social media is often overlooked here in Brazil as a platform that can generate leads to business. Instagram is very popular in Brazil among youth and adults. We deal with a particular kind of customer: wealthy, used to traveling, and demands nothing but the best in luxury housing.
Therefore, we understood the importance of:
Taking and posting good pictures on our social media accounts.

Not overflooding our social media only with villa pictures. Creating content is an exciting way to engage customers with the brand. Also, we sell ourselves as more than just a luxury rental company. We want to sell and create unforgettable experiences for our clients; therefore, we offer tips on where to eat, what to visit, etc.
We schedule our posts according to reports indicating times where we will have maximum engagement from our customers. We use selected tags and other organic growth procedures. All I can say is that we experienced a remarkable increase in subscribers and, last but not least, clients these previous months, thanks to an intelligent social media strategy. We have more than 5,4k followers, and we are looking forward to more!
CLICK TO TWEET – 5 Owners and Managers reveal how they use Instagram for their Vacation Rental Business: Instagram as a platform that can generate leads to business. Flavio Sarahyba via @rentalpreneurs
Bonus – How we generate email leads for our Bali and St. Barths villas by publishing great content on Instagram.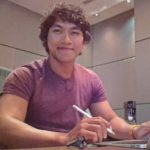 We generate email leads for your Bali and St. Barths villas by publishing great content on Instagram. Our goal is to attract the right kind of followers and to get them to download our free destination guides. We promote these in our Instagram posts and ask followers to click on our bio link to get the free guides.
It has worked really well and has enabled us to turn Instagram into a great source to get new subscribers to our newsletters.
We create our own content and curate content from people currently enjoying their Bali and St. Barths vacations. Our goal is to become a friendly local authority.
CLICK TO TWEET – How we generate email leads for our Bali and St. Barths villas by publishing great content on Instagram. Baron Jamesson via @rentalpreneurs
How about you? How do you use Instagram in your vacation rental business? Leave a comment below!