Having the right amenities at your vacation rental can attract more travelers and increase your occupancy rates. However, it's even more important that travelers easily find out if your property has their desired amenities. This article goes over the top 10 popular amenities at vacation rentals, according to Vrbo, that travelers value the most.
Here's a quick overview of the most sought after property amenities we'll be covering in this article. This list is based on the most-used filters on vrbo.com by travelers, as well as on guest surveys conducted by the Vrbo research team:
Parking
WiFi
Air conditioning and heating
Shower and/or bathtub
Laundry facilities
Toiletries and toilet paper
Access and use of disinfectant at the property and waiting period between different stays
Linens, towels, and temperature at which linens are washed
Safety features such as smoke detector, carbon monoxide detector, and fire extinguisher
Emergency escape route
How does Vrbo promote property amenities?
Vacation rental operators like Vrbo rely on property managers to provide sought-after amenities and have set-up features on their websites to showcase them to travelers.
Vrbo partners that want to maximize occupancy rates need to list all the relevant details about their properties. Besides sharing essential data about pricing, availability, and house rules, partners must provide details about the property's amenities.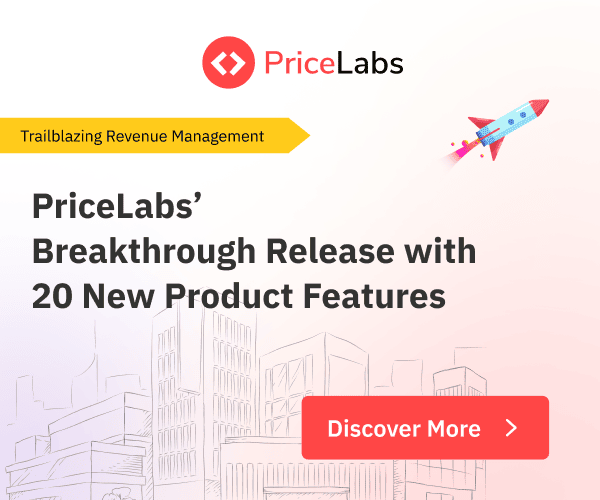 The types of amenities in vacation rentals
Amenities in vacation rentals relate to three groups of property features.
One set of amenities relate to the spaces inside and outside of a property. These include the number and types of rooms, such as bedrooms, kitchens, backyards, and living rooms.
The second group of amenities is related to the things that guests can use and enjoy. These include anything from the essentials like Wi-Fi and washers and dryers to the pools or fire pits that make a property unique.
Finally, the third category of amenities relates to the area around the property, which includes the neighborhood and nearby activities and things that travelers can do.
Amenities and property content: What are they, and how do you improve them?
Property content plays a crucial part in the process of selecting and booking a listing across all phases of the traveler journey. It's used to showcase the property and highlight its amenities. However, property managers should be aware that property content can always be improved and that, often, it can be outdated.
For instance, Vrbo is constantly evaluating the needs of travelers and introducing new features to highlight content, house rules, and property amenities. When the Covid-19 outbreak started back in March, Vrbo began to look at how that changed travelers' expectations and needs and determined that there were a set of cleaning practices and safety measures that travelers really wanted to know if a property is complying with. As a result, Vrbo introduced new features to describe those cleaning practices. Once such features are set, then it's up to property owners and managers to populate their listings with relevant content that applies to their properties.
Property content can also go out of date. This is especially the case with photos of a property, especially photos that show the exterior. These can go out of date from year to year or even from season to season and negatively affect travelers' expectations and experience. The accuracy of listings is very important to travelers and having the right content up to date can help with that.
The key takeaway for property owners and managers is to make sure that your content, property photos and amenities, and house rules are up to date.
How to display relevant and accurate property content?
Property managers need to list all of the amenities and property content as platforms are not able to infer amenities only from descriptions. So, it's important that amenities are listed in the specified fields. The same thing goes for house rules.
House rules serve two main purposes to partners. They help protect the property from improper use and are also beneficial in traveler conversion. Travelers want to know that when they show up at the property, they'll be able to use it the way that they expect. For example, travelers that have pets want to make sure that the property they're going to allows pets.
Top questions in travelers' minds when they're deciding on a property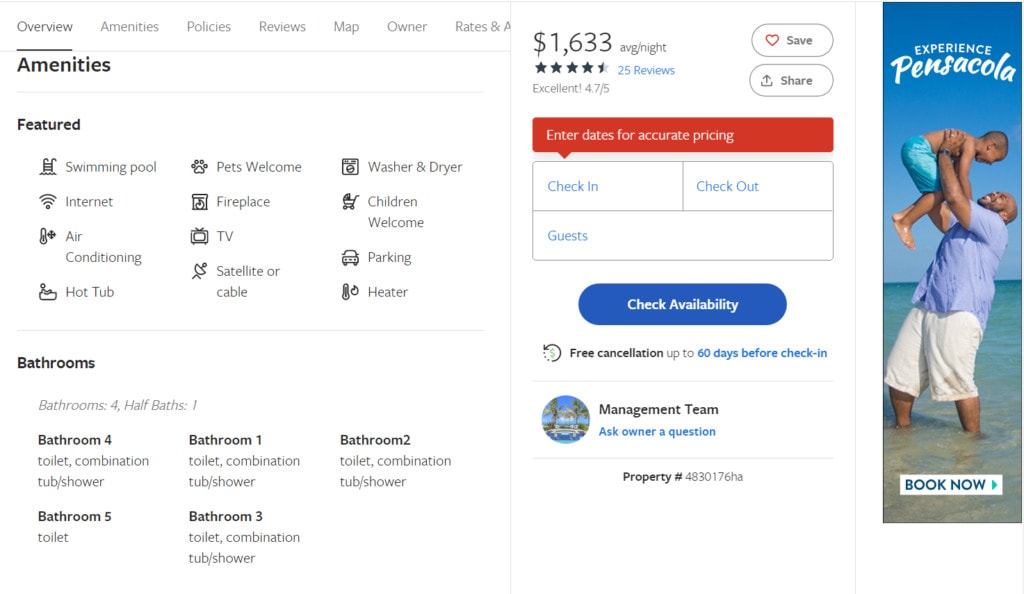 Basic amenities and essentials
Property owners and managers that want to offer the best experience and attract travelers need to analyze their properties through the lens of guests. Reflecting on listings through travelers' eyes can inform property owners and managers whether their listings can actually serve guest needs. This can also help managers see if their listing pages have all the important details travelers would need to feel confident booking a property.
If you think about things through a traveler's lens, the first thing you'll want to make sure of is that you have everything you need when you get there. Are you going to have a place to bathe? Are you going to have towels to dry off when you shower? Are you going to have a place to do laundry? Are you going to have access to Wi-Fi?
These are some of the basic and essential amenities that property managers list as available on their property.
WiFi
Parking
Laundry
Air conditioning and heating
Shower
Bathtub
Towels
Toilet paper
Seeing your property from a traveler's perspective is a good way of pinpointing essential amenities. For example, is there room for everyone to sleep? This is a big deal for travelers in groups or families. Travelers in groups often want separate sleeping spaces, maybe a bedroom for each adult in the group. Families, on the other hand, are looking for different types of details, like if there is a bedroom that has a bunk bed, or how far are the bedrooms from each other?
Property managers should therefore share as much detail as possible regarding the beds and bedrooms available, as well as on descriptions of the rooms and spaces in the property, and let travelers know if linens are provided.
Leisure amenities
Beyond the bare necessities, travelers are looking for a relaxing getaway in a vacation rental and for ways to unwind and enjoy themselves.
So what are some ways that they can enjoy themselves as a family or group?
Properties that have a living room and offer opportunities for indoor activities (entertainment) there are really attractive.
Properties with pools and outdoor spaces outside where guests can gather and enjoy each other's company.
Properties that offer opportunities for cooking and enjoying meals together. Very often, travelers pick vacation rentals instead of hotels so they can cook on their own, whether it's because they love to cook, they want to save money, or they just want to spend that time together making memories as a family.
Properties having a fully stocked kitchen is a really big deal. So make sure that you've marked all of the different amenities that you have, the rooms, the kitchen and dining room, but also everything that's available in your kitchen and make sure you include details that are relevant to kids, like whether there's a highchair available, for example.
Cleanliness, health, and safety
Travelers, especially during Covid-19, want to stay at properties that are safe for kids and that are hygienically clean. In response to the crisis, Vrbo presented property owners and managers with the opportunity to inform travelers on cleaning practices and amenities such as:
Access and use of disinfectant at the property
The waiting period between different stays
The temperature at which linens are washed
Informing travelers about the cleaning practices of a property is important and can help travelers choose a listing in which they'd feel comfortable. Other safety amenities outside the context of Covid-19 that are important for travelers, but also for property managers are:
Smoke detector
Carbon-monoxide
Fire extinguisher
Emergency escape route
Having these amenities is important to travelers and especially to traveling families that want to make sure that they're protected. Additionally, amenities like smoke detectors and fire extinguishers are also important for property owners and can serve to prevent accidents that may damage the property.
Location: New filters for shopping, spas and wellness centers, theme parks, and zoos.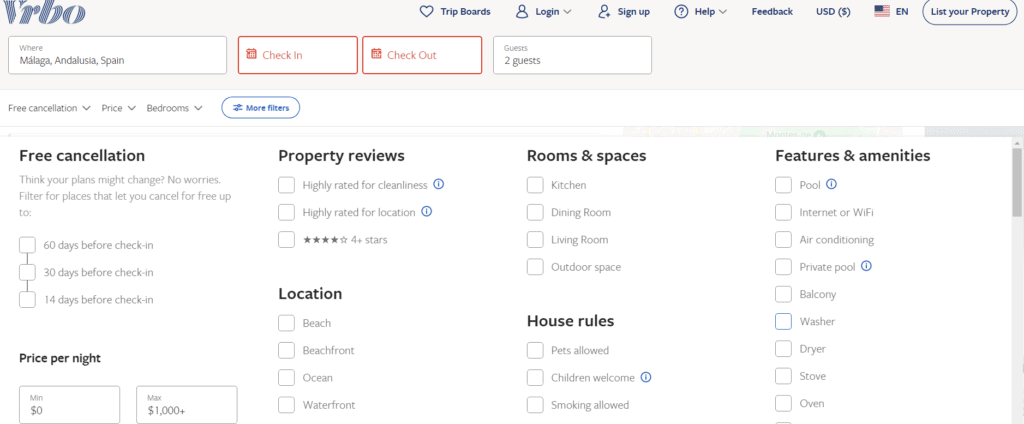 Is your property on the beach or near a ski resort? The location makes a big difference to travelers when they're deciding where to go.
Travelers are curious about activities they can do near rental properties, and Vrbo has taken note of this. The vacation rental platform has recently made property features much more visible in the filter menu and has also made them more visible on the property detail page.
Rental managers should use this as an opportunity to increase the visibility of the amenities and the things that travelers can do in their rental property area. Travelers do use these filters a lot to try and find properties that meet their needs.
Some of the most popular location amenities filters introduced recently include nearby shopping, spas and wellness centers, theme parks, and zoos. These were added to the already existing location amenities such as golf course, beach, the possibility to go fishing, and so on.
Putting yourself in the shoes of a traveler, you should consider what is great about the location of your property and make sure that it's something that travelers can discover through the filter menu on the property detail page.
How to connect with travelers best suited for your property new
Having a great match between the type of travelers and your property can be a solid foundation for providing a great travel experience and a good way to predict returning customers.
Evaluating the amenities profile of your property will determine the type of travelers that your property is best suited for. Travelers come in all shapes and sizes, and different types will prefer certain amenities over others.
These are the most common traveler types in the short-term rental market:
Small or complex families
Travelers with children
Travelers with pets
Group travelers for leisure
Group travelers for business
Travelers that need accessible property or assistance
Vacation rental managers need to evaluate whether their properties will provide the best experience for families and friends that travel with children and pets or maybe if they can offer better experiences for business travelers.
Giving a detailed rundown of your property's amenities in clear and concise language will allow people to better understand if your property is suited to their needs. For instance, if your property is accessible to persons with disabilities, make sure you underline this aspect in the property description, but also to highlight that in the property photos.
Travelers need to know if your property is going to work for them, and you need to make sure they can infer that from your property description and photos. Making sure you include these details in your house rules is critical.