Smart Rental is Transparent's latest advance in the vacation rental data industry. The analytical tool offered by the Madrid-based vendor is for property managers and rental owners. The company says that their product holds the potential to help property owners optimize their strategy and boost revenues by 25%.
In this article, we examine the features of the free version of Smart Rental and explore how this analytical tool can help property owners and managers in various scenarios. This is an Airbnb data and analytics tool that also gives you data about Vrbo, Booking.com and Tripadvisor vacation rentals.
Vacation rental data vendors & analytics providers
Vacation rental data vendors play a significant role in the short-term rental industry. These web-based services help property managers and owners maximize earnings of short-term rental properties by taking out much of the guesswork.
Data vendors scrape short-term rental platforms such as Vrbo, Booking, and Airbnb, and unravel information about the competition, market structure, and pricing. Data vendors then turn vast amounts of data into user-friendly and actionable insights. Some of the standard features they offer include the possibility of monitoring demand and supply in a user-defined geographical area.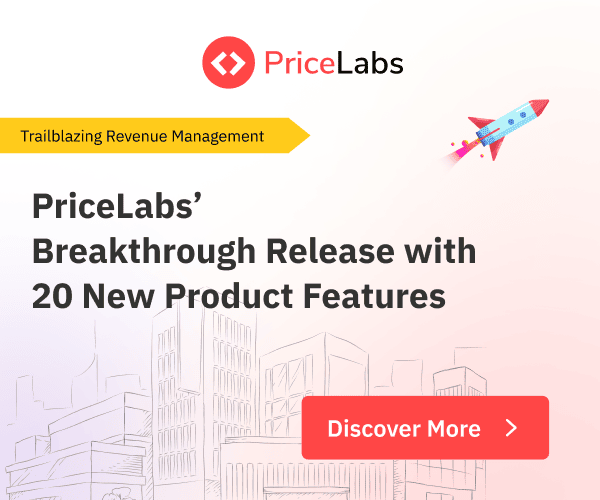 Short-term rental data vendors also offer valuable market insights that allow owners and managers to compare the performance of their properties against the market average. Similarly, property investors can evaluate the potential profitability of short-term rental investments.
Providers of short-term vacation rental data can also pinpoint seasonal patterns and draw out forecasts, which helps owners and managers make informed decisions about making investments in new properties or areas. Some of the most prominent short-term rental data vendors are Transparent, Airdna, and Airbtics.
Overview of Smart Rental free
Transparent processes data scraped from the most popular short-term rental platforms and offers it via Smart Rental, a user-friendly web-based data analysis application.
According to Transparent, Smart Rental is fueled by data from Airbnb, Vrbo, and Booking. However, the user dashboard includes TripAdvisor in the breakdown of short-term listings by platform, which means that the list of data sources may be more extensive than what is officially communicated by the company.
At first glance, the free version of Smart Rental comes off as a competition analysis tool that allows property managers and owners to see occupancy rates and pricing in their market.
Users can retrieve data about local markets by entering the appropriate location in the search bar. Once the location has been set, the intuitive dashboard and the map allow users to focus on even more narrowly defined areas.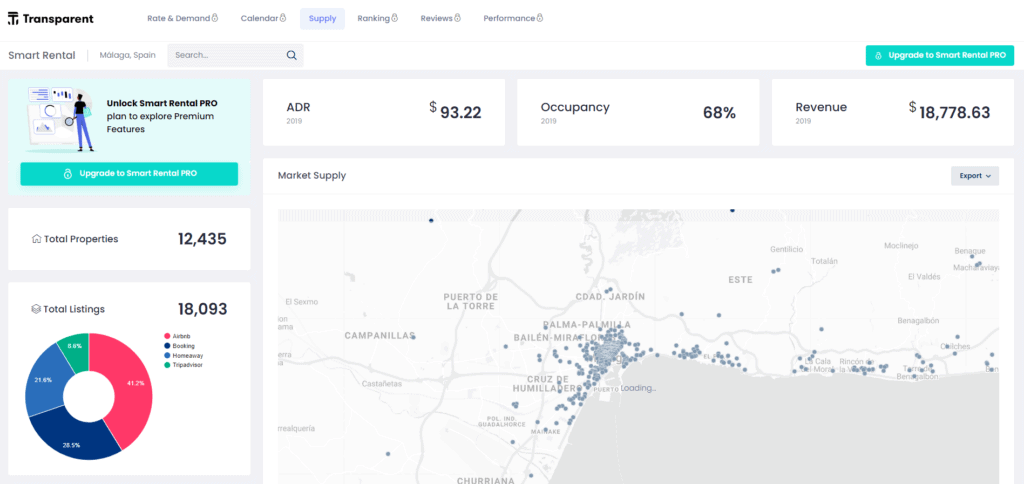 The Smart Rental package offers a variety of analytical tools grouped into 6 categories:
Rate and Demand
Calendar
Supply
Ranking
Reviews
Performance
However, the free version of Smart Rental is limited to indicators included only in the Supply category. Other limitations of the free version are:
Users can see up to 500 properties in a selected area;
Links to competitors' properties listings are blocked; and
Exporting of data is not allowed.
Smart Rental certainly holds the promise of a powerful analytical tool, and the functionalities included in the paid version can bring comprehensive insights about markets. But how useful is Smart Rental Free?
We'll take a closer look at the features offered in the free version and discuss its use cases for vacation rental owners and property managers.
Smart Rental free: features and functionalities
Supply is the core set of market intelligence indicators. It consists of the essential metrics that any rental owner or manager needs to know before deciding about pricing and positioning their property. The Supply category consists of the following indicators:
Total Properties
This indicator allows users to see the total number of properties listed in a user-defined area. The Total Properties indicator relates to the number of real estate properties used, entirely or partly, as short-term rentals.
For example, if an apartment in a condominium is listed on a short-term rental platform, then the entire dwelling will be included in the list of Total Properties. When plotted on a map, the list of total properties gives users essential information about the distribution and concentration of short-term rentals in their market.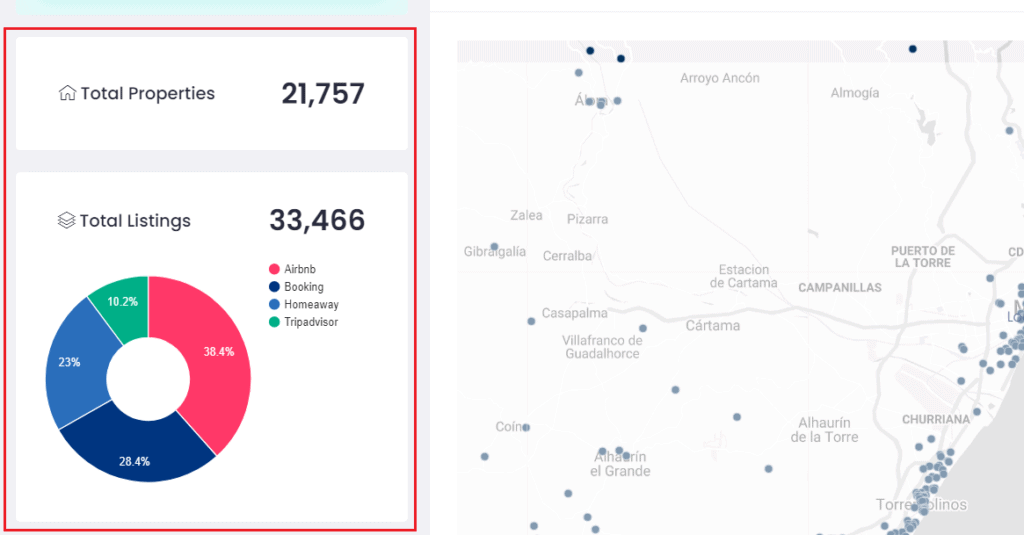 Total Listings
The second indicator allows rental managers and owners to grasp the true scope of supply of short-term rentals in their market or area. Total Listings corresponds to the overall number of individual property units listed for short-term renting out. These can be entire places (houses, studios, or apartments) or private and shared rooms.
As such, the number of Total Listings in a defined area will, in most cases, exceed the number of Total Properties, as a single real-estate property such as a condominium can have several of its apartments listed for renting out. Fluctuations in the number of total listings can inform property owners and managers about supply changes in their market.
Breakdown by OTA
Smart Rental Free gives customers further insight into the distribution of the total listings according to the platform on which they are listed. This information can inform property managers where their competition is coming from and whether a particular platform dominates a geographical area.
As a result, property managers can decide how to approach their positioning and branding strategy. The free version of Smart Rental classifies the total number of listings to the corresponding platforms where they're listed (Airbnb, Vrbo, Booking, and Tripadvisor).
Average Daily Rate (ADR)
The Average Daily Rate (ADR), as the name suggests, indicates the median daily price charged for any property in the area. This is calculated based on historical data (in the current Smart Rental version, the calculations are based on data for 2019). Even though this is a useful pointer for the potential profitability of a short-term listing, it can be misleading. Property owners and managers need to be cautious not to over- (or for that matter, under-) estimate their property's income potential.
The reason for this is that the ADR is an aggregated indicator, and as such, it's composed of price information of different types of properties. Short-term rentals can vary in terms of hosting capacity, features, and location. These price-sensitive features can heavily influence the income-generating potential of a property, which is why they should be considered with caution.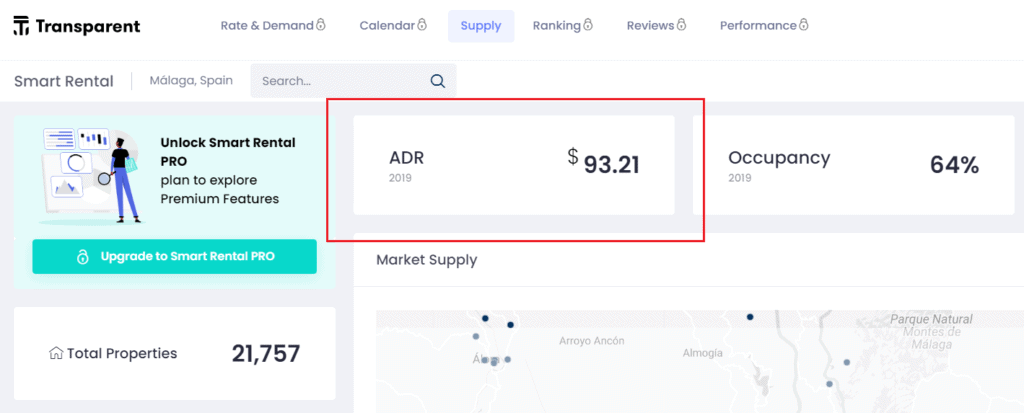 Occupancy
This may be one of the most basic and tangible indicators in a short-term rental market. This information is an approximation of how many days in a year a property will be rented.
Revenue
Revenue shows the estimated yearly income.
Smart Rental paid version: Price
The paid version of Smart Rental gives users access to the other groups of indicators (Rate and Demand, Calendar, Supply, Ranking, Reviews, and Performance), but it does come at a hefty price.
The basic subscription plan (Starter plan) for Smart Rental costs $2.500 per year or a little over $200 per month. The plan is limited to one market; however, customers can monitor competition occupancy and check competitor rates over the next 360 days. Users can also keep track of market demand and events that may create surges. The second tier subscription (Expansion plan), which costs $5.000 per year, allows users access to the same set of features. However, it can be used for two markets.
Smart Rental paid version: features and product differentiation
How does Smart Rental compare to other industry vendors such as Airdna? Below are the main points of differentiation.
Data exporting
Smart Rental allows data to be exported as part of the single subscription plans (Starter and Expansion plans), whereas Airdna offers data exporting as a distinct product.
Sources of short-term rental data
Transparent's Smart Rental relies in a broader selection of short-term rental platforms to pool data. This makes Smart Rental a more comprehensive analytical tool that can be used in more regions worldwide. Smart Rental indexes data from Airbnb, Booking, Vrbo, and Trip Advisor, while Airdna relies only on Airbnb and Vrbo data.
Static and time-series market data
Smart Rental displays static average data about key indicators such as rates, occupancy, and revenue. Airdna, on the other hand, offers a time series presentation that highlights any increases or decreases over time for the same set of key indicators.

Dashboard and user interface
Airdna has more metrics and a more functional map for its free version. The map allows users to zoom in to individual streets, unlike Smart Rental's map, which only shows a macro view of a certain city's macro view. Airdna also offers these additional indicators:
Rental Settings – allows users to see the cancellation policy and minimum ni
Rental Activity – shows how often listings are booked or vacant.
Airbnb Ratings – displays overall ratings of other listings, as well as how they score on individual criteria (cleanliness, location, value, etc.)
Amenities – offers an aggregated average of the most and least common utilities offered in short-term rentals in a given area.
Rental Size – a breakdown of listed properties according to the number of rooms, i.e. studio, 1-bedroom, 2-bedroom, etc.
Rental Type – a breakdown of listed properties according to their type, i.e. entire home, private room, and shared room.
How can property owners & managers benefit from Smart Rental free?
If you're a property owner or manager you can definitely benefit from using the services of short-term data rental vendors.
Making data-backed decisions about positioning and pricing your property will surely yield higher income. However, depending ze of your operation's size, investing in a yearly subscription may not justify the cost. So, how can you make the most of Smart Rental's free version? Here is our advice:
Using Smart Rental's map to visualize the Total Properties, you can see the distribution of short-term rentals in your market. Using this information, you can see if your property lies within an individual cluster, evaluate the popularity of that particular area, and adjust your nightly rates. Using the map, you can also pinpoint relevant locations such as exhibition centers, event halls, or historical sites and make sure you mention their proximity in the listing.
Property owners and managers can keep track of the number of Total Listings in their area. Being aware of supply changes in your market can allow you to adjust your positioning and increase occupancy.
The free version of Smart Rental allows users to see the distribution of short-term rental listings on the most popular platforms such as Airbnb, Vrbo, Booking, and Trip Advisor. If two or more platforms hold a large amount of the market share in your area and your property is listed only on one platform – you can consider listing your property on competing platforms as well.
The Occupancy rate can be an instrumental piece of information. If your market starts stalling or the yearly occupancy falls below your profit margin, then you may consider diversifying your strategy. Owners and property managers could offer their properties in the mid-term market during low season or even provide their rentals at a room level for a more affordable price.
Verdict
Overall, Smart Rental Free is a useful analytical tool that packs a lot of information that can help property owners and managers improve their strategies. However, to fully utilize its potential, we suggest combining information from multiple sources, such as Airdna's Market Minder. Even though Smart Rental Free and Market Minder may overlap in certain areas, much of the data is complementary and can give you a better understanding of your market.
If you need more information on See Transparent's competitor Airdna, read our related articles: