We recently covered crowdfunding campaigns by property management company GuestReady and luxury vacation rental listing site Plum Guide. Crowdfunding is part investor outreach and part communication to target clients (both guests and homeowners, in the vacation rental industry).
What is crowdfunding and for whom?
Crowdfunding is the practice of funding a project by raising many small contributions from a large number of individuals, typically via the internet.
Enables NGOs, individuals, start-ups and SMEs, to source funds for a specific project via an online crowdfunding platform.
Funds used for entrepreneurship, social causes, music and movies, real estate, publishing, healthcare or technology projects.
It may be i) a gift with or without counterparts, ii) a loan/bond with or without interest, iii) a share of equity in the raising company, or iv) an hybrid.
A more democratic form of philanthropy (gift) or capitalism (loan/equity-based)?
Which advantages?
A quick way to raise funds.
Often a limited/no-loss of ownership or control on the project
Bypassing the traditional bank financing in case banks are not accessible (too small grants for seed ideas) or a bank loan is not wished.
Testing the project on the market, the success of the raising giving an idea of the potential success of the project or product.
Leveraging the raising process as a marketing tool to communicate and create loyalty.
Which drawbacks?
Relevant only for innovative projects and projects that share values/passion with a crowd ready to spend.
It may not be successful. In case the target amount is not reached, the funds collected shall generally be returned.
Contrary to business angels, crowdfunders generally do not bring network, contacts, or experience.
Confidentiality and Intellectual Property (IP) issues: Dilemna communicating vs. protecting the project.
From an investor's point of view?
Any individual can be a potential crowdfunder, but also companies or professional investors.
It is a way to diversify its assets when a return is expected.
A way to feel involved in a project.
Which key success factors?
A great marketing strategy around the project. A good command of social networks. Communicating with passion.
Putting yourself in the shoes of the audience.
Numbers and market – At global scale
According to Fundly, the global amount raised by crowdfunding amounted in the thirties of USD billion in 2019 (Mordor Intelligence quotes Fundly).
Crowdfunding market is expected to witness a growth at a CAGR of over 16% during the forecast period (2021-2026).
The global market for crowdfunding is moderately consolidated due to the presence of a few companies dominating the market with the presence of many other companies competing between themselves.
A business case: Crowdfunding in France (source)
Funds raised were x6 from 2015 to 2020, with a +62% in 2020 (~exponential).
2015: EUR 167m raised
2016: EUR 234m
2017: EUR 336m
2018: EUR 402m
2019: EUR 629m
2020: EUR 1,020m raised
=> Focus on 2020: 73% loan/bonds – 21% gift with counterparts or not – 6% equity.
=> Focus on 2020: Average EUR 8,820 raised per project in 2020.
Covid impact?
With the recent outbreak of COVID-19, the crowdfunding market is witnessing significant growth, especially donation crowdfunding to support and help communities, people, and many organizations fight this pandemic.
Examples of crowdfunding in the short-term rentals industry
Two relevant examples as explained by Rentals United :
At Ease Rentals (2020): the first short-term rental company to cater exclusively to military and federal personnel – USD 500k target.
BecoStay (2020): A listing site for eco-friendly homes – USD 30k target.
Other examples, taken from industry news site Short Term Rentalz:
Nuurez raises $1.1m in crowdfunding campaign (2021). Nuurez allows investors to list owned and rented properties on short-term rental sites such as Airbnb, without the process of buying properties and managing tenants.
Borrow a Boat £750k crowdfunding campaign goes live (2021).
GuestReady reaches €1.5m crowdfunding goal in 24 hours (2020).
Pass the Keys crowdfunding round surpasses £1m (2020).
Examples of crowdfunding investors' decks:
Plum Guide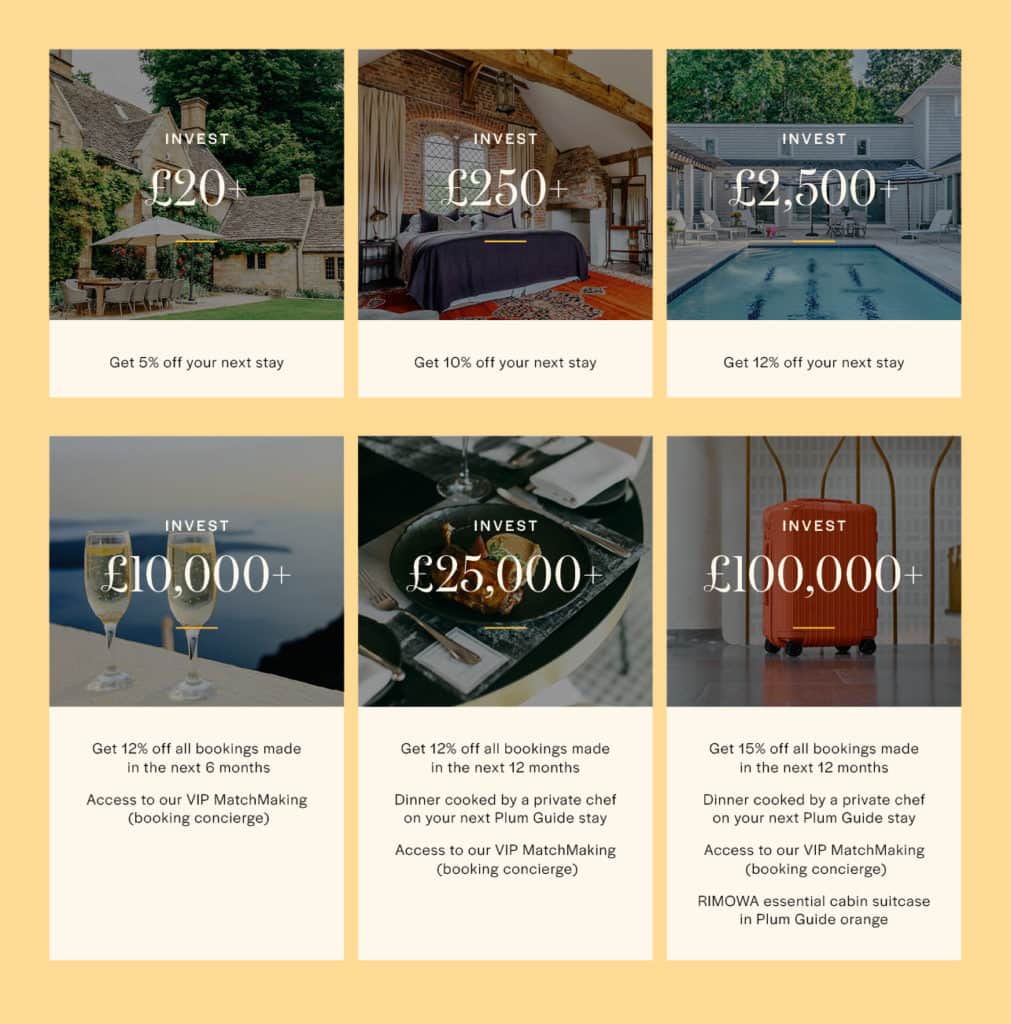 Guest Ready