GuestReady, a European property management company, has already raised more than €1.5M ($1.8M) on the equity crowdfunding platform Seedrs, a few days into its campaign. The initial goal was to raise €1M. In late 2020, during its first Seedrs campaign, GuestReady raised €2.4M. We'll go over key business data that the company has shared that make it different from Vacasa, Sonder, or HomeToGo, and talk about its valuation (between $52M and $66M). We'll see that savvy companies like GuestReady know how to make sure that their Seedrs campaign is overfunded at more than 100% fast and talk about the risk for investors, inherent to such crowdfunding platforms.
Now, while Vacasa has 30,000 units, GuestReady can claim 2,600 of them. The company is smaller but, in the highly fragmented short-term rental market, it is rather big. Especially for a European company created in 2016.
This is what Alexander Limpert, GuestReady's Co-Founder and CEO, told Rental Scale-Up:
Our Seedrs campaign in fall 2020 was a success despite a tough global context, and so with our record performance over the last 9 months and the bright path ahead of us we launched this second campaign with high expectations. The response from investors has been even stronger than what we had optimistically imagined. It is humbling to see so many investors who believe in our vision to disrupt the accommodation industry, and who trust that we are the company that can execute on it in the coming years
GuestReady, a European-based property management company
For the second time, GuestReady has chosen the equity crowdfunding route to get money from investors, through the Seedrs platform. This is not the first time that a vacation rental business has done it. For instance, LGBTQ travel site Misterb&b raised $1,717,590 from 2,612 investors on WeFunder in early 2021.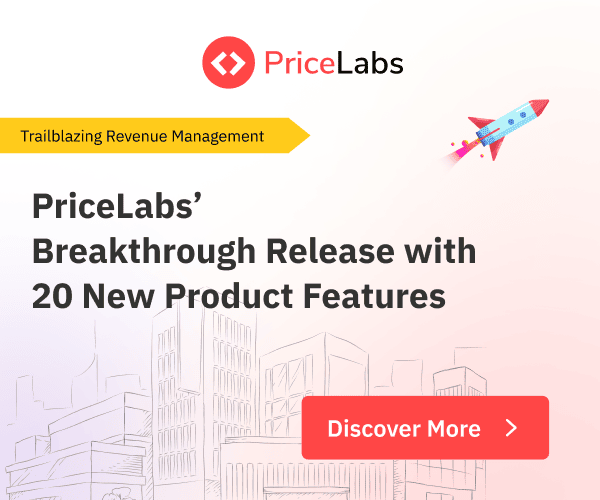 Let's compare GuestReady's two Seedrs campaigns so far:
November 2020 GuestReady campaign on Seedrs:

Target: €1.5M
Over-subscribed at 162%
Eventually raised €2.4M
From 827 Seerds investors.

September 2021 GuestReady campaign on Seedrs:

Target: €1M
Over-subscribed at 152% (as of writing this article)
Raised so far: €1.5M (as of writing this article)
From 445 investors (as of writing this article)
This is a convertible campaign. It allows you to invest in a company in return for a contractual right for shares to be issued on the occurrence of a trigger event (generally another round of funding or a longstop date). In return for investing early, you will receive a discount on the price of the shares issued, and sometimes the benefit of a valuation cap. Whilst the investment in the company will be structurally the same as a regular equity campaign, your shares will be issued later than your money is invested.
This investment round is being raised by way of a convertible loan note. Key terms:
Discount: 10%
Maturity Date: 24 months from signing of the agreement
Valuation cap: CHF 60M (about $66M)
Maturity Date Valuation: CHF 48M (about $52M)
Quick apples and pears comparison:
If we look at the valuation of various short-term rental businesses through recent deals, we can see that GuestReady's value per unit is on the more conservative side.
Now, it could also be due to the fact that GuestReady's supply is mainly in Europe, where ADR is lower than in the US. Also, GuestReady's properties are mostly urban apartments, which also commend lower ADRs than whole vacation rentals in coastal, rural, and mountain markets.
| | | | |
| --- | --- | --- | --- |
| | Valuation in $bn | Number of units/listings | Unit value |
| Airbnb | 90 | 7,000,000 | $12,857 |
| Vacasa | 4.5 | 30,000 | $150,000 |
| Sonder | 2.2 | 12,000 | $183,333 |
| GuestReady | 0.05 to 0.06 | 2,600 | $20,000 to $25,385 |
| HomeToGo | 1 | 14,000,000 | $71 |
How to get your crowdfunding campaign oversubcribed in a few days
The second half of this article explains what Seedrs is about. Remember that all companies see crowdfunding as an exercise mixing money-raising, marketing, and PR.
We can already share with you something GuestReady's impressive success in getting its two campaigns over-funded in a matter of days is not just due to the attractivity of the company and the vacation rental craze after the Airbnb IPO:
Getting a campaign over-funded is important, as it can attract the attention of other investors on the Seedrs platform. Success attracts success, so it is crucial
A well-known, legal, and transparent way to get a campaign breach 100% of its target fast is to make sure you have around 50-80% of the public figure already committed. For instance, you ask your big investors to pledge their money through the crowdfunding platform.
This way, you can be confident that you will go past the 100% threshold and will show up as this big cool success story on the platform. In turn, it should attract more investors ready to jump on the bandwagon.
In the of GuestReady, when looking at the list of the current 445 investors in their second round, 2 among them stand out:

Impulse VC (Russia) invested €625,600
Senn & Partners (Switzerland) invested €156,400

Together, these two big investors €782,000, i.e. 78.2% of the €1M campaign target.
Getting a little help from your major investors is a fair game in a well-run crowdfunding campaign. On the Seedrs platform, the name of and the respective investment made by these large companies in GuestReady are clearly indicated. As of writing, the campaign is overfunded at 152%, which shows that GuestReady has indeed attracted new and smaller investors.
Why GuestReady is a company to watch
While Vacasa, Sonder, and HomeToGo have chosen to go the SPAC route to go public, VTrips has welcomed private equity and GuestReady is going the crowdfunding way. This is not the only thing that makes the company stands out:
Like HomeTogo, it is based in Europe
Like VTrips, it claims to be profitable, reaching EBITDA positivity in July 2021
Like HomeToGo, it says that is has SAAS revenues: GuestyReady positiong itslef as a property management company that not only claims to be tech-oriented, but also makes money from renting its technology to other property managers.
Like VTrips and Vacasa, it has grown its supply through the acquistion of key competitors.
GuestReady: Business data
Here's the headline for GuestReady's crowdfunding campaign:
"Stellar customer ratings and over $1bn under management – that's rental management done right!"
2021 data shared by the company:
Reached EBITDA profitability in July 2021
Generated over €60M in cumulative booking value
Reached over 1,600,000 cumulative guest nights sold
Reached 2,600 properties managed, estimated to be worth over €1BNAchieved a record in Aug 2021 of +10K bookings
Top-rated (4.8/5) by hosts and guests on Trustpilot from 1000+ reviews
Won the Swiss Economic Awards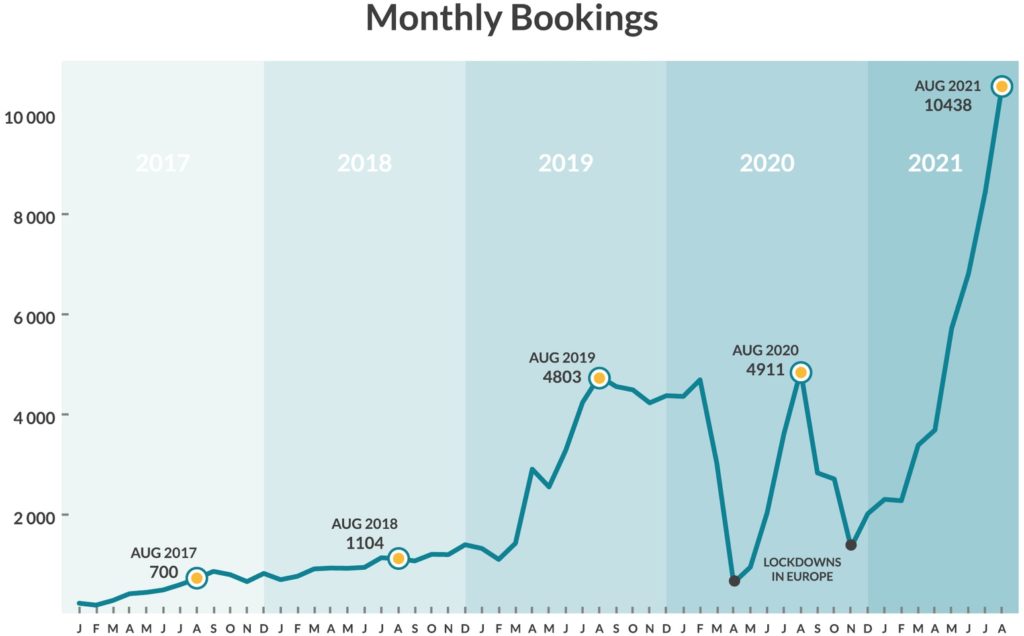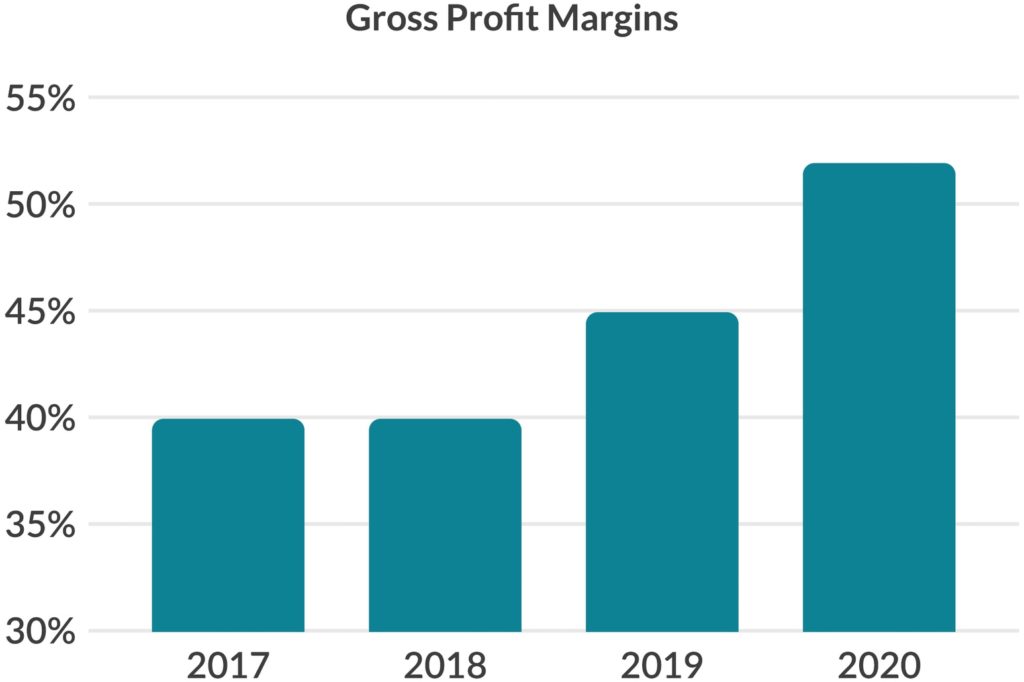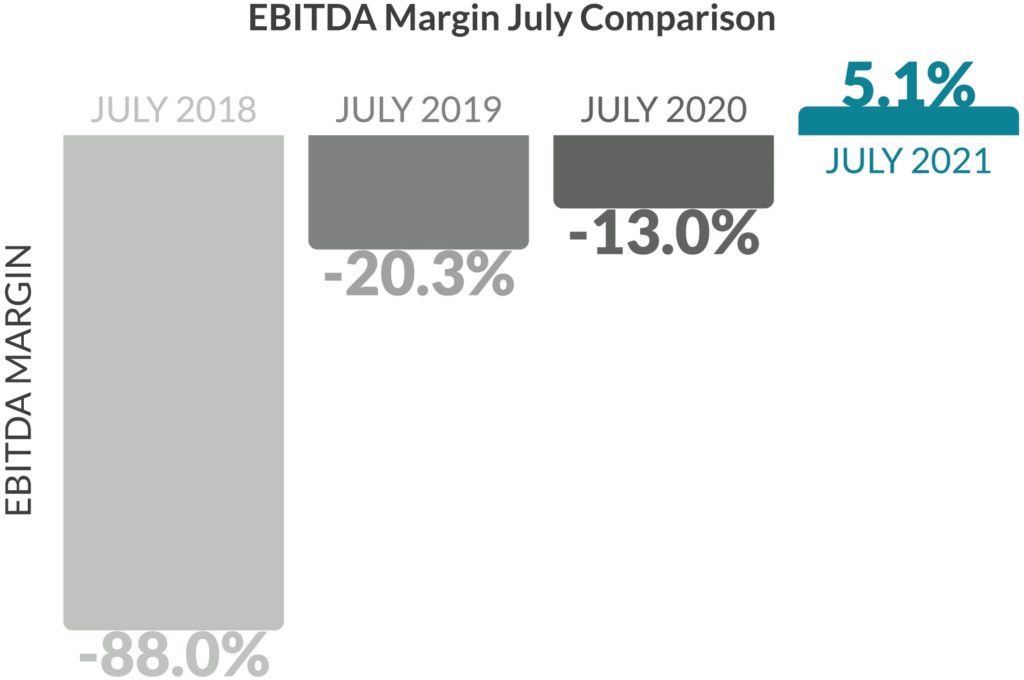 GuestReady, one company, four revenue streams
Much like every business trying to raise money, GuestReady says that it is tech-enabled. Yet, an interesting twist here is that the company also says that it making from renting its technology platform to other property managers. Thus, it competes with channel management and PMS software companies and generated recurring SAAS revenues.
Here are GuestReady's revenue streams:
Property management revenues:

Full Property Management: Revenues come from a commission (28% on average) on the homeower's rental income
Franchise: No offline service, 6% of rental income

SAAS revenues:

Sofware only: PMS (2-3% of their rental revenues)
Online Propery Management: PMS & channel manager (6-8% of their rental revenues)
On Seedrs, GuestReady's CEO, Alexander Limpert, says that:
Our growth has partly been fueled by our proprietary market-leading technology, which we now can and do license to third-party property managers. To my knowledge, we are the only player in our industry who offers property management software with fully comprehensive features including a pricing algorithm, payment automation and operational process coordination.
Note that GuestReady's software solution is called RentalReady and is based on the tech assets acquired through BnbLord's acquisition.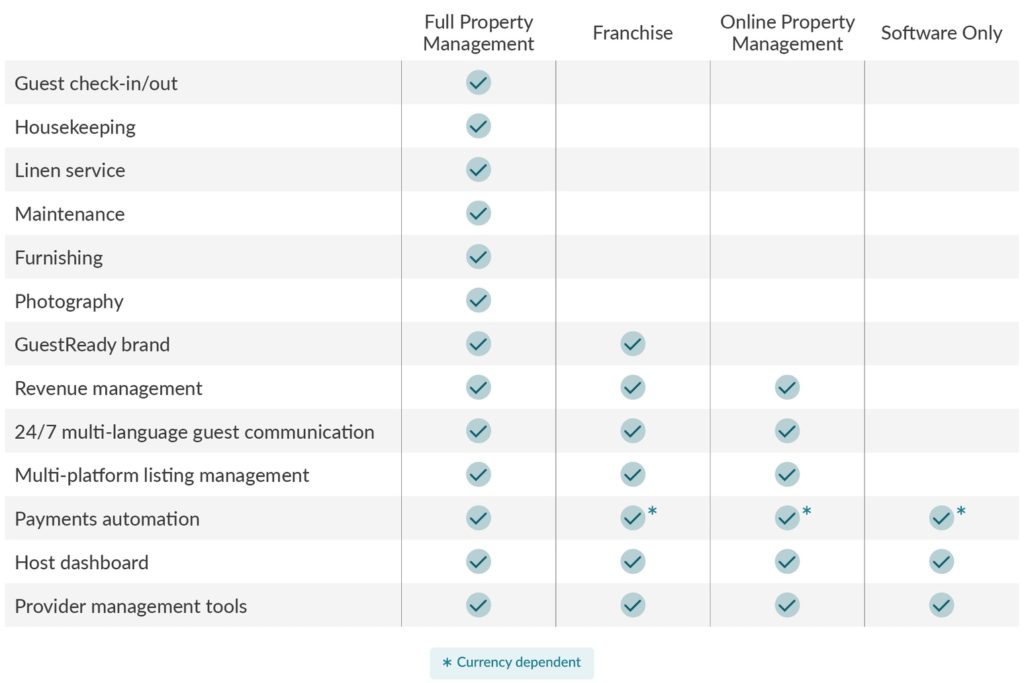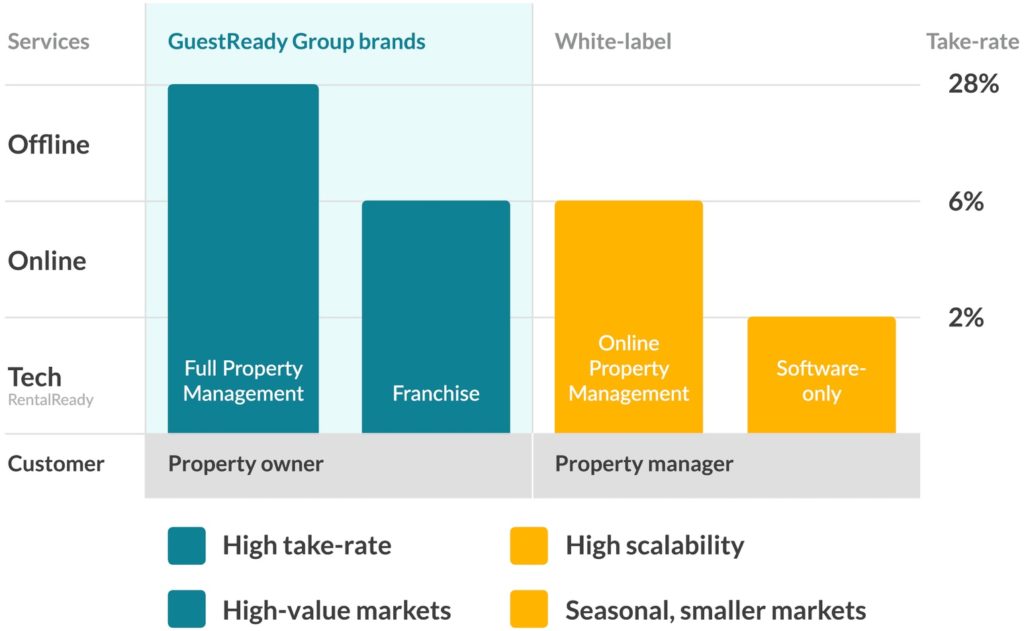 What is the exit path for an Airbnb management company such as GuestReady?
On Seedrs, GuestReady's CEO discussed the company's possible exit paths:
• Going public: We are seeing strong growth ahead of us and have a clear path to profitability. We believe we have all the prerequisites necessary to eventually go public. This could be via an IPO or via a SPAC deal. Recent examples of SPAC deals include Sonder which is has announced a SPAC deal at a valuation of USD 2.2BN or Vacasa which has announced it will go public via a SPAC deal at USD 4.5BN.
• Trade sale to a strategic investor: Short-term rentals and alternative accommodations have grown much faster over the last decade than hotels and have significantly challenged the hotel model. Consumers nowadays often prefer non-hotel accommodation over a hotel room. Any serious hospitality company will need to think about their strategy in this segment and GuestReady could be their entry into this attractive market. An example is One Fine Stay which was sold to Accor Hotels for USD 170M USD or @Leisure Group which was sold to OYO Hotels for USD 415M in the recent past.
• Many financially motivated investors are also interested in this segment. Recently Vitruvian bought Sykes Cottages for USD 480M and Platinum Equity bought Wyndham Vacation Rentals (now called Awaze) for USD 1.3BN.
What are the risks for investors?
Seedrs does a pretty good job at explaining the risks intrinsic to any crowdfunding campaign.
Loss of Capital
Most early-stage businesses and many other growth-focussed businesses fail, and if you invest in a business displayed on the platform, it is significantly more likely that you will lose all of your invested capital than you will see any return of capital or a profit. You should not invest more money in the types of businesses displayed on the platform than you can afford to lose without altering your standard of living.
Illiquidity
Almost all investments you make in businesses displayed on the platform will be highly illiquid. It is very unlikely that there will be a liquid secondary market for the shares of the business. This means you should assume that you will be unlikely to be able to sell your shares until and unless the business floats on a stock exchange or is bought by another company; and, even if the business is bought by another company or floats, your investment may continue to be illiquid. Even for a successful business, a flotation or purchase is unlikely to occur for a number of years from the time you make your investment. For businesses for which secondary market opportunities are available (including any available on the platform), it can be difficult to find a buyer or seller, and investors should not assume that an early exit will be available just because a secondary market exists.
Rarity of Dividends
Businesses of the type displayed on the platform rarely pay dividends. This means that if you invest in a business through the platform, even if it is successful you are unlikely to see any return of capital or profit until you are able to sell your shares. Even for a successful business, this is unlikely to occur for a number of years from the time you make your investment.
Dilution
Any investment you make in a business displayed on the platform is likely to be subject to dilution. This means that if the business raises additional capital at a later date, it will issue new shares to the new investors, and the percentage of the business that you own will decline. These new shares may also have certain preferential rights to dividends, sale proceeds and other matters, and the exercise of these rights may work to your disadvantage. Your investment may also be subject to dilution as a result of the grant of options (or similar rights to acquire shares) to employees of, service providers to or certain other contacts of, the business.
Diversification
If you choose to invest in businesses of the type displayed on the platform, such investments should only be made as part of a well-diversified portfolio. This means that you should invest only a relatively small portion of your investable capital in such businesses, and the majority of your investable capital should be invested in safer, more liquid assets. It also means that you should spread your investment between multiple businesses rather than investing a larger amount in just a few.