Plum Guide (plumguide.com), one of the leading luxury vacation rental distribution channels, has just launched a crowdfunding campaign. The London-based company is hoping to raise £1m (€1.19m / $1.38m) in 3 days. As of writing, the company had already collected more than £688,000 from 168 investors. As we've seen with property management company GuestReady, which raised recently €1.5M, a crowdfunding campaign is part investing, part communication. Here, Plum Guide says that it wants to turn its guests and hosts into investors. In our Crowdfunding for vacation rental businesses 101 article, we explain why it has become a popular way to raise money.
We'll see what this investment campaign is about, what it reveals about Plum Guide's target clients (the 1%), its business model, and its 4-year strategic plan. We'll also see that the company has an ambitious growth plan, going from 48,000+ to 240,000+ listed properties, from 2022 to 2025. Yet, its EBITDA is supposed to stay negative until 2024 and barely get into the red in 2025. In the pitch deck, Plum Guide hints at how it has managed to lower its acquisition and operation costs since 2020. It is all the more important as the company recorded a loss of £11.7m with £4.7m in revenues in 2019, according to its financial statements (not mentioned in the deck). Its costs of sales and administrative costs were very high, compared with its revenues.
What's happening?
On October 26, Plum Guide started a funding campaign on Crowdcube, a crowdfunding platform that specializes in European high-growth businesses.
Plum Guide wants to attract its potential guests and hosts as investors.
The company wants to raise £1m (€1.19m / $1.38m) in 3 days, for 0.93% of the equity (for a pre-money company valuation of £106.25m ($147m).
Plum Guide is fresh from raising $9 million from big investors such as Beringea, Talis Capital, Hearst Ventures, and Latitude.
Why does a crowdfunding campaign make sense for Plum Guide?
Crowdfunding is a good match for a company like Plum Guide as

i) it is seen as innovative
ii) the products (properties) make people dream.
ii) its target guests and hosts have money, so could be investors
=> Exciting products + exciting tech = Interested crowd.

If crowdfunding doesn't work, then the traditional investors are around so it looks like this crowdfunding is a bonus to the company, not a must.
Crowdfunding alongside traditional investors funding, i.e. PLum Guide diversifies their funds' sourcing.
Investment starts from GBP 10, so anyone can be part of it.
Such a process reaches both existing and potential guests but also property owners willing to get involved.
Great communication around this crowdfunding benefits the notoriety of the overall business.
Summary of Plum Guide's crowdfunding pitch deck
Great storytelling from Plum Guide's investment team, revolving around the curation of demand (i.e. a vacation rental booking site for the 1%, called here "mature affluent urbanites" and illustrated as fancy-looking people with white hair) and of supply (i.e. only 3% of the existing vacation rental properties can qualify to be listed).
Focus on the US and UK markets on the demand side, but ambitions to open destinations around the world, going from 40,000+ listed properties in 2022 to 243,000+ in 2025.
Interesting bits about the business model:

16% commission on the booking value
£300 onboarding fee per property (model that Airbnb Luxe tried to set up).

In the US, luxury vacation rentals have done exceptionanlly well in 2021, often breaking pre-COVID records. However, in August 2021, Plum Guide was still under its pre-COIVD numbers, at 90% of its previous records. This opens some questions that we'll try to answer below
On the cost reduction side, pitch decks from Sonder and GuestReady were more complete. Plum Guide needs to show that marketing and labor costs have been reduced. It mentions a decrease in the costs of opening new markets and onboarding properties. It is not clear how it was accomplished: lay-offs that reduce the cost per employee? Switching to onboarding large property managers through channel managers, which should be cheaper and faster per unit than onboarding individual hosts?
Finally, Plum Guide wants to present an enticing exit strategy for its investors: If the company can execute its 4-year plan, reaching £1.2bn in sales, then it would be valued at between £2bn and £4bn, using today's multiples from companies such as Airbnb, Booking, and Sonder. Obviously, talking about a possible value if 4 to 5 years from now, based on current today's multiples, is always a tough exercice.
Video: Investor pitch by Plum Guide founder and CEO Doron Meyassed
Review of Plum Guide's investor pitch deck (Crowcube crowdfunding edition)
Great storytelling
From aggregation (i.e. the Booking and Airbnb model) to curation (i.e. focus on quality)
Plum Guide had created "Scientific Curation", which relies on 103 quantitative and qualitative data points. (Airbnb Luxe also insisted that it a 300-point check list). The adjectif scientifi and the 103 data point framework are important, as they help claim that handpicking properties is made scalable by these processes. So, for a scaleup company, the notion of "scientfic curation" helps address a perceived weak point (a human-based process) that investors may raise when thinking about a global roll-out.
Client = "The mature urban affluent who make up 1% of the world's adult population".
Supply = 3% of existing homes that make up 30% of the booking value.

Not every property can make it, "harder to get in than Harvard". Great positioning that works for both guests and homeowners. This is what the qualifier "plum" is about: Something superior or very desirable.
Focus on the money-making properties. Just like Vrbo says that its average booking value is that bigger than that of Airbnb, as it offers large whole homes, not shared spaces, Plum Guide says that it focuses on the few properties that create the most revenues.

Proof that scientif curation works: Plum Guide can boast much higher NPS and review scores than Airbnb and Booking (note that the deck supposes that all readers know what Net Promoter Score means and why companies care so much about this single measure).
Business model: Industry-level take rate (16%) and pay-to-play onboarding fee (£300)
Here is what Plum Guide writes about its take-rate:
We make 16% of every booking that happens on our platform. And a one-off charge of £300 to cover our test and onboarding process.
To go beyond the company's investors' deck, here is how Plum Guide makes money:
Plum Guide Booking Fee
Just like Airbnb, Plum Guide offers two fee structures:
Host-only fee: Plum Guide charges the Host a service fee of typically between 16.5% and 18.5% of the total Accommodation Charges plus applicable sales taxes for each booking.
Split-fee (where the Host and the Guest pay a service fee): Plum Guide charges the Host a service fee of typically 3% of the total Accommodation Charges plus applicable sales taxes for each Booking. Guests pay an additional service fee plus applicable sales taxes for each Booking. This fee varies based on a variety of booking factors and is included in the final price displayed.
One-time Host On-boarding Fee per home
The fee is 300 GBP / 300 EUR / 400 USD / 3,000 DKK / ILS 1500 plus applicable sales taxes and is deducted from the first Host payout.
Booking metrics: Plum Guide vs Airbnb
The deck makes a point of showing that the Plum Guide booking is a higher value than Airbnb when comparing the same home listed on both platforms (" Data source: "Analysis comparing 2020 bookings for the same homes on Plum Guide and Airbnb"). This is an interesting point, as compared Airbnb's average booking, which covers everything from shared bedrooms to châteaux, would not make sense.
Here are some Plum Guide vs Airbnb comparison points:
Length of stays: 10.6 days on Plum Guide against 4.3 days on Airbnb (Caveat: 2020 length of stays are longer than usual, it does mean that they will be as high in the future. Yet, we can assume that the increase has been proportionate on Airbnb).
Booking value: £2,600 (5x to 7x more than on Airbnb and Vrbo).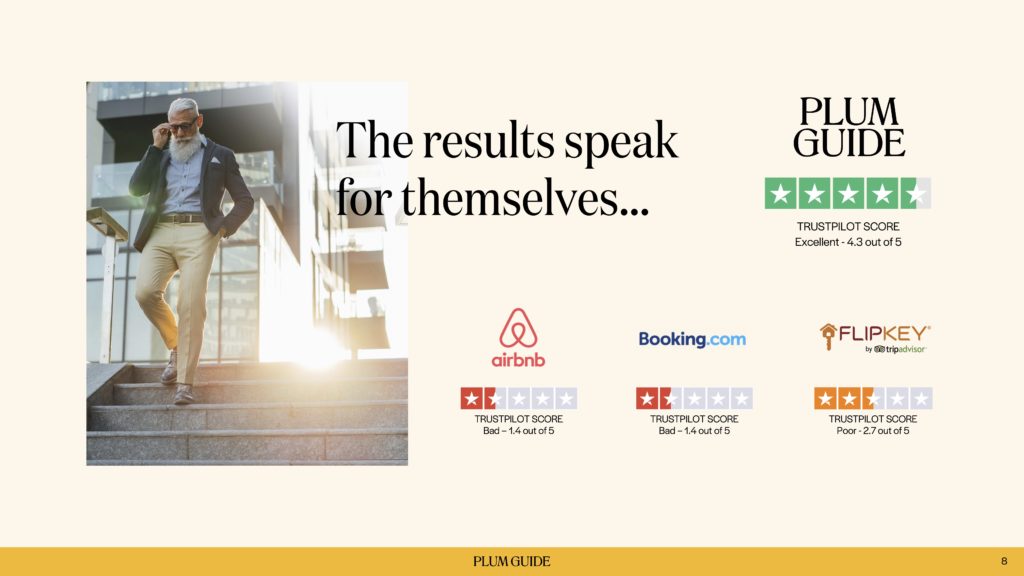 Bouncing back, not as high as in the US. Why not?
Plum Guide says that it is "bouncing back" quickly. Yet, as of August 2021, it was only at 90% of its pre-pandemic records (i.e. $4m in revenues January 2020). Meanwhile, it's been a record year for US property managers with similar properties.
It may come down to Plum Guide's customer base. First, it is skewed towards US and UK travelers, if you believe the company's positioning. In summer 2021, between travel restrictions, Brexit, and lingering COVID-19 concerns, British travelers may have chosen to stay in domestic rural destinations, instead of going to Tuscany. While Plum Guide has tried since 2020 to add more of these properties, it may not have been able to offer enough of them to make up for lost international bookings.
As for the US, it has probably bounced back, but the domestic US customer base may be smaller than the British one.
Revenues are interesting, but what about costs?
Plum Guide wants to be a global holiday rental business. So, the cost and speed of opening markets is crucial. Especially as, pre-COVID, the company's financial statements showed that the sales and marketing costs were much higher than revenues. This is what the company wants to demonstrate here:
"Within 12 months of launch, every single city broke even"
"From 1 to 12 cities, we cut the launch cost by 60% and time to first-order profitability from 27 to 7 months"
After opening a market, the cost of onboarding properties can be high and turn the ROI negative, despite getting hosts to pay an onboarding fee. Plum Guide wants to show that it has made improvements on that front, for instance by lowering the number of employees to onboarded properties ratio. We'd love to know more here. For instance, is the ratio getting better because the company has laid off a lot of employees and keeps onboarding the same number of properties? Have they switched their supply sources, to go after large property managers using connectivity software, which should be lowering the marginal cost of each onboarding property?
Plum Guide's 4-year strategic plan
Plum Guide wants to gather 200,000+ properties and reach the £1bn revenue mark by 2025 thanks to a 3-pronged strategy:
Be Everywhere – To have "the best" homes, in 80% of destinations the British and American mature urban affluent goes (400 destinations)
Be Exceptional – Deliver the world's best stay and booking experience for the mature urban affluent
Be Recognised – As the global trust mark in travel
Plum Guide's addressable market
Here's how Plum Guide calculates its market opportunity:
Globally, 1.8m homes match the Plum Guide curation criteria.
The company says that it has proven that it could obtain 50% of the homes they want in a given market. So, they think they can reach 900,000 homes.
At a conservative assumption of 200,000 homes, each generating £5,575 revenue annually (our worst preCOVID revenue per home), the maths is "simple": 200,000 homes x £5,575 = £1.1bn
A few considerations here:
Converting 50% of targeted properties into active listings requires working closely with the biggest providers / property managers in some markets, with no exclusive deal possible.
Going from 48,607 properties in 2022 to 200,000+ in 2025 also means opening a lot of markets fast and successfully converting owners and property managers at around this impressive 50% rate.
The plan goes a bit fast on the cash-flow / EBITDA side. The company would only become (barely) EBITDA-positive by 2025. It would mean that, despite Plum Guide attacking markets that are probably less familiar, it can still manage to lower its sales and onboarding costs. Not sure where there are economies of scale here to justfuth this dramatic improvement in profitability.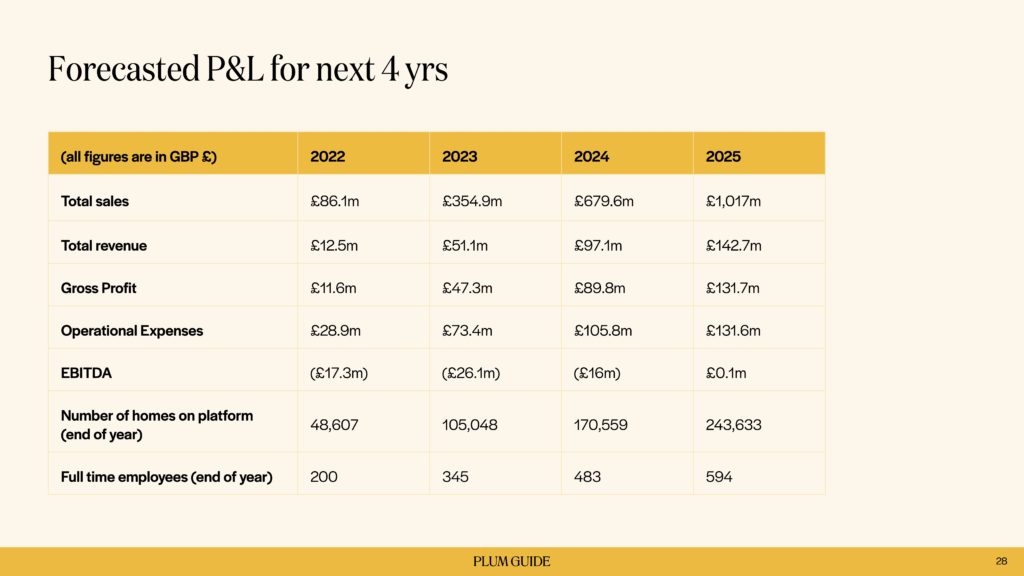 Plum Guide's exit strategy for investors
The company thinks, in 2025, its valuation would be £2bn to £4bn, based on their £1bn 4-year sales growth plan.
"At £1bn GMV run rate, our revenues are £180m with 12x-20x industry multiples."
Plum Guide is using today's multiples from Airbnb, Booking Holdings, Sonder (investors' decks), and Etsy to calculate a potential valuation in 2025. We are not sure what Etsy, a non-travel marketplace, is a relevant comparison here. After all, HomeToGo used Shopify, so why not.
To be part of Plum Guide's crowdfunding campaign, would-be investors can go to either https://www.plumguide.com/invest or https://www.crowdcube.com.