Travel Trends: What Do High Vacation Rental Bookings Mean For Family Vacations and Property Managers Across the United States?
Key Insights and Impacts:
– Professional property managers across the US are scrambling to find ways to increase their vacation rental inventory in a desperate attempt to keep up with demand and help more families book their long-awaited vacations 
– Independent vacation rental managers are now seeing occupancy rates at record highs, with some seeing a booking pace up 700% 
– Demand and competition for bookings have caused rates to double in some locations
– Guests are working harder than ever to find vacation destinations beyond sites like Airbnb and VRBO – turning to local vacation rental managers across the country in an attempt to secure their long-awaited vacation
As consumers release their pent-up demand for travel, it's been reported that vacation rental sites like Airbnb and VRBO see a notable boom in bookings. 
Now, as the CEO of Vintory – a marketing platform dedicated to helping professional property managers add new homes to their programs – I am seeing firsthand this same wave crash down on independent property managers across the US, redefining the vacation rental industry as the preferred way to travel, rest and invest.
I reached out to a number of our partners in different markets across the US to better understand the impacts of such unprecedented demand for vacation rentals. 
The overall consensus is that occupancy rates for locally-owned vacation rental management companies are at all-time highs, leaving many of them scrambling to find ways to increase their inventory and available occupancy in a desperate attempt to help more families book their long-awaited vacations.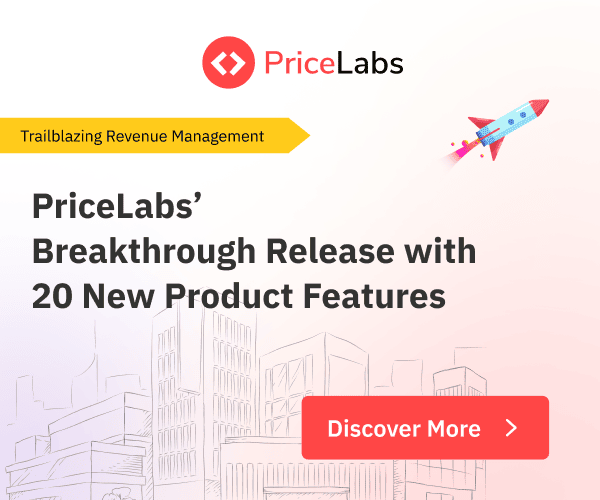 Bookings are up 700% with Families Already Booking into 2022
In the case of Vintory partner Jed Stevens, vacation rental manager and co-founder of Koala Kai, he's already placing families for the holidays well into 2022 as guests are working harder than ever to find places to book. Steven's vacation rental management company Koala Kai, located in Kauai, Hawaii, has just managed a booking pace up almost 700% for March and April, compared to those same months in 2020.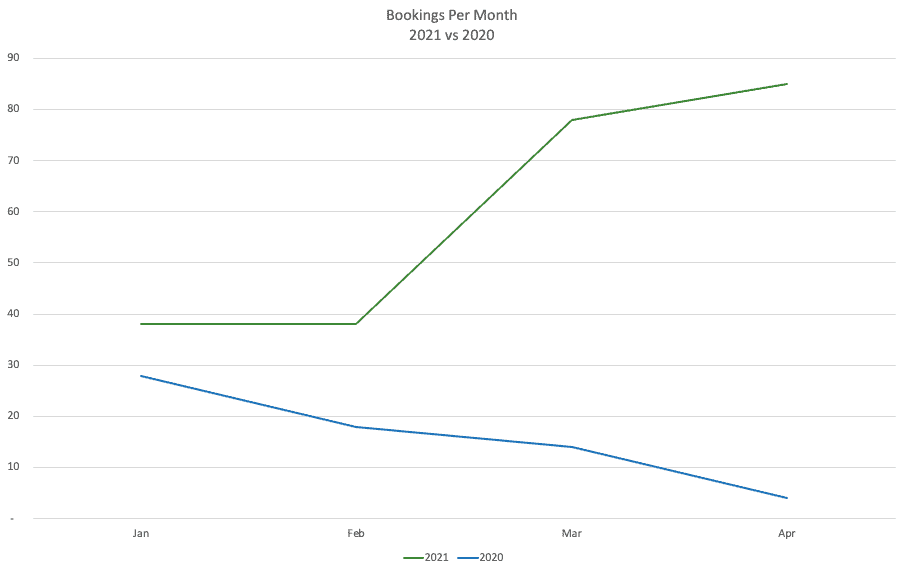 Stevens told me that "guests are working harder than ever before to secure bookings." 
He compared trying to secure a vacation rental booking to trying to purchase sold out concert tickets.
Below is a short story he shared with me about a recent guest who used every avenue possible in a desperate attempt to secure their long-awaited vacation booking.
"Recently, a guest attempted to use three different booking channels – Airbnb, VRBO, and our website, in a frantic attempt to reserve one of our listed properties. A competing guest with faster fingers was able to book that same property first. Luckily we were able to help the other guest out and found them a different property for their vacation – but the options are quickly becoming limited."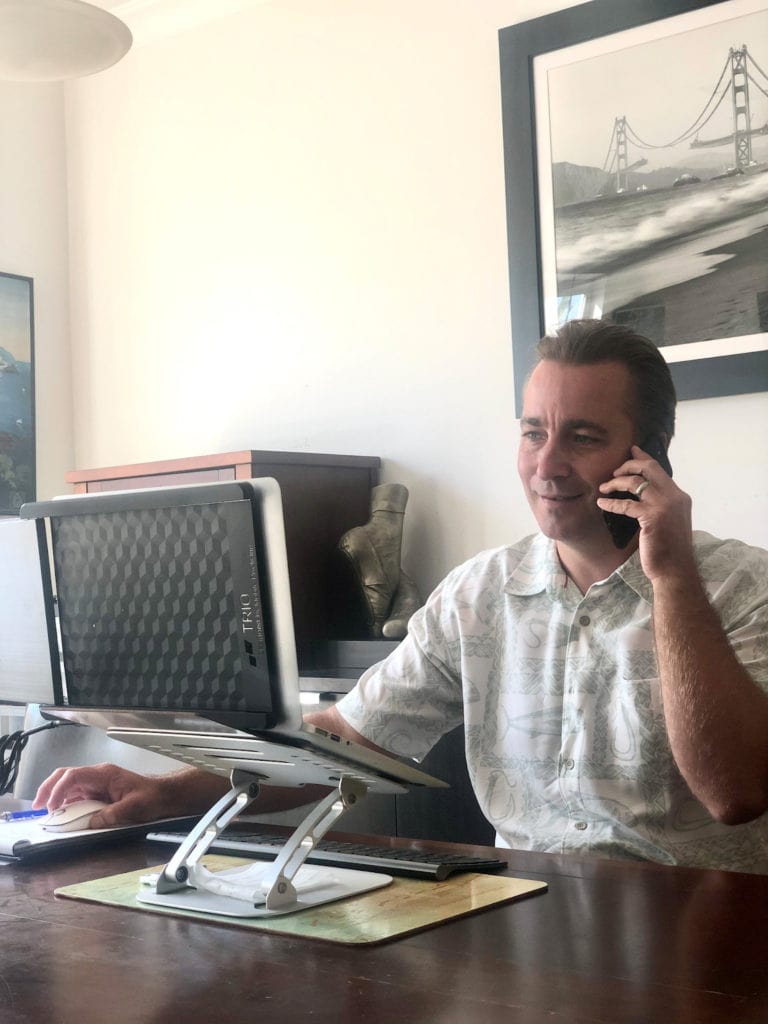 Across the country, in Chattanooga, Tennessee, I spoke with our partner Jen Richards from Chattanooga Vacation Rentals, who is seeing a similar trend.
Here's what Jen told me:
"Our weekends sell out quickly, and the weeknight demand is higher than we have ever seen. We've been fortunate to add homes to our inventory, and as soon as they go live, they book up. People want to get away from home, and the demand for private homes close to both Chattanooga and restaurants and outdoor activities is at an all-time high."
For vacation rental managers like Terry Whyte, owner of Anna Maria Island Beach Rentals Inc. in Florida, this booking boom is leading him to predict that "there will never be a greater opportunity in travel than what we are witnessing right now." 
Coming off of a substantial booking hit from the pandemic, Whyte stated that he has "never witnessed anything like this in 30 years," as his rates are doubling, and he is left with no inventory for guests to book. 
The lack of vacation rental inventory will mean that bookings will become nearly impossible for many as travelers opt to choose the safety, security, and accommodations that rentals offer. 
Vacation Rentals Become the Preferred Way to Stay
Vacation rentals are quickly becoming the preferred way to stay as they sit at the intersection between loosening pandemic restrictions and families who still want to experience a level of caution away from crowded all-inclusive buffets, tourist hot spots, and packed hotel hallways.
For the majority of our vacation rental management partners at Vintory, bookings are now yesterday's problem.
The demand for vacation rental properties is at an all-time high in the industry, yet the supply for inventory is low. 
If I were to give any vacation rental manager 10 new properties right now, they would be booked solid by the end of the season. Soon, investors will realize that the vacation rental industry is a recurring revenue business, and multiples will start increasing similar to subscription businesses. 
Now is the time for property managers to add inventory to their proverbial shelves, even if it means paying a premium. The vacation rental market has never been more full of opportunity and competition.
According to USA Today, 37 of the 50 states are seeing decreases in daily COVID cases. In addition, the rollout of the vaccine has helped reduce the spread of the virus, which has led politicians to ease some lockdown measures. According to HomeToGo's travel report, 54% of US travelers said they plan on traveling 1-2 months after receiving the vaccine.
Beaches and other outdoor areas will expect to see a significant spike in bookings this summer. For example, Virginia Beach is already seeing a 25% increase in hotel and short-term vacation rental bookings over the same time last year.
HomeToGo's report indicates that only 12% of searches are for urban destinations, down on last year. Instead, rural locations are becoming more popular due to changing desires in holidaymakers as COVID has changed priorities to center around safety, social distancing, and cleanliness. 
The outdoor spaces that beaches provide make it easy for tourists to stay safe and socially distant. The same applies in state and national parks and other nature-based locations, giving them additional appeal this year.
However, family beach holidays may not be the same as they once were. Vacation rentals can expect to see higher bookings as COVID policies for occupancy in many vacation towns will still be in place. Vacation rental managers may also put their own company policies in place. For example, a large extended family looking to spend a week at the beach may have happily bunked together into one house pre-pandemic. Now, they may have to rent a second house to accommodate everyone and adhere to guidelines, further restricting available inventory to other families. 
Our partner, Jen Richards from Chattanooga Vacation Rentals, explains that their strict maximum occupancy policy ensures that most bedrooms are a maximum of two people and their housekeeping team uses products that are pre-approved by the EPA for use against emerging enveloped viral pathogens. In addition to a departure clean, they complete an extra disinfection step prior to the next guest's arrival. 
Record Bookings Lead To Blocked Calendars
Will Families Still Be Able to Take Vacations?
Will this surge in bookings make it more difficult for families to take vacations? After over a year of lockdowns, Americans have turned their focus to travel plans. Consumers are anxious to start 'revenge' spending on the things they were denied last year. More than half of American consumers have put away some money this year, and their savings are ready to be spent on a vacation.

This summer, early planning is a clear trend we are seeing. Bookings for vacation rentals this summer in the U.S. are already up by 27%. This means that families who want to get away over the summer will need to start planning now. 
Those who leave it too late will be met with limited options or calendars that have no occupancy. In addition, families may not find rentals with sufficient space and facilities they need or in the location they want to be. 
The bottom line is that families looking to escape from the restrictions, responsibilities, and stress of the past year should book now. 
The bottom line for professional vacation rental managers?
Now is the time to grow your inventory!