Twitterstorm erupted after "We gotta stop Airbnb" message shows screenshot of a $114 cleaning fee.
Twitter users and the press complain high Airbnb fees, without noticing that initial tweet was from adult performer.
Cleaning fees are not set up by Airbnb, but by hosts. Discrepancy: On Airbnb, while rates are set per night, fees are per stay.
See more stories our Airbnb page
"We gotta stop Airbnb" said a tweet, along with a screenshot of a two-night stay, at $99 per night. The cleaning fee for the stay was $114. The message was retweeted more than 23,800 times. The press took it from there and wrote about Airbnb horror stories. Airbnb itself felt that it had to respond the day after and announced a review of cleaning fees practices by hosts. The whole episode was ridiculous, but also very interesting. The person tweeting the first message and screenshot was actually an adult performer trying to get more followers and exposure for her OnlyFans account. Yet, it shows how little guests understand how fees work on Airbnb: No, cleaning fees are not set up by Airbnb, but by hosts. Yes, the service fee (14.2% on average in the US) goes into Airbnb's pocket.
The "We gotta stop Airbnb" tweet and the $114 cleaning fee
On May 17, a Twitter user called Alexa posted a screenshot taken from Airbnb. For 2 nights at $99 each, the cleaning fee was $114.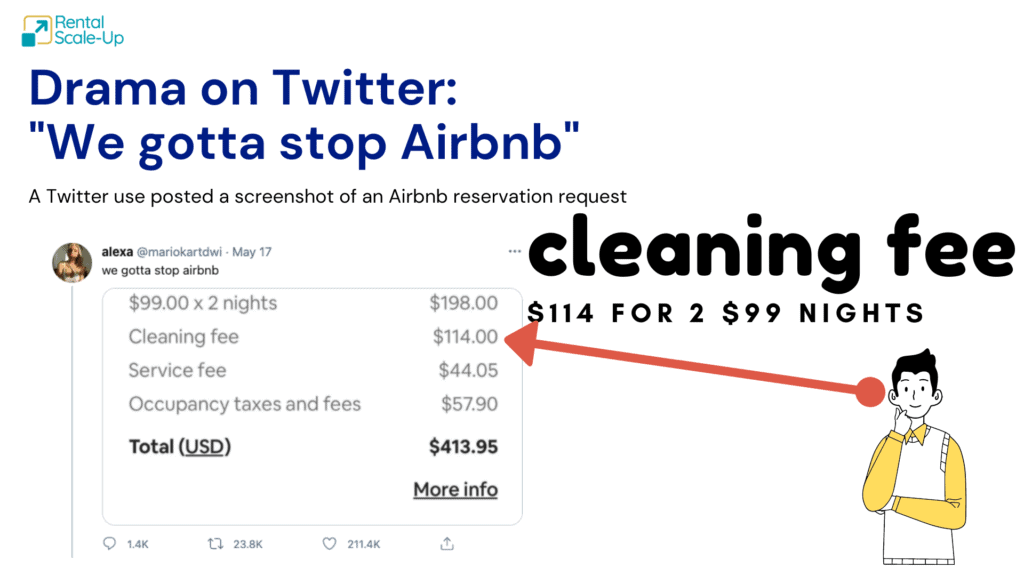 While her tweet collected 1,400+ comments, 23,800+ retweets, and 211,400+ likes, she followed up on her message with a blatant promotion of her OnlyFans account. OnlyFans is a subscription-based social media platform where users can sell and/or purchase original content—typically of the adult variety.
While people were busy getting angry at Airbnb, they did not look at the source of the tweet. It is not impossible to think that Alexa got more followers out of this. This is a very smart use of a free social media platform (Twitter) to transfer people over to a paid social media platform (OnlyFans).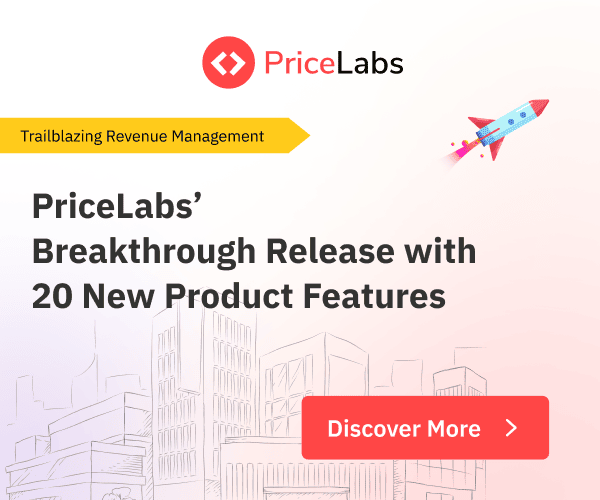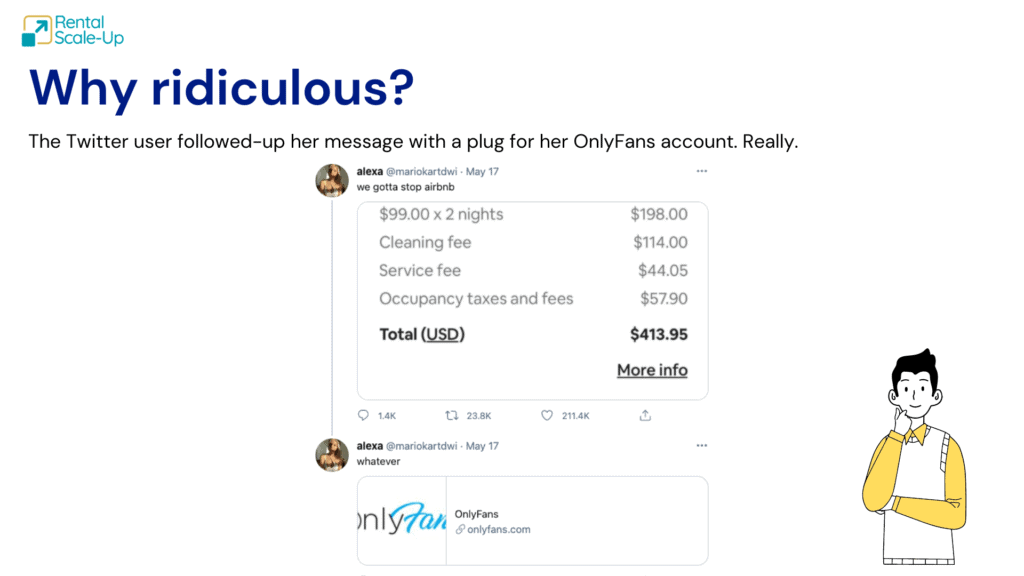 The press enters the dance, still not checking the source or wondering why fees are so high
The "We gotta stop Airbnb" tweet was too popular for the press to resist jumping on the bandwagon. We got title such as 'We gotta stop Airbnb': The tweet that started a social media backlash against extra charges' (Stuff NZ) and ''We gotta stop Airbnb': Internet shares horror stories of rising fees, filthy homes and scary hosts'. (The Independent).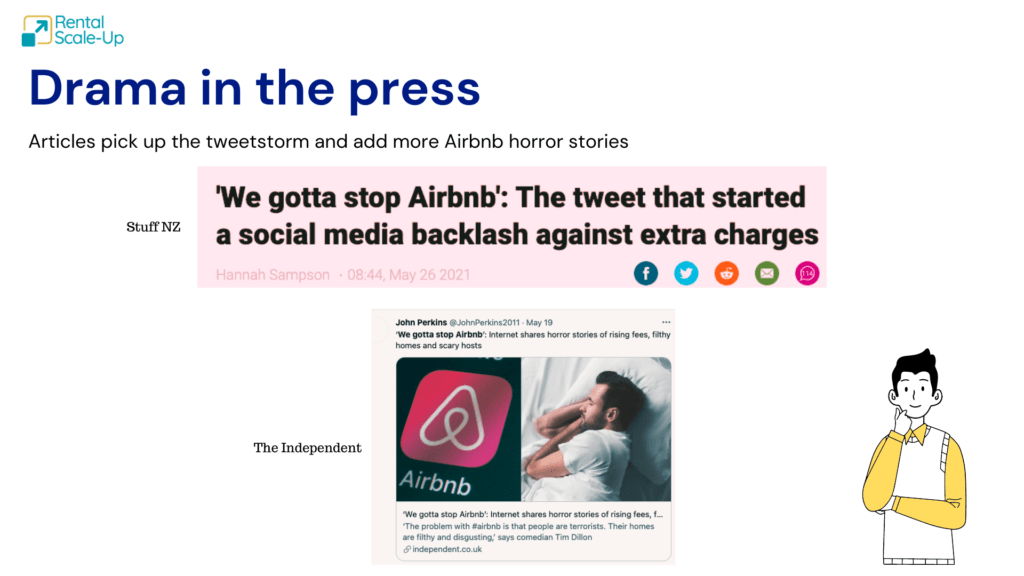 So, we went from an adult performer trying to get attention to articles about Airbnb horror stories. At Rental Scale-Up, we can be skeptical at Airbnb. But doing zero research on a topic is not something we would recommend.
Airbnb wants to review hosts' cleaning fee practices
The day after the tweet, Airbnb felt compelled to respond to the drama. It published an article called "Fee transparency on Airbnb".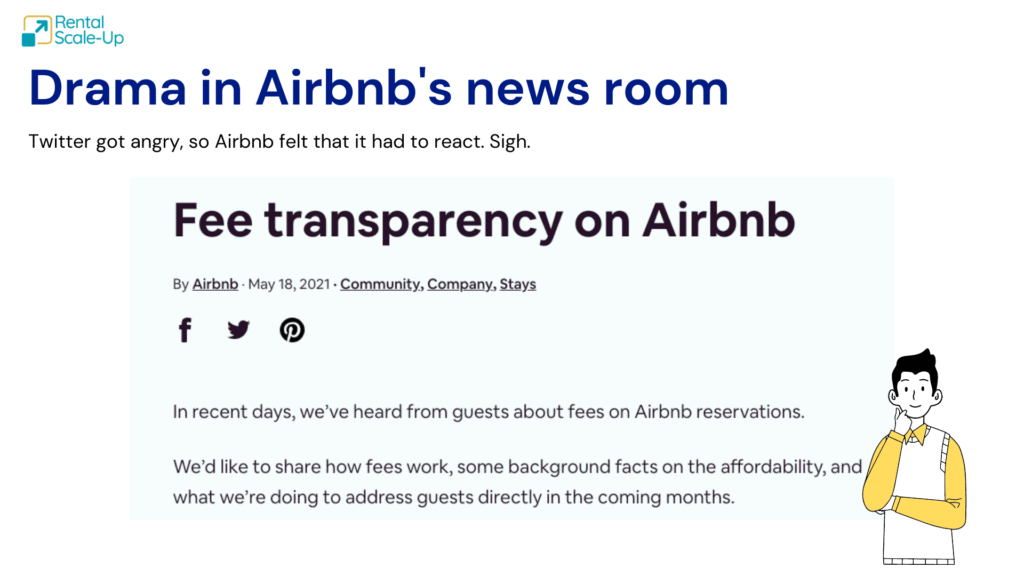 To be fair, the article did a good job explaining that cleaning an entire vacation rental is more than expensive than for a private room.
What Airbnb did not actually add, is that the company adds a 14.2% service to the host's cleaning fee. So, to a $114 cleaning fee, Airbnb adds $16.19 in service fee. So, yes, Airbnb makes money on the host's cleaning fee, through its service fee.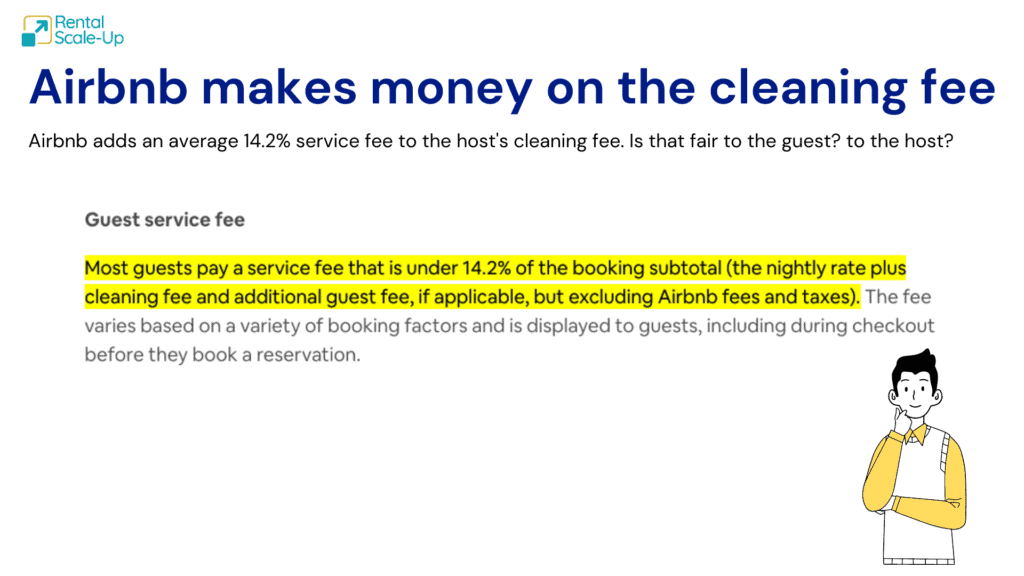 Let's get the Airbnb service fee out of the way
As people have traded up and gone from booking a spare room to an entire 4-bedroom vacation on Airbnb, the value of booking has gone up. On Airbnb, bookings for places that can host 5 guests and more were less than 35% of summer nights stayed in 2019 and now account for 54% of summer nights booked in 2021.
The 14.2% service fee over a $45 a night private room is $6.39 per night, while, for a $300 a night vacation rental, it is $42.6 per night.
As travelers have turned to Airbnb to book more expensive houses and stay longer, service fees have ballooned in absolute terms. Things do look different.
Let's also mention that, especially in the US, Airbnb is now collecting local taxes, straight from the guest. Before, hosts had to collect the tax money and transfer it to their local authorities. As some hosts were "forgetting" a bit too often to do so, municipalities pressured Airbnb in to doing something. So, guests may have the impression that local taxes fees have gone up, when they are actually just taken at the source.
Now, as Airbnb customers complain about the guest fee, this is an issue for Airbnb. In most countries outside the US, the guest fee is already zero. Airbnb takes a 15% host-only fee commission from hosts. Airbnb says that hosts in the host-only fee model get 17% more bookings than hosts in the regular split-fee model (3 to 5% on the host, 14.2% on the guest).
Why do hosts set up a high cleaning fee on Airbnb?
There is no simple answer (sorry, Twitter). But we think of the following reasons: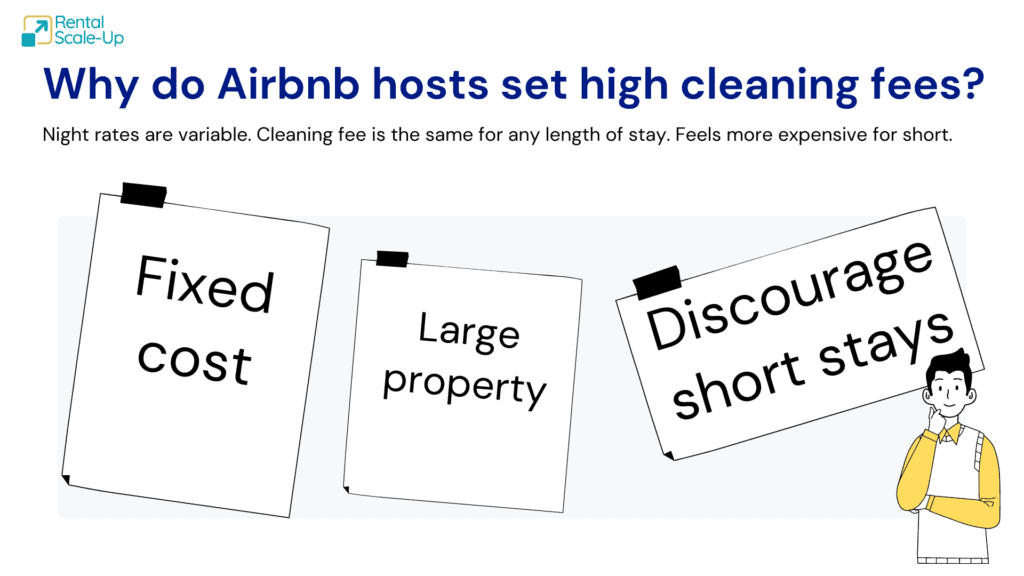 A fixed cost: On Airbnb, hosts can only set up one cleaning fee amount. It is always the same, whether the stay is for 2, 5, or 20 nights. For instance, $114 is our infamous tweet. The price of the stay is (price per night) x (number of nights), so there $99 x 2. As you can see, the price of the stay is variable, but not the cleaning fee.
So, for a 2-night stay, $114 may seem high. But for a 10-night stay, it would be less of a problem. Whether the stay is for 2 or 10 nights, cleaning a whole vacation rental is time-consuming and expensive. You pay your cleaner's time the same.
The larger the property, the higher the cleaning fee. The tweet does not tell us which type of property our friend Alexa was trying to book. If it was a private room, then it is way too high. If it is a 3-bedroom house, with a kitchen, a living room, and an outdoor area, then this more understandable.
Some hosts may set up a high cleaning fee that only makes sense over a 5 to 7-night stay. Such as $114 per stay. But, they may allow people to book for 2 nights. Then, the fee may seem high. But what is expensive to you may be ok for others who absolutely want to stay at this place. As long as Airbnb displays the prices clearly, with the cleaning fee split up from the total cost, it is transparent. And adult people can make their own choices.
Finally, some hosts may have high cleaning fees because they've had issues with adult workers who rent an Airbnb to conduct their professional activities. In urban markets, it is a well-known occurence: Short-term rentals are often used by prostitutes to host their clients. So, it comes back full-circle: Maybe our Twitter user Alexa want to book an airbnb to shoot a few of her OnlyFans productions. And she was not happy with the steep cleaning fee for a 2-night stay. So, she did not book the place. If so, good for the host!