Short-term rental managers are taking action to save on energy costs and thus help with environmental issues. Surprisingly, property owners facing eye-watering energy bills (not travelers) seem to be the driving force at the moment. This is the main finding from the panel on sustainable travel at Scale Rentals France in November 2022.
Panelists were:
This being a French panel with a French audience, the tone was skeptical about grand claims about changing the world (French people tend to be critical about everything anyway – I know, I grew up in France).
Yet, panelists on stage had real-life examples of how change was happening, how owner expectations had suddenly changed, and what vacation rental management companies were doing on the ground to save energy and educate staff, cleaners, third-party maintenance teams, owners, and guests about the issue.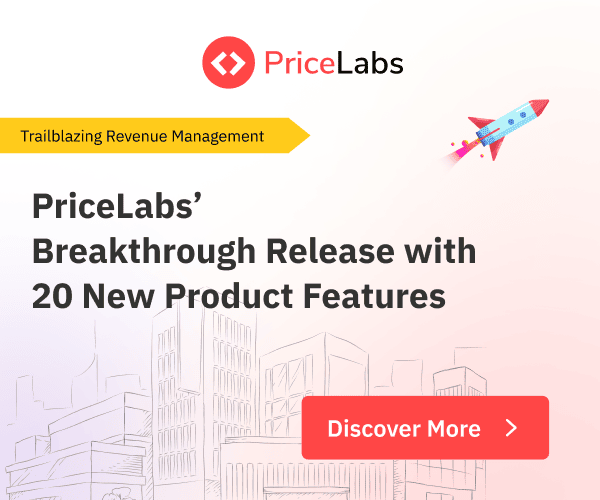 Here are my takeaways from the panel. They are drawn from examples in the French market, which is Europe's largest and the second in the world for Airbnb. Yet, the insights can apply to countries beyond Europe, as the implications for owners and property managers hold in various geographies.
Owner complaints about high energy bills drive change, while short-term rental managers are skeptical about travelers changing their actual energy-intensive behaviors when on vacation
Do short-term rental pros believe that travelers care about eco-friendly travel? Some do. Do they believe that travelers, once settled at a short-term rental, actually change their behavior in accordance with their claims about caring for the environment? Not much. Actually, it seems that guests care less about energy use than at their own homes, taking long hot showers, forgetting to close windows when the A/C is on, or heating chalets to the max even when away during the day.
Yet, short-term rental managers are faced with worries and demands from property owners whose energy bills are exploding. From high energy costs to travelers charging their electric cars at vacation homes, sources of overhead costs are multiplying.
Faced with high energy bills, many vacation rental owners turn to property managers and demand that they do something to rein in guests' behavior. Yet, there is only so much that can be done if a property is badly insulated or if the traveler comes from a country where energy costs are not an issue at all, for instance.
What challenges are high energy costs creating for short-term rental managers?
Despite drastic price intervention by the French government, owners are unhappy
Since late 2021, just like any other European country, France has been hit by major increases in electricity market prices.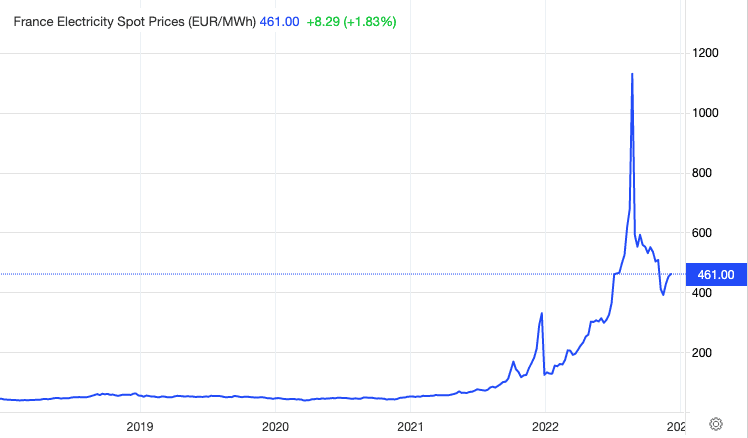 Yet, this being France, the government has stepped in to protect consumers from steep increases. It has placed a mandatory price increase cap of +4% for the whole of 2022. For the year 2023, this cap should continue with a maximum increase of +15%. However, what the French energy consumer is not paying is paid for by the French taxpayer.
Yet, vacation rental homeowners tell property managers that they are worried. Here are examples of questions that we heard during the Scale Rentals panel:
How to educate guests about being energy efficient.
Should guests pay for their energy consumption?
What kind of advice can property managers give to owners to help them save money, from advising on replacing an inefficient fridge to lowering the temperate of jacuzzis when they are not in use?
Up to 17% of short-term rentals may disappear in 2023 due to new building and environmental regulations
In France, the stock of vacation rental homes available for renting may decrease due to new regulations. These new laws were initially intended for the housing stock, but the government also wants to ban the least energy-efficient houses from short-term rental platforms such as Airbnb.
As the Financial Times put it, at the centre of the debate are what are called passoires thermiques — literally 'thermal sieves', a term for dwellings ranked in the two lowest categories of the country's Energy Performance Certificate scheme, with ratings of "F" and "G". These passoires thermiques were estimated to make up nearly 17% of the country's housing stock in 2018, according to France's Ecological Transition Ministry.
From 2023, owners of homes classified as "G" will be prohibited from renting their property to new tenants. This restriction will be applied in 2028 to homes classified as "F", and in 2034 to those with an "E" rating. This measure will be extended to the rest of the housing classified "G" in 2025, then to "F" in 2028 and "E" in 2034.
In October 2022, the French Minister for Housing declared that he did not want "passoires thermiques" to end up on the short-term rental market. He wants issues such as poor insulation to be fixed. So, he indicated that he would be looking into ways also to ban such houses from platforms such as Airbnb as soon as 2023.
Regulations currently applied to hotels may be extended to vacation rental companies
The French government wants the country to become the world's #1 destination for sustainable travel. Hotels must comply with increasing regulations, which may one day be extended to short-term rentals.
For instance, hotels must already put their staff through training to reduce the environmental impact of hospitality businesses. Panel members thought that such a requirement might soon be extended to vacation rental businesses.
Starting in 2026, all hotels will have to display an environmental label in all their promotional communication. Many have already received their certificate or are working towards improving their performance. The goal is to measure and communicate quantified information on the environmental impact of hotels. In concrete terms, a grade between A and E (A being the best grade) is given to the hotel according to 4 environmental indicators:
Impact on the climate;
Water consumption;
Consumption of non-renewable resources;
Proportion of organic or eco-labeled products in the hotel's supplies.
Many property managers and owners doubt that travelers are actually changing their behavior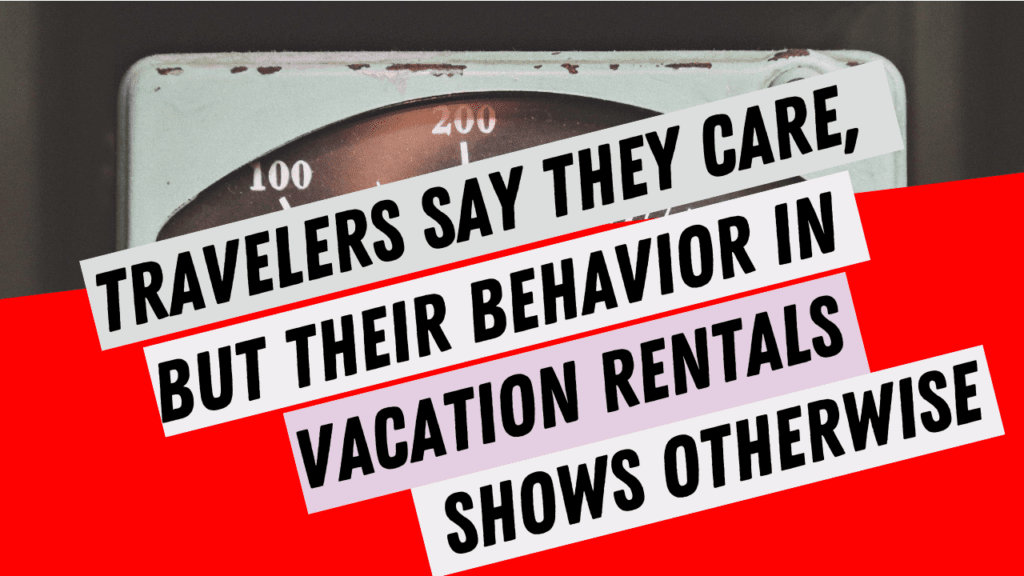 Travelers say they care about sustainable travel
Large travel platforms have launched dedicated initiatives, such as Booking.com's Travel Sustainable program. More than 400,000 accommodations globally are now recognized for their efforts to operate more sustainably with specified badges on the platform. A very large majority of property managers attending the panel discussion showed interest in getting the Booking.com label.
One of the main reasons for property managers to be interested in taking part is Booking.com's claim that consumers care about sustainable travel options. According to the company's research, 81% of travelers claim that it is a topic of personal importance to them.
Do travelers actually want a magic option where all the work on sustainability is done by the hosts while they do not need to change their wasteful habits?
While consumers say they care about the topic and would choose a property supporting sustainable travel over another, a key issue is the actual behavior of guests:
Behavior as consumers: Attendees were not convinced that travelers would actually pay more for a sustainable accommodation. They thought that it would tip the balance when choosing between two comparable options, for some travelers.
Behavior at the property: Many vacation rental owners and property managers have noticed that vacationers tend to be less careful. This is just human nature, they said. Most people tend to be less cautious about taking shorter hot showers, putting the right kind of trash in the right bin, or ensuring all windows are closed before turning on the AC.
Key differences according to traveler nationalities: Awareness also differs according to the country from which travelers are from. For instance, travelers from the Middle East are not used to high energy prices, so energy-saving behaviors or recycling trash are unfamiliar.
From adding energy-efficient properties to making guests pay an energy consumption fee, property managers are taking action
Panel members concurrent that property managers could not count on travelers behaving well 100% of the time. This is why they shared what they do on the ground to prevent problems from happening.
Adding energy-efficient properties to their portfolios
Some property managers shared they had started to look into ways to voluntarily add energy-efficient properties to their property portfolios. They see it as a way to
Avoid losing too many properties if poorly insulated houses are effectively banned from the short-term rental market
Grow their bookings by marketing such properties to attract guests who care about the issue and also get certificated on platforms such as Booking.com
Sébastien Grosjean is the CEO of STR software solution Smily. He shared how he and his family have built passive energy houses for 10 years in Greece and France. He explained that they've done some trial and error but were happy with the results. In the Alps, his chalets have at least triple-glazing. His villas in Greece are half-buried which makes them easier on the landscape and easier to cool down in the summer.
Attract new owners by showing that the company tries to rein in energy costs and educate guests
Sophie Desnoulez from Location Lac Annecy LLA Selections shared that she can attract new owners by explaining what she does on the environmental topic. She thinks that it may not be a deciding factor for owners but something that is expected from a large high-end property management company like hers. She says that it is out there offering concierge services. It is de rigueur.
Sophie also shared that she can put forward how her company proactively helps its owners reduce their energy bills. For instance, many chalets have jacuzzis that are set at the highest temperatures throughout the year. She was able to show owners how to save money while lowering the water temperature between stays, thanks to easy-to-use automation
Educate cleaners and staff
Sophie Desnoulez also explained how she made sure cleaners and any third-party maintenance did not leave with all lights on, for instance. She says that it is efficient company culture to extend any third-party stepping foot into one of her properties.
She also ensures that her staff gives friendly reminders about environmentally responsible behaviors to guests. At the properties, she uses funny stickers on things like trash cans as physical reminders of what to do.
Show Energy Consumption Statistics to hosts
 A smart way to get guests to lower their energy consumption is to make them aware of it. For instance, Vanessa Souza de Lage's company, Sustonica, puts iPads in vacation rentals that show how much electricity, gas, and/or water are being used.
She says that similar technology deployed in hotel rooms made guests lower their consumption by 24%.
Make them pay:
Another way to get guests to feel responsible for their consumption and owners to recoup their money is to make travelers pay for their energy consumption.
Some property managers already do it, with often a set amount of electricity included in the rental. If guests use more, then they have to pay extra.
Usually, it means that a staff member or the owner has to go to the property at the end of the stay to look at the electric meter.
Vanessa from Sustonica said that her technology allows property managers also to charge guests for their actual energy consumption.
Incidentally, on the website of European property management company BelAviilla, electricity is already used as a marketing ply. For instance, this screenshot shows you that "electricity price included".