In our European travel report, we shared data about Airbnb's bookings for summer 2021. One striking data point showed that Airbnb was now a place where people were booking large houses, not just small apartments: Accommodations for 5 guests or more accounted for 35% of summer nights stayed in 2019 and now account for 54% of summer nights booked in 2021. In this article, we are sharing with 3 other thought-provoking graphs about 2021 travel trends on Airbnb for this summer. While we remain skeptical of the usual hype around Airbnb, these data may show some lasting shifts into Airbnb's positioning, as it becomes a more credible player in traditional vacation rental markets. We also look at the data around flexible search, to zoom in on a technical prowess that is solving a real customer pain.
Summer 2021 night booked in non-urban destinations have surged: Has Airbnb's identity changed?
When we looked at Airbnb's Q1 2021 business and financial data, we wondered whether, behind the usual Airbnb hype, a shift has actually happened: What if Airbnb's bet to become more than a travel company was paying off? Despite a lot of effort, Airbnb seemed confined to being a travel brand for couples who wanted to find an apartment in Paris, Los Angeles, or Montréal. Yet, after urban bookings dried up in March 2020, the company has made a remarkable effort to change its messaging, interface, and supply acquisition priorities to capture the demand for coastal, mountain, and rural markets.
In Summer 2020, it could be argued that it was the absence of any demand for city bookings that was pushing up these destinations. Yet, numbers for Summer 2021 show that the preference is here again and stronger in volumes. And some of these bookings are happening on Airbnb. The company is not just for urban trips anymore. These will come back, but the company has managed to extend its use case to what people usually turned to Vrbo for: Non-urban, larger houses, for family trips.
Most common summer booking types on Airbnb
Airbnb was the place where to book a cozy apartment for two when traveling from one big city to another. These booking patterns have changed for summer 2021.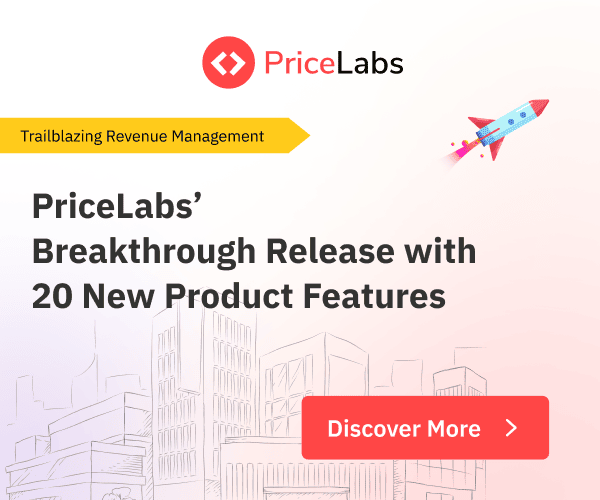 Before the pandemic: 1 or 2 guests visiting a big city
For summer 2021: a family leaving a big city to visit a smaller destination
Share of nights booked by destination type (summer 2021)
As expected, Airbnb's data for summer 2021 show that the share of city bookings has gone down compared with 2019.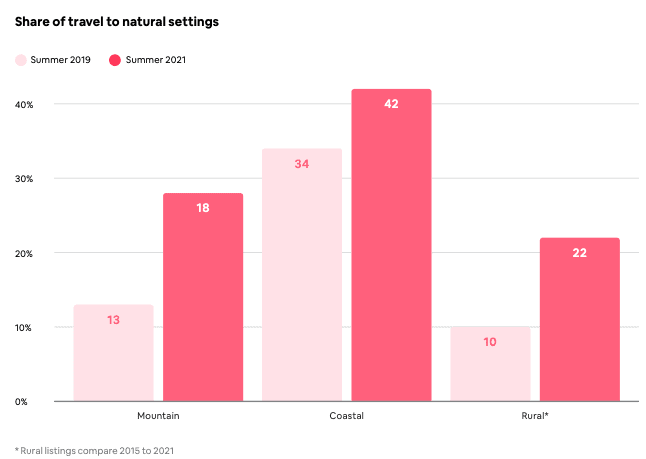 Mountain: 18% of nights booked (was 13% in summer 2019)
Coastal: 42% of nights booked (was 34% in summer 2019)
Rural: 22% of nights booked (was 10% in summer 2015)
Cities: 18% of nights booked (not comparable)
As a destination, cities have shrunk. Now, we can wonder where cities such as Miami or Barcelona are classified: Are they Coastal or Cities? At least, let's hope that the definitions used by Airbnb in 2019 are the same as in 2020. Also note Airbnb's definition of a rural destination: "Rural areas are defined as areas with fewer than 100 inhabitants per square kilometer."
Big city travel has shrunk; destination list is less concentrated around a few big places
Summer 2019: Top 10 booked cities = 10% of all nights booked on Airbnb
Summer 2021: Top 10 booked cities = less than 5 % of all nights booked on Airbnb
More flexible search options create more visibility and higher conversion rates for your properties
On May 24, Airbnb's business update listed 103 new features but focused on the new Flexible Search options (Flexible Dates, Flexible Matching, and Flexible Destinations). For the moment, only Flexible Dates features are live, but we already have interesting data to analyze. They show that Airbnb gives your property more chances to be seen and booked by travelers than on Booking.com and Vrbo, when a user has some flexibility in when they can travel.
First, let's note that these search options do not exist on competing sites such as Vrbo or Booking.com. As you can imagine, it required way less calculating power (and thus lower costs for the platform) to display a series of listings that are available on set dates than to show all the options for these dates and others more or less 7 days.
Airbnb says that it built these features as they were requested in their user research. If your business has a website or an app, this is worth pondering:
75% of consumers surveyed want to be able to search for accommodations within a range of dates.
70% of consumers surveyed want the ability to search for accommodations without setting any travel dates at all.
Let's see where these options are available on the Airbnb website:
Flexible dates: +/- 1 day, +/- 3 days, and +/- 7 days
When you enter a check-in and a check-out date in the Airbnb calendar, 3 buttons are then displayed which enable you to extend your search to approximate days. For instance, if you pick June 10 to June 17 and the option "+/- 1 day", then the search results will also show you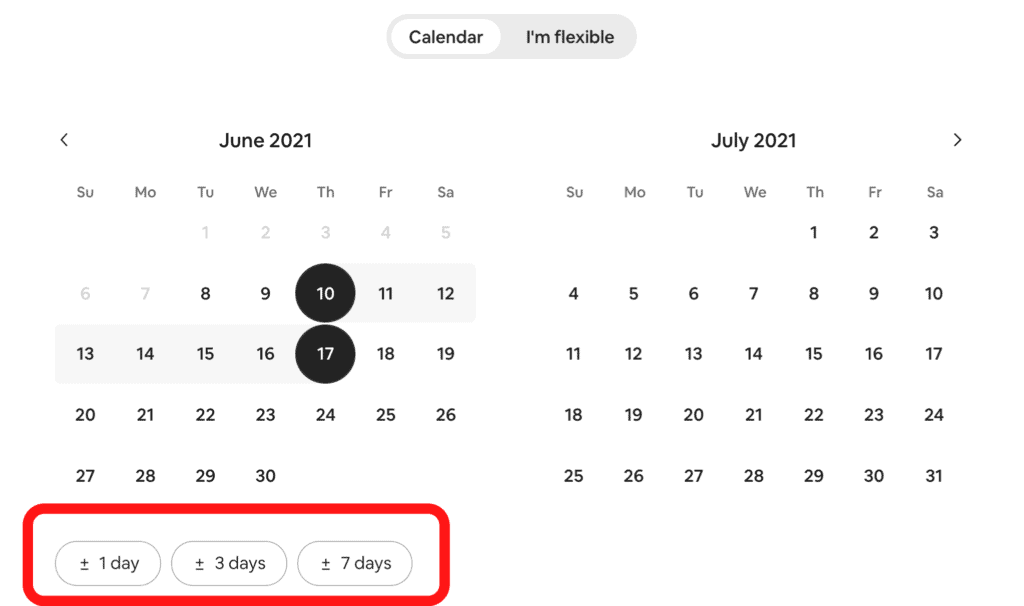 Flexible dates: Weekend, Week, and Month
These options are hidden behind the "I'm flexible" button. Travelers can indicate that they are willing to travel somewhere (e.g. Paris, France) but are flexible when it comes to dates. For instance, they can decide to see listings that are available for weekend trips in June and July.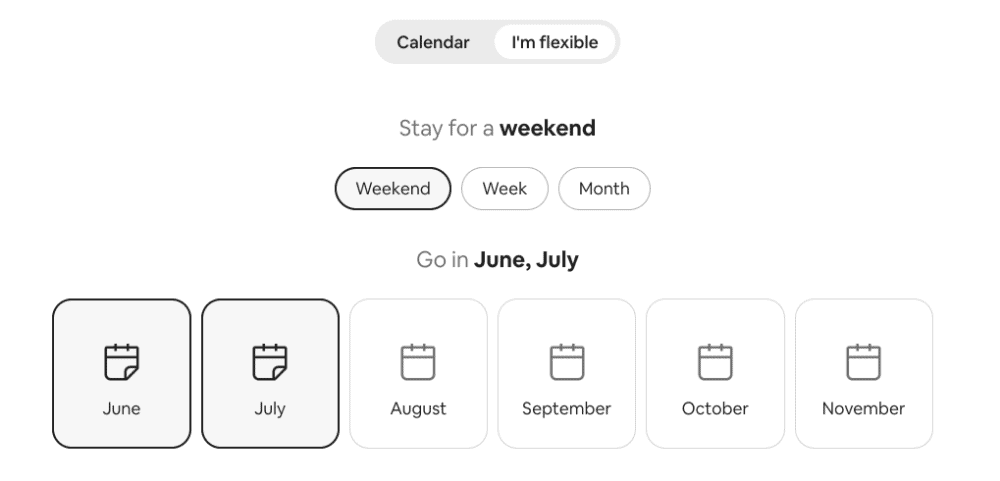 Flexible search features have been adopted by Airbnb users. How may you offer a similar booking experience on your website?
For the moment, only the Flexible Dates feature is live. Yet, it is fascinating to think, on a consumer and on a tech level, to see what the graph below means. It captures which of the Flexible Dates search options are the most used in 2021.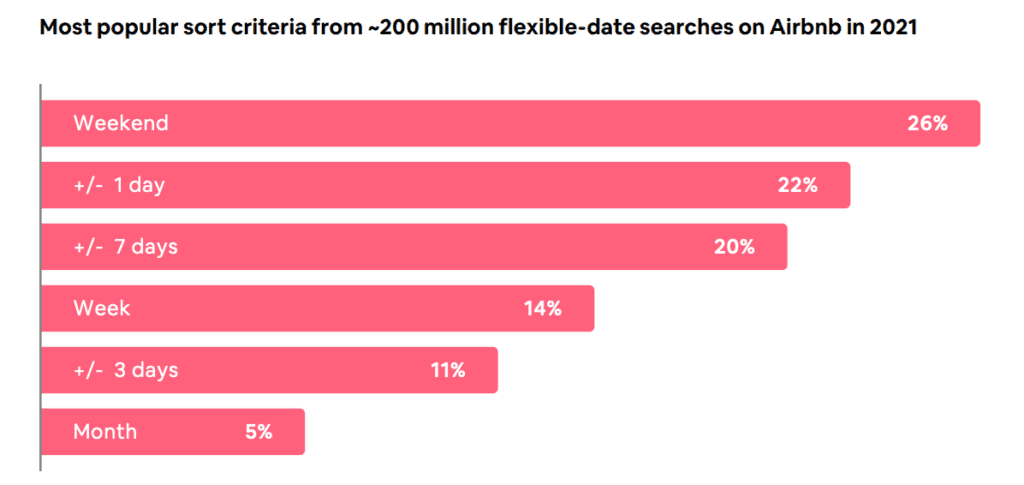 It shows that:
The most used feature is around weekends: Users can choose to see listings available on weekends during specific months. When you think about it, weekend trips are the best fit for such a flexible tool: They are easy to plan and people are more open to adventure. Month-long trips usually require more coordination, so are not as good a fit for this type of search.
Less innovative, but still widely used are the +/- 1 day +/- 7 days options. They show a desire to be flexible in a more controlled manner, within a few days around some specific dates. We are not sure why the +/- 3 days is less used.
Airbnb also says that "searchers who used the tool have converted at a higher rate and accounted for longer stays than searchers who did not use the tool." So, it may be that these tools work well for people who have to plan a long stay. One hypothesis could be that the availability of long-stay listings may be limited at any given time, as they require host calendars to be empty of long stretches of time. Using flexible dates may allow users to see more options and find something they like.
If you have a website or an app, here are some questions for you:
Does your website allow users to see results even if do not enter a date? You may be surprised, but this is sometimes not possible on some websites.
These features are actually used by Airbnb guests. They seem to answer a need. How may you ask your own site or app users whether they'd like the same thing?
Quirky homes, not just good enough to be featured in Airbnb's press releases
Airbnb has always been good at PR stunts (Remember their floating house in the River Thames in London in 2015?) and are infusing their press releases with quirky treehouses, zany dome houses, and über-cute tiny homes. It was not just about being adorable:
These properties provided good stories and visuals that journalists, bloggers, and instagrammers would enjoy sharing
Airbnb's insistence on talking about them helped create the pubic image of an Airbnb, as a place to travel differetnly
They help counter balance the reality that most properties booked on Airbnb were probably regular apartments in big cities, and not yurts in the steps.
In April 2020, when Airbnb reacted to the pandemic, it went back to talking about huts, house boats, and barns. They provided the escapism that urbanites under lockdown were dreaming about. Airbnb may also have realized that its website and apps were better organized to showcase these unique places. For instance, yurts, islands, and huts are not property categories on either Vrbo or Booking.com. It makes it very hard for a user to find such listings, compared with the experience on Airbnb.
As Airbnb can better showcase this type of supply, it has been able to capture the increase of searches from users dreaming of leaving their homes. Below, you will see the data shared by Airbnb around searches, not bookings. • The number of unique listings on Airbnb, is only 170,000. Even if it has grown 31% in two years, it is still a tiny minority among the 5+ million listings on the site.
Yet, these listings can attract users who are in the dreaming phase of their travel planning. They may end up booking a boring condo, but it could certainly be on Airbnb.