Here's what you need to know about the Airbnb Simplified Pricing, i.e. Airbnb's move to make its 15% host-only fee mandatory for connected hosts.
Up until summer 2020, most Airbnb hosts were paying a 3% to 5% service to Airbnb, for each reservation that they were getting. This so-called "split fee" meant that guests were paying a guest service fee on their side, usually around 11 to 12% of the booking value.
Is this host-only fee completely new? No, it isn't. For several years, bigger property managers had been offered the choice to switch to the host-only fee.
Now, in most countries worldwide (but not the US), software-connected Airbnb hosts, i.e. hosts using a channel manager to connect their calendars to Airbnb, have received emails from Airbnb titled "Changes to your service fee structure".
Connected hosts, most of them people who own or manage several Airbnb listings, have been forced to move to a "simplified pricing" model, whereby there is no more guest fee, but only a much higher host fee. Basically, the host pays 15%, the guest pays 0%, and Airbnb still gets the same amount of money.
Airbnb Simplified Pricing = 15% Host-only fee mandatory for most software-connect hosts
The entire service fee is deducted from the host payout, and no Airbnb service fee is paid by guests.
The host-only fee typically ranges from 14% to 16% and is mandatory for hotels and some other hosts. It's also mandatory for software-connected hosts, unless those hosts have a majority of their listings in the United States, Canada, the Bahamas, Mexico, Argentina, Taiwan, or Uruguay. Airbnb Plus hosts, and hosts who use Super Strict cancellation policies may pay more. The service fee paid by hosts for listings located in Mainland China is 10%.
Airbnb is now deducting a flat 15% host service fee from each payout and won't charge a guest service fee
Existing Airbnb bookings will not be affected, but this change will apply to all bookings made after a set date, different for each country), for instance, November 1, 2020, in Australia. In most countries, the date was December 7,2020.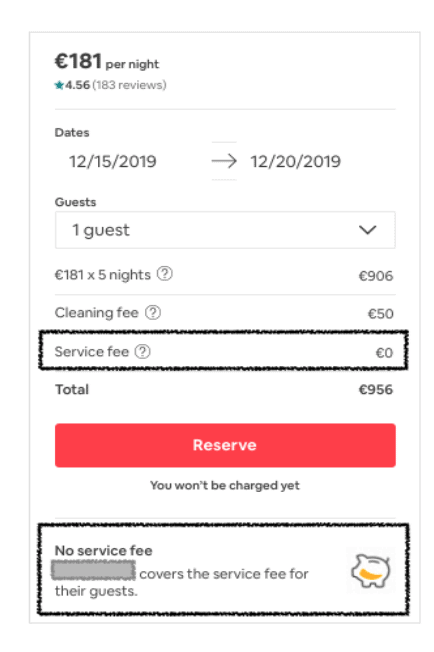 Airbnb says that its new service fee structure ("Simplified Pricing") allows hosts to have a more accurate pricing strategy as they are able to set and see what the guests will end up paying.
Airbnb also highlights the fact that there is no guest service fee added to the host's rates, making the listings more attractive to guests. According to the platform, hosts that have decided to switch to the simplified pricing have seen an overall increase in their bookings of about +17%.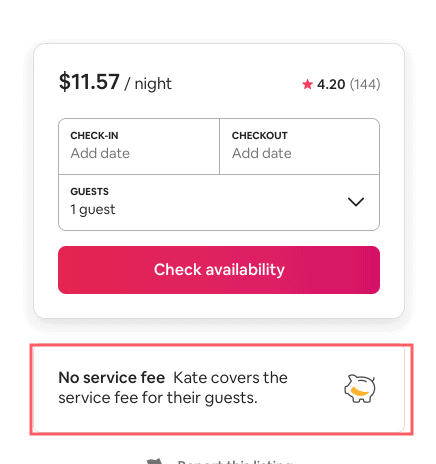 What is now the percentage paid to Airbnb by hosts?
Airbnb hosts generally pay a service fee of 3%, but Airbnb Plus hosts, hosts who use Super Strict cancellation policies, and now most connected hosts may pay more.
This fee is calculated from the booking subtotal (the nightly rate plus cleaning fee and additional guest fees, if applicable, but excluding Airbnb fees and taxes) and is automatically deducted from the host payout.
With the Airbnb simplified pricing, 15% will now be deducted from the booking subtotal and the rest will be paid out to the host.
Airbnb fee changes for hosts: How to calculate your new nighty rate?

Let's imagine that your goal is to keep your final host payout. You then need to increase accordingly your prices on Airbnb.
This is the formula to use:
New base price = (Current base price) X (1-previous host fees) / (1-new host fees).
Here our case, we have: New base price = Current base price X (0,97)/(0.85).
To simplify even more: New base price = Current base price X 1.1412 .
Split Fee model (Before)
Hypothesis: The guest paid an average 14.2% service on Airbnb. Also, let's imagine that the guest has to pay a 10% city tax where the property is located.
Current base rate: $100.00
Host Payout (97% of nightly rate): $97.00
Airbnb Commission (3% + 14.2% of nightly rate): $17.20
City Tax (10% of nightly rate + fees): $11.42
Guest Pays: $125.62
Host-only Fee Model (After)
New base rate: $114.12 (i.e. $100 x 1.1412)
Host Payout (85% of nightly rate): $97.00
Airbnb Commission (15% of nightly rate): $17.12
City tax (10% of nightly rate + fees): $11.41
Guest Pays: $125.53
Tip: Do not forget to increase your cleaning fee on Airbnb!
Remember that the host service fee applies both on accommodation fee and cleaning fee ("the nightly rate plus cleaning fee and additional guest fees").
So, as Airbnb is now taking 15% (and not 3% anymore) from your cleaning fee, you may want to increase as well (new cleaning fee = 1.1412 x old cleaning fee).
How do I implement the new host fee structure if I use a channel manager? If I use a dynamic pricing tool?
If you are using a channel manager and/or a dynamic pricing tool, you have first to consider your current set-up. For instance, here's what PriceLabs recommends:
Case #1: PriceLabs + An integrated channel manager -> Airbnb Markup of 15%
If you were setting a markup in your PMS for Airbnb – you most likely made this markup equal to the host fees that Airbnb was charging from you. You want to adjust this markup to accommodate for new fees.
Here is an example:
Say before, you were paying 3% fees, and guests were paying 12% fees. Your base rate was 100 EUR.
So, if previously, you were setting a markup of 3%, you'd want to put a markup of 15% now.
Case #2: Using PriceLabs with a PMS but your PMS does not allow you to set a markup for Airbnb
You should increase minimum and base rates in PriceLabs as per the formula explained in the section above – "Airbnb fee changes for hosts: How to calculate your new nighty rate?."
But additionally, you would need to adjust the markup for other channels. Otherwise, prices would increase for those channels (e.g. Booking.com and Vrbo).
The host-only fee is not new. It was to be an option. It is now mandatory.
Since May 2019, larger Airbnb hosts had been offered the option to opt into the host-only fee. While smaller Airbnb hosts did not have a choice, the bigger ones (which usually use a channel manager to connected to Airbnb) had been give the choice. This is how it looked in the Airbnb hosting dashboard: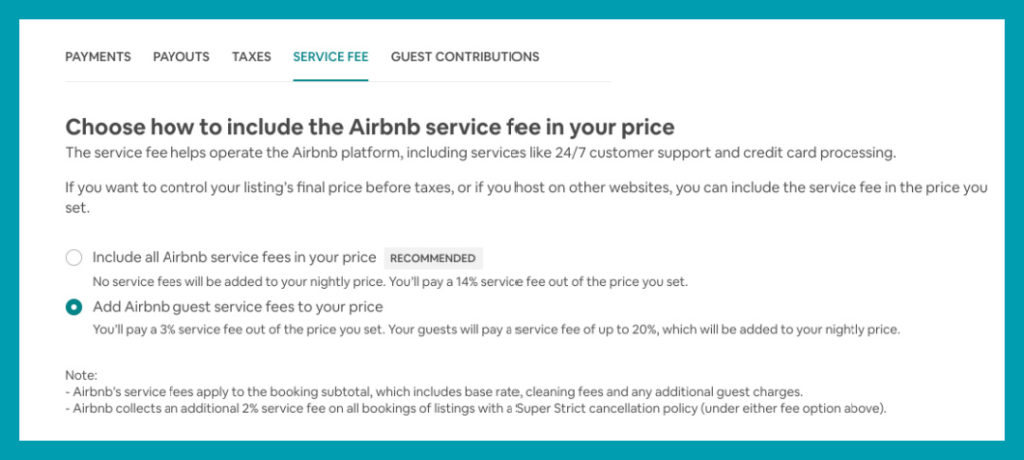 Why is Airbnb making the 15% host-only fee mandatory? And why target only connected hosts?

What's changing
Today, there are 2 service fee structures: split-fee pricing with the service fee shared between hosts and guests, and simplified pricing with the entire service fee covered by the host. After the switch, split-fee pricing will no longer be available. That means a 15% service fee will be deducted from your payouts, and no fee will be charged to your guests—what you set is what guests will pay.
Which listings are affected
This change applies to some hosts because they have a listing in a selected country and connect to Airbnb using third-party software (e.g. a channel manager).
Why Airbnb is making this change: Guests like a $0 service fee + Competitors like Booking.com have the same model
Airbnb says that it introduced simplified pricing last year, and hosts who tried it out and priced competitively across websites got an average of 17% more bookings. Airbnb heard that removing the guest fee made it easier for hosts to price competitively, and they saw that guests preferred to book places that didn't have a guest fee.
Airbnb also notes that displaying no guest service fee is especially important in regions where guests "don't pay fees on other booking platforms". Here, the company has in mind its competitor Booking.com: In Europe, for instance, travelers are used to paying 0 guest fee when they book. Now, as Booking.com is less powerful in the US, does Airbnb mean that it will not be imposing its simplified pricing any time soon?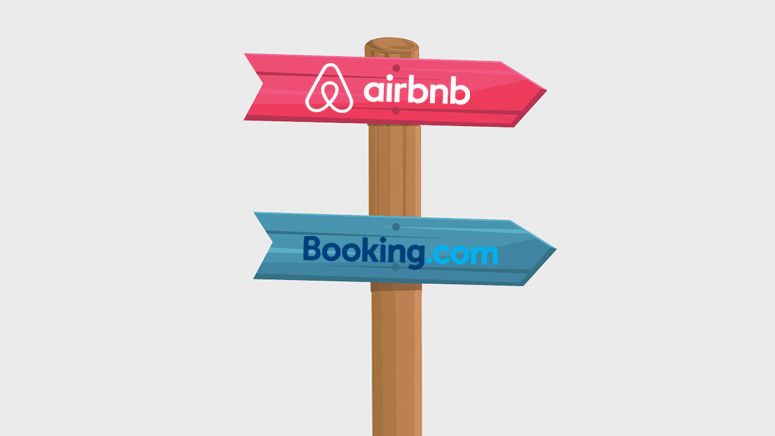 The Airbnb Simplified Pricing helps property managers set the same prices on different platforms and on meta-search
Booking.com charges a 15% commission to its partners, on average. And the platform does not charge any guest fee either. Basically, it means that Airbnb and Booking.com's fee structures are more or less aligned. Note that, in some instances, Booking.com charges an additional payment processing fee.
Vacation rental managers with properties listed on both Airbnb and Booking.com may see it as a good thing, as it means being able to set the same prices on both platforms. It may easier to know what the final host payout will be on each platform.
On meta-search websites such as Google Travel, HomeToGo, and Holidu, Airbnb's prices will now incorporate the full fee, i.e. the 15% host-only fee. Before that, the guest fee was not always features in meta-search results, which led a bad surprise to travelers once they landed on airbnb.com and saw the additional 12% guest fee (on average).
What will happen next
This change will happen automatically on a set date for each country (e.g. December 7, 2020, in the Caribbean) and will be applied to any bookings that you get after that date. Airbnb will send a reminder 7 days before this change, along with a guide to walk hosts through changes they may want to make to your prices to ensure their earnings don't change.
It means that to keep their revenues the same, hosts may have to increase their prices (e.g. average daily rate) on Airbnb.
Here's a summary of what will change:
If you are a connected Airbnb host in these regions, your service fee settings will automatically change on a set date, before the end of 2020, for all your listings.
Airbnb will deduct a flat 15% host service fee from each payout and won't charge a guest service fee.
This won't affect any existing bookings you have and will only apply to any bookings you get after the announced set date.
Using Airbnb after the announced set date means that you've accepted this new service fee structure (i.e. you have no choice).
Conclusion: A business model closer to that of Booking.com, as the Airbnb IPO approaches
The Airbnb IPO is supposed to be a few weeks away. Investors seeking to assed Airbnb's valuation are using its publicly-traded competitor Booking Holdings to compare its financials.
Now that connected hosts (most often larger property managers) pay a 15% hosting fee, just as much as they pay to list their properties on Booking.com, it makes comparisons even easier.
For the moment, only connected hosts are affected. Smaller, non-connected hosts may not be affected: Airbnb has vowed to get back to its roots and to favor smaller hosts. For the vocal community of smaller Airbnb hosts, forcing them to switch from a 3% to a 15% may amount to a hostile move that would create a lot of noise right before the IPO.