Each month, Rental Scale-Up organizes a conference, bringing together industry experts for the latest short-term rental trends and insights on what property managers and hosts should do to keep up with them. This time, we're recapping our February where we talked all about the top acquisition strategies to grow your property inventory in 2022 for property managers in the U.S. Scalers Network Plus members get a complimentary speaker spot – apply to become a member here.
Here are some key findings and insights to get you started:
According to AirDNA data from January 2022, there are more than 1.5 million short term rentals in the US, making it the highest number ever. However, there are large gaps in big cities such as New Orleans, down 30% compared to pre-pandemic. 
The search for supply is happening. However, factors such as inflation, regulations and licencing are fast becoming barriers to acquiring inventory as a US property manager. 
When it comes to the search for supply, US property managers are also competing with the likes of Airbnb, who've set a key 2022 strategic goal to 'Unlock The Next Generation Of Hosts'.
Property managers who wish to stay as they are, risk being left behind by competitors.
Property acquisitions strategies and province tactics have never been more important in this market.
Let's meet the speakers first:
JASON SPRENKLE, CEO, KEY DATA DASHBOARDS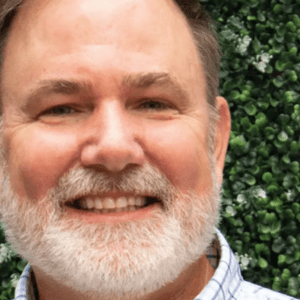 Jason is currently the CEO of Key Data, a business intelligence and benchmarking company that aggregates data from over 2,300 of the leading vacation rental companies and resorts around the world. He is also a co-founder of The Sonder Project, an international non-profit whose mission is to strengthen communities through food security, clean water, and education. Previously, Jason was an owner of 360 Blue, which managed 740 luxury homes in the Florida Panhandle and in Colorado before selling to Natural Retreats in the fall of 2020, as well as the co-founder and CEO of Glad to Have You (acquired by HomeAway). Before entering the vacation rental space, he was a luxury real estate developer, and a software attorney. Find out which data metrics to take into consideration for your next homeowner lead generation campaign, as Jason reveals how data can help you make better business decisions.
HUMPHREY BOWLES, CO-FOUNDER & CEO, SUPERHOG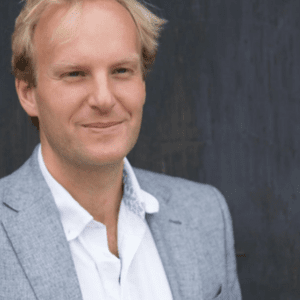 Humphrey is Co-Founder and CEO of SUPERHOG. He is on a mission to solve the trust and protection gap of 250 million short-term rental Hosts, Owners, Property Managers, Operators and Guests. SUPERHOG combines guest screening with embedded insurance, and is delivered as a SaaS solution that can be integrated seamlessly within the pre- or post- booking flow, providing the toolkit to be able to proactively assess risk and verify guests, thus preventing troublesome guests from entering properties. On top of this, SUPERHOG provide up to $5m of protection for all bookings in case something goes wrong, resulting in Guest related damages and a refusal to pay. Humphrey will enumerate the various ways you can differentiate yourselves through trust and safety standards to attract homeowners.
BROOKE PFAUTZ, CEO & FOUNDER, VINTORY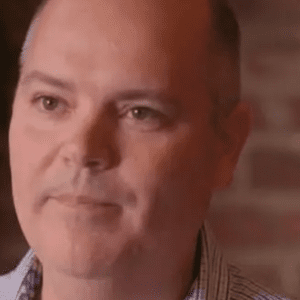 Brooke Pfautz is the founder and CEO of Vintory, the industry's first and only software and services platform designed exclusively to help vacation rental managers recruit homeowners and add new properties to their inventory. As a founder of Vantage Resort Realty, Brooke famously grew his company from an idea on a napkin to 500 properties under management in just five years. After nearly 10 years of building his own management company, working for other large-scale managers and leading growth as an executive for a top vacation rental software brand, Brooke started Vintory in 2019 and has since helped more than 250 companies grow their inventory. He will be using his immense insight into marketing campaigns for homeowner lead generation to share effective strategies.
THIBAULT MASSON, CEO & FOUNDER, RENTAL SCALE-UP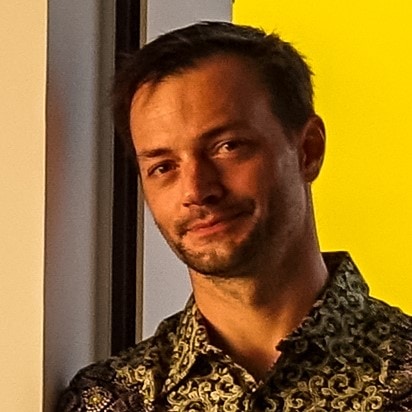 Thibault is both a vacation rental property manager and a vacation rental technology marketer. He's the founder of Rental Scale-Up, a short-term rental news, analysis, and consulting business. He has launched and managed villas and apartments in Paris, Bali, and St. Barths. He has also led several innovative projects to create new tools and news services for short-term rental operators, vacation rental managers, and individual hosts. He has experience of working for international online travel agencies, such as ebookers and Booking.com. Recently, he created a private network for short-term rental pros looking to achieve business goals, find peer support and feedback, and become recognised voices in the industry. Thibault will use his expertise as an industry analyst to present counterarguments and discuss what doesn't work when prospecting for property management clients.
Thibault Masson, Rental Scale-Up:
Right, thank you. So thank you everyone for being here. As I said, we'll be talking about the top acquisition strategies to grow your property inventory, especially we'll be talking about the US market. We have here 3 CEOS for you, from Key Data, Superhog, Vintory. So without further ado, let's get into the agenda.
The key question is basically how you can add more vacation rental listings, you know, create a great home acquisition campaign, for example. And I will give a quick introduction about, you know, some data in the market, how things are going now in the US in terms of supply, you'll see it's a bit tight. We'll also be talking about how to start your home acquisition campaign and it all starts with the data, and Key Data Dashboard will take us through there to help us understand, you know how to pick which market to go to, the right property types, for example, and how you get owner data.
Then, with Superhog, we'll see how to craft a compelling proposition, for example, what should be the best ad, how to tell that to the owners and how security comes into play in this.
And finally, we'll see how to conduct an omnichannel campaign. Not just a multichannel campaign, but an omnichannel campaign. With Vintory, we'll see what this is about and why this is really important, so that you can have the best ally for your home acquisition campaign. And then, we'll leave time for a mini debate about the risks of doing all this, and should you even do all that? And a Q&A. So, again, make sure to leave some questions on the side in the chat and we'll be reading the questions.
So, quick intro for myself. I'm Thibault from Rental Scale-Up. I'm the founder of Rental Scale-Up. What we do at Rental Scale-Up, as you may know, we are a news site. We have a free, weekly industry newsletter. You can go to rentalscaleup.com to sign up. We talk about the big trends in the market, just as we are today. We also have a private network where we help property managers get together, work with peers and make decisions on their business. We take action. We also do some consulting for property management companies. But today, I'm more the host and I'm just framing things so I'm talking for a few minutes to just paint the landscape.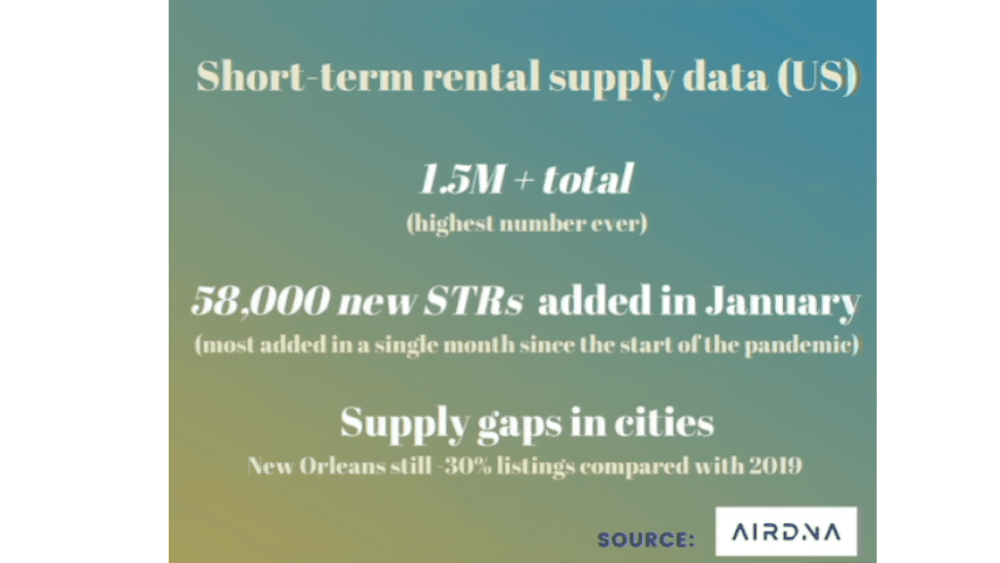 Thibault Masson, Rental Scale-Up:
So, in terms of supply, this is January 2022 from AirDNA, which is also a data company. Basically, what they're saying now is that there is more than 1.5 million short term rentals in the US, it's the highest number ever. And in January 2021, 50,000 new short term rentals were added, which basically went back to the growth we had seen pre-pandemic which is fantastic because it's the highest number ever, while at the same time, you still have big gaps in some cities for example, New Orleans. In New Orleans, the number of listings is still down 30% compared to pre-pandemic. So, can this tree grow up to the sky? Well, yes and no. As we have noticed, we have several factors here which can play a positive or negative role in this growth of supply. We all want more supply. For example, inflation is here and inflation means that real estate prices are getting even more expensive. It's also a tight market, right? If you're trying to acquire vacation rental property, for example, as an owner, you also have to compete with people for a primary home in some places.
Also, you have regulations coming in and regulations can for example be a limit for the growth of supply, with short term rental bans, or necessity to have licenses in some places. So it makes it hard even for example, property managers to find properties that actually have these kind of licenses. And inflation may also have a weird, positive role in the sense that a lot of people are now acquiring a vacation rental home, they may need to find a property manager like you right now, because they can't have it sit empty when costs are rising so fast, with energy and the rest. So inflation, in a sense, may have a positive role, that's what we heard as well from Airbnb is that a lot of people may want to try putting a place out for oil and gas, because they want to make up for the costs. Again, painting a big picture here. This search for supply is happening. It's tense, but basically it's always been like this in a way.
If you look at data from the last three years and that's data from Key Data. Jason from Key Data will be talking in a few minutes on this in a few minutes from now, but basically over the last three years, more than two thirds of property managers have been adding properties. So, if you're a property manager in the US, there's a chance that if there's three of you, two out of three of you, have added properties. So if you're in the one third, it'll be interesting again in the Q&A to find out why you're not doing this. Because again, a lot of your competitors, colleagues and peers are doing that.
And the search for supply is not just property managers, right, Airbnb for example, has stated in its 2022 strategy that they wanted more supply. Airbnb has three main pillars in terms of strategy for 2022. One of them is called 'Unlock the next generation of hosts'. It's not find the next generation of hosts, right, it's unlock the next generation of hosts, which does mean it's kind of hard, right? To find the people. And of course Airbnb always says that they're about individual hosts and they have landing pages to attract teachers for example, but you should know that they've been reactivating their program called Airbnb for real estate and they are going again, after multifamily housing, to find and gain pockets of listings. So the search for more supply is real.
And the last bit I want to share here is data from Vintory whose CEO will again be speaking in a few minutes from now, is basically why property managers also want to add properties because obviously, it's growth right, it's adding the revenues and in a way, if you think of the average lifetime value of a property. Adding one property would usually stay around, let's say, 10 years in your portfolio, that's 10 years of bookings you're adding with one property. But we've seen also a lot of acquisition and some of you, for example, may be interested in selling a company right now. In terms of metrics, valuation metrics, the number of management contracts is also very important.
If you look at the data for example, Vacassa shared during their filing when they went public, they shared that when they acquired companies, on average they paid $21,000 per contract. So again obviously, the more contracts you have, the higher the value of your company. And even if you don't want to grow, on average, imagine the churn is about 10% per year, every year you're losing 10% of your properties, so it does mean you also want to even if you want to stay where you are to acquire more properties just to replace the ones you're losing. So I just wanted to paint a picture and here, clearly, we need strategies and province tactics to acquire more listings.
And here we've got Jason Sprenkle, he's the CEO of Key Data and he will explain exactly as I said earlier, which market to enter, find the property types that you need for your property management company and how to get owner data. Then, we'll see how to craft a compelling offer, a compelling message, to convince owners to work with you. And that's Superhog CEO Humphrey Bowles who will be talking about this and we'll see, for example, how security is important in the message you're sending to owners. And finally, with Brooke Pfautz from Vintory, who's also a CEO and founder of the company, we'll see how to conduct the home acquisition. You have your data, you have your message, you have to get the message out there, we'll see how and how you can track all this to make sure you are tracking your return on investment. Without further ado, I'm leaving the place to Jason.
Jason Sprenkle, Key Data:
Perfect. Thank you, Thibault. I appreciate the opportunity to be here with everybody. I'll share my screen here. Alright. So, I'm going to talk about growth obviously, it's something that all three of us are passionate about, so appreciate the opportunity to join you guys and dig in a little bit. I've been in the space for 20 years, as a lot of you know. I kind of do growth and there's a couple of different bullet points here worth talking about. The first one is just why grow?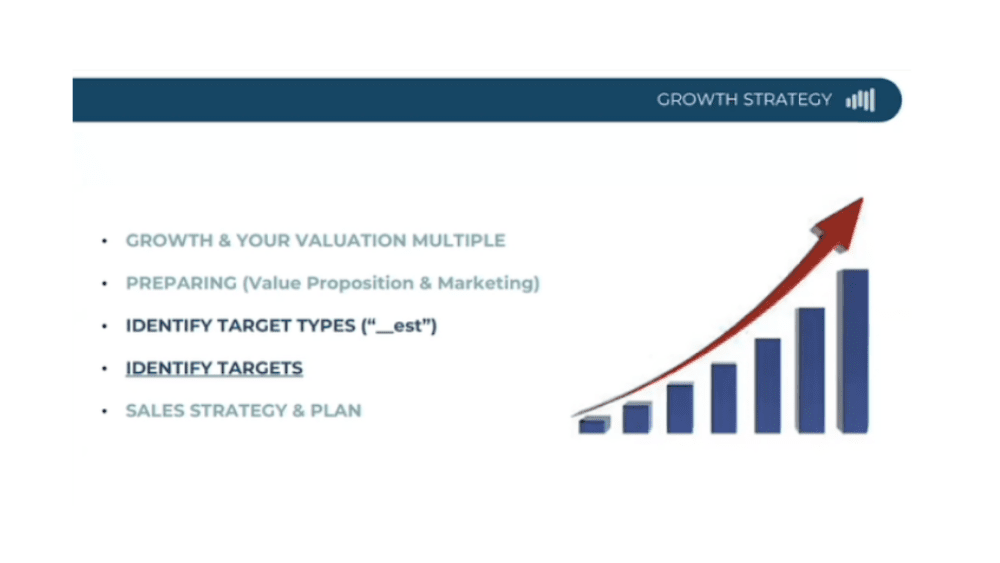 Jason Sprenkle, Key Data:
When I think about growth for a property manager, I like to think backwards from wherever the end game is. Whether you're passing your company on to your kids who are ultimately going to sell it one day or you're selling it tomorrow. When you think about the value of your company, which obviously we're in it for a lot of different reasons, but income and growth is one of them. The company ultimately is going to be valued on a multiple. It's going to be EBITDA or sometimes revenue times something, 6, 7, 8. Whatever the case may be.
And one of the core things that affects what that multiple is going to be is the predictability and size of your growth. And if you think about it, it makes really good sense. If you've got a company that's making a certain amount of revenue, and somebody's coming in to buy your company, hopefully at one point in time they will. They're trying to predict how long it will take them to pay themselves back and if your company has got a very predictable, trackable growth rate, and if it's a growth rate that's going to lead them to pay themselves back quicker, it's certainly going to increase the willingness for them to pay you more money. So understanding the data around how many properties you have each year, what the pace you're growing at is, and then what that impact will be like. Start with the end in mind. Figure out what the different multiples are based on different growth rates, do you need to grow 10% a year? Do you need to grow 40% per year? How's the competition growing? How's it going to affect the payback of the acquirer? So that you can understand what a good growth rate is and how it will ultimately impact you in the long run.
The second bullet point, and I'll let Humphrey with Superhog talk more about it, but it's just preparing. The old adage is wait until you have something great to shout before you start shouting, but business development is about shouting. It's about going and showing off who you are, bringing in new prospects, so having your house in order, you know, painting and arranging the furniture and preparing the house, before you put the sign out front, so to speak. The two things I like to focus on when preparing are just your core value prep to state the obvious and I always like to highlight marketing. Having a great looking house, having a great looking website, having your property showed off in a way is as important as anything when it comes to attracting guests. I still think even 20 years into this that people underinvest in their marketing, so I always highlight it when talking about business development. Where we have some data to share, what I want to talk about over the next few minutes is identifying what target types to go after. Which properties belong in your inventory? Because every property type doesn't necessarily. And I like to talk about your ESTs, you know, find out what your company is all about. Are you the closest? Are you the cheapest? Are you the most expensive? Or the nicest? You've got to be the best at something, or something with an EST. You don't want to just say we have properties, you want something that highlights who you are. And it may be that we have the biggest or broadest set of inventory, it doesn't have to be a specific niche, but find out what your niche is, whether it's broadest or not and show it off.
Make sure that when you're thinking about business development, when you're specifically going after target properties that fit the brand you're trying to build. The company we built we decided to go after luxury units and the more luxury units we went after, the more it became self fulfilling. The more properties of that type we attracted because the more we had. So find your niche. And then, really what I want to talk about for the next few slides quickly is how do you specifically find which targets to go after? Historically what we did is we drove around and we looked for BRBO signs and we called on the owners and we looked at the information on property appraisal websites and it's very inefficient. There's a better way to do it. And finally last but not least, once you've identified the targets, having a specific strategy to go after and that's really where Vintory comes in and the whole company is built around taking a list and really executing on it in a meaningful way. They say hope is not a good strategy and Brooke's cured that.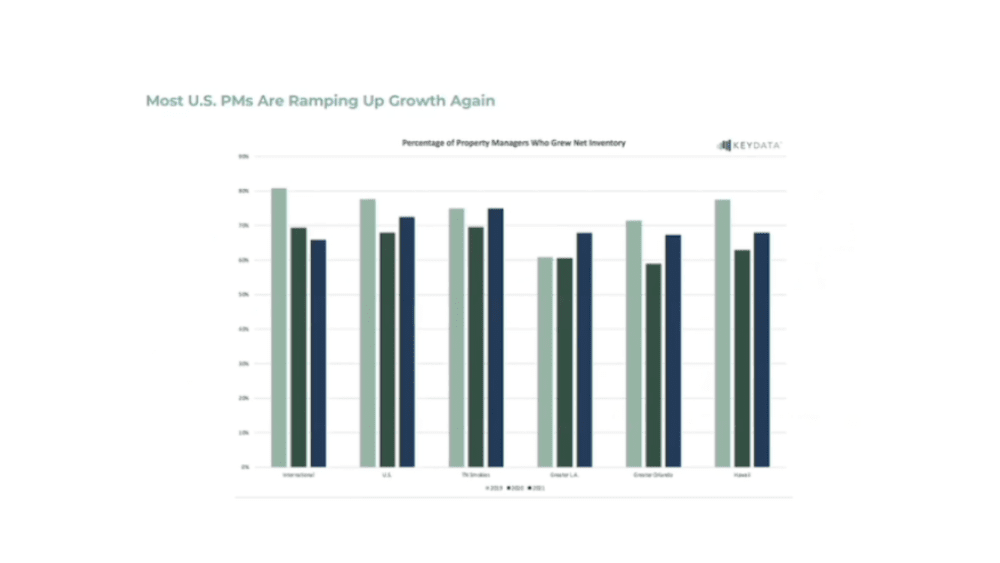 Jason Sprenkle, Key Data:
So, first of all, what does the competition look like? The answer as Thibault pointed out is that most PMS are growing. You can look at international, US, urban, leisure, you know roughly three four companies are growing and they're speeding back up. They decelerated a little bit in the middle of COVID but you can see in the middle of 2021, the pace of growth picked back up and it's pretty universal, so if you're the third or fourth that aren't growing in your market, your competitors around you are. And also if you look at the level of growth, we talked about when somebody comes in to acquire you one day, like it or not, they're going to size you up against a normal growth curve in this market looks like to see if you have plenty of room for them to grow after the acquisition.
Understanding what your competition is doing in terms of growth in your particular market is important. This is a sample of the US as a whole at about 18%. You've got some markets as Thibault pointed out supply. Supply in the urban markets is definitely down, but growth for our professional managers is up. So what inventory is there, our PMS are going after aggressively and they're certainly growing in the leisure markets where supply is growing as well. So how do you go about it?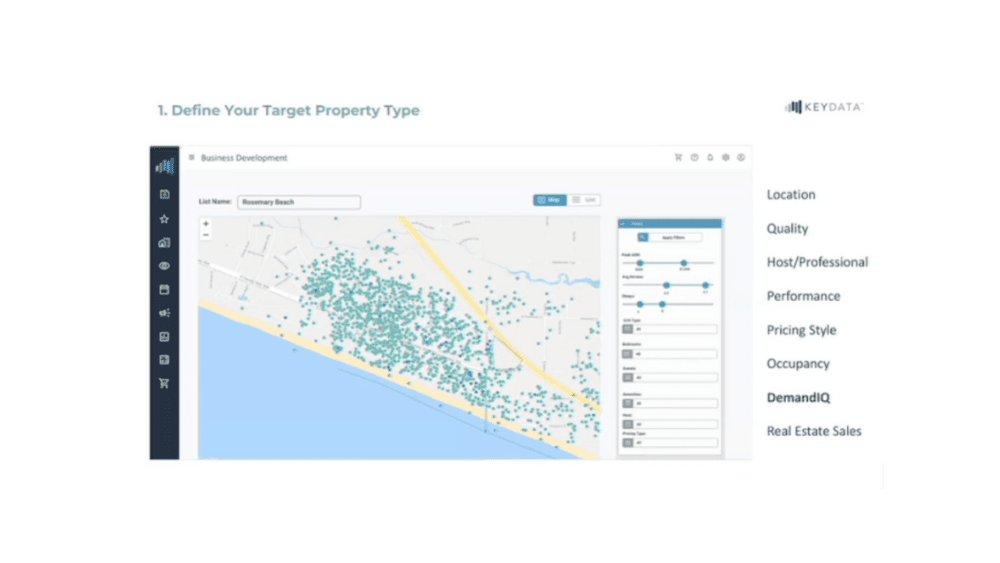 Jason Sprenkle, Key Data:
We've got this new tool, I'm highlighting it today, it'll be out in about 45 days and as always, I'll take all the feedback you guys can give me as we're finalizing this thing. But you start with where you'd expect to start. You start with a list of all the properties out there. We go out and we scrape all the inventory out there on all the major OTAs, so we start with that list and say which properties should I go after? Because it's not all of them. You can mass mail, but it's not the efficient way to do it. So a couple of things are obvious. Location. Thinking about the efficiency of expanding to another market that's 30 minutes might seem far, or an hour away. What's that going to do to your logistics? Your costs? Your time in the truck? How much to, you know, go fix the hot tub or fix the refrigerator? Or just check on a guest? It might not be worth it. But quality is one that's been very hard for vacation rentals to find. I think Booking years ago tried to put a 1 to 5 star rating on it. Hotels have the benefit of having that. We haven't had that.
We're putting a lot of data science on our teams to help you guys identify the quality of the house if you're searching for a particular quality. Some companies, southern resorts are a good one in our market, have made a great business out of being broad in their inventory. 360 Blue, the company we have, we went really narrow, so it was critical for us to go find just the high end units. Other companies have really focused on the lower end, since they want to be able to pick those out. So we're using things like the average peak ADR, which is during peak season, what is a verifiable rate that that property has achieved? And it separates a really nice house from a less expensive house and up and down the scale. Performance and hosts.
Some of you don't want to go after any particular competitors. You may have a frenemy type of relationship. Some of you do. Some of you want to go specifically after hosts that are underperforming, so just knowing how to filter by that makes it easier to identify those. Performance is probably the key one. The low hanging fruit on the tree is the property that's doing poor. It's not necessarily the nice house and maybe that's the only one you want to go after, but even within the quality range that you're going after, you want to find the ones that are currently underperforming. So, who's got a really low occupancy? A really poor weight rate structure? It's got flat rates, they're just not performing their peers should be performing. It's a great opportunity for you to step on the accelerator, knock on the door, send a postcard or whatever Vintory sends you, and say hey, we can do better than you're currently doing. We see your numbers out there on the OTA and you're underperforming. Here's the data. Here's why we know we can do better for you. So, finding properties that are in your mix, in your area, that are underperforming is some of the easiest stuff when you're thinking about business development.
Pricing style is another one. If a property is out there on the OTA and they've only got three rates for the entire year, they're definitely not maximizing their revenue. And the professionals on this call have a chance to do better than that, so you've got to reach out, get a hold of that owner and say hey, I see what you're doing but we can do better for you. Or your property manager isn't even doing good for you. It's some simple things like occupancy, ADR etc. Two that a lot of people don't think about, that we're working hard, they won't be on the first release but will be shortly after that. Those that use DemandIQ. We can see what people are looking for on your website. So, if you're consistently getting people hitting your website looking for 7,8,9 bedrooms with a pool and you don't have it, it's important to know that. That should be first on your list. You've already got the demand for it. You can go to an owner and you can say here's the demand. Here's the traffic on my website. If I had your property, I could fill it up today. So, matching your targets with your existing demand is the easiest way to fill the buckets that already exist. And then last but not least, a lot of you are chasing homes or construction permits that have just gone up for sale or have just sold. It's easier for the data to do that for you. So, use a filter, start with a list. Here's our proposition. We can make it easier to find the targets.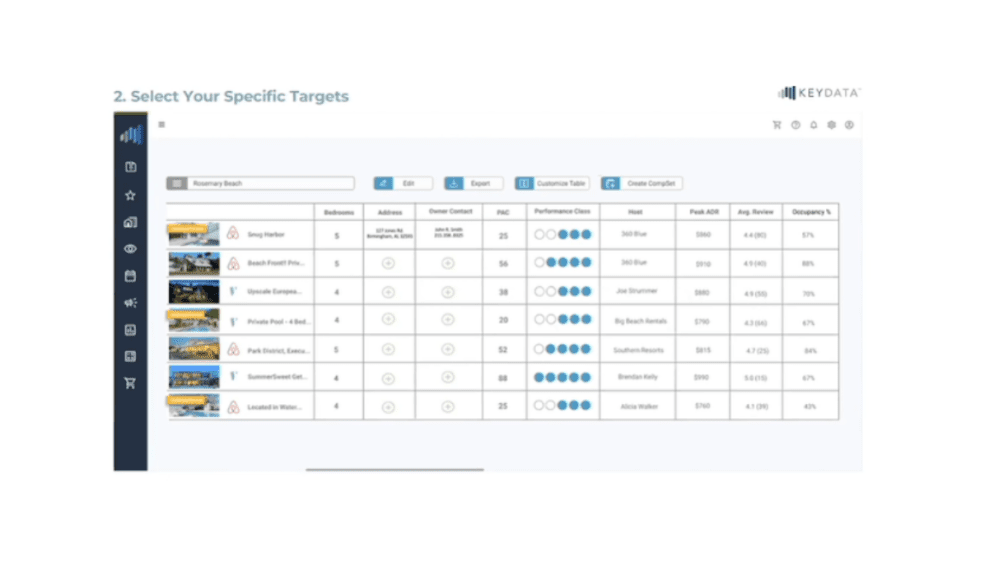 Jason Sprenkle, Key Data:
So, just two more quick views of it. Once you hit those filters and you find those specific properties, it's important to then go in and say, ok, I need to be able to find the owner so I can get hold of him. I need to know how they're performing so when I get them on the phone or send a letter to them, I can know what message to send to them. It's a message to say that you have an incredible home and that you fit perfectly within our product suite, or is it that you're underperforming and that your rates are too flat or whatever the case may be. Or you're a host and we're a professional, right? Understand who your target is so that you know what to message them with and you'll get a better response. Are their reviews really poor? Do they have a lot of cleaning problems? That's something that you may have as one of your areas you can really highlight in the call, or in the email or in the message that you send out. Map view. The same thing. Just a different view of it. So, our plan with this product is to just make it easier to know who to go after and make it easier to go after them. You can track notes here. Do it the easy way. A lot of you just want the list and you pick up the phone the old fashioned way, but the pros are out there using companies like Vintory to really dial in and come up with a plan. Again, like I said, hope is not a strategy and notes will help, but having a real fine tuned plan to go after these targets once you get them is, I think, the better way to grow and keep up with your competition.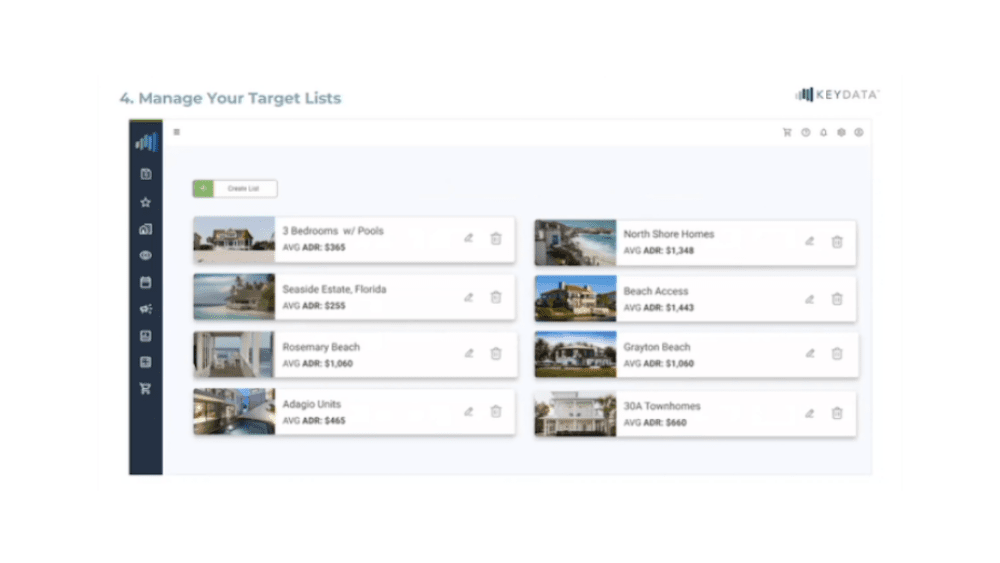 Jason Sprenkle, Key Data:
And then just recognizing that you've got different lists you're going after and so being able to do something as simple as managing the go front homes you want to go after, the ski in ski out homes, the large homes, the poorest performers, right? So that you can start to break down different lists with different messages. So, we encourage you to get your house in order, know who you're going after and then use a pro tool to go after them. Thank you for your time today.
Thibault Masson, Rental Scale-Up:
Thank you, Jason. I was looking at all this data which is great. I really like that you showed the scaling, the growth and things, but what if I just want to stay as I am? You hear property managers come to you and say, you know, I'm just good as I am. What do you have to say?
Jason Sprenkle, Key Data:
Yeah, that's a great question. We get a lot of that. I'm at 100 properties, it's an efficient spot for us, I'm really comfortable staying here, I don't want to grow anymore. It's obviously ok to do that if that's what you choose, just do it with the knowledge that it does impact the value of your company significantly. If somebody's going to pay you, 3 or 4 times your EBITDA it's typically because they think it's going to take 3 or 4 times to make it back if your revenue is flat. You can only squeeze so much more revenue out of those properties that you've got and then you're going to hit a ceiling. So when companies are coming in to look to buy other companies, they're looking at TAM. What's the opportunity? And the opportunity peaks out pretty quickly for the inventory you have, particularly if you use a few and then you lose a few. The way to make the opportunity for an acquirer look bigger is to say hey, you can grow this thing and the way to show them that is to grow it for a couple of years in a row. So they say oh this thing has already headed in the right direction. Keeping it flat and then hoping that somebody else will decide they can grow it later, it just puts a lot more risks on them and so they pay a lot less. Efficiency is good, same size is ok, but just make sure you're not doing it in a vacuum. You understand the impact.
Thibault Masson, Rental Scale-Up:
Thank you, Jason. Once again, you are the founder of Key Data. And now we're going to talk to another CEO before we find you again at the end of the debate and the Q&A. Again people if you have questions for Jason, do leave the questions if you want in the chat or ask at the end. Humphrey Bowles is the co-founder and CEO of Superhog. And for Superhog, what's going to be important is that we're going to be talking about this next phase. Now, you have the properties and can find the owner data, what are you going to tell them? How do you craft the best proposition possible? And why is security so important to that topic?
Humphrey Bowles, Superhog:
Thanks so much Thibault and thank you everyone for being here. So, yes. I'm Humphrey Bowles and simply I'm on the mission to solve the trust and protection gap of hosts and guests around the world. Superhog is an award winning globally established Trust and Safety SaaS platform providing fraud, ID verification, user screening and insurance. I think it's worth saying two things quickly before I get accused of vensplaining . I have started an insurance company focused on peer-to-peer marketplaces. And before that, I spent 5 years at onefinestay in their commercial team growing their inventory base. So, for every one of those 5 years, I basically woke up asking myself this very question we're discussing today and then the rest of the day trying to execute it. Sometimes well, sometimes not so well. So that is a little about me. Now the first thing I like to do is introduce you to something I like to call the PM Paradox. The second is taking a more professional approach and the third is host experience equals efficiency and convenience squared.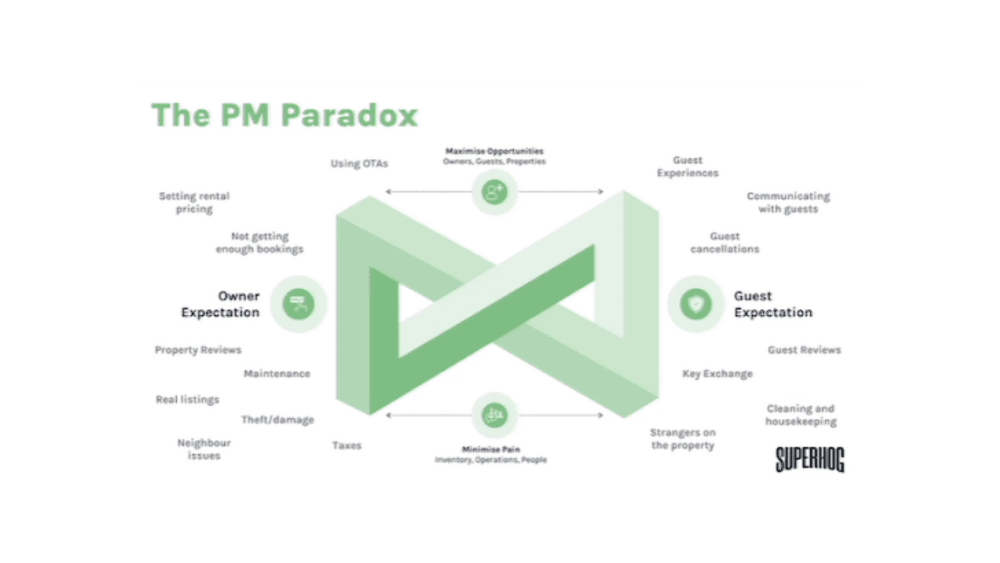 Humphrey Bowles, Superhog:
So, the PM Paradox is something which I really enjoy discussing because it sets off what the owner expectations are from the property managers against what the guest expectations of a property manager are. And what it aims to be is or what we certainly aim to be is to always be the best, because if you're building the most compelling proposition when you are talking to new owners, they are going to be drilling down into the questions around how are you going to manage my property? How are you going to run the ship? Now, the first thing that every owner asks is how much money can I make? So, the answer to that is not simply just occupancy. It is around the operations. It is around the tools that you use. It's the technologies that you bring in to play. And I think it's very telling looking at different property managers from different companies and looking at the different technologies that they incorporate. Whether it's cleaning from the likes of Properly. Whether it's remote guest management from people like Operto. Whether it's when we go on to trust and safety, you know, it's installing great tools such as Noise Aware, which all bring out really what the trust that the owners have in the property manager to then hand over their property and say yes, I think you're going to be able to go out there and win me this business. So when you're mapping the PM paradox, you've got on the one hand the ability to maximize the opportunities, so that is really the income for the owners and their properties. Then for the guests, it's also around being able to take advantage of upselling to those guests when they're present. And you know, whether or not, you share that revenue with the owners is up to you but one of the things that I found is that being open to that is a way of exceeding owners expectations of being able to deliver them a better service. Then on the other hand, you are looking to minimize pain, both for the owners and for the guests. This can be difficult and complicated and is not straightforward, but there are a number of things which sit within the PM Paradox which pull you from one side to the other. So like Jason was saying, really focusing on your niche, really focusing on what you're good at and looking at what the wider market is providing is going to really help you differentiate what you're doing and ultimately, help you be the best. Now, it's quite intimidating in some ways looking at how many things there are to become proficient at from the get go, but it's also amazing the number of tools that are out there.
Now, when I move on to not depending on luck, you know, all of those things you don't have to do anything with. You can just let it roll and it would be fine and I'm sure 9 times out of 10 it will work totally fine, but it's then when it catches up with you that you can begin to look a bit foolish. And I've found speaking to many owners that being able to answer their questions clearly at the start and then being able to follow through with them was one of the most important things that I did.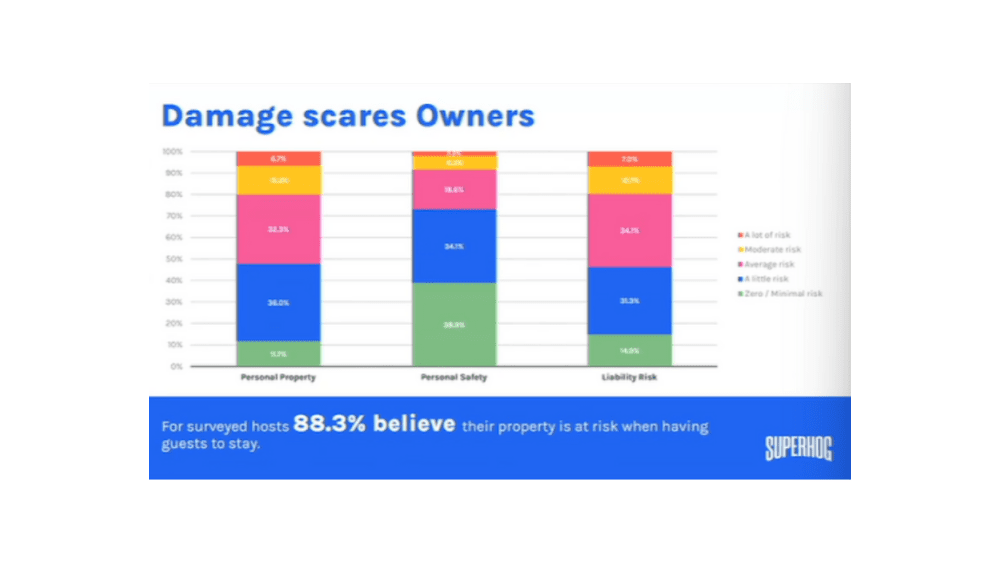 Humphrey Bowles, Superhog:
So clearly where I'm coming from is looking at damage so forgive me for straying into that territory now. Now I know that the second question hosts ask after how much money can I make is what happens if something goes wrong? And you only have to look at some stats like this to see where that question is coming from. 88.3% of surveyed hosts believe that their property is at risk when having guests to stay. You can actually take that and then transpose it going forward as well because if those guests turn up and damage the property, then it's also going to affect future income on that property. It only takes one bad booking to have a serious knock on consequence.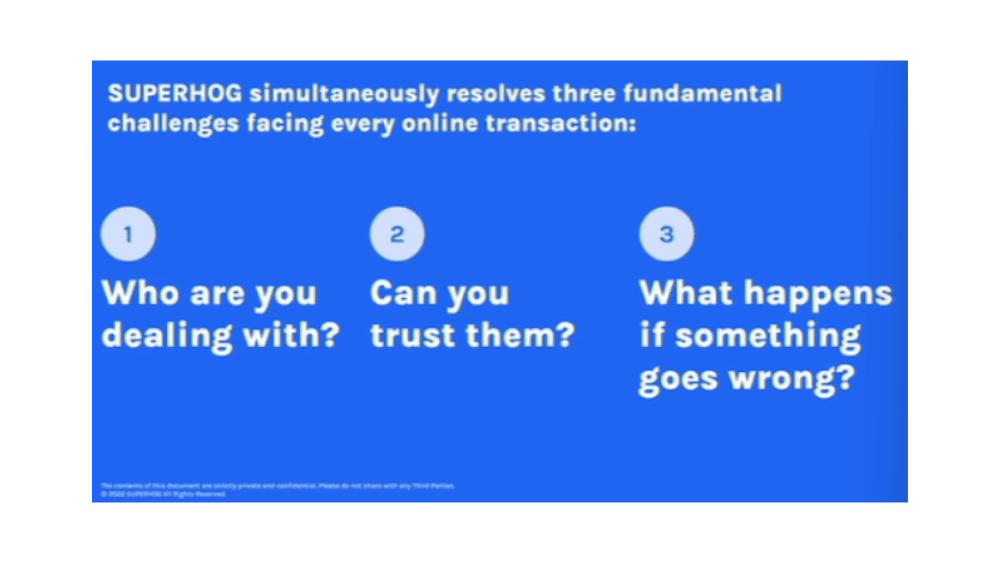 Humphrey Bowles, Superhog:
So from the point of view of where Superhog is able to step in and help. We're able to help answer three questions simultaneously, a challenge with every online transaction. First, who are you dealing with? Can you trust the guest? And what happens if something goes wrong? And that also works out if you're speaking to your owners. You are going to have to prove to your owners that they know who they're dealing with and that they can trust you and that you know what to do if something goes wrong. It also affects the relationship you're going to have with your guests going back to the PM paradox. You need to be able to show them that your listings are not fraudulent. It's a big issue at the moment. The number of fake listings that exist up on the OTAs. Being able to convince guests to come and spend their hard earned cash with you is something that's going to become harder and harder. In order to be the best, you need to be able to answer questions and this is just one example of how you can use technology to do that.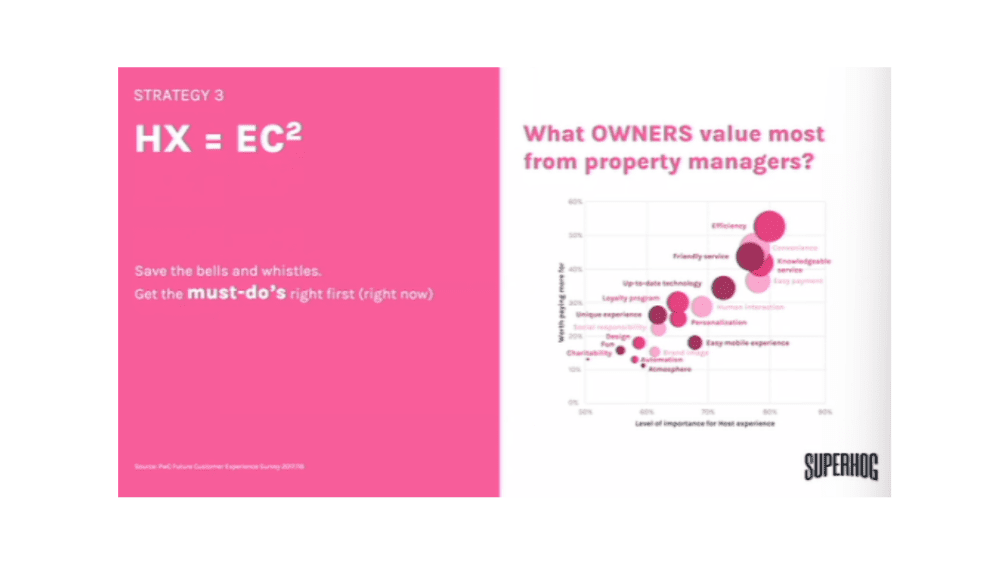 Humphrey Bowles, Superhog:
So why should you make some of these investments? Why should you look at plugging in to what you provide? Well, I think it comes down to what the host experience is. What the owner experience is. What they are looking for. Now, efficiency and convenience are two highly sought after things for owners. When you look at metrics about why owners choose property managers, what they're really focusing on is are they going to give me a return? Are they going to look after my property? Are they going to maximize the potential that I think is there. Are they going to do a better job than I can? And those things, efficiency, convenience, a knowledgeable service, a friendly service are totally up in the right hand corner. Those are the things, the simple things to get right. Interestingly, using up-to-date technology is a brilliant way to build trust in order to win contracts. It's putting all these things together which enable you to then go into these conversations and really stand out. So thank you very much, I hope that I left time to answer questions. Do you have any?
Thibault Masson, Rental Scale-Up:
Yeah Humphrey, I have one for you in the sense that and you alluded to this, owners are afraid of property damage, but imagine reaching out to owners to convince them to work with me. If I start talking about damage, am I not going to scare them off?
Humphrey Bowles, Superhog:
Again, I think that's a great question. I mean, I came to the conclusion that the ideal verification process with access, the guest likelihood of causing damage and their likelihood and ability to pay for any damage. I think what Superhog is able to do allow hosts to answer those two questions before the booking goes ahead and at a very low pain point for the guest. By low point, I actually think it's a beneficial point for the guests, so rather than the guests having to put down an actual $200 or $500 deposit, Superhug can provide that on their behalf so you don't even have to ring fence their card. That actually enhances the guest experience. I think you're able to save on the pain of having to handle the deposits, you're able to build an opportunity to give the guest a better experience and from an owner's point of view, you're actually able to help them only have the best guests come and stay.
Thibault Masson, Rental Scale-Up:
Thank you, Humphrey. Great idea also not only to address the owner but also the guest experience. Now we know where to target, the property types we want, what we want to tell property managers, now it's time to run the campaign itself and we have another CEO with us, Brooke Pfautz of Vintory, who's going to take us through how to build and launch an omni-channel marketing campaign. Brooke, take it away.
Brooke Pfautz, Vintory:
Thank you. First off, can you see my screen alright, Thibault?
Thibault Masson, Rental Scale-Up:
Yes. Perfect.
Brooke Pfautz, Vintory:
Great. Well, thanks everybody and excited to be here. Just a quick bit of background about me, I've been in the vacation rental industry for about 14 years. I really spend the majority of my time in inventory acquisition and growing companies. I kind of stumbled into this business, like most people do, way back in 2007 and founded a company called Vantage Resort Reality and grew that company pretty quickly. We grew to around 500 properties and 100 management in around 5 years. I then exited that business and sold that business in 2013. Then I held some various other growth roles with other companies so I've really spent the majority of my time really focused in inventory acquisition. This is something I really enjoy and built something for us to be ok at, so I really enjoy talking about this topic. So what we're going to talk about today is how to build and launch an omni-channel marketing campaign. So Jason talked about the data side of things, how you target your targets and identify them. Humphrey talked about how to differentiate and how to make your company stand out and position it differently than anybody else. And then last, we're going to talk about how to execute that omnichannel approach.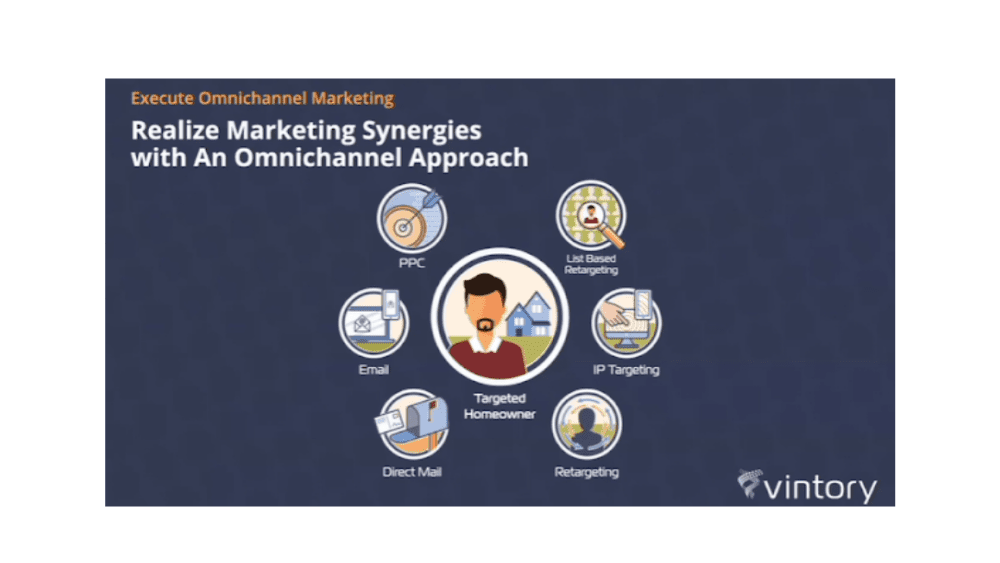 Brooke Pfautz, Vintory:
This is what we're going to be going over today. We're going to talk about this omnichannel approach. Vintory has built a CRM and software platform, but at the same time, we're also a full sales and marketing agency and we execute this omnichannel marketing strategy you see here on behalf of our partners. In fact, we've done it for close to 300 different companies, so we've got tons of data on what works and what doesn't. We get to see an aggregate and we're continually learning, continually getting better and better and better. And we're deploying that back to our partner base. First off, why omnichannel? It's really because when you combine all these strategies it has a compounding effect. It's the definition of synergy, it's 1+1=3 and the old days of sending 1 postcard per year, they are long gone and those are for yesterday's managers. Today's top vacation rental managers are executing this proactive omnichannel marketing approach that you see here and by doing so, it has that boost effect on all the other campaigns. So what we're going to do is we're going to break down each one of these into their own hacks and go through them so let's get started with direct mail.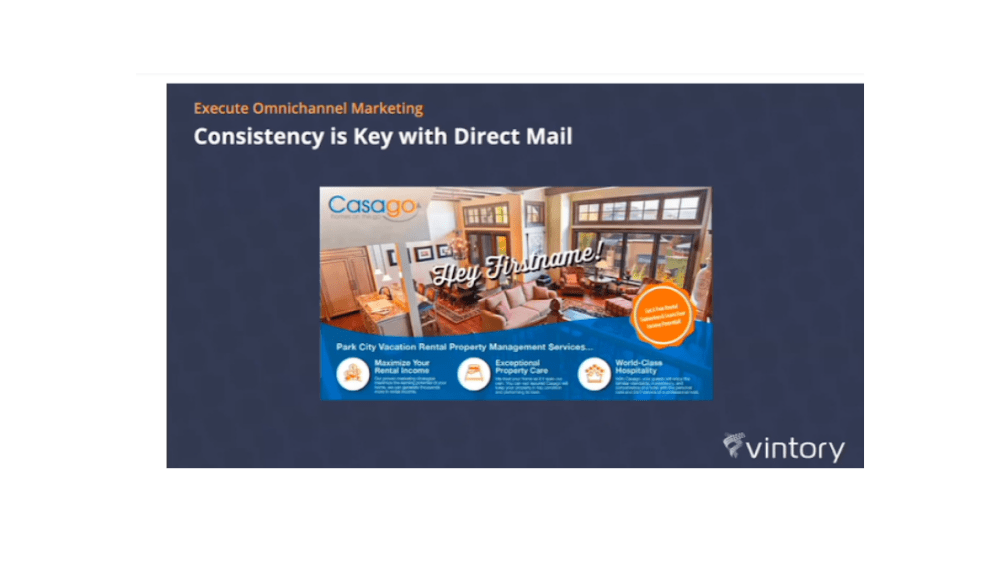 Brooke Pfautz, Vintory
We're in this digital world, but guess what? Direct mail is not dead. The vacation rental industry is one of few industries where direct mail still works. So Brooke, what are the hacks? The first one with direct mail is consistency. And I'm going to say it again, the key is consistency. I'd much rather send 1,000 postcards six times to the same target than 6,000 postcards all at one time. Why? There's this compounding effect. Again, we've run marketing campaigns for tons and tons of companies and we see all the time that for the companies that are running campaigns consistently, it works. Time and time after another. But the partners that we have that they send one postcard and then they stop and then 6 months later, they might send another one. The sporadic non-consistent method doesn't work and then they end up canceling. The key here is consistency, consistency, consistency. The ROI is there, the math pencils out. The other thing to do with direct mail is you've got to include some kind of compelling offer, right? A compelling offer is something that your lead just can't resist. What are some of the things that make the best compelling offers? It's offering great value, deliver a discount or a premium. They have urgency, they require an immediate response. There's a strong call to action. You want some sort of bullet proof guarantee and then risk reversals. Also, I'd recommend you to try something different. Don't just do postcards, vary it up a little bit. We've had a lot of success with these handwritten notes and you'd never know that they weren't written by a human. We actually have 12 robots that do nothing except write these notes around the clock. Guess what? They don't call in sick, they don't call in hungover. They deliver every single day. And here's the thing, even if you're not a Vintory partner, there's other companies out there like this that do this. There's one called handwrytten.com. Handwritten but with a y. You can employ these handwritten notes and it just definitely gets your attention. The letter will definitely get picked up.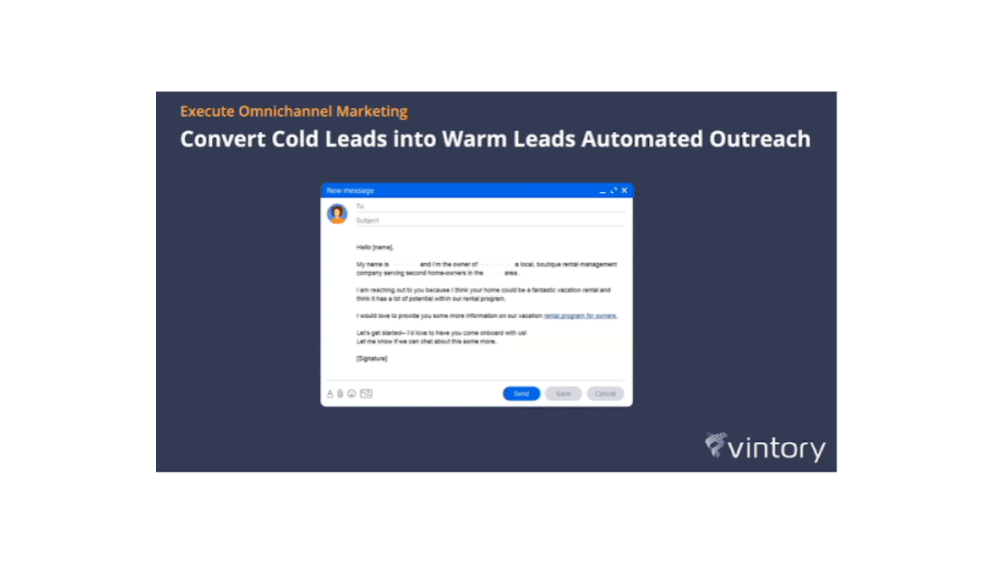 Brooke Pfautz, Vintory:
The next strategy we're going to talk about is really about email. It's how you convert those cold leads into warm leads and new leads into hot leads. So, the hack here with cold email outreach is two fold. First, and most people aren't very good at this, but if you don't excel at writing direct response copy and there's definitely an art to it. Less is more. Hire a great copywriter and you can find them at a couple of different places. I'm a big fan of UpWork and Fiverr. UpWork and Fiverr are freelancing websites. You can find anything you want there but if you look for direct response copywriting, you can find people on there. But you want to get somebody that's a pro at this and have him or her write a copy of C&P templates for you, again, that are designed to convert. That works really well. The other thing we do is you really want to automate those cold email outreach services. Don't use your MailChimp. Use something like Mailshake or Lemlist. These software products are designed from the ground up for cold email outreach and they're going to ensure your emails are getting delivered to the inbox and they're not marked as spam. When you're purchasing data lists, the first item you want to do, or if you partner with someone like Jason at Key Data, you want to make sure you're getting emails and phones on your mailing list. There's a couple of different spots throughout this presentation where I'll talk about why this is important but this is one of them. This was actually a huge surprise for me, but cold email outreach works. People actually respond to these. We have a partner in Hawaii, the first email campaign we sent out, he landed two deals. And the average gross booking revenue was per property was about $100,000 so he generated $200,000 in gross booking revenue from one email campaign. And we see time and time again, it definitely works.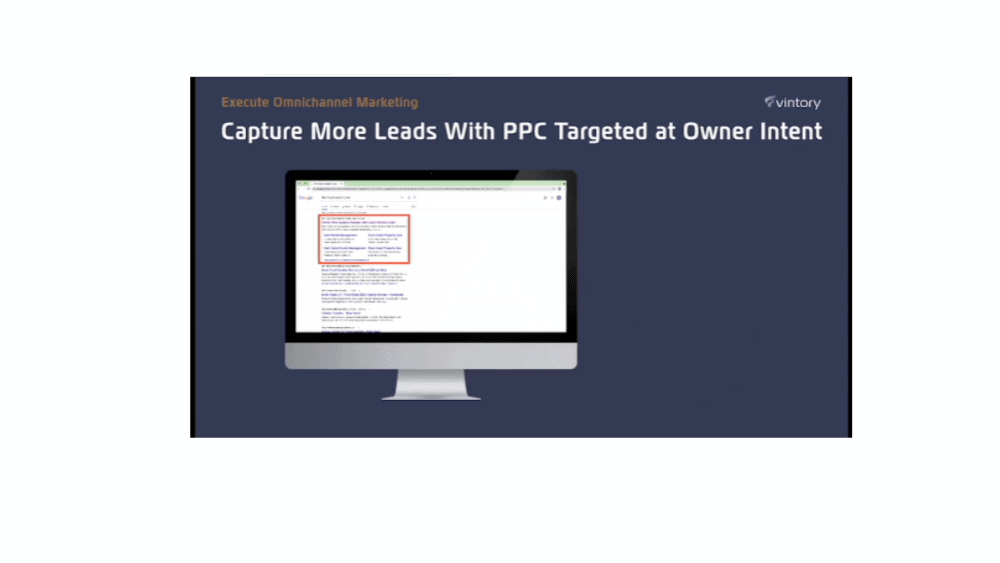 Brooke Pfautz, Vintory:
Alright, the next thing we're going to talk about is as part of that omnichannel marketing strategy is pay per click. What's the hack here? First up, you want to cast as wide a net as possible but you have to know the right key terms. Here's the thing. Paid search traffic can be great, because it really has high intent and a person is looking to take action. The downside of this scenario is that the overall search volume is very low, so you have to cast as wide a net as possible. So at Vintory, we have a full visual marketing team and we've researched and tested the best 50-70 unique keyword concepts to bid on for paid search. Here's the thing. You don't have to just hire us. You can use tools, I'll literally give you the playbook. We use Ahrefs and SEMRush. These are the tools we use to build out what those keywords are. Alright, so the hack is again just to summarize, you want to leverage tools like these to find those long tail keywords and make sure you're casting as wide of a net as possible. I am going to go off script a little bit here, but the key too though, is that you want to drive all this traffic to a really well designed landing page. You can't just send them to your website and then they're lost and they're looking for where to go. Design a really good landing page. If you don't have a really good web designer, there's a couple of different ones out there. There's Unbounce. Unbounce is a great page builder that you can use which has landing pages that are designed to convert and capture those leads that come in.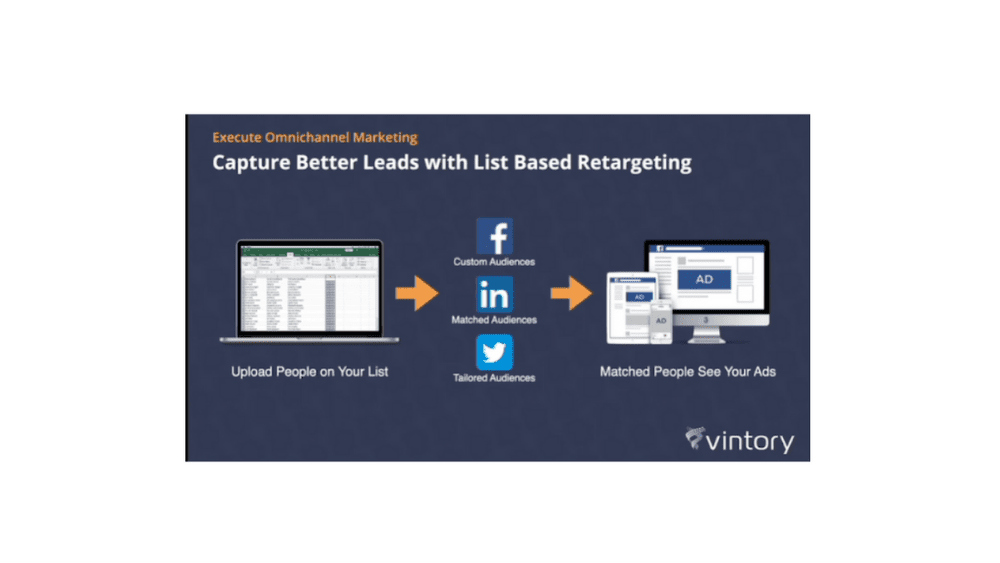 Brooke Pfautz, Vintory:
Alright, so another visual advertising hack is to use what's called list based retargeting. Most people haven't heard of that way, but it's also known as custom audiences within Facebook and Instagram. So, list based retargeting has been a game changer. So previously, the only way you could get in front of your prospects targets was through direct mail. But now, with list based retargeting through your Facebook, or you can even do it through your Instagram, LinkedIn and Twitter, you can actually serve up your display ads directly on your targets. So not triangulating or like you think this is a lookalike audience, I'm talking about serving it up directly to your targets. Alright, so how do you get started with this, Brooke? The first thing you want to do is establish your target list of properties you want to go after. You then, this is why it's so important that you get that email and phone up hand for these owners, if you don't have it within your list, you can find companies out there that allow you to email or phone uphands. If you have that information, you can upload that list into Facebook, LinkedIn and Twitter. Then, you serve up those display ads directly at your targets and again, this is a game changer and what's great about this is that if you time this with your other marketing efforts like direct mail, you're going to get that boost effect with your other marketing. So typically what we do for all of our partners is we're going to run list based retargeting about a week prior to targeting and doing the direct mail so subconsciously, they're recognizing you. They've seen your ads on Facebook and then instantly they're getting a direct mail piece in their mail box. Now there's tons of moving parts to something like this, but there's a lot of self serve software tools out there, a marketing advertising platform called AdRoll or shameless plug, obviously you can hire a company like Vintory to deploy it for you.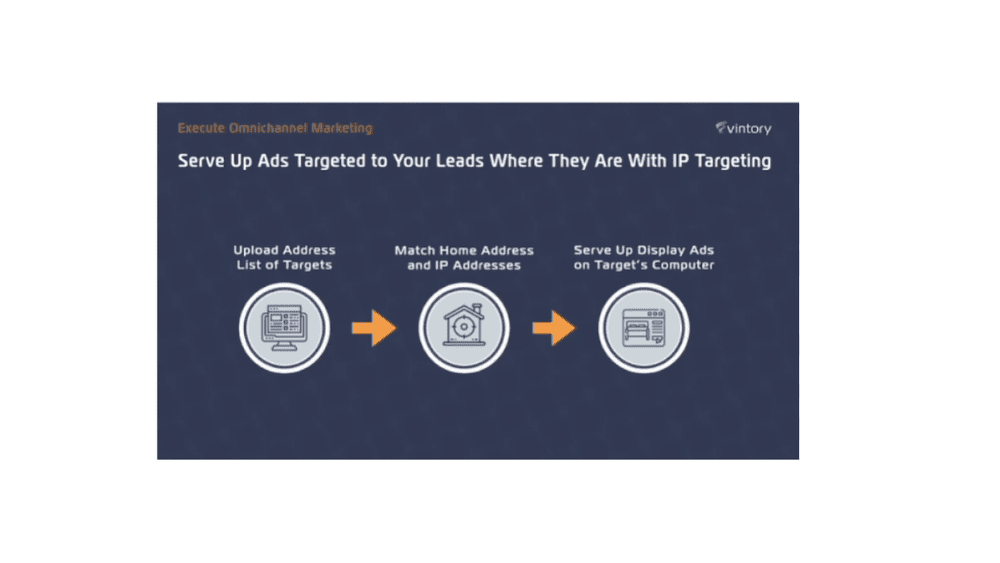 Brooke Pfautz, Vintory:
Alright, another way you can target your perspectives digitally is through IP targeting. It's great, like I said, when I had Vantage in the early days, I mean all we were doing was direct mail and partnering with realtors. It's so nice now that there's so much of these digital sources out there. So, IP targeting. What is IP targeting? IP targeting allows you to serve up display ads directly on your prospective owner's computers as they surf the web as we talked about before. As we mentioned before, in advance of doing any direct mail, you're seeing your contact information, your ads in advance. The same thing here. So millions of different sites out there like Weather Channel, ESPN, CNN, you name them, they're out there, even local news sites. Alright, so how do you do it? Step one you want to upload that list of your targets to the IP targeting software, it then matches your home address with the IP addresses, it then serves up the display ads on the target's computer as they surf the web. So literally if the CIA ever got into marketing, I think this is probably how they would do it. Between this and list based retargeting, for the first time ever, we're able to push out digital marketing to targets without having them go to your website first and cookie them. That used to be the only way you could do digital marketing was by making them come to your website, cookie them and retarget them but this is a big deal. I mean, with the exception of these large bencher back companies, almost nobody is doing this but now it's totally doable for little guys too. Alright, so here it is. I'm going to give you the playbook. A couple of different companies allow you to deploy this. Simplifi and Adcellerant and again at Vintory, we deploy this for all our partners too.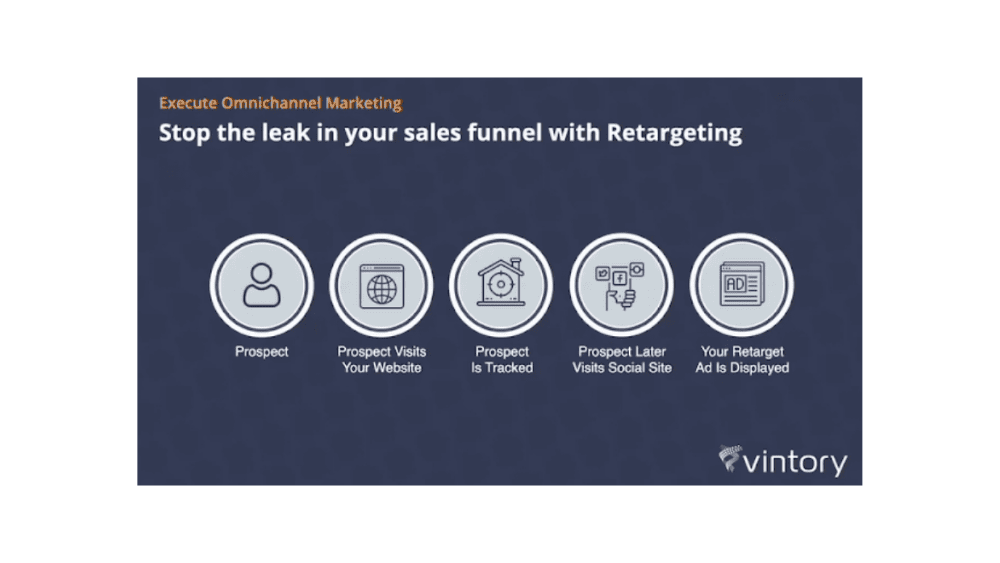 Brooke Pfautz, Vintory:
Next one is all about retargeting. So what if I told you, I would say close to 80% of the property managers out there have a leak in their sales funnel? They've got a leaky bucket. Well, guess what? It's true. We've secret shopped over 100 vacation rental manager landing pages and when we leave that page, the vast majority do not have retargeting ads that bring us back. And honestly, this worries me because we know even the best performing landing pages out there, 80 – 95% of traffic doesn't fill out the form. So you want to do whatever you can to bring them back, nurture them, capture them as a lead. So my hack is two parts. First, be sure you have leverage retargeting on your property management page. Again, most people are not doing that. Second, use Google Tag Manager. Google Tag Manager is going to centralize your remarketing tags and pixels. It's an easy sign up process. It manages all your remarketing tags in one simple app. It'll save time. You're going to see all your results in one place.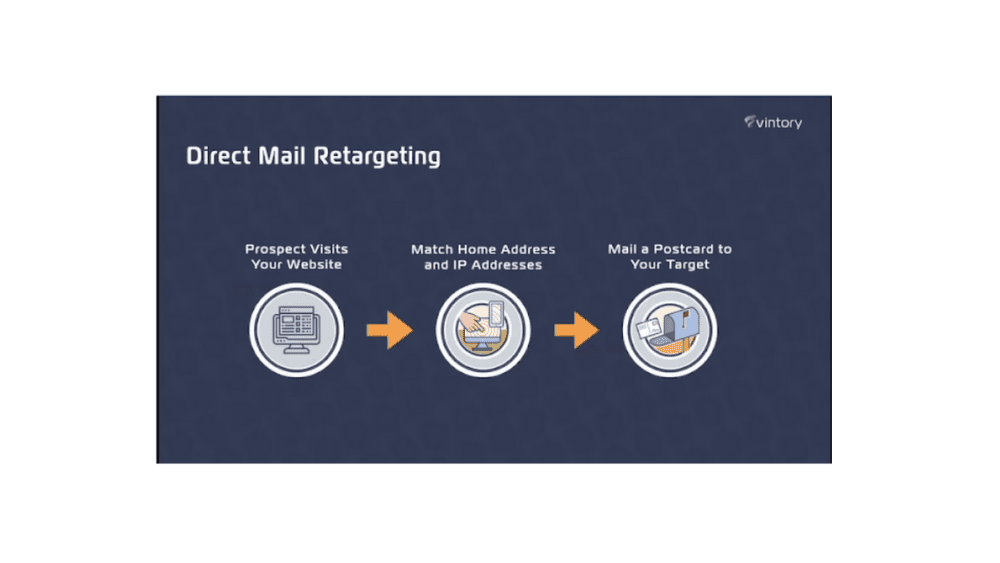 Brooke Pfautz, Vintory:
So if you really want to be a baller, do what's called direct mail retargeting. You now have the power to send physical print postcards to prospects who visit your website before they even give out their contact information. Before they even fill out a form. This is amazing. Here's how it works. It works where you match the person's IP address and when they come to your landing page, assuming they don't fill out that form, you can automatically send out a specific direct mail piece to help them convert. So again, it's all about nurturing them and bringing them back into the funnel. We've been testing this with a couple of Vintory partners and the initial response has been fantastic. And I actually totally plagiarized this idea from Wayfair. I was shopping for patio furniture that I didn't buy. 3 days later, I had a postcard in my mailbox with the exact patio furniture I was looking at with a little coupon on it. And guess what I did? I ended up purchasing that patio furniture. So this works, we've been testing it and it works really, really well. I highly recommend testing it out and trialling it out, again it's all about trying to bring back that traffic that's already coming to your landing page. And that is how you deploy a marketing campaign that will help you grow your inventory.
Thibault Masson, Rental Scale-Up:
Thank you, Brooke. Quick question from Rachel, a reader question about retargeting. With your retargeting, what would you say is the minimum database number that you need for it to be effective? The minimum is 100, but the target's getting so ineffective because it's too small to get real insights. What do you think?
Brooke Pfautz, Vintory:
Yeah, that's a good point. Well, here's one thing. If you go direct, and here's another hack, if you go direct to Facebook or LinkedIn and some of these companies, if you have a small database for list based retargeting. They're going to say it's not going to work because you don't meet the minimum standards. Now, Facebook is definitely loosening that up because folks are getting crushed because of the Apple iPhone security release. But if you use AdRoll, you can do it with very, very minimal emails because what they're doing is they're bundling with a wholesaler, a whole bunch of different companies together and doing it for you. So you can do it with a very minimal size with AdRoll.
Audience question:
Am I allowed to speak?
Thibault Masson, Rental Scale-Up:
Go ahead.
Audience question:
With AdRoll, do you mean like GDN?
Brooke Pfautz, Vintory:
AdRoll is a company that manages these campaigns, these list based retargeting campaigns.
Audience question:
Ok, I'm in New Zealand so maybe not here.
Thibault Masson, Rental Scale-Up:
Alright. Brooke, maybe if you can stop sharing your screen. And we'll start to debate because there's probably risks or things like for example, Brook, you've shared all the things you could be doing to create this omnichannel marketing campaign. Looks like a lot of work, so how realistic is that for a small property manager who's never done this before to tackle this?
Brooke Pfautz, Vintory:
Well, yeah that's a great question. I mean, of course you can build it out yourself, right? You know, and build out that team. You obviously can do it yourself, it can get expensive hiring copywriters and graphic designers and digital marketing pros and things like that. You can hire more of a utility player, you can hire one generalist to help you with it. I'm a big fan of outsourcing stuff. I think I mentioned earlier, there's freelance websites out there like Upwork and Fiverr. It's funny, if you look at a lot of our team, most of them started as a freelancer that I found on Upwork. And then we just cranked up their hours, cranked up their hours. Next thing you know, they're working full time for us. It allows you to grow with them. There's another company out there called Extenteam, they work just for the hospitality industry and vacation rentals and we've leverage. We have about 10 people on Extenteam on our team. Or, there are sales and marketing teams out there that you can hire to do this so if you don't want to spend on their salaries and things like that, and shameless plug again, you can throw it over to Vintory and we can do it all for you if you want.
Thibault Masson, Rental Scale-Up:
Jason, I see you smiling. Thank you for your insight first, Brooke. Jason, what do you think about all this? Again, what we've seen? Do you see any kind of frequent mistakes or risks people are taking they should not be taking?
Jason Sprenkle, Key Data:
Yeah Brooke and I have been geeking out on this stuff for a long time. Since way back when I had a vacation rental company and one of the things I wanted to point out that ties back to Rachel's and again, easier to get away with some things from a privacy standpoint in the US than outside the US. Most people here are from the US. The tool that I see most underutilized are the two that Brooke mentioned. One is the IP targeting and the other is the postcard remarketing. And here's why they're both so beautiful, let's say you've just identified 20 targets to go after, like forget the massive campaign for a second, you've got 20 houses that fit your niche. The high end properties you want to go after, they're the ones in the condo where you're performing the best and you want to go get them.
Once you've identified those owners, there's two plans of attack if you look at Brooke's list and boil them down to their essence. One is you go knock on the door. You do that through a lot of different ways, email campaigns, phone calls, whatever, postcards right to their email box. That's great. But the other one is these other two that are much more subtle, where you effectively knock on their door in a way where you don't know that they're knocking on your door. You put a post on their webpage when they haven't even talked to you. And they're three, four states across the country, even though they have a property right down the street from you. They think you're marketing to the whole state. You know, 18 or 19 states away or they think you're everywhere, you're reaching everyone. But truth be told, you've just done marketing to this handful of people on your target list. It's not so direct and so obvious. It's the same thing when a postcard lands in their mailbox. You haven't reached out, again, they're not shouting at you by name so it's a really subtle way to catch an owner's eye because at the end, they're trying to judge you as a property manager on your ability to attract guests and if you look like you have a massive wingspan and you're marketing everywhere, before you knock on their door, you're going to have say that's kind of strange, I've seen their ads everywhere and then you knock on their door. Guys like Brooke have really mastered that. We talked about it, like I say, back in our day but there's some technologies that people just aren't using. You've seen a ton of email campaigns so think about the others on the list. They're very powerful, in part, because they're not used very often.
Thibault Masson, Rental Scale-Up:
Thank you, Jason. Humphrey, anything you may want to add? Again, on let's say risks or hidden costs, whether people should do this or not or mistakes being made in terms of home acquisition in the messaging or the way security is being used for example?
Humphrey Bowles, Superhog:
I think it's tough. You know, if there was a really simple answer to this then there would be some pretty big property management companies out there. I think I can certainly vouch for Vintory, I know that some of our customers use them and they are totally outsourcing their business development to them. And you know, those guys are pros. I would definitely, definitely give that a go and give it a trial. I think now to say something nice to Jason, I think that data is just so crucial in today's world and being able to identify those properties is so important. And you know, all you then need to do is have that compelling proposition that what you are doing is better than the next property management company and I think that that is a really difficult question to answer. I think a lot of people can bullshit, but how do you demonstrate it and that's what Superhog does. It actually helps them demonstrate that you are better because you're using technology to do something that is impossible to do at a personal level.
Thibault Masson, Rental Scale-Up:
Thank you, Humphrey. And speaking of better solutions, what's great is that the three of you actually have an offer that you're giving to the people attending this conference and thank you again on their behalf. I'm going to read the offers exactly so I don't get it wrong. So the three of you have a package offer in a way but people are of course, free to explore what they want from any of you. So the three of you are offering a free trial, because that's the best way to experience a product with a 60% day free trial from each of you. To redeem this free trial, this is what you do. If you go to the Key Data website or to Superhog website, you just use the code RentalScaleUp. Just as one word. And it will get you a free 60 day trial. Right Key Data website or Superhog website. Jason, Key Data, have you got the website exactly to use? So I don't get the website wrong?
Jason Sprenkle, Key Data:
Yeah, just keydatadashboard.com.
Thibault Masson, Rental Scale-Up:
Yes, exactly. And Superhog is Superhog.com. That's easy. And for Vintory, Vintory is also offering a free homeowner marketing list with up to 500 records and a free home owner landing page. To find this offer, just go to Vintory.com/rentalscaleup. You'll get all these codes, the right links in the email I'm going to send you with the replay. Again, I'd like to thank everyone for attending this conference and of course to the speakers. Brooke from Vintory, Humphrey from Superhog and Jason from Key Data Dashboard. Thank you gentlemen for your time and for your insights.