(April 14, 2022 update) After much uproar on social media, in the trade press (see our original article below) and inside its own Online Host Community, Airbnb has chosen to take action by removing one of the main contentious points from its new Rebooking and Refund Policy.
What is remaining: The increase from 24 to 72 hours of the time window during which guests can report a "travel issue" and potentially get a refund from their hosts.
The wording about Hosts having to pay for rebooking the guests is going away, but Hosts will be sanctioned in another way in another update
What is going away:
Airbnb says that it is removing this language: Where Airbnb incurs costs in assisting a guest with finding or booking comparable or better accommodations, the Host will be responsible for, and Airbnb will have the right to require the Host to pay or otherwise reimburse, those costs in addition to the amount of any refund.
Airbnb says that "although this language has been part of our refund policy since 2019, we don't use it in practice."
Is it over? Not really. H"éere's what Airbnb is adding:
In the near future, we will address cancellations by Hosts and limited egregious issues caused by Hosts—like a double booking—that make it necessary for Airbnb to rebook guests. We will be workshopping how to address these Host-caused cancellations with you in the coming weeks.
So, Airbnb hosts are not off the hook:
Airbnb will be "workshopping" about the issue, which, in a less jargony way, means that they will put get in a room a bunch of people to come up with a new policy update that will find a way to punish unwanted host behavior. They may or may involve getting the hosts to pay relocation fees, but it looks unlikely given the uproar. But, something will come out to strike hosts
Interestingly, Airbnb called "double bookings" an egregious issue, i.e. a blatantly, strikingly bad occurrence. At Rental Scale-Up, we have worked with many small Airbnb hosts who may not know how to synchronize their calendars across multiple platforms. They make honest mistakes and sadly get double bookings. So, we're not sure that it is the best example of an egregious host issue.
What is staying: Guests now have up to 72 hours to make a claim and ask for a refund
Yet, the biggest bone of contention around the new 2022 Airbnb policy update, i.e. the extension from 24 to 72 hours of the time window during which guests can make a complaint, is staying.
So Airbnb is not budging here and, for many hosts, this part of the update was actually the most annoying one. Yet, Airbnb felt that it had not done well on the change management side when introducing this new policy. So, the company has published the following explanation, to explain the change. Note that it does motivate it super clearly. Why the need? Why now?
Guests have been telling us that 24 hours wasn't enough time to reach out for help and get their issues resolved. We investigated other possible time periods and concluded that giving guests 72 hours after they discovered an issue to report it to Airbnb actually resolved most of the guests' concerns, because it gave Hosts more time to address the issue.

Though guests will now have 72 hours from discovery to report a travel issue to Airbnb, the policy states: Before submitting a claim, whenever feasible, the guest must notify the Host and try to resolve the travel issue directly with their Host.

If guests contact Community Support first, our standard practice is to remind them to reach out to the Host directly, and Community Support will also try to contact the Host.

In the event guests discover a travel issue and report it after the 72-hour period ends, Community Support will still direct the guests to contact the Host to resolve the issue. We want to help mediate a positive outcome because our goal is always to try to save your reservation.

Guest claims should never come as a surprise to Hosts. We are committed to providing you with the opportunity to share your side of the story so we can determine a fair outcome.
Our original article about Airbnb's new 2022 policy about rebooking and refunding guests
Airbnb hosts are voicing concerns about the company's new Rebooking and Refund Policy which applies to bookings made on or after April 29, 2022. Guests will have 72 hours, instead of 24 hours, to report issues that may cause Airbnb to fully refund them and even ask the host for money to relocate the guest to another property (these "travel issues" can go from the place not being clean enough to a major appliance missing). Additionally, if a host cancels a booking before the check-in date, he or she may also have to pay Airbnb for rebooking and rehousing costs as the company attempts to find a new place for the guests.
Should a place not be clean or lack a pool when advertised with a pool, it makes sense that the guest should be compensated. With this new policy, property owners and managers would not only have to refund guests but may also have to reimburse Airbnb for possible rebooking assistance costs.
Now, things are also getting stricter for guests: As we reported back in February, guests will have to accept Airbnb's terms of service update and allow the company to charge for any damage, should an Airbnbs caseworker decide so after the Resolution Center claim damage process closes. Yet, as many hosts think that Airbnb's Resolution Center process usually favors guests over hosts, there is some doubt that, in practice, the policies will balance each other out.
New rebooking and refund policy kicks in if cancellation is initiated by the host
When it to comes making hosts pay for rebooking costs if they cancel a booking, things are not completely new. Yet, there are now more akin to Booking.com's dreaded "relocation costs", whereby a host has to pay any difference in costs between what the guest would have paid at their place and the price at the new property found by Airbnb's customer service to relocate a guest. In high season, the difference in costs can be eye-watering, especially just a few days before the stay.
Airbnb's goal is to make hosts think twice before deciding to cancel a booking. One on hand, it makes sense that Airbnb would prevent hosts from canceling for no good reason. Imagine a host who wants to cancel because he's found a guest who is ready to pay for the same dates.
Now, you are an individual host whose apartment becomes suddenly unavailable because the place is flooded due to the neighbor upstairs forgetting to turn off a faucet, it may be unfair. Not only will the host not get the money from the stay, but she will be penalized by Airbnb (e.g. Superhost status can be revoked) and she may have to pay for rebooking the guest at another place.
Now, what may not be comfortable is that the policy is vague at times. Just as with claims made through the Resolution Center, it looks like Airbnb's customer support team is the one who decides how much the host will pay. For instance, Airbnb may just ask the host to refund the guest. Yet, Airbnb may also decide to provide rebooking assistance, book another (more expensive) place, and then ask the host to reimburse the additional costs on top tofo the amount of any refund.
There is a lot of "may" in the wording here:
Airbnb may, but is not obligated to, pay for or contribute to the cost of new accommodations as part of its rebooking assistance,
Airbnb may ask the initial host to make up for these extra costs incurred from booking a new place, as the new terms give Airbnb the right to do so.
A guest has to contact the Airbnb Support team through the company's chatbox (in the app or the website), answer a few questions for the chatbot, and then get connected with a member of the support team.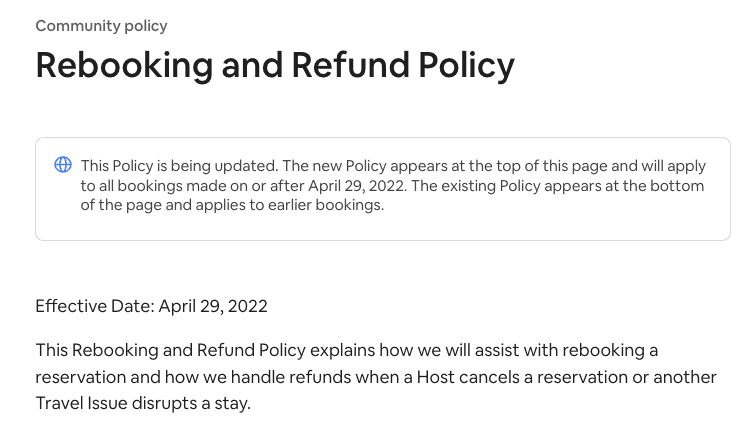 Yet new policy also applies to other "Travel Issues" and is now extended from 24 to 72 hours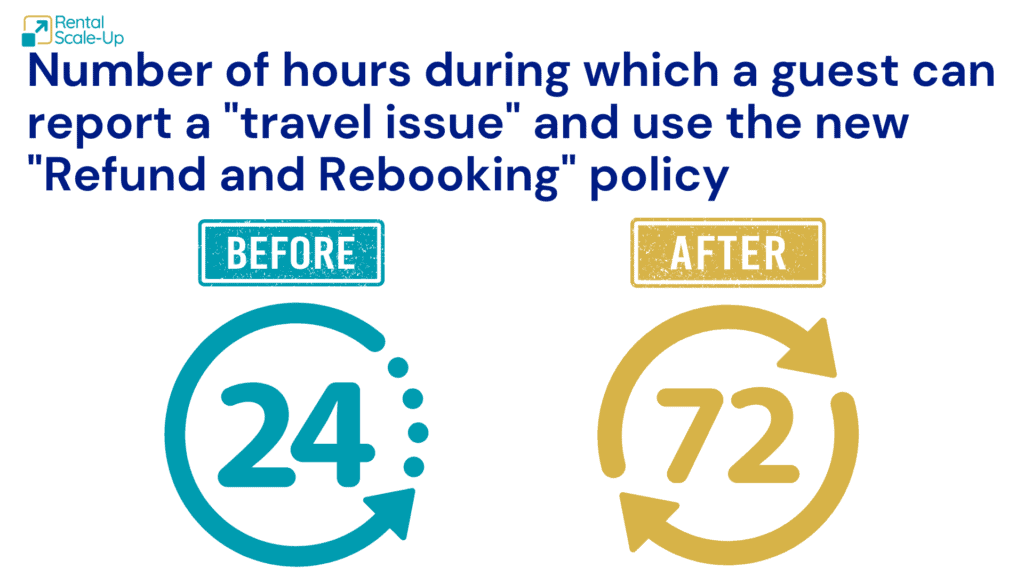 Yet, this is not just about host-initiated cancellations. The new policy can also be used by guests who complain to Airbnb about the place not being "reasonably clean", containing "pests", or if an amenity is not present (e.g. A/C).
Here's the exact list of "travel issues" as shared by Airbnb:
Host cancels the reservation prior to check-in.
Host fails to provide access to the accommodations.
Host fails to disclose in the Listing that the Host, another person, or a pet will be present during the stay.
Accommodations are not habitable at check-in for any of the following reasons:

They are not reasonably clean and sanitary, including bedding and towels.
They contain safety or health hazards.
They contain pests.

Listing contains a material inaccuracy such as:

Incorrect home type (e.g. entire home, private room or shared room).
Incorrect type or number of rooms (e.g. bedrooms, bathrooms and kitchens).
Incorrect location of the accommodation.
Special amenity or feature described in the Listing is not present or does not function (e.g. pool, hot tub, bathroom – toilet, shower or bathtub, kitchen – sink, stove, refrigerator or other major appliance, electrical, heating or air conditioning systems).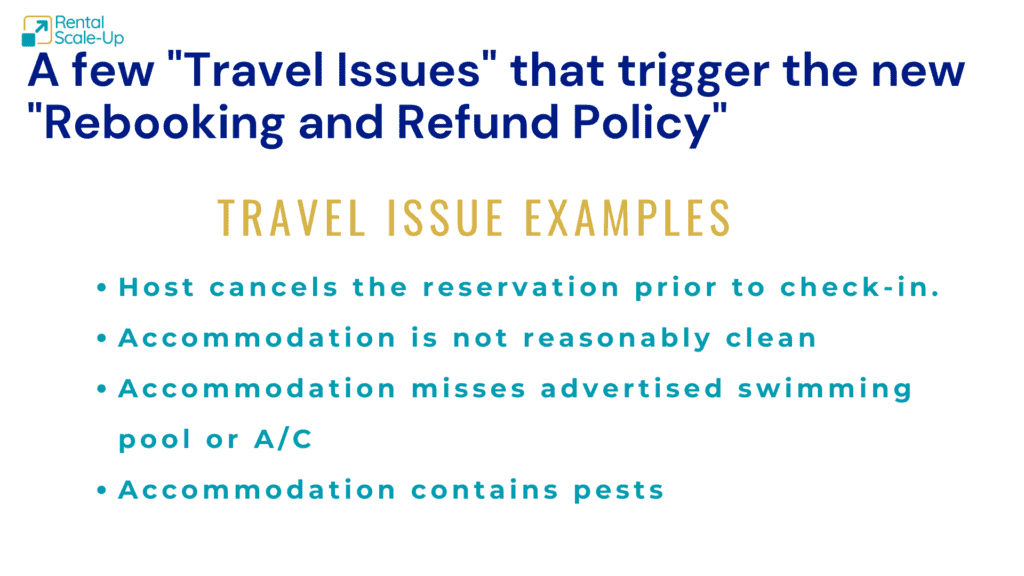 Why Airbnb hosts are not happy with the policy about rebooking assistance
Airbnb is extending the time window when guests make complaints after checking in from 24 to 72 hours. Some hosts think that it opens the door to a lot of blackmailing and room for guests to negotiate lower prices, as they can threaten to make a complaint for 3 days.
Airbnb has a reputation for being guest-friendly. Most hosts have experienced that the Resolution Center process often favors guests over hosts.
The relocation policy is something a lot of partners dislike about Booking.com and Airbnb seems to align itself with this way of doing business. It makes sense that guests would see rebooking assistance as a great customer service option offered by Airbnb. It helps users trust the travel brand Airbnb more and fosters loyalty. For hosts, the issue is with having to systematically pay for the rebooking costs, as it is on Booking.com.
Hosts with properties that are partially open to nature (e.g. big tents, Bali villas) feel threatened as some guests do complain of small bugs entering the property, albeit being inevitable at these "one-of-kind" unique stays that Airbnb's PR machine loves so much to put forward. Will Airbnb's customer service rep appreciate the difference between a climate-controlled apartment in Austin, Texas, and a villa sitting in the middle of rice paddies in Bali?
For property managers that run a business, relocation costs can represent a lot of money, but they can be spread out over a large volume of bookings. For an individual host, it may seem unfair and harder to bear: Unlike a property manager, they cannot talk the guest into staying at another of their properties, thus avoiding Airbnbs's penalties.
Some Airbnb hosts fear that the new 72-hour window will help some guests get out of a strict cancellation policy. It would then turn every Airbnb booking into a reservation with a flexible cancellation policy.
The Airbnb guest refund policy tends to favor guests vs. hosts. While hosts may have to
Airbnb tries to balance it out by making guests aware that they can be charged for damage
The big issue for hosts here is that they do not trust Airbnb's Resolution Center process, where guests can make claims for money, to be fairly balanced.
Yet, Airbnb is also trying to make the fear of paying damages stronger in the eyes of guests. Terms and conditions are also changing on the guest side: The April 22, 2002 Terms of Service update will make it clear to guests that, when they book a place with Airbnb, they also agree to the company charging them damage money.
As we reported, the new Terms of Service dwell a lot on security deposits, damages, and the Resolution Center. As for a more specific change in damage claims, the method through which they are made will remain the same, but Airbnb has clarified its language on payment authorization. Most Guests have no clue about this, but Airbnb reserves the right to charge fees from a Damage Claim to the payment method they have on file for them.
Will this be enough to convince hosts that Airbnb's policies are balanced? They may be on paper yet decisions by Resolution Center case workers are definition subjective. They make a call and there is no appeal possible. How they make their decision is part of Airbnb's corporate culture. For the moment, this culture has seemed to favor guests, when it comes to complaints.