Join the Scalers Network to get in-depth insights on US short-term rental trends with this monthly live call every month! The goal is to help you plan better for next season. Attendees have opportunities to submit questions of their own and make business decisions backed by data that will improve occupancy, overall profitability, and give them more control.
Thibault Masson from Rental Scale-Up, Jim Stewart, Chief Executive Officer and Co-Founder at VACAYMYWAY, and Heidie Henriksen Vice President of Business Development at VACAYMYWAY look at vacation rental data from AirDNA. They compare the performance of different short-term rental markets and investigate the US vacation rental trends for 2022. The article takes a look at which states are seeing the most growth, what types of properties are in demand, and other useful information for people looking to make an informed management or investment decision.
They also look at the booking pace for 2022. How will occupancy and ADR change? Will demand come back to cities? Will the number of Airbnb listings increase?
Disruptive trends in the short-term rental markets according to VacayMyWay CEO, Jim Stewart
VACAYMYWAY is a recently launched vacation rental platform that wants to disrupt the industry, for instance by removing guest service fees and giving more control to property managers over cancelation policies. At Rental Scale-Up, we invited VacayMyWay CEO, Jim Stewart after he sent us his list of predictions and insights for 2022. You will hear us discuss them in the video or read about them in the transcript below. We were very excited to hear some new things, as well as other points confirming our viewpoint. For instance, we both agree on how FinTech products, insurance, and other guarantees will introduce more flexibility in the industry, from Hopper Homes to Airbnb's upcoming guest travel insurance.
Here's the complete list of how VACAYMYWAY sees 2022 market trends: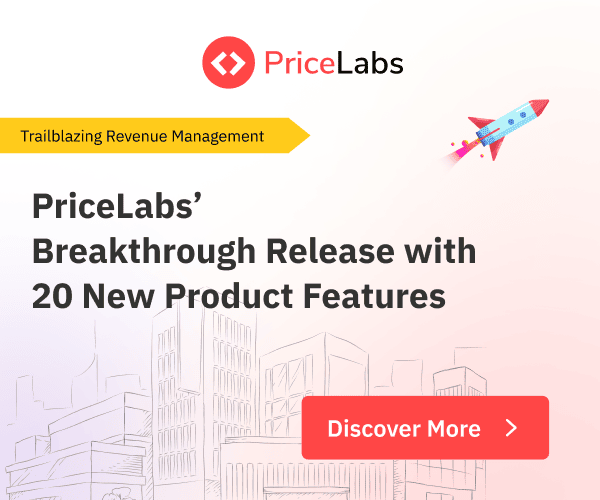 Stop using 2019/2020 as a reference point: we are in the middle of a revolution, radically affecting how we travel. Travel patterns will continue to change rapidly, and for the most part, recent data is the most relevant as opposed to pre-pandemic travel data.
BNPL (Buy-Now-Pay-Later): this method will maintain demand and steadily advance as pent-up demands continue to skyrocket fuel for travel.
Short-term rentals over hotels: with greater emphasis on safe, family friendly travel options, short term rentals will reign supreme.
Flexibility: more innovations to come in DIY and flexible options when booking travel, from date range searches to free cancellation.
Strong domestic travel: until pandemic conditions significantly improve, more focus on domestic travel will continue to trend.
Purposeful companies: environmental and sustainable travel is already a hot button and will become a mandate for successful companies.
Vacation Rental Industry statistics:

Length of stay will continue to increase from previous COVID average of three and a half nights per stay to five nights per stay.
Booking windows will grow to pre-pandemic levels (~58 days) as guests gain confidence in the alternative accommodation options.
Expanded seasonality due to the growth of remote work options, along with longer stays in coastal and mountain destinations are likely to continue.
Video: US Short-term rentals trends (2022 vs 2021 vs 2019)
Thibault Masson:
Dear Rental Scale-Up members, today we are going to be talking about U.S. Trends. We'll be talking about data, we'll look at charts, but also we'll be discussing what we see here in the market. We have special guests this time around, we have Jim Stewart, the CEO, co-founder of VacayMyWay, and Heidie Henriksen, the VP of Business Development of VacayMyWay as well. Can you introduce what your platform is?
Jim Stewart:
COVID has been what I call a black swan event that occurred that nobody was anticipating, and that resulted in exposing a lot of the cracks in how we transfer money, how clear are our cancellation policies and how do we protect people in weird times? How do you protect the traveler, and for us especially, how do you protect the host and how do you staff for a black swan event that really shakes the industry to its core?
So, we came up with the simplicity factors for refund policies and payment policies really on when all those occur. Now, Heidie and I, both have a background on the host side of the industry and we realized how important quick payouts are because everybody experiences cash flow issues in one way or the other. It's extremely important to be transparent, trustworthy, and allow people to be able to plan without any doubt how that cash flow is going to work.
You just need to have an extremely absurd level of customer service with regard to response times and those types of things. And you have to plan for these sort of black swan events. That's where we saw really the opening for VacayMyWay to come in.
US short-term rental demand: 2021 vs 2019
Thibault Masson:
I'm going to deep dive now in some charts and graphs for the data of the U.S. market, but I'm very happy to have you here because you sent me a list of trends that you're seeing on the market. And the second thing is the data I'm about to share, which is data provided by AirDNA, so thank you AirDNA once again. This data is up until the end of December 2021, maybe early January 2022. So obviously you may have more data about what's happening right now in the U.S., so you can even complement what we going to be talking through. So let me start sharing and showing the slides.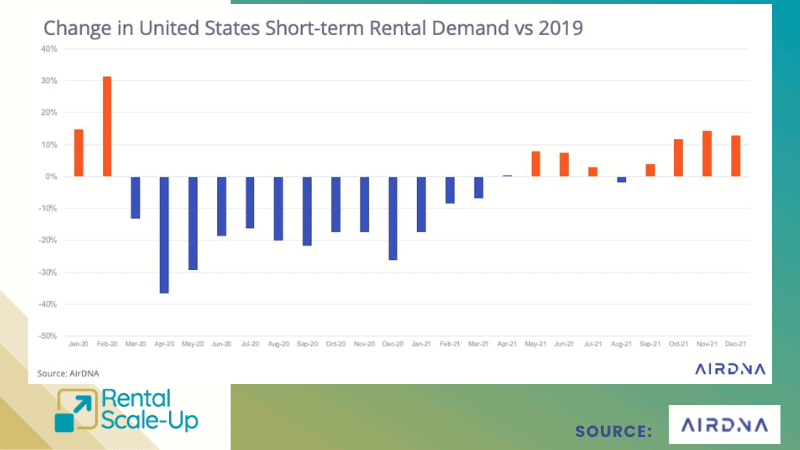 In the U.S, 2021 was the best year ever for the industry, despite a lot of cities being terribly hit. So it kind of tells you what was happening, meanwhile, in traditional vacation rental markets to make up for this disaster in cities. So demand in December was still about 30% up compared with 2019.
So, which is obviously pretty, pretty good. Oops, sorry. That's, even obviously 50% above 2020. That's not surprising for a lot of people, but we'll see as well how high can you actually grow? That can be an issue. Well, what's important as well we're going to see that the data is that revenues have been also very high and were a combination of both high occupancy and high ADR. What's interesting with the data we have for AirDNA that we are going to go through right now, we'll see, we are going to be asking ourselves whether that's going to be lasting this year. VacayMyWay, I had your big, bad logo here. We talked about you guys already. That's great. So again, this is data from AirDNA.
So once again, what you can see here is data where AirDNA is comparing the situation in 2019. So they're using this base, the data before the pandemic, and then they're comparing months by month, what was happening in that month compared with 2019. So what we see basically in the U.S. is that the demand was still lower than 2019 and until let's say spring and that's for the U.S. overall. Meanwhile, in traditional vacation rental markets where it was, since January last year, it had been record-breaking month after month, right? But overall in the market was just in red, it meant that the growth, the change basically in demand was higher throughout the year, especially since the spring for the overall market, again even with cities being down. So it's pretty impressive, especially if you compare with it Europe, with Europe barely made up back to 2019 levels by October of that year.
US short-term rental markets, from January 2020 to December 2021 (compared with 2019 levels)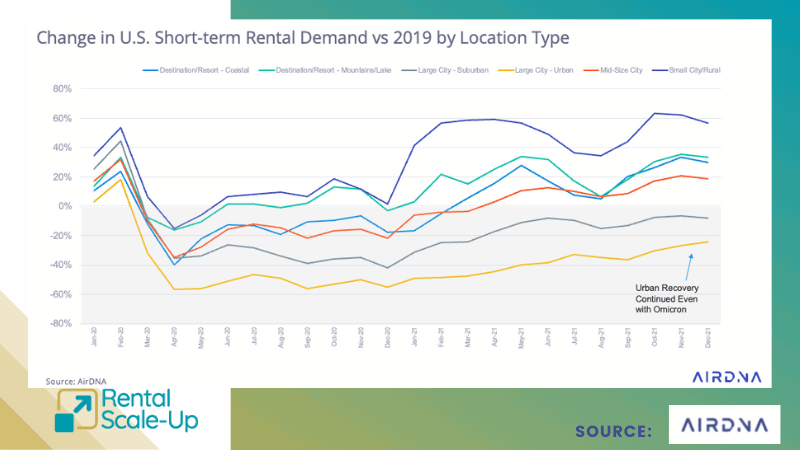 Here AirDNA is comparing data pre-pandemic, basically 2019 with the situation now. And what you can see in terms of demand, that the demand for areas like small cities or, destinations like resort areas, mountains, lakes, even mid-size cities, the demand actually was higher than 2019. And even if you look for example, for, let's say small city rural, it means it was more than 50% higher in December 2021 than in December, 19 more than 50% higher, that's completely crazy. Meanwhile, in cities, things are still down. We are still down more than 20% in large cities, but as you can see, that's a yellow line it's trending up. It is trending up. So it is recovering even though Omicron was starting to hit the U.S. in December. It means the recovery will be here. James, it's something you, when you see this graph anything surprising to you or any contrast you can bring or agreements.
Jim Stewart:
If you look back all the way to the left side of the graph, you see that while there is a difference between the destinations, it's not nearly the amplitude of separation that you have now. So, I think as, as you mention, and that's a functionality of concerns with COVID, with travel restrictions, with masking restrictions in the United States and those types of things. I think it's also a change in philosophy of people. We all deal with our mortality in different ways. And I think a lot of people are now looking at it with respect to let's get out and travel now while we have time. Right. And so how do you do that within the constraints of travel restrictions, those types of things.
So, we see overall people trying to establish still some type of social distancing, which is probably the most effective way to work our way around these processes and establish separation. And at the same time, they want to, keep these relationships together with family and friends and those types of things. And so the best way to do that obviously is to go to a short-term rental that doesn't have the shared spaces that a hotel might have. And then we're also doing those in a kind of a bucket list style, right? Where people are wanting to go to mountains and seaside resorts and even smaller. You notice that the suburban areas surrounding large cities are still doing really well. So, a lot of travel that may be closer to their original domicile, but at the same time, it's a getaway and it's a getaway where they can go with family and what they feel to be a safe environment.
Thibault Masson:
I was just wondering, in terms of supply, at VacayMyWay, what kind of supply do you have when you look at this graph? Are you more like traditional vacation rental markets? You have some urban, what's it like on your platform?
Jim Stewart:
We looked at where people would likely be traveling and we saw the pent-up demand for travel to be highly vacation oriented, which, beach, mountain, those types of things, which is exactly what you're seeing on the chart. And that, that was kind of our focus, but I feel overall that this is a direction the industry is going to continue to go. I don't see it slowing down at all, in fact, I see it accelerating as we get into the adoption curves of late majority adopters into this. It's hilarious to me that it's called new technology when it's really, our business has been around for 3000 years.
But you know, the application of technology to allow this to happen is that is all that's really new, but I do see, and you can read it in, you know AirDNA does some fantastic jobs with charting and data collection that millennials and Gen Z are much more likely to adopt this style of travel. And people in my generation, I'm a very, very late baby boomer, I'm probably the last one born that, we're kind of a late-stage adopter crowd in a lot of ways with technology, but not so in this case.
Thibault Masson:
Over the last two years, a lot of people have discovered vacation rentals. Do you think people who've tasted the vacation rental market will stay with us in the coming years?
Jim Stewart:
Well, I think absolutely, the value proposition for us versus a hotel stay is not even on the same planet, so to speak, and it's when you look at the…really Vacay it's all about value and we're trying to increase that value proposition, with our low cost, commission structure, no guest fees. That gets you a pretty good start down the value path, but once we're there, they realize that the aspect of having your own kitchen. I had dinner with a family last night they said, "we're never going to go back because waking up with kids on vacation, or even, even traveling from point A to point B, it's so much nicer to be able to have the space to let everybody roam around, do your thing, and then, instead of packing the car yet again, to go out for breakfast, do you walk into the kitchen?"
We always, when we're on a business trip with our company, we obviously, we stay in vacation rentals and the amount of team building and bonding that occurs, during that process of just being together in the same location is really priceless. So, to me, I don't see that changing. I don't see that changing at all. One of the things that we're trying to do is kind of get out of the way between the host and the guests with respect to those check-in procedures and those types of things. We don't scrub information and we let the host and guests talk because we really can't add value to that part of the equation. We can only kind of slow it down. So, part of our business model is to get out of the way and let host do what they do best, which is provide great hospitality and let those issues be handled the quickest and most efficient way possible.
Heidie Henriksen:
On that note, actually, I wanted to point out that there's a lot of travelers that try vacation rentals for the first time that they're just getting introduced to it now and their pain points that they might experience that might dissuade them from booking again. That's what VacayMyWay was really trying to address from the transparency piece, when the initial booking process happens, and you're hit with all sorts of fees at the end, to not able to speak to your host when you need to before booking. So there's a lot of nuances that we're really trying to make sure we address so that we do welcome those travelers back into the vacation rental world.
Top 10 US short-term rental markets (metric: occupancy)
Thibault Masson:
Oh yeah. That's a great point. I love to talk about, we'll talk about this, maybe go through this slide and we talk about this. So maybe something I disagree with on something I saw on your website, but the booking fees. Cause for disclosure, I used to, I worked for four years at Booking.com, so sometimes I'm like, oh, those resort fees in the U.S., what is this? And as the property managers who put these fees, not the platform. So we talk about that because I find it fascinating, and it's something that you guys are addressing really, really well so we need to talk about that. So quickly through this. So I think that that was something, again, sharing the top 10 highest occupancy markets in December.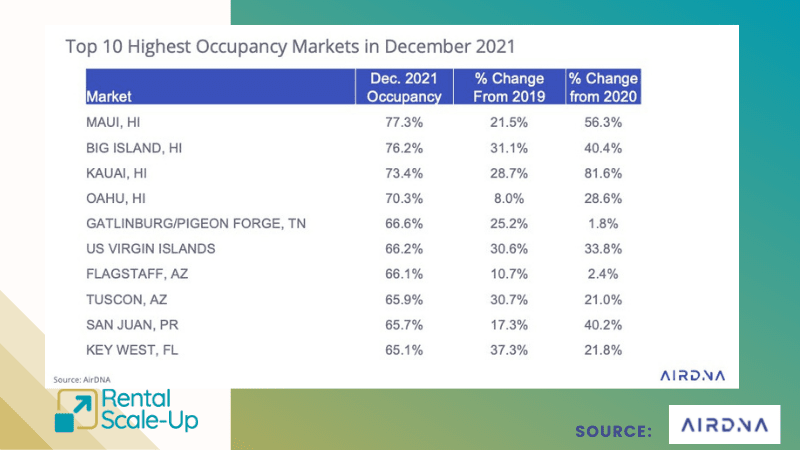 Obviously, the big thing that's interesting, as we all know, Hawaii was hit so hard. The market, back in 2020, the island was closed, at key points during the year. So 2021, especially December, not only did it recover but they really, really high into the occupancy. U.S. Virgin Islands as well. And then we have the usual suspects, like the warmer areas, as well as maybe us as well, Tennessee, by the way, Gatlinburg is here. Any surprise for you when you see these top 10?
Heidie Henriksen:
I'm a little surprised that there aren't really any mountain destinations on there because December can still be a phenomenal month for a ski vacation. But what this is telling me is Americans, obviously, we're wanting a warm sunny beach destination instead, to get that fixed. And then maybe they do the ski vacations later.
Jim Stewart:
I think there was a lot of pent-up demand in Hawaii because they were completely shut down as you said, last year and those tropical bound, Randy Wolf over there. I mean, they're usually dealing with a hundred percent occupancy. They book almost everything, not a hundred, but they're very, very high occupancy. So I think a lot of that yellow pent-up revenge travel demand affected those numbers.
US short-term rental occupancy in 2022
Thibault Masson:
Now what's interesting is that AirDNA for this year is forecasting occupancy that will be slightly lower than last year. Again, this is where, when we look at data, it's very important to step back and say, what are we looking at again? That's the occupancy for the overall U.S. Market, right? Meaning how full if I may say so, how full will the shorter rentals be in the U.S. in 2022? Why do they think it will basically stagnate or even decrease a bit? Well, because first, they think that they will be a bit more supply. For example, the available listings will grow again in the cities, right? They will come back to the market. Not all of them will be full so occupancy may go down. They're expecting, or so as well that some demand, we just talked about this.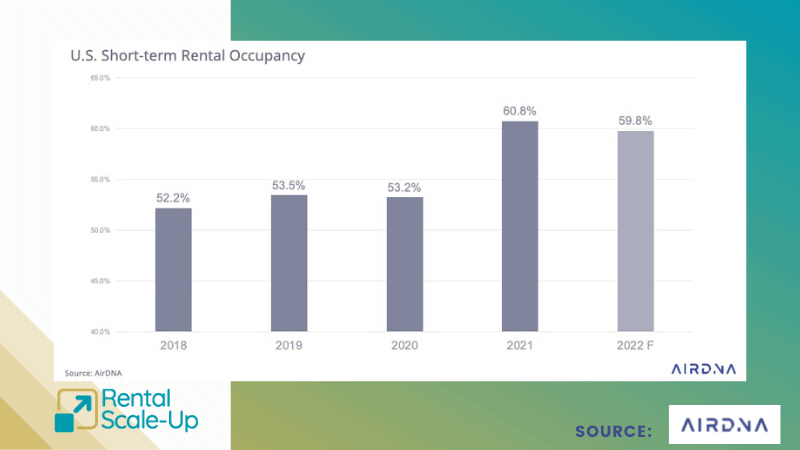 We said some people discovered short-term rentals or stayed in the U.S. market, but maybe this year in 2022, some people may want to go back to hotels or some people may want to travel abroad. Right. They flew to Hawaii, and maybe right now they're preparing a vacation in Europe, so who knows, that could so drive down occupancy. Especially, that's what they're saying in the…I don't know if you agree with that, especially in the shoulder season, right? September, October, really amazing what… They think they can't predict whether maybe it would be just as good, would be remote working, would be just as popular, people will stay. Again, we stay in vacation rentals in October and September, October, because this is really why drove occupancy up over the year. But that's what they expect in slightly lower because basically a bit more supply and they don't really know whether demand be as high in the fall. Do you think it makes sense on your side?
Jim Stewart:
Well, sure. I think this is totally a math equation, right? You're exactly right. It's supply and demand and yeah, I mean that's a flattening which may be slightly concerning, but to your point, the new enumerator denominator relationship here is that I think you are seeing a lot of inventory increasing because people are, you know, it's an early adopter phase of hosting as well. And the total addressable market, I think, Motley Fool mentioned this year, something along the lines of 2.1 trillion, so there's a huge uptick still available on the demand, on the supply side of the curve, and I think that's what you're seeing that more and more people are coming into this. On the downside, you've got municipalities that are working towards more regulation.
That is totally understandable. There's some pushback from the hotel industry that we're dealing with that right now in New Smyrna Beach, Florida. That the hotels don't want us there, but to me, it's important on conclusion. They can argue against it, just like people argued against Uber in Chicago and in New York and San Francisco, that the demand and the push side is so much stronger than the resistance that it makes so much more sense that it will prevail. So, you've got a lot of noise in that number, but I think overall the trends are going to continue, and this may be a slight stagnation, or a slight mismatch of supply and demand, but the market always wins, and the demand for vacation travel will continue. And thankfully, and amazingly, there is such an open inventory of available properties that this doesn't concern me at all, actually.
Number of available short-term rental listings in the US in 2022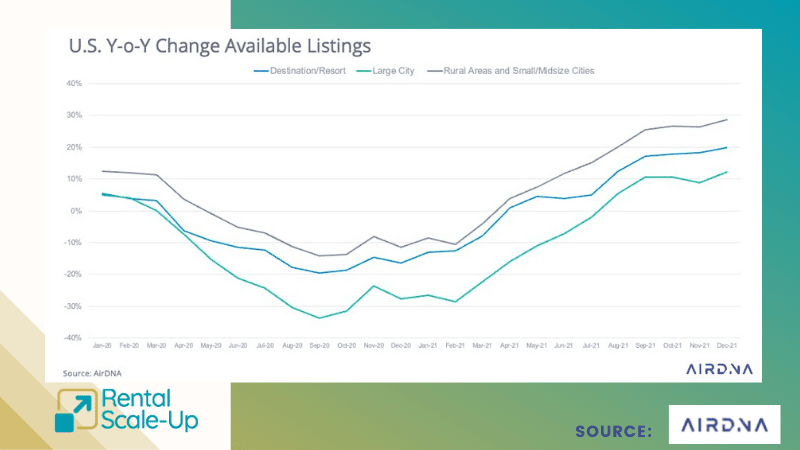 Thibault Masson:
And what we saw to your point where we saw earlier is that demand is coming back to urban rentals, but in cities like New Orleans, for example, New Orleans still has 30% fewer listings now than it had two years ago, right? So it means and some of it maybe is gone, forever. Regulations are here, or maybe some are in long-term market. Maybe it will come back on the other hand you can't evict people just because the market is back. So it may take some time for some properties to come back to the market. The last slide I want to show here is what's happening on the market? What they're seeing and that's, again was of the 1st of January at the data was so looking the time AirDNA was saying for the first quarter, looking at here at the booking pace.
So looking at how many bookings people, property managers already had in the future, for example, the 1st of January, how many bookings, how many nights people had sold, or for the first quarter, and for the second quarter. So looking at this basically for the first quarter, compared with, for example, last year, they only had sold 70% more nights for stays in first quarter. And compared with last year, it was already 88% more nights for stays in Q2 that had been booked by trend. So what's very interesting here is that, so does it contradict what we saw about the occupancy? Yes and no, in a sense that one explanation could be that people got burned last year and like wow we booked way too late and all these nice places we wanted to go to, they were booked up way too expensive. We're going to book right now and just get ready.
2022 short-term rental demand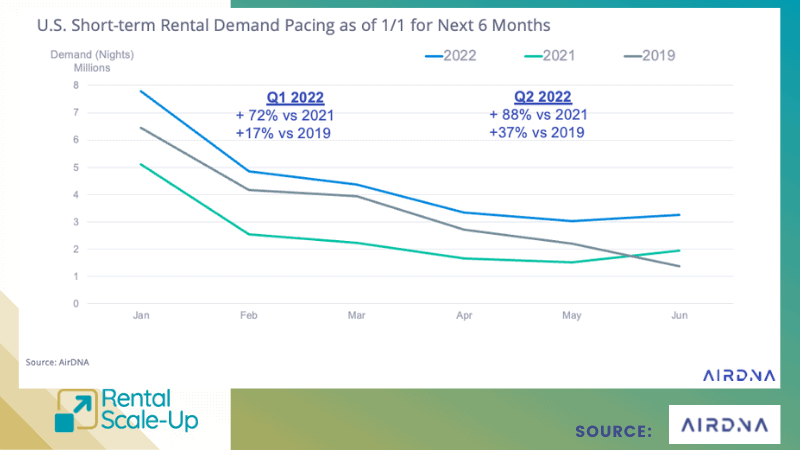 So , that could be that, also compared with last year, probably there's more confidence, that people are more confident they can actually book something and stay. So the increase of confidence of thing you mentioned earlier, Jim, and probably the fact that people know supply may be short means that people are booking and probably as well. Cancellation policies are still flexible, so people also have a sense that they're not taking such a big risk, but they can cancel. What do you think of that? It's something you're seeing as well, and I'm going to stop sharing here. Yep.
Jim Stewart:
Well, yeah, you're right. I think, as you see that line for 2021, I think people have reacted with in response to, how do you make the travel more risk-free? And you do that with good cancellation policies. You know, some booking window variability there with this levels of confidence are going to extend that booking window out. And of course it's bolstered by good policy and changes in refund and reliability. I think also, the fact that people are getting more used to having COVID as part of life, and we work our way around it. Omicron obviously was a big scare and it's an issue. So it's not an insurmountable issue, and I think as people just come to accept this as a kind of new normal that the world will work through the issues, but one thing people are not going to do is stay home no matter how often and how, loud the cry is to do what you're going to do.
People are social and they're going to enjoy life. They're going to go out and visit and multifamily get-togethers are going to happen in vacation rentals. So I think that's where that return of demands come from.
Heidie Henriksen:
I think the consensus of that data, really the word that comes to mind for me is normalizing because we saw this incredible roller coaster ride that happened in the U.S. with vacation rentals. And now we're kind of coming back to that normal chain of growth and it will still continue to increase, but probably just, not quite so exponentially, because depending on where you go in the United States, certain areas are very mask-mandate heavy, other areas it's completely different and masks are barely even seen when you go out in public. So that's a pretty big variance there, and yeah, varying levels of people's safety and comfort, for sure. But normalizing is what we're seeing, where at least the growth is continuing, maybe not quite so aggressively though.
Thibault Masson:
So we've just looked at the recent data and we talked about changing the market, things getting normalized, like the new normal is here. What are the big trends that you see at VacayMyWay in terms of like changes affecting, disrupting the market?
Jim Stewart:
Well, sure. You know, the overall changes is still just astounding to me at the size of the market, the total addressable market, and where that's going to go. You know, as the technology gets better and better, I think is going to be part of the key. And that is how do you find the right property? We spend a lot of time thinking about property matching and how does that algorithm work in our search engine? Should it be maximizing click-throughs or putting the most popular properties out front, or is it about more matching the right property to the right client? And so, our amenities list, for example, has things like how fast is your wifi? Are you addressing the people that are working on the road now and need streaming? What kind of coffee maker do you have? How close are you to hotels, those types of things?
But yeah, we see this, so in some respects, I know, I think we look at 2019, and we're trying to look at that data from an analogy type viewpoint, and we really need to think about where the market is going and how we can affect that with the technology. So I think to some extent, we need to stop using 2019 as a reference point and just realize that we're kind of treading…it's like landing on Mars, we're completely in new territory here with respect to a lot of things. Buy now, pay later is something that we've talked about a lot, how do you make it easy, remove every barrier of sale, to try to get that pushed, and we're working with some partners to get that done.
We see a lot, thanks to the data from AirDNA and other sources that you see the transitions happening and you see the Millennials, Gen Z thought-processes. And the number of people that have been exposed to the new technology continues to increase, and I think that bodes well for the industry, because as that generation transitions into more and more money, more disposable income, they already expend a much higher percentage of their disposable income on travel and experiences than you, for example, the boomers did, and I think that clearly that's going to continue. We're early into the market there, and as you know, those people have kids and transition into the travel, the mainstream, bulk of the travelers, then it's only going to continue to increase demand for us.
You talked about flexibility with response to travel plans. That's going to continue, but that's just really good customer service, right? And I think that's part of our, well, I know that our philosophy on this travel portion of it, on the flexibility portion is we really have no value to add there. We can only get in the way with excessive policy and kind of decisions by proxy when really a lot of those decisions need to be made between a client and the host. And so, we let the host do what they do with refunds and those types of things, and it really should be completely up to them. All we're doing is connecting travelers and hosts, and there's not a whole lot of value add we can do other than to make that as transparent as possible, and make all that communication happen and let hosts do what they do best.
Thibault Masson:
If I'm correct, right, when you say you helping property managers, I say, and guests connect directly. Does it mean that let me go back to… When something happened of course in March 2020, is that a lot of people, property managers and owners felt betrayed by some of the platforms, right, because they got their arms twisted. They were forced to refund things that were not refundable.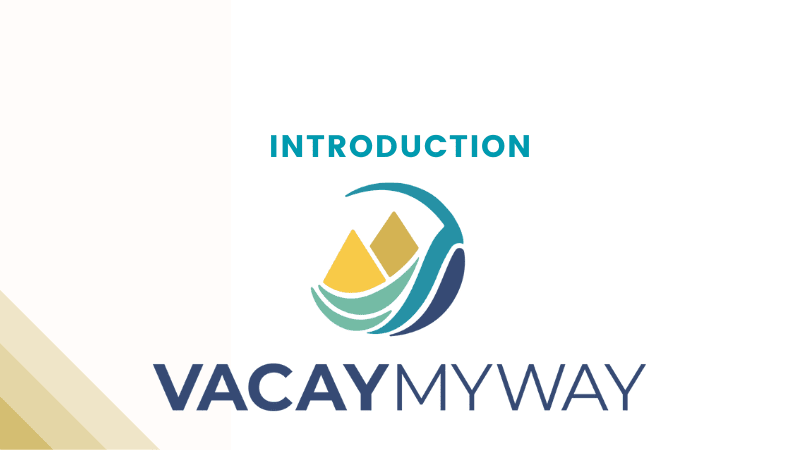 Heidie Henriksen:
Yeah, they definitely created a stir. Absolutely. And that's where we've decided to have this approach of we're going to not play Big Brother. We're going to connect these two individuals, the traveler and the host, and then allow them to make those decisions, only get involved when it becomes an escalation type of scenario, but other than that, we really want to just connect the two and not get in the middle.
Thibault Masson:
So do you think that storm created, again, a possibility as well for other platforms to say, "Hey, we're different."
Heidie Henriksen:
Absolutely. I mean, it gave us one of the multiple niches that we could bring to the table that people were very frustrated about. So it definitely created an opportunity,
Jim Stewart:
Oh, it's an obvious first principle for us, and that is really what are we doing here? We're connecting hosts and travelers, and we're using technology to do something that's been done for 3000 years. So the less friction we can create in that space of allowing the host to provide outstanding hospitality and a great value. That's kind of our job is to expedite that process, expedite that communication process, handle the money transfer, take some of the risk out. You know, we're doing host verification and guest verification through a partnership company that is reducing risk. I'm big on risk management, and I think that was one of our initial, you have to look at every aspect of your business from a risk management perspective.
And I think the more that you can reduce that it flows all the way down to individual traveler decisions. How much risk are they willing to tolerate. They're going to as you said, it's a new platform, and the more transparent you can make the property presentation with regard to location and amenities searching, and so really you're talking about meeting expectations and reducing the fear factor with coming into a new platform, or expanding into a new property. So to us it's all about risk management.
Thibault Masson:
You mentioned flexibility and I think there's another, maybe the last big trend I would like to have you talk through it. I know that you sent me this email with all these trends like, wow, and one is the buy now, pay later. It's also, to me, part of flexibility in a sense that in eCommerce world, over the last two years, people have gotten used to seeing the logos of Klarna and Affirm, all these companies on big eCommerce platforms, providing more flexibility on how people can pay, maybe paying through installments, for example. And suddenly when you have to book a vacation rental for two weeks for a big group, you can actually afford it now. It's easier for you to pay for it, and these things are coming to the industry and actually they are there, right, Vacasa or Vrbo, they allow that. So I would love to have your view on that and how can I, as a small property manager, how can I even compete, do I have also to align with this technology? What should I do?
Jim Stewart:
Yeah. Like it's a very important part of what we're doing, split payments, or how do you coordinate it with a big group of people, and those types of technologies are clearly going to increase the value of the booking relationship. And that's really part of what we do is how do you provide enough value on the platform to ensure that people stay on the platform, and that is part of our transparency is people are going to book off-platform. They're going to go direct when they can and attempt to save money. So, our thoughts are that if we're not providing enough value to our clients and host, then we're doing something wrong. So, our property and client host verification processes, ID verification, and damage waiver policies.
I mean, we have a $5 million damage waiver protection. And so those are the kind of the sticky portions of our platform that provide enough value to keep people on the platform. The more barriers for sale that you can remove, which one of those for us is no requirement to have a damage deposit. Right. So if a family's trying to…if you got a $3,000 budget and they find a place for $2,500, but they're asking for a thousand dollars damage deposit waiver, that puts them over budget. So, and then host are dealing with refunding budgets and looking at damage and those kinds of things, and we just provided that protection included on every booking. So I think that's part of how you remove barriers to sale with regard to the industry.
Jim Stewart,:
And obviously being able to do buy now, pay later is an important part of being able to do that because people want to be able to budget for vacations. You know, a large part of the research is that the kind of orchestrator of life person is at home planning the vacation needs to know what the budget's going to be and how they're going to cash flow the vacation. I think that's anything you can do to make that better, and we're working very hard to accomplish the removal of those barriers,
Thibault Masson:
A question for you as well on transparency, because I know it's big value, a big, big thing for VacaMyWay, is that what I discovered at Booking.com, for example, I was working there is that it's always very hard actually for travelers to understand fees, right? For them to understand, for example, Booking.com has no guest fee. I think they give away either. Airbnb, depending on the markets, but in the U.S., most of the time they do have a fee, but it's a service fee, and some people don't know whether it's the property manager paying this. And then you have the cleaning fees, and for example, Airbnb got a lot of flack because they had very high cleaning fees and it was like, well, it's not Airbnb who's making up these cleaning fees it's the property owner or manager. They are the ones putting these fees.
But again, I think it's very hard for travelers to understand who's putting this, for example, a resort fee. I didn't know what a resort fee was before working at Booking.com because we don't really have those in the European market, but in the U.S., it's something people do and that's what some property managers add you're right. And it means like a platform Booking.com that's European is not really well equipped to know where to displace kind of additional fees, which is very interesting as well. So how do you educate, transparency is important, but how do you educate then guests on what this fee means? Should they know that? So to actually understand what they're seeing.
Heidie Henriksen:
We make it very simple and transparent. It's essentially a cleaning fee and that's the only option to charge with VacayMyWay. I went to book a property recently, there was a linen fee, there was a resort fee, there was an admin fee, there was a service fee, there was five different fees that completely changed my budget and that approach was infuriating, and that's exactly what we're trying to eliminate with VacayMyWay. So I'm not sure if you're familiar, but it's customary in our industry for OTAs to charge a commission on the cleaning fee that's going to the house, and again, that's something we don't allow or do. So, and we're not trying to take revenue away from our hosts by any means. We're trying to make it affordable for the guest, and we're still trying to put the maximum revenue in the pocket of the host and have a small percentage on top of that, right? There's plenty of room, plenty of fish in the sea for us to all capitalize on this industry. So, that's what we're trying to do without getting a little too greedy.
Thibault Masson:
In the U.S., I think Booking.com has eliminated the resort fee. There was a lot of pushback. How do you talk with homeowners this time? Talk about education, property managers. How do you tell them not on our platform, because transparency is better, is more conversion, is fewer questions from the guests for everyone. How do you convince people to go your way?
Jim Stewart:
Well, sure. That's exactly the issue. You know, the industry is kind of changed into if you're doing a metasearch, it's all about the bottom line. You know, it's all about who can show the lowest price, right. But you know, it's sort of the Amazon business model too that Amazon's not necessarily the least expensive on everything they sell, but Amazon's also wrapped in a package of fantastic customer service. So right, with very low risk to things not working out the way, the big fail for vacation planners to show up and the property's not the same and there are additional fees. Like you show up on an airline and they want to charge you $75 to get your bag from point A to point B when you only paid $75 for your ticket, that seems a little absurd.
In the short term that works out, but in the long term, that's not a great customer service play at all. It's a sticker shock, it's death by fee structure. Our goal is to just provide absolutely absurd customer service, and that includes getting to the point of sale and not being floored by a fee structure. So yeah, we may be the industry leader on this, but I think that's where the industry is going to go with. Transparent pricing has got to be the first step in the trust process. I'm not interested in a one-time booking client. I want a client that books with, with Vacay for life, so that we can be the sales funnel that everyone wants to be a part of because we are trustworthy. And trustworthy, transparency, ease of use, and profitability for the host is what we're, shooting for here.
We think we've got the price structure where a host can charge a little bit more for their property upfront, but due to the low booking fee structure, then they should be able to also get the checkout with the most value for the client and the lowest bottom line checkout price without any sticker shock, and that's how you stick within your total budget right there, is no surprises at checkout. I was just on Twitter this morning, reading about fee frustrations and people are using a lot of bad words associated with fees that we don't need to get into, but, nobody likes it and nobody wants to surprise it at check out. Doesn't matter if you're buying a car or buying a vacation.
Heidie Henriksen:
On the host side, some people are accustomed to putting in a lot of different fees to create additional revenue streams for themselves, and so we try to educate them upfront when they go to list on Vacay, as you walk through the process and our user interface, you have little popups that are explaining why we do things the way that we do in case somebody didn't quite understand that initially. So it's not this huge confusion point or shock factor as you're going to list your property. It's, here's how we do things. Here's why we do it. Here's what you can do to modify as needed to suit your revenue goals. So we try to make that very clear upfront.
It's really more of a wholesale or net rate type of model adopted from the hotel industry from years ago. So we're really trying to get back to those grassroots and make the most out of it.
Thibault Masson:
Cool. Thank you so much, both Jim and Heidie for these insights on things and for helping us discover VacayMyWay. If people want to reach out, know more about the company or talk to you, what should they do?
Heidie Henriksen:
Our website's the easiest place to start VacayMyWay.com. And we do have live chat on there, so our customer support is always available. [email protected] is a great email to reach pretty much anyone on our team, so we welcome suggestions, comments. We're still a new company. So we're building out features and we rely heavily on input from both hosts and guests. So we welcome all of that.
Thibault Masson:
Perfect. Once again, Jim Stewart, you are the CEO, co-founder of VacayMyWay, thank you for your time today. Heidie Henriksen, you are the VP of business development, VacayMyWay. Got it right this time. Thank you so much for your time. And thank you. I think there's a little helper here, Ivy for arranging in the time for us all today.