Hopper, a fast-growing OTA, has launched Hopper Homes, its product and service offer for the vacation rental home market. Hopper Homes has built an impressive short-term rental marketplace in less than 6 months: On the supply side, it boasts more than 2 million home rentals available, and, on the demand side, it claims to have a pent-up demand as 40% of Hopper customers indicate they prefer homes over hotels and 24% have no preference between the two. The company says that it wants to bring more transparency and flexibility, the very same words used by Brian Chesky when he presented Airbnb's product updates.
Our Rental Scale-Up team looked at Hopper's January 2022 announcement, recent data, current product offers, and job postings for the new Hopper Homes division, to give you a sneak peek at Hopper Homes' playbook. Beyond Hopper's app-first and Gen Z-first focus, it is how the OTA predicts flight, hotel, and vacation rental price changes that enables it to create financial products ("guarantees") that bring peace of mind to travelers and make up 50% of its revenues. Is Hopper ready to take on the challenges that come with entering the short-term rental industry? Will it be able to bring innovation on the supply side too, by offering well-priced guarantees that lower the risks for property owners and managers?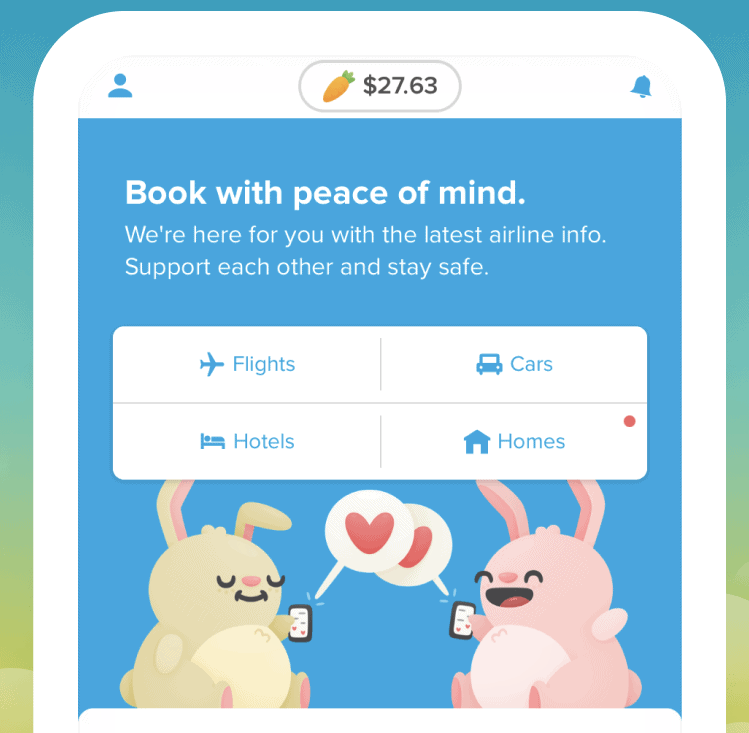 What can we learn from the launch of Hopper Homes?
On January 27, 2022, the eagerly anticipated launch of Hopper's vacation rental offer finally happened. It was no secret that the travel app had been building its Hopper Homes offer. For instance, since September 2022, its career pages had been referencing Hopper Homes and LinkedIn had been flooded by vacation rental industry veterans announcing that they were joining Hopper.
Securing supply, the first mission of a vacation rental marketplace
Hopper was just not building the buzz around its launch: It was also actively recruiting property managers to add as much supply as possible before its launch. With Airbnb and Booking boasting more than 6 million listings each, it was key that Hopper's supply offer was large enough. By end of January 2022, the company could indeed boast "over 2 million global properties, with more properties added daily".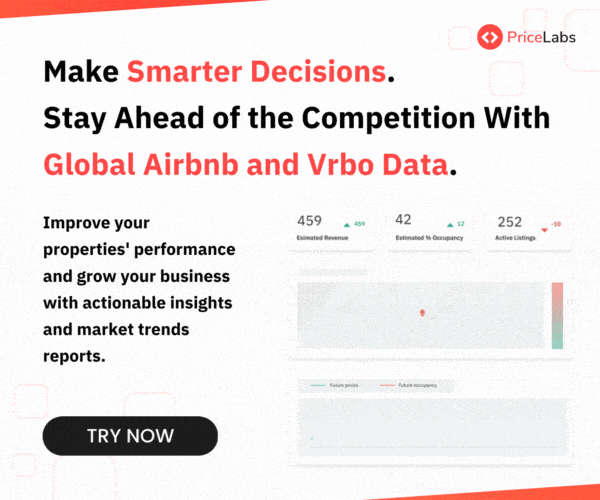 Gen Z, Hopper's core target app users, prefers short-term rentals over hotels
In its announcement, Hopper supports the rationale for the launch of Hopper Homes by asserting that it already has the demand for it and that Gen Z prefer short-term rentals.
First, Hopper wants to show that demand for Hopper Homes is already present on its platform. For instance, it says that:
About 40% of Hopper customers indicated they prefer homes over hotels,
24% have no preference between the two,
44% of Hopper travelers book for more than two people which also demonstrates why home rentals are an appealing option.
Second, Hopper quotes data from Phocuswright to show a generational shift in the preference for vacation rentals over hotels. It is key for Hopper to emphasize these points, as it has built a Gen Z-focused customer base, notably on the back of massive ad investment on the TikTok app. In the press release, the company says that:
Short-term home rentals jumped from 17% of accommodation bookings to 27% in 2021 (Phocuswright Research, 2021)
Much like Hopper's own users who are primarily Gen Z and millennial travelers, short-term home renters skew younger than the U.S. traveler population overall, with more than four in 10 rental travelers under the age of 35.
Now, we could argue that the jump in the share of short-term rental booking from 2020 to 2021 is also the result of the collapse in hotel bookings at the start of the COVID-19 pandemic. As hotels and cities reopen, the share could go down again. Nonetheless, Hopper conveys that adding its flights, hotels, and cars offering was an obvious market opportunity.
The case presented for Hopper Homes obviosuly matches Hopper's DNA
In a classic tech product marketing move, Hopper says its customer research has shown the need for a new vacation rental booking experience. Here are some pain points that Hopper Homes is supposed to solve:
it's hard to ensure customers getting the best price on an individual property,
customer are hit with hidden or surprise fees,
cancellation and payment terms can be confusing and inflexible.
These points obviously match how Hopper positions itself: As a company with a price-watching and meta-search DNA, it is good at fetching and presenting the best prices. Suprise fees, from cleaning fees to resort fees, are hated by consumers, as well as meta-search tools as it makes their displayed price inaccurate. Last, Hopper's FinTech DNA makes it well places to innovate around cancellation and payment terms.
Just the first version of Hopper Homes, as the real innovations will roll out later
Basic, but looking good in an app-first approach
For the moment, the booking experience on Hopper Homes is classic: Users can filter by location, the number of bedrooms, amenities, or even whether the property is pet-friendly. A basic feature, filtering on price, is not available but should be added soon.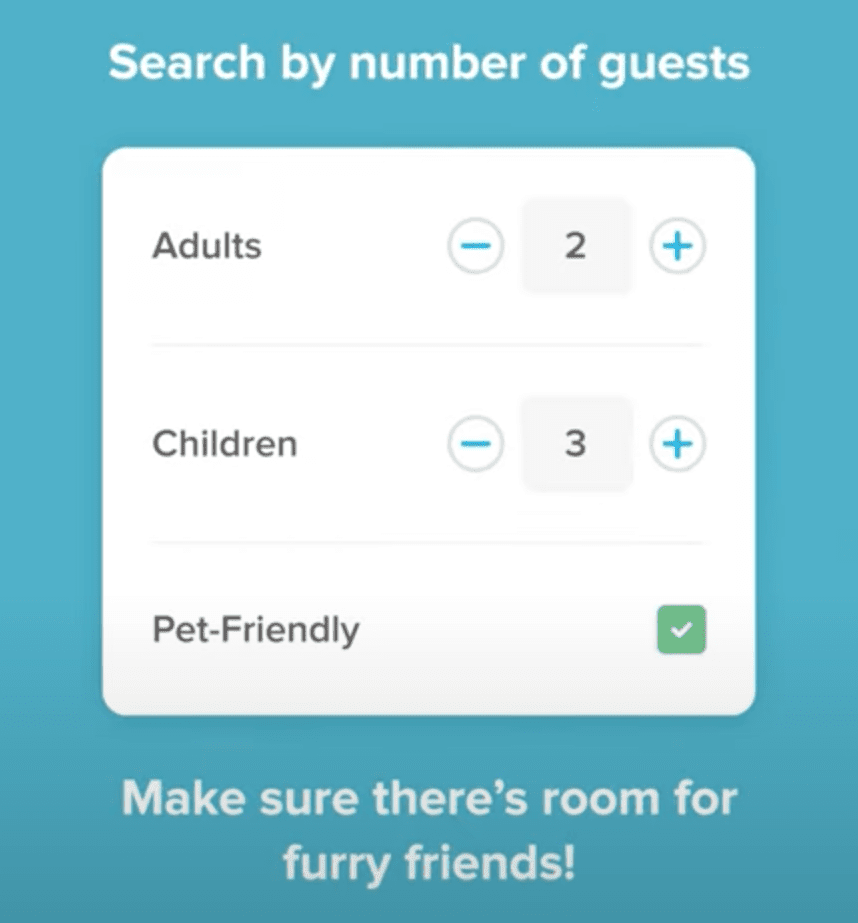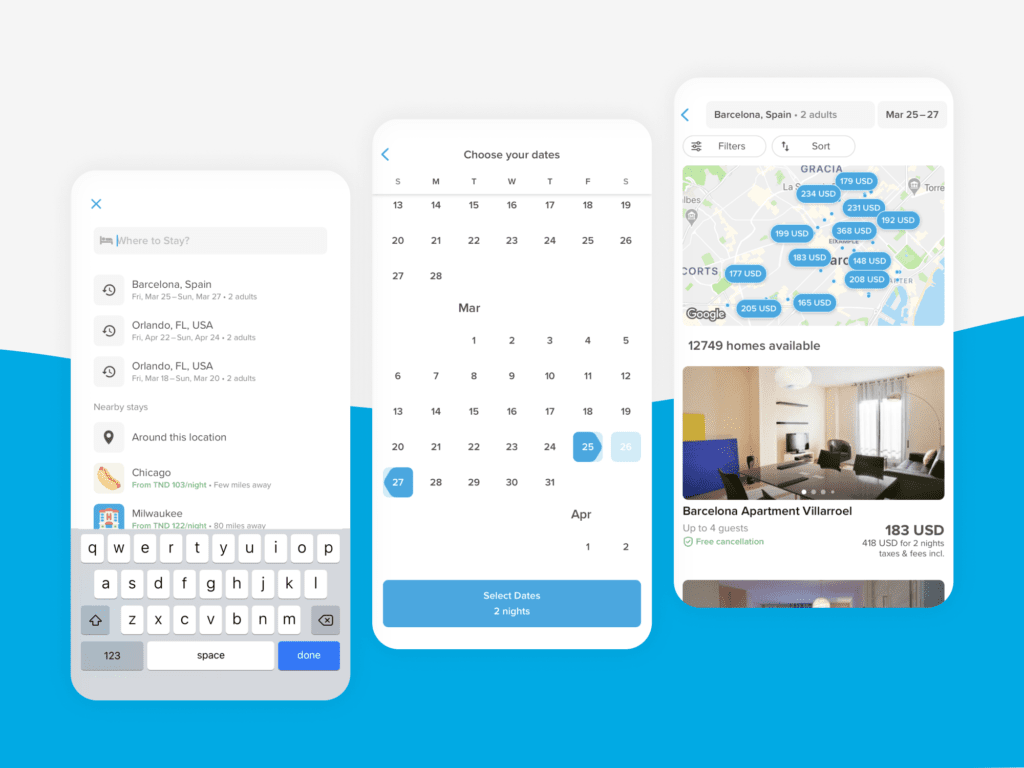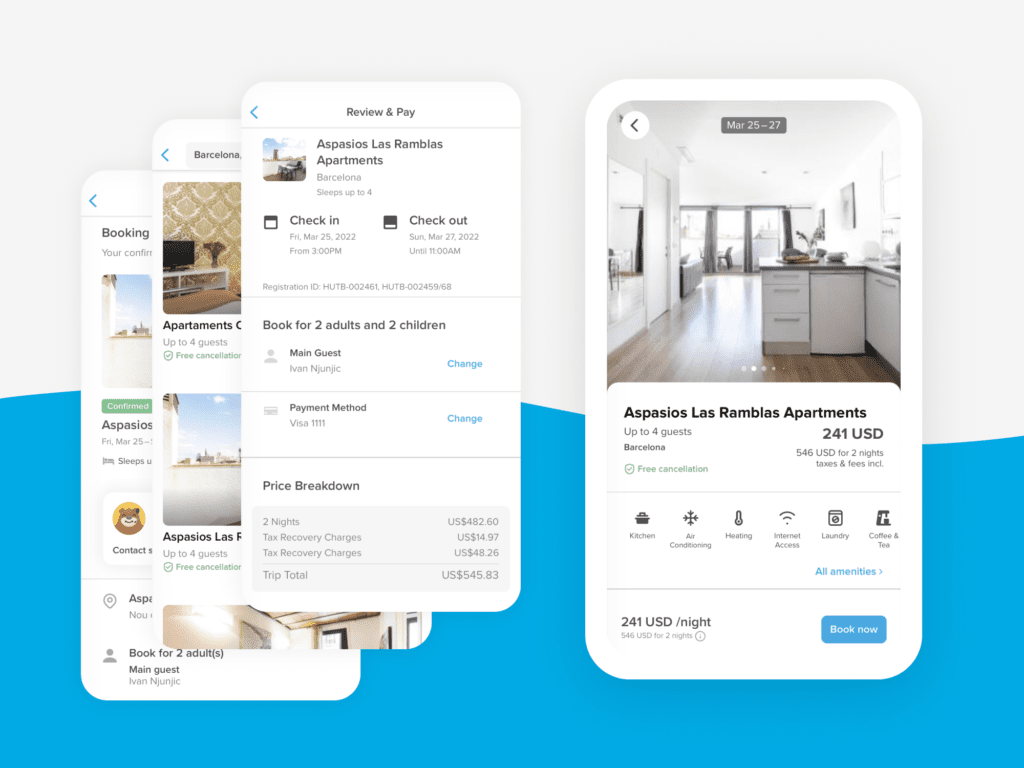 Upcoming features that will change the vacation rental booking experience: Price Prediction, Cancela for Any Reason, and Carrot Cash
On the consumer side, the real innovative aspect of Hopper Homes will shine when the company adds to this first version the features that have powered its meteoric rise:
Its Fintech products, such as Price Prediction and Cancel for Any Reason – in order to deliver a home booking experience that guarantees customers the best price with the most flexible cancellation policy.
Its loyalty program, called Carrot Cash: Hopper's credit system is suppoded to increase loyalty, drive repeat purchases, and most importantly, save customers money.
What could Hopper.com's Hopper Homes playbook be like?
To better picture the innovations that Hopper Homes could bring to the vacation rental market, let's have a look at the FinTech products it offers to travelers who currently book flights and hotels on the platform: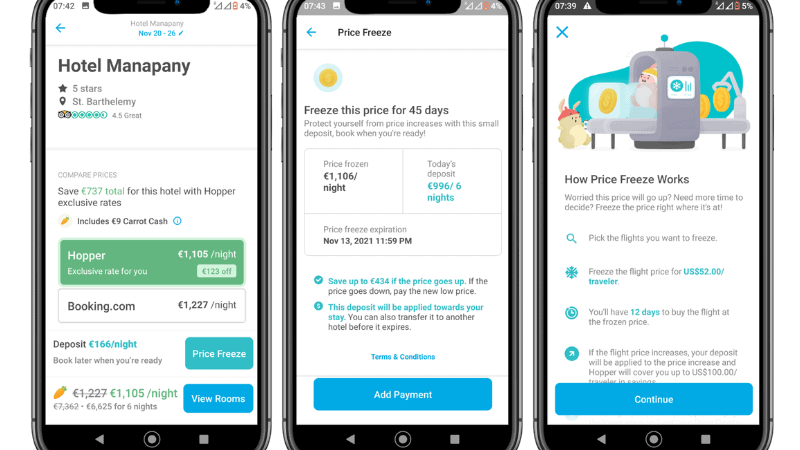 Price Drop Guarantee ("Price Freeze"): Reimburse customers if prices drop after they've booked.

Drive sales and customer satisfaction by guaranteeing customers the best price, even after they've booked. Allow customers to purchase travel today with the security that if you find a lower price after they book, they'll automatically be reimbursed to ensure they're getting the best deal.

Cancel for Any Reason: Make any trip flexible and refundable.

With Hopper's Instant Travel Refund Promise, you can cancel your flight for any reason up to 24 hours prior to your scheduled departure and you'll get a future travel credit from the airline worth 100% of your original ticket cost. Hopper will cover any rebooking fees charged by the airline.
In the case that a future travel credit isn't available from the airline, Hopper will issue a refund for the amount covered under your plan.

Flight Disruption Guarantee: Rebook customers for free if they experience travel disruptions.
Travel Insurance: Offer the world's smartest insurances. (coming soon)
We don't know what Hopper wants to do exactly, but think of the impact on the market with a similar "Instant Vacation Rental Refund Promise". It would allow travelers to cancel their booking for any reason up to 24 hours prior to their scheduled check-in. They would get a future travel credit from the property management company worth 100% of their original booking cost. Hopper will cover any rebooking fees charged by the property management company.
Again, we do not know whether Hopper would do this. For the moment, it only offers this product for flight tickets, but not for hotels. So, it could take some time to see it extended to vacation rentals.
It looks like Hopper wants to build its vacation rental supply fast, through channel managers and through direct onboarding of property managers, with Canada, the UK, and the US as property markets.
As OTAs have discovered, vacation rentals are different from hotels and flights, so recruiting dedicated customer agents makes sense, especially if the plan is to charge for "VIP service".
On the tech side, Hopper needs to build a way to search for vacation rentals within its app. It is ambitious, but not unique. While the company says that it would be the first to build out "metasearch in the vacation home market (something that's never been done before)", companies such as HomeToGo, Holidu, and Google Vacation Rentals have done it before. OTAs such as Booking.com also do a decent job using machine learning and AI to guess customer intent and mix hotels and vacation rentals in their search results.
What is very interesting to watch is how Hopper can extend its guarantees and insurance-like financial products to the vacation rental industry. Cancellation policies are indeed stricter than for hotel rooms, for various reasons: For instance, vacation rentals may take longer to rebook, homeowners are more risk-averse than hotel managers, and revenue management practices are less used in the short-term rental industry.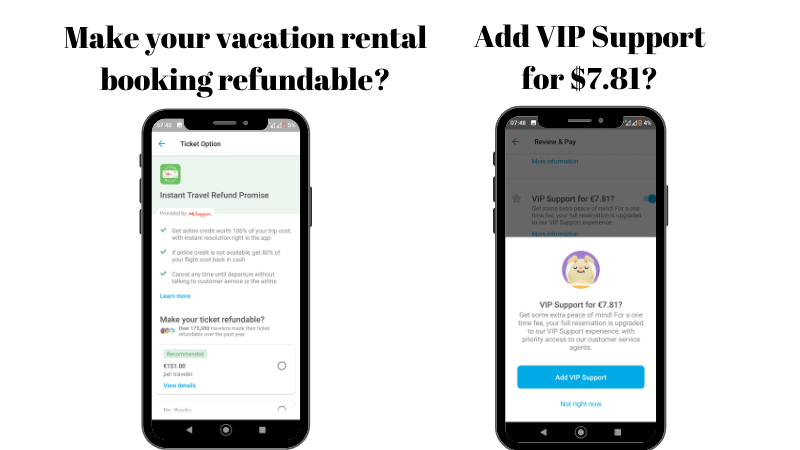 Companies such as Booking.com try to convince property managers to introduce more flexible policies.
For instance, the company would advise creating 3 different rate plans, with different rates for different cancellation policies (e.g. lowest rate comes with a non-refundable booking, and the highest rate comes with a super-flexible cancellation policy).
Thus, the traveler would see 3 different rates for the same stay and pick the rate + cancellation policy mix that makes the most sense.
Here, it is the property manager who gives a price to the option to cancel a booking.
At Rental Scale-Up, we imagine that Hopper would be doing it differently:
Using price and cancellation prediction, Hopper would decide whether to offer a "cancel any time" guarantee and how much to price it.
The traveler would be given the choice to purchase such a guarantee, even for a property with a strict cancellation policy. 100% of the guarantee fee would fall into Hopper's pockets.
Should the traveler finally decide to cancel the reservation, outside of the cancellation policy, Hopper could try to convince the property to offer a free cancelation (something OTAs already do on a daily basis). If it does not work, Hopper could then offer some Carrot Cash travel credits or a refund to the traveler.
Why Hopper Homes could bring much needed service innovations in the vacation rental booking experience
Hopper is the fastest-growing travel app in the US, according to SensorTower. In July 2021, in the US, it was the #1 downloaded OTA app, with 1.3 million downloads, ahead of Booking and Expedia (yet, it ranks behind Airbnb and Vrbo). Here's how the company introduces itself:
"Hopper is valued at $3.5bn making us the 5th most valuable travel business in the world. We're best known as a travel app and we just raised a further $175m from a funding round led by GPI Capital."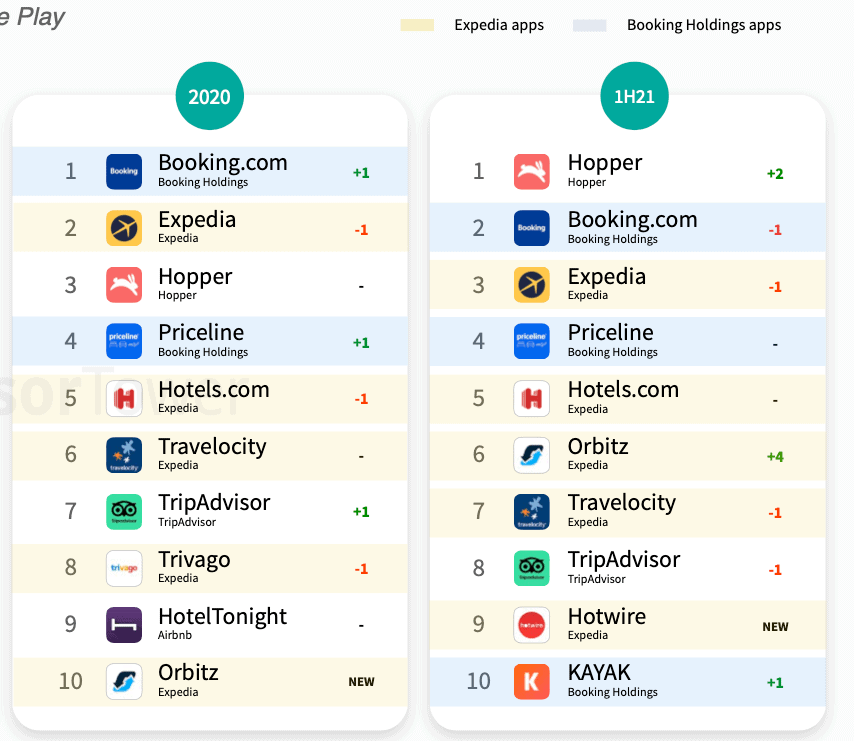 Hopper is making an entry into the vacation rental market, with Hopper Homes. The company is currently on a hiring spree to create its Homes team, recruiting account managers, supply experts, product managers, and customer service representatives.
Here's what Hopper wants to differentiate itself from Airbnb and Vrbo:
"Vacation rentals often have the least flexible cancellation and change policies — a problem Hopper is uniquely able to solve with its suite of financial services products."
Financial service products add a FinTech flavor and buzz to what Hopper is doing. While OTAs like Booking and Expedia draw most of their revenues from guest and partner booking fees, Hopper gets more than 50% of its revenues from fees on its products such as its "Price Drop Guarantee" and "Instant Travel Refund Promise". It also offers "VIP customer service", for an additional fee. Hopper also has its own "currency", called Carrot Cash, that allows it to be creative when it comes to creating products that refund purchases.
Hopper's strength lies in using data to predict price changes, creating price protection products for its travelers while engineering them in a way that is profitable to the company. It can help travelers understand when to book a flight or a hotel, in a pretty reliable manner. From there, the company has developed guarantees that travelers can purchase to protect themselves against price increases or to cancel flights up to 24 hours before departure.
Here's how the company puts it:
"Hopper's goal is to reduce traveler anxiety throughout all stages of the trip buying process. By creating a transparent travel marketplace and unique, data-driven financial technology products focused on providing peace-of-mind, Hopper adds value along each step of the customer's journey."
These guarantees are not free: Travelers pay for the options, which is priced according to a complex algorithm. Hopper puts a price on convenience and flexibility and lets customers choose. In vacation rental terms, a more crude model is having a lower rate with a non-refundable price and a higher rate that comes with a cancellation policy.
Basically, Hopper can increase bookings and customer satisfaction by guaranteeing the best price, even after travelers have booked. Hopper's products can for instance allow customers to purchase travel today with the security that if they find a lower price after they book, they'll automatically be reimbursed to ensure they're getting the best deal.
What the current Hopper Homes job offers say about Hopper's intentions for the vacation rental industry
Hopper is currently recruiting 4 different profiles for its Hopper Homes team:
Hopper Homes Director of Supply (Manages account managers, sets sales targets, develops direct supply strategy, and executes new solutions)
Hopper Homes Account Manager (Engages with property managers and connectivity providers)
Hopper Homes Product Manager (Leads, creates, and launches product offerings in the Homes category to deliver the best price, selection, convenience, flexibility, and overall customer experience)
Hopper Homes Customer Support Agent (Supports travelers before, during, and after their trip)
Looking at the job descriptions, we can get some ideas of what Hopper Homes is about:
Why Hopper thinks that is well-positioned to address the vacation rental market
The following text, taken from a job offer, reads like the core value proposition for Hopper Homes:
Hopper's customers are savvy young travelers who often prefer vacation rentals to traditional hotels. However, vacation rentals often have the least flexible cancellation and change policies — a problem Hopper is uniquely able to solve with its suite of financial services products.
What Hopper wants to offer customers
Here are soundbites from the Hopper Homes job description that sketch the company's ambitions:
Mission: "Ensure Hopper's travelers the best price, selection, convenience, and booking flexibility in vacation rentals. "
Supply strategy: Find and onboard property managers through sales team and new tech solutions
Supply Director role": This role will be responsible for developing and implementing Hopper's direct vacation rental supply strategy and establishing and prioritizing sales targets."
Account manager role: "Manage the existing portfolio of property managers, be their main point of contact, and focus on increasing the booking ratio and profitability." "Work collaboratively with connectivity partners"
Supplier Onboarding & Engagement Product Manager role: "Build tools to streamline the onboarding process for new inventory, as well as create analytical tools and services to manage performance. "
What Hopper Homes' tech team is building
It seems that Hopper Homes has 3 product tracks:
Pricing: Build out metasearch in the vacation home market
Supplier Onboarding & Engagement: Streamline the onboarding process for new inventory and build performance tools
Service Automation: Automate the customer service experience both pre- and post-booking, and enable seamless communication between customers and property owners.
Hopper's app-first, Gen Z first strategy
A last point of differentiation for Hopper is its app-first strategy and its focus on Gen Z users. While Booking.com says that 60% of its bookings come from mobile, its DNA is firmly that of a company that started out as a website. Airbnb straddles the web/app divide a bit better. For instance, while Booking has an app for travelers and another for property owners (Pulse), Airbnb's app can address both travelers and property owners, which makes sense in the vacation rental market can users can be both on the supply and demand side.
In its latest travel app report, SensorTower shows that Hopper is the most downloaded app (e.g. OTA app) in the US.
Vacation rental apps were hot in H1 2021, adding Homes is attractive
Yet, in the overall travel category; Hopper is #6. Interestingly, in the US in the first half of 2021, Airbnb and Vrbo's respective apps had more downloads than Hopper, Booking, and Expedia. So, offering vacation rentals seems like a logical move for Hopper in order to better address the needs of app users.
After Google Maps and local transportation apps (Uber and Lyft), Vrbo and Airbnb were the only apps surpassing Hopper in terms of downloads numbers in H1 2021, when looking at the overall US travel app market.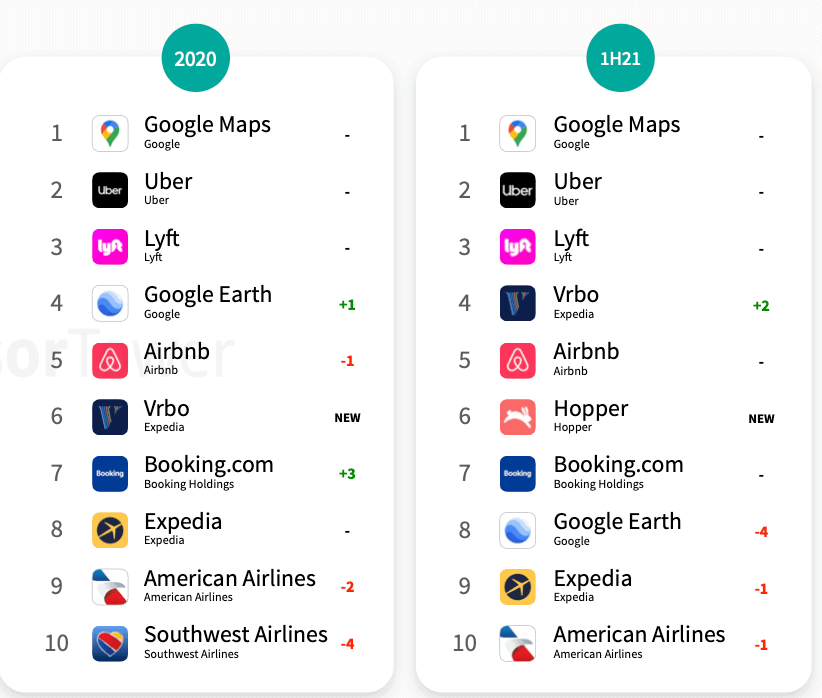 Hopper's download numbers rest on high marketing spend which focuses on social media apps. While other OTAs stay mostly clear of Snapchat and TikTok, Hopper is investing a lot in these apps to get Gen Z users to download its product.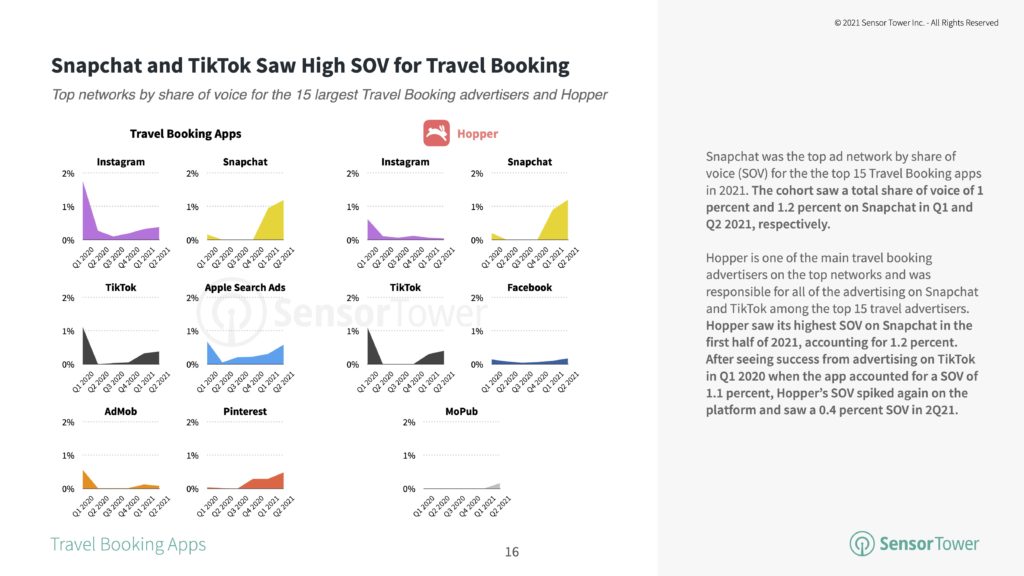 Hopper would not be the first to offer guarantees and insurance products in the vacation rental industry, but its FinTech approach to pricing protections is more innovative and maybe lucrative. Will its offers also cover property owners and managers?
Hopper's positioning mixes Booking.com's "best price" promise with "travel with confidence" promise closer to travel insurance companies. If you get the promise to always get the lowest price, even if rates drop after your purchase, allied with easy cancellation and booking policies, you get a powerful mix. It is a modern take on the lowest price / cancel any time promise that built Booking.com's success. The comparison with Booking is all the more relevant if you add to the picture Booking's decision to jump on the FinTech bandwagon by creating its FinTech by Booking subsidiary.
Now, Vrbo has been offering insurance products to travelers and property owners for years. Airbnb is also working on travel insurance products and is currently offering travelers some options through InsureMyTrip in the US and EuropAssistance in Europe.
In a vacation rental marketplace, it is not just travelers who want to hear about how booking risks are addressed. For instance, Airbnb's Host Guarantee addresses property damages, while its Host Protection Insurance addresses liability, both for up to $1,000,000. Vrbo also has a $1,000,000 liability insurance, while it sells home insurance through its partner Proper in all 50 US states.
How will a customer-centric company like Hopper address the needs of property owners and managers? It is a problem that it does not have with airlines and hotels. Yet, it is crucial to address the risk of listing a property when entering the vacation rental market. This is something that Booking.com, another OTA that is customer-centric and has a hotel-first culture, has been running into for years.
At Rental Scale-Up, we can imagine that FinTech products that would convince homeowners to lower their damage deposit in exchange for some insurance products could be interesting. Depending on the model, it could be up to the traveler or the homeowner to pay for them.
Keep an eye on Hopper Homes
Overall, Hopper is using all the right buzzwords du jour in the travel industry:
app-first,
Gen Z-first,
FinTech,
and vacation rentals / airbnbs
The ambitions of the team are refreshing. The design and user experience (UX) of the Hopper app make other OTA apps look a bit dated. Hopper's model of proposing paid offers to allow for more trip flexibility appears to be working, even it does feel like adding yet more fees on top of bookings. The current pushback against cleaning fees experienced by Airbnb shows that staking up fees can prove to be difficult. Yet here, it is travelers who are given the choice to add these fees against a clear proposition value.
OTAs such as Expedia and Booking.com have entered the vacation rental market, with products and services that sometimes have a hard time competing with vertically-focused companies such as Airbnb and Vrbo. Even for a new-ish company such as Hopper, the complexity of the vacation rental industry should not be underestimated. If Hopper can work out solutions to bring peace of mind on the supply side too, then it may allow for more booking flexibility and higher conversion rates. At Rental Scale-Up, we're definitely keeping an eye on the company.