This article is part of our Rental Scale-Up vacation rental management conference series. This is an extract from our May 2020 conference: "How villa and holiday rental managers are navigating the COVID-19 crisis in Southeast Asia and Oceania."
Vacation Rental Management Conference: Bukit Vista's Jing Cho Yang
Jing Cho Yang is a Founder/CEO of a Bali-based hospitality services company with a portfolio of over 180+ properties under exclusive management. Jing worked at Airbnb until 2014, as the lead market development officer for Indonesia. He's a 15-year resident in Bali. Jing inspires delight by building great teams and communities. He holds an engineering degree from U.C. Berkeley.
Vacation Rental Management Conference: Video From The 2020 Southeast Asia & Oceania Conference
Jing is the founder of Bukit Vista, a rental agency that he started after working for Airbnb. He wanted to start a business venture that would allow him to combine his love of travel and discovering new places, and he launched the business with his wife several years ago.
Bukit Vista has properties all over Bali and throughout Indonesia, including major cities like Jakarta.
Jing learned a lot about the market and the rental business while he was working for a real estate company in Bali.
His portfolio now includes resorts, apartments, villas, and guesthouses. They focus on whatever guests are booking – they follow the demand.
Bukit Vista used to get around 110 bookings per day, but after the coronavirus situation started their business dropped to between 2 and 8 bookings per day. These bookings are usually for dates several months in the future.
Jing shares a couple words of wisdom to think of during crises: "Do the things you can control" and "never let a crisis go to waste."
He always tries to be creative during tough times (it's actually the fourth time Bukit Vista has gone through a crisis), and now the company is focusing on cleanliness in their properties.
Jing and his team can influence the cleaning staff through communication and education/awareness programs.

For the educational piece, Jing and his wife cleaned a villa themselves and created a 5-minute video to show exactly how it should be done. Instead of creating a written "how-to" document, they chose to make a video so they could clearly show exactly where to clean and disinfect.

They also had to figure out how to manage accountability and ensure the properties are cleaned properly.

Their solution is to put checklists in each property which include all of the essential cleaning steps. The cleaner signs their name and date on each step after completion. Since the checklist is posted publicly, guests can see that someone completed each step, and they'll feel more comfortable about the property's cleanliness.
They're also working on a mobile app version of the checklist, but it's not quite ready to use yet.

Jing is putting a "certified" badge on the cover photo of all of his Airbnb listings that follow their cleaning procedure.
Jing is also using this slow period to focus on an aspect of his business that he often doesn't have time to dig into: data.

Around 100,000 guests have stayed at Bukit Vista properties, so the company has a lot of data to analyze.
Jing wants to create forecasting models that are faster and more accurate. They run into challenges when trying to forecast properties that have no close competitors, so Jing's data science team is working on building better models.

As Jing and his company innovate, they need to learn about many new topics. Jing uses LinkedIn to connect with other people or companies who have solved similar challenges or have expertise that Bukit Vista can learn from.

At first, Jing offered stipends to people who shared their knowledge with him.
But Jing noticed such a big outpouring of knowledge sharing that the stipends weren't actually necessary. People were just happy to share.
Jing and his team use LinkedIn to recognize their subject matter experts and thank them for their contributions.

In one instance, one of Jing's team member's posts created a lot of social media buzz as it was re-shared several times, and other people who saw the post reached out about potential mentorship opportunities.
Jing believes sharing encourages innovation and enables people and businesses to grow.
Vacation Rental Management Conference: Full Conversation Between Jing Cho Yang And Thibault Masson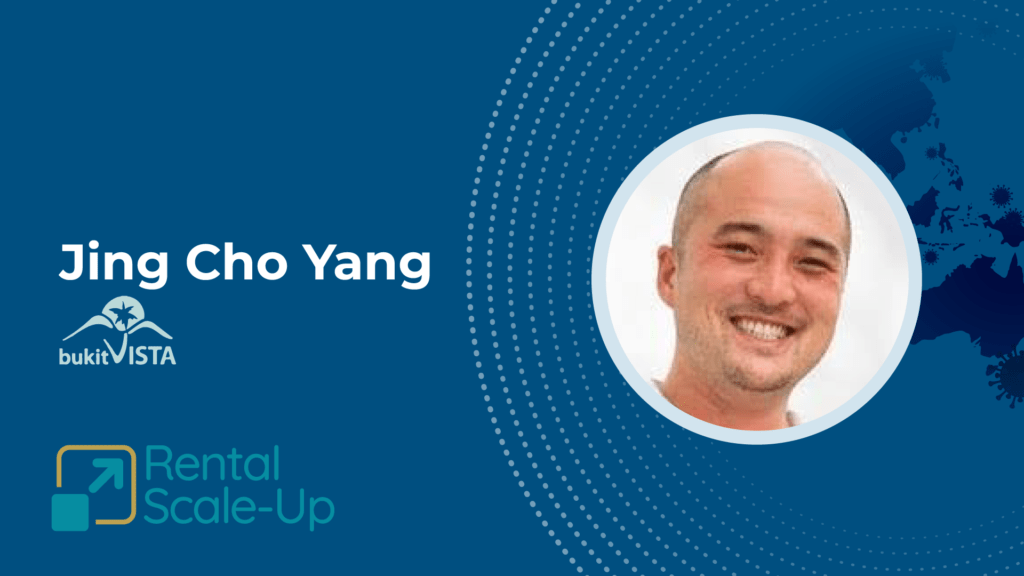 Thibault:
Dear RentalScaleUp members. Thank you for joining us for this session. I'm now with Jing Yang. Jing is in Bali right now. And as you can see from the logo behind him, he's the founder of Bukit Vista. Bukit Vista is a, an agency in Bali, we will be talking about the business, what he does. And then, I wanted to reach out to Jing because I think we've known each other for a few years now and he's is who can bring a lot to our session today. He will be talking not only about what the business normally is like in Bali, what situation is, but we'd be talking about how he's taken the time right now to innovate with this company first with the way he's enforcing cleaning standards. Also the way he's using this time to create innovation with his data science team, with his product team as well. And last thing we'll be talking about is how he's actually every time is presence on social media. Why is he doing this? Why is he so present on LinkedIn? And why is he doing this reachouts. Very, very interesting points. So without further ado, Jing, how are you?
Jing:
I'm doing okay. Thank you, Thibault, for asking. And thank you for this opportunity to speak with you at this webinar. We're doing good.
Thibault:
So I think we've known each other for five or six years, long enough. So maybe you give us a quick background about yourself, also Bukit Vista.
Jing:
Sure. I'd be happy to tell you that, Thibault. So what what I've been doing here for the past, whew. I think almost, I started in Bali around 2004 came here as a backpacker and I I met my wife at an art shop or my future wife was about to get on an airplane. I went into the shop really quickly to get some souvenirs and I ended up staying. So that's what brought me to Bali and started Bukit Vista shortly after my time at Airbnb. So I had worked is the manager for overseeing the growth in Indonesia at the time and post-Airbnb I thought of, Hmm, how's, how's the way that I can actually still do what I love to do, which was essentially managing communities and building this love of travel and, and discovering really interesting places into a career.
Jing:
So I got together with my wife and we started this company, Bukit Vista on the a weekend, actually, it was on a weekend and we were sitting inside of a Villa that one of our friends had asked us to help rent out. And we got a rental, actually on the third day, I think we were sitting in this property looking out over across the ocean and "bukit" means "hill" in the Indonesian language. So we're on a Hill looking at the ocean. So we thought Vista, right. And that wasn't meant to be a name forever, but it just, so yeah, that's a little story about myself and the company.
Thibault:
That's great to hear. And Bukit Vista has properties all over Bali, I guess, on the Bukit, if you know Bali. So can you maybe tell us more about, you know, the properties you have, this may, maybe the kind of properties you're choosing? And as well, what's the demand is like right now?
Jing:
All right, well certainly very good question, Thibault. Well, thank you for asking. So we're actually not just in Bali. We're all across Indonesia. The majority of our bookings have in the past and in Bali, but we're also active in the central Java city of Yogyakarta as well. The situation I would say in terms of how we began is a, funny enough, we began with villas. I had worked in Bali as a real estate agent for a number of years with a company called "Exotic". And during that time I had developed a familiarity with the marketplace. I'd been going off a lot seeing land and construction sites and villas with different owners and different investors and developers. So I became quite familiar with this particular aspect that a lot of properties after they had been developed were not productive as investment properties.
Jing:
They were not getting rentals. So we started with essentially looking at villas development. So we're quite lucky. I guess if I were to look back, we started, I believe our first property was a beachfront Villa in Nusa Dua and it's been one of our longest partnerships, in fact. From there we actually started getting into resorts after a certain while because we were getting so much demand at the time from Airbnb for oceanside properties that we kept on filling up whatever place that we were involved in that kind of led to an expansion inside resorts. Furthermore, when Canggu started taking off the, the first properties we got were very lucky. They got us inside the community and these people were building guest houses and smaller hotels. So we got involved in also that market too as well. So altogether in our portfolio we have a mix of resorts, villas apartments and and guest houses.
Jing:
I would say that's the composition of our product categories. And we generally find that we're very agnostic as far as like, what did we go after? We go after whatever gets a booking. Fundamentally I've realized that it's the guest that actually decides whether or not one property is truly better than another one. So in terms of how things are doing right now I can tell you actually we went from about 110 bookings back in February, which was a low season traditionally, we get about between two and eight bookings a day now. And I guess I'm happy that we still get bookings at all. There's a lot of properties that probably get nothing. Most of these bookings are happening a little bit further into the future, like during our peak season dates or supposedly peak season dates now August, September, a little bit further on the future.
Jing:
The condition in Bali is, I guess it's not great. It's probably the worst it's ever been. I came here after the second bomb and the Island was deserted came in on I think a 777 flight. And I had essentially a section of the airplane from curtain to curtain all by myself. So it was almost like it was almost like those airplanes that take you for those, those zero gravity experiences, you have this whole entire section airplane just with myself. So the airport right now has limited function. There are still some flights coming in and out, but as far as understand the governance made initiative to sort of limit the amount of domestic travel and air travel in general to slow down the coronavirus spread. So it's, it's, it's tough. It's probably one of the most difficult times I've ever seen in my history here just about 14 years now.
Thibault:
These were tough times, even when you started. It's tough now. So of course it's a crisis, but you, you're still trying to use this crisis to adapt to the conditions and the obvious one is like, okay, when people go back when they arrive, what the first thing would care about is probably going to be cleanliness and take an action. So we chatted a bit before that to, to prepare the call that you had, you have this very interesting ways of, of making sure that people are… Cleaners, actually, doing what they should be doing. Can you share a bit more with us please?
Jing:
I'd happily do that. So Thibault this discussion came from what we know about leadership, which is do the things that you can control and lead the things that you can't control up to, up to fate, I guess. So one of the things we knew that we can control is we can control what sort of behaviors that we have right now to to put us in the best possible position for when things go… Get better. I remember hearing this quote somewhere, I never let a good crisis go to waste, which means that essentially I've, this is the fourth time this company has been through essentially an existential crisis. So we've, each previous time we saw that there was a way to, to come out of it stronger. So in regards to cleaning, it was a challenging project. It was challenging because it was something that normally we don't put a lot of…
Jing:
I wouldn't say we don't put a lot focus on it, but it is not like the most, it's not the most sexy topic that is that is available. Normally we're, we're more focused on content, revenue management or these other factors that are, are far more glamorous. So we had to really think back to the fundamentals back to the core again about cleaning. And so we thought about some of the constraints that we're facing. I believe a lot of property management companies are also looking at, that we do not directly pay the people who actually clean the sites. And these are essentially employees of each property. But we do have influence and we have influence through our communication and through our education and awareness programs. So we, we knew that. And then what we did was we thought, how do we make this so simple that nobody could mess it up?
Jing:
Right? How do we make it so easy? Such that everyone would find success in it. So one of the most fundamental things we did was: alright, we know that if we give, let's say, written directions, people probably won't be able to envision it as well as if we ever, we made a video. So my wife and I, we got together and we cleaned a villa and we made it really kind of short, it was a five or six minute video but it touched upon all the ideas of using disinfectant and cleaning all the areas that you normally would not clean. So that's just to kind of like raise the awareness and, and also make the, the education simpler. The next process of getting that built was thinking about how you're going to monitor this, how you're actually going to check and make sure that these properties are being cleaned.
Jing:
And we know that we do not have the capability to constantly monitor that will require far too much output. So we took a idea of a checklist and we put essentially checklists in each room, setting essentially what has been cleaned. So essentially like a cleaning menu. The cleaners are then checking off each item on that. And they will date and sign each checklist so that the guests coming in will see, okay, this room has been cleaned, these are the things that have been disinfected, these are the things that have been addressed. And they would see the person's name and the date on the checklist too as well. So I think that level of transparency and that relationship that happens between the person who actually cleans the property and the person who actually stays there is pretty important to have, let's say a manager in the middle would actually make things more complicated and also make things less truthful in some ways too as well.
Jing:
So that was our method of creating a sense of self monitoring. The other part was, okay, how can we digitize this as well? So how can we report back to people who are trying to manage all the different properties on a check-in day about this? So we developed an app, which was an app that we're using anyways, but this part isn't complete yet. We're working on it, but essentially it will be a tick box given by the onsite change to check off when a property has been cleaned so that we received that signal back and then we can then allow the guest to check in knowing that the property has already been disinfected. We're, we're gonna… Oh, actually the good news is that this this has taken a few weeks to prepare to educate and get everyone ready and trained to this. But hopefully today will be the first property which we will certify. And what we will do is essentially put certification label on the Airbnb listing up on the front photo so that people who are browsing through, they will see that certification and they'll know that that is a COVID-safe or COVID-disinfected property and they can have more confidence booking that. So yeah, that's the cleaning program that we've started.
Thibault:
That's great. So there's nothing, you have this clean program, but also innovation has been on the other sides of the business. For example, the innovations going on with the data science, with products. You mind sharing this a bit?
Jing:
Sure. Like I think the one… Our vision is to become the most innovative hospitality company in the world. We, we see this as actually a really good opportunity to really think about research and development, which are the two keys to innovation normally during good times, I guess, in Bukit Vista would… the corresponding tragedy is that it's really hard to do research and development when there's so many urgent things happening. Guests are checking in, you know, people's holidays depend upon us focusing on on service. So during these times, I think it's, it's, it's exciting but it's also distracting from an innovation point of view. Now that we're given let's say a very quiet and very calm environment to think of, of ideas. This is actually been quite a lot of benefit. So one of the primary areas where we invest a lot in is in data science. And we believe in data because we generate a lot of data records.
Jing:
We, well not compared to like a company like Booking.com, but I think since the beginning we've had close to a hundred thousand guests stay at Bukit Vista properties. And that number is accelerating each year to a faster and faster number, A bigger number. Mainly because we expand and we get a lot of return guests, but we also acquire new property. So this produces a very valuable data set. So the one application of this data is that we're able to predict prices. We're able to look at historical data, we're able to look at yesterday's data and we're able to see where the trends are for tomorrow. This is very valuable. It's just in a simplistic way we can see in a particular region how many properties have been booked on which dates at which prices. So this allows us to then converge prices to a certain band that we believe transactions will happen.
Jing:
So that that's, that's an innovation that we had already. The most crucial innovation that we want to develop at this point is to support our business model. We're essentially a, as you said, we're an agency model. We only take commission whenever there's transaction. Part of the difficulty in competing with other companies like that have more generous budgets, is that for an owner to get let's say a fixed rental and then for a management company to their re-read that out there, it's really hard to compete with that. Because it's money and hat. But the next best thing that we can offer is we can offer a projection. We can tell you quite well about how likely you're going to make, let's say, revenue over the next, over the next 12 months. And that process has been fairly manual. It's been, it's been using data, relying a lot on data analysis rather than data science.
Jing:
We are taking this time right now to figure out a way that we can create forecast models within minutes, if not even faster instantaneously. How accurate are we on forecasts? Well, in aggregate we make forecast for our entire company. We started this practice about 28 months ago and we're pretty much on target about 90% of the time. So our forecast for the entire company have been extremely accurate. Now that's a little bit easier because we're talking about hundreds of properties aggregated together. So then there's, there's there's more of a convergence, but we're still trying to perfect the process of creating an accurate forecast for an individual property. And the hardest is to create a forecast for property of which there are no similar properties currently that we have. So those are, those are the challenges and that's what our data science team is working on to resolve at the moment as their one of their primary projects.
Thibault:
That's super interesting. You're using this time whether to innovate as well in operations but also processes and then as well as data science. And so, thanks for sharing that with us today. And I know you've also been sharing a lot on on LinkedIn for example, and it actually, there's a whole thought behind this for, for what, why is, why is Jing, why is Bukit Vista so visible at the moment? What's, what's the goal here?
Jing:
Okay. So to be to be very frank as well. One of parts of this, this idea of leading to innovation is I think innovation is about sharing and I think it's about discovery. So I think what stops a lot of people from innovating is the question of, you know, am I doing the right thing? Is this thing I'm going to do going to be worthwhile in the end? And I think it's a very valid question. And my earlier youthful days, I would say just do it like Nike and just figure it out on the way. But after having gone through, let's say starting and… Three existential crisises in this company, Bukit Vista, I would say the probably the best way to go about innovation is to first ask. You should ask and you should talk to people who, let's say, have done similar things before.
Jing:
Just to get yourself started on the right path. In my work, like in our company, we've had things that worked, but were they the best way to do it? No. And do I regret it a little bit? Let's say if we had probably worked on a different mindset, then that time that we had put behind the idea would have gotten more successful. So in that aspect, I was able to think, alright, so let's, let's do this. Let's get our teams to focus on professional networking. Let's go out and let's ask people who are much more experienced than us about what they have learned. If we want to do global marketing, let's talk to people who've done it before. If we wanna talk about like creating prediction models, let's talk to people who've done it before. What was very surprising was a lot of people were very, very open to sharing with us.
Jing:
At first we were offering small stipends and after a while we were just saying that just help us because we want to learn. And we got an amazing response back from a lot of the connections that we already had on LinkedIn, but even more surprising on connections that we didn't have. We were just asking strangers for advice. And and I wanted to think of a way of how we could give back. I wanted to think of a way of how we can give back. But also it's, it's, it's, it's strange in the world of sharing. I think there's something in it for everyone. There's a win-win solution. So what we noticed is that when we share, let's say what we've learned from somebody and we acknowledge that and we recognize them for that, then that benefits them too now on LinkedIn because they get a lot of attention and a lot of positive engagement.
Jing:
We've had a case recently, just the other day there was this lady, her name was Celine and Celine was working as a customer support agent at Airbnb, but also before that luxury retreats. So we reached out to her and one of our online guests support person Shintya she was hoping to learn more about how to handle difficult customers through a remote engagement. During that time, Celine shared very openly about things. But afterwards, Shintya, one from our team, she wrote a post on LinkedIn thanking Seline and being very specific about how Seline was beneficial for mentorship, for guidance and for essentially bringing us through this higher understanding of how customer support can be done. So then she posted on her LinkedIn and then Celine shared it on her LinkedIn and then, and then it was, it was good on, on everyone's part.
Jing:
I think Celine shared with us, we acknowledged for this for this gift with our gratitude on, on, on our social media. And then that got reshared on this person's social media and then a bunch of new people wanted to mentor us after we've identified that that was our goal, that was our purpose. So I believe that at this point there's a really good professional networking opportunity and there's a really good opportunity to, to just for selfish and maybe also for altruistic reasons to share. Sharing I think creates more trust. It creates more affinity, it gets the right type of people around you. And the benefits in my mind always outweigh the drawbacks.
Thibault:
That's really, really great to hear. I think it's such a positive note to end with our interview today because we've been through talking about the difficult times the company is going through but as you pointed it's not the first time, you know, between I guess between volcanoes, attacks, a lot of things happen in Bali, so you will have to be flexible. But we talk about innovation and reaching out, so it's very, very positive. So below the video we'll put a link to your to your LinkedIn profile. Is it the best way to reach out for people who want to know more or learn more from you?
Jing:
That'd be fantastic. Yeah. For professional networking, I like to give as much as I receive. So the best way to reach us is we, we, we've got an entire team now working on general we're doing so much outreach that it's it's a little bit difficult for me to manage all full-time myself, but we're very open to this idea of sharing. If there's anything that we can, we can teach to help guide and grow other people's businesses, we're very happy to do that. And although some people might think like, Oh, you know, we're, we're competing. Why would, why would Bukit Vista do that? I think overall you just have to zoom out and you have to think about where this industry had it the majority of people still stay in hotels. The majority of people still choose other accommodations besides Bukit Vista for sure.
Jing:
So I think at this point, the idea of unifying those who are thinking about entering the short term rental space, about getting advice, getting tips so that we can, we can approach this market together. Hopefully, we'll lead. But but I think, I think if we can, if we can generate this I come from a technology background and in technology, I grew up in the Bay area and Silicon Valley and, and I, you know, went to Berkeley and all these things. What I noticed along my entire career path was that knowledge was very open and shared very freely. And that's what advanced the technology industry as a whole. Yeah, there are patents, there are things, but I see the, the idea of secrets as being less and less useful. In fact, the secrets, even if you're thinking that that's going to protect you, that's a very lazy way to to run a business. I think the way to actually activate a business is to innovate and to constantly deliver new ways of, of, of value to your customers and to your employees and to your investors, to the entire circle of, of your stakeholders. So sharing supports innovation. I'm all for that.
Thibault:
Jing Yang from Bukit Vista. Thank you so much again for your time today. Great connecting with you again and well, we'll follow you on LinkedIn then.
Jing:
Alright, thank you very much for this opportunity. It's been great talking