Airbnb is determined to tackle the increasing challenge of house parties during stays booked through their platform. To achieve this, the short-term rental company offers discounts on devices that alert hosts when there's an unusual amount of noise at their property.
The prices of the vacation rental party prevention devices proposed by Airbnb on the dedicated web page titled "Keep your space party free" range from $39 to $149 per unit. Airbnb is serious to up the game when it comes to party prevention for bookings made through the platform.
Party monitoring devices: How do they work?
Party monitoring devices don't record and store audio or video. Rather, they monitor noise and other relevant parameters (such as heat, humidity, and motion) in order to detect whether a party is taking place in a rented property.
Party monitoring devices process sensor data in real-time and relay smart notifications to hosts and guests if suspicious activity is detected.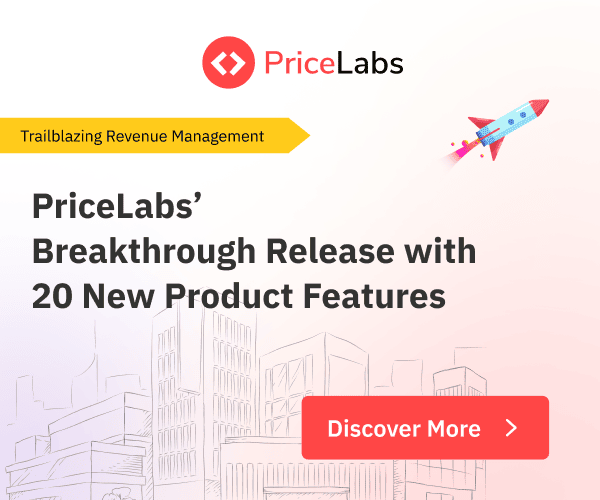 Even though no data is stored in the process, privacy experts have already raised concerns about the use of such devices.
Hosts and rental managers who are considering buying noise detector solutions probably have many unanswered questions.
Will these solutions monitor the conversations of your guests? What device would be the best for your rental property? And, what are the functionalities and the pricing models of these solutions?
In this article, we go over the similarities and differences between the devices suggested by Airbnb and compare the three solutions to help you choose the best vacation rental party prevention solution to protect your property from wild house parties.
Minut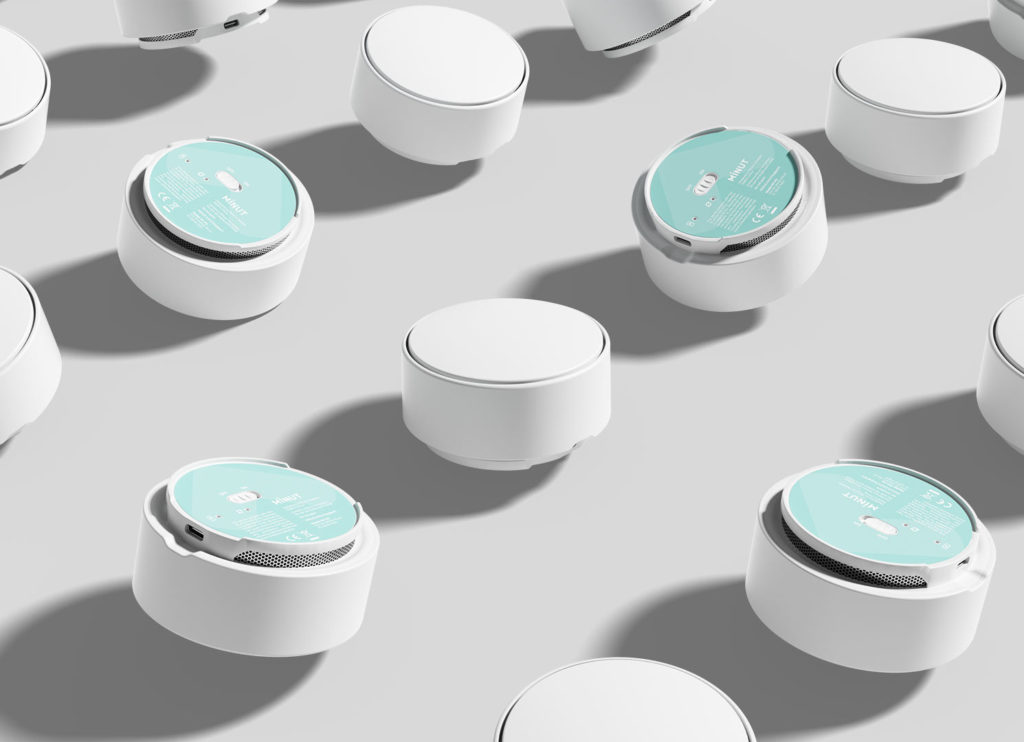 Minut is a multi-sensor device whose main purpose is to monitor noise levels. This device is designed to work without a camera to maintain guests' privacy while giving hosts and property managers all the insights they need to avoid the 'party house problem' and keep their properties safe.
Minut packs a lot of power and functionalities as it allows hosts to measure not only noise, but also temperature, motion, and humidity. And when the property is unoccupied, Minut can be used as an alarm.
This Airbnb party prevention gadget is produced by a Swedish tech startup company that provides products and services for the short-term rental market. Minut was granted a patent in 2019.
Minut guarantees privacy as sensors of the device measure sound levels without recording, which means there is no collection storing or sharing of personal data. If guests make too much noise, Minut can send automated SMS messages to them, which helps lower the noise and keep the neighbors happy.
Product offer for Airbnb hosts
Airbnb hosts can purchase Minut for $99, which is $50 off the regular price of $149. Using Minut for monitoring one Airbnb listing comes at no additional cost. However, if you plan to use Minut for more than one listing the subscription will cost you $7.99 monthly.
Availability
Minut is available in all countries, excluding Russia, South America, and Africa.
Functionalities and features:
Noise monitoring
Motion and temperature monitoring
Camera free
Wireless and easy-to-install
Smart home alarm
Can recognize other alarms
Mold risk analysis
Nightlight
Automated guest communication.
Hardware & installation
According to the manufacturer, Minut Smart Home Sensor is wireless and can be self-installed. It has a USB-C rechargeable battery and will work anywhere in the world.
The magnetic mounting plate on which Minut is set up can be stuck or screwed to the ceiling in minutes. This means that there is no need for professional installation and that hosts can install it by themselves.
The rechargeable battery can last up to six months, depending on the environment in which it's installed and the number of alerts it needs to send. The device can be charged via the included USB-C cable.
The advantage of this smart home sensor compared to the rest is that it works worldwide. System requirements for Minut are iOS 11 and higher and Android 5.1 and higher. And it integrates with Google Assistant, Amazon Alexa, and HomeKit. It can alert you about noise from window glass break, tampering, and siren.
A useful premium feature is that, with the Minut app, you can create a group of people who will receive notifications of critical events when you cannot deal with it. So you might even include your neighbors in your trusted network. But to access this premium feature you will have to subscribe to the $7.99 monthly Minut Plus plan.
Where can you put it and how many devices do you need?
Minut is designed to be mounted on the ceiling, which makes the noise and motion monitoring more accurate. However, note that the company explains that most of its customers have 2 devices, the first placed in the hallway by the main entrance point, and the second device in a common space such as the living room. One device would be suitable for a smaller home of up to 70 m² (753 ft²), two devices are suitable for a medium home of 70 – 170 m² (754 – 1,830 ft²) and for a larger home of 170 – 240 m² (1,830 – 2,584 ft²) you will need three devices.
Prices on the company's website
The price of the sensor is €149 and Minut offers three pricing plans:
Free, for individual homeowners that rent out their home a couple of times each year (one user, one home, 90-day data history);
A standard plan that costs €7.99 a month/per home or €79 year/per home. This plan allows the monitoring of multiple homes by multiple users (unlimited users, unlimited data history, and monitoring of multiple homes);
A pro plan that costs €14.99 a month/per home or €149 a year/home, which allows you to easily manage your properties with automated guest communication, PMS integrations, and API access.
According to Minut's billing policy, if you buy a subscription together with your Minut Smart Home Sensors, your plan will be activated on the day you set up your first home. You are allowed to cancel your subscription at any time. All subscription plans are non-returnable and non-refundable.
Design
With a diameter of 85 mm (3.3″), a height of 46mm (1.8 in), and a weight of 180 grams, this device looks like a small smoke alarm. It comes with a 1.5m power cable.
Connectivity
Wifi 802.11 b/g/n (2.4GHz)
Bluetooth 4.2 (BLE)
NoiseAware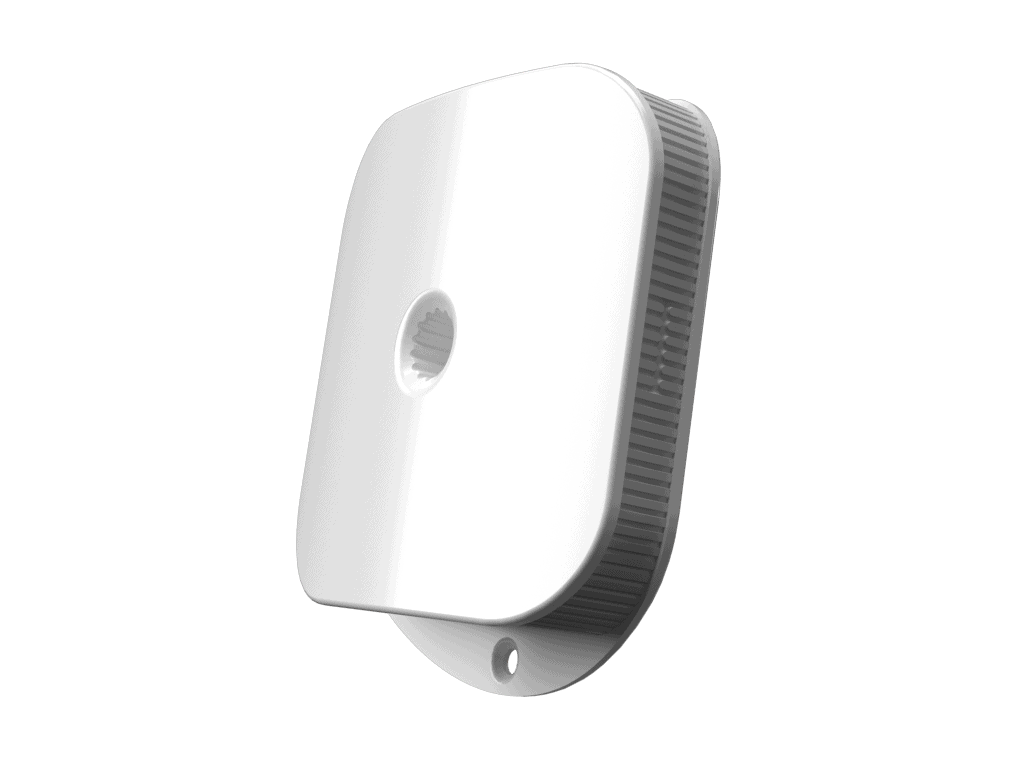 The designers of NoiseAware simply explain their product as a "smoke detector for noise".
NoiseAware is a plug-and-play sensor that is primarily used for tracking the decibel levels in a property. It also evaluates other risk factors and sends an alert via text or email if the noise levels exceed the predefined threshold.
The solution was built as the result of a party incident. It offers two types of noise monitoring solutions: one for property managers and one for homeowners.
Some users have dubbed NoiseAware the official "keep your neighbors happy device".
The homeowners' solution is for 1 to 5 properties and covers in-home and outdoor areas. NoiseAware for homeowners includes features such as wifi connected sensors, an add-on 100% weatherproof outdoor sensor, a mobile app for instant awareness, and the manufacturer guarantees it's 100% private.
The solution for property managers allows portfolio monitoring, which should help you quickly protect all your properties from noise issues, property damage, and false complaints, and all in one place. It also gives you access to a NoiseAware Dashboard which provides you with intelligent insights on all of your properties. At the same time, the solution for property managers has functionality that alerts your team when there's a problem at any property. According to the explanation from NoiseAware, this allows you to streamline how your team handles noise issues, which can save you a lot of time.
Another functionality, as explained on the website, is that you have access to historical data on the noise levels at any of your properties so you can analyze it to maintain your good neighbor reputation within your community and solve possible noise issues. NoiseAware promises to help property managers to build custom property portfolio solutions.
A unique feature of NoiseAware is that it has its own proprietary algorithm, the Noise Risk Score, which goes beyond the sporadic and instantaneous measurement of a decibel to bring you in-depth insights. This solution tracks as many variables as possible, for example, not only how loud a particular space is, but how long it is loud for too. This, in combination with a number of other factors, allows NoiseAware to calculate a contextual noise risk score. As a user-friendly feature, NoiseAware created a noise level conversion table.
According to the conversion table, noise levels can be as quiet as a "ticking clock" and "singing in the shower" or as loud as "fireworks" and "NASA launch".
NoiseAware also partners with Vrbo to provide noise monitoring solutions.
Functionalities:
For property managers (6+ Properties):
Customized solution for your entire portfolio with 24/7 service & support.
Customized portfolio configuration
Onboarding, training, and designated support
Complete automation
Custom integrations
For homeowners (1-5 Properties):
Monitor in-home and outdoor areas with real-time alert notifications for 1 year.
Wifi connected sensors
Add on 100% weatherproof outdoor sensor
Mobile App for instant awareness
100% privacy-safe
Where can I put it and how many devices do I need?
The company recommends having a sensor in each of your property's Activity Zones – places people tend to congregate. For condos, they recommend one indoor sensor, while for homes, they typically recommend one indoor sensor and one outdoor sensor. For larger homes and estates, they recommend 2+ Indoor sensors and 2+ outdoor sensors.
Hardware & installation
Each sensor has a range of about 400 square feet to monitor each property's Activity Zones.
NoiseAware Indoor Sensor:
Plugs into any outlet
NEW Tamper proof detection technology
Quick & simple installation
FCC & Safety Certified
100% privacy safe
NoiseAware Outdoor Sensor:
Place anywhere outside your property
Battery-powered
100% Weatherproof
Quick & simple install
FCC & Safety Certified
100% privacy safe
The indoor sensor has to be connected to your WiFi once it is plugged in. The company recommends screwing in the sensor to get an extra level of protection from people trying to tamper with it. The outdoor sensor is slightly different from the indoor version, as it's weatherproof and uses batteries, so you can install it in your desired location without worrying about maintenance.
If you want to use an outdoor sensor you need to have one indoors as well. The reason is that the outdoor sensor communicates with the indoor sensor to relay all of the data back to your Dashboard. The data for both sensors is visible on one graph for the property and this comes in handy for tracking where the party is moving around your property. You can set different thresholds between your Indoor and Outdoor Sensor.
Pricing on the company's website
One year of noise monitoring with an indoor and outdoor sensor will cost you $299 for a single-family home, while for an apartment/condo – $199. There is also the option to auto-renew your noise monitoring subscription for $99 per year per property.
Product offer for Airbnb hosts
$149 (25% off the regular price of $199) and a subscription price of $10 monthly
 (or $99 annually).
Availability
In North America (the US and Canada)
Roomonitor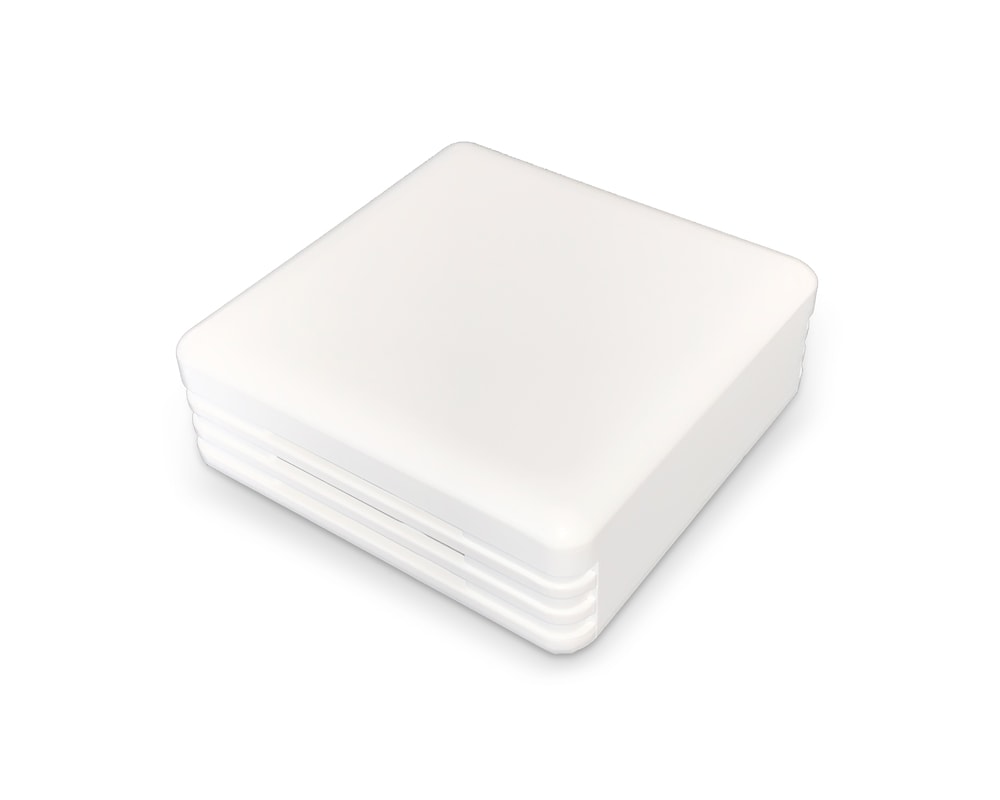 Roomonitor, a noise alarm designed by a tech company from Barcelona, similarly to the other two devices, provides real-time noise control for short-term rentals. Its measurement system uses algorithms to analyze patterns of noise while also guaranteeing guest privacy. When a noise violation is detected by the device, you will be notified in real-time with a phone call and an SMS, and you can receive daily reports by email. The device needs to be plugged in using the included adaptor. Airbnb has partnered with Romonitor to distribute its noise detectors to platforms' hosts in Madrid and Barcelona.
Roomonitor offers extra functionality for owners and property managers who'd rather not be in direct contact with guests. The company has teams of agents working for clients who are ready to pay for this service. So when the alarm of the device is triggered, they call guests directly to remind them of house rules. In case the problem is not solved by phone and the noise problem continues, they send a Roomonitor AlarmAssistant to manage the issue at the property. They also offer a service by night agent who will notify your guests about the noise in the apartment to avoid problems with neighbors and other guests.
Functionalities
Noise Monitoring
Real-time monitoring
Alarm by SMS and by call
Up to 3 numbers for SMS and for calls
Multiproperty
Masterview user
Alarm call to guest (extra service)
24h customer service (extra service)
API integration
Design
Dimensions: 7 x 7 x 2,6 cm
Weight: 58 gram
Power cable: 105 cm
Connectivity
Wifi 802.11 b/g/n (2.4GHz)
Where can I put it and how many devices do I need?
According to the company's website, one sensor is normally enough to cover up to 100 m2 surface. They recommend installing a device in all those places in which people tend to congregate. The device is 'plug and play' so you just need a power socket, a WiFi network, and a mobile phone or computer to set up the device.
Pricing model on the company's website
7,90€/month for each device and €89,00 per device.
Product offer for Airbnb hosts
$39 USD (regular price $165) and subscription price of $8.50 USD monthly;
Availability
This device is available in all countries
What are the biggest similarities and differences between these noise detectors?
The three monitoring noise systems are similar in that they all monitor sound levels without recording and storing guests' personal data, which is important for protecting their privacy. Also, another commonality is that every solution allows hosts to have access to a web app where they can get instant alerts to any potential noise issues.
All three solutions have different pricing models, with options for subscription plans. While Roomonitor is available in all countries, Minut can't be ordered in Russia, South America, and Africa. NoiseAware, on the other hand, can be ordered only in the US and Canada.
A distinctive functionality that only Minut offers is that it measures not only noise but also motion and temperature. Also, Minut, unlike the other two solutions, is wireless, which means the risk to be removed by guests is lower.
NoiseAware is unique in that it provides monitoring solutions not just for homeowners, but also for property managers. If you are a property manager, having access to a dashboard that allows portfolio monitoring might be beneficial for you, as it can help you quickly protect all your properties and access historical data on any of them. What differentiates NoiseAware from the other solutions is that it provides not only an indoor but also an outdoor solution for noise monitoring, which might be handy if you're facing the risk of guests organizing a party at your pool or in your garden. On the other hand, users of Roomonitor can enjoy the functionality of being notified in real-time in case of a noise violation, with a phone call and an SMS.