In October 2020, Airbnb rose the bar when it came to COVID-19 safety practices: All Airbnb hosts were required to agree to these COVID-19 safety practices by November 20, 2020. Those who do not complete this requirement before the deadline may be unable to accept new reservations on airbnb.com. As of March 15, 2021, this requirement is still holding. Yet, it is not clear how far Airbnb, if at all, Airbnb is enforcing it. Let's see what has changed since November, from the new copy listing pages about Enhanced Cleaning to the January 2021 partnership with Reckitt Benckiser (maker of Lysol and Dettol) that allows hosts to purchase turnover kits and welcome kits.
When Airbnb announced this new Health and Safety mandate, it shared that close to 1.5 million host listings had already voluntarily enrolled in the Enhanced Cleaning Protocol. If Airbnb has somewhere between 6 and 7 million listings, it meant that less than 27 to 33% of hosts had enrolled.
Why make it mandatory? Airbnb links it to its efforts to stop the coronavirus from spreading, for instance, by banning COVID-19 house parties. As the Airbnb IPO is getting closer, it may also be that getting 100% of hosts to commit to more COVID-19 safety practices helps paint the company as a responsible corporate citizen.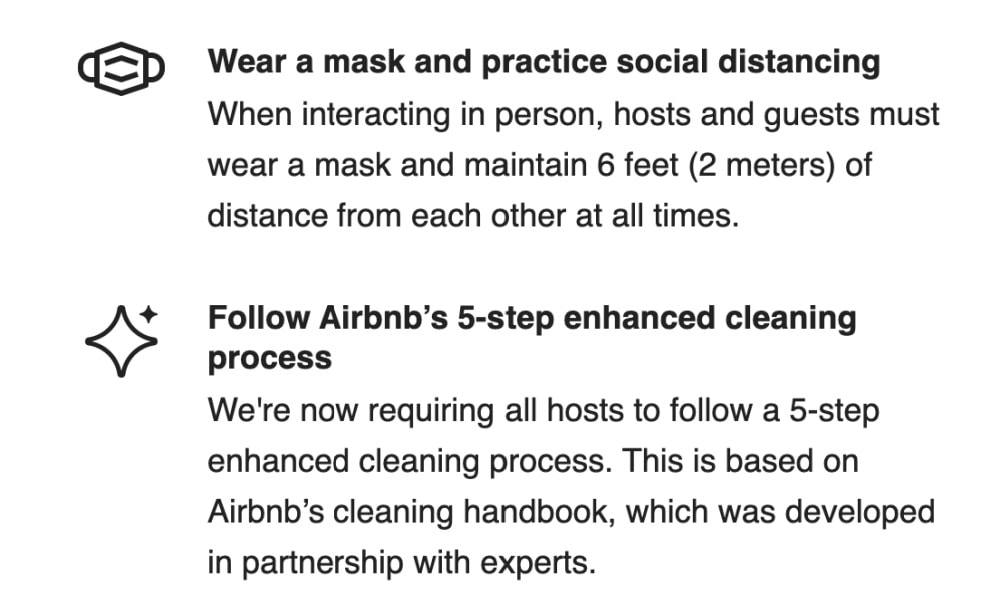 March 2021 update: What happens when commitment is not respected, new Enhanced Clean text on listing page, and partnership with Lysol and Dettol
A- Required COVID-19 safety practices in 2021
The requirements are the same. But the details about what happens when a host or a guest does not respect the measures have changed.
Wear a mask and practice social distancing
All hosts and guests must agree to:
Wear a mask or face covering when interacting in person
Maintain 6 feet/2 meters of distance from each other at all times
Follow Airbnb's enhanced cleaning protocol's 5-step process between each stay
All hosts must agree to follow the Airbnb enhanced cleaning protocol's five-step process between guest stays.
Blocked calendar and listing removal for non-compliant hosts
The original announcement of the mandatory Enhanced Cleaning process stated "non-compliance with the COVID-19 safety practices may result in their removal". As of March 2021, the corresponding text is more nuanced.
Guests are not eligible for a refund if their host cancels their reservation because they do not comply with Airbnb's safety practices,
Hosts are not eligible for a payout if a guest cancels their stay because the host did not comply with these safety practices.
Hosts who don't agree to these practices by November 20, 2020 may have their calendars blocked.
Any host or guest who repeatedly violates these guidelines may face other consequences, including account suspension or removal from the community.
So far, it is not clear whether Airbnb has actually blocked or removed listings that had not complied with the requirements. At a time when supply is important, the company may only care about actual complaints from guests rather than about a declaration of intent.
B – New text for the "Enhanced Clean" badge
On Airbnb's listing pages, hosts have committed to the 5-step cleaning process get a badge and a mention. Since October 2020, the text has changed to be better set guest expectations about what the "Enhanced Clean" badge means.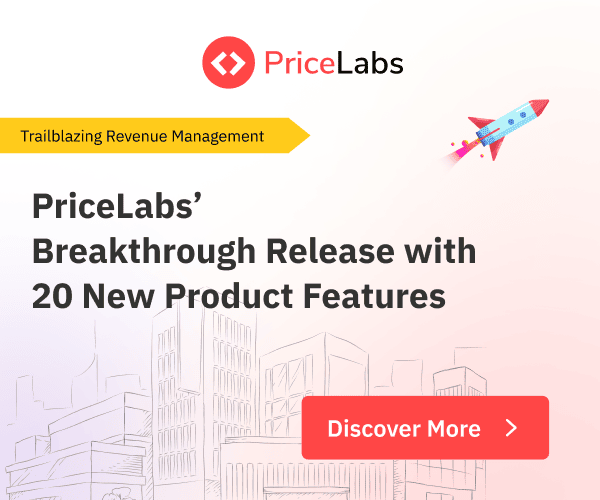 -> Visual: "Enhanced Clean" badge on a listing page. There is no mention on COVID-19 at the level anymore.

-> Visual: More details about the 5-step enhanced cleaning process pop up when clicking on "Learn More". COVID-19 is mentioned here, in the forward-looking phrase: "for the times of COVID-19 and beyond".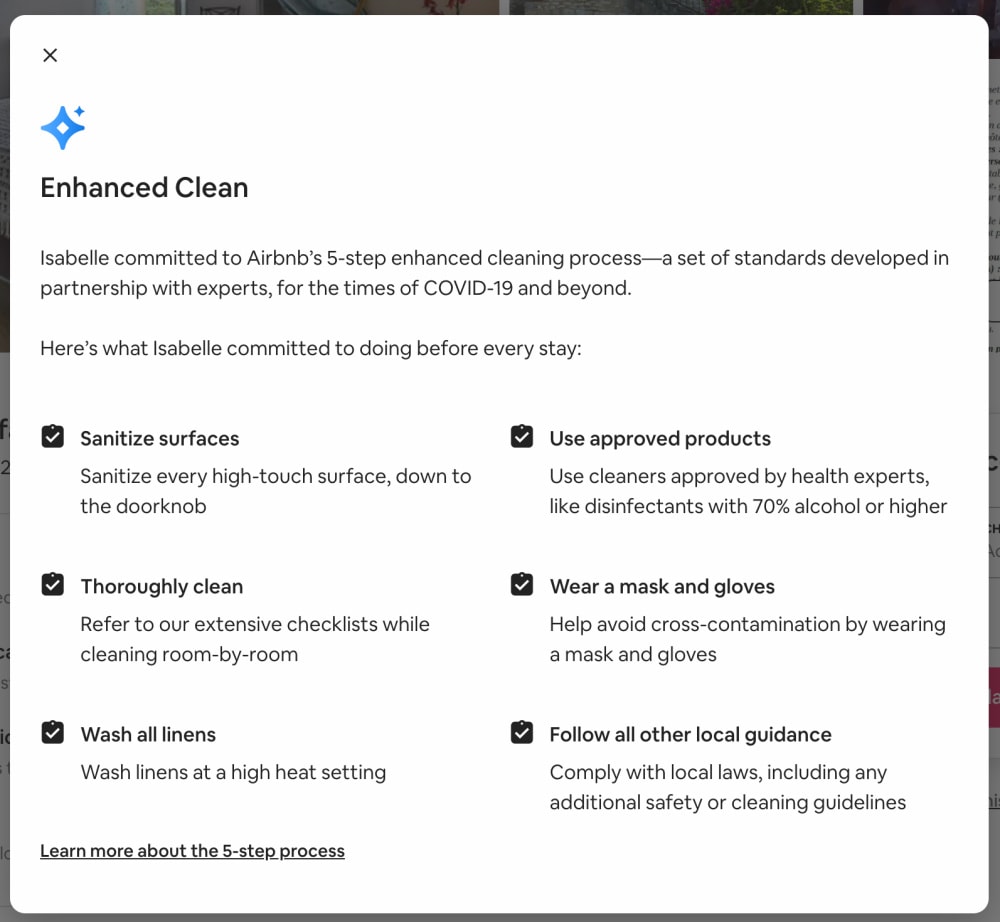 C – Hosts can buy online turnover and welcome kits with Lysol and Dettol products
In the Cleanliness section of the Performance tab of the Hosting Dashboard, new offers have popped up in the Cleaning Supplies and Services section. (airbnb.com/progress/cleaning/supplies-and-services).
These are offers for bundles made with products from the Reckitt Benckiser (RB) group of companies, such as Lysol, Dettol, and Finish. Airbnb links out to RB's websites where users can find turnover kits and welcome kits. In the US, the shopping site is powered by Pharmpacks.

These offers are available to hosts from 20 countries:Austria, Australia, Brazil, France, Germany, Greece, India, Ireland, Italy, Malaysia, Mexico, Netherlands, Philippines, Poland, Portugal, Spain, Switzerland, Thailand, United Kingdom, and United States:
Airbnb COVID-19 safety: Original Host requirements published in October 2020
In April 2020, Airbnb announced its Enhanced Cleaning Initiative. The optional program rolled out in early June 2020, with hosts invited to go through the Airbnb Hosting Cleaning Commitment. Now, what was optional becomes mandatory: Instead of an open-table quiz based on the Airbnb cleaning handbook, hosts are now required to:
wear masks (along with guests),
practice social distancing,
and follow the 5-step enhanced cleaning process.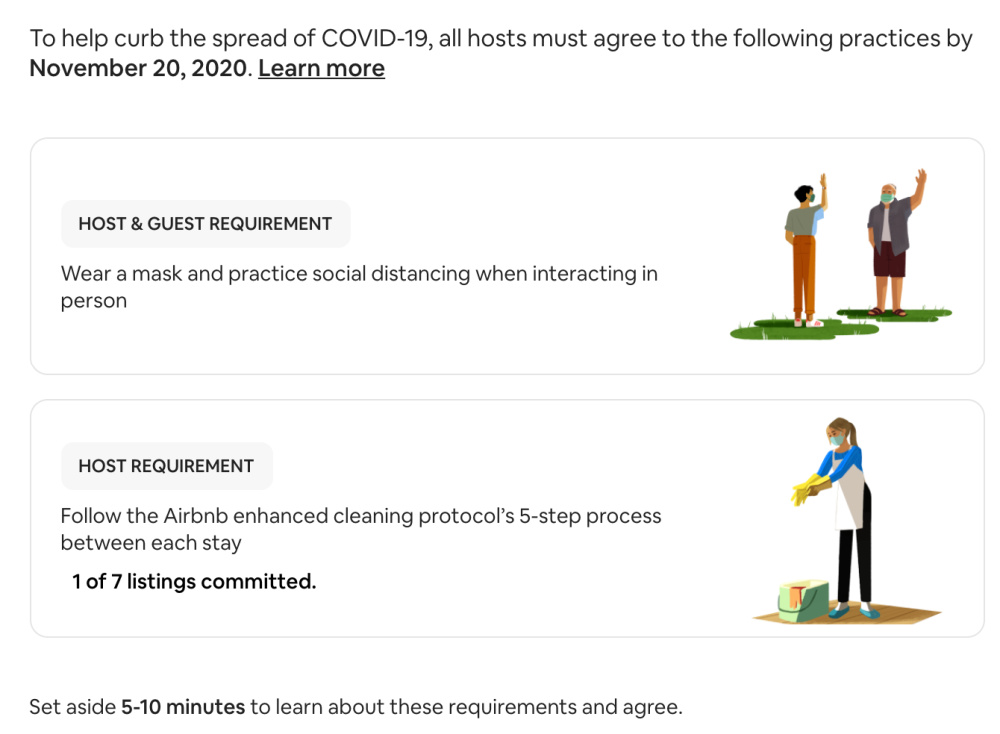 Masks and social distancing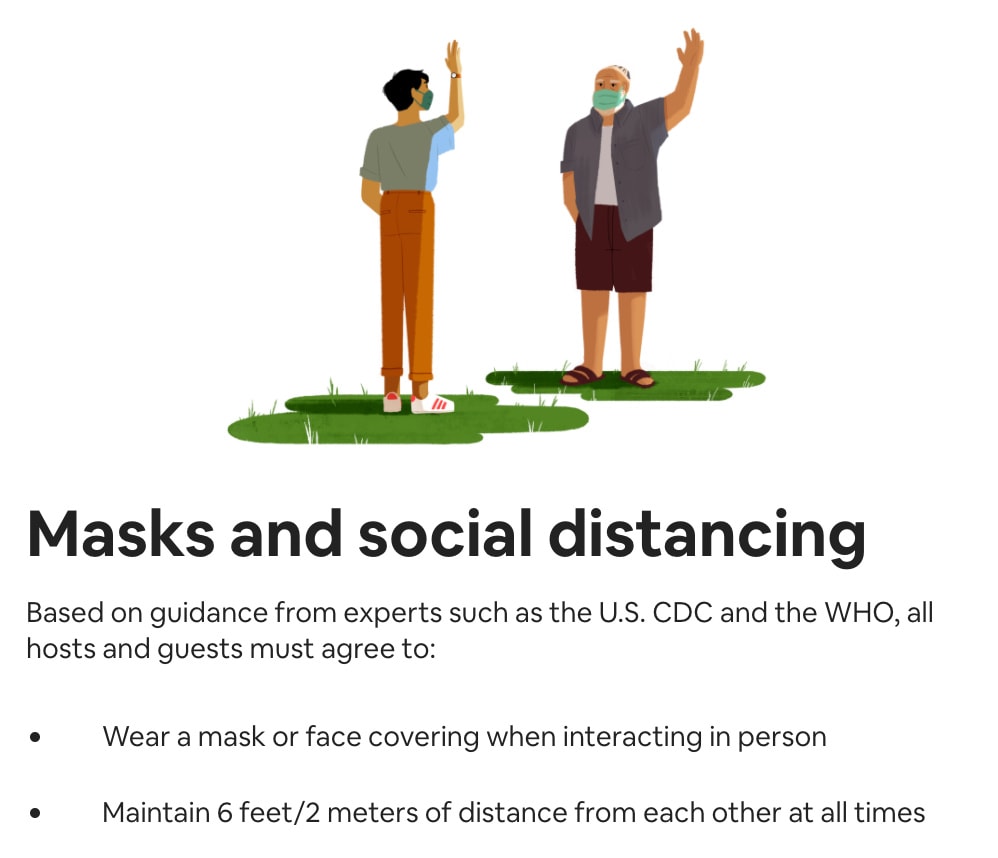 The COVID-19 Safety Practices agreement
This is what Airbnb hosts have to agree to, unless they want to risk their listings being suspended or removed:
Airbnb hosts agree to wear a face covering and maintain 6 feet/2 meters of distance whenever they interact with guests.
They agree to implement the Airbnb enhanced cleaning protocol's 5-step process for all my listings on the Airbnb platform and follow all local laws and guidelines.
Hosts will ensure that their hosting team and cleaning partners follow these guidelines, and I understand that any non-compliance with the COVID-19 safety practices may result in their removal from the Airbnb platform.
Cleaning, a new tab in the Performance section of the Airbnb Hosting Dashboard
Once hosts agree to Airbnb's COVID-19 safety practices, they are taken to a new Cleaning tab in their dashboard: airbnb.com/progress/cleaning/
This page acts as a mini-hub for all things Airbnb cleaning. You can find there
Cleaning Checklists
For each of their properties, hosts will find a cleaning checklist. It is very similar to the contents of the Airbnb Cleaning Handbook. The checklist is made up of 6 sub-lists:
Supplies to have on hand
Prepare for cleaning
Bathroom
Bedroom
Common rooms
Entryway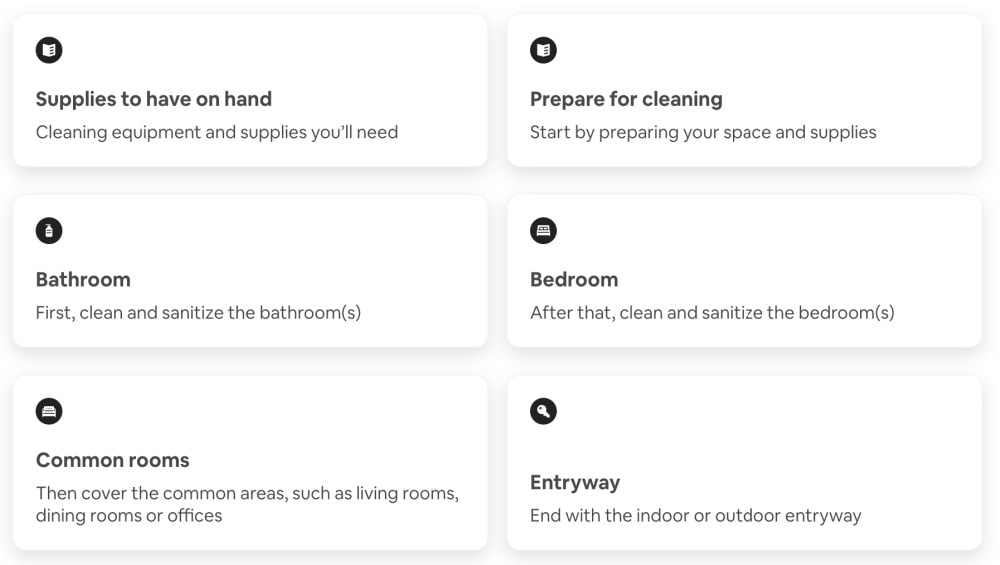 The cleaning checklist for each space is organized along Airbnb's 5-step protocol:
Prepare your equipment and get the space ready for cleaning
Clean each surface by removing dust and debris
Sanitize all high-touch areas, appliances, and electronics
Check that the space has been thoroughly cleaned and sanitized
Reset the room for the next guest and restock your supplies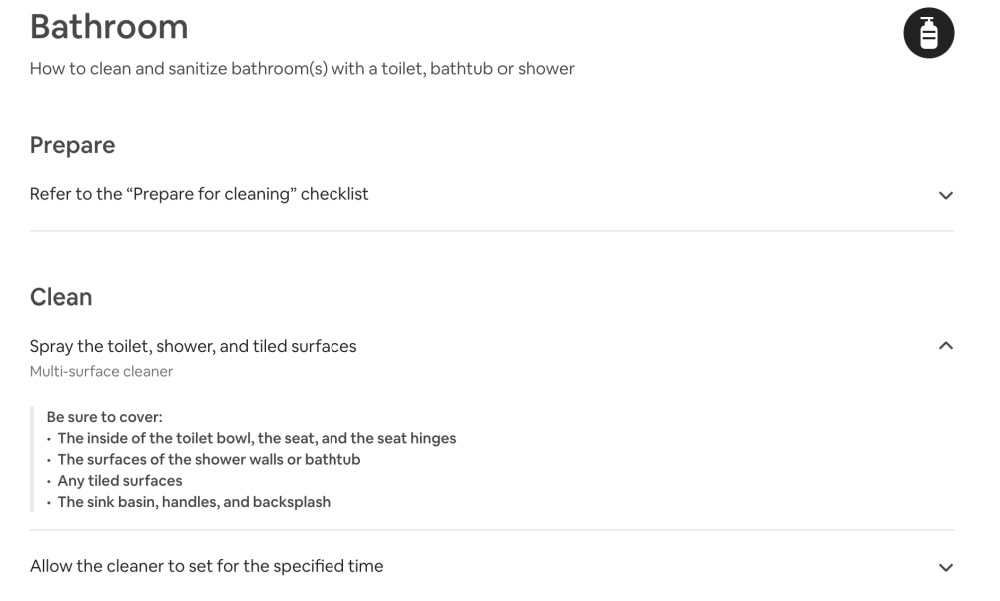 Cleaning Supplies and Services
Depending on the host region, the "Supplies and Services" tab presents different offers that hosts can take on. For instance, French Airbnb hosts can shop online for cleaning supplies and protective gear from Simply Supplies and Ekoclean.
French hosts can also schedule professional, sustainable cleaning services through Ekoklean.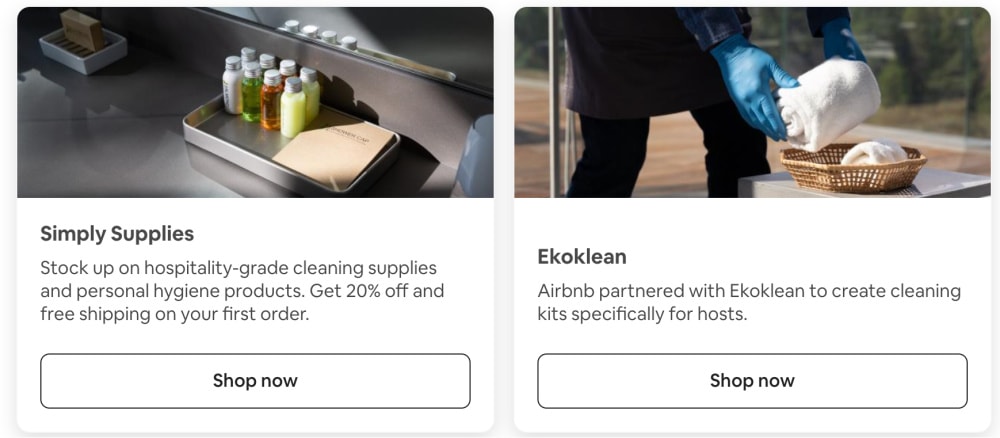 Cleaning Ressources
Here Airbnb links to some of its existing articles, such Health & Safety guidelines and Cleaning tips.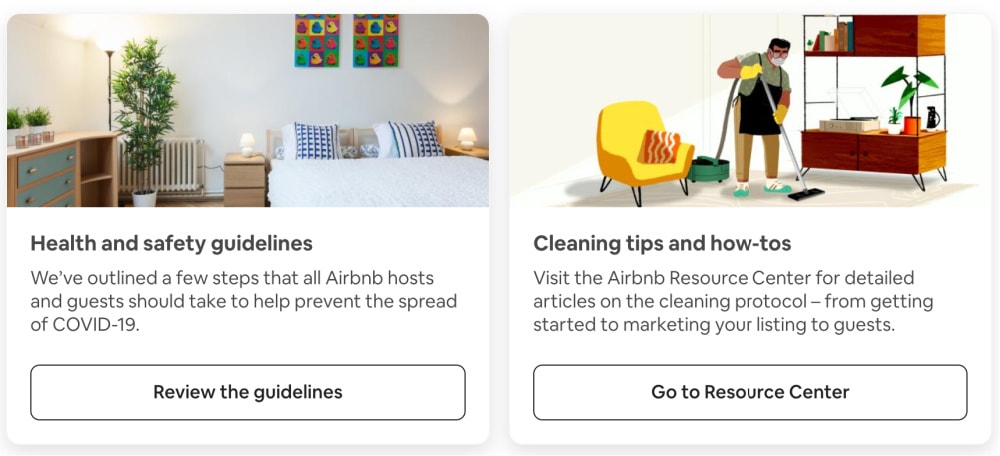 Will hosts really enforce the Airbnb COVID-19 safety practices
For the moment, it is a bit early to see how Airbnb will know that hosts are enforcing COVID-19 safety practices, especially those around sanitizing and disinfecting. This is very hard for guests to tell whether Lysol has been used over high-touch surfaces, for instance.
Airbnb is making new efforts to help hosts take action. For instance, it helps them find the right cleaning supplies and offers a discount. Airbnb also makes it very easy for hosts to share their cleaning checklists with their cleaning teams via Whatsapp.
What guests will be able to report, though, is whether the hosts are wearing a mask or practicing social distancing or not. So, it may create a feedback loop that Airbnb can use to sanction hosts that do not respect the COVID-19 safety practices.