I was lucky and happy to be invited as a speaker to the annual European VRMA (Vacation Rental Manager Association) conference. It's a great experience to be talking to a room full of business people, entrepreneurs and managers who have real-life problems.
Competing with the big listing sites is not easy. However, holiday rental management companies have great assets that they use to fight back: Lists of past guests, lists of fresh enquiries, lists of newsletter subscribers, and existing traffic to their website.
My goal during this session was to convey why Facebook remarketing can help vacation rental businesses. It is was more about "Why you should care", "What it is", "What you should ask your team or consultant to do".
The part I loved the most? Getting simple, but to the point, questions from managers who were seeing the business potential for this. It helped me feel that I was getting the message through.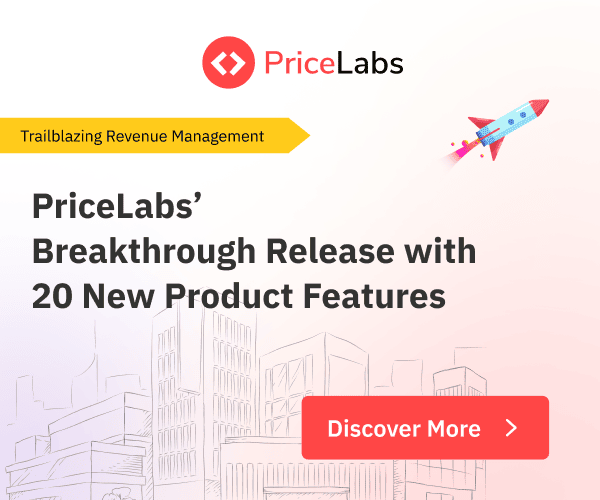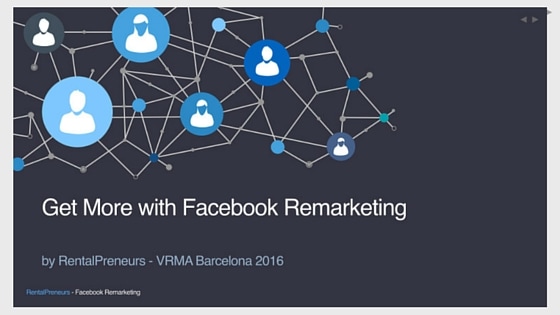 As this breakout session was taking place late afternoon on the last day of the conference, as the topic could seem a bit dry and as I was not a big name among the speakers, I was expecting about 10 people to show up. I was fine with this and I had intended to create an interactive session, working on my audience's real-life cases and problems.
However, the room did fill up, a lot more than I thought. I tried to deliver as much value as I could. The screen resolution was a bit blurry, so it did not help at times when showing some detailed tactics. This is another reason why I've turned the presentation into a blog post on RentalPreneurs.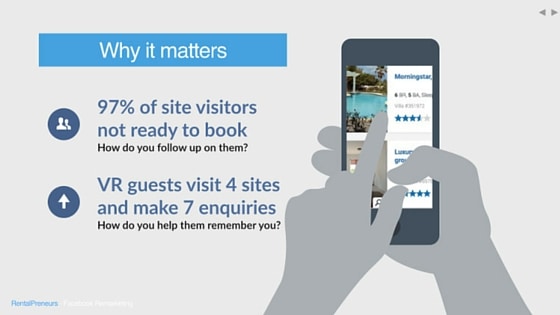 Facebook Remarketing matters to vacation rental managers, for 2 main reasons:
You can follow up on people who have shown some interest in you
You can stay on your target's mind while they are researching for a rental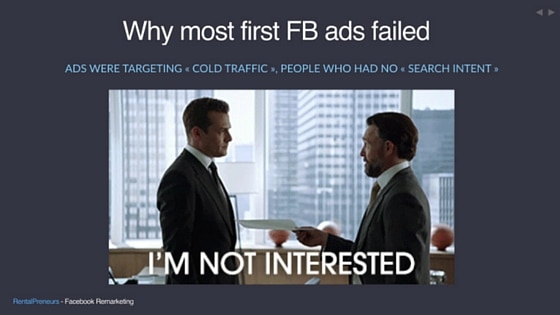 My first Facebook marketing campaigns did badly. Why? Because I was first and foremost focusing on people who had never heard of my vacation rental websites RealBali.com and SaintBarth.com.
Why should these people have cared for my rentals, while they were primarily on Facebook to watch videos of kittens, discuss about Donald Trump or spy on their teenager's latests photos?
At first, I did not get the big difference between Facebook and Google advertising: In Google, you can target with your ads people who are actively searching for a rental. For instance, you use Google Adwords to show your ad to people who are typing "vacation rentals in Bali".
Not so on Facebook. At first look, there is no such "search intent" that you can target, unlike with Google searches. Yet …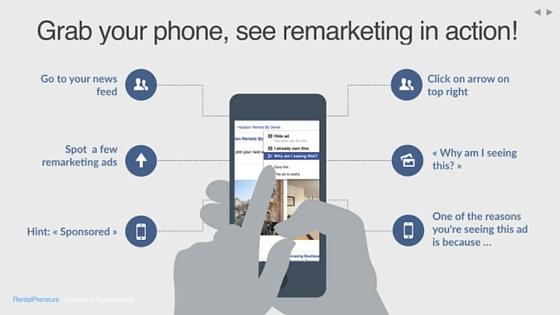 Yet, remarketing / retargeting enables you to reach out to people to who demonstrated that "search intent".
Quick demo! I asked everyone in the room to grab their smartphone or laptop, and to go to Facebook.
I showed them how to spot ads that were retargeted to them. And why (Well, as much as Facebook tells you, but still it is very interesting of you do this with your competitor's ads). I loved getting the audience to click on "Why am I seeing this ad?" in their own news feed, as it suddenly made Facebook advertising and remarketing more concrete.
When you hold your own phone in your hands and you see why are your are being targeted by advertisers, it makes it all more personal. It is scary and fascinating.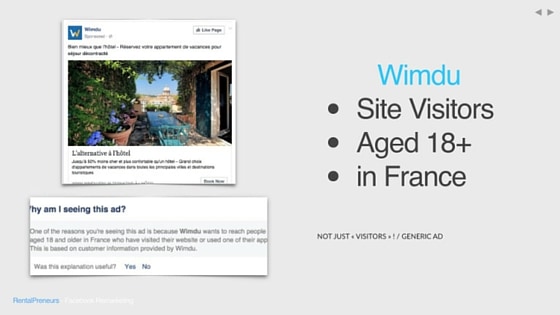 I then showed a few examples from my own Facebook newsfeed (= The feed where you can see posts from your friends, from the pages you follow, etc. This is not the ads on the side that I am talking about it here).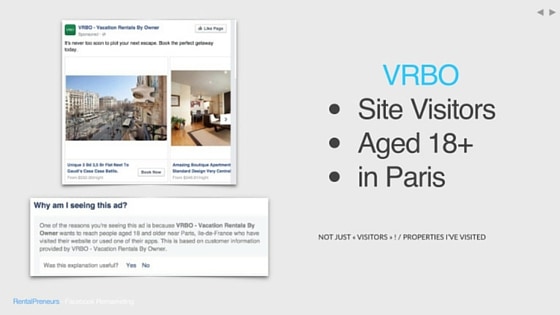 I had visited VRBO's website and looked at properties, so I was being retargeted. Note that they were not retargeting every visitor with this ad, but visitors aged 18+ located in Paris.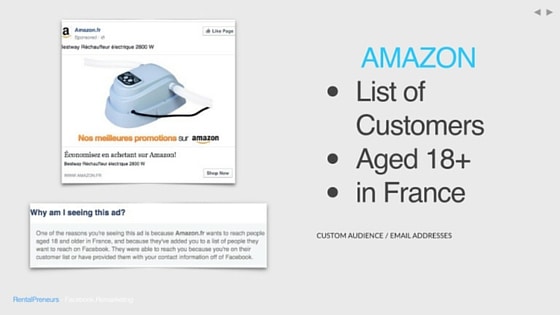 Something different here: It is not because I had visited Amazon that I was being targeted. But because I am a customer of theirs and they had uploaded in Facebook their list of customers, and targeted those aged 18+ and located in France.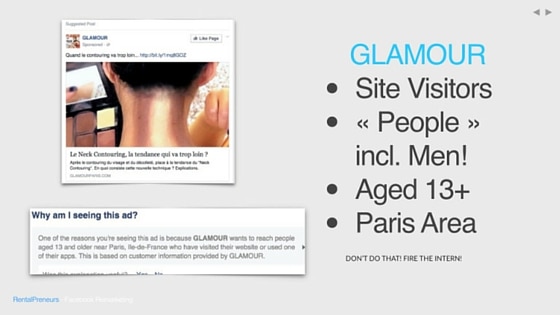 Now, I think that this retargeting campaign was a mistake: I have no idea what click-bait article made land on Glamour one day, but retargeting men like me is probably not the best use of money that they can make.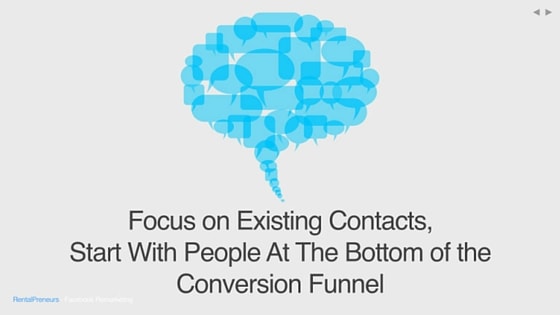 Let's make our life easier by focusing on the people who are the most likely to convert. They are at the bottom of the conversion funnel, this is the opposite of going after brand new people who have never heard of us (top of the funnel).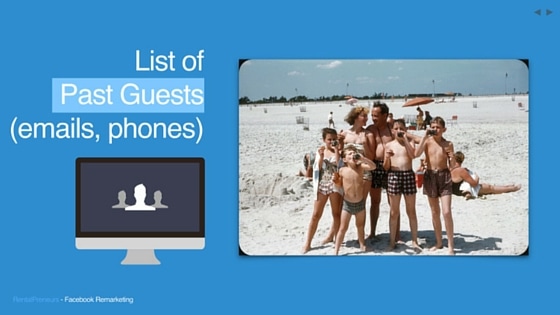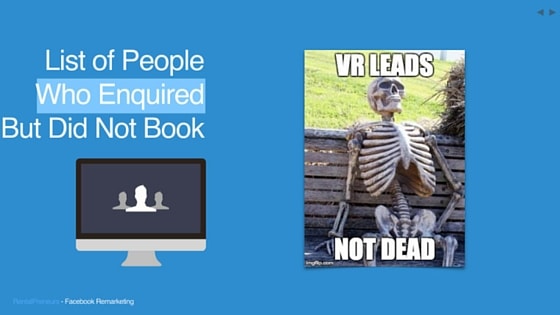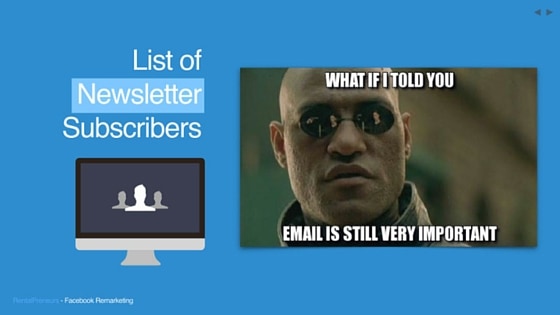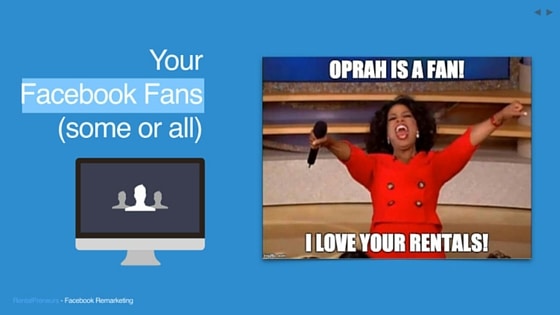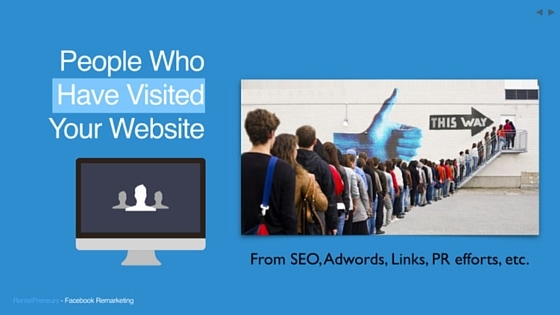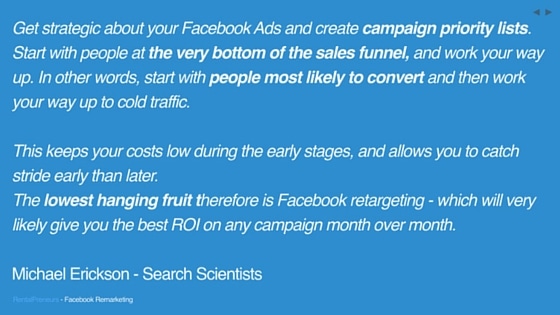 Get strategic about your Facebook Ads and create campaign priority lists.
Start with people at the very bottom of the sales funnel, and work your way up. In other words, start with people most likely to convert and then work your way up to cold traffic.

This keeps your costs low during the early stages, and allows you to catch stride early than later.
The lowest hanging fruit therefore is Facebook retargeting – which will very likely give you the best ROI on any campaign month over month.

Michael Erickson – Search Scientists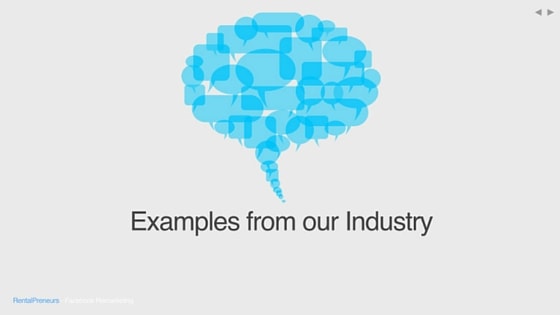 To prepare this presentation, I relied not only on my experience and that of my clients; I also searched for the vacation rental marketing experts who had experiences with remarketing to contacts on Facebook.
I emailed them and talked with them on Skype. Conrad O'Connell of 91 Digital even guest posted on this very blog an entire article about Facebook Ads Goals Explained for Vacation Rental. There is a special slide at the end of this presentation where I thanked them. Stay tuned, as they are good contacts for you as well if you are serious about using Facebook for your vacation rentals.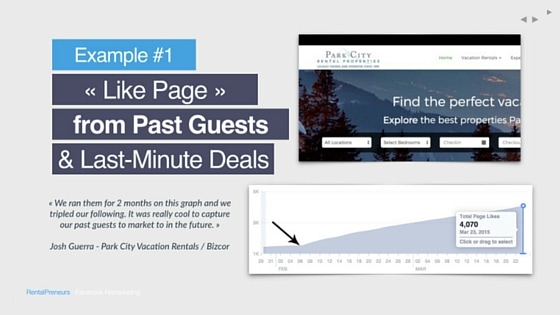 The first case was shared with me by Josh Guerra of Park City Rental Properties. He's a vacation rental manager, as well as a marketer with Bizcor.
To sum it up, his goal was to use his Facebook page to reach out to his past guests.
So, he uploaded into Facebook his list of past from 3 to 4 years back and targeted them with an ad asking them to like the Facebook page of his rental management company.
As you see on the graph, over 2 months, he tripled his number of fans.
Now, he can promote last-minute deals on Facebook to his past guests, by targeting them within his Facebook page. It builds relationship and loyalty. Also, it makes more send to offer discounts to people that you have already acquired, rather then spending money to try acquire new contacts AND discounting your price for them as well.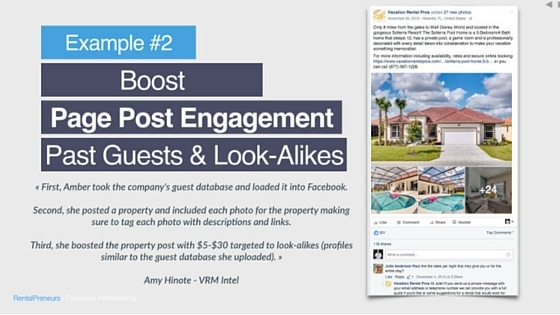 This second business case was shared with me by Amy Hinote of VRM Intel. You should have a look at the posts on the Vacation Rental Pros page, as we are discussing here how this Florida-based vacation rental management company pulled it off.
Here's Amy's telling of what Amber Mayer did on this page:
First, she took the company's guest database and loaded it into Facebook.
Second, she posted a property and included each photo for the property making sure to tag each photo with descriptions and links.
Third, she boosted the property post with $5-$30 targeted to look-alikes (profiles similar to the guest database she uploaded)
Amy continues: "The engagement and shares for this formula are consistently higher and more qualified than any other Facebook strategy I've seen regularly implemented."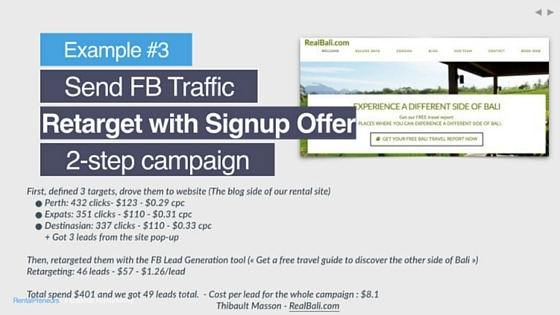 The 3rd example is one that I know quite well as I used it for my own vacation rentals in Bali (RealBali.com).
This specific campaign was built to test a new tool from Facebook that allows you to directly capture Facebook profile informations such first name, last name and email address without asking the user to leave Facebook. Think of it as a powerful and easy way to get lead informations.
I built this test in 2 steps. First, I created 3 mini-campaigns targeting profiles on par what I know of my clients from experience:
Female Frequent Travelers, aged 28 – 55, living in Perth, Australia (the big Aussie city that is the closest to Bali and has the most flight connections to it).
US and European expats living in South-East Asia capitals like Singapore and Hong Kong who frequently espace to Bali
Readers of high, English-language travel magazine Destinasian. This magazine is based in Indonesia, but read all over South-Easia. It covers Bali in every issue.
To the 3 targets, I promoted a post from the blog of my rental site called" 7 Extraordinary Things to Do in Bali that will Impress Even Jaded Travelers". So, I drove them to my site.
Then, I used the Facebook remarketing magic: To the people who had visited my site, I showed another ad, which was giving away a free guide to discover "another side of Bali". This remarketing campaign brought 46 leads (email address and name) for $57. These were optin leads to my emailing list, which then grew from the addition of eager Bali travelers who like the type of off-the-beaten tracks villas that I offer.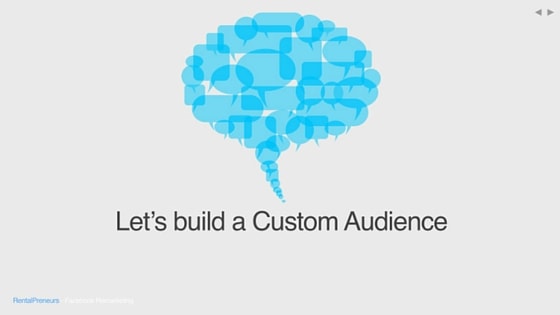 I went a bit fast on the "How to build it" part, as the point for me was more to have business managers understand WHY they should be doing it.
In this blog post, you will find the complete visuals showing how to get started. Go to http://business.facebook.com to access these tools.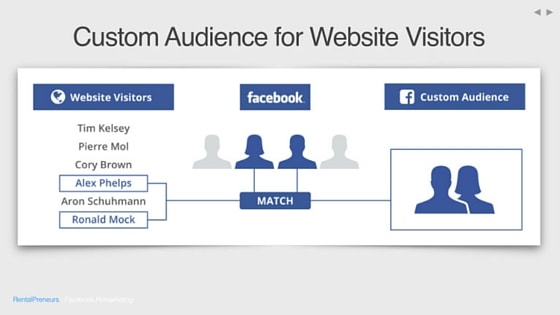 The idea behind using Facebook remarketing campaigns is to let Facebook know about your site visitors or about your lists of customers, and then see how many among them are already on Facebook. Once this is done, you can target these Facebook users who are also your contacts with the campaigns of your choice.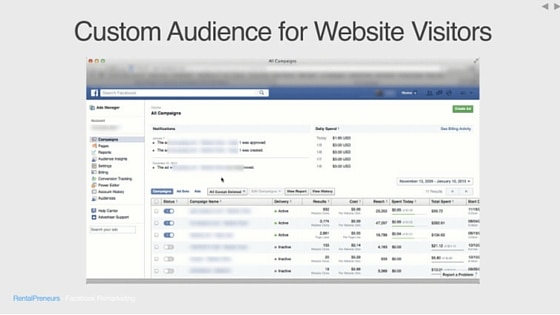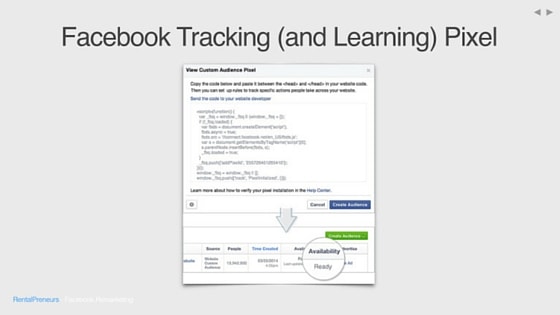 One way of doing is installing a small piece of tracking code, called a pixel, on every page of your site.
Whenever someone visits your site, Facebook receives and records this information. Then, you target these people with ad campaigns both on the Facebook website and in the Facebook app.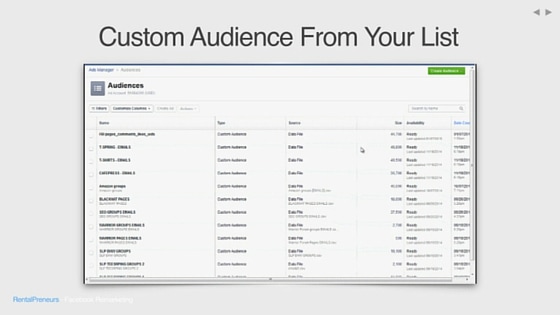 The other way is upload within Facebook one of your lists of contacts. Basically, you select among your contacts who you want to target, put them in a spreadsheet and upload it into Facebook.
After 20 minutes, Facebook will tell you how many people from your list matched with its database. And you are then ready to target them a campaign of your liking.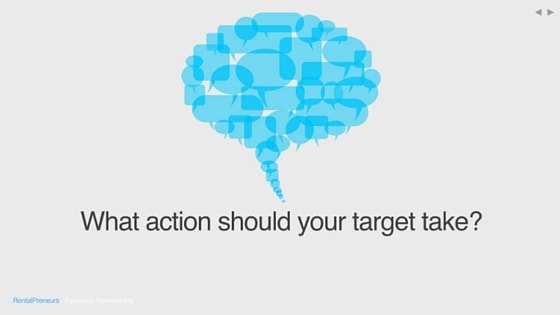 OK, now that we know how to reach past visitors to your site and people whose email addresses (or phone numbers) you have, let's decide on what kind of action we want them to do.
Do we want them to go back to your site? To like your Facebook page? To click on a specific post? To fill in an online form?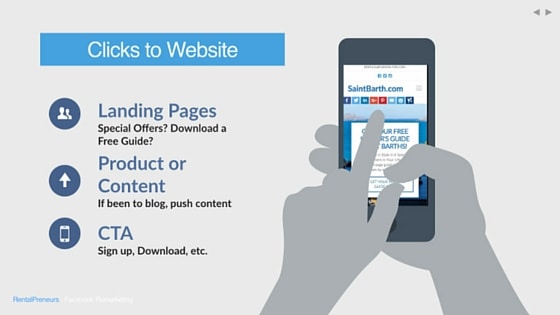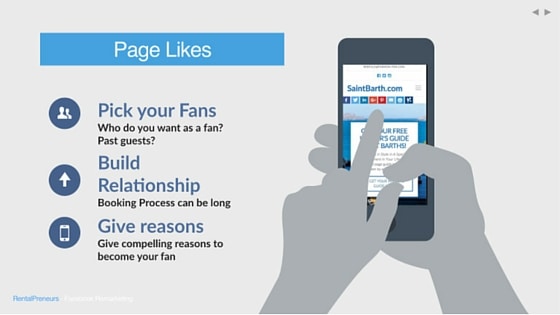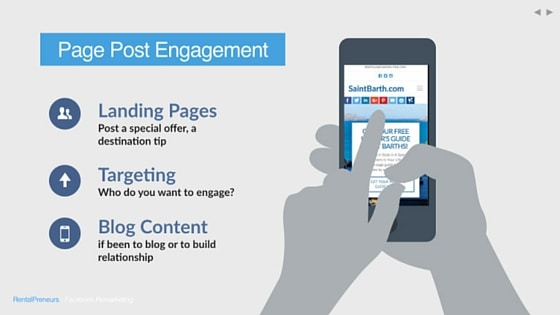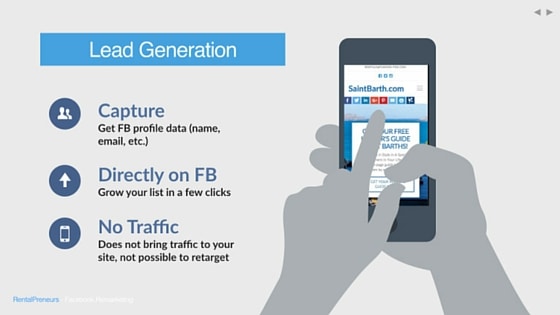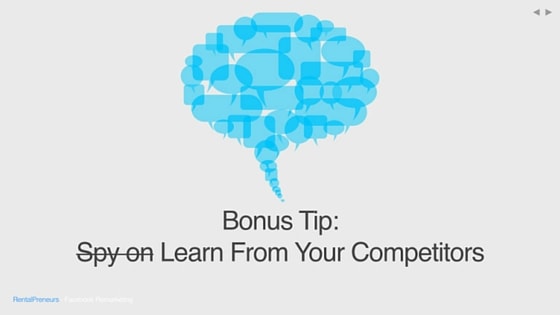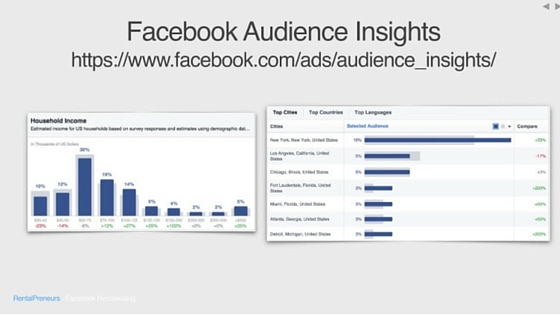 Seeing what your competitors or industry leaders are doing is always exciting. Just like I made the audience grag their phones to witness remarketing at work in the palm of their hands, I wanted to leave them with another way to get insights.
Go to the free Facebook Audience Insights tool (you must login to facebook first). Click on "Create New" (audience), pick "Everyone on Facebook", and pick your country of choice (if it matters) on the left hand side of the page.
First, you can enter your own Page to have cool insights about your audience. But if a competitor of yours is big enough, you can also have cool insights on it. In the "Interests" field, on the left hand side, type the name of your competitor.
It works for VRBO, Airbnb, Homeaway, the local versions of Homeaway like Abritel in France and FeWo in Germany. But it also works with vacation rental management companies that are good at Facebook marketing, such as WIMCO, a company based in the US but whose clients are mainly Americans renting villas on my Caribbean island of St. Barths.
For instance, when I entered WIMCO as an interest, I could see something that I was expecting: Their fans are among the richest households in the US. Yet, I was something that I had not dawned on me before: On average, their fans are located in big cities on the East coast and in the Midwest (e.g. NYC, Miami and Chicago). Why? Because these places are closer to St. Barths than L.A. is. And they have more direct flights to the island St Maarten, the closed international airport to St. Barths.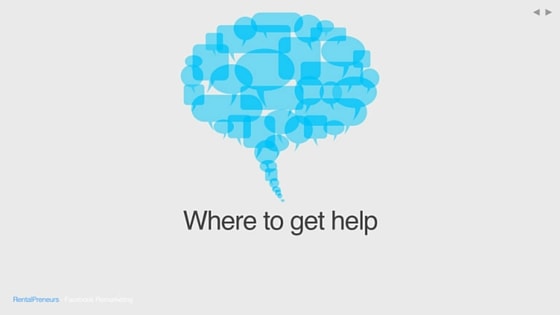 Vacation rental managers do not need to learn how to do this, but they need to understand what it is is about.
This way, they ask their team to test key campaigns on existing contacts. This could lead to a nice ROI and to reactivating relationshio with leads thought to be lost forever.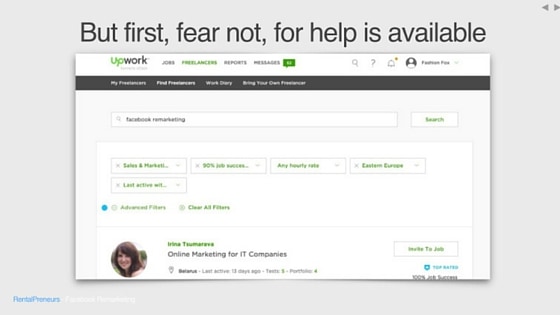 An inexpensive place where to find experts is Upwork (formerly Odesk). You can find freelancers who create and optimize Facebook advertising campaigns all day, every day. Save time, use these people.
Use filters on the site to contact only the most experienced people (NOT the cheapest ones: You want expert who work fast, as you pay by the hour, and who know what questions to ask you to create campaigns that make business sense).
For instance, I like choosing only East Europeans (for cultural fit and time zone issues) with at least 90% success on past projects and with great reviews.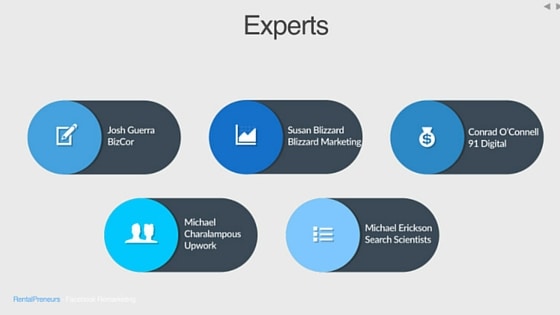 If you have a decent budget and are determined to get more ROI from Facebook, you can talk with me or with the nice people who helped me build this presentation: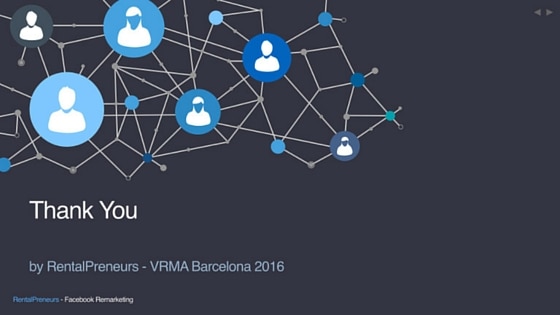 I hope that this blog post based on VRMA Europe presentation have been useful to you. Thank you to the attendees and to the VRMA organization for inviting me.