France is a huge market for the vacation rental industry and you may have read on this blog that French vacation rental technology startups were getting more and more visible.
I recently got to ask a few questions to Jeffrey Messud, the young CEO of Xotelia, another French solution.
Not only has the company grown in a year from 4 to 24 employees, but it also opening a second office in Singapore. With more than 13,000 rental units in 62 coutries, Xotelia is growing by leaps and bounds. Find out how Jeffrey and his team make it happen.
1/ This blog is for RentalPreneurs, i.e. for vacation rental owners like me who own several properties and for vacation rental managers, like my consulting clients, who manage 20 to 200 properties. Why do you think that your booking engine and channel management solution Xotelia is a great fit for these people?

It is important to keep in mind the difference between an innkeeper and a Rentalpreneur. An innkeeper needs a tool to manage bookings, while a Rentalpreneur is looking for a way to optimize his/her online distribution and increase his/her revenues. One is looking for operational support when the other needs a tool to implement a precise strategy.
The Xotelia solution was first designed for a niche market: the bed and breakfast. We soon realize the importance of rental managers and we've kept developing the solution to meet their needs. Our aim is to offer an all-in-one and complete solution, while keeping the tool very handy and flexible.
We try to focus on what matters to them basing part of the IT development on the feedbacks we get from them. It can be related to a specific tool or a new promising OTA.
We have launched a page for statistics as we have also created new ways of filtering data on the system. Regarding the booking engine solution for their website, we realize that many of them want a custom-made tool to meet their needs. So we give them the possibility to connect to our API to synchronize data between their website and sometimes a PMS.
For the smaller ones who don't have an IT department, we are currently working to propose a booking engine with an advanced display and a way to filter by locations.
If we've been getting such good results so far, it's surely because our solution fits this ever changing industry. This is our biggest challenge but also the most exciting!
Just like your competitors, you can distribute properties on the usual listing sites, such as HomeAway and Flipkey. However, you can also integrate with Airbnb. It is a 2-way integration? Also, unlike some of your competitors, you can also integrate with OTAs (Online Travel Agents) such as Expedia and Orbitz. As a vacation rental owner, can I really get my property featured on these sites? How can you help me determine the right channels for my properties?

We do synchronize Airbnb in real time both ways. To our knowledge, only a few on the market are able to offer that level of service and we are probably the only one out of the US. And for our users, it is a true added value.
We are synchronizing most of the 20 biggest online travel agencies on the market, allowing our users to reach hundreds of other brands on international and local markets. We've been solicited by many OTAs meanwhile we try to focus our efforts on offering the best service possible, and sometimes, it means making choices. We prefer to focus on OTAs having a strong added value for our users, the ones that matter the most.
The OTAs focused on vacation rentals don't always have an API to connect to. So we aim to develop custom made solutions using cutting edge technology, trying to manage for them as many features as possible (availabilities, rates, booking retrieval, price per occupancy, minimum/ maximum stay). Whenever there isn't a solution, we offer our users an iCal connection for free. They can therefore multiply their distribution at a low cost.
Most of our users decide to sell through four main websites. The objective is not to be listed on as many OTAs as possible, the stake is to be listed on the most relevant ones. It is all about finding the right combination.
Whenever we have a new user, we formulate for him/ her some recommendations on the best OTAs to be listed on. Different factors are taken into account : quantity of units, type of property, location, seasonality and degree of competitiveness. We manage over 13,000 units worldwide in 62 countries, so we gained some insights for each markets and every kind of properties.
What are the 3 things that Xotelia can do better than others? If my vacation rental management company is US-based, is Xotelia relevant to me or should I stick with US-based solutions?

Our real-time synchronisation with the B2B and C2C online agencies is definitely a plus. The flexibility of our solution is key. We can offer an account with basic features, as well as particular settings in order to manage each channel differently. Rates and availabilities can be adjusted for every channel from Xotelia. Also, improvements are being made on a weekly basis. We try to automate as many things as possible to reduce the amont of time spent by a rentalpreneur dealing with the administrative tasks.
Xotelia is headquartered in France but we have clients worldwide. Being based in France is not an issue since our support team works with different time slots in order to cover large office hours. In addition, we are an international team : All together we speak 12 languages. So it is likely that we will be able to communicate easily!
I've been very impressed by your sales and marketing approach: You hold regular webinars in several languages, your company is young but you already have a large sales organization, and, in France at least, your team crisscrosses the country to hold local conferences at least once month. What is driving the growth of your company?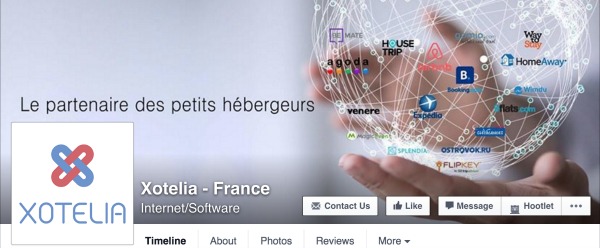 When we started Xotelia 4 years ago, the most difficult part was to raise awareness on new ways to reach people through the Internet. We've spent time and energy educating vacation rental owners on what is a good distribution strategy and on how they can optimize their online exposure. Rising awareness is a must.
We believe our role is not only managing connections, we tend to share our insights with our clients. Then, of course in order to implement an efficient strategy, rentalpreneurs need a tool. With Xotelia, you get a good set of tools for a very competitive price.
Sor far, these kind of exchanges have been really enriching for us too. We are still a young company but we are eager to do the right things. We watch the market to try to anticipate the trends, and we carefully analyze feedback given by our users, whether given to our support team, or directly during our meet-ups, to make sure the solution remains the perfect fit for them.
What else should vacation rental owners and managers know about Xotelia?
A this exact same time last year, 4 people were working at Xotelia. Today we are 24 and we are about to open our second office in Singapore. We are growing, but we keep our focus on the essential needs of our users.
I hope that this interview with Xotelia's Jeffrey Messud has been interesting to you. Vacation rental software companies like Xotelia, Kigo, BookingSync and Rentals United really make the European market more and more interesting to watch.