If your job is to run an up-and-coming Airbnb property management company, then you will be very interested in some free videos from the expensive, but super interesting PhocusWright Europe conference.
The entrance fee to the online travel conference Phocuswright Europe is close to €1,800. And you have to fly or take the train to Amsterdam to attend (+ shell out money for a hotel room or an apartment rental). If you are a busy vacation rental property manager, your time and your money may be better invested in upgrading your PMS or finding the right company to outsource your cleaning.
Yet, the good news is that you can still benefit from key learnings by watching free video replays of Phocuswright Europe. I was lucky to attend in person the 2018 edition in Amsterdam. I have selected a few videos, featuring Airbnb and Booking.com, as well as a very interesting data shareout by Expedia. You can go to the PhocusWright Europe video playlist in the RentalPreneurs YouTube channel.
Video 1: Airbnb Europe (strategy / evolution)
Jeroen Merchiers, Director EMEA at Airbnb was interviewed during this session.
Interesting question for anyone working for an Airbnb property management company: How does Airbnb itself maintain a startup culture? Interesting question for anyone working for an Airbnb property management company: How does Airbnb itself maintain a startup culture?

"Belong Anywhere" is company mission lived by every employee (as testified on Glassdoor)
Obsession with being on the ground
Employee engagement score: above 80%, while other companies average at 13%

Question: Airbnb went through transformation (from hosts to hotels). Is Airbnb getting more anonymous?

Yes, Airbnb went from homesharing to more accommodation types, to being a travel company
Enables Airbnb to attract a bigger audience (thrown in numbers)
Airbnb introduced classification in its supply, e.g. Airbnb for Work, Airbnb for Families
Expanded categories with B&Bs and boutique hotels, but these property types were already on Airbnb. Yet Airbnb was not providing them with the right tools

Question: Do mega hosts (i.e. big Airbnb management companies) with 800 properties have a place on Airbnb?

Not every traveler wants to stay with a host and meet new people
So, Airbnb welcomes professionals but wants to make sure that there are still humans powering hospitality

How different is it to book a hotel on Airbnb and Booking.com?

If you book a hotel on Airbnb, it will be the same experience as booking a hotel on Booking.com
Yet the UX (user experience/interface) and CS (customer service) are better than those of Booking.com

Has Airbnb lost its soul?

70% to 80% of listings are unique to Airbnb (so not on HomeAway or on Booking)
80% of listings are from individual hosts
53% of these smaller hosts use Airbnb to pay their rent or mortgage
Airbnb wants to stay community-driven so that it does not become a commodity
60% of traffic is organic due to positive word of mouth

Is traffic really organic or a lot due to the Airbnb referral program?

Referral is big, but you still need a great experience to want to refer.
Video 2: Booking.com on offering more than 5,000,000 listings of homes, apartments and other unique places
Booking.com's new boss of the vacation rental business explained how the company had been improving its tools and services for property managers. He announced that the OTA now listed more than 5,000,000 homes, apartments, B&Bs, and other unique places to stay.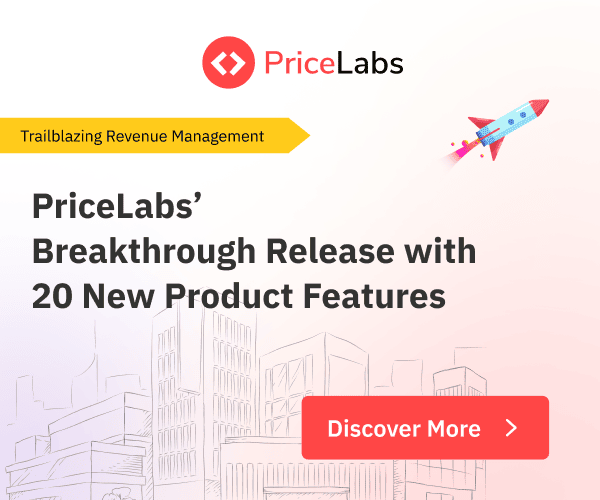 Interesting to hear how Booking.com, which was seen as an underdog in the vacation rental industry until recently, has come out as a strong contender in 2018.
Expedia: Bleisure, a great opportunity for property managers to increase occupancy and revenues
Expedia's presentation was soaked into data and I loved that. It was about how the growth in bleisure (trips that combine business with leisure) represent a great opportunity for the hospitality industry. I certainly see urban short-term apartment rentals as beneficiaries of this trend.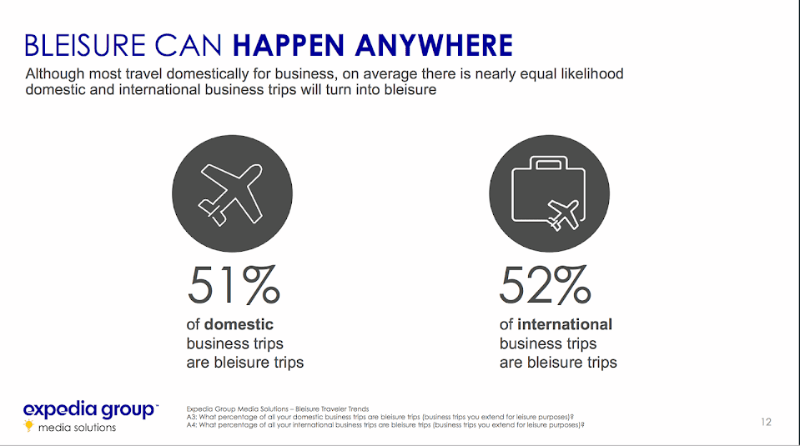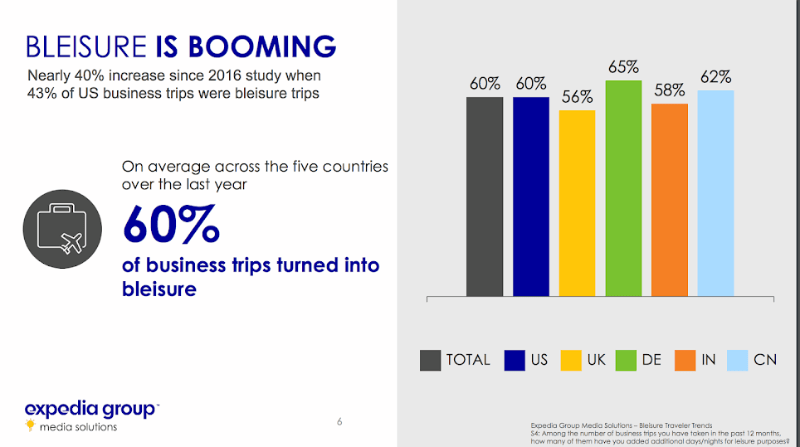 Expedia's research looked at data from over 2,500 business travelers across 5 6 countries
60% of business travel has a leisure component: People add leisure days to business trips (2 to 3 days)
Business trips that are two nights or more, and far away from home, are most likely to convert to bleisure
Expedia shared data about occupation / frequency / length
A conference is the highest correlated to bleisure as a business travel occasion, same if the destination is far from home or high on bucket lists
In China and the US, the small number of holidays means that people think first about when their holidays are and then try to find a business trip to add to justify the expense (e.g. Golden Week in Chinese travelers)
⅔ of travelers take bleisure trips alone
You can get the whole PDF presentation straight from Expedia's website (for free).
I hope that, as a busy Rentalpreneur, you have been able to get some insights from these videos, PDF, and notes. For more videos from PhocusWright, you can visit their Youtube channel.