The #BookDirect movement wants vacation rental owners and managers to be independent of third parties like Airbnb, Booking.com Vrbo. But is this really the best way to go? ? This article is part of our #BookDirect Day 2022 series. Do not miss our free 1-hour event on February 2, 2022: Is #BookDirect just myths and overpromises?
According to Mark Simpson, author of The Book Direct Playbook (available here: boostly.co.uk/book), you want a healthy balance between OTAs (online travel agents) and direct bookings. OTAs can bring awareness about the property and be crucial in the low season. A 100% direct booking strategy can bring independence, higher profits, and more repeat guests. Yet, it is also more time-consuming and can be riskier: What if your marketing budget goes to zero? What if your website goes down for a few weeks?
When it comes to getting your vacation rental property booked, you have a few different options. You can go the route of using an online travel agent (OTA), which will market your listing to a much wider audience but will take a commission on each booking. You can also go the route of 100% direct bookings, where you market and manage the booking process yourself, cutting out the middleman. 
Quick recap on the benefits of a #BookDirect strategy
There are many benefits to having a direct booking strategy for vacation rental owners and managers. Here are some of the most important ones: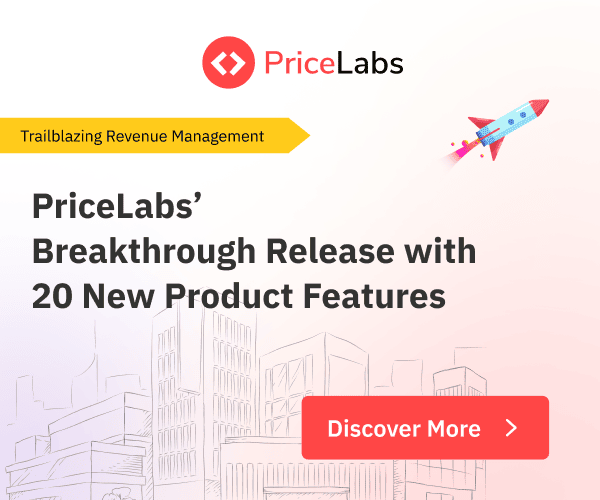 1. Independence from third-party websites like Airbnb, Booking.com, and Vrbo. When you're not dependent on OTAs, you're in control of your own destiny. You set your prices, you decide how much commission to pay to OTAs, and you keep all the data about your guests.
2. Higher profits. When you don't have to share your profits with OTAs, you keep more of the money that your guests spend on their vacations.
3. More repeat guests. Guests who book directly with you are more likely to come back. They already know your property, they feel that they have a closer relationship with you, and they are less price-sensitive than guests who find your listing on an OTA website.
Why some vacation rental owners and managers are sticking 100% with OTAs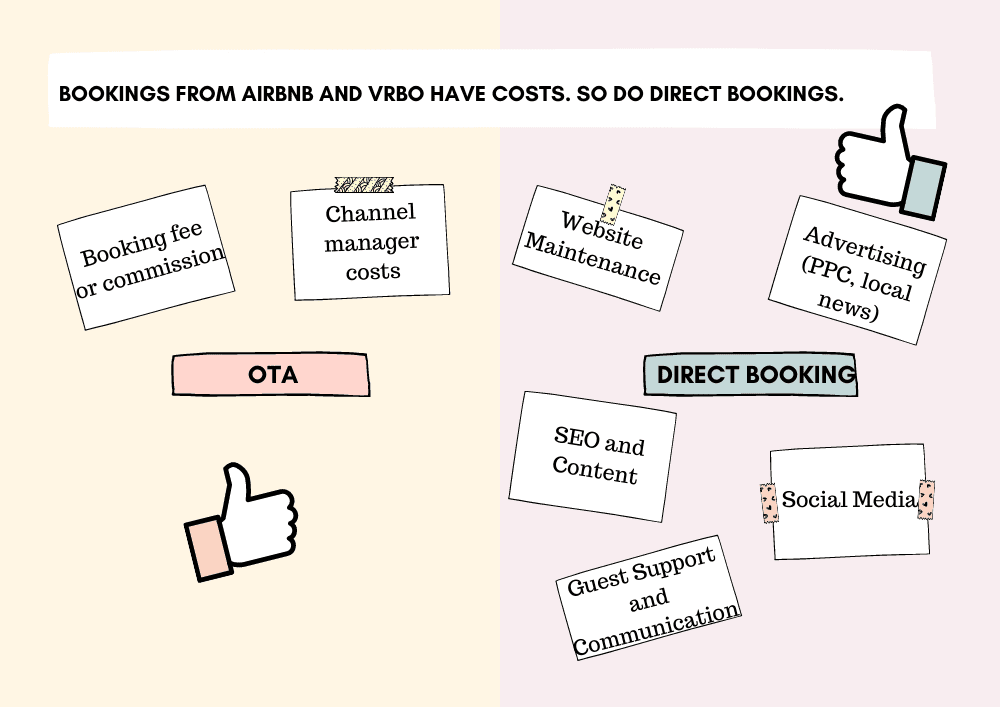 When you list your vacation rental on an OTA such as Airbnb and Vrbo, you are tapping into a pre-existing audience of potential guests. These platforms have millions of users who are looking for vacation rentals just like yours. This can be a great way to bring awareness to your property and attract more guests.
Large customer base: OTAs have a large customer base and can connect their users with your property.
Awareness: OTAs have a large reach and can bring awareness about the property to a large number of people who are not yet part of their customer base.
Diversity: OTAs have a variety of marketing channels that can be used to promote the property. For an independent owner and manager, it 
Advanced promotion tools: OTA website have ways to give more visibility to promiotions that you create. For instance, they can striketrhough prices, group last-minute deals on a dedicated page, or bundle your property with others in a specific newsletter.
OTAs can drive sales in the low season when guests are more price-sensitive.
To be listed on an OTA, you usually have to pay a booking fee. If you are a property manager, you may have to add costs linked to you channel manager software.
OTAs do spend money on various things that can be complicated and long for your to replicate:
Marketing costs

Creating and maintaing your own website
Advertising (Adwords, PPC, meta-search)
Social Media
SEO
Emailing
Loyalty program

Support

Call Center
Email contact
Chat
Take some inspiration from #BookDirect to be loyal, but not prisoners, of OTAs
It's good to diversify channels and not bet on just one horse
One of the messages from the #BookDirect movement is to make sure you remain independent. If you are dependent on only one booking channel, for instance, Airbnb, it means that you're building on your rental business on their turf. If for some reason, they kick you out of their platform, you lose your upcoming bookings and your past reviews.
So, you want to also list your place with other OTAs (e.g. Vrbo), as well as have your own online presence. You do not have to share your time and efforts across all these options. You can just pick a few and dedicate most of your time to two of them. Should one booking channel go down, you will be ready to activate the others.
It's good to have your website: Some people may see you on OTAs and but prefer booking directly with you
If your property has a recognizable name, then you may get more traffic to your own website thanks to "the billboard effect": Supposedly, vacation rentals that list on OTAs can see an increase in direct bookings on their own website. This is because potential customers first discover the listing on an OTA, and then visit the property's own website to directly book their trip.
Some travelers may actively go out of their way to avoid booking with Airbnb, Booking.com, or Vrbo. They may not want to book on OTAs because they may feel that they are getting a better deal by booking directly with the owner. They may also feel that they have a more personal connection with the owner and that they can get more personalized service. Some travelers also prefer to book directly with the owner because they may feel that the owner is more trustworthy than an OTA. Others may also prefer to book directly with you because they may not want to pay the commission or fee that OTAs charge. Some travelers may want to avoid OTAs and book direct with you because they think that they can get exclusive deals that are not available on the OTA.
It's good to capitalize on repeat guests: Use OTAs to get their first booking, but secure the next ones
Travelers are getting wise to the fact that OTAs and Airbnb's charge booking fees, sometimes up to 10% of their total cost. Make OTAs work for you, by letting travelers use a booking platform the first time they stay with you, but making sure that they book directly with you the next time.
This means that if you're not careful, your business could be earning significantly less than it otherwise would have.
That's why vacation rental managers know they need to follow these four steps:
Get travelers to book on an OTA or Airbnb the first time
Establish contact with the guets after their stay so you can communicate directly with them in the future
Offer a competitive price for repeat visits
Create incentives for long-term stays (such as discounted rates)
According to Mark Simpson, it's all about having a healthy mix between direct and OTA bookings. With his "Book Direct Playbook", he wants to help property owners and managers increase their direct bookings by 10%. This is an achievable goal for everyone, which can unlock more profitability and new habits on the way to ever more direct bookings.