Consolidation is hitting the luxury vacation rental market too. While Vacasa and VTrips are busy gobbling up property management companies in the US, newcomer Nocturne Luxury Villas acquired in 2021 three luxury vacation rental management companies, also based in the US, but operating in high-end destinations: Exceptional Stays in Telluride, Colorado, St Barth Properties (St Barths) and WIMCO (St Barths and other markets). Stiles Bennet, WIMCO's President and Chief Marketing Officer, tells us more about Nocturne's strategy, its ambition as a platform, and why WIMCO decided to sell.
What is Nocturne Luxury Villas?
Nocturne Luxury Villas invests in and operates luxury vacation rental management companies in exclusive leisure destinations. Founded by a team of seasoned travel professionals and backed by strong capital partners, Nocturne is bringing together the best-of-the-best vacation rental managers and uniting them on a single platform.
Nocturne was founded by:
Scott Simmons, CEO & Co-founder – A former M&A advisor, Scott held executive leadership positions with Abercrombie & Kent and Andrew Harper Travel, and was a principal in BeautifulPlaces, the leading vacation rental manager in California Wine Country and the US Virgin Islands.
Marshall Calder, President & Co-founder- A veteran of the hotel industry, Marshall headed worldwide marketing for luxury hotel brands The Leading Hotels of the World and Preferred Hotel Group. He jumped to the vacation rental industry 10 years ago, first as an advisor to WIMCO, then as head of Caribbean operations for Sonoma-based BeautifulPlaces.
Carl Colletti, CFO- An expert in corporate finance and accounting, Carl brings extensive experience gained in both private and public companies including Vacation Rental Pros where he served as CFO and Fanatics, the leading retailer of licensed sportswear and merchandise, where he was the Chief Accounting Officer.
Nocturne invests in and operates luxury vacation rental management companies in exclusive leisure destinations around the world. The company's capital and senior structured debt come from the private equity fund Gladstone Investment Corporation (NASDAQ: GAIN) and the private equity investment firm Aureus Capital.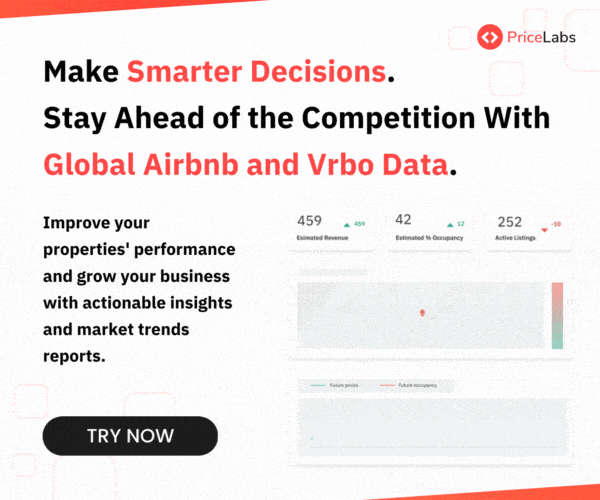 Here's how Nocturne presents itself:
Nocturne Luxury Villas invests in and operates luxury vacation rental management companies in exclusive leisure destinations. Founded by a team of seasoned travel professionals, we share a vision to bring together the best-of-the-best vacation rental managers and unite them on a single platform.
Backed by strong capital partners, Nocturne is uniquely able to consummate investments with transparency, efficiency, and respect for the legacies of the businesses we team up with.
We focus on founders wishing to transition away from some of their day-to-day management responsibilities and take on new challenges as part of our growing, vibrant organization.
Which vacation rental management companies has Nocturne Luxury Villas acquired so far?
June 2021: Exceptional Stays (Main market: Telluride, Colorado)

Founded in 2002, Exceptional Stays leads the exclusive market of Telluride in both property quality and customer service. A portfolio of beautiful homes and condos in Telluride, Spain, Mexico, France, and more alongside second-to-none guest service and vacation planning, Exceptional Stays has built a strong repeat client base and continues to expand using a tech-forward approach to providing incredible vacation experiences
July 2021: St. Barth Properties (Main market: St Barths)

St. Barth Properties (SBP) is a well-established property management company on the ultra-chic island of St. Barthelemy. Representing 260 extraordinary villas, SBP has been operating since 1986 and is a pillar of the Saint Barth community.
Nocturne Luxury Villas acquired St. Barth Properties in 2021. One of SBP's two principals, its founder, Peg Walsh, wished to transition to a consulting role, while the other, Tom Smyth, sought a partner to help grow and scale the business. Nocturne provided a solution that enabled each to achieve their goals, and today Tom serves as the COO of Nocturne.
January 2022: WIMCO Villas and WIMCOsbh (Main market: St Barths)

WIMCO Villas was founded in 1983 by Brook Lacour. In 1984, Tim Warburton partnered with sister-in-law Lacour to build a villa rental market for travelers to St. Barths, out of a U.S. office based in Newport, Rhode Island. In the ensuing years, WIMCO added villa rental offerings in Anguilla, Barbados, and the Turks & Caicos, along with Italian and French properties.
The company strengthened its presence on St. Barths in 2010 upon establishing WIMCOsbh, a dedicated on-island office, offering customized personal assistant-like service for its clients. Collectively, the company currently represents over 1,800 villas worldwide and is a recognized leader in the sector.
Tim Warburton, WIMCO's CEO, said: "Together with a loyal and passionate team, we created and maintained a client-centered business for 37 years. In looking at the future of WIMCO, I believe Nocturne will preserve the familial ethos and sage advice that the WIMCO team provides and that our clients appreciate while expanding new opportunities for growth. I wish them continued success as they strengthen the villa rental platform."
Interview: Stiles Bennet, President and Chief Marketing Officer, WIMCO Villas
Since 2021, the vacation rental industry has been infused with a lot of money. In the US, large property managers such as Vacasa and VTrips are using this money to acquire smaller property managers, one market after the other. How similar and how different is it from what Nocture is doing?
Stiles Bennet: Nocturne has a singular focus – acquire companies that operate in exceptional vacation destinations, who have exclusive management contracts with exceptional homes, who provide their clients and homeowner partners with superior on-the-ground service.
The ideal companies will have a loyal repeat client base, and a well-established reputation for respecting the properties they represent and generating good returns for their homeowner partners
Nocturne is not pursuing mass-market homes, the value segment, mass-market destinations, or call center distributed service. Its focus is on the very high-end of the luxury villa rental market, and on companies that deliver extraordinary on-the-ground service to their client.
Who are the seasoned hospitality professionals behind Nocturne and what is their vision?
Stiles Bennet: Nocturne is led by three exceptional hospitality veterans. Scott Simmons, Marshall Calder, and Carl Colletti. They have backgrounds in leading luxury hospitality companies like Abercrombie & Kent, Andrew Harper Travel, Beautiful Places, and Exclusive Resorts. With operating experience in some of the most exclusive vacation destinations, serving some of the most sophisticated and discerning travelers.
WIMCO came to know Scott and Marshall when we partnered with them to launch and then manage a leased villa program for Exceptional Stays in St Barts.
The goal is to unite luxury vacation rental management companies on a single platform. Does it mean that Nocture will be launching its own booking website or that the respective websites of the acquired brands will be powered by Nocturne's technology?
Stiles Bennet: There is certainly a goal to enable the delivery of even better customer service and productivity by migrating to best of breed technology platforms – including but not limited to reservations and CRM platforms, and service procurement and delivery platforms
The websites of each company that has been acquired have strong domain authority with search engines and strong brand affinity with clients. The websites will remain as is, however investments in back-end technology will improve how they function for travelers and will improve conversion rates.
Who are Nocturne's competitors? How do they see Marriott's Homes & Villas?
Stiles Bennet: Nocturne and its child companies are not pursuing a mass-market high-volume strategy of listing thousands of properties in dozens of destinations…for example, you won't see luxury condos in Orlando in this portfolio, or lakefront homes in Branson.
As for direct competitors, Nocturne appears to be pursuing a somewhat unique strategy, with a singular focus on operating in the most exceptional destinations, representing the most extraordinary homes, where a vacationer can experience amazing service
Marriott's strategy and several other companies like it are really listing platforms and they're not taking a direct operational role in the properties they're managing or the companies they're working with. Whereas Nocturne is investing in luxury hospitality companies and extraordinary destinations. It is taking a very active role in the operations of those companies and setting of service standards and setting objectives for delivering exceptional service.
Why did WIMCO choose to sell to Nocturne Luxury Villas?
Stiles Bennet: Well, there were several reasons
It was a family-owned and run company, and the next generation was not interested in stepping up to run it,
The timing was right with the luxury villa rental category growing, and valuations following suit,
The ownership of WIMCO saw the owners of Nocturne as being ideally suited to carry on its legacy of providing exceptional service to clients and homeowners.
Nocturne now owns two companies with a big foothold in St Barths, i.e. St Barth Properties and WIMCO. Why acquire two competitors on one tiny island?
Stiles Bennet: So in effect with these two transactions Nocturne now has a leadership position in the Caribbean's most exceptional and upscale destination, from both a market share of clients and market share of homes.
When you have the opportunity to acquire the leading villa rental company like WIMCO and a very exceptional villa rental company, like St. Barth Properties, what you're getting really is the market leader at that point. And you're able to set standards and communicate those standards to owners and clients.
The companies have both been operating for 30 years. But they don't have a lot of crossover in their client base. So it's quite a substantial client base of people who are passionate about the destination of St Barths. So that in itself is very attractive. And then both companies represent exceptional villas on St. Barths and while there's certainly some overlap in the product portfolio, each did have unique listings. The overall portfolio now is almost 400 unique villas, all of which were delivering clients on a monthly basis and all of which are meeting our service standards. So it becomes a pretty exceptional operation down there.
What can WIMCO's guests and owners expect? What are the first measures that have been taken?
Stiles Bennet: Nocturne has communicated a message of "business as usual" when addressing both the client, travel agent, and the villa owner communities. Whether it is St Barts or Telluride, the companies in Nocturne's portfolio are in the midst of a very busy villa rental season, so while improvements are being made in the background, our clients and homeowner partners will only see a continuation of exceptional service.
Nocturne was very careful in communicating right up front that it's going to be business as usual in 2022 for both clients and owners. We're not trying to change anything very significantly or very quickly. We want the clients to feel comfortable that they're going to get the same exceptional level of service and the same exceptional homes. Homeowners aren't going to see anything and change in operations that should make them nervous. Instead, we're settling into a new relationship with Nocturne and hope to deliver the same exceptional service to homeowners and clients. And then on the back end, quietly, there will be investments in technology and investments in the kinds of reservations platforms we talked about earlier, in CRM systems. So it will really be visible to the clients and owners, but over time, we'll just get more and more productive in delivering better service without disrupting anything.