If you could not attend the 2022 edition of the Vacation Rental World Summit, we've selected for you five thought-provoking gems shared by speakers such as AirDNA's Sarah DuPré, Transparent's Pierre Becerril, AJL Atelier's Simon Lehmann, and GuestReady's Alexander Limpert. The biggest announcement at the conference was Booking.com's launch of a request-to-book option, yet interesting facts and data were dropped by other speakers. We'll see why hosts should not aim for 5.0 reviews, why guests should be treated as if it was their first time ever at a short-term rental, how profitability has gone down by 40% for European short-term rental operators, how quality control remains a key issue, and what you need to put in place to grow from 100 to 500 properties.
Do not aim for 5.0 reviews!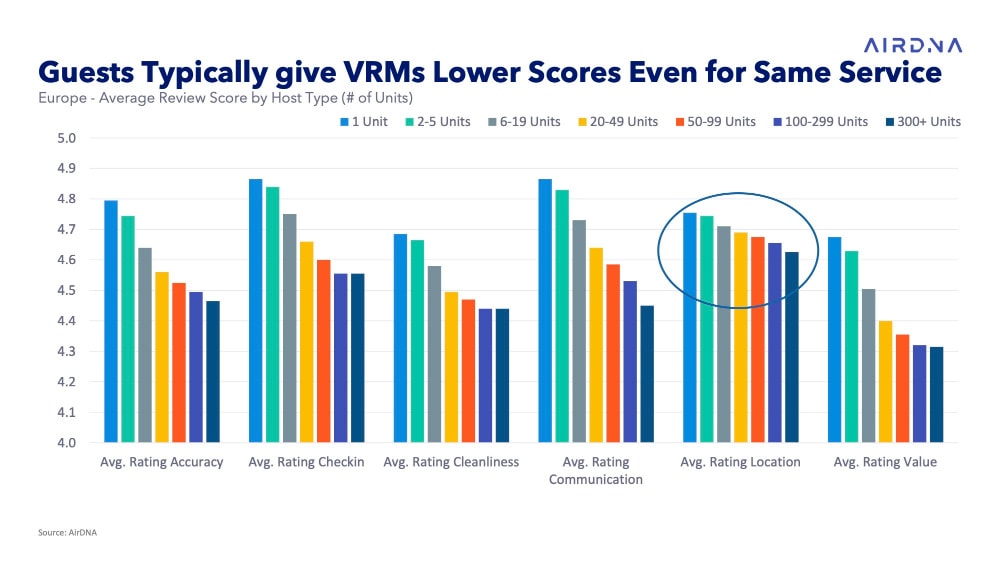 On Airbnb, a perfect review score is 5 out of 5. AirDNA's Sarah DuPré shared a slide showing that the average review score of a vacation rental manager was lower than that of an individual host. Worse, the large the property management company, the lower the score.
Now, she underlined that guests might be biased toward forgiving more mishaps to individuals rather than to companies.
Now, a side comment of hers resonated with me: If you constantly get 5.0 reviews, especially a perfect 5.0 for the value, you are underpricing your listing. When giving a star rating to a property, here is what Airbnb guests can judge on a property against:
Overall experience. How was it?
Cleanliness. Did the place meet our standards?
Accuracy. Was it accurately represented with up-to-date photos and info?
Check-in. Should be easy.
Communication. Did the Host respond to messages promptly?
Location. Was the guest made aware of safety, transportation, points of interest and special considerations like noise or other situations that might affect their stay?
Value. Was it worth the price?
Amenities. Was everything promised in the listing available and in good, working condition?

So, when looking at your reviews, how well are you doing in terms of value? You may want to be slightly under 5.0 if your goal is to boost your revenues and profitability. If everybody finds the property of great value for money, it may mean that you are constantly pricing the place under market price, compared with equivalent places.
Treat every guest as if it was their first time at a short-term rental, as it may just be the case!
As Airbnb CEO Brian Chesky shared in 2020 and 2021, a lot of people tried his platform and vacation rentals for the first time during the pandemic.
AirDNA said that, in 2021, 41% of the reviews left on Airbnb were from first-time users. In other words, a lot of the most recent reviews left about your properties are from people who are new to Airbnb and maybe even new to short-term rentals.
Why does it matter?
First, these people may have wrong expectations about staying at a short-term rental. They may think that, just as in a hotel, they can check in at any time, get the keys at a reception desk, get daily cleaning, and easily postpone check-out time.
It means that you have to make sure that your messages to guests are written as if it was their first time. Give details about how a short-term rental works, the location of the property, who to contact, etc. If not, you may get a low review from these first-timers.
Booking profitability may go down by 40% compared with 2021! (especially in Europe)
Transparent's Pierre Becerril shared a presentation on why property managers should improve the way they record and record their performance. One aspect of this is financial reporting.
On one slide, he tried to capture the impact of rising operational and mortgage costs for landlords engaging in long-term rentals. Rising labor costs are increasing operational costs such as how much cleaners are paid. Rising interest rates are increasing the cost of mortgages. As a result, their profit has decreased by around 40%.
January 2022:

Rent Revenue: €23,600
Distribution Costs: -€3,070
Operational Costs: -€7,000
Mortgage: -€6,130
Net Revenue: €7,400

September 2022:

Rent Revenue: €23,600
Distribution Costs: -€3,070
Operational Costs: -€8,500
Mortgage: -€7,944
Net Revenue: €4,086
Why does it matter to short-term rental property managers? Because it means that landlords will want extra revenues to make up for this loss in profits. They may turn to the short-term rental market to get them. If they come to property managers for help, they will probably be demanding in terms of commissions and capacity to generate bookings.
Rates have increased to hotel level, but quality control lacks the standards of the hotel industry
Simon Lehmann from AJL Atelier gave an overview of the industry. He mentioned something we had written about when considering how high the rates (average daily rates – ADRs) had gone.
In some places, short-term rental prices are similar to hotels. So, a guest may directly compare the quality of your apartment with that of a hotel bedroom. How does the cleaning of your place compare? How airy is it? How often does the place get cleaned compared with a hotel bedroom? How tired is the furniture? Do you provide small amenities such as shampoo?
Simon underlined that, for many property managers, cleaning was a big issue. It is not just hard to hire people, but it is also hard to deliver consistent levels of service across all properties all the time.
If guests are paying the same price as a hotel, they will be expecting the same level of quality. It is even more true if the short-term rental is operated by a property management company and not by an individual.
What you need to put into place to grow from 100 to 500 properties
GuestReady's Alexander Limpert has grown his company to more than 4,000 properties. His presentation showed what he had to change at every growth stage to be able to manage an ever-larger number of properties.
Here's his slide on what needs to change when going from 100 to 500 properties:
People

Hire key people who can take over management responsibilities
Create departments: Finance, People, Marketing, Sales, Operations, Business intelligence

Technology

Customisable solution to fit your processes, yet robust to drive automation
Data for pricing and operations, structured property information

Processes

Define clear processes, split responsibilities, and start documenting
Examples: Key management, onboarding, guest/owner experience, live operations, maintenance

Owner Acquisition
What was striking was that the growth from 0 to 100 did not require much PR and branding. The key from 100 to 500 is to hire the right people and set up processes. It does show how operational such a business still is at this stage.
Vacation Rental World Summit 2023 will be taking in Barcelona.