How can you attract more digital nomads to your vacation rentals, for instance, to make up for softening demand in the winter months? We've read, analyzed, and summarized for you a recent Airbnb document that provides facts, data, and advice on how to be among the best Airbnbs for remote work.
Airbnb has released the "Airbnb Guide to Live and Work Anywhere – How Communities Can Benefit from Remote Workers". It contains useful data about the rise in remote workers and shares ideas about how vacation rental hosts and managers can attract digital nomads.
This guide is meant for governments and destinations, but we've culled actionable advice for Airbnb hosts and short-term rental managers from it.
How Airbnb wants to generate bookings from remote workers through its Live and Work Anywhere program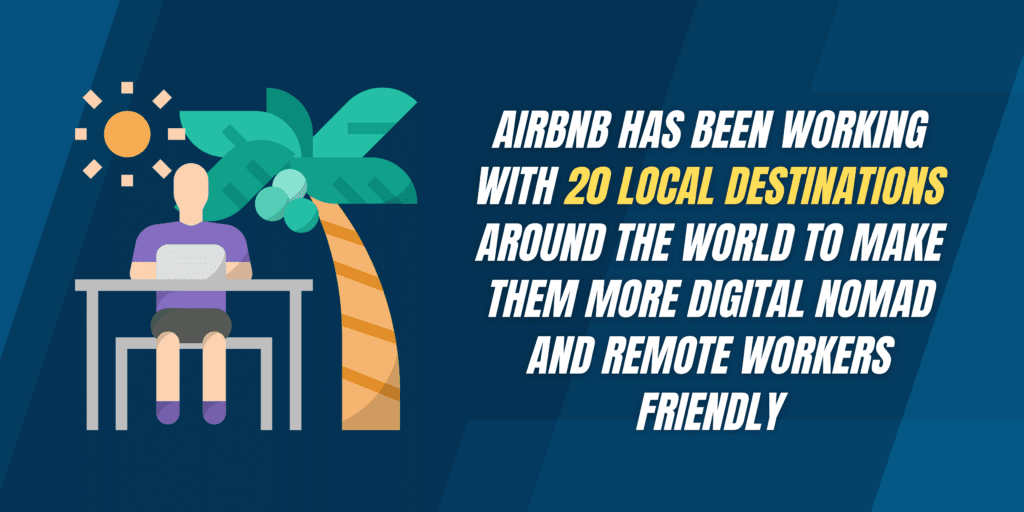 Before we dive into the specifics of this guide, let's take a step back to consider how capturing demand from digital nomads and remote workers has been a pillar of Airbnb's 2022 strategy.
The company has "Live Anywhere on Airbnb" as one of its 3 strategic pillars for 2022. Here's how Airbnb defines it:
Live anywhere on Airbnb
As a result of the pandemic, millions of people can now live anywhere. They're using Airbnb to travel to thousands of towns and cities, staying for weeks, months, or even entire seasons at a time. We want to design for this new world by making it even easier for guests to live on Airbnb. We believe that living somewhere enables deeper connections to local communities and the people who live there.
On the demand side, Airbnb has been busy convincing hosts to welcome stays over 28 days. In 2022, more than 90% of Airbnb hosts welcome such long stays. Making sure that hosts can welcome guests for several weeks or even months is the first requisite to growing remote worker bookings.
According to the company, long-term stays (28 days+) continue to be Airbnb's fastest-growing category by trip length, more than doubling from Q1 2019. Long-term stays increased nearly 25% from Q1 2021 and by almost 90% from Q2 2019.
Airbnb has been active on the supply side as well, working with 20 local destinations around the world to make them more digital nomad and remote workers friendly. For instance, in Spring 2022, Airbnb launched its Live and Work Anywhere program. Here's how the company presented the initiative:
In order to embrace this trend of worker flexibility, Airbnb is working collaboratively with governments to specifically support efforts to bring remote workers to their communities. Airbnb is launching the Live and Work Anywhere initiative to partner with governments and Destination Marketing Organisations (DMOs).
Here's what Airbnb wants to create through this program:
With support from Airbnb, select destinations will work to develop a sustainable infrastructure for remote workers that also takes into consideration the existing environment and the needs and priorities of locals.
In parallel, Airbnb will create a bespoke online landing page for the destination, a one-stop shop for aspiring remote workers that showcases each partner destination. This landing page will be promoted by Airbnb, in close coordination with the destination partner.
Remote working is a global phenomenon according to Airbnb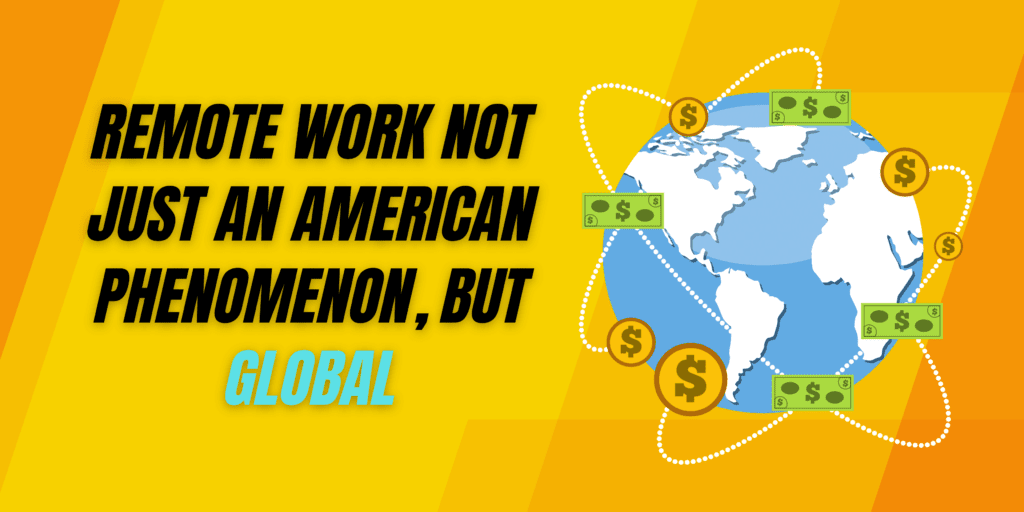 For hosts and property managers, it's important to realize that remote work is not just for Americans living in the Silicon Vally. In this guide, Airbnb shares facts and data from around the world, such as the following:
According to Gartner, Inc., the share of knowledge workers working remotely nearly doubled between 2019 and 2021, and 16 percent of companies worldwide are now fully remote.1 According to Forbes, 17 percent of paid job listings on LinkedIn in July 2022 were for remote work listings, which drew a majority of applications (54%), a steep rise from January 2020, when remote jobs made up just 2 percent of paid listings and attracted just 3 percent of applicants. This transformation is affecting workers around the globe.
According to McKinsey's May 2022 American Opportunity Survey, 58 percent of Americans report having the opportunity to work from home at least one day a week, and 35 percent report having the option to work from home five days a week.
An analysis by PwC found that 90 percent of workers in Asia-Pacific who reported that their work could be done from home expect their jobs to be fully remote or hybrid a year from now.
Eurostat reported that the share of European Union residents working from home more than doubled between 2019-2020 and continued to increase through 2021.
Atlantico's report Digital Transformation in Latin America found that 64 percent of Latin American firms will continue to operate remotely after the pandemic—a steep rise from 9 percent prior to the pandemic.
The surge in remote work can be seen in how Airbnb guests are using the platform worldwide, with many choosing to live and work in a location or extended periods of time. In fact, long-term stays (28 days+) continue to be Airbnb's fastest-growing category by trip length, after more than doubling
from Q1 2019.2
Get the demand right: Remote workers are not only made of white-collar digital nomads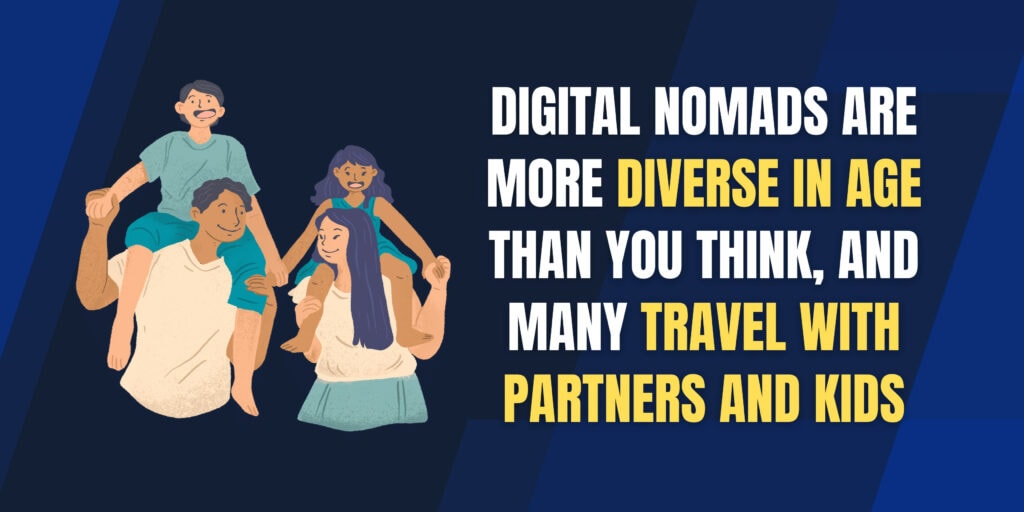 While information, financial, and professional services were most likely to offer telework opportunities, many jobs in the utilities (20%), manufacturing (12%), and construction (9%) industries also provided at least some telework options.
To be clear, studies show the opportunity to engage in telework is not uniform — in the US for example, those who have more traditional education credentials, and/or higher-income workers, tend to enjoy greater access to remote work opportunities.
And in Europe, a significantly higher percentage of workers with greater levels of traditional education work from home (43.9%) than those with low levels of traditional education (6.4%). 
Additional Insights from Phocuswright's The New Nomads: Work and Play From Anywhere indicate remote workers are:
• Diverse in age — nearly three in five remote workers are 35 years of age or older. This is consistent with Eurostat data from 2020 showing that the share of people working from home among 50-64-year-olds was nearly identical (12.4%) to the share of 25-49-year-olds (13.0%).
• Not primarily freelancers/gig workers: Nearly four in five have full-time jobs with an employer.
• Traveling with a partner and, in many cases, children.
So, think about what it means for your property:
When marketing your property, are you only showing photos of 20 years olds sipping coffee, or are you also targeting older workers and families?
How can you show that your property is great for people who need to work in a quiet corner while the rest of the family is staying on the side of the house?
Which of the amenities you already offer can be marketed as suitable for digital nomads?
Explain and show how your vacation rental and your destination are a great fit for remote workers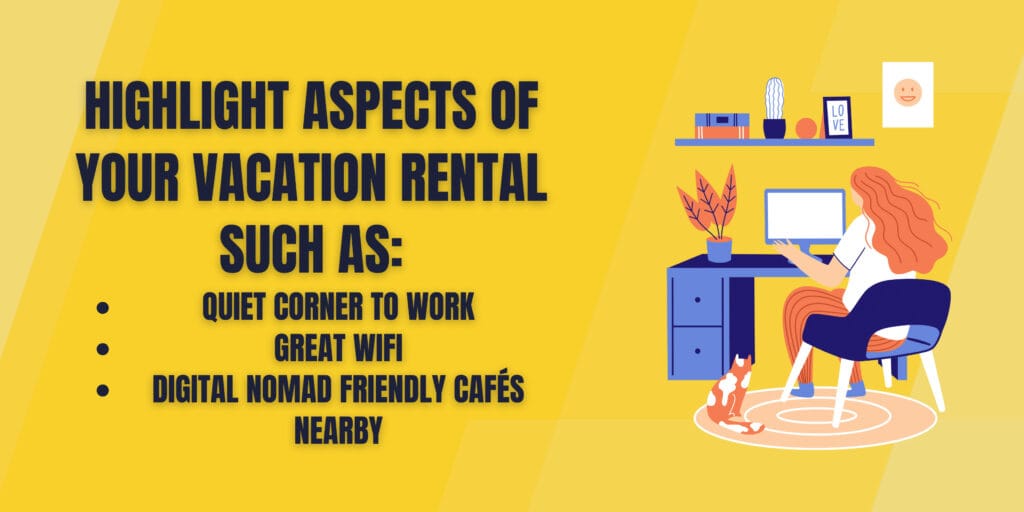 Explain what the work visas requirements are in your market, create a blog post, and share useful links
Join directories of remote work accommodations. For instance, a centralized database of remote work-friendly lodging — such as the portal launched by Cape Town/Western Cape, South Africa in 2021 — can help facilitate finding accommodations, one of the most important requirements for remote workers.
Show and prove that you have great wifi: Airbnb research shows that wifi is one amenity guests search for most often (Airbnb Hosts can test and verify their listing's wifi speed within the app and display it directly on their listing page, helping attract more guests looking for connected stays, including remote workers).
Make transportation options clear and even offer some form of transportation (a bike?): Provide remote workers with access and information on a variety of transportation options. For example, Northwest Arkansas gives remote workers a free bike to explore the beauty of that region and patronize local businesses. Argentina's remote worker visa includes discounts on flights with Aerolíneas Argentina. Here's what you can offer at your vacation rental:

List local bike/car/scooter rental options (This is also a great opportunity to partner up with local vendors and add a new revenue stream by earning commissions)
Mention how close you are to a metro or bus station

Show that it is easy to integrate within the local community and to meet other digital nomads

List local classes that can be taken in English
List local digital nomad meetups
List local cafés that are remote worker-friendly
List hotspots among locals such as neighborhood bars and restaurants that offer local specialties
Share options for digital nomads traveling with kids such as local parks, low-effort hiking trails, and other kids' activities
Read our other articles on the topic: