As we mentioned in our article about long stays, Airbnb is renewing its efforts to capture a slice of the housing market. In turn, how can real estate businesses and building managers get a slice of the Airbnb cake with their residential properties? By creating a framework where unit owners and even tenants, can rent out their place on Airbnb when they are away, while the building manager gets its share of the Airbnb revenues. This is one of the business cases behind Migo, a software and service solution developed by real estate software specialist RealPage, in partnership with Airbnb. We'll see that such a solution needs to integrate expert solutions to solve issues such as guest access, noise monitoring (NoiseAware), and price automation (PriceLabs). Yet, it is far from the first time that Airbnb and some of its partners have tried to make this model work. Things did not end well for previous partnerships with Niido and Pillow. The company's own program, called Airbnb-friendly buildings was put on the back burner at the onset of the crisis, but the Migo partnership may be a sign that it has been revived.
Airbnbs in urban residential buildings: The real money maker for Airbnb pre-COVID
Before the pandemic, before Airbnb made its homepage all about rural dwellings and discovering yurts and private islands, the company's most frequent trip type was two people traveling to a big city for a long weekend. Most of the time, they would end up staying at an apartment or a condo located within a residential building.
In 2018, the National Multifamily Housing Council estimated that about 65% of recent Airbnb bookings were in multifamily buildings — places like apartments, condos and even in-the-works hotels."
Yet, airbnbs in residential buildings have too often been a messy affair. For instance, some owners were doing it on the side, as a short-term rental ban may have been enacted by the condo board or the owners' association. On the other side of the spectrum, some real estate developers had been thinking about using Airbnb to fill up unsold spaces with tourists, until all units had been sold. But handling the bookings, guest access, and revenue management seemed daunting.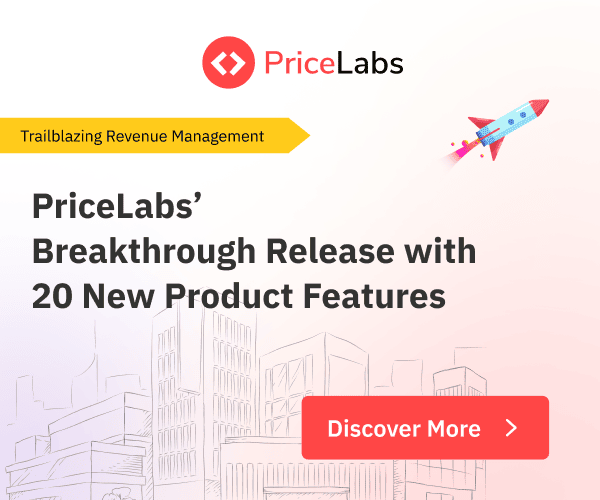 Airbnb partners with real estate software company RealPage to launch Migo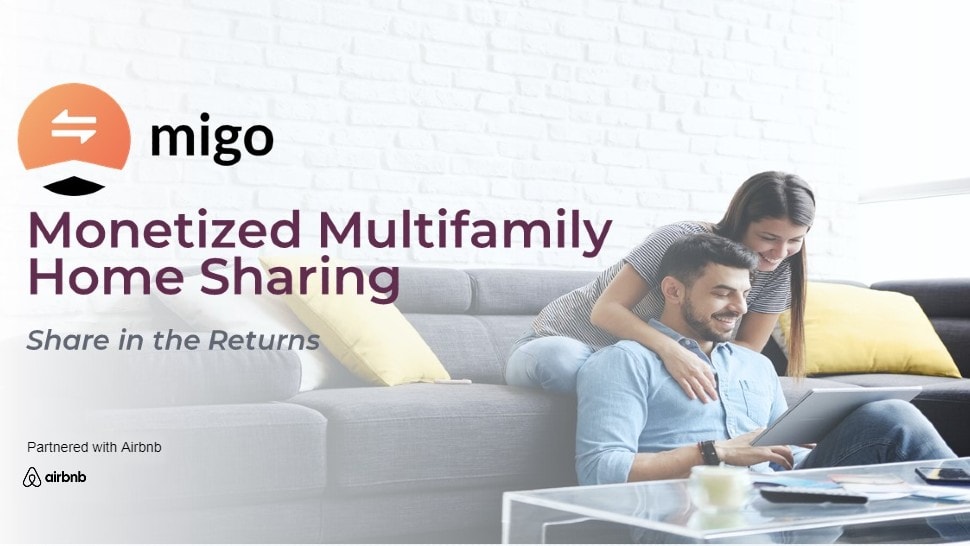 RealPage, a provider of software and data analytics to the real estate industry, has just partnered exclusively with Airbnb to launch Migo, its apartment home sharing solution. It will enable multifamily owners and residents to participate and profit from home sharing on Airbnb.
In the short-term rental industry, RealPage is already known as the owner of channel manager Kigo. Migo is a different beast: It is a suite of technology and services needed to manage, monitor, and monetize home sharing on Airbnb in multifamily communities and residential buildings.
Migo's role is to make an old dream come true: Help the real estate industry get a slice of the Airbnb boom and unlock new revenue streams for the property owners while supporting residents' desire for flexibility and the ability to offset their rent "by up to 20%".
The Migo press release claims that "the industry has long sought a home-sharing model that allows both owners and residents to participate and financially benefit without impacting existing residents or burdening management with extra work. Our exclusive partnership with Airbnb will make it easier for everyone to benefit from home-sharing."
Migo offers self-service and full-service home-sharing options:
With self-service, residents and owners can list their apartments or guest suites on Airbnb and self-manage all aspects of their Airbnb listing.
With full-service, the Migo host team fully manages all aspects of the Airbnb listing for an additional fee.
Key issues to solve, where experts are needed, such as PriceLabs and NoiseAware
Migo presents itself as a one-stop solution that brings together proprietary tech, Airbnb's APIs, and integrated vacation rental tech vendors.
For instance, PriceLabs powers Migo's demand pricing tool. It displays and monitors the market, delivering optimized unit per night pricing, so that property managers be assured that their units will be priced at the most competitive market rates.
Richie Khandelwal, the co-founder of PriceLabs, declared: "We are excited to be working with the RealPage team on their vision to give residents the ability to live more flexibly. Migo is a much-needed solution to solve for home sharing in multifamily communities. Our solution will help residents to maximize the income they generate from sharing their units on Airbnb and thereby reduce the financial burden of renting a home."
For noise monitoring, Migo is using NoiseAware devices.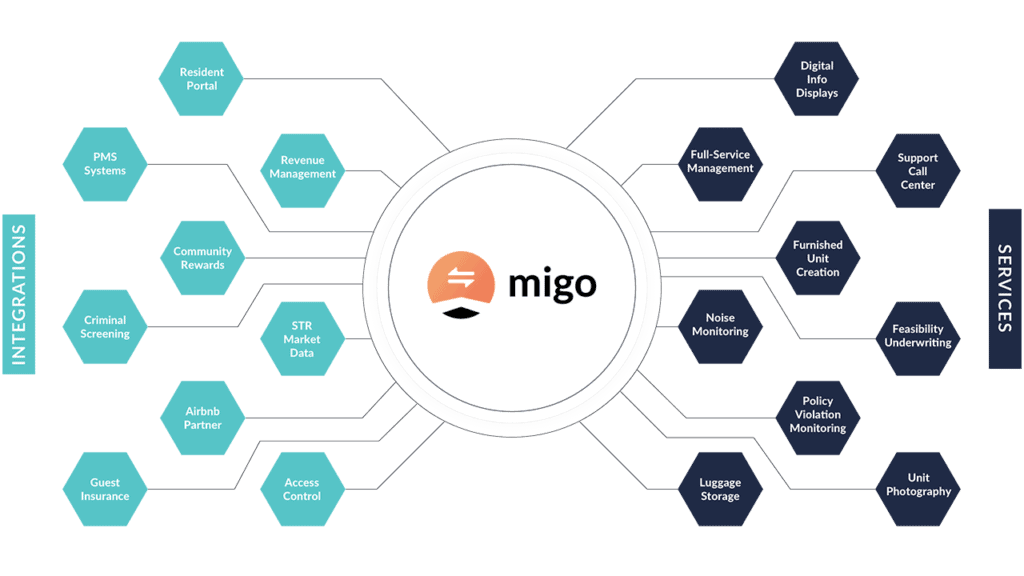 As the image illustrates above, successfully implementing a home-sharing solution in a residential building, where residents and travelers have to co-exist, means solving a lot of issues at the same time. For instance, this is what a solution like Migo would need to solve:
Access control: The guest can easily check-in to the apartment, while the building or company restricts the guest's access to some resident-only areas.
Risk: Background checks of guests, insurance, noise monitoring to ensure that long-term residents are not disturbed.
Luggage storage: Guests can leave their bags before check-in or after check-out for extra convenience.
Guest communication: The building manager may need a dedicated guest service team who can answer questions around the clock.
Technology: Multifamily building operators need technology solutions like property management systems and channel managers to distribute rates and inventory and manage bookings.
Operations: Actions like cleaning, welcoming guests, and responding to inquiries are highly organized, potentially even outsourced or automated.
This is not Airbnb's first multi-family home-sharing rodeo.
Migo says it " has cracked the code to multi-family home-sharing on Airbnb." We can hope so, as companies such Niido and Pillow have tried to do the same and failed. Pre-COVID, we had already covered how some tech companies had been busy tackling the multifamily housing market.

Let's go over a timeline about Airbnb's forays into the real estate market:
2016
Samara
Samara is Airbnb's in-house design studio whose goal is to create new building types merging living and traveling.
It has launched the Backyard project: "Backyard is an initiative to prototype new ways that homes can be built and shared, guided by an ambition to realize more humanistic, future-oriented, and waste-conscious design. It investigates how buildings could utilize sophisticated manufacturing techniques, smart-home technologies, and vast insight from the Airbnb community to thoughtfully respond to changing owner or occupant needs over time"
It has also unveiled a communal housing project designed to revitalize a small town in Japan. At the time, Airbnb said that the company could become "a force not only in sharing homes but in urban planning."
Samara looks to have been quiet for a while, especially since the start of the pandemic. Yet, still today, Joe Gebbia's job title is officially "Co-founder Airbnb & Head of Samara".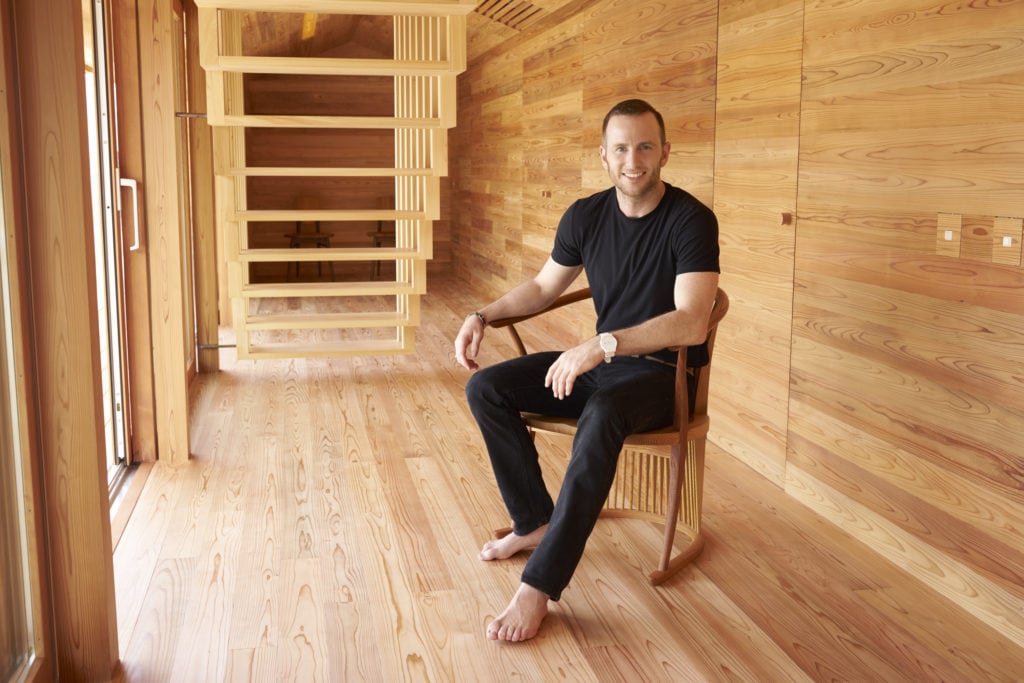 Airbnb Friendly Buildings Program (first version)
Under the program, landlords allow residents in their buildings and communities to responsibly host on Airbnb. The program also allows for property owners to receive a share of hosting revenue, set up rules for hosting, and includes $1 million of primary property and $1 million in liability insurance for the building owner.
2017
Pillow partnership
In November 2017, Pillow became the official and exclusive multifamily housing partner for the popular short-term rental listing platform Airbnb. Here's the pitch:
By adding Airbnb as an amenity, owners can create new multifamily Airbnb revenue streams by earning higher income from short-term rental stays, charging higher rental rates and increasing lead generation for future long-term residents.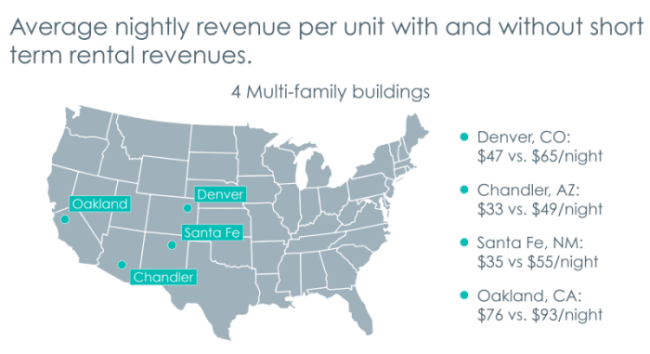 Niido, powered by Airbnb
Deal with Newgard Development Group to "create more home-sharing accommodations for the Airbnb community, particularly in urban, multifamily buildings". Under a new "Niido, powered by Airbnb" brand, NDG was to develop and manage apartment complexes where tenants could subsidize their rent by hosting Airbnb guests, the logistics of which would be handled by each building's front desk team. Airbnb had pledged to launch in 14 locations by 2020.

2018
Following Pillow's acquisition by Expedia Group, Airbnb revamped its Airbnb Friendly Buildings Program to add more tech to it, with its own APIs, for instance, to connect with real estate property management software such as Yardi, RealPage, Appfolio, and Entrata.
2020
Airbnb sues Niido developer it partnered with to build apartments. Chief executive Harvey Hernandez, accused of siphoning at least $1m out of the group's joint business interests with Airbnb, fraudulently backdating documents, and wilfully concealing details that the short-term rental firm argued had "altered" the value of its investment.
Airbnb's multifamily efforts are paused.
Expedia Group shuts down its multifamily operations that were born from the acquisition of Pillow (Airbnb's former partner) and ApartmentJet.
2021
Migo partnership
What the Airbnb-friendly buildings program was about
Before the pandemic, Airbnb's presentation page for its multifamily program was much richer than today.
Here are some of the things that the Airbnb multifamily hosting conditions entail:
Corporations (i.e. building owners or managers) can receive a 5% to 10% commission on every booking.
Once a condominium is registered as an Airbnb-friendly building, hosts cannot become an Airbnb host outside the program. Condominium corporations can create hosting rules such as quiet hours, parking rules, and amenities that are available or off-limits to guests. Residents have to accept these terms before hosting, as do guests. Whenever a resident in the condominium decides to host and enters their address in the Airbnb system, they are automatically routed to the condominium hosting rules and commission percentage payable to the condominium corporation.
The Friendly Buildings Program also gives management the ability to see which residents wish to host via Airbnb and the right to approve or decline each host's listing before it goes live on the site if they choose.
Airbnb will conduct checks on guests and only allow Airbnb guests who have 100% positive reviews.
Airbnb's property and liability insurance would be extended to cover the corporation and the common elements;
Airbnb would refuse to allow hosts to use its booking platform if there were too many complaints (e.g. nuisance, noise) generating from the rentals.
In early 2020, Airbnb also offered "Toolkits for Multifamily Properties". The goal was to share resources to support homeowners, tenants, landlords, and building owners.
For instance, a guide was helping owners deal with HOAs (homeowner associations).
Another one was aimed at companies developing a new building, with guidelines on how to make it Airbnb-friendly from the ground up.
Finally, Airbnb also had a partnership with RealtyShares to help financing for multifamily developments.
Today, the "Airbnb for Multifamily" looks is here: airbnb.com/d/multifamily
As Airbnb wants a slice of the housing market, it is interesting to note that the company is in parallel reactivating something akin to its Airbnb-Friendly buildings program to help the real estate industry list more properties on Airbnb.