In North America and in Europe, summer 2021 promises to be one of the best times ever for the owners of rural cabins, lakeside cottages, farm stays, and other outdoor getaways. Last summer was already about domestic travel, searches for "vacation rentals near me", and entire homes that make social distancing easy and pleasant. This year, bookings are booming early and supply will be tight in some areas, driving up night rates. After looking at data in Europe and in the US that back up this rural trend, we'll see how Airbnb is conducting efforts to capture demand and create supply, online with its "Greatest Outdoors" campaign and offline by working with rural associations in Italy, France, Spain, Germany, Australia, and the UK.
Data about vacation rental bookings are still shaped by the weight of local travel restrictions, lockdown timetables, and vaccine roll-out. Granted, the US is doing better than Continental Europe on that front. Yet, in both regions, the surge in rural bookings is notable.
The Financial Times has just published an article titled "Price of US summer rentals in the great outdoors surges – Travellers head for national parks, beaches and hiking destinations as vaccination rates rise", while one of the New York Times' "5 Things to Know About Booking a Summer Rental" is that "If you're looking for a nonurban destination, you're not alone".
By looking at data from AirDNA and Airbnb, we can see that owners of properties in rural destinations that are within driving distance to major urban centers should do well this summer.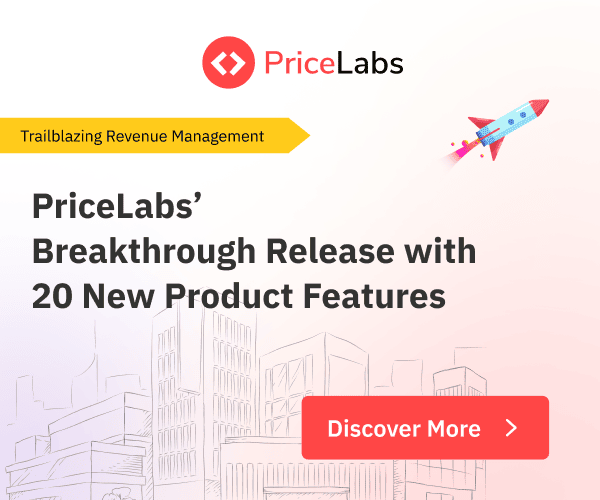 US Data that show in rural getaway bookings
AirDNA is a leading vacation rental data provider that creates monthly reports about the state of the industry. In previous articles, we looked at their January and February 2021 reports. AirDNA's March 2021 data show that occupancy levels in the US are overall 4% higher than in 2019 (pre-pandemic). Yet, there is a stark contrast across markets:
Change in occupancy (2021 vs 2019):
+4% for the overall US
+27% for small city and rural markets
+17% for mountains / lake
+9% for coastal / sea
-11% for large city – urban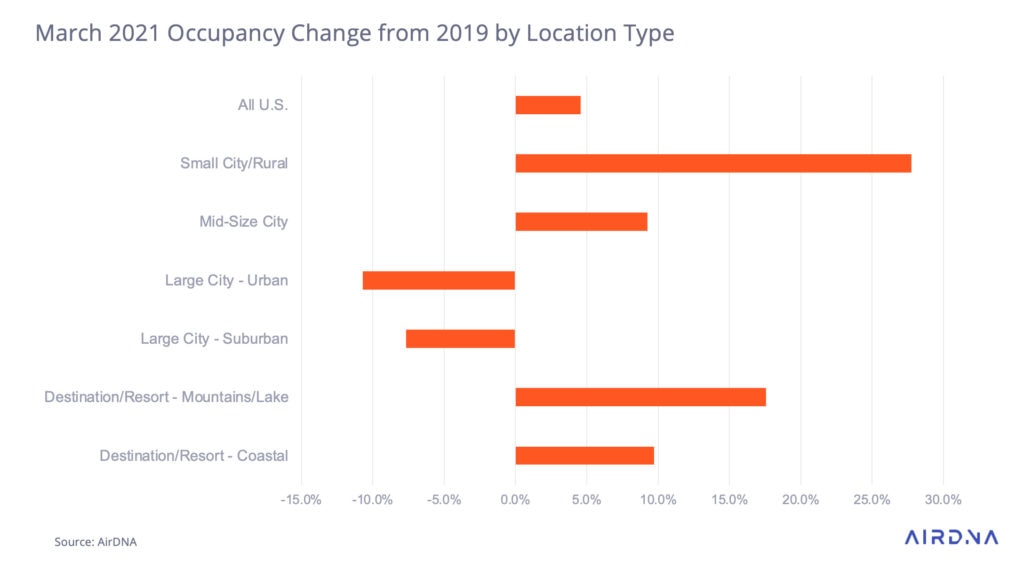 The surge in demand for small city / rural markets has been clear since April 2020, as this graph shows. Here, the value 100 represents the booked nights in 2019. The darkest line, which hovers all the others, represents the demand for small city / rural vacation rentals, while the dark blue line represents demand for large city / urban markets.
In urban markets, demand in March 2021 reached just 55% of its 2019 level. Meanwhile, small city and rural locations are attracting more guests than ever before and are now at 165% of 2019 demand. 
Airbnb has shared data that goes in the same direction. For Memorial Day Weekend (28 – 30 May 2021), 70% of searches in the US are for stays within 50 to 300 miles from where the guest lives. Now, compared with 2020, the share of trips further away is increasing, but staying with a drive-to distance will remain the norm.
Here are Airbnb's top U.S. rural destination as of April 2021:
Alamosa County, CO
Nye County, NV
Sanpete County, UT
Angel Fire, NM
Forks, WA
Sandpoint, ID
Washington County, VA
West Yellowstone, MT
Jackson County, NC
Harper's Ferry, WV
On Airbnb, searches for property types that are unique (e.g. dome houses) and linked to rural vacations (e.g. tents, farm stays, barns) are also increasing a lot compared with Memorial Day Weekend 2019:
Tent (260%)
Yurt (167%)
Campsite (153%)
Earthouse (149%)
Houseboat (142%)
Dome house (140%)
Farm Stay (119%)
Treehouse (111%)
Tiny House (109%)
Barn (86%)
Flashback: "Go Near", Airbnb's successful effort to be recognized as a domestic travel player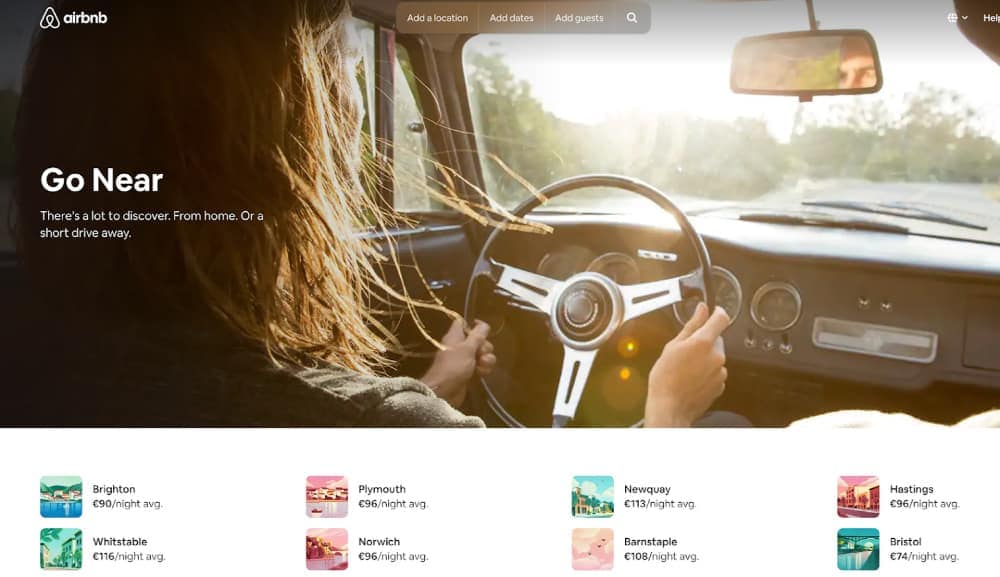 In June 2020, two months in a dramatic crisis, with traffic and bookings at -70%, 19% of its workforce fired, and doomsayers predicting its end, Airbnb managed to pull off an impressive campaign, called Go Near. The goal of Airbnb's Go Near was to help travelers find nearby staycations. Summer 2020 looked like to be very much about domestic travel and Airbnb wanted to get a slice of the action. For an OTA, this was an impressive project to pull off, with changes in the product (website and app), on-the-ground partnerships with local organizations, and a worldwide PR campaign.
Product changes – Website and app
Airbnb's overhauled its website and app homepages with a new design and the Go Near slogan, created a Go Near landing page showing properties and destinations within a driving distance of your IP address, and started sending emails with such offers to its client base.
Offline partnerships with local governments and DMOs
On the same date as Go Near visuals and pages went live, Airbnb announced 15 partnerships with local governments and destination marketing organizations DMOs to promote domestic travel. For instance, it worked with the National Park Foundation (US), French Association of Rural Mayors (France), and Zhejiang Tourism Homestay Inn Federation (China) to
A slick PR campaign to help change Airbnb's image as a mainly urban player
Airbnb's co-founders, Brian Chesky, Nathan Blecharczyk, and Joe Gebbia, were very active in the US and international press to promote the Go Near campaign. Thanks to partnerships with local organizations, Airbnb was able to get press mentions in multiple outlets across the world. It was important as the company wanted to underscore the fact that it was a great place to find such accommodations, even though Airbnb had been more synonymous with apartment rentals in urban markets.
Positive results: Go Near bookings boomed
As Airbnb's IPO numbers showed, the company was able to capture part of the local travel demand. To illustrate that it was not just about urban short-term rentals but also about sea, mountain, and country properties, it shared that, in July and August 2020:
More Airbnb guests stayed on the Sunshine Coast in Australia than in Sydney or Melbourne
More Airbnb guests stayed in Sardinia than in Rome and Venice combined
More Airbnb guests stayed on the Etruscan Coast than stayed in Florence
More Airbnb guests stayed around Lake Tahoe than stayed in Las Vegas
Here's the 2020 data that Airbnb shared with its investors. The graph shows the number and share of monthly bookings by travel distance (less than 50 miles in grey, 50 to 500 miles in pink, and more than 500 miles in red).
While the overall number of bookings rebounded, the number and share of "Go Near" bookings went up. For instance, in August 2020, stays less than 50 miles away from home grew by 31% compared with 2019 and stays in destinations comprised between 50 and 500 miles increased by 21%, while stays more than 500 miles away decreased by 52%.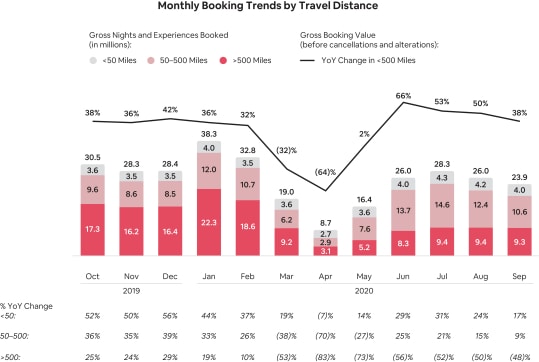 How much the "Go Near" campaign has helped is not clear, compared with just riding the domestic travel wave of 2020. Yet, Airbnb was able to flex its products, partnerships, and image to show that it was relevant. As a contrast, a competitor like Booking.com was still showing far away destinations on other continents all through summer 2020.
"The Greatest Outdoors", Airbnb's 2021 integrated campaign to capture more rural supply and stays, built on the "Go Near" playbook

If Airbnb has become a recognized player in driving domestic travel, its image and supply is still more urban than rural. When it comes to offering vacation rentals in non-urban areas, companies like Vrbo in the US, Sykes Cottages in the UK or Gîtes de France have more legitimacy than Airbnb.
Not just about demand: Airbnb wants to increase its number of rural listings
Airbnb wants to build up its credibility as a provider of rural stays. The company already has some accomplishments to show:
Rural Hosts make up around 25% a quarter of Airbnb Hosts in the US
On average the typical rural Host has earned a total of $8,448 total since the start of the pandemic, over $2,000 more than the average from 2019.
Globally, rural listings have earned Airbnb Hosts over $5 billion since March 11, 2020
Rural listings have earned Hosts in France over 450 million euros since March 11, 2020
Rural listings have earned Hosts in Italy over 110 million euros since March 11, 2020
Airbnb needs to get more supply in outdoorsy destinations to answer the rising searches for "glamping", "cabins near me", and other "farm stays". Building on the "Go Near" campaign playbook, Airbnb has launched a new campaign called "The Greatest Outdoors". Online, the goal is to showcase more unique places, camping options, and other rural entire homes. Offline, the goal is to work with local associations to get more demand and supply. In terms of PR, it has already started netting articles in regional newspapers, helping vacation rental owners get aware that Airbnb is also an option to attract guests in rural destinations.
Website and App: Airbnb's "The Greatest Outdoors"
The name and visuals for the Greatest Outdoors campaign are front and center on Airbnb's homepage, just as Go Near was.
The imagery evokes lakeside activities, cabins, and camping sites. The campaign is available in all languages. Note that Airbnb gives a lot of leeway to its translators to adapt the copy to their own market. For instance, it becomes:
"En pleine nature" (in the middle of nature) in French,
"En plena naturaleza" (in the middle of nature) in Spanish,
"Natur pur" (pure nature) in German,
"Kembali ke Alam" (back to nature) in Indonesian.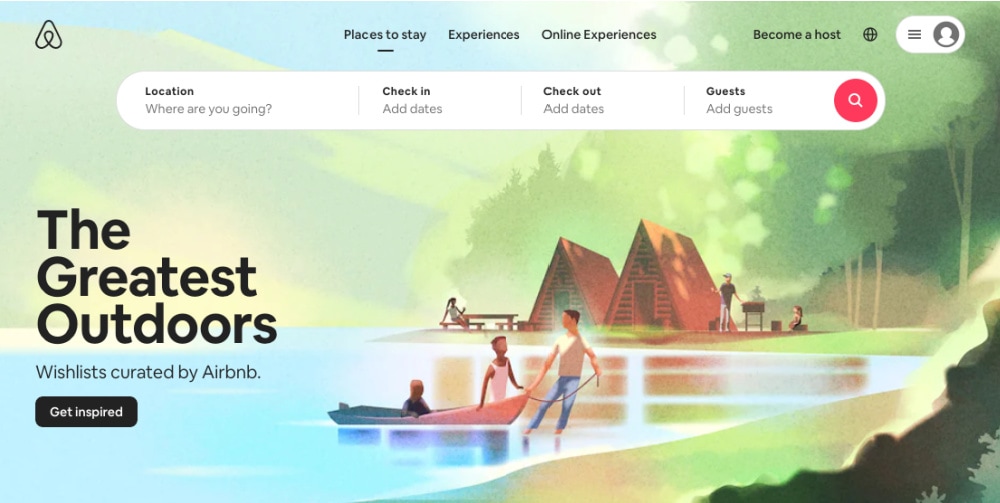 The Greatest Outdoors campaign has its own landing page, where travelers can discover "a curated collection of stays and experiences to inspire your next nature trip".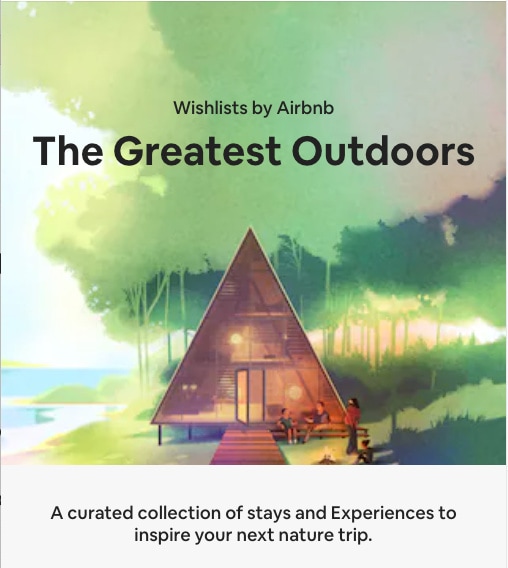 Then, they can pick among three types of "nature trips":
Pastoral Places – On your next getaway roll up your sleeves, get your hands dirty, and cultivate a deeper connection with the land.
Happy Campers – Get your fix of family fun with summer camp style trips that invite you to fill your days with outdoor adventures.
Design in the Wild – Gain a new appreciation for nature in design-forward stays that complement their wild surroundings.
If you pick a collection, you end up on a search result page, with a series of listings and a searchable map. The results are filtered to be located close to your current location (IP address) and to only retrieve specific property types.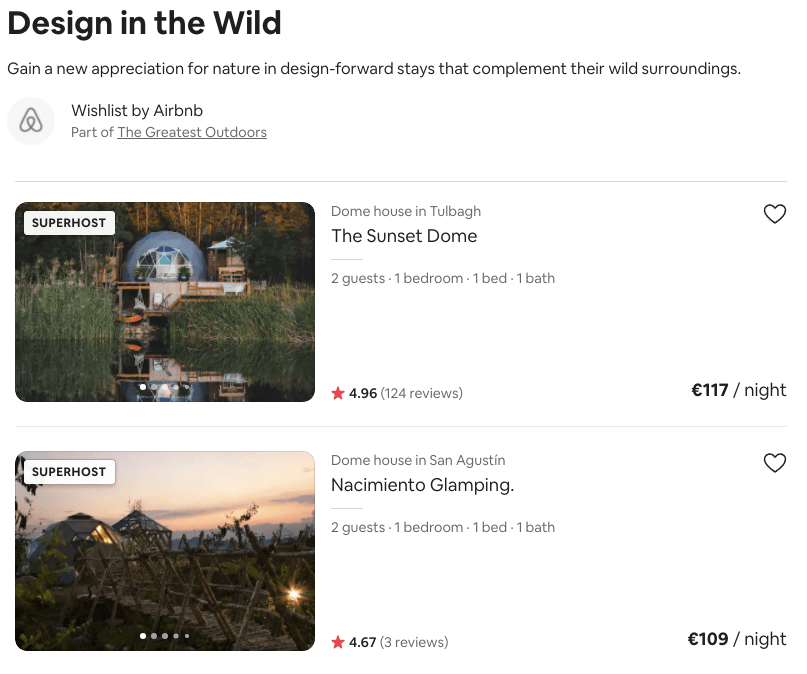 A few observations here:
By promoting categories such as campsites and bungalows, Airbnb actively wants that people to discover supply category types that the company is not known for. It helps change the brand perception, but it may also lower the number of bookings. Showing top sellers, such as condos and apartments in huge buildings by the sea (e.g. in Florida) could drive more sales than directing traffic to a list of campsites.
Airbnb is willing to showcase supply types that do not offer the largest choice of options. For instance, for "design in the wild", the company probably has a limited stock of dome houses and other unique places. It is probably why the term "curated" is used, as it preempts any complaint about the list of properties being too short.
More conversion-focused companies such as Booking.com would not implement such drastic changes, especially if it hurts conversion. Airbnb seems to be ready to take a hit in order to flex its brands towards more rural destinations and property types.
Local partnerships: Finding and educating new rural hosts thanks to local associations (+ webinars and Ambassadors)
In 2020, the goal of Go Near's partnerships was to create demand for domestic travel, especially in non-urban areas. As we've all seen, local travel did not need much encouragement, as it was all people wanted to or could do last year.
In 2021, the partnerships formed as part of "The Greatest Outdoors" campaign have more to with the supply side of the Airbnb marketplace. For instance, by working with local farmers associations, the company wants to help them develop a hospitality side-business. In France, Airbnb wants to add 15,000 rural listings to 50,000 it already has by the end of 2021.
Airbnb is adding to these partnerships the tools that it is using for "Made possible by hosting" campaign:
Webinars: Online education, geared toward the target (e.g. farmers from one region, locals from a mountain regions)
Ambassadors: Local hosts whose job is to attend or create local events to explain how to make money on Airbnb. For instance, a local host in a French rural area will go from village to village, as well as act as the moderator for the Facebook page of the local Airbnb hosts.
Here are some of the notable projects that Airbnb is undertaking:
Airbnb's Rural bootcamp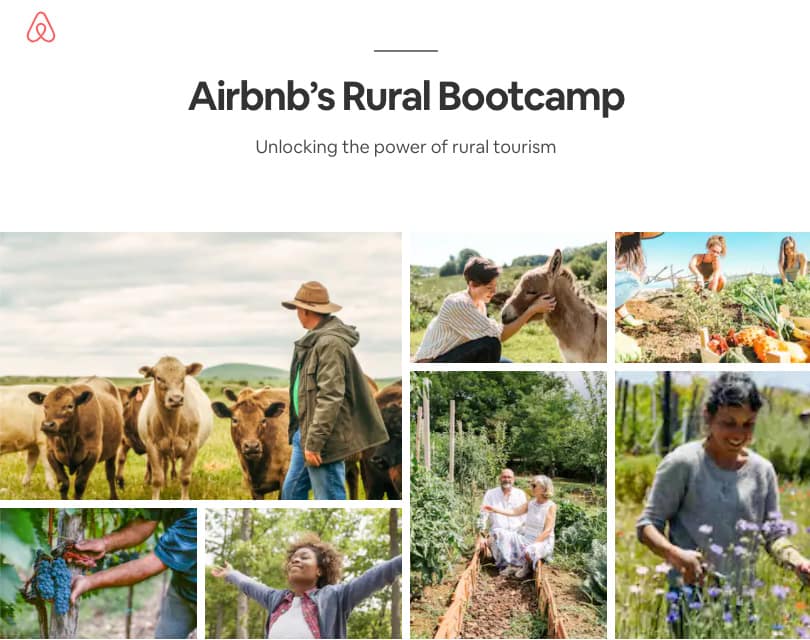 Slogan: "Unlocking the power of rural tourism"
Through a series of partnerships and Host education programs, Airbnb's Rural Bootcamp will help unlock access to the hospitality and tourism sector by giving individuals and organizations the toolkit they need to thrive on the Airbnb platform as Hosts (homes and experiences).
Airbnb's Rural Bootcamp is currently being offered to communities in Italy, France, Spain, Germany, Australia, and the UK.
Individuals can get involved in our Host Education Program and learn about the benefits of rural hosting on our platform via dedicated webinars.
Local association partners can benefit from the visibility offered by Airbnb and use the Bootcamp as a way to develop tourism infrastructure in areas that have often been overlooked. Current partners: Agriturist (Italy), Fademur (Spain), Urlaub am Bauernhof (Austria), Farmer associations (Australia).
Australia: Host a farm stay
Partners: Queensland Farmers' Federation, Victorian Farmers Federation, Tasmanian Farmers and Graziers Association, Northern Territory Farmers Association
France: Campagnes d'Avenir and Tous à la ferme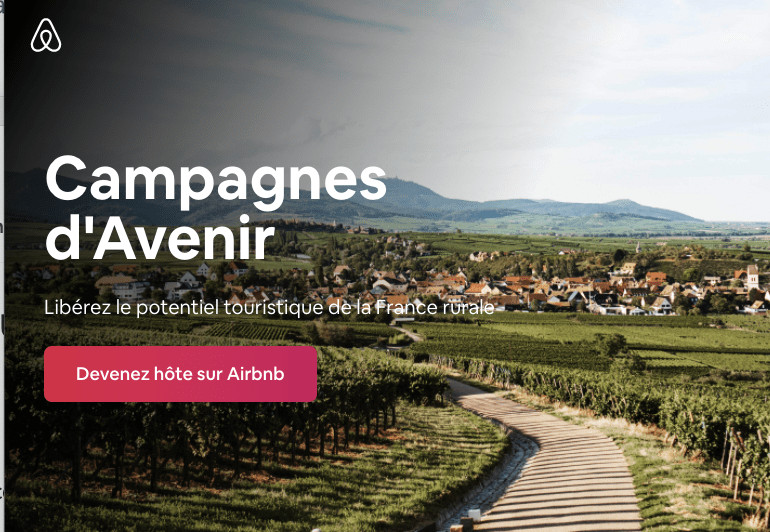 Campagnes d'avenir: A campaign with the Association of Rural Mayors. Airbnb gives €100 to a fund every time a host from these areas creates a listing
Tous à la ferme: Airbnb, Bienvenue à la ferme and MiiMOSA renew their call for projects. This is an opportunity for many farmers who have started or would like to start agritourism in order to promote their profession and their territory while ensuring their financial independence thanks to new sources of income
Local partnerships to explore more rural areas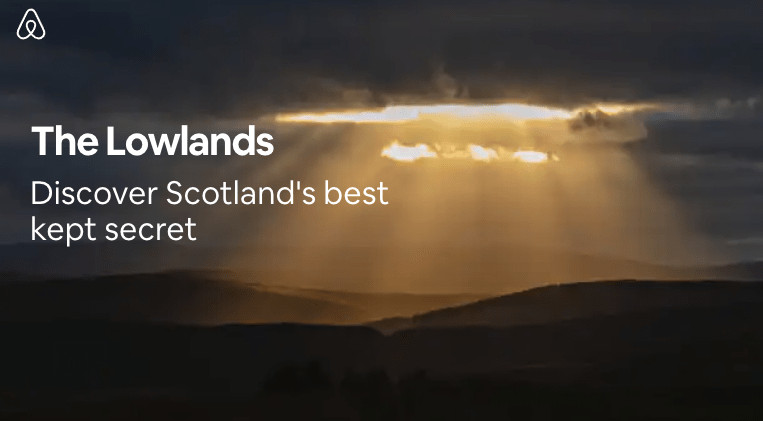 Airbnb is not completly turning away from demand creation with its partnerships. To pick two examples: