For a long time, the list of short-term rental dynamic pricing vendors was rather stable, with BeyondPricing and PriceLabs leading the pack. Meanwhile, AirDNA was cornering the market for Airbnb market data reports. The (re)entry of Wheelhouse, led by one of the original founders of BeyondPricing and PriceMethod, has already increased the level of competition.
Now, a newcomer, DPGO is trying to shake up the market. The company's slick user interface mixes market reports à la AirDNA and dynamic pricing capabilities à la PriceLabs / Beyond / Wheelhouse. Just as on Beyond and on Vrbo's MarketMarker, users can pick a revenue management strategy (e.g. high rates vs maximum occupancy) and see prices vary accordingly.
We'll look at how DGPO Software Inc. is using the 4Ps of product marketing to carve itself a place in the market with:
a feature-to-feature

product comparison

showing that it is on par or even more complete than its competitors

a lower price to penetrate the market and gain market share,
an effort to be available through PMSs, i.e. in places where its customers are,
promotion campaigns through content marketing and SEO.
How dynamic pricing helps increase revenue and save time
While hotels had been quick to embrace dynamic pricing strategies and to hire revenue managers, it has not been the same thing for vacation rental management companies until the mid-2010s. Airbnb's growth helped create mini "Airbnb empires" in big cities, spurring the development of pricing software that would alleviate the pains and boost the revenues of this new generation of property managers.
First, as OTAs such as Airbnb, Vrbo, Booking, and Expedia were gaining market share in the online distribution of short-term rentals, it became crucial for property managers to get their listings to rank as high as possible in search results. In order to be considered, properties need to rank near the top of the first results page. Right after location, dates, and number of guests, price is an important ranking and sorting factor.
OTA algorithms tend to rank higher available properties whose rates are competitive and freshly updated. While traditional vacation rentals tended to have one set weekly rate per season, new pricing software enables some of their competitors to have a multitude of night rates, sometimes updated several times a day.
Many property managers have a number in their minds about what their nightly rates should be. Yet, understanding pricing is not about what you want to charge, but what the market is willing to pay. In order to know this, you need to study your competition, current demands, seasons, amenities, and many other factors. One could easily lower their price and get 100% occupancy, but the goal of most property owners is to maximize their revenue, not to minimize it.
This is not just about local demand, but local supply. On OTAs, the inventory of available units changes daily, so rates may have to vary accordingly. At some point, keeping up with prices becomes an impossible chore. Airbnb hosts, vacation rental managers, and short-term rental operators cannot invest all of your time just to get booked. They will never be able to compete with the speed at which computers can make these calculations. So, they need to leverage the technology that's available in order to make their process of getting booked more efficient.
So, the value proposition of dynamic pricing tools is not only to increase revenue but also to remove the opportunity cost derived from spending hours each week to optimize prices. Busy property managers could use the time saved for other purposes, such as fixing operational processes, improving the guest experience, and recruiting new homeowners.
Expansion of Airbnb dynamic pricing alternatives
Airbnb's own pricing tool, a.k.a. "Smart Pricing", did not launch until November 2015. Meanwhile, BeyondPricing started operating in 2013 and PriceLabs in 2014. So, at first, urban short-term rental companies who needed Airbnb dynamic pricing tools had to turn to start-ups.
Furthermore, professional property managers were wary of Airbnb's proprietary tool, as it could not gather information about the demand from Airbnb users, not from the whole market, for instance. They also feared that Airbnb's ultimate goal was to boost conversion rates on its platform, not to optimize the revenues of property managers, so recommended rates may be lower than needed.
From 2015 to 2020, the list of dynamic pricing tools for Airbnb, Vrbo, short-term rentals, serviced apartments, and aparthotels was pretty stable.
As for market data companies, early innovator Renting Your Place became AirDNA, while Transparent, AllTheRooms Analytics, and Airbtics emerged as competitors.
Now, newcomer DPGO wants to shake the market, with promises of a more complete product, better UX, and lower prices.
Who is DPGO's dynamic pricing and market data solution for?
Given DPGO's product features and positioning, the software can cater to three main types of users:
High-growth short-term rental management companies: Backed by investors, these companies need to acquire supply, listing new properties, and deliver good ROI. If they do so, they can fuel their growth. These companies need to be efficient. A solution such as DPGO can help them manage the ever-changing night rates of a growing portfolio, saving time and increasing revenues.
Ambitious Airbnb co-hosts: Less visible, co-hosts make up a vast class of small entrepreneurs who have gone from listing their own property on Airbnb to acquiring a few more places and managing the properties for a few clients. Efficiency is important here too, as these are often very small companies working on razor-thin margins. DPGO's dynamic pricing capabilities can help them have the maximum nightly rates that they can possibly get, or the maximum number of bookings on a given month. The need to make money above the rents they pay (rental arbitrage) or the guaranteed revenues they promised (to their clients).
Short-term rental investors: People looking at potentially purchasing an investment property can use DPGO's market and competitor data features to model what their return would be like. For instance, they can go on Airbnb, create a listing at the very address where they want to invest, keep the property unlisted on Airbnb, and then add that listing into DPGO. Based on the property's address, features and amenities, investors can use DPGO to get relevant data before they even buy the property.
In the latter case, linking an Airbnb account to the DPGO platform is easy, as illustrated in the video below:
Product marketing: How DPGO wants to shake up the dynamic pricing vendor market
Product: All of and even more features than its competitors
As a new solution on the market, DPGO has been able to study what competitors were offering and to come up with its own innovations. The company says that it can rival all of its competitors, as illustrated in the chart below that they created.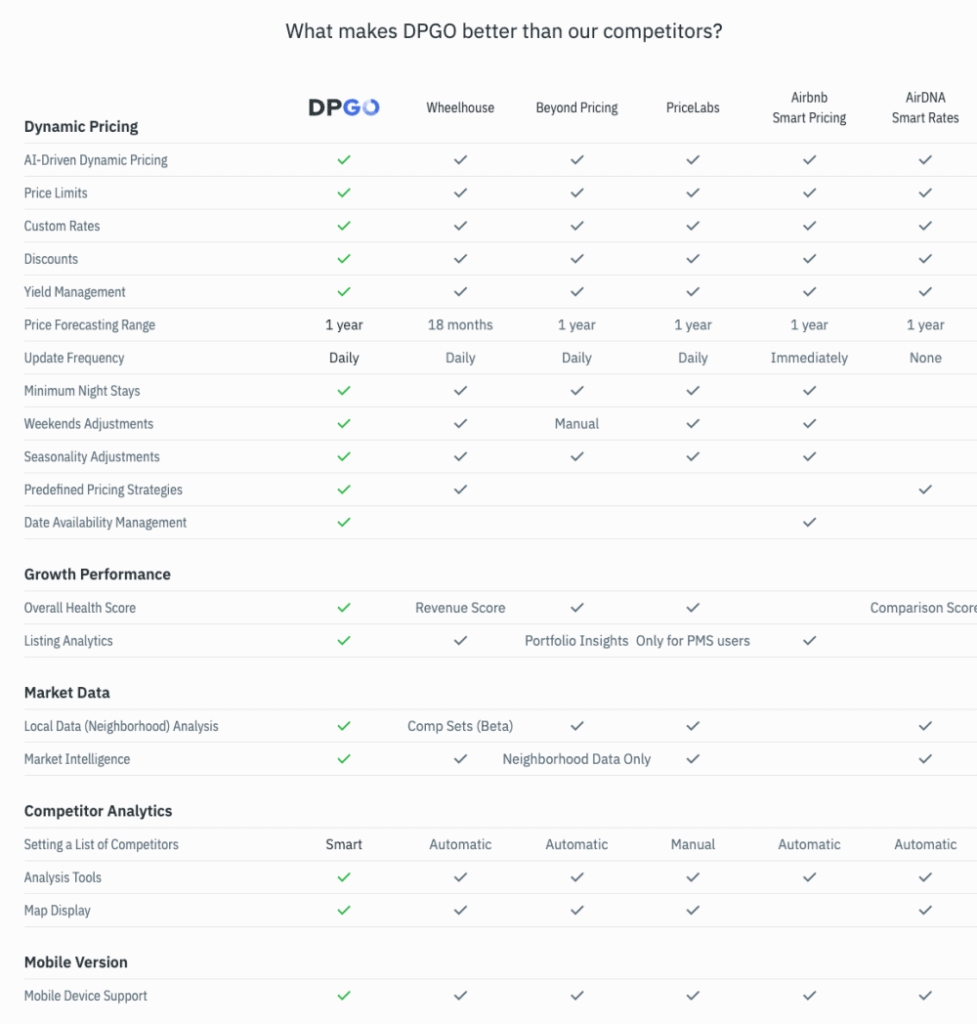 Creating and publishing a comparative product feature matrix is a classic product marketing move for a market challenger. DPGO wants to show that it can rival established solutions and make it easy for prospects to visualize how complete the solution is.
Here are DPGO's main product features:
Performance Dashboard
The dashboard is specific to each property connected to the solution. By default, the DPGO dashboard opens on the Performance tab. It is designed to give users an overview of their listing compared to the listings they are competing with. They get a number of different data, statistics charts, and graphs, comparing the listing with competitors and with the market.
Each property gets a real-time Health Score, based on data such as occupancy and revenues. The score helps identify which areas can be improved
The tab gives a review of previous, current and forecasted occupancy rates. This insight is especially useful for trend identification and can inform base pricing rules.
To help users compare properties based on their booking policies, the Performance tab also compares cleaning fees and cancellation policies across properties.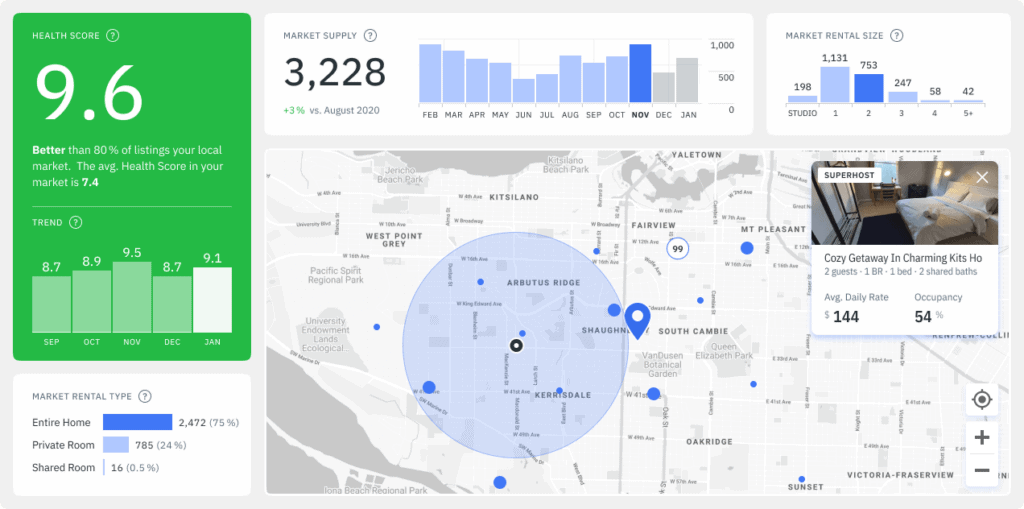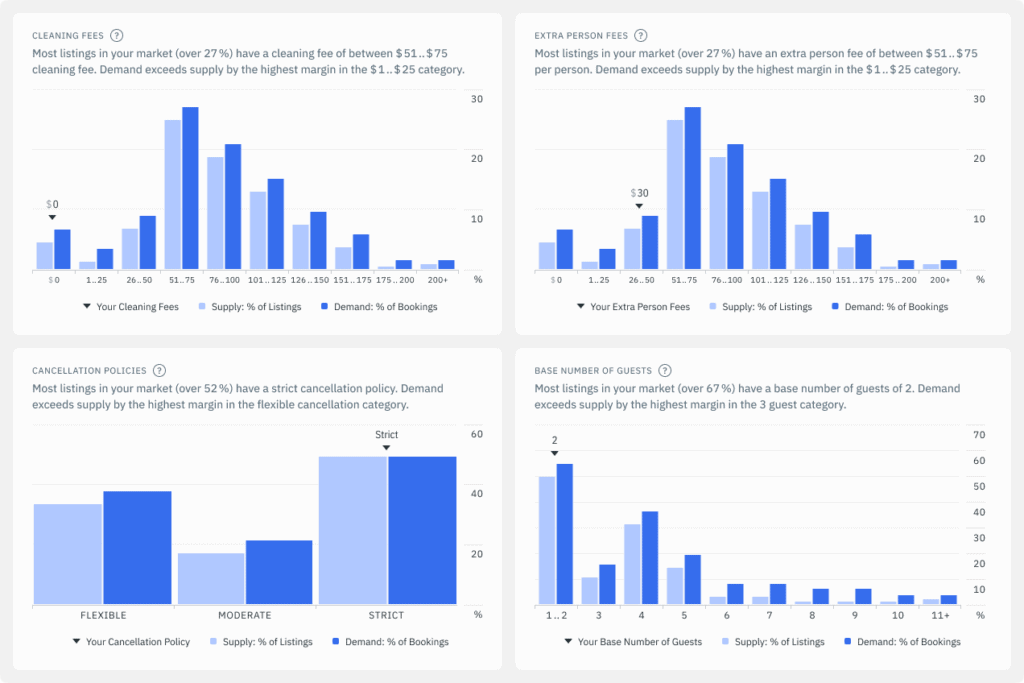 Calendar tab
This is a 52-week forecast, powered by AI recommendations, which suggests rates for each night.
Competition tab
This tab shows the listings that are close to your property.
The map can be useful to property investors. For instance, they can look at comparables and potentially might want to know why somebody is getting 30-40% more for their listing. It can be that the better-performing property is located on a different street or they have three bedrooms instead of two.
The competitor analytics give you a shortlist of the closest competitors in the vicinity of your listing. You can get a comprehensive overview of the amenities that your listing offers, and the amenities offered by rival property listings in your area.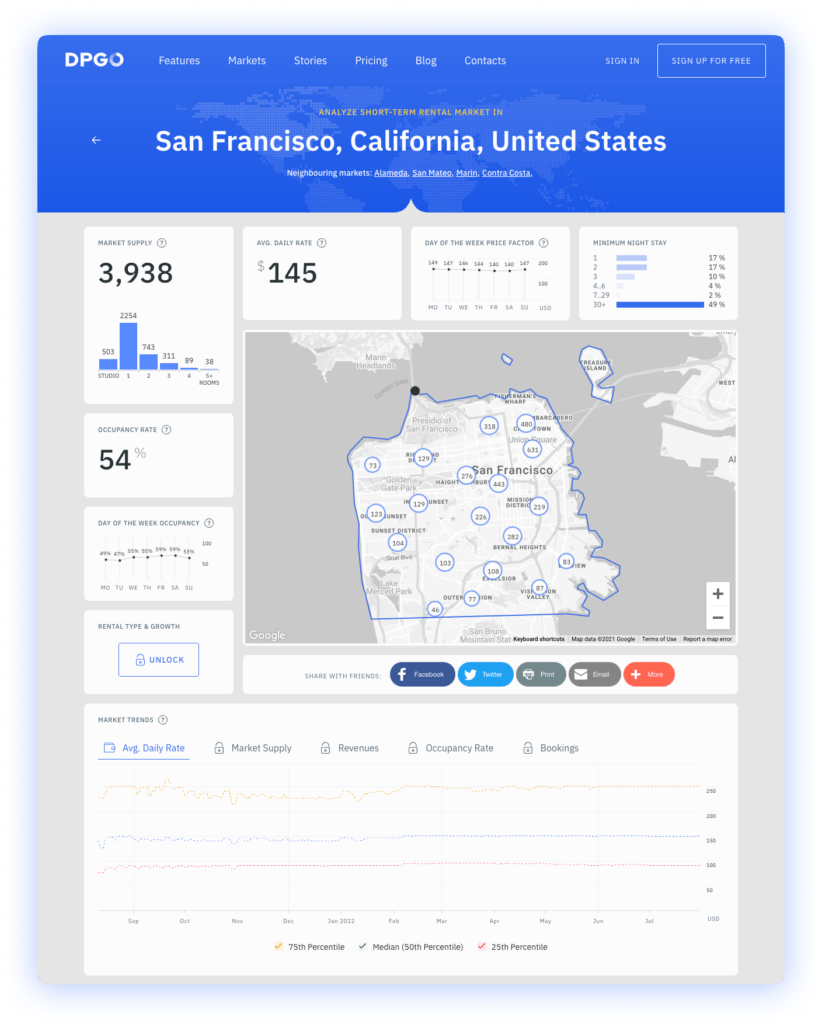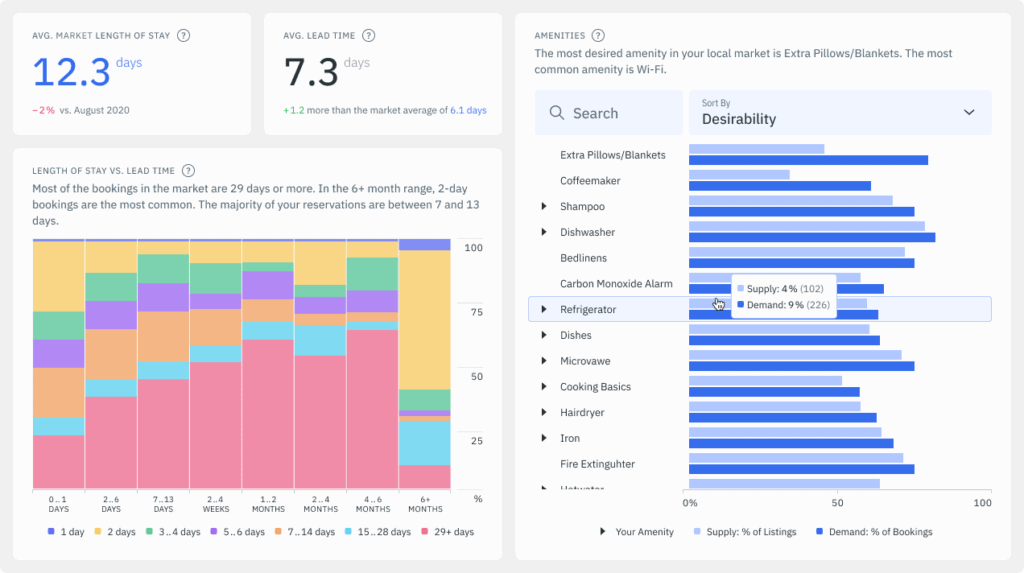 Dynamic Pricing for Airbnb Listings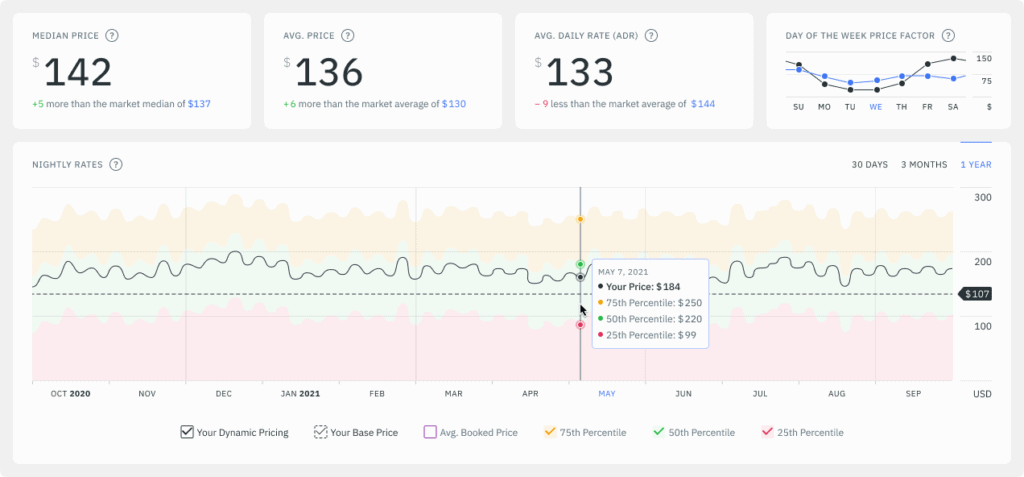 DPGO users can choose among four different pricing strategies. Depending on what they pick, the tool generates AI-driven pricing recommendations. Here are the four strategies available:
More Aggressive: Increase revenue.

The More Aggressive Airbnb pricing strategy is aimed at increasing revenue. Every setting, figure, and feature is optimized to get the highest prices for every booked date in the calendar. When using this strategy, the DPGO algorithm will source and analyze the appropriate data to ensure that prices are as high as possible, while still working within the user's pricing framework and staying competitive.

More Conservative: Increase occupancy.

The More Conservative Airbnb pricing strategy is aimed at increasing occupancy rates. All of the settings on the DPGO interface will be optimized to ensure the user secures a booking. This aims to increase overall occupancy rate. Like every other strategy available on DPGO, the algorithm will work within the pricing limits that you set to ensure that you never have to honor a booking for a price lower than that of your break-even point.

Recommended: Balance occupancy and ADR

With all of the data collection and analysis that our pricing tool does on a daily basis, DPGO created the Recommended strategy to give their users the most data-driven pricing approach possible. They use everything from exchange rates to booking surges and changes in competitor prices to arrive at the best price. This 'best price' is created as a balance between increasing occupancy rate and securing the highest nightly price possible.

Custom: Own your Airbnb pricing strategy

DPGO users can choose the 'Custom' strategy and enter their own values. The company designed the process to feature this ability because they wanted users to be able to create their own strategy and make changes if they identify that part of it is not working.
Pricing strategy:
As a newcomer with a goal to capture market share, tempt new users into trying out its software and get current users of competing solutions to switch to DPGO, the company seems to have chosen a penetration pricing strategy.
A market penetration pricing strategy is a time-tested method for products in the introductory stage of their life cycle. It is where the company accepts a low-profit margin and prices relatively lower than the market price. This strategy should generate greater sales, establish the product in the market more quickly, and can be associated with expanding its market share.
DPGO's pricing model:
Flexible: 0.5 % of booked price
Fixed: $1 per booked night
Beyond's pricing model:
30-day free trial, then 1% of bookings made during a month-long period, charged on the day of the month that signed up with Beyond.
PriceLabs' pricing plans:
More complex pricing matrix as the price depends on the number of listings and on the location of the properties (more expensive in Western markets)
Flat monthly pricing
For instance: $9.99 for 1 listing in Asia, $4.99 for each listing after 30th in Europe and in the US
Wheelhouse's pricing plans:
1% of revenue
Starts at $19.99 per listing per month yet $13.99 – 30% for 50-100 listings
Pricing guarantees to help with trial conversion
As an alternative to established brands such as Beyond, PriceLabs, and Wheelhouse, DPGO needs to convince users to try out its solution not only because it is supposedly as good as or better than its competitors, but also because it is risk-free.
This is what DPGO's pricing page wants to convey, using clear pricing guarantees that convey:
Value leadership (our product is better, so we are willing to take the risk of your leaving after a while), with a price match guarantee
No exit barrier after conversion (you are not locked in), with a free 30-day trial period
Not too good to be true, with the "No hidden fees / no set-up fee" promise
Place: From Airbnb-only to PMS-friendly
Within the 4 marketing Ps, Place can mean a lot of things for a SAAS company. You need to figure out where your target audience is looking for products like yours and make sure you're there. This means determining what distribution channels are most useful for you.
At first, DPGO was only available to hosts who wanted to directly connect the solution to the Airbnb platform. It made sense to after an Airbnb integration to target Airbnb hosts. But attracting one Airbnb host after the other can be cumbersome. And not every Airbnb host is willing to pay for additional software expenses, such a dynamic pricing solution as a substitute to Airbnb's free Smart Pricing solution.
So, DPGO realized that, to target property managers, it needed to reach out to where their properties actually were located, i.e. inside PMSs. The company had to change strategy and, instead of going after more direct integrations with large OTAs, chose to go after software solution partners used by small and medium property managers.
Here's the list of PMS/VRMS and channels with which DPGO is integrated: Airbnb (direct integration), Hostfully, iGMS, Hostaway, OwnerRez, Rentals uNited (coming soon), and Your Porter App (coming soon).

Another Place factor for a SAAS solution is the geographical coverage. For the moment, DPGO only covers markets in Canada and the US. This is a limiting factor, but also an understandable prioritization choice, as the North American vacation rental software market is bigger and as the company is headquartered in Venice, California.
So, in terms of Place, DPGO is less well positioned than its competitors who may be active in more international markets and have more partnerships with software companies. Now, it looks like that this young company knows it and is doubling down on getting more software partners onboard.
Promotion: Getting started with content marketing
For SAAS companies, SEO is an important factor to be found and get the word around. Publishing relevant content is also a way to promote a company's knowledge.
In recent months, DPGO has ramped up its content marketing efforts, as illustrated by the articles on its blog.
Overall, DPGO is an interesting case study of how a SAAS company can get started in the vacation rental industry. As a challenger, it needs to show that its product is at least as good and with an attractive strategy. Its user interface and UX are attractive, which help make its tools such as the Performance Dashboard compelling. In terms of the 4 marketing Ps, DPGO.com is ramping up its Place factor, as it needs to integrate with more industry software providers. Finally, it has started getting its name around, for instance through content marketing.