When, on May 24, Airbnb's CEO Brian Chesky announced that his company was releasing 103 updates, a set of 3 new features was standing out: Flexible Dates, Flexible Destinations, and Flexible Matching. They are now live on the website and in the app. We give you a tour of each of these new searches features, which are true tech innovations that help travelers discover more options. Whether you are an Airbnb host or an Airbnb competitor, you need to see this. This is not only about making sure that users do not leave Airbnb empty-handed when it is time for them to book (with which Flexible Matching and Flexible Dates help a lot). This is also for Airbnb the opportunity to help users earlier in their trip journey, specifically at the Dreaming phase (Flexible Destinations is really about giving inspiration) and at the Planning phase (Flexible Dates helps travelers discover when to go somewhere).
Online platforms such as Airbnb, Booking.com, and Vrbo are conversion machines: They need to attract traffic, show them relevant options, and get them to book. They optimize their websites daily to get higher conversion rates, generate more bookings, and make more money on fees and commissions.
Airbnb's new Flexible search options are fascinating and they all serve the ultimate purpose of creating more reservations. Yet, at their core, these changes also have a secondary effect—to change Airbnb's brand perception from that of simply providing small city apartments for weekend getaways to one where you can book large vacation rentals on the coast, tree houses in the mountains, or a monthly stay to work remotely.
If you are an Airbnb host, this is good news, as you may get more bookings. For instance, travelers who may not have thought about your destination can now discover it.
If you own unique properties, you will be interested to note that the new Flexible Destinations search product is sending a lot of traffic towards property types such as tree houses, barns, yurts and houseboats.
If you operate a site competing with Airbnb for bookings, you may get some ideas of tests to run, features to develop, or simple merchandising that can help your travelers discover more boobake options and get ou booking and revenues
Airbnb's 3 new Flexible search options: Dates, Destinations, and Matching
A traveler journey is usually divided into 4 phases: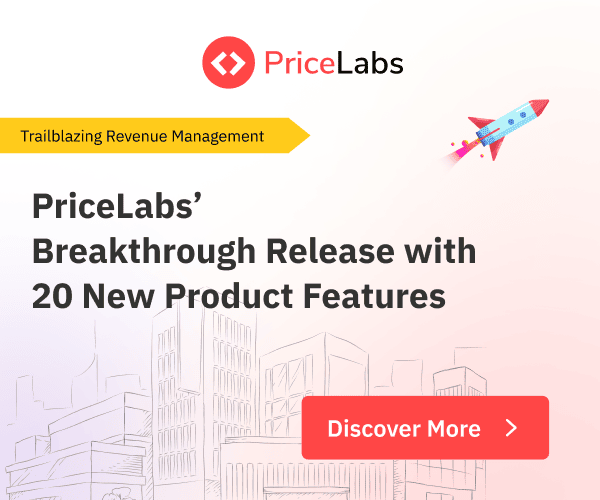 Dreaming: Where could I go? What could I do there? How to escape from the city?
Panning: When is the best time to go there?
Booking: I need to find an accomodation matching my clear needs.
Experiencing: I am enjoying my stay.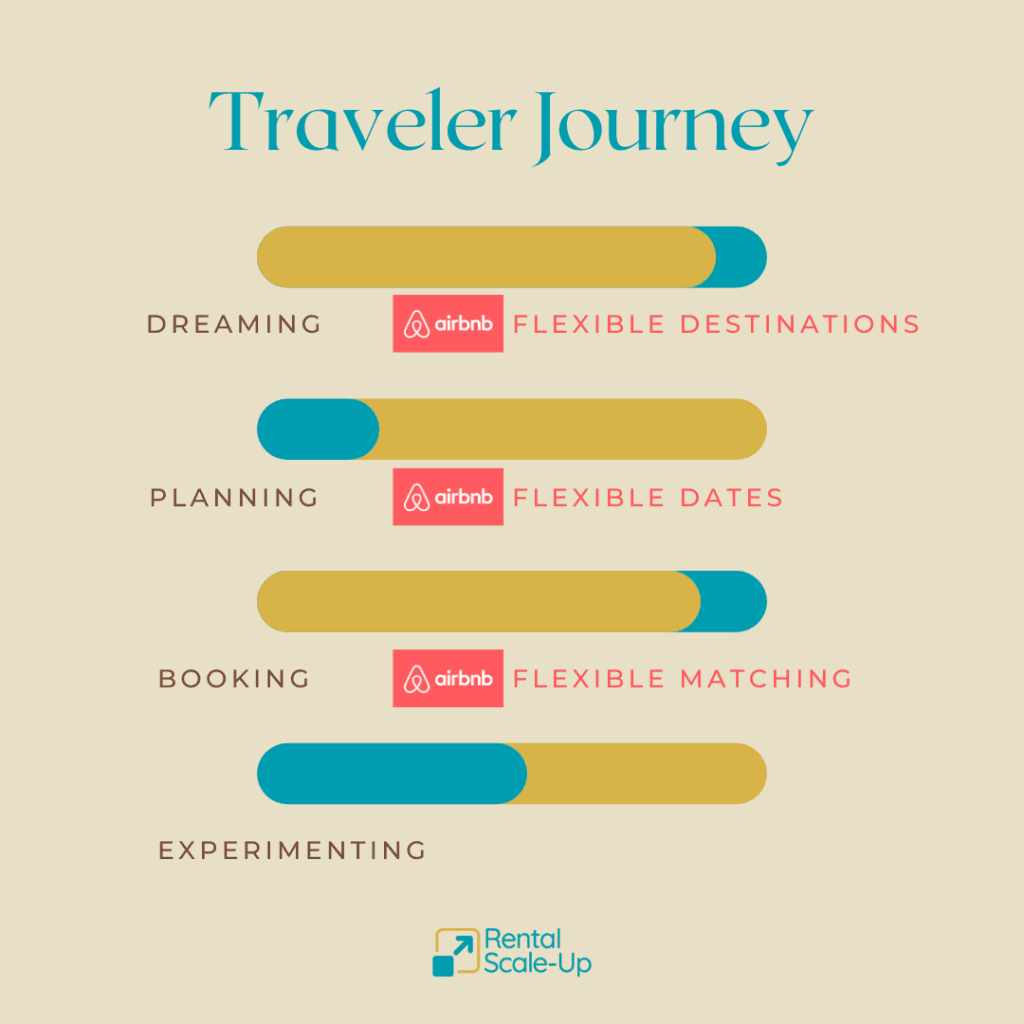 At the time of booking, most people know where and when they want to travel. Travel platforms feature booking engines where you can enter your destination and travel dates. With its Flexible Search options, Airbnb wants travelers to discover more options:
Dreaming phase: Help with discovering new destinations and property types (Feature: Flexible Destinations)
Planning phase: Help with discovering more possibilites by searching several dates at the same time (Feature: Flexible Dates)
Booking phase: Help with finding properties that are close enough to my criteria, especially when supply is tight (Feature: Flexible Matching).
The biggest risk: Showing so little supply that the traveler walks away
Airbnb wants to get more bookings and increase its revenue by helping guests discover options they may have ignored without assistance. If a traveler sees zero or just a few options when searching for an accommodation, then it may leave Airbnb and go to Vrbo or Booking to have more choice. Too few options can show up:
To surface more results, Airbnb needs to allow users to indicate on what they are willing to have more flexibility (travel dates? property type? one amenity?). It also needs to use the input information in a smart way to surface a series of results that make sense, for instance by enlarging the area searches from local to national.
Airbnb's Flexible Search options (Flexible Dates, Flexible Matching, and Flexible Destinations) help users find options they may not have thought about (awareness) and indicate on what they are willing to comprise (flexibility).
Flexible dates: Say WHERE you want to travel, Airbnb shows an array of possible travel dates (WHEN)
Flexible matching: Adds to your search results options that do not match 100% your request (e.g. no hot tub as requested). What is missing is clearly indicated in the search results.
Flexible destinations: Allows finding more properties of the "unique stays" category, such as castles, private islands, cabins, yurts, etc., by retrieving results in a geographical area large enough to have a decent number of options.
Airbnb product marketing: I'm flexible – "Not sure where to go? Perfect."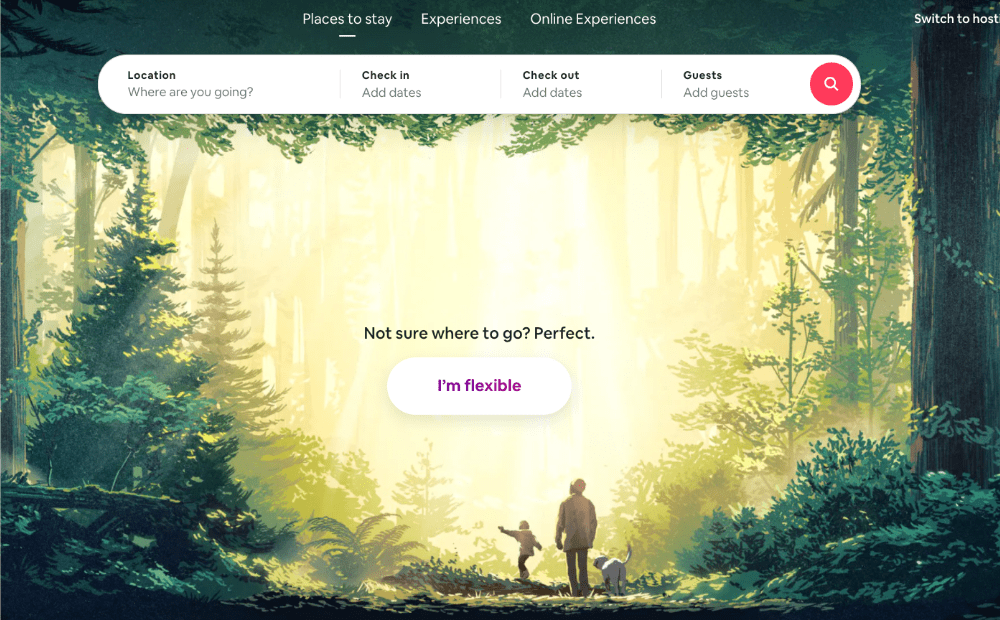 Airbnb has rolled out its newest feature, Flexible Destinations, in a daring way. The "I'm flexible" button is right at the center of the homepage. Travelers who know what they want can use the booking engine at the top and enter their destination and dates of travel.
Yet, Airbnb is making sure that people who are not ready to book notice this new feature. Why?
Awareness: When a listing site is rolling out a new feature, it is often difficult to grad people's attention. Using design, Airbnb is able to draw attention to the "I'm flexible' button.
Adoption: Airbnb not only people to notice the feature. The company wants them to start using it. When rolling a new feature, adoption is a key success metric.
Brand perception: The call to action, the design evoling nature, and the search results that feature only unique properties (e.g. houseboats, castles, tree houses) are here to Airbnb users discover that Airbnb is not just about small urban apartments. This new product helps change the image of Airbnb.
Devoting so much space to a new feature has a cost. Airbnb would probably generate more bookings if it were showing instead best-selling destinations or properties. Yet, Airbnb is willing to take a hit to get its users to discover another side of its supply. This is a way to use a product to create awareness about new property categories, for instance.
A conversion-focused platform like Booking.com would be hard-pressed to make a similar move: A/B testing would show that introducing a new feature or category lowers conversion. This is one of the reasons why, 6 years after dedicating a whole team to vacation rentals, Booking.com is still struggling to make travelers aware that they offer more than hotels.
Flexible Dates: When can I go there?
In February 2021, Airbnb launched a flexible dates feature to support guests who have more flexibility about when they can travel. Instead of having to narrow down exact dates for their trip, guests are able to search for a weekend getaway, a week-long vacation, or even a month-long stay "sometime in the next few months."
Discover on our deep-dive on Airbnb's Flexible Dates:
Flexible Destinations: Where to go to disover unique properties? (Cool searchable map)
Flexible Destinations is available for only one specific category of accommodations: Unique stays.
The goal of this feature is to help travelers find their perfect destination while also benefiting those hosts whose listing may not have shown up otherwise. It gives people more options and makes sure they don't miss out on any hidden gems.
This is probably more about giving users a tool to dream about traveling than to get immediate bookings. Still, it helps educate travelers about Airbnb's varied supply. Unique stays are a motley crew of property types that are usually the ones you see in travel articles: Treehouses, boats, yurts, castles, etc. In 2021, these one-of-a-kind places are in high demand, yet it can be tricky for Airbnb to show a satisfying number of options in search results:
the supply for each of these property types (e.g. treehouses) is much smaller than for apartments and condos, for instance. So, you may end up with zero treehouse when looking for one in Paris, London, or Chicago.
showing a relevant list of options that will get booked may sometimes mean that Airbnb needs to increase the geographical search area (e.g. all Nothern France when searching for a treehouse near Paris) or, on the opposite, to focus one specific area (e.g. the Pacific coastline when searching for beachfront properties nearby your home if you live in San Francisco).
some markets may have specific property types that do not make sense to show in other countries, such as ryokans in Japan, trullos in Italy, and castles in Europe. Yet, to get more bookings, Airbnb needs to show ryokans to Japanese travelers. A one-size-fits-all approach to how property categories are organized is not optimal.
In the video, you can see that Airbnb is doing something technically interesting, by showing a map whose searchable area zooms in or out depending on the property type. It also shows options relatively close to a user's locations, helping them discover destinations that they may not have thought about before.
In a way, this is more about the experience (e.g. staying in a treehouse) than about the destination per se.
Flexible Matching: Which properties are close match to my search criteria?
This search feature increases the number of search results by showing options that "almost match" the criteria entered by the user. For instance, a user may have indicated that they wanted a cabin with a pool, a hot tub, and an EV charger. Airbnb will show the options that match these filters, as well as some that are close enough to the results.
It was a way to solve the issue of over-filtering: The user enters too many restrictions, such as a set date + a set place + a property type (e.g., a chalet) + a set of required facilities (e.g., a swimming pool, a hot tub, and an electric vehicle charger).
It is also a way for Airbnb to show more results in places where or at times when supply options are just too few. For instance, a user may search for a 5-bedroom house in a traditional vacation rental market where most properties are already booked up.
If one or several items ticked in the search filters is / are missing, then Airbnb will show it by naming and striking them through.
For this work, Airbnb needs to use data to know on what people are willing to compromise. We imagine that Airbnb can do it by building a machine-learning model that records what people initially looked for and what they ended up booking. It may indicate which trade-offers are the most frequent.
Here's our deep-dive on the Flexible Matching Airbnb product: