AirDNA is one of the sponsors of the upcoming 2021 edition of the Vacation Rental World Summit (VRWS) in Annecy, France. Tom Caton, AirDNA's co-founder, sat down with us to share why he's attending the conference and why should too. He reveals that he will be delivering at VRWS a masterclass about the anatomy of a successful vacation rental: Why are similar properties performing so differently? Which amenities to invest in to increase occupancy and rates? Which pricing policy works best? Tom also shared some data about the US market, which are detailing in this article. Finally, he alluded in the video to a new product feature for AirDNA: The direct integration of the company's dynamic pricing recommendations into Futurestay, a channel manager dedicated to individual property owners and small property managers.
Uncover the anatomy of a successful vacation rental with AirDNA at VRWS 2021
Vacation Rental World Summit attendees will not only be able to hear Tom talk about market trends, but they will also be able to interact with him during the mastermind roundtables he will host as well as informally during lunch and dinner breaks.
In the video, Tom shares how Antonio Bortolotti, VRWS's organizer, always puts together a great event that he and his team are happy to attend. It is a smaller but more intimate event where you can get a hold of everyone much easier.
He explains that AirDNA is serving two types of short-term rental operators:
People who are just starting out and want to pick the best market and property to invest in,
vacation rental managers who want to understand market trends and steer their business in the right direction.
AirDNA provides market intelligence globally and covers 100% of European markets.
At VRWS, AirDNA will be delivering a master class called "the anatomy of a successful vacation rental". As Tom explains, it is something that has never been done before at a conference. Jamie Lane, VP of Research at AirDNA, is currently busy putting together facts and data showing why some properties are successful and others are not. Even if they look similar.
Why is one outperforming the other? Can you go into the details of why properties become top performers? AirDNA is going to look into base things such as photos and cleaning fees but also will look at pricing strategies to see what's working and what's not working. It is going to be really insightful for the property managers so they can look at their portfolios and understand why some properties underperform others.
At VRWS, AirDNA will use data to show which amenities property owners can add to increase their rates and occupancy. Air conditioning and hot tubs come to mind, but Tom promises to deliver many more insights to attendees.
US vacation rental market data: Occupancy at a record-breaking 70.2% in June
As Tom Caton mentions in the video, AirDNA is able to capture trends both at a local market level and at an aggregated macro level.
The last time we shared AirDNA data, it was to boldly forecast the future of the U.S. short-term rental industry until 2023. Yet, no need to look that far in the future to uncover fascinating numbers. In its June market review, the company shows that occupancy rose to an all-time high of 70.2% in June 2021. This is 20% higher than June 2019, in these long-ago pre-pandemic times.
This is the first time the U.S. has exceeded an average occupancy of 70%. In the graph below, you can see that occupancy levels have been breaking records, month after month, since February 2021.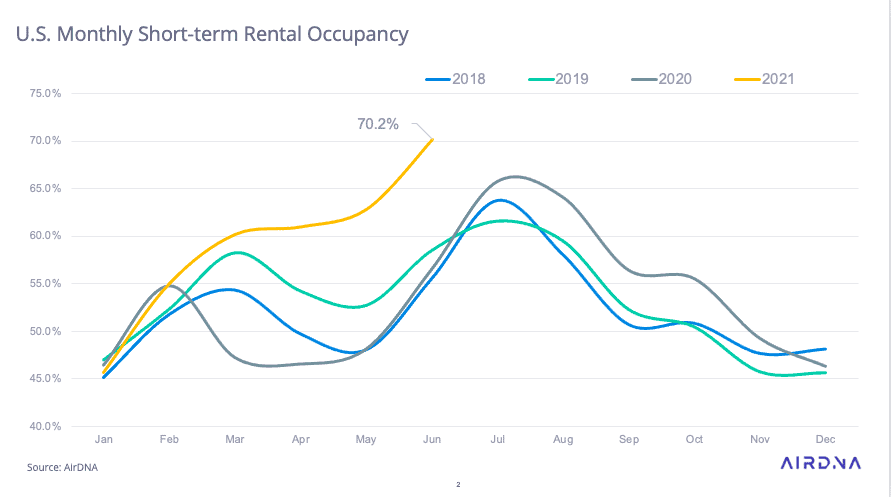 The Fourth of July weekend is historically one of the highest-demand weekends. Here are the destinations that saw some of the biggest increases compared with the 2019 Fourth of July weekend:
Fort Lauderdale (+36%),
Phoenix/Scottsdale (+35%),
Cape Coral/Fort Myers (+32%).
June 2021 booking lead time close to 2019 levels
During the worst of the pandemic, travelers were hesitant about booking vacation rentals far in advance. As a result, the booking lead time fell. On average, it is 30-90 days and tends to be on the longer side in the summer months.
In May 2020, the booking lead time fell to 18 days. In June 2021, the median lead time was 58.5 days, catching up to the 62 days in June 2019. Jamie Lane, VP of Research at AirDNA, says that when booking lead times dropped in 2020, "the natural response was to discount your listing, but now as lead times normalize hosts can have much more confidence their unit will book, even at higher rates."
In the graph below, you can see that, while the median booking lead time is 58.5 days in the US, the situation is very different across markets. For instance, in the "Large City – Urban" market, lead time is 26 days, while it is a staggering 80.5 days in "Destination / Resort / Coastal" markets.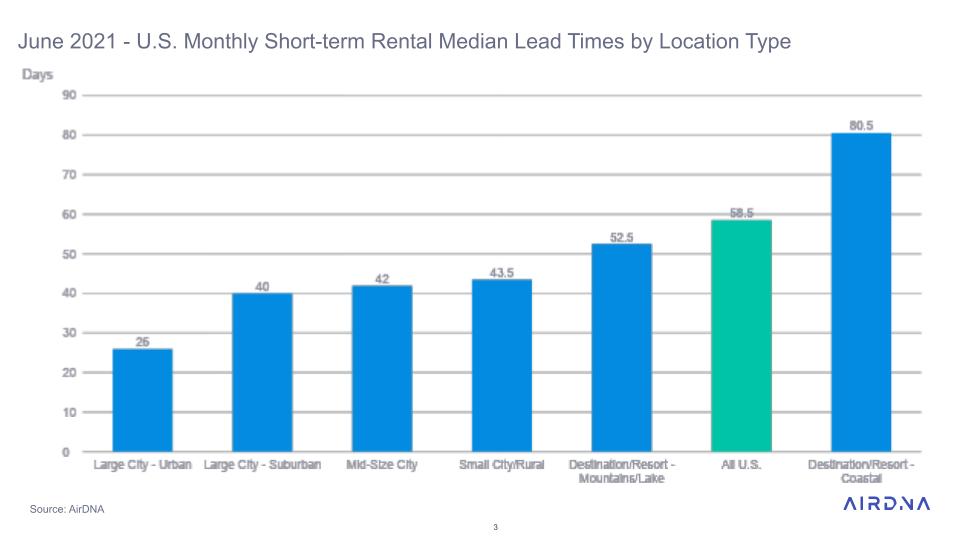 Investment in vacation rentals is hot, more supply coming to enjoy the booking boom
New U.S. short-term rental unit additions reached 55k in June and are now at the highest level since the start of the pandemic, but just shy of the average of 60k new units per month that were being added between 2017 and 2019. With a strong summer on the books and the fall looking positive, many industry participants are setting their sights on making new investments in the sector," said Scott Shatford, AirDNA CEO. "Seeing the positive returns that hosts are realizing by investing in short-term rentals and record-high demand, we expect continued strong investment.
AirDNA partners with Futurestay to bring dynamic pricing to individual hosts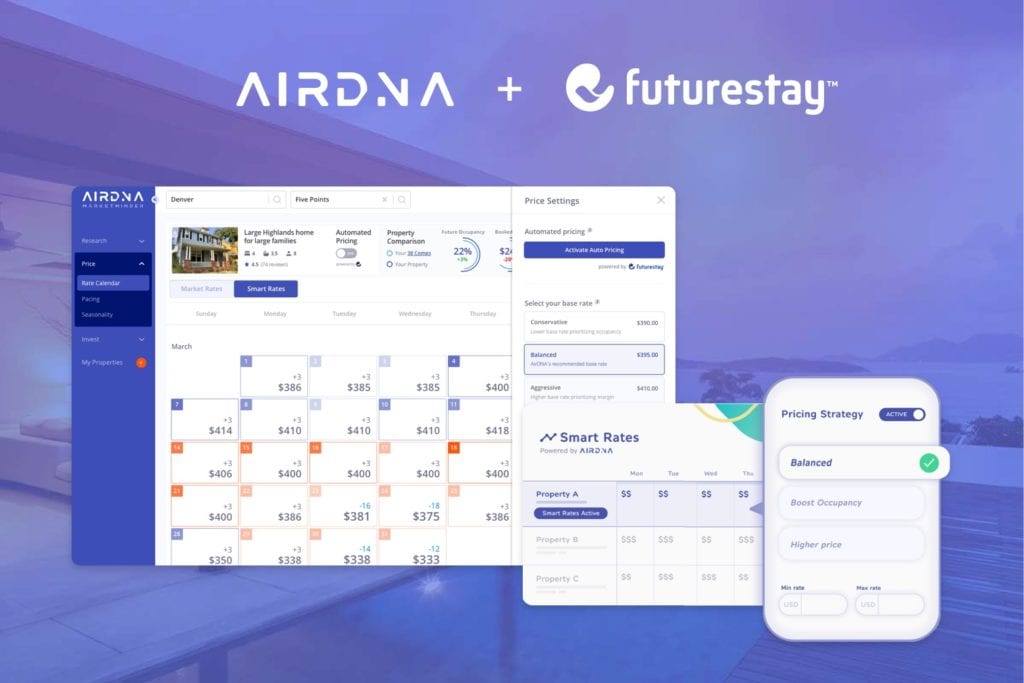 In the video, Tom Caton alludes to new products and features that VRWS 2021 will be able to discover. One of them is the integration of AirDNA's dynamic pricing solution, called Smart Rates, into Futurestay. The latter is a vacation rental tech company offering channel management, communication, and payment capabilities to individual hosts. Unlike larger companies such as Rentals United and Guesty, Futurestay focuses on hosts who own between 1 and 10 properties.
"The partnership will further democratize short-term rental data for thousands of small businesses and entrepreneurs, helping them thrive and directly compete with professional lodging providers," AirDNA's CEO Scott Shatford said. "We've built this integration with Futurestay because they understand the importance of giving these hosts the right tools and data needed for success." 

"70% of Short-Term Rentals are run by entrepreneurs, individuals and Independent managers seeking success in an increasingly complex market. " Philip Kennard, CEO Futurestay said.  "Futurestay and AirDNA's partnership levels the playing field, empowering small businesses with high-quality data, pricing and automation technology rivaling that used by global hospitality leaders."
By connecting properties to Futurestay, AirDNA MarketMinder subscribers are able to push Smart Rates' suggestions directly to Airbnb, Vrbo, Booking.com, and Google Vacation Rentals. Users have the ability to choose a pricing strategy (Balanced, Boost Occupancy, or Higher Price), as well as the ability to set minimum and maximum rates for each property.