As we announced last week, vacation rental marketplace Hometogo is supposed to go public via a planned €1.2 billion transaction. Excluding debt, the enterprise value of HomeToGo would be €861 million (i.e. more than $1 billion). Hometogo and its partner Lakestar SPAC 1 SE have released an interesting slide deck called "transition presentation". Just as we looked at Sonder's investor deck, we are picking here the top slides from Hometogo's presentation.
With this deck, Hometogo wants to show that is not a vacation rental meta-search website. It wants you to see that:
it is a booking platform competing with Airbnb and Booking,
it also generates recurring revenues based on software sales,
it operates several brands and subsidiaires,
and its tech platform offers great customer experience, hight conversion rates, and delivers bookings to its partners.
Key data from the Hometogo deck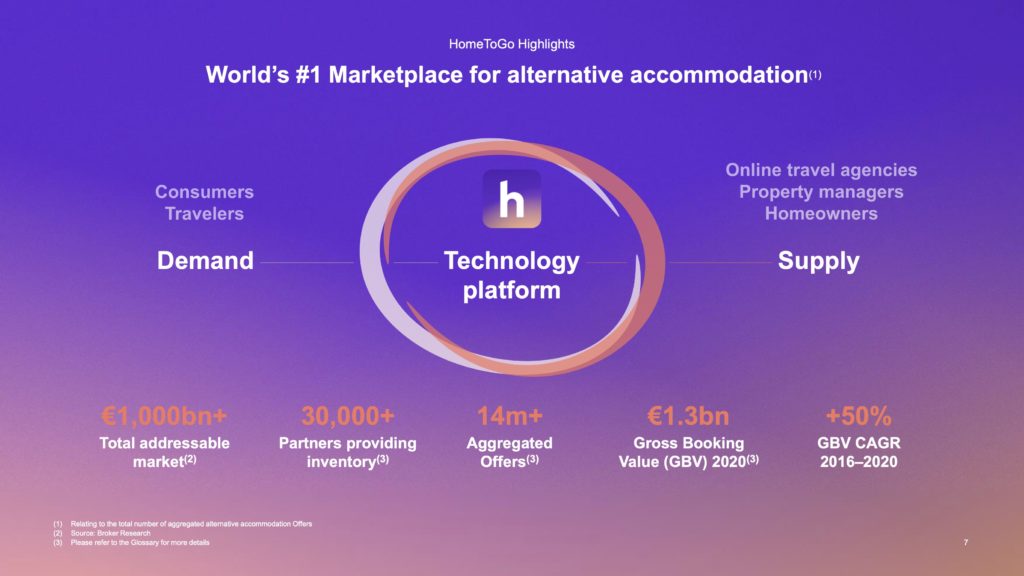 Demand / consumer side: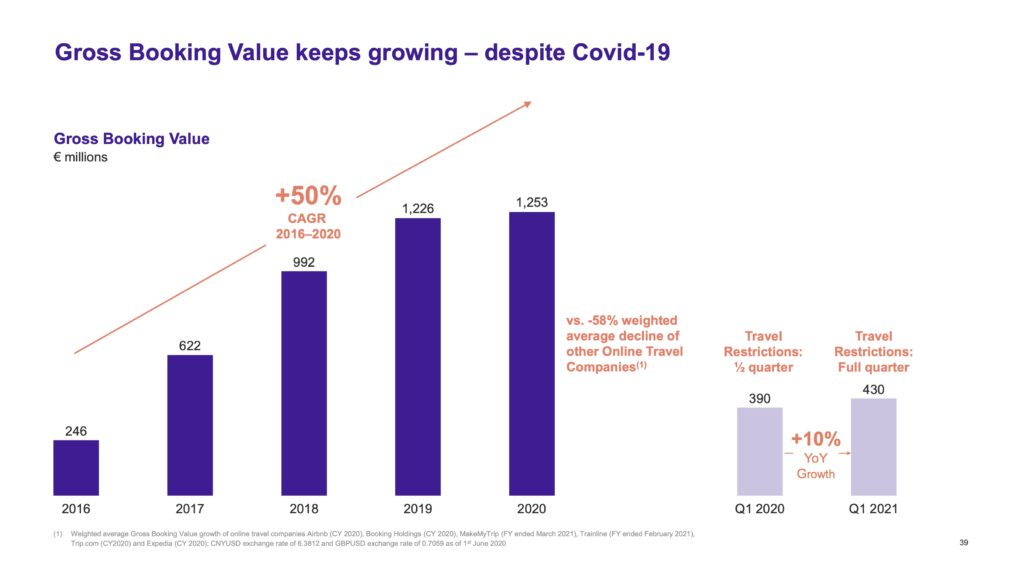 Traffic: 321 million site visits in 2020 (against 266 million in 2019)
User accounts: 22.5 million in May 2021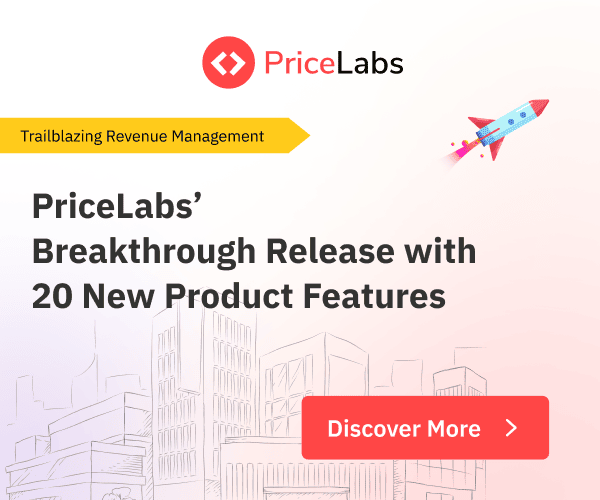 Booking value: €1,253 million in 2020 (stable compared with 2019, while competing OTA revenues decreased by 58% on average)
Supply / owner and property manager side:
Number of partners: More than 30,000 worldwide. Note that a "partner" can be a property owner or manager, a software company, or a listing site that directly or indirectly list their property on Hometogo.
Number of offers: More than 14 million. How does it compare with Airbnb or Booking? Airbnb usually says that it has around 6 million listings while Booking says that it has 7 million choices. Note that Hometogo says it does deduplicate properties in its count. So, if you are listing your properties on Booking and Vrbo, which are Hometogo partners, then your properties may be counted twice by Hometogo.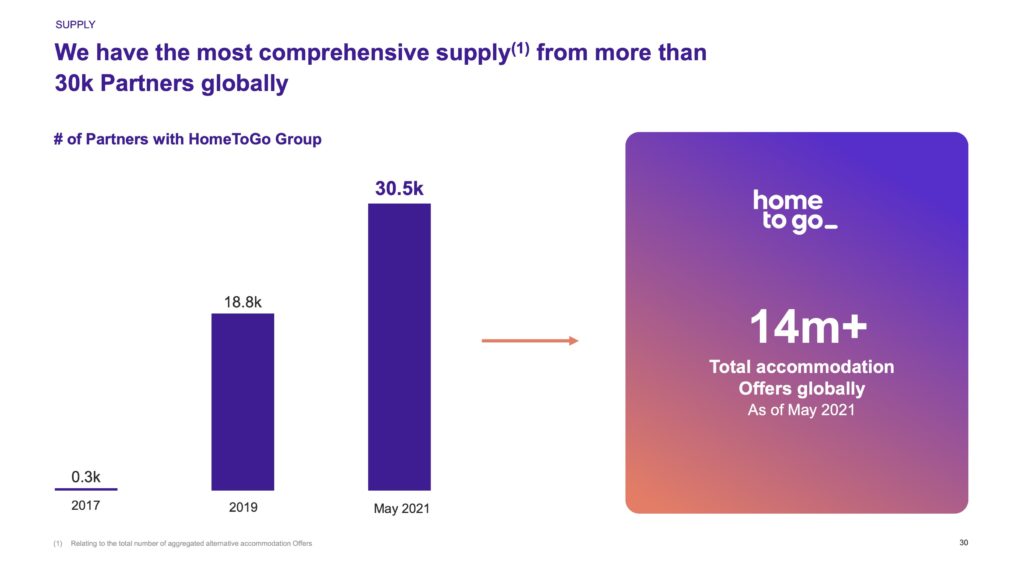 Transaction data:
Enterprise value of Hometogo: €861M
Revenue multiples: 6.8x estimated 2022 revenues and 4.4x estimated 2023 revenues (Airbnb is at 14.5x and 12.0 respectively)
We'll explain in the paragraphs below why Hometogo sees it fit to compare itself with Airbnb, Booking.com, and surprisingly, Shopify.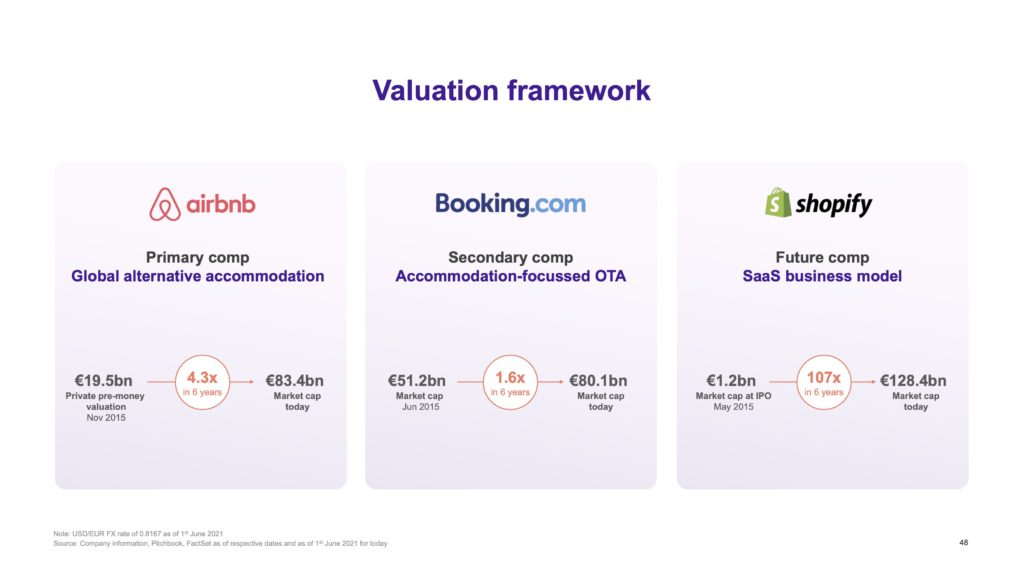 Hometogo wants you to see that its valuation is more comparable to good old Booking.com than to new kids on the block such as Airbnb and Shopify. But the company also wants you to think that it has a growth potential akin to those of Airbnb and Shopify, of course.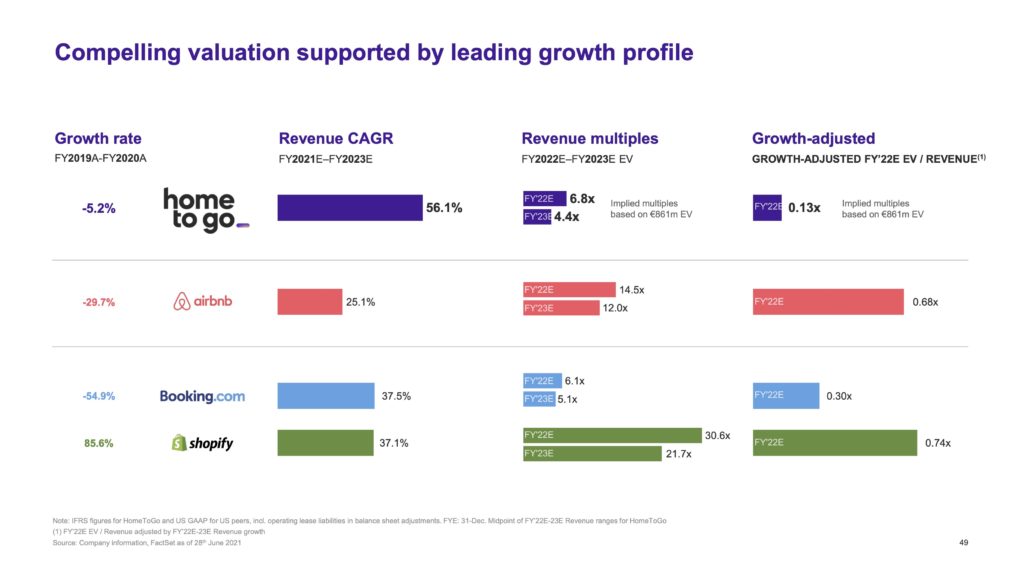 As Hometogo competes with Airbnb and Booking.com as a booking platform, it needs to show an improved take rate
To justify its valuation, Hometogo is comparing itself with two publicly traded travel companies: Airbnb (ABNB) and Booking Holdings (BKNG). It means that it sees part of its business model comparable to that of an OTA.
Hometogo is not just a site that gathers feeds from other listing sites: It is a growing booking platform, competing with the OTAs as a booking channel.
Hometogo, a booking platform, not just a meta-search site
Hometogo's website is not here to just assemble supply feeds from OTAs, listing sites, and property managers. It is also a booking and payment platform. It means that users can search for, find, and book a vacation rental without leaving Hometogo. Note that the payment is actually often taken by the property manager itself, as Hometogo forwards the credit card details after travelers have made their bookings.
In Hometogo's home turf, the DACH region (Germany, Austria, and Switzerland), 76% of the booking revenues come from "onsite bookings", i.e. bookings made by guests right on the platform. Globally, it is 52%, which means it is much less in other parts of the world, given the probable weight of the DACH region in Hometogo's numbers.
Having such a platform creates value for Hometogo: As the company knows which properties sell and which do not, it can increase conversion by showcasing properties that are the most bookable. It can also provide more payments options to consumers than most property managers can. It also can record a lot of interesting data to improve conversion.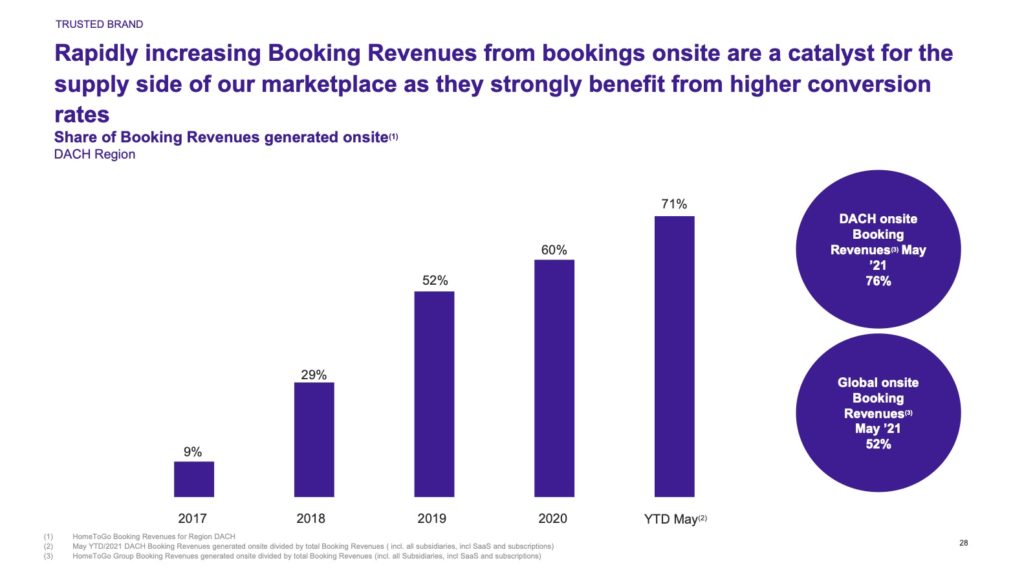 The booking platform model converts better than the pure meta-search referral model
As Hometogo makes a commission on bookings made, it needs to do everything so that bookings do happen and do not get lost after travelers are handed over to its partners.
A tech company such as Hometogo can master booking conversion funnel much better than a small or medium property manager. For instance, a property manager may offer a booking app that is not as optimized as that of Hometogo. Or Hometogo may just have more languages available than the website of the property manager, making customers keener on finishing their booking.
This is what the next slide illustrates: A partner used to get leads from HometoGo but they did not convert much. By letting Hometogo becoming the booking platform from A to Z, the conversion rate increased dramatically, in this example.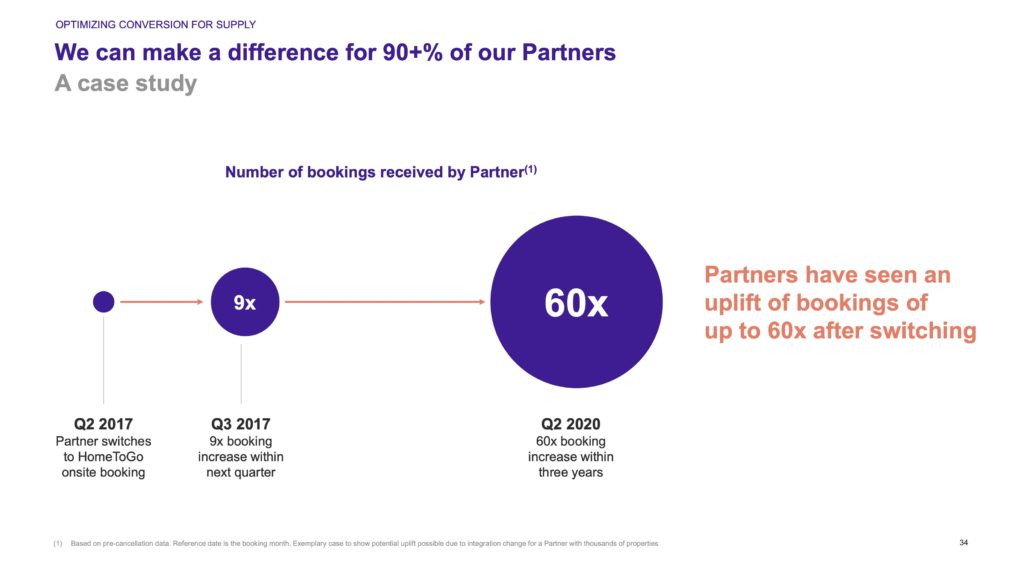 Key metric for any booking platform: the take rate
As Hometogo wants to establish itself as a booking platform competing with Airbnb, Booking, and Vrbo, it now has to measure up in terms of take rate.
What is a take rate? It is a ratio: Booking revenues divided by Gross Booking Value. Booking revenues usually correspond to OTA commissions.
For instance:
Booking.com takes a 15 to 17% commission. Their take rate is between 15 to 17%. (Higher for Booking partners using Genius and other visibility programs).
Airbnb, under the split-fee model, takes a 14.2% fee from guests and a 3 to 5% fee from hosts. Their take rate is between 17.2 and 19.2%.
Hometogo says that, in 2020, its take rate was 6.4%. And that it is 7.2% so far in 2021.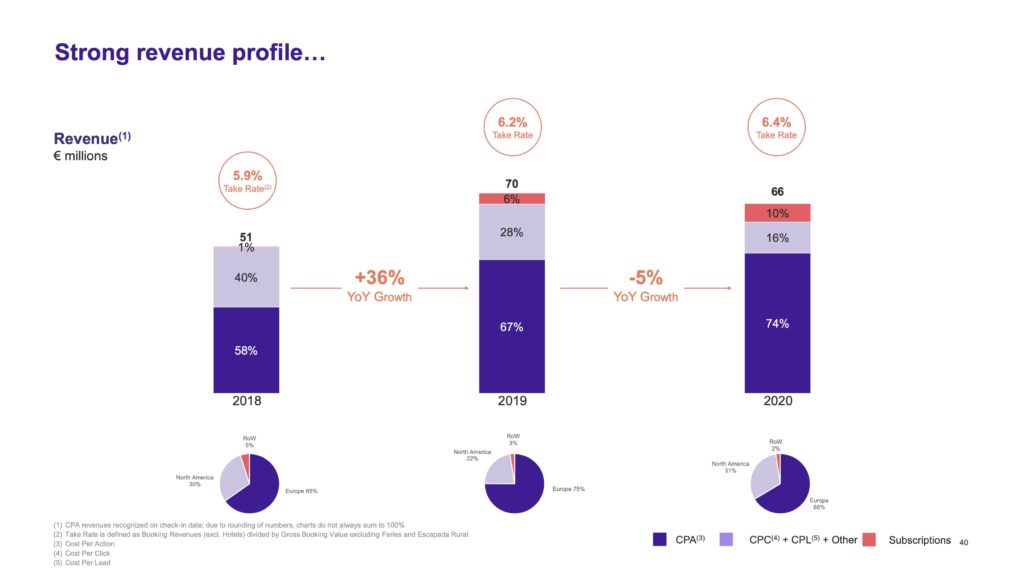 While Hometogo is based in Germany, it also records between 20% and 32% of its revenues in North America.
Hometogo's revenues are increasing, the take rate is up, but the company is not profitable yet. However, as Hometogo has been able to lower its marketing and traffic acquisition costs, its adjusted EBITDA has strongly improved.
The comparison with Shopify alludes to the growing role of software subscriptions within Hometogo's revenues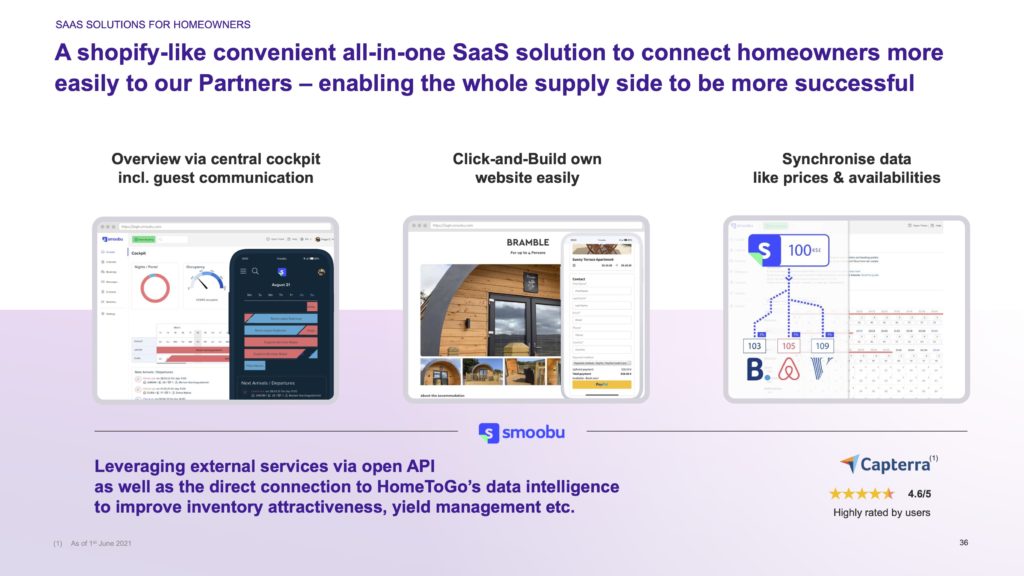 In its presentation, Hometogo also compares its data and business model to software company Shopify. This points out to a part of its business model that Hometogo wants to grow: Software subscriptions.
Shopify is a subscription-based software that allows anyone to set up an online store and sell their products. Shopify is one of the most famous success stories among SAAS (Software as a service) companies.
So, why is Hometogo mentioning Shopify?
A growing part of Hometogo's revenues comes from software subscriptions, from 1% in 2018 ro 10% in 2020. The company wants to grow subscription revenues to 20% by 2024.
Hometogo has acquired several companies over the last years, such as Smoobu. This company is a vacation rental technology SAAS acting as a PMS and channel manager for small owners and property managers. As such, Smoobu's business model is subscritption-based.
With their recurring revenues, SAAS are seen as more stable that purely transation-based companies that constantly need to generate traffic.
The Smoobu is also interesting as it can individual hosts join Hometogo, without Hometogo having to deal with small hosts one-on-one. Individual hosts use and pay Smoobu, which in turn connects smoothly to Hometogo.
You will see below that Hometogo also operates listing sites in Spain and Italy which may offer subscription services as well.
As usual with investor documents, some fun with TAM and SAM
In the vacation rental industry, TAM and SAM numbers are always fun. Why? Because there is not much data to base calculations on (e.g. Euromoior, Skift) and because the definition of vacation rentals can be very, very elastic. Some definitions to get started:
TAM or Total Addressable Market is the total market demand for a product or service.
SAM or Serviceable Available Market is the segment of the TAM targeted by your products and services which is within your geographical or technical reach.
For example, in the run-up to its IPO, Airbnb revealed in its S-1 document what it is thought to be its total addressable market (TAM).
Airbnb TAM: $3.4 trillion, including $1.8 trillion for short-term stays, $210 billion for long-term stays, and $1.4 trillion for experiences.
Airbnb SAM: $1.5 trillion, including $1.2 trillion for short-term stays and $239 billion for experiences.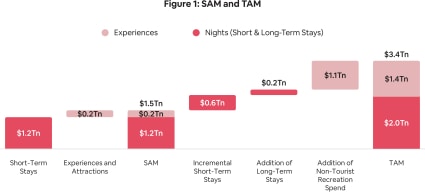 Where was the fun in Airbnb's TAM and SAM calculations? First, Airbnb is talking about the "short-term stays" market. Not the short-term rental market. Airbnb defines short-term stays as stays on its platform of fewer than 28 nights. So, any stays of any length, in any type of accommodation (even hotels) qualify. This is why the market looks so big: You get here all kinds of paid accommodations, from hotels to vacation rentals. Not just the core Airbnb market you may first think about.
Second, and not get into details, Airbnb's calculation of its TAM was actually a projection of its SAM by 2030. Which is not the definition of TAM. Contact us if you want to know more.
So, Airbnb had a $2.0 trillion TAM. How about Hometogo? In its transaction presentation, we get a €1+ trillion figure. The source is some "broker research". As usual, let's look at the definition of the market here: "the market for accommodation". We guess that it means all accommodation types included, such as hotels (so not just vacation rental homes). We do not know whether it includes both free and paid accommodations (free = staying at sister's for the weekend). If it does include free accommodations, it makes the market way, way bigger. Also, it is probably included both online and offline markets. So much fun with market definitions!
The goal here is to show that giants such as Booking, Airbnb, and Expedia + Vrbo only capture 7% of the market. As a result, Hometogo wants you to see that it has a lot of room to grow as a booking platform competing with these giants.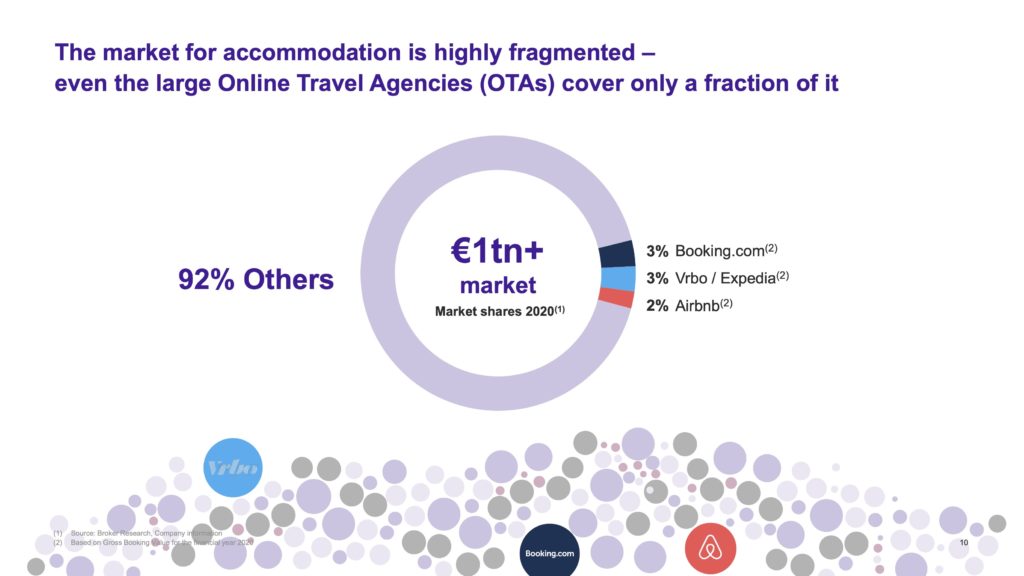 Unwinding Hometogo's brands and subsidiaires
Hometogo has more several brands, more or less integratedHometogo's own brand is active in 23 markets in Europe, North America, South America, Oceania, and Asia-Pacific. It also operates other brands which look different on the front-end but rely on the Hometogo technology in the back-end:
Casamundo ( a former vacation rental listing repositing as a vacation rental metasearch site)
Wimdu (another former vacation rental listing site repositined as an urban apartment metasearch site)
FewoFerien (another former metasearch competitor
The Hometogo investor deck is also a good occasion to see other direct and indirect subsidiaries mentioned:
Escapada Rural, a Spanish listing site for rural vacation rentals
Feries, the Italian operator of agriturismo.it and casevacanza.it
smoobu GmbH, a vacation rental technology provider
Hometogo, a vacation rental marketplace that solves consumer and supplier pains
The deck makes a good point about how complicated it is for consumers to grasp the extent of the existing vacation rental supply.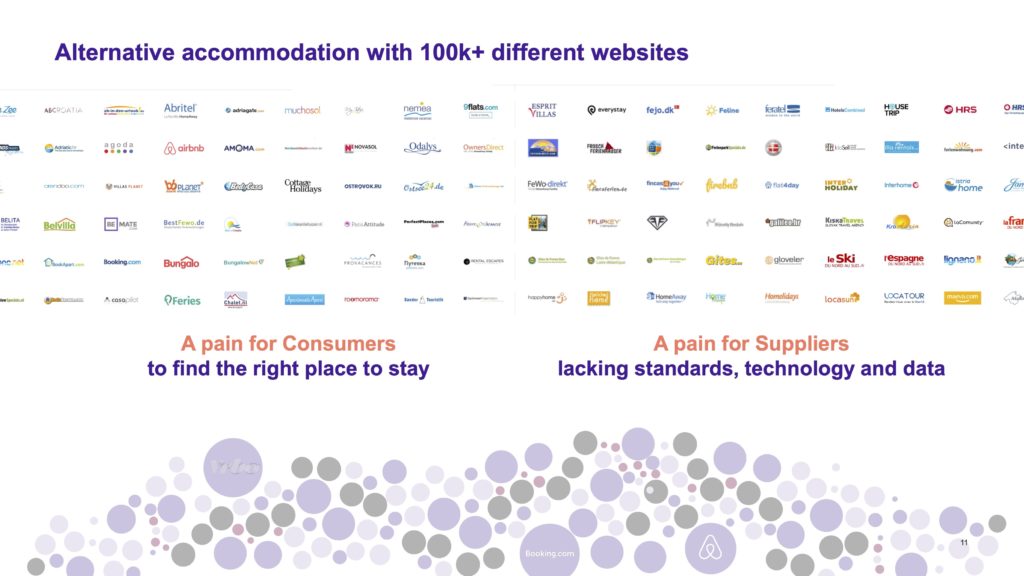 The presentation wants to showcase Hometogo's new branding, new website, and app design, as well as its tech capabilities: Flexible search to give more choice to consumers (introduced before Airbnb's Flexible Search), machine-learning to sort out properties in the best way to meet consumer needs, and a booking platform that increases conversion for partners.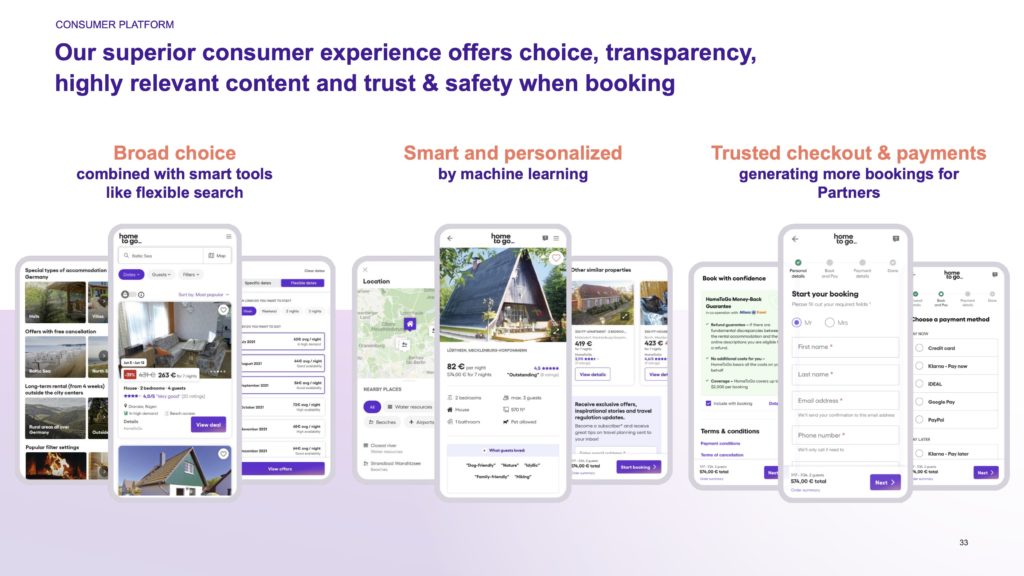 As a 2-sided marketplace should do, Hometogo wants to show that it is helping both sides of the equation while creating strong value as a connector.
A limiting factor for Hometogo's growth could be Google's foray into vacation rentals. In June 2020, Hometogo filed an anti-trust complaint against Google, alleging that the search giant was pushing down Hometogo's results to give more prominence to Google's own search product.
Rachel Tabellion, Hometogo's Head of Sales, discussed with Rental Scale-Up the company's growth path as well as summer 2021 vacation rental trends.