Booking.com is now allowing its partners to indicate on their listings which health and safety, physical distancing, and food safety measures they have taken. The company has also released its safety and cleaning guidelines to help hotels and vacation rentals keep their property safe, and their staff and guests healthy and protected. These actions mark the platform's most significant effort so far to help its partners show what they are doing to regain the trust of travelers.
The news matters to vacation rental owners and property managers as Booking.com is not only a big hotel platform, but also a major player in the short-term rental industry: It offers more than 6.5 million listings of apartments, villas, and other non-hotel listings.
Booking.com Health, safety and cleaning guidelines (Coronavirus COVID-19 edition)

Booking.com follows Airbnb and Vrbo / HomeAway in publishing its COVID-19 grade cleaning guidelines. Airbnb has released its Enhanced Cleaning Protocol, complete with a 38-page Airbnb cleaning handbook, a 5-step protocol, and an online quiz. The industry has also received the Vrbo / HomeAway cleaning checklist called "guidelines for owners and property managers for enhanced cleaning and disinfection of vacation rentals."
This is not a mandatory program, but a set of guidelines.
Booking.com's safety and cleaning guidelines cover the following topics:
What and how to communicate with your guests,
How to get you and your staff prepared to enforce the guidelines,
14 recommendations, such as

Use products that have been approved by health professionals in combating the spread of harmful organisms and viruses,
Offer cashless payment as an option if possible and agreed contractually,

Recommendations on what guests should also be doing.
Some of the guidelines sound like they are more fit for hotels or large serviced apartments (e.g., Place transparent screens at front desk areas between reception staff and guests) than for vacation rentals. Yet, they can be skipped or adapted to match the needs of the short-term rental industry.
How Booking.com partners can display their Health, safety and cleanliness measures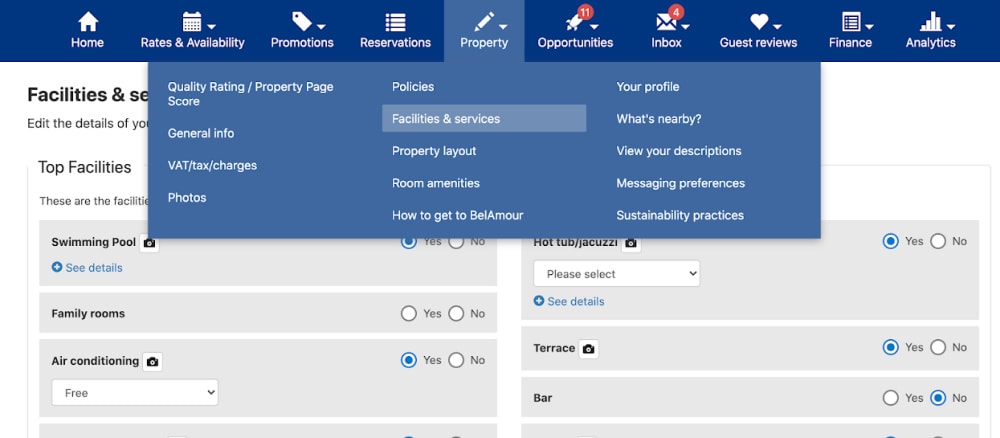 Unlike Airbnb with its Enhanced Cleaning Protocol, Booking.com is not asking its partners to do commit to doing all these actions. The goal is to give some guidelines, ask partners which of these they are following, and they display the result on their property page.
Booking wants to know what its partners are doing on the following topics:
Safety features
Health and hygiene
Social distancing
Food safety
Where to indicate your Health, safety and cleaning measures in the Booking.com extranet?
To collect this information, Booking.com has rolled out new features in its partner extranet. All you need to do is to answer either Yes or No to these questions. To find them, you need to:
Go to https://admin.booking.com/ and login as a partner
Go to the Property tab in the extranet
Select the "Facilities & Services" tab
Fill in the four sections below: Safety Features, Physical Distancing, Cleaning Guidelines, and Food & Drink Safety.
Booking.com – Safety features
Staff follow all safety protocols as directed by local authorities
Shared stationery such as printed menus, magazines, pens, and paper removed
Hand sanitizer in guest accommodation and key areas
Process in place to check health of guests
First aid kit available
Booking.Com – Physical distancing
Contactless check-in/check-out
Cashless payment available
Physical distancing rules
Mobile app for room service
Screens or physical barriers placed between staff and guests in appropriate areas
Booking.Com – Cleaning Guidelines
Use of cleaning chemicals that are effective against Coronavirus
Linens, towels and laundry washed in accordance with local authority guidelines
Guest accommodation is disinfected between stays
Guest accommodation sealed after cleaning
Property is cleaned by professional cleaning companies
Guests can opt-out of accommodation cleaning service
Booking.Com – Food & drink safety
Physical distancing in dining areas
Food can be delivered to guest accommodation
All plates, cutlery, glasses and other tableware have been sanitized
How the Booking.com health and safety measures look on the property page that travelers can see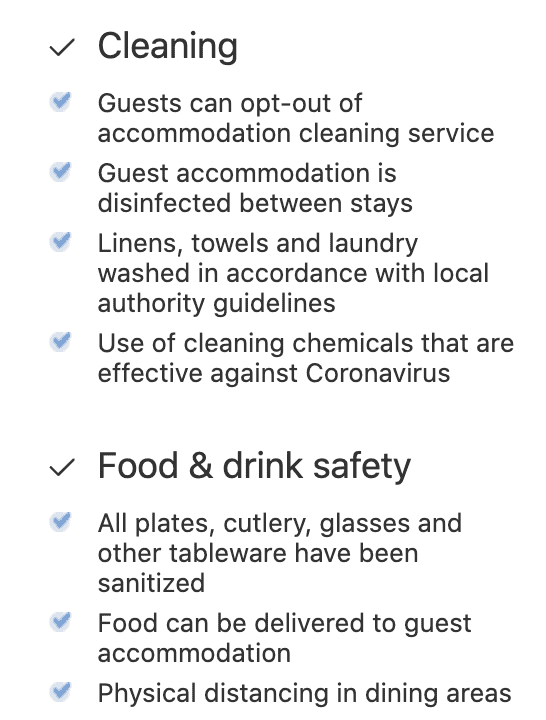 Conclusion: Tick the boxes, if you take these actions
As Booking.com is now displaying these property attributes to its website visitors, our advice is that you take action and tick the boxed matching the actions that you have taken. You do not need to tick all the boxes and some may not make sense at your vacation rentals. Yet, it can help reflect the efforts you have made (and the money you are spending on them) and differentiate you from your competitors. So, this can help you get bookings and justify your Booking.com cleaning fee, for instance.