In order to pass Airbnb's cleaning protocol quiz and get the cleaning highlight on their listing, hosts have to familiarize themselves with the Airbnb Cleaning Handbook. These 38-page long instructions make up a detailed cleaning manual. We show you here this handbook and tell you to download it.
When Airbnb announced its Enhanced Cleaning Initiative, the company shared that experts from Ecolab, among others, would help create a complete cleanliness manual. This document is a step up from the simple Airbnb cleaning checklist template published in April 2020.
What is the Airbnb Cleaning Handbook?
Developed with experts
Airbnb developed the cleaning protocol outlined in this handbook in partnership with Ecolab, a global leader in cleaning and hygiene technologies. We also received guidance from Dr. Vivek Murthy, the former U.S. Surgeon General, along with other experts.
Step-by-step checklists and host education
This handbook provides specific guidance on how to clean, what to sanitize, and what supplies to have on hand. Airbnb will be rolling out additional resources, so you feel confident providing a deeper clean, every time.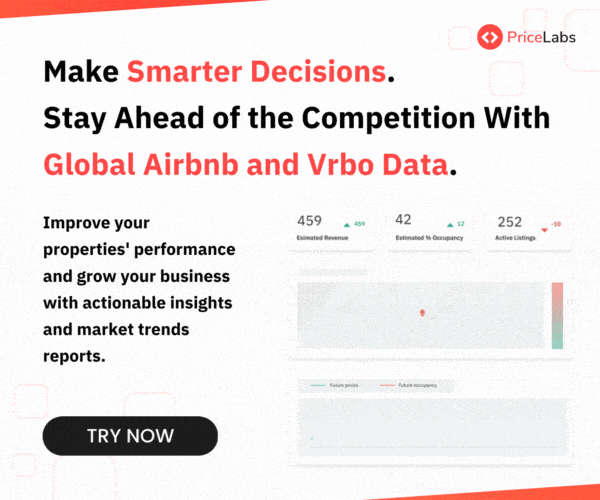 A new way to show guests you've gone the extra mile
Hosts who commit to the Airbnb cleaning protocol will receive a special call-out
on their listing, so guests know you're committed to an enhanced cleaning and sanitization routine.
How is the Airbnb Cleaning Handbook structured?
Airbnb's cleaning manual for its Enhanced Cleaning Initiative is made of two parts:
Part one: Get to know the airbnb cleaning protocol
Cleaning vs. sanitizing
5 steps to enhanced clean
A detailed breakdown of the process
Part two: Airbnb Cleaning Checklists
Supplies and tools to have on hand
Tips to help reduce the risk of cross-contamination
Room-by-room checklists
Where to download the Airbnb Cleaning Handbook?
The handbook is free to download and available in several languages at this link: https://www.airbnb.com/cleaning/handbook. You can also get more information by reading Airbnb's cleaning resources here: airbnb.com/cleaningresources.
Inside Airbnb's Cleaning protocol handbook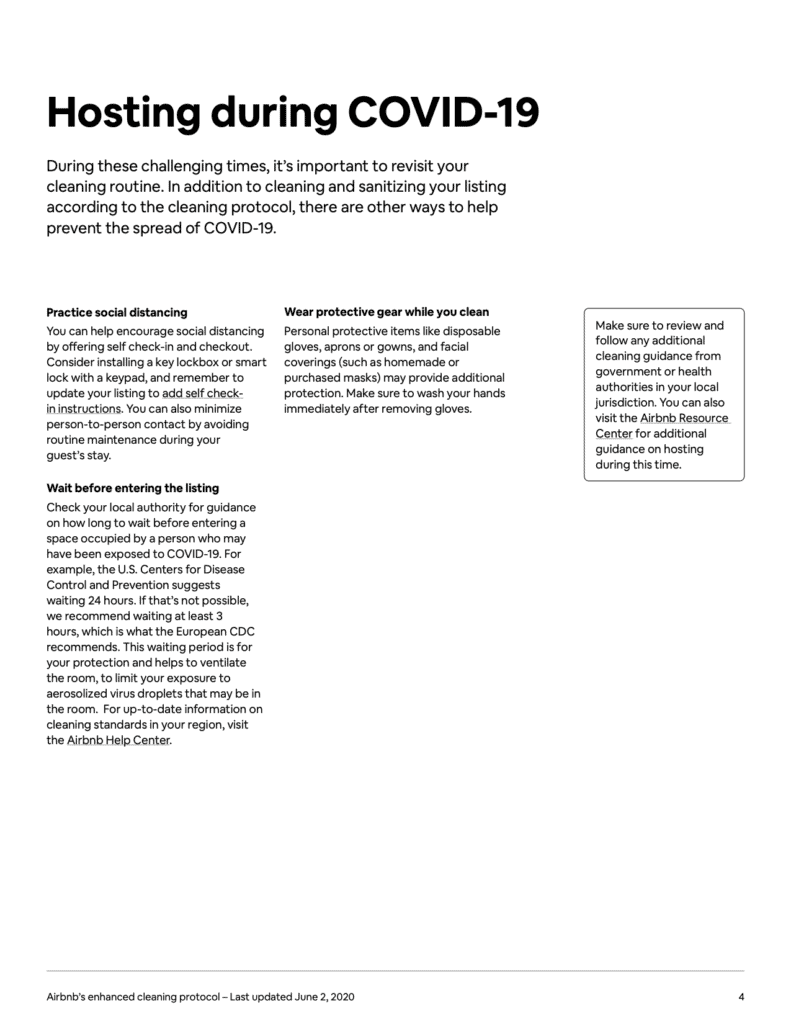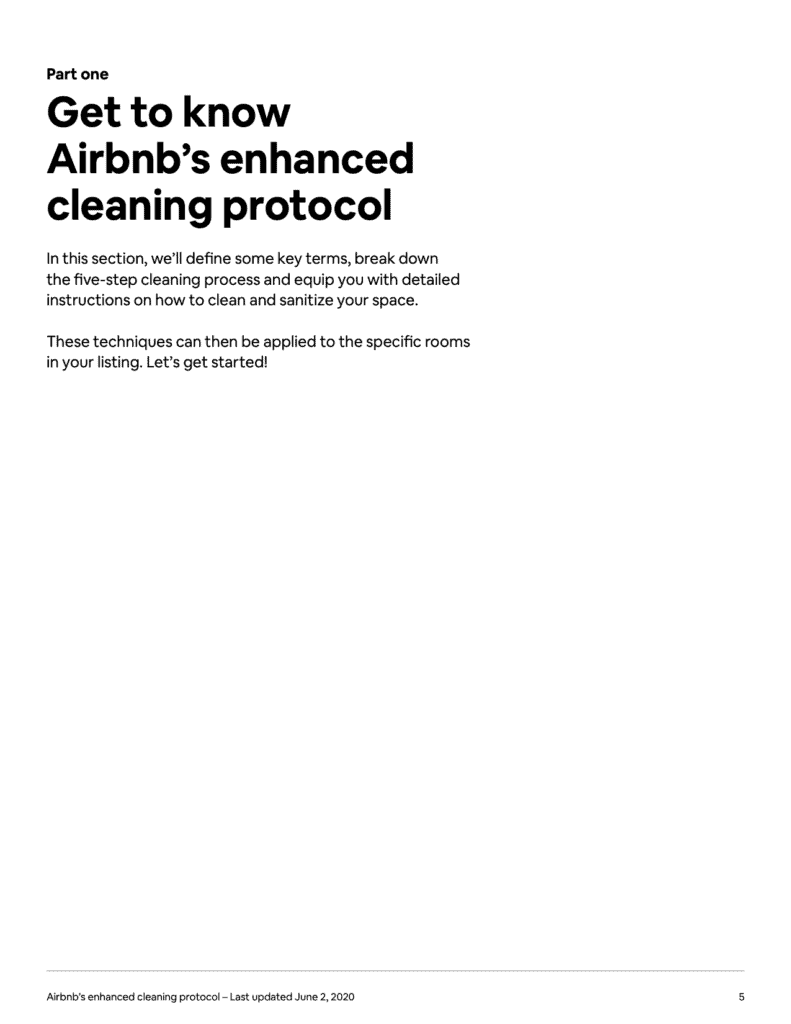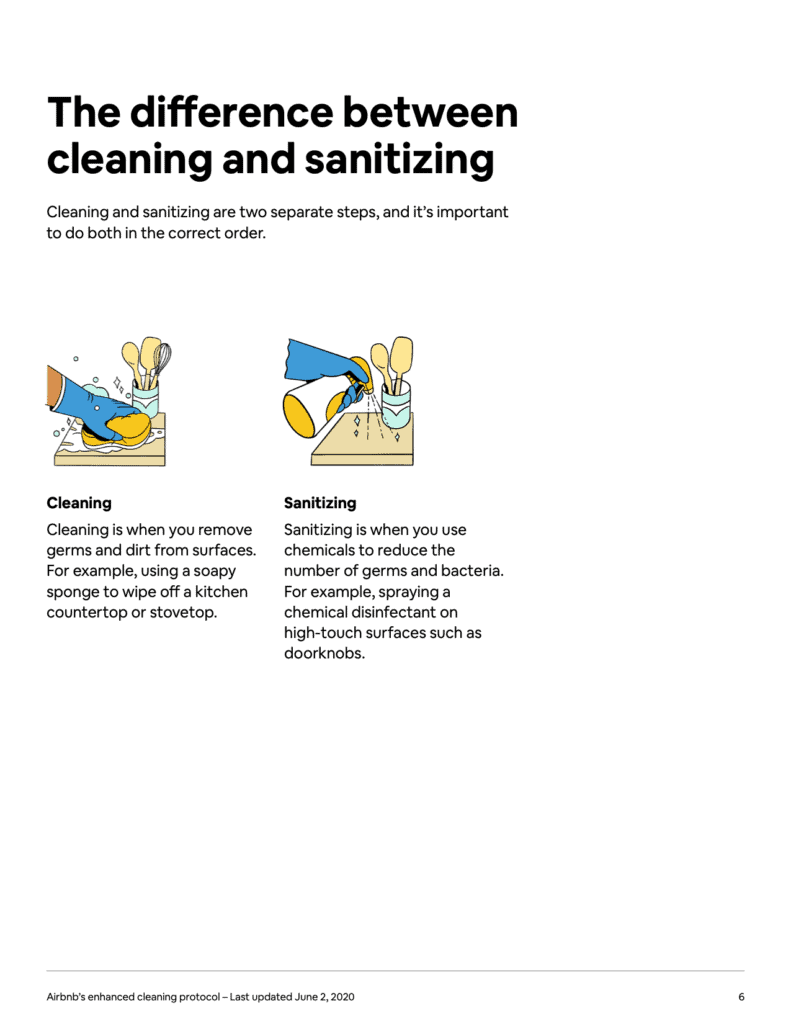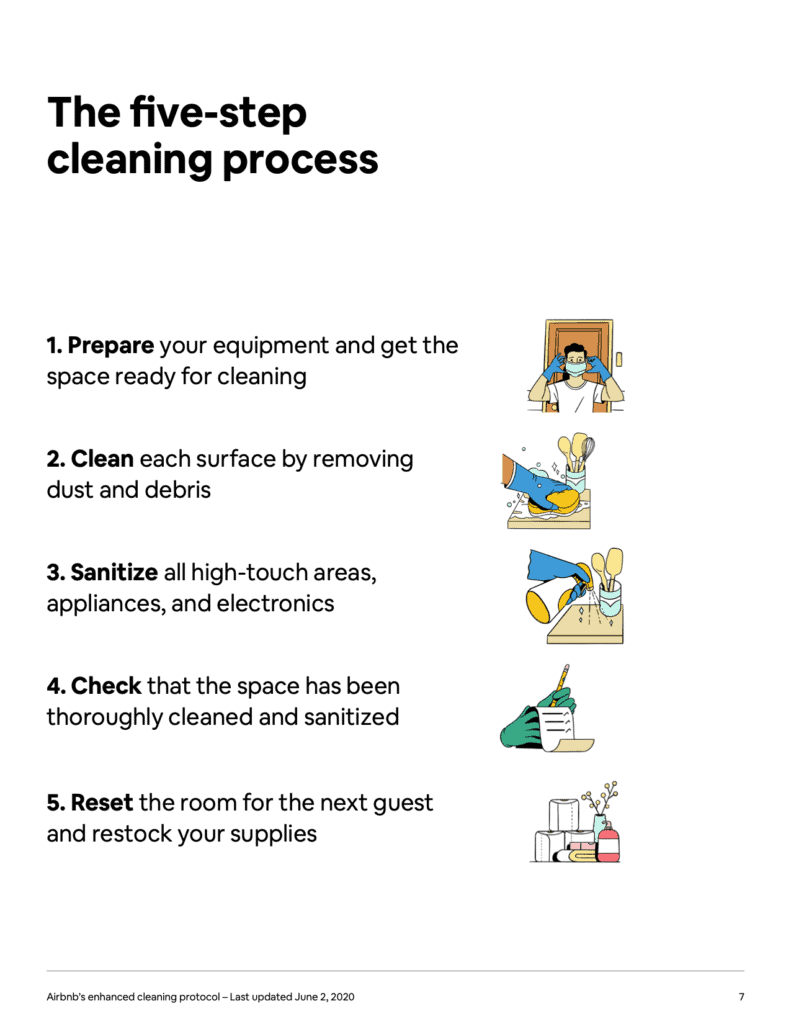 Prepare your equipment and get the space ready for cleaning
Clean each surface by removing dust and debris
Sanitize all high-touch areas, appliances, and electronics
Check that the space has been thoroughly cleaned and sanitized
Reset the room for the next guest and restock your supplies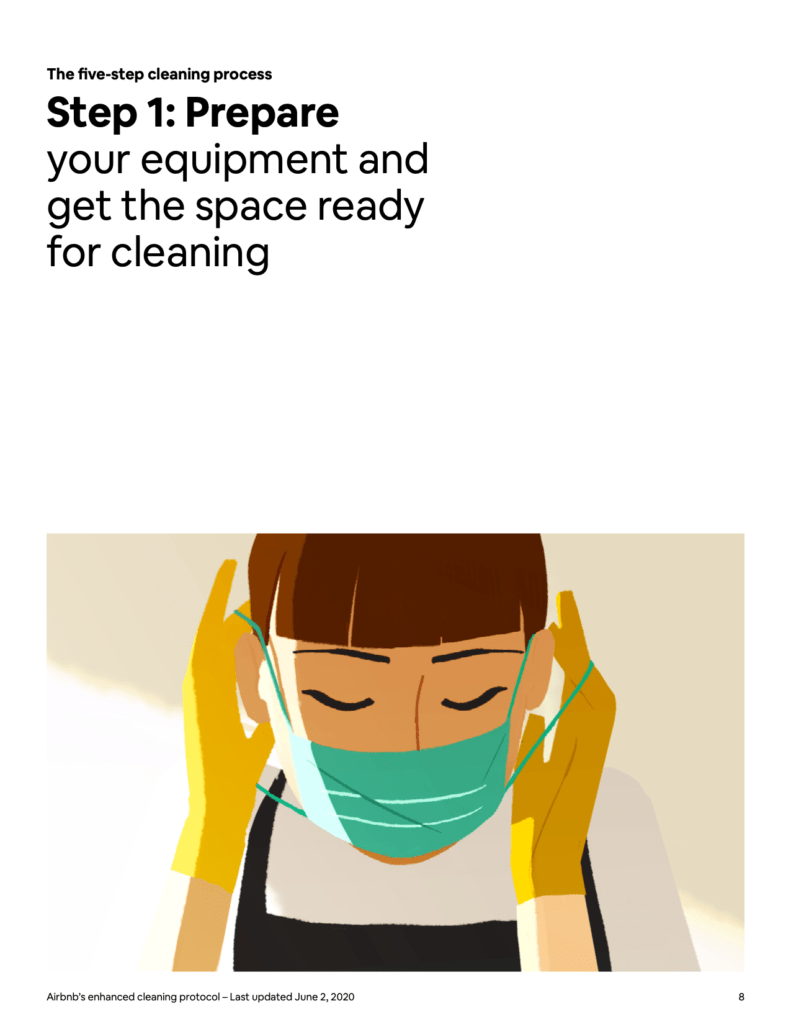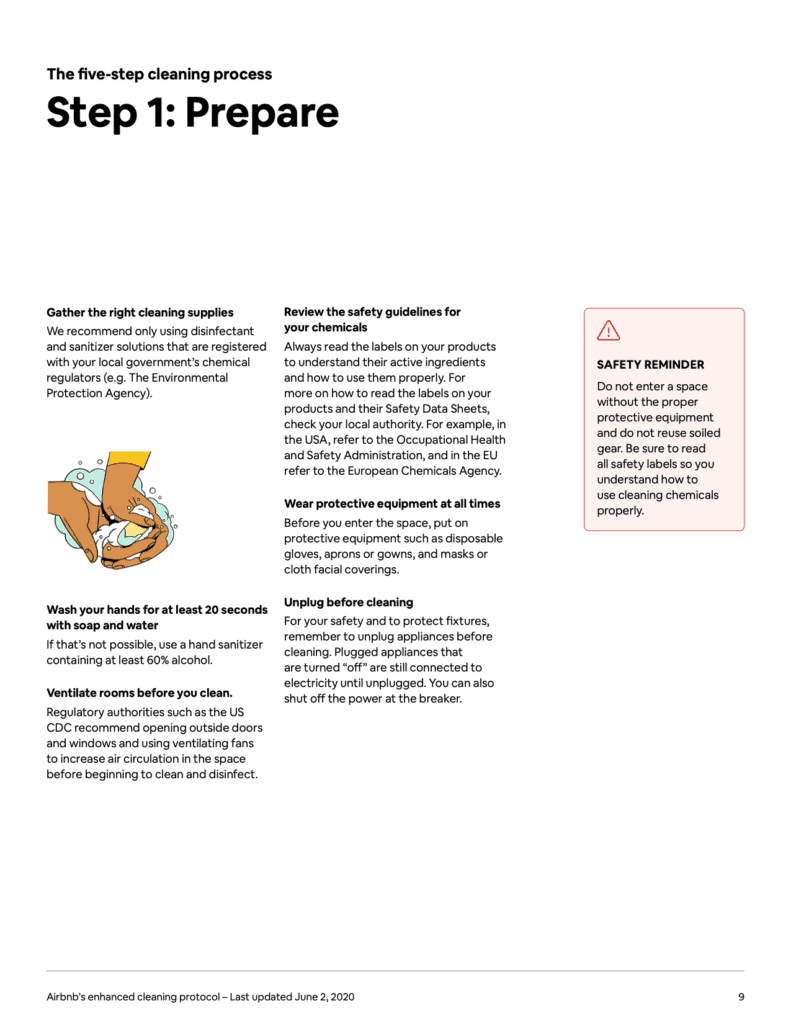 Step 1: Prepare (The Five-Step Cleaning Process)
Gather the right cleaning supplies
We recommend only using disinfectant and sanitizer solutions that are registered with your local government's chemical regulators (e.g. The Environmental Protection Agency).
Wash your hands for at least 20 seconds with soap and water
If that's not possible, use a hand sanitizer containing at least 60% alcohol.
Ventilate rooms before you clean.
Regulatory authorities such as the US CDC recommend opening outside doors and windows and using ventilating fans to increase air circulation in the space
Review the safety guidelines for your chemicals
Always read the labels on your products to understand their active ingredients and how to use them properly. For
more on how to read the labels on your products and their Safety Data Sheets, check your local authority. For example, in the USA, refer to the Occupational Health and Safety Administration, and in the EU refer to the European Chemicals Agency.
Wear protective equipment at all times
Before you enter the space, put on protective equipment such as disposable gloves, aprons or gowns, and masks or cloth facial coverings.
Unplug before cleaning
For your safety and to protect fixtures, remember to unplug appliances before cleaning. Plugged appliances that are turned "off" are still connected to electricity until unplugged. You can also shut off the power at the breaker.
SAFETY REMINDER
Do not enter a space without the proper protective equipment and do not reuse soiled gear. Be sure to read all safety labels so you understand how to use cleaning chemicals properly.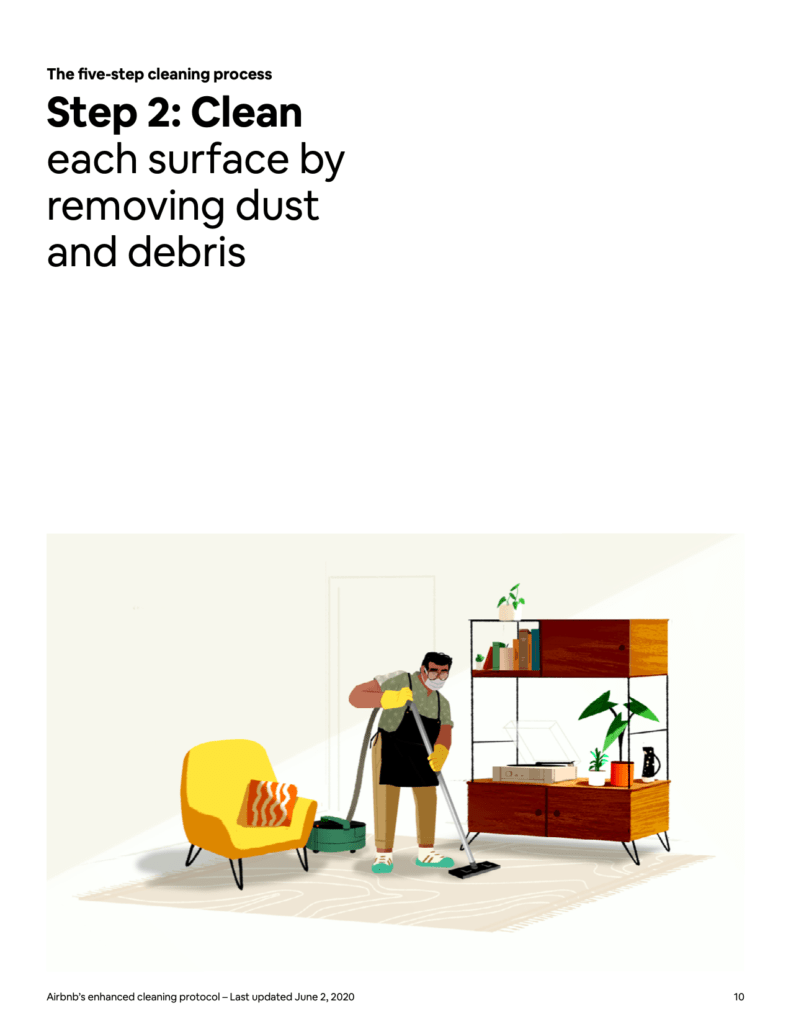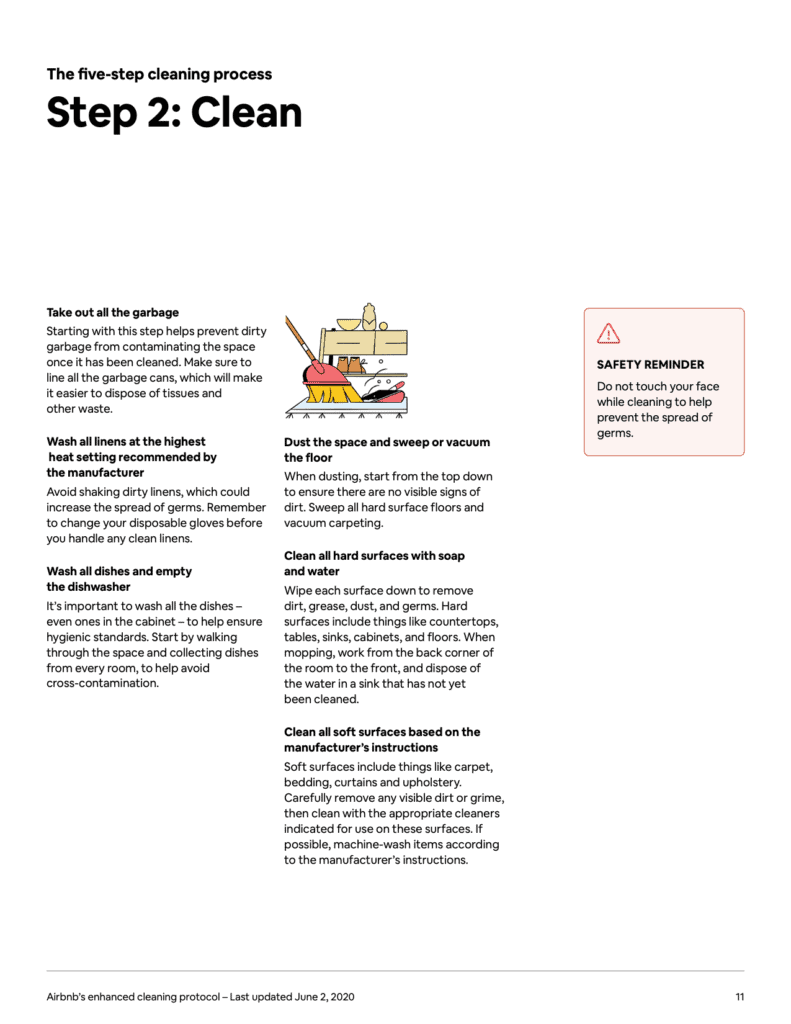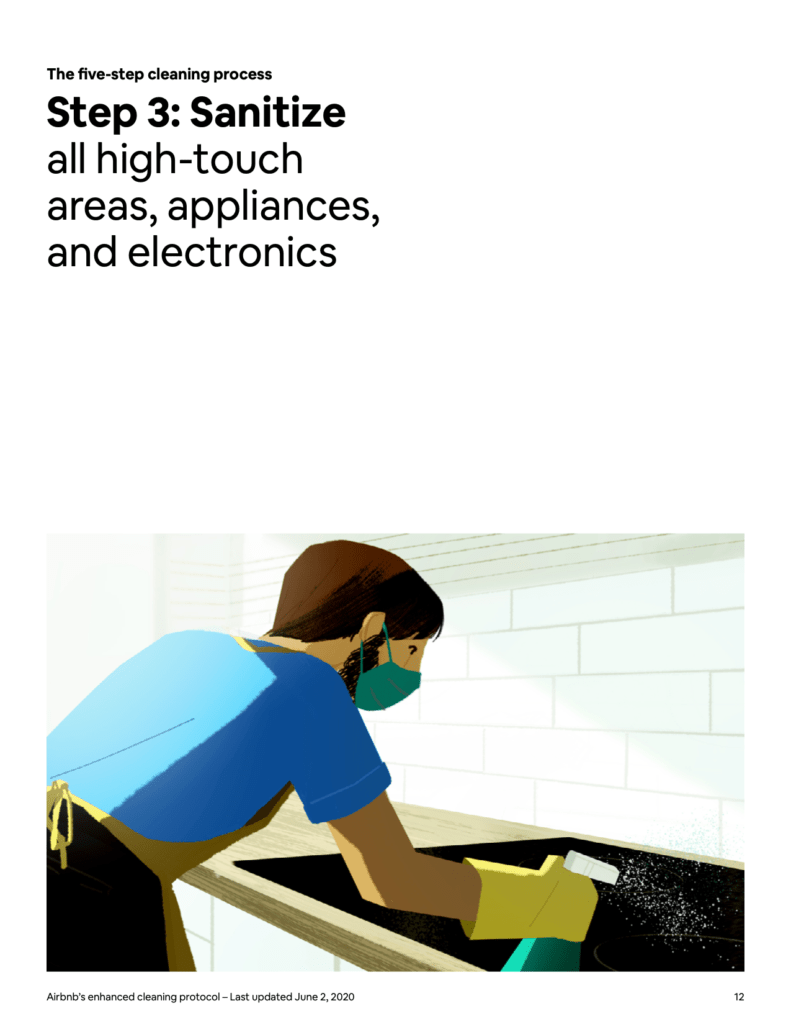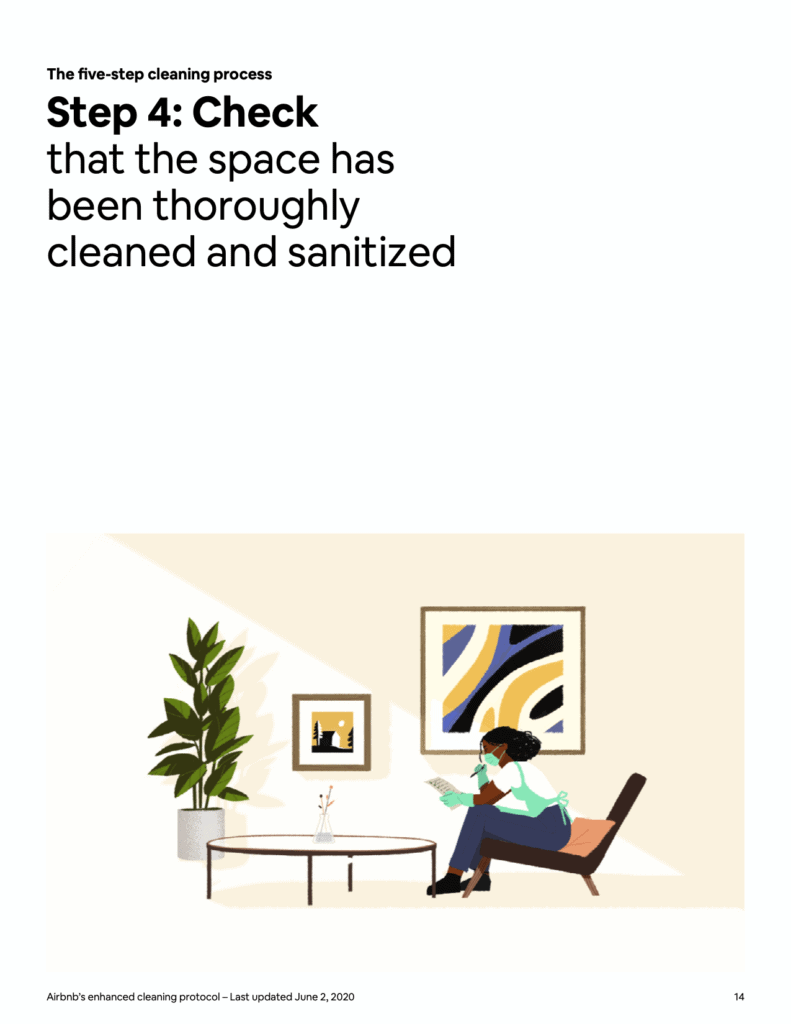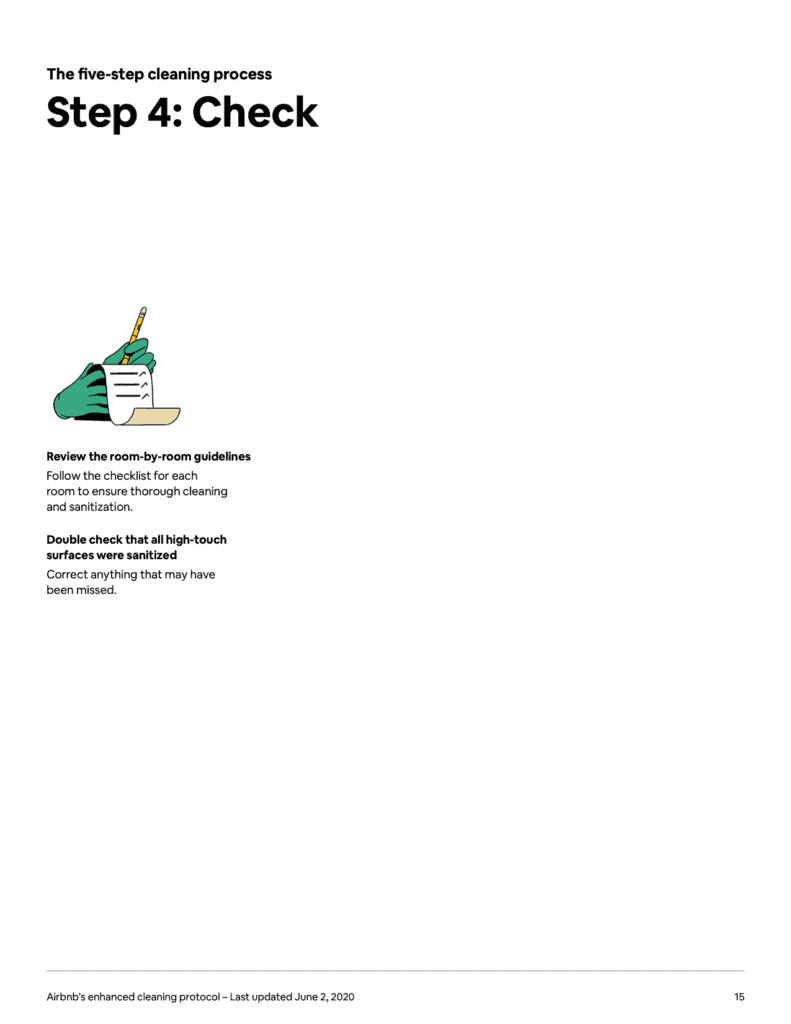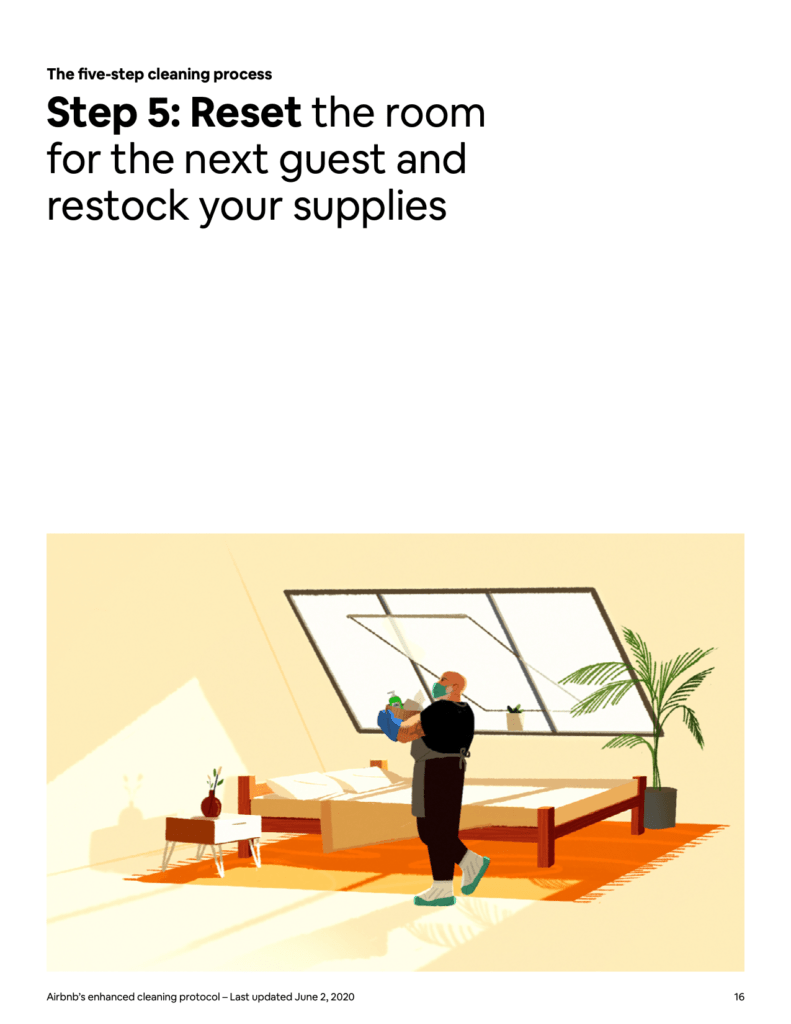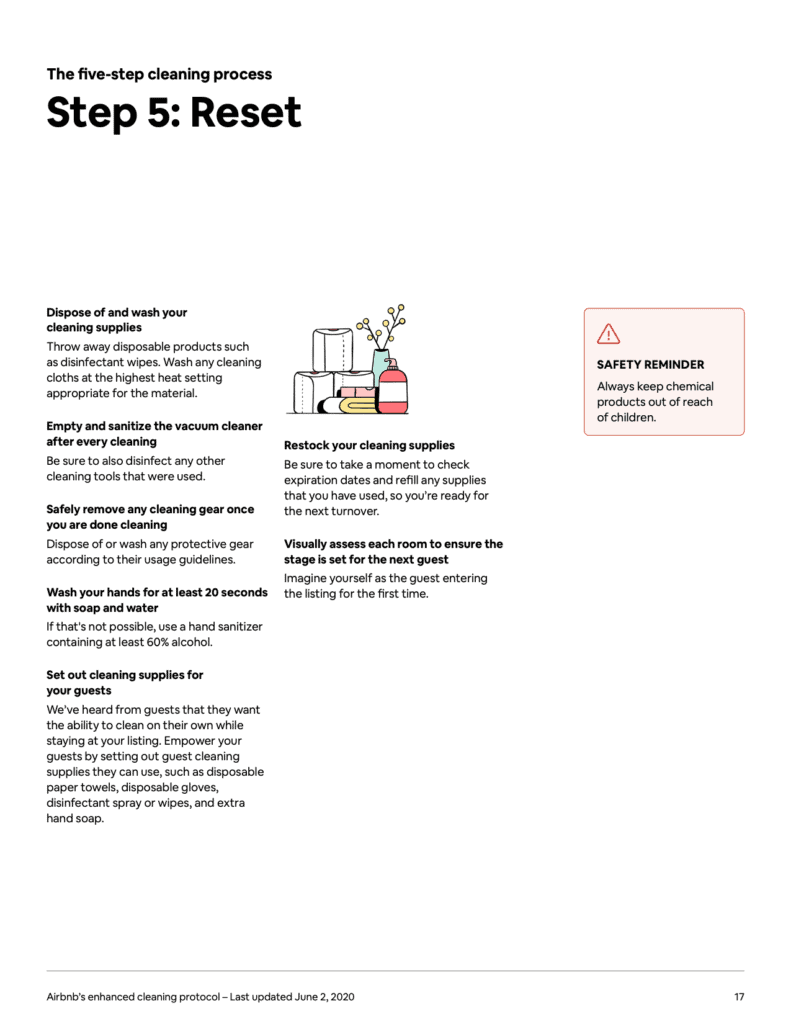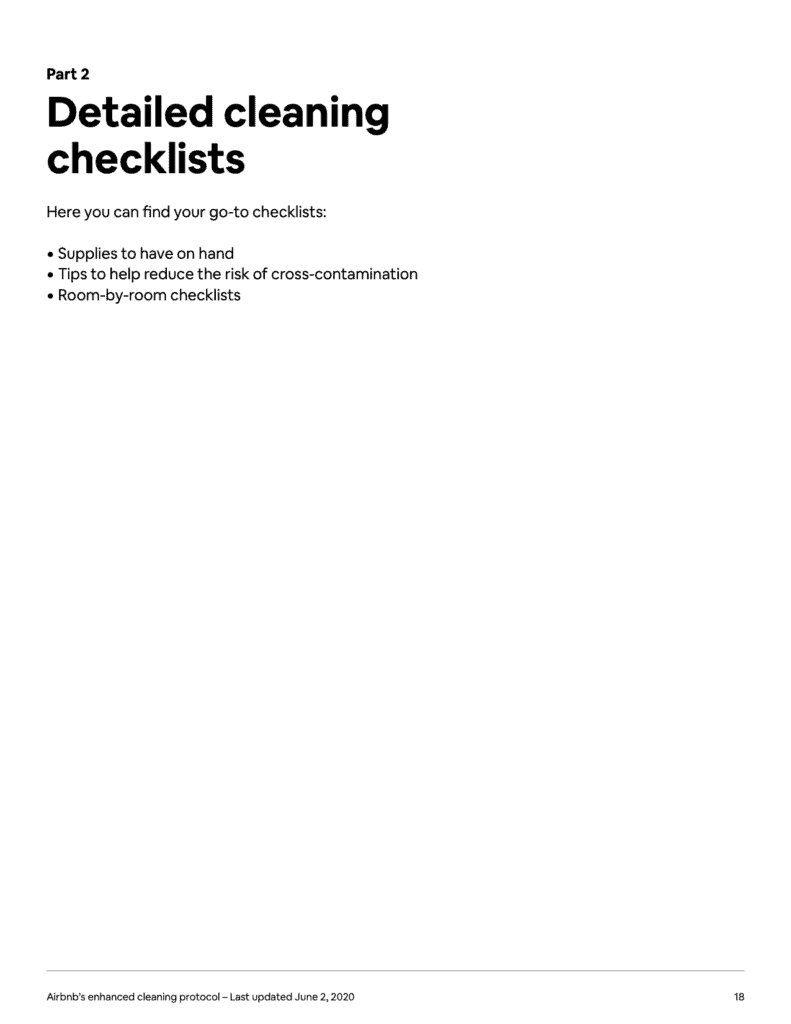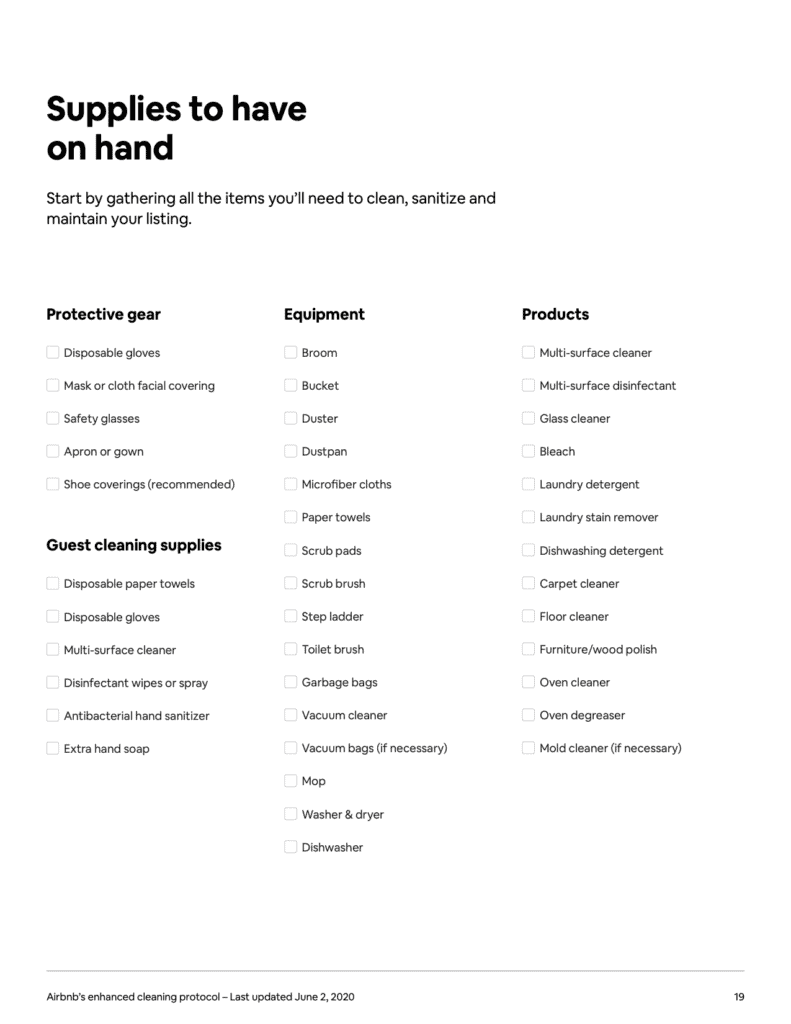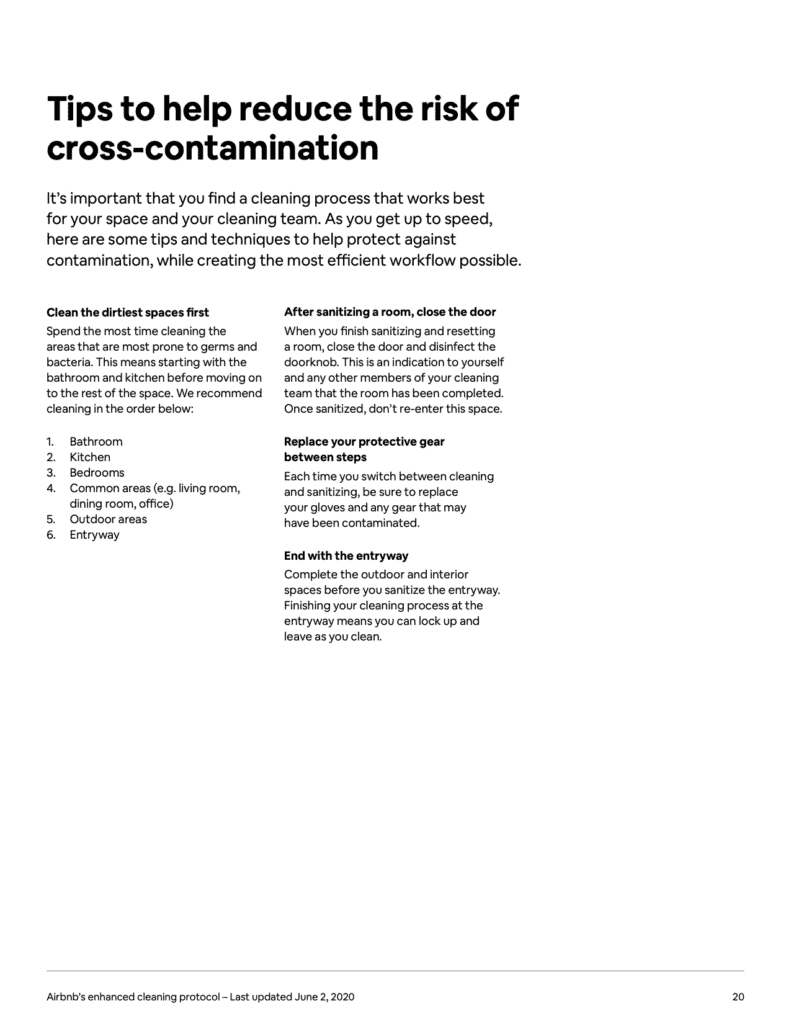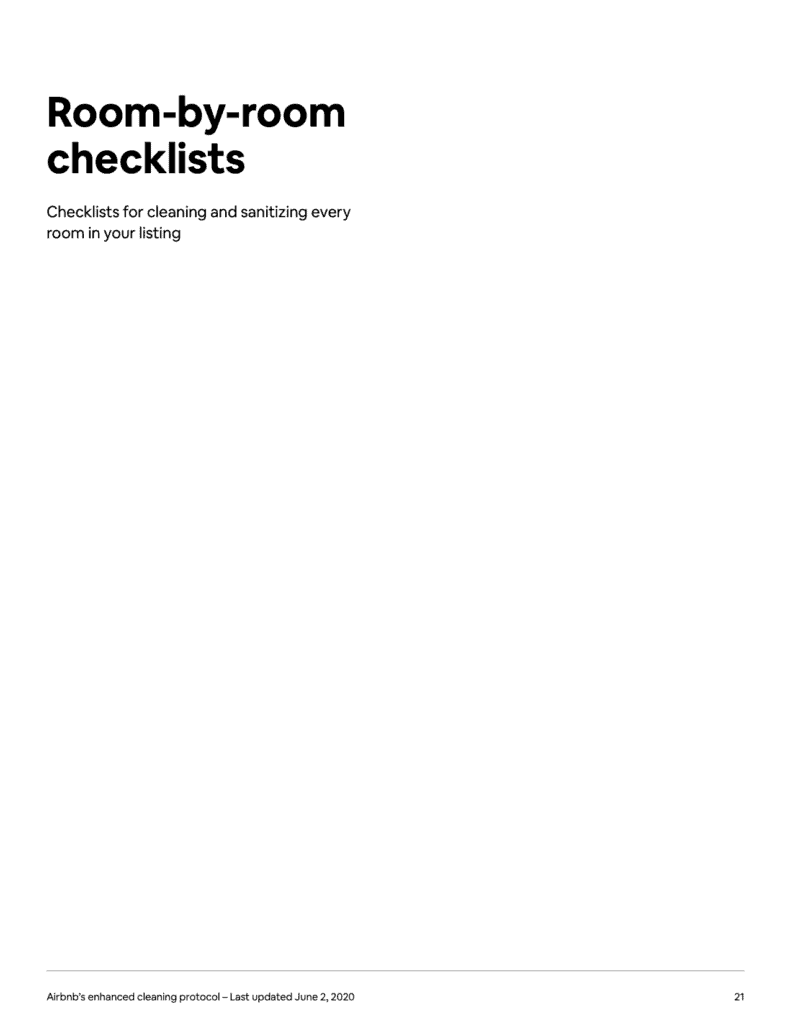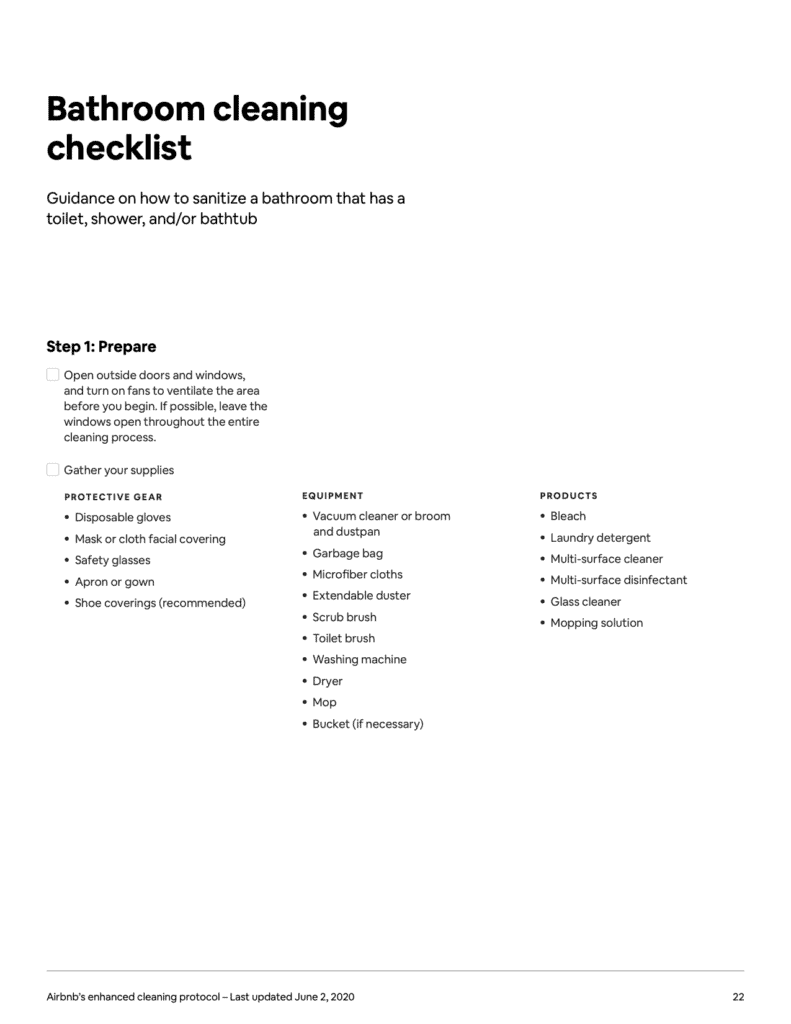 Airbnb' bathroom cleaning checklist
Guidance on how to sanitize a bathroom that has a toilet, shower, and/or bathtub
Step 1: Prepare
Open outside doors and windows, and turn on fans to ventilate the area before you begin. If possible, leave the windows open throughout the entire cleaning process.
Gather your supplies
PROTECTIVE GEAR
• Disposable gloves
• Mask or cloth facial covering
• Safety glasses
• Apron or gown
• Shoe coverings (recommended)
EQUIPMENT
• Vacuum cleaner or broom and dustpan
• Garbage bag
• Microfiber cloths
• Extendable duster
• Scrub brush
• Toilet brush
• Washing machine
• Dryer
• Mop
• Bucket (if necessary)
PRODUCTS
• Bleach
• Laundry detergent
• Multi-surface cleaner
• Multi-surface disinfectant • Glass cleaner
• Mopping solution
Step 2: Clean
Remove dirty linen, towels, and shower curtains and wash them at the highest heat setting recommended by the manufacturer
Empty any garbage cans and recycling bins, then line empty cans with fresh garbage bags
Spray the toilet, shower, bathtub and sink with a multi-surface cleaner, and allow it to set for the amount of time specified on the label. Be sure to cover:

The inside of the toilet bowl, the seat, and the seat hinges. Put down the toilet seat while the cleaner sets.
The surfaces of the shower walls or bathtub
Any tiled surfaces
The sink basin, handles, and backsplash

Clean the toilet:Scrub the inside of the toilet bowl and make sure that any build-up has been removed
Clean the toilet brush:
• Secure the brush handle between the already-cleaned seat and the basin so that it hovers over the bowl and pour bleach over the bristles
• Wait a few minutes, then rinse it with a pitcher of clean water
Clean the toilet brush canister:
• Fill the brush canister with warm, soapy water and let it sit for a few minutes
• Dump the dirty water into the toilet and flush
Clean the shower walls or bathtub interior:
• Scrub the surfaces with a scrub brush
• Rinse the surfaces and wipe them dry with a microfiber cloth
Clean the sink:

Using the scrub brush, scrub the basin, handles, and backsplash to loosen any buildup
Flush the sink drain with hot water and rinse the sink basin for a few minutes
Wipe down the faucets, flossing between the small spaces using a microfiber cloth, and finish by wiping down the backsplash

• Once all the water has drained, wipe down the basin with a clean microfiber cloth
• Place the microfiber cloths in the laundry to be sanitized and do not use them to clean anything else
Clean all tiled areas:
• Wipe down with a microfiber cloth, working from top to bottom
• Pay particular attention to the spaces between the tiles
Clean all remaining bathroom surfaces
• Use a microfiber cloth and a multi- surface cleaner to wipe down all of the remaining bathroom surfaces, making sure to work from top
to bottom
• Use an extendable duster to clean hard-to-reach areas such as high shelves, windowsills and the space behind radiators
Sweep or vacuum the floor to remove any hair and debris, starting at the farthest corner in the room and working toward the door
Mop the floor, paying particular attention to corners and the areas behind the doors
Clean any mirrors and glass using glass cleaner and a microfiber cloth