Families make up most of Vrbo's clients. Family vacations provide an opportunity for loved ones to get together and spend quality time with each other. Because of that, families are on the lookout for spaces where they can genuinely connect and cherish meaningful moments. In this article, we delve into what matters most to traveling families and explain how to address their top concerns to make sure your listing appeals to families.
Understanding family vacation rentals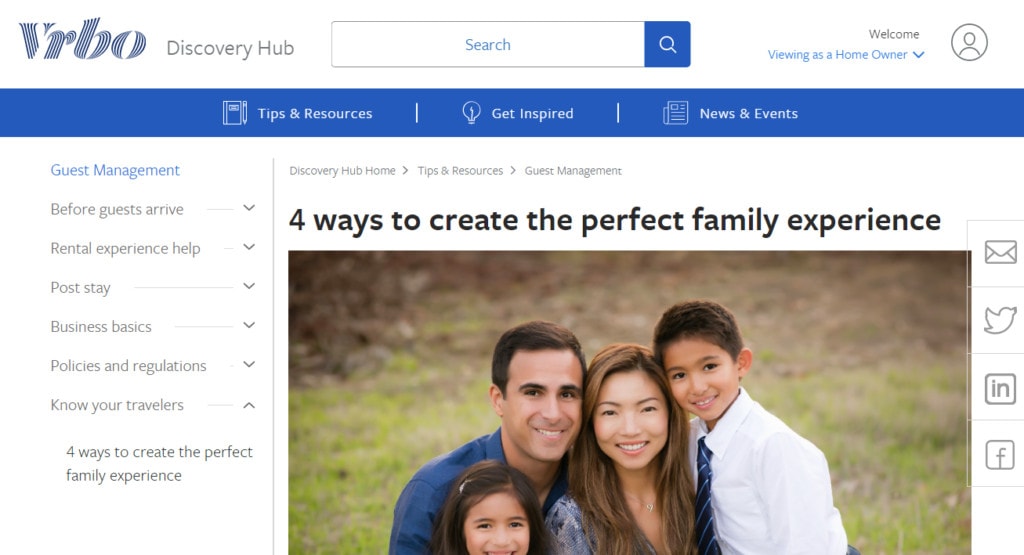 Families come in a variety of shapes and sizes. On average, a traveling family includes parents with children, which means that family travelers are often looking for vacation rentals that have two or more bedrooms. Sometimes, traveling families are multigenerational, and in other cases, they can be made up of families and friends or members of the extended family.
In the short-term rental business, you're probably going to stumble upon the term "complex families." In fact, complex families are a valued customer segment and are often a major target of vacation rental platforms such as Vrbo.
Vrbo aims to attract large or complex families consisting of at least three adults and two children. These are often multi-generational traveling families, made up of one or more grandparents, parents, and kids, or fraternal families made up of, for example, two siblings and their own families, including their marital partners and children.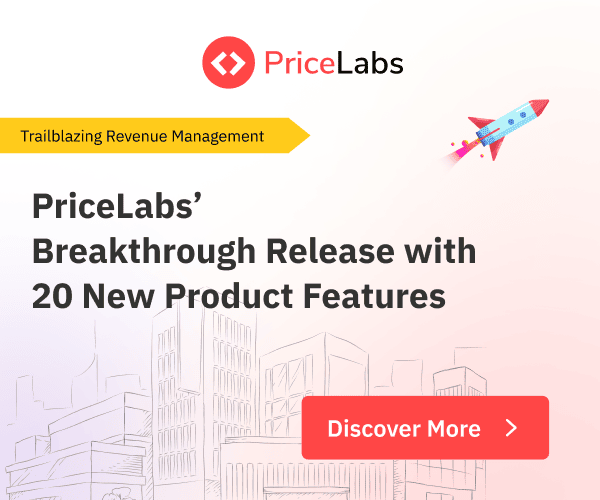 Complex families can have complex needs, which is why they are on the lookout for vacation rentals that every one of them will like. In order to choose the right rental, families collaborate in the process of vacation planning.
Regular vs. family travelers: How do they differ?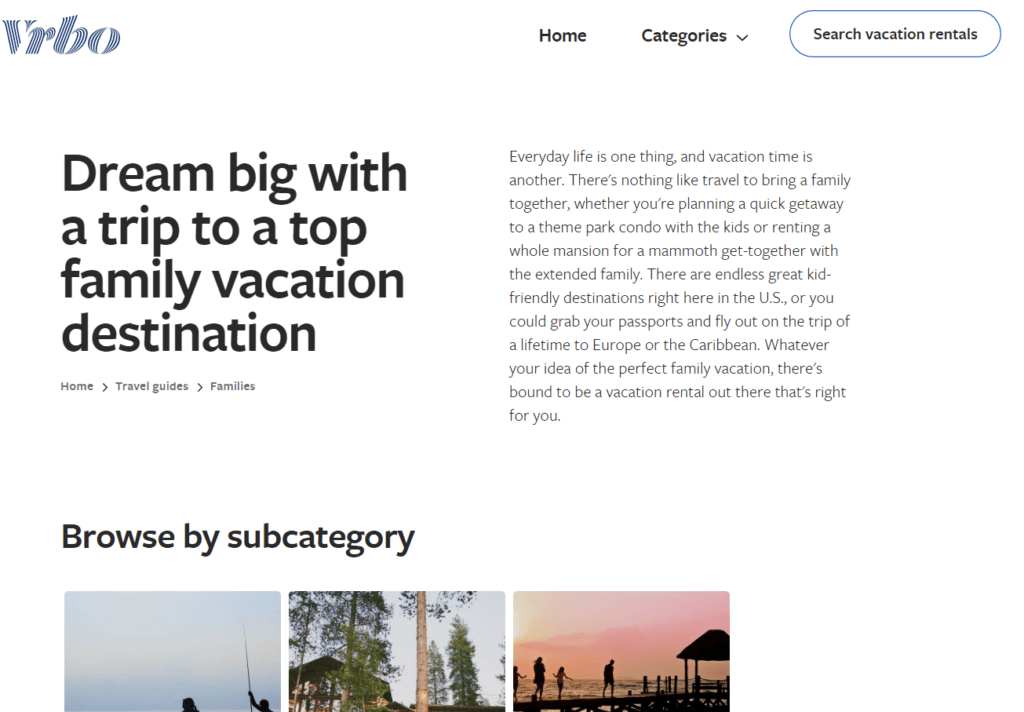 Family travelers are different from regular travelers because the aim and purpose of their trips are unique. Generally, families tend to spend more on vacation rentals, and regardless of the size and family type, they all have some common traits that are very similar.
Families plan ahead
Families plan their vacations in advance, and they put a lot of effort into it. The top concern for this group of travelers is whether everyone in their family is going to enjoy themselves. Because of that, they plan all aspects of a vacation to ensure that the family has a great experience and that the holiday is really focused on spending time together.
In this respect, family travelers are quite distinct from other types of travelers that are usually more focused on cultural exploration or adventure. Conversely, the primary motivator for booking a family vacation rental is to spend time with each other. That is why families are more likely to travel to beaches, tropical destinations, and somewhere near nature.
Families often take 4+ trips a year and are really strong vacationers. They are very likely to be traveling with three or more people, often including kids, and as such, they are regarded as high-value guests in the vacation rental industry.
So what can you do to attract families to your rental? As a vacation rental owner or manager, it's crucial to understand what families are looking for in a vacation rental and to pinpoint their concerns. Families really want to connect during a vacation and want to spend their time in a place that will allow them to truly be with their family. With the outbreak of the Covid-19 pandemic, some new concerns have emerged. Now families are on the lookout for drive-to destinations, and for properties that are affordable and have a more flexible schedule.
What matters most to families?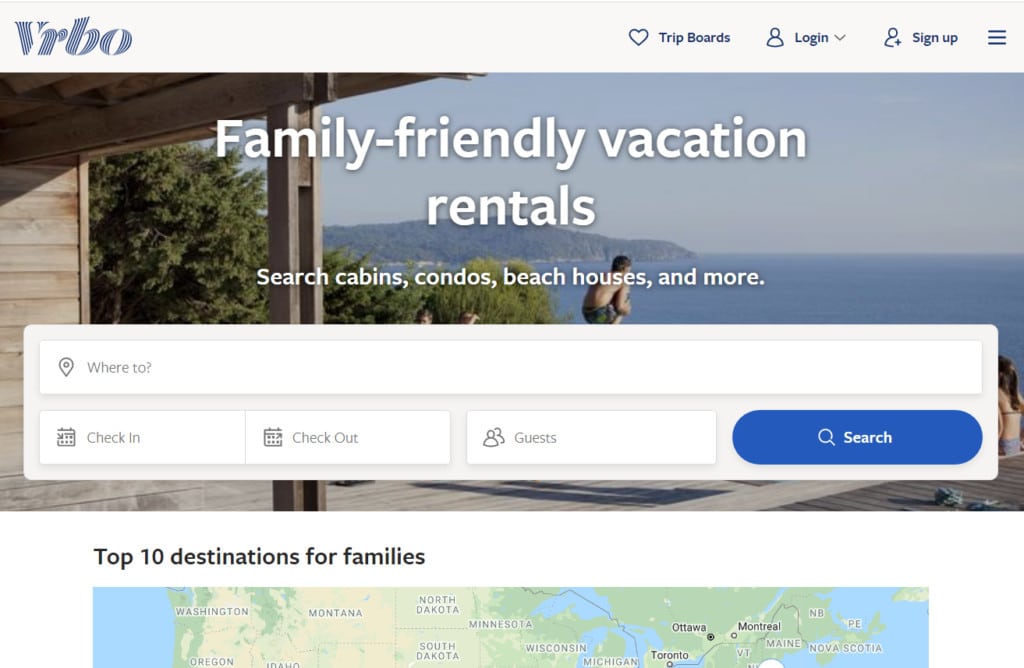 Families want to protect the health and safety of their loved ones when they travel, a concern which has been heightened because of the coronavirus pandemic. Families care about the location and the spaces and amenities of a home. And they want flexibility when it comes to booking.
Value
Budget considerations have always been important to families, but they have become even more important now. Finding a vacation rental within their budget is a top purchase driver for families.
How can you offer value to families?
Vacation rental owners and managers can take a look at their fees and evaluate whether there is room to simplify and reduce those fees. High fees often turn away family travelers and have been a top customer complaint that Vrbo has received through the Voice of Traveler program.
Family vacation rental managers can act on this by simply analyzing the fees of their property and pinpointing the ones that seem unnecessary, which are expenses that can potentially be eliminated or simplified. It's important to stay up to date on changes in occupancy and pricing in your market, as this affects the overall cost of booking a vacation rental. If your property is listed on Vrbo, you should take advantage of MarketMaker, which is a great tool that can help you understand the right pricing for your market.
Health & Safety
Safety issues are the top considerations for travelers in 2020 and are likely to continue to be a top priority in 2021. It doesn't come as a surprise that the vast majority of travelers are concerned about getting or spreading Covid-19. Family travelers prefer to stay away from crowds and are interested to know about the cleaning standards of accommodations. In fact, the cleanliness of a property is another top purchase driver for families.
Families also want to have the ability to socially distance when they travel, which is why they're very interested in vacation rentals. So, when they are trying to decide between different properties, they factor in the cleanliness of the home and access to cleaning products, and whether it offers them enough space to be away from other people.
What can you do to make your property safe for families?
Vacation rental managers and owners must implement enhanced cleaning practices and to communicate this with potential travelers. Most of the short-term rental platforms offer free information and guidelines for enhanced cleaning protocols.
Property owners can take advantage of new opportunities coming from families working and schooling from home. And in order to really capitalize on these opportunities, vacation rental owners and managers must make sure that families feel safe and secure in their property.
Once you've set up and implemented enhanced cleaning practices, it is essential that you update your property description so that you can communicate what exactly you are doing to protect travelers.
Making this visible is a very clear signal for travelers who are looking for a vacation rental. While you're at it, adding other safety essentials to your listing can provide further assurance to families. Cleanliness is very important, but so are other safety features, such as a fire alarm, first aid kit, carbon monoxide detectors, etc. Families who are wary of cleanliness are also cautious about security issues.
Location
Families are interested in being near family-friendly destinations and attractions. They want to make sure that their vacation rental is located in a neighborhood that's safe for their family. Imprecise information about property location is a top cause of negative traveler sentiment. Travelers are more likely to leave a negative review on a listing if they feel a property location is incorrect.
How to better communicate the location of your property to families?
It's important that property managers make sure the location information is accurate. If your listing is near a beach, use precise wording to describe if your property is beachside or if maybe it's within walking distance of a beach. Make sure that location is always represented accurately in your property listing.
Property managers and owners can give more detailed information by vividly describing the neighborhood where the property is located and can provide further details about nearby activities and points of interest.
In the context of Covid-19, you might not want to highlight an amusement park in the vicinity of your property, but you definitely want to draw travelers' attention to great hiking trails near your listing. Families are on the lookout for safe fun outdoors.
Families also care whether the area where they're staying is safe, so sharing information about how walkable your neighborhood is, or offering further information about cafes and restaurants where families could grab a bite to eat can really help them envision what it's like to stay at your property.
Spaces and amenities
Family travelers want accommodations with space and amenities adequate for entertaining the entire group. They want spaces to connect with their families when they travel. Some of the top property features that family travelers look out for include pools and internet and Wi-Fi access, which are especially relevant in these times of Covid-19.
How to make amenities and spaces attractive to families?
If your property is already equipped with Wi-Fi, make sure it's indicated in your property description, and if you can also specify the Wi-Fi strength, that can be very useful for people that want to work remotely.
Adding features to your property such as a hot tub, air conditioning, laundry machines, outdoor grill, and easy parking will be highly regarded by families. If your property is not situated in an area that offers great opportunities for outdoor entertainment, adding in-home entertainment features can certainly help.
Flexibility
The global coronavirus pandemic has redefined flexibility in the short-term rental business and immensely enhanced its importance. The unpredictable nature of the crisis, ensuing lockdowns and travel-restrictions, as well as uncertainty over travel safety have shortened the time frame for putting together vacation plans. And this has particularly affected traveling families.
Since the start of the pandemic, travelers have been booking vacations with a 40% shorter lead time than the average.
The uncertainties brought by the pandemic have made travelers more aware of the importance of refund and cancellation policies. For 78% of travelers, according to a survey by Vrbo, knowing the cancelation or refund policy before making a booking has become extremely or very important.
How can you be more flexible?
First off, you can make your refund and cancelation policy more apparent and clear to travelers. Having in mind the difficulties brought by the pandemic for travelers and property managers, you can consider adapting your cancellation policy to be more relaxed or moderate as a bid to attract more (hesitant) travelers.
If you still haven't, we advise you to start using Vrbo's mobile app so that you don't miss out on booking requests from travelers. While you're at it, make sure to enable notifications by (SMS) text messages, and don't forget to turn on those push notifications for Vrbo's mobile app.
By doing this you will make sure that you can take advantage of those last-minute bookings that have become more frequent since the start of the pandemic.
Many Vrbo partners lose bookings because they're not responding quickly enough to these travelers that want to book a last-minute trip.
So, in addition to downloading Vrbo's app and enabling (SMS) text messages and push notifications, you should also consider allowing instant booking so that you don't miss out on those last minute, spur-of-the-moment booking requests.
Going the extra mile
Finally, is there something that you can do to make sure you get that raging five-star review from a traveling family? We sure think so.
To figure out how to provide the best experience for families, property owners and managers should think about the full scope of needs that a traveling family has or could potentially have during a stay.
For instance, let's consider the sleeping arrangement needs of a complex family. First and foremost, you should clearly express the number of beds and the types of beds available, so that multi-generational groups can decide on sleeping situations beforehand. Letting them know about the number of bunk, king- and queen-size beds and how they are allocated throughout the property is essential. After all, a bunk bed won't really work for grandpa.
This is why you should always highlight that in the property description. Even more importantly, you should strive to clearly depict that in the photos of the property. If there is a possibility to add a fill-in cushion or to transform the sofa to create an extra bed – underscore that too.
When possible, add a floor plan, but if you want to go for the whole nine yards, then add a virtual tour to your property to really help families envision what your property is like.
Finally, pets are often at the core of families and many wouldn't think of parting with their furry friends. You should consider modifying your house rules to allow pets. On Vrbo, the 'pet-friendly property' is one of the top filters applied. During Covid-19, families have been especially keen to take their pets along on their family vacation.