At the 2023 VITUR Summit, an insightful exchange took place between David Robles, Director of Business Development EMEA for Google Travel, and Carlos Pérez-Lanzac, the summit's founder. Robles shared valuable insights into the intricacies of the search and booking journey for short-term rental guests. He also explained how these rentals are featured across Google's platforms and provided practical guidance for property managers on listing their properties on Google. Additionally, he revealed Google's forward-thinking endeavors in fostering travel inspiration and promoting sustainability.
Post-COVID Travel Appetite
Google's survey conducted post-COVID showed a strong appetite for travel. This is especially true for short-term rentals, where traveler behavior seems to diverge from those opting for other property types, such as hotels.
Individuals who book short-term rentals demonstrate a unique approach to the booking process. They often start their journey with an open mind about accommodation types, considering various options before settling on a rental. When they do book, they value the added space and privacy that short-term rentals offer. Surprisingly, despite the widespread use of online booking platforms, a significant portion of these travelers end up booking offline.
Short-term Rentals on Google
Robles explained that short-term rentals could appear on Google in three distinct ways: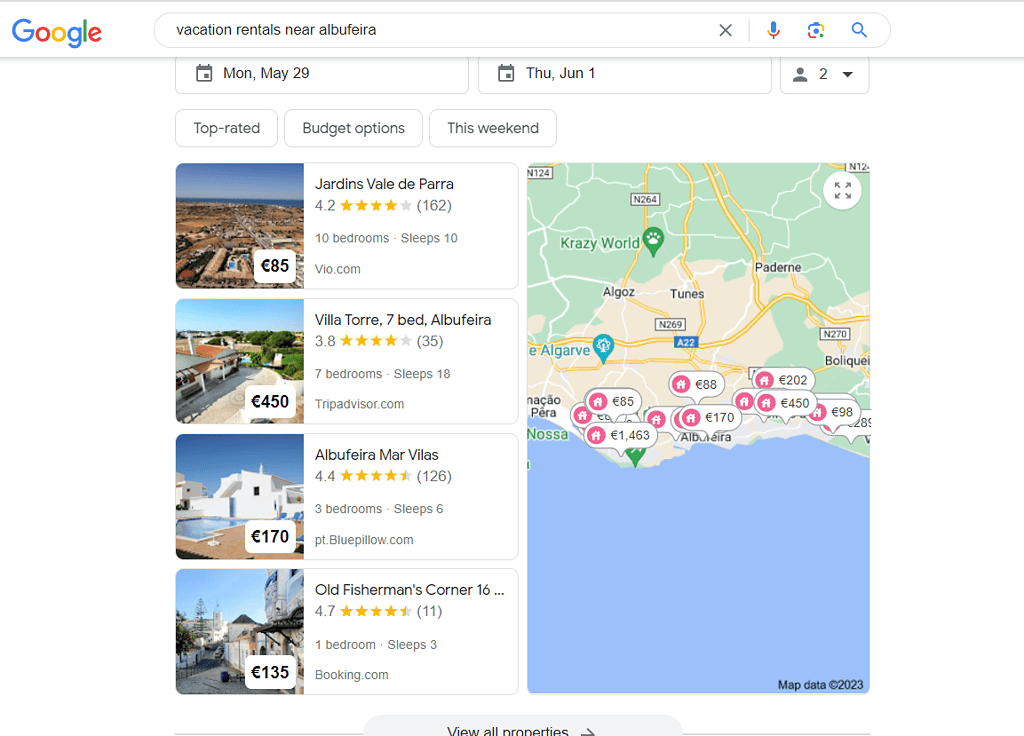 Google Search: When users conduct a text search for terms like "vacation rentals in Albufeira," they don't just get textual results. They also receive a list of vacation rental listings and a searchable map. This also leads them to the Vacation Rentals tab in Google Travel.
Google Maps: Users can find short-term rentals by, for instance, searching for "vacation rentals near me" in the Google Maps app, which will display a list of pinned properties listed on Google.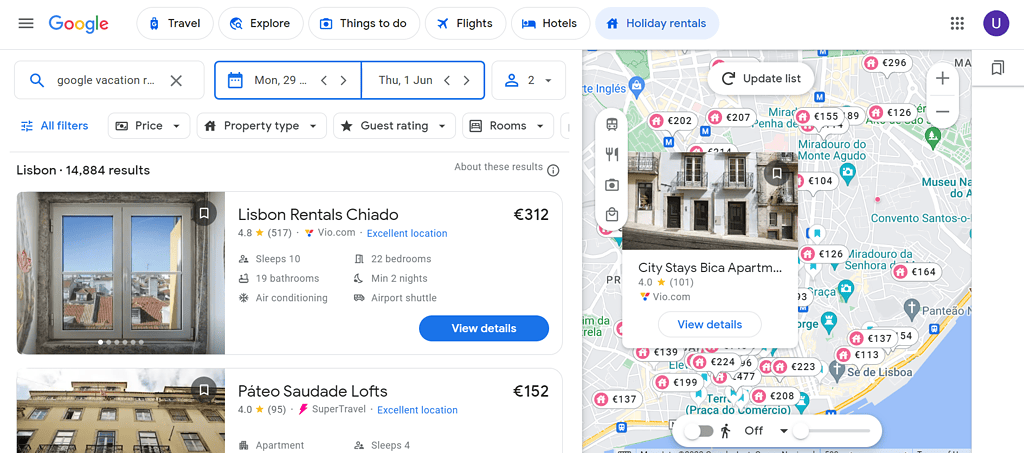 Google Travel: Google Travel consists of several travel search products that drive traffic, such as Google Flights and Google Hotels. Google's Vacation Rentals tab offers a search engine, popular destination suggestions based on the user's current location, and a list of vacation rental listings with various filters.
The search results displayed in Google Travel are drawn from Google's existing inventory of short-term rentals. These listings are curated based on various factors, including availability, amenities, rates, and reviews. Consequently, some properties may appear immediately when users search for vacation rentals in a specific location, while others might only show up when they zoom into more concentrated areas. This dynamic presentation of search results ensures that users receive a comprehensive and tailored selection of short-term rental options, catering to their unique preferences and requirements.
How to List on Google
Google offers an open API, which large property managers can integrate directly to list their properties, including descriptions, photos, and rates. For those unable to do so, Google provides a series of channel managers and Property Management Systems (PMSs) that integrate with its services. These properties will then show up in Google Search, Maps, and Google Travel.
Future Developments
Looking ahead, Google's primary focus is on two fronts: reimagining search to inspire and sustainability.
Reimagining Search:
Google is working on making its search results more inspiring. Previously, typing a city name like "Paris" would yield very encyclopedic data. Now, Google is integrating different types of data and information into the search results, such as the current temperature, flight time to the destination, and more. This shift was motivated by the recognition that many users, especially Gen Z, look for travel inspiration almost daily.
Sustainability:
As travelers become increasingly interested in sustainability, Google is looking to help users navigate this field. They've started adding sustainability labels and certificates to their hotel listings and indicating CO2 consumption for flights.
Robles' interview provides a glimpse into how Google Travel is shaping up to influence the future of short-term rentals and travel inspiration. As we move into the post-COVID era, it's clear that the travel industry will continue to evolve, shaped in large part by the changing habits of travelers and the ongoing enhancements to the online travel experience.