Rentals United is a channel management solution: It helps connect the inventory of a vacation rental management company with booking sites (e.g. HomeAway, TripAdvisor, Booking.com) and even with travel agents through wholesalers.
I met Vanessa De Souza Lage, Rentals United's Chief Marketing Officer, at a recent meetup for vacation rental tech companies that she helped organize.
Here, Vanessa explains how Rentals United helps VR managers get more bookings from more sites, how it competes with US-based solutions and how social media makes the company more visible and influential.
What are the top 3 reasons why a vacation rental manager turns to Rentals United for help?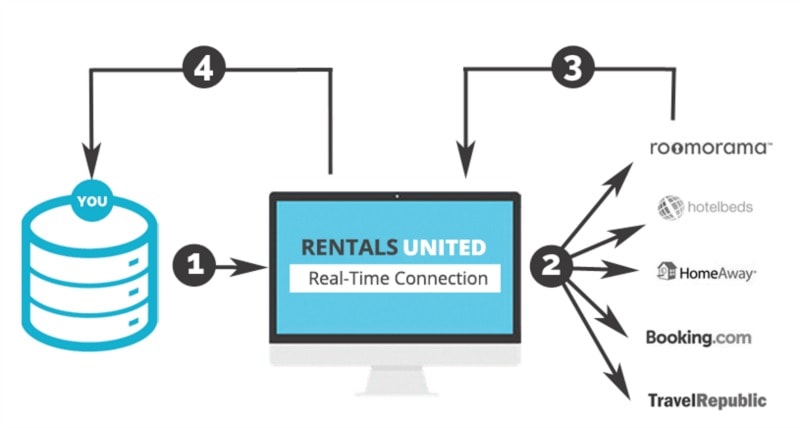 Firstly because of our channels – This is the number one criteria when choosing a channel manager: "Do they work with the channels I identified as the best ones for my rentals?" Rentals United covers most of the large booking sites, many niches ones and also wholesalers like Tourico Holidays and HotelBeds who distribute our properties to travel agents worldwide. We have 35+ websites connected today and we're growing rapidly… Our IT team has become a real factory at connecting sales channels and PMS!

Secondly to make more bookings – but I tell you about that in the next question 🙂

Thirdly to save time: When a vacation rental manager updates his pricing, calendars and property information (like photos, description, amenities) on our platform or a connected PMS platform or his own connected database, it updates all of the channels he decided to work with. Our customers report saving 20 hours of work on average a month, that's 5 hours per week he could be doing something else than updating calendars! Advanced vacation rental managers with complex pricing are always agreeably suprised when they see that our platform can actually cater for them too.
Why working with Rentals United will generate more bookings?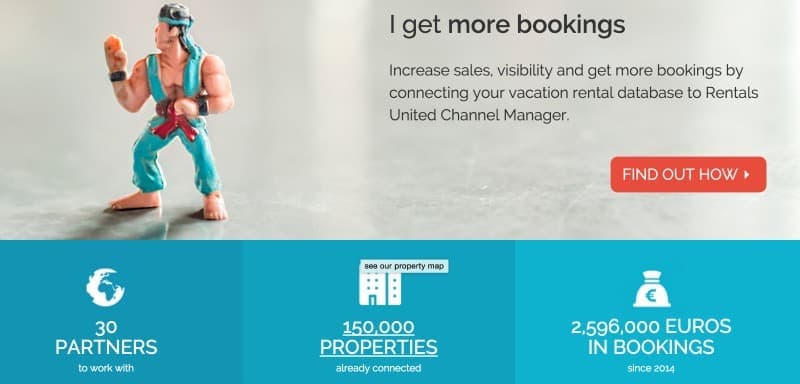 Our clients report making between 5 – 50 more bookings per month (depending on the amount of inventory they have). This is "more" bookings, on top of what they were making before!
The reason is that, by automating your marketing, you're more likely to start using new sales channels since, at the end of the day, you have nothing to do for it, all is updated for you always. We've simplified the process to the maximum: fill in a checklist, click "connect" and that's it.
For more advanced vacation rental managers that advertise on hotel booking sites like Booking.com, we offer calendar optimisation tools (Think of it as yield managing your availability) and if done well, this can increase your bookings considerably.
As Rentals United is based in Europe, is it better suited to meeting the needs of European vacation rental companies than are your US-based competitors?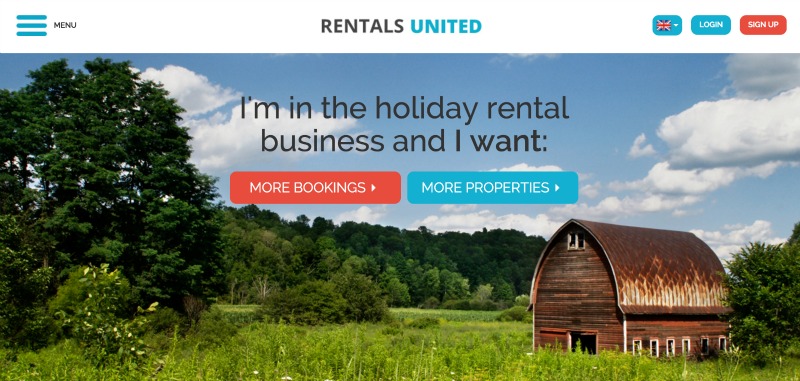 No, in fact we're very active in the US because the vacation rental managers there are very much interested in advertising on our European channels, this is the first reason they sign up with us: "I want to attract more Europeans guests".
As for our US competitors, we have 2 substantial advantages: we're multi-currency and more affordable. They need to watch out for us, a US office is definitely on the cards! 🙂
Rentals United is very active in social media. What does it bring to your company?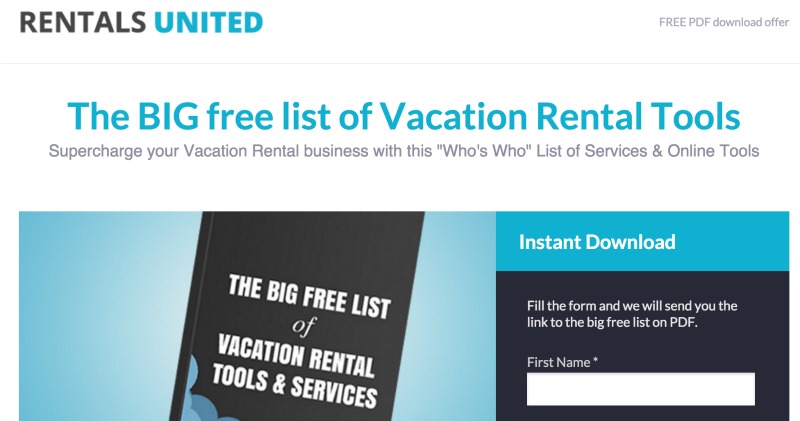 Apart from traffic and registrations (in the form of actual sign-ups, blog subscriptions, PDF downloads, interactive content participation), it also brings us meaningful relationships with industry influencers (found you on social Thibault!) and vacation rental companies.
We're a very "open network" company, meaning we love to support innovative start-ups and finding new ways of partnering with different types of companies – and these connections start on social networks.
One last thing that our readers should know?

I'd like to invite your readers to sign-up for our weekly newsletter http://rentalsunited.com/blog/ filled with tips and hacks to be a better manager! They may not be ready to talk about channel management just yet but this way, if they are in the future, they'll be more likely to remember us!
I hope that this article will help you have a better understanding of what Rentals United does. By now, you should have an easier answer to the question: "What is a channel management solution?".
How about you? Do you already use a channel management solution? How do you connect your property management solution (PMS) to the main listing sites?