PriceLabs, a leading provider of dynamic pricing solutions for the short-term rental industry, has unveiled its latest Breakthrough Release. This transformative update introduces a slew of innovative features designed to redefine revenue management for property managers and hosts worldwide. The release is packed with over 25 pioneering product features, each meticulously crafted to enhance pricing strategies, streamline operations, and provide users with deeper insights into their portfolio's performance.
Hyper Local Pulse (HLP) Algorithm: A Game-Changer in Dynamic Pricing

The central highlight of the Breakthrough Release is the introduction of the Hyper Local Pulse (HLP) algorithm. This groundbreaking dynamic pricing algorithm is designed to leverage hyper-local market trends, providing exceptionally precise localized pricing and unparalleled adaptability to rapidly shifting market conditions.
The HLP algorithm revolutionizes how property managers and hosts approach pricing. Instead of relying on broad-market-level data, it harnesses the power of hyper-local data to optimize rates. This results in more accurate pricing that responds swiftly to local market fluctuations, ensuring you're always competitively priced.
The algorithm takes into account various factors such as local demand, booking lead times, seasonal trends, and special events, among others. It then dynamically adjusts your prices based on these real-time data points, helping you maximize your revenue potential.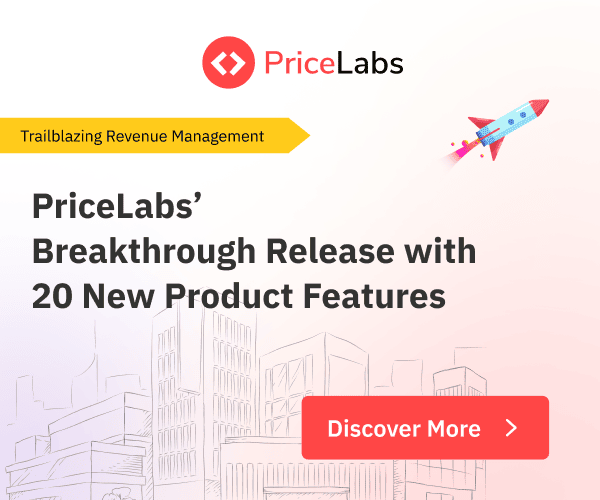 With the HLP algorithm, property managers and hosts can expect to see increased revenues, improved occupancy rates, and enhanced competitiveness in their local markets.
Key Highlights From the Breakthrough Release
Apart from the revolutionary HLP algorithm, the Breakthrough Release also introduces several other key enhancements:
Performance Metrics Dashboard: This revamped dashboard offers a more granular analysis of each listing's performance. It helps users identify underperforming properties and provides actionable insights to improve their performance. The dashboard also allows users to track key metrics over time, enabling them to understand trends and make data-driven decisions.

Smart Presets: Tailored to different business types, these presets streamline the customization process, making PriceLabs more user-friendly. Whether you're managing vacation rentals, serviced apartments, or boutique hotels, the Smart Presets guide you in setting up the most appropriate customizations for your property type.

Desktop App: Designed with large portfolio managers in mind, this new app offers faster data processing and responsiveness. It provides easy access to PriceLabs' suite of tools, allowing users to manage their listings more efficiently.

Team Management Features: These enhanced functionalities allow users to customize access levels and track changes within their team. Admins can assign listings to specific team members, set access rights, and monitor changes through a comprehensive change log.

A Closer Look at the 24 Additional Products
The Breakthrough Release also introduces an array of other product features aimed at further enhancing revenue management for property managers and hosts:
Market-Driven Customizations: Dynamic adjustments for last-minute discounts and far-out premiums based on real-time market data.
Enhanced Min Stay Recommendation Engine: Provides both annual minimum stay recommendations and specific suggestions for months deviating from typical patterns.
Min Stay Flexibility: Allows hosts to define minimum stay rules tailored to specific days, seasons, or booking lead times.
Seasonality Customization: Choose from four pricing options to match your property's demand patterns.
Hotel Weights Customization: Balance the influence of both short-term rental and hotel market trends.
Hotel Comp Sets Customization: Fine-tune your pricing by selecting specific neighboring hotels that influence your rates.
Base and Minimum Price Nudges: Smart alerts to refine your prices.
Analysis Tools: Including Comp Sets usable across PriceLabs, Pacing Charts, Booking Data Charts, and a Compare Competitor Calendar.
Workflow Improvements: Date-Specific Override Expiry, Group-Level Date Overrides, and Smart Check-In and Check-Out features.
Data Access Enhancements: More data in APIs and CSVs for easier data access.
STR Index: Reports on leading short-term rental markets globally.
Revenue Estimator: Estimate the revenue potential of a property.
10,000-Listing Market Dashboard: Comprehensive market analysis and pricing strategies.
Conclusion
PriceLabs' Breakthrough Release represents a significant leap forward in dynamic pricing solutions for the short-term rental industry. By providing property managers and hosts with powerful tools and features, it empowers them to optimize their pricing strategies, enhance operational efficiency, and ultimately, drive higher revenues.
Whether you're a small host or a large property manager, PriceLabs' Breakthrough Release has something to offer. With its user-friendly interface, powerful algorithm, and innovative features, it's set to redefine how you manage your properties' revenue.