The much-awaited Scale Rentals conference for professional short-term rental (STR) managers is taking place at the World Trade Center in Barcelona on May 17-18, 2023. This two-day event will bring together hundreds of the world's leading accommodation providers to explore industry growth trends and key themes that are crucial for sustainable growth and success in the STR industry.
The conference will cover a wide range of topics including AI, data trends, exit strategies, profitability, PR, property acquisition, property management systems, OTAs, owner relationships, regulation changes, technology, and much more. Attendees can expect to gain valuable insights from experienced industry experts from around the world through engaging education sessions and panel discussions.
Rental Scale-Up Joins as Media Partner and Thibault Masson to Moderate Key Panels
As a media partner, Rental Scale-Up will play a vital role in covering the event and sharing valuable insights with its audience. Additionally, the Founder of Rental Scale-Up, Thibault Masson, will have the privilege of moderating the following two engaging panel discussions during the conference:
How can OTAs hand control back to PMs for scaling?
When and where: Auditorium, May 17, 2023, 11.30 – 12.00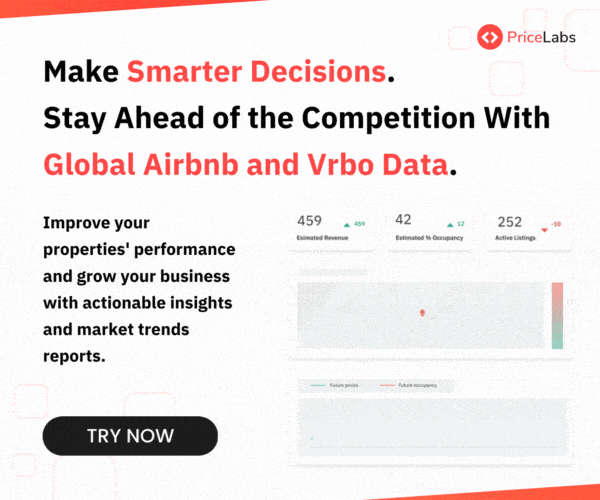 This panel discussion aims to explore the opportunities available to professional property managers (PMs) through Online Travel Agents (OTAs) beyond the dominant players like Airbnb and Booking.com, such as Holidu, HomeToGo, and Vrbo. Thibault Masson will serve as the moderator, guiding the conversation toward services exclusive to professional PMs, strategies for scaling their businesses using these platforms, and the crucial questions that PMs should ask to maximize their value from OTAs. The panelists will also discuss the commissions offered for successful bookings, emphasizing how participating OTAs can assist PMs in building their brands and encouraging scalability both on and off OTA platforms.
Panelists:
– Javier Cedeño, Team Lead Business Development Southern Europe, Holidu
– Paola Lazzaretti, Senior Manager, B2B Partner Success – South of Europe at Vrbo, part of Expedia Group
– Sonia Chennoufi, Head of Business Development Europe, HomeToGo
Technologies to Consider as You Scale
When and where: The Knowledge Room, May 18, 2023
In this panel discussion, Thibault Masson will moderate a conversation between property managers (PMs) and technology providers about essential technologies that can aid property management companies in their growth journey. The discussion will focus on technologies that can adapt to a company's evolving needs, whether they manage 20 properties or 200. The panelists, along with Thibault Masson, will share their experiences, advice, and tips related to these technologies, fostering a lively and informative discussion among themselves and with the session participants.
Panelists:
– Ittai Savran, CEO, Olala Homes
– Fausto Da Silva, Strategic Partnerships Lead, PriceLabs Inc.
– Cesar Augusto Ramos, Head of Partnerships, Avantio
Furthermore, Uvika Wahi, Rental Scale-Up's Head of Content and Community, will be attending Scale Rentals Barcelona 2023. She will be present in the Pods area of the conference, connecting with property managers and vendors, and fostering meaningful interactions and knowledge sharing.
The collaboration between Rental Scale-Up and Scale Rentals Barcelona 2023, combined with Thibault Masson's moderation and Uvika Wahi's presence, promises to bring valuable insights, thought-provoking discussions, and networking opportunities to all participants in the event.
The Scale Rentals Difference
What sets Scale Rentals apart from other conferences is its unique approach to content curation. Unlike other events, Scale Rentals focuses on attendee-driven content, where key themes are selected by the attendees themselves upon registration. This ensures that the conference addresses the specific needs and interests of the participants.
Scale Rentals also offers unparalleled networking opportunities. Attendees will have several hours each day dedicated to networking alongside some of the leading STR operators in the world. This allows for valuable connections and knowledge sharing among like-minded professionals.
One of the standout features of Scale Rentals is its commitment to providing growth education without any sales pitches. All presentations and panel discussions are solely focused on delivering valuable insights and strategies for sustainable growth. Moreover, Scale Rentals exclusively caters to property managers, ensuring that all attendees share a common professional background.
Who should attend the Scale Rentals Show?
The conference is exclusively focused on professional short-term rental property management companies managing a minimum of 25 units. It is designed for individuals and companies with scaling ambitions, offering business growth education and invaluable networking opportunities.
What both days will look like
The conference is divided into two distinct days. Day 1 is dedicated to ambitious companies managing between 25 and 49 short-term rental properties, while Day 2 is exclusively for large operators managing 50+ units and looking to scale successfully.
Day 1 Sessions:
From Headlines to Insights: Data Behind the Stories Shaping the STR Industry

Speakers: Kristina Sprindyte, Jamie Lane

Getting New Owners & Keeping Them
Scaling Up with Confidence: The Role of Security Deposits in Promoting Positive Rental Practices
Pricing Management & Revenue Management – Is there any real difference?

Panelists: John An, Willy Chang, Xavier Cárdenas

Not just intelligence! Business Intelligence is Art, Science, Engineering, and Design!
Boost Your Owner Acquisition with SEO

Speaker: Romain Giacalone

How can OTAs hand control back to PMs for scaling

Moderator: Thibault Masson
Panelists: Sonia Chennoufi, Paola Lazzaretti, Javier Cedeño

How to Build Your Revenue Management Team In-House
Short-Term Rentals & Real Estate – Where the 2 Business Models Meet

Moderator: Jessica Gillingham
Panelists: Steve Taggert, Andrea Laghi

Is Franchising the Way Forward?

Moderator: Richard Vaughton
Panelists: Marco Celani, Cristiana Carpini, Chema González, Roberto Redaelli

Beyond the Bottom Line: How Prioritising People and Planet Can Boost Your Vacation Rental's Profitability

Moderator: Bob Garner
Panelists: Vanessa De Souza Lage, Nikki Mattei, Sophie Desnoulez

Beyond Upselling: Actionable Tips on How to Convert Upselling as One of the Drivers of Your Profit Strategy
The STR Industry 5 Years From Now

Moderator: Steve Davis
Panelists: Dale Smith, Mahwussh Alam

ChatGPT 101: Mastering the Art of Hospitality with Artificial Intelligence

Speakers: Francois Gouelo

The Power of Stories

Speakers: Daniela Derin, Dave Cordner

Scale, Process and Lean Management

Speaker: Victoria Trochoux

The Importance of Photography Optimisation For Vacation Rentals

Speaker: Razvan Patrascioiu

12 Lessons I've Learned Working in STR as a Woman, a Mother and a Leader
Scaling Without Millions in Funding

Speaker: Cristiana Carpini

When scaling, is it really convenient to outsource your operations?
How OVO Network Became the Second Highest-Rated European Property Management Company on Airbnb
Day 2 Sessions:
Here is the bulleted list of all sessions taking place on Day 2:
The Hidden Impact of Employer Branding on Your Bottom Line: How Your Reputation Can Make or Break Your Business
PMS: Perfectly Mediocre Software: Because management shouldn't be easy!

Speaker: Richard Vaughton

The Impact of Security Deposits on Rental Property Management: A Pathway to Scale Better Practices
Tapping into the Vast Corporate Travel Market

Panelists: Robert Nuñez, Phil Stapleton, Boris Pavlov

The (Vacation) Data Revolution
The New Standard in Operational Efficiency to Scale Effectively

Moderated by: Noelia Novella
Panelists: Maxime Leufroy-Murat, Mahwussh Alam, Tyann Marcink

How to Scale Your STR Business Internationally

Moderated by: Alex Panadés
Speakers: William Parry, François Lavie

VAT Collection Changes in the EU. What Does it Mean For You?

Speaker: Viktorjia Molnar

Let the Data Inform your Strategy

Moderated by: John An
Panelists: Jamie Lane, Sally Henry

DAC7 revolution: new reporting obligations for digital platform operators, hosts and property managers
Alternative tools to support growth and achieve financial sustainability

Speaker: Francesco Zorgno

STR Regulation changes affecting your business: How to face these challenges head-on

Moderated by: Viktorjia Molnar
Panelists: Marco Celani, Andy Fenner, Miguel Ángel Sotillos

Technologies to Consider as You Scale

Moderated by: Thibault Masson
Panelists: Ittai Savran, Fausto Da Silva, Cesar Augusto Ramos

A well-trained team, the key for the success of your scaling company
Navigating Through the STR Tech Fragmentation

Speaker: John An, Francois Gouelo

Owner Acquisition + Retention: The Side-B Journey to a Successful Vacation Rental Business
Diversity in Leadership, discussions and actions around the gender gap, diversity, anti-bias, allyship, culture, and recruitment
Strategic PR and communications for scaling your business

Speaker: Jessica Gillingham

Going on the offense with AI
Networking front and center
In addition to the informative sessions and discussions, Scale Rentals recognizes the importance of networking and creating professional connections. Throughout the event, there are dedicated networking opportunities for property managers, speakers, and show partners to engage with one another. These networking sessions provide a platform for attendees to exchange ideas, collaborate, and build relationships within the vacation rental industry.
One such networking event is the Post-Show Drinks sponsored by Enso Connect. After a day filled with valuable insights, participants can unwind and connect with their peers over a drink. This relaxed setting allows property managers, speakers, and show partners to mingle, share experiences, and forge new connections. Wine, beer, and soft drinks will be served, creating a conducive environment for networking and fostering meaningful relationships.
Additionally, the Scale Rentals Show After Party, a special fringe event hosted by AJL Atelier, Beyond, and Roomonitor, promises a memorable evening of networking, delicious tapas, and exquisite wine. Property managers attending the event have the opportunity to connect with professionals from various backgrounds, exchange ideas, and explore potential collaborations. The after-party takes place in a stunning venue, providing a vibrant atmosphere for attendees to unwind and expand their professional networks.
These networking opportunities not only enhance the overall experience of the Scale Rentals Show but also enable property managers to establish connections that can lead to future collaborations, partnerships, and business growth. By fostering a community of like-minded professionals, the event aims to facilitate knowledge sharing, industry advancements, and the development of lasting relationships within the vacation rental ecosystem.
The Bigger Picture: Short Stay Week
Scale Rentals Barcelona is an integral part of the broader Short Stay Week, a series of events taking place in Barcelona from May 15th to May 19th.
Short Stay Week offers a diverse range of events designed to address different aspects of the vacation rental industry. For example, the Scale Rentals SEO Summit, held on Monday, May 15th, focuses on search engine optimization for short-term rental businesses.
Another event during Short Stay Week is the Web 3.0 in Travel conference, also held on Monday, May 15th. This conference is dedicated to exploring the transition to Web3 and its implications for the travel industry. 
The Short Stay Week Guest Communication Workshop titled Everybody Talks, taking place on Monday, May 15th, offers a hands-on experience focused on optimizing guest communication. 
The Book Direct Show, held on Tuesday, May 16th, is tailored specifically for property managers aiming to generate more direct bookings and reduce their reliance on online travel agencies (OTAs). 
Scale Rentals Barcelona takes center stage on Wednesday, May 17th, and Thursday, May 18th. It caters specifically to property managers overseeing more than 25 properties who aspire to scale their businesses effectively.
Scale Luxury, taking place on Friday, May 19th, is a must-attend event for property managers involved in luxury vacation rentals. Whether participants are new to managing high-end properties or experienced in the luxury segment, Scale Luxury provides valuable insights and networking opportunities to optimize their luxury inventory management.
The Short Stay Week concludes with The Exit Door, a two-hour networking session on Friday, May 19th, dedicated to short-term rental operators interested in acquisition and consolidation. Attendees will have the opportunity to learn about realistic valuation methods for their companies, prepare for acquisition, and network with peers, investors, and potential buyers. You can watch an online preview organized by Rental Scale-Up here:
Conclusion:
Scale Rentals is an unmissable conference for professional STR providers looking to achieve sustainable growth and success. It offers a unique platform for learning, networking, and sharing insights with industry peers and experts.
Mark your calendars for May 17-18, 2023, and join us at the World Trade Center in Barcelona for Scale Rentals. Don't miss out on this exceptional opportunity to learn from industry experts, connect with like-minded professionals, and take your short-term rental business to new heights. Say hello to team Rental Scale-Up in the Pods area or after our panels.