How about a sneak peek at Sonder's 2021 investor slide deck? Sonder basically takes over well-located apartment developments and hotels to redesign and relaunch them under its tech-savvy brand. Discover key business and financial data (ADR, unit metrics, occupancy, margin, etc.), how it uses tech to lower costs and design to create attractive spaces higher, how and where it wants to expand from now to 2025. The urban short-term rental category was a victim of the COVID-19 crisis. Innovative and ambitious companies such as Domio, Lyric, and Stay Alfred closed their doors in 2020. Yet, Sonder has survived, by drastically renegotiating leases, laying off staff, and pivoting its business model. The company was launched in 2014 and cofounded by Francis Davidson and Martin Picard. Let's have a look at Sonder's presentation, along with our selection of and comments on the Top 10 slides.
In 2019, Sonder shared the Series D deck that it had used to raise $225M in funding. At the time, property managers and industry experts were impressed by the details revealed: Expansion plans, unit metrics, cost savings due to technology, and ambitions for the brand.
In April 2021, vacation rental and hospitality industry observers are looking at a new investor presentation deck from Sonder. Once again, its ambition to build a new kind of hospitality brand are clear. Once again, Sonder explains how it blends its real-estate expertise, tech-savviness, and interior design to offer a consistent guest experience at an attractive price.
Sonder's offer to guests and to real-easte owners
Yet, the presentation deck also shows how Sonder has adapted its business model and became more resilient. The company is still very much an urban player, but it has a lot of hotels to its inventory of short-term rentals. Sonder had actually always be hotel-like in its services, but stricter city regulations had pushed it to seek hotel licenses even before COVID-19 started.
Here's what Sonder offers to its stakeholders:
GUESTS get an experience that is

Tech-centric
Design-led
Higher quality
Lower cost

REAL ESTATE OWNERS get

Compelling economics
Hands-off management
Credentialed partner
Going public by merging with a SPAC
Sonder is not going public through an IPO as Airbnb did. Like many companies in late 2020 and early 2021, it is going public via a special acquisition company (SPAC). Sonder Holdings Inc. is merging with Gores Metropoulos II Inc. (GM II), a SPAC sponsored by an affiliate of The Gores Group LLC, a global investment firm founded in 1987 by Alec Gores, and by an affiliate of Dean Metropoulos of Metropoulos & Co.
Our top 10 slides from Sonder's investment deck
At the beginning, Sonder focused on taking over the management over multi-family buildings in order to offer urban apartments on sites such as Airbnb. Yet, as the company wanted to grow in markets hostile to short-term rentals, such as New York City, it started adding hotel properties that could be modernized and would comply with local regulations.
What Sonder was actually building was a hospitality brand and it could stretch across various property types. The Accor Apartments & Villas, with its branded residences, extended hotel stay places, and onefinestay apartments and villas, shows that established hospitality brands want to respond to Sonder-type supply.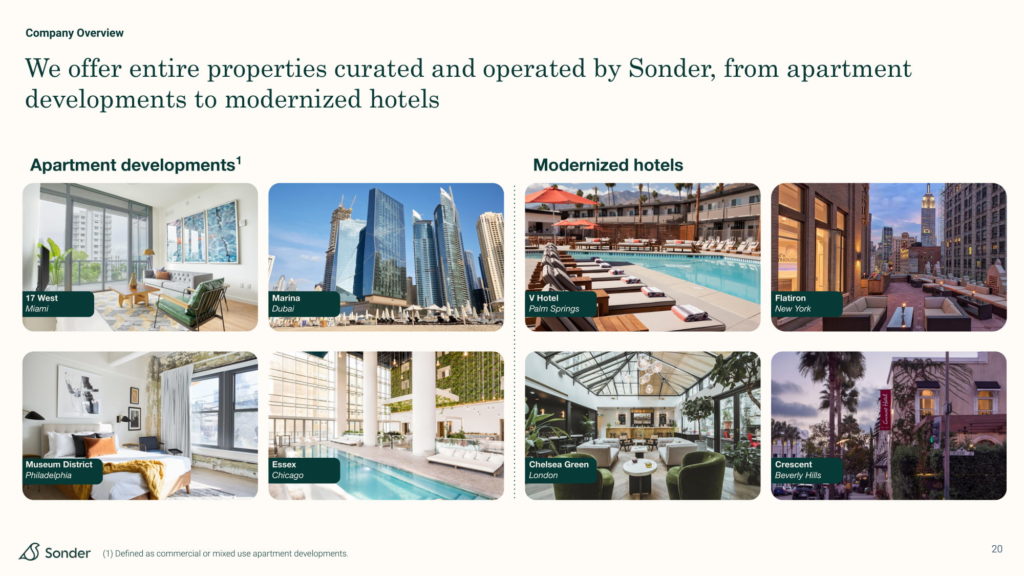 Sonder's value proposition for guests
In cities, Sonder wants to compete against upper upscale hotels. To do that, the company says that it offers modernized, well-designed, tech-savvy apartments and hotel rooms. Thanks to savings due to tech automation, guest rates are supposed to be very competitive for the value offered.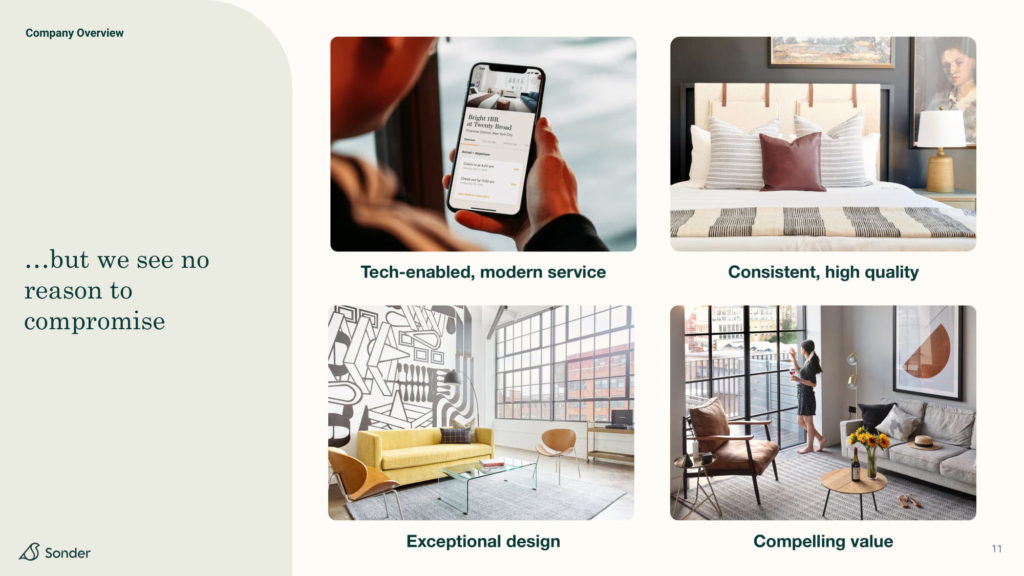 One value proposition for guests and another for real estate owners
Sonder not only has to attract guests on the demand side, but also real estate owners and developers on the supply side. On the company website, property owners can find out about Sonder's promises about returns.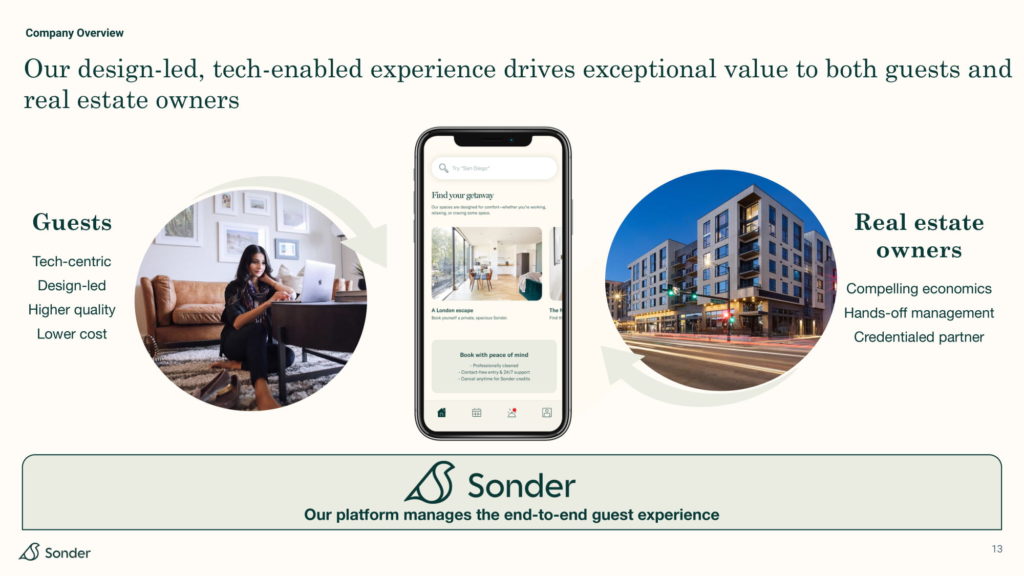 A guest experience powered by technology
Sonder wants to make it clear that it is not just a hospitality brand. It is also powered by a proprietary tech platform which spans the whole guest journey, from booking to check-out. Thanks to its seamless check-in tech, digital concierge, and customer service via messaging, Sonder can give service guests without needing any or too many on-site staff, which is a source of cost savings.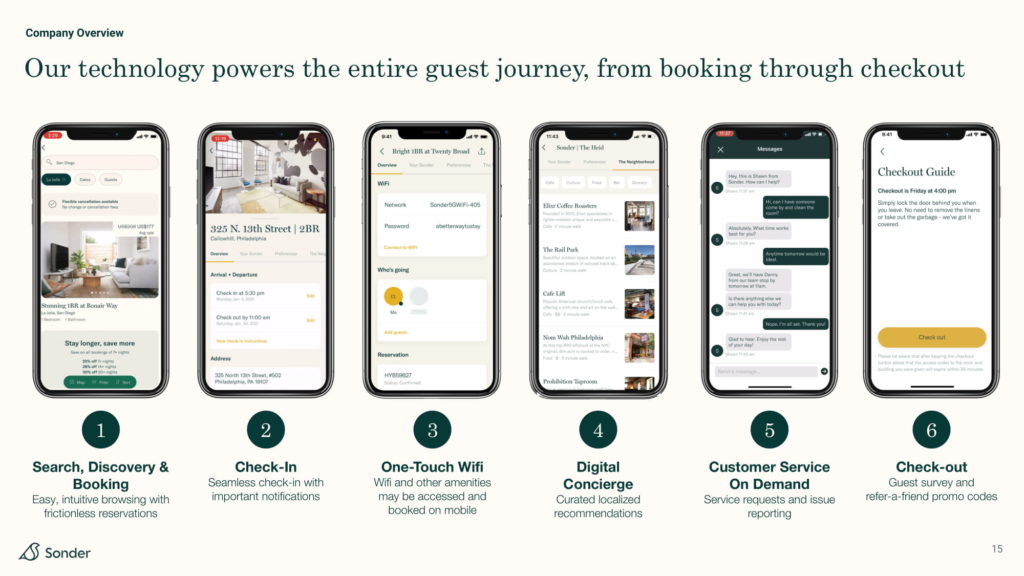 A hospitality tech platform that power property acquisition, opening, listing, and operations
In this investors' deck, Sonder wants to show that it is a tech-enabled player that has developed advanced tools whose sum can create a competitive advantage. The tech goes from mapping real-estate opportunities and potential RevPar, running its furniture warehouse, listing properties on OTAs, pricing automation, to housekeeping and maintenance.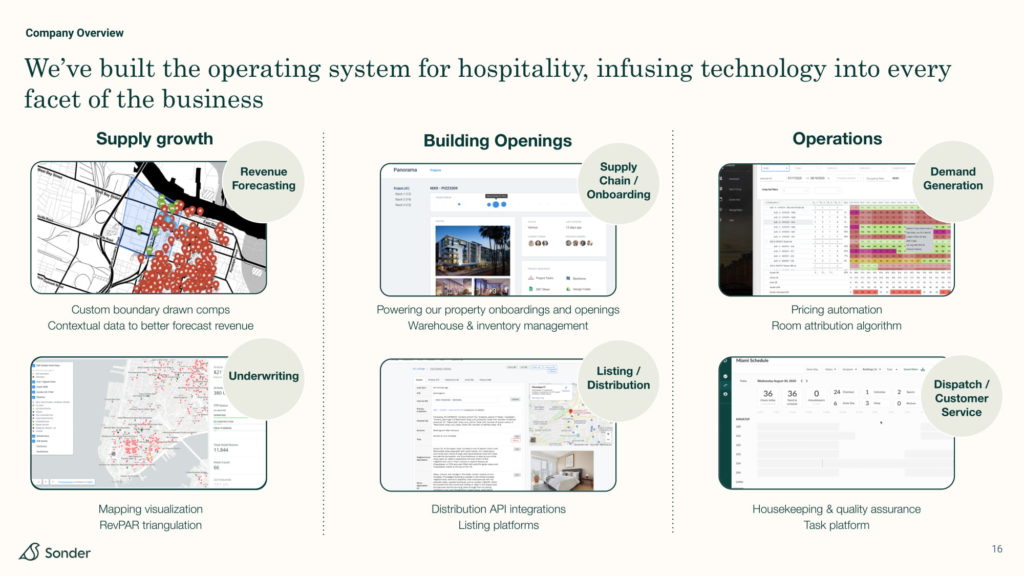 Higher margins and lower rates thanks to tech
When it comes to comparing its metrics, such as RevPar and operating costs, Sonder is comparing itself to hotels, especially to upper upscale hotels where guest rates and service costs are high. The company wants to show that it can offer equivalent or better service level at a lower cost thanks to tech and automation.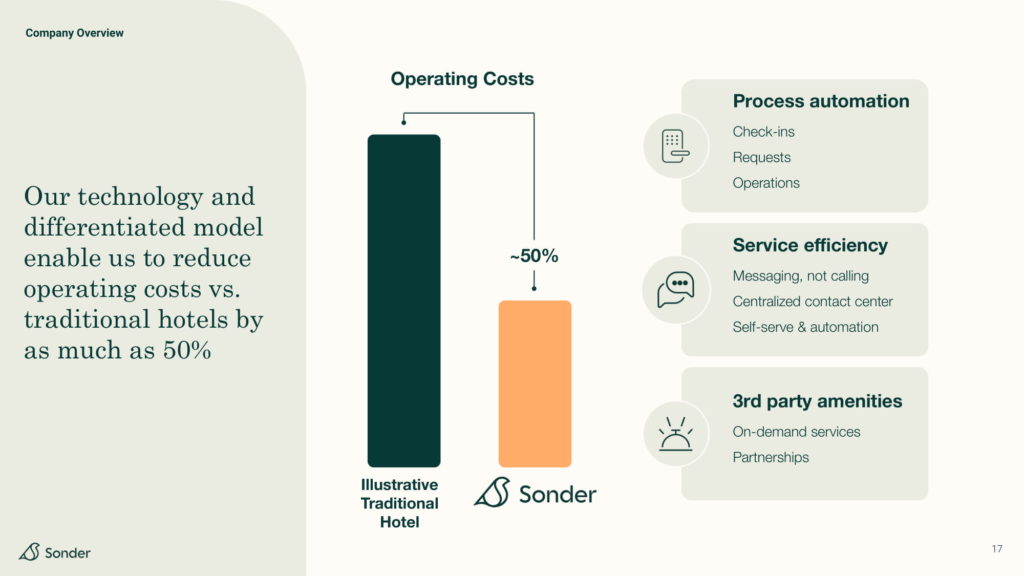 Sonder wants to be a global hospitality brand and has already expanded internationally. It boasts more than 300 properties across 35 markets, in North America (mostly US), Europe and the Middle East (2021 openings: Amsterdam, Charleston, Glasgow, Milan, and Paris). In the deck, the company shares its plans to expand to Asia by 2025.
Direct bookings are a key metric for a hospitality brand
Before COVID-19, Sonder was pretty much agnostic when it came to listing on OTAs such as Airbnb and Booking.com. As a new player, its brand was not famous enough to attract direct bookings and its existing customer base was not large enough to make up for flow of new customers booking new Sonder locations on OTAs. Nothing wrong here. At the height of the pandemic, direct bookings jumped from 26% to 59%. It could be that bookings from OTAs like Airbnb and Booking.com were canceled by force majeure and that Sonder's direct bookings were not. It could also be due to marketing cuts forcing the company to focus on cheaper channels and direct traffic. Even if Sonder is using paid distribution channels to acquire guests, it wants to show that it is good at generating direct repeat business (70% of repeat bookings are direct).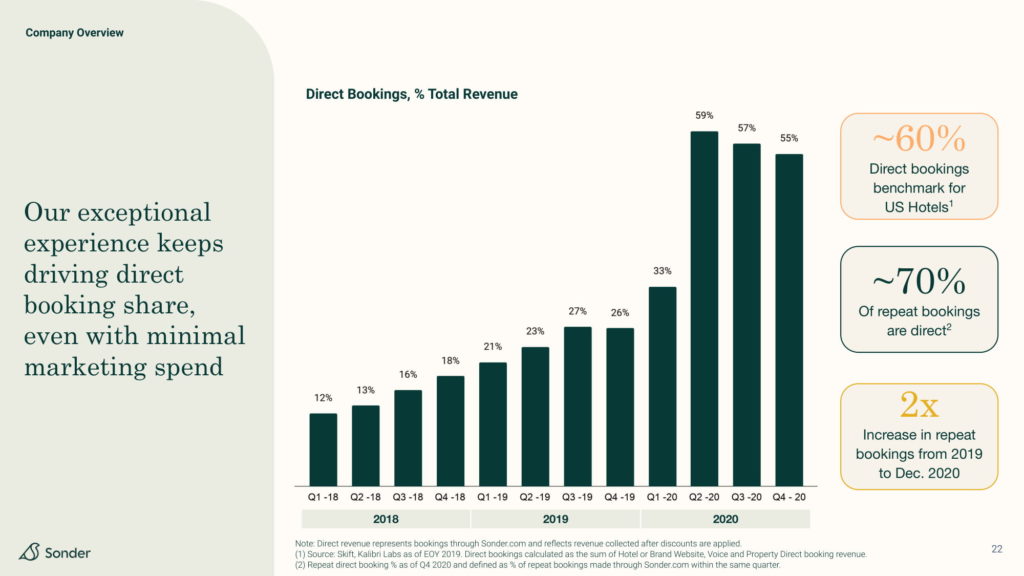 Customer profiles made for the rebound: Young, domestic, and leisure
In 2021, booking trends tend to favor rural areas. Yet, at least in the US, cities are starting to rebound. Here, Sonder wants to show that its urban properties can catch this wave, as younger people are willing to travel and as international and business travel are still a bit down.
This is snapshot which makes sense today. Yet, as the company grows internationally, and with an upscale positioning, the share of international and business travelers should grow.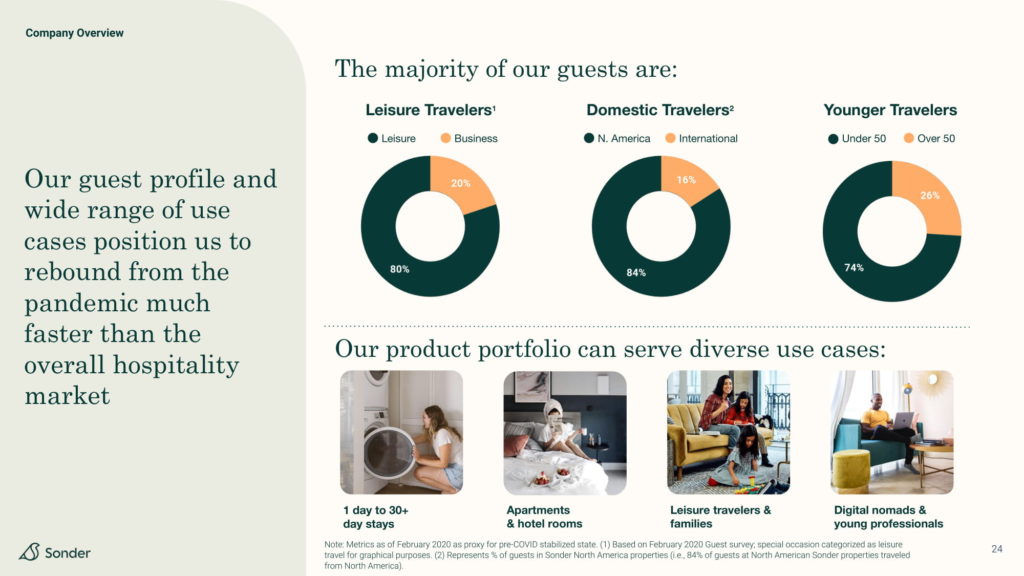 Unit metrics ... in 2025: $220 ADR, 77% occupancy, 21% margin
Sonder is showing projected metrics for 2025 that want to match its promises of an upscale positioning at a compelling price point ($220 ADR), great demand generation (77% occupancy), and contained real-estate and operating costs (32% margin on property level).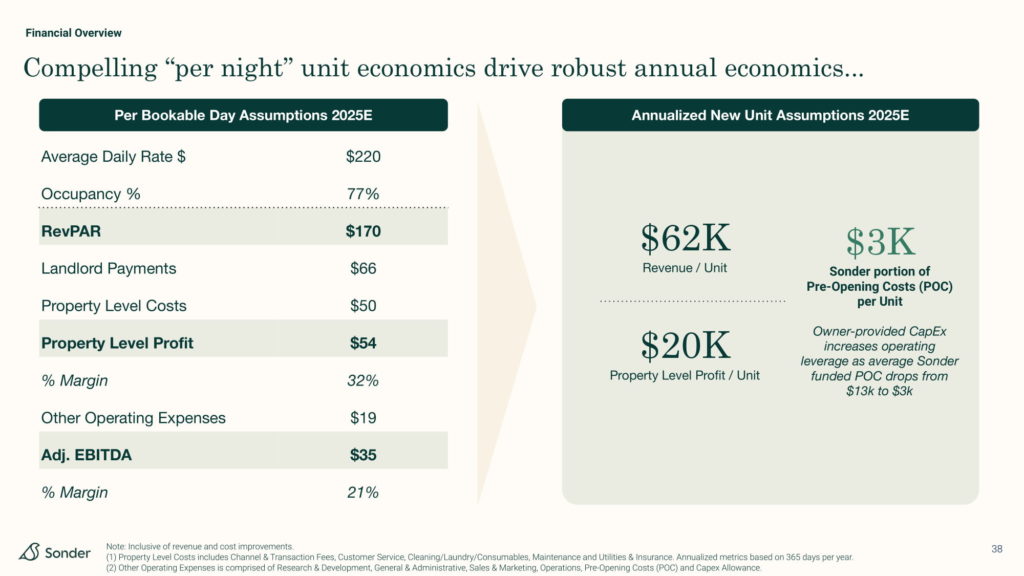 Sonder sees its brand on par with Airbnb, Expedia, and Marriott
Sonder is clear about its ambition to build a new kind of hospitality brand (who would want to create an outdated brand??). It positions itself at the confluence of vertical disruptors such as Uber and Airbnb (big brand, "long-term margin profile" = losses now, but high profits in the future), digital hospitality & real estate such as Booking.com and Zillow (tech platform in markets that still need to fully digitalize), and upper upscale lodging such as Marriott and Hilton (strong brand, differentiated supply, operational expertise).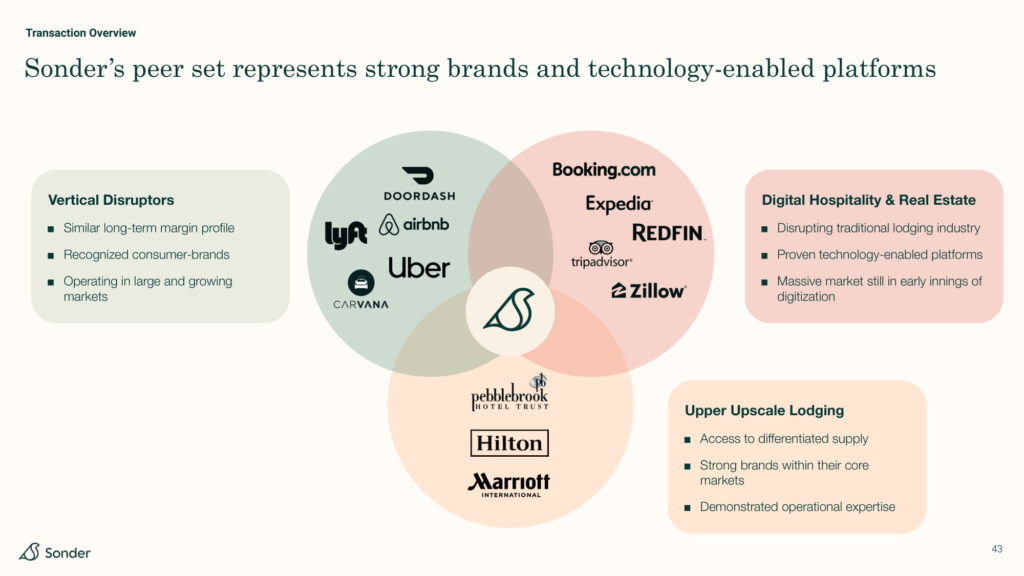 Full 2021 Sonder investor presentation deck
Click on an image to get the full-screen slideshow started